Here at Coach Dave Academy, we've got a wide variety of high-quality setup bundles on offer for iRacing – one of the most highly credited simulations in Esports. Developed tirelessly by our team of supremely skilled engineers, any product you pick up this Black Friday is sure to help you get the most out of your Sim Racing experience.
How to get cheap Coach Dave Academy setups
This Black Friday weekend at Coach Dave Academy, we've got a treat in store for you.
With the recent launch of our growing iRacing setup collection, we've got a discount for you iRacers. Our iRacing setup subscription, which includes race setups, qualifying setups, onboard hotlaps and data packs and all of iRacing season bundles are on offer from November 25th to November 29th when you use the code GOFASTER at checkout.
For this short period of time, the Setup Subscription will be reduced by 40% to just $5.99 per month – cementing it as a must-have for your iRacing experience. And remember, your subscription means you'll be getting new setups every week for your track and car combinations! As for our bundles, they'll be seeing a 25% discount to only $14.99 so you can pick up all of this season's setups for your favourite cars.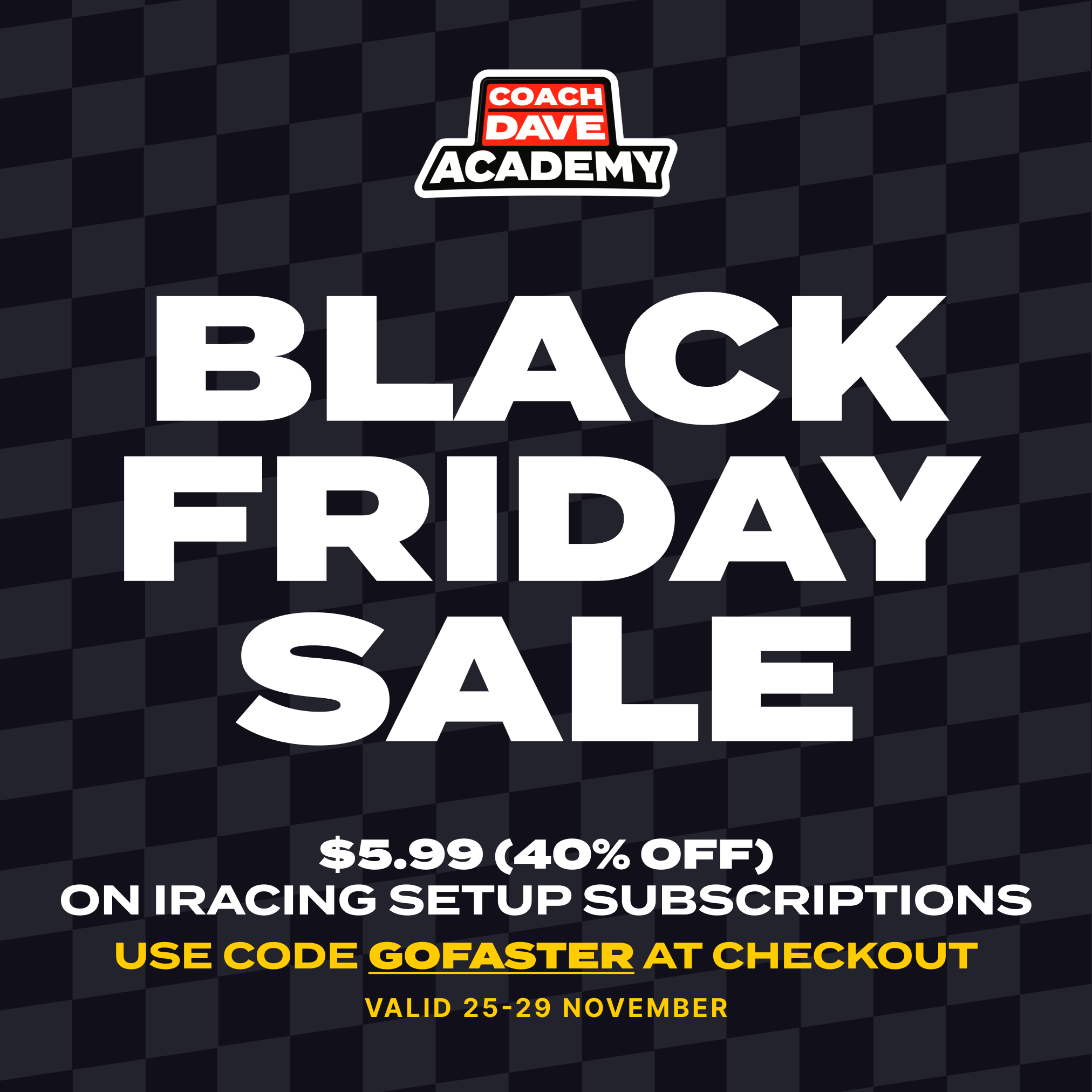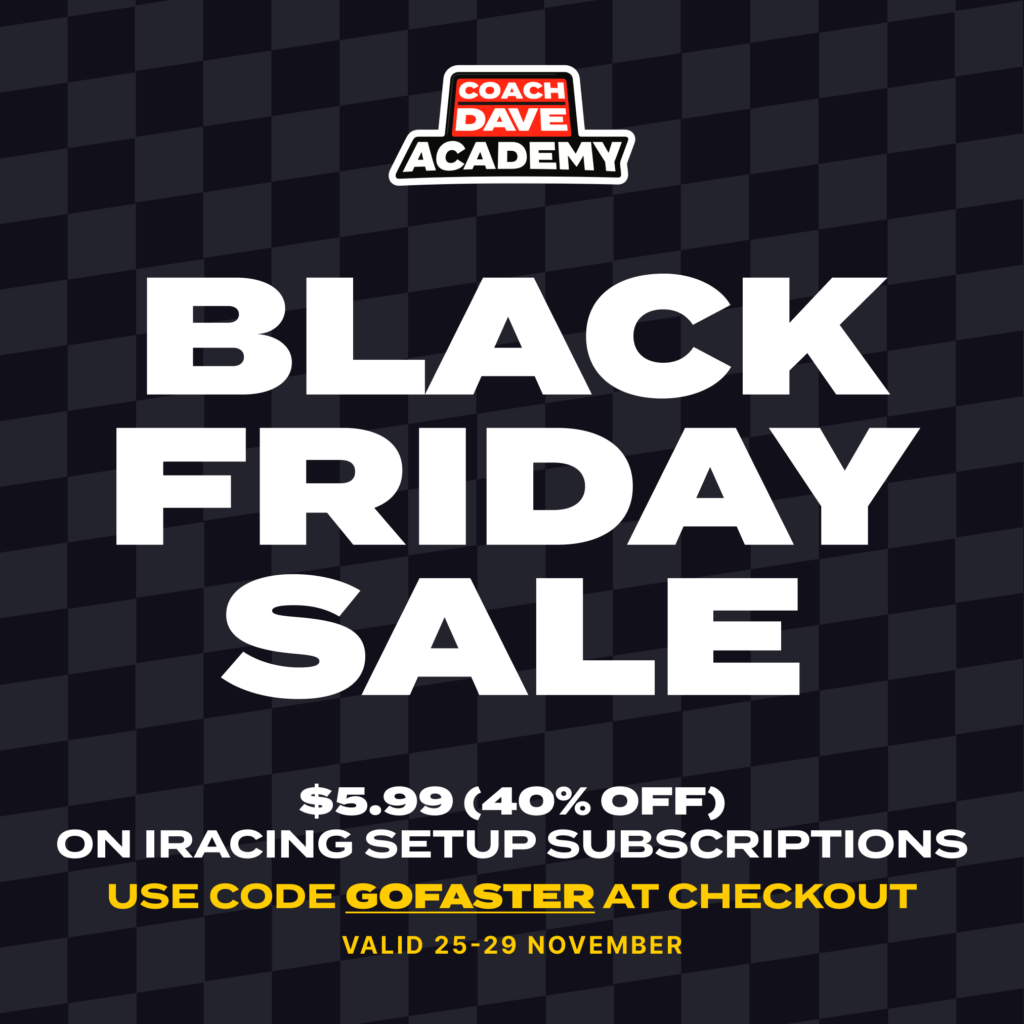 What's included in Coach Dave Academy bundles?
We've got you covered this Black Friday with our professionally developed setup bundles. Our iRacing Setup Subscription will get you setups galore, along with a fair share of data to help you really extract everything from the laps you turn out on track. Meanwhile, our various bundles will get you race setups, qualifying setups and a best lap replay file
Our Setup Subscription is sure to keep you kitted out. Currently, the $5.99 subscription grants you access to setups and/or data for the following series:
VRS Endurance Series
VRS Sprint Series
IMSA Series
Porsche Cup Series
LMP2 Prototype Challenge (Data Packs)
Ferrari 488 Challenge (Data Packs)
Porsche Cup Fixed (Data Packs)
For each of these open setup series, you will get race setups, qualifying setups, Motec data, in-game replay files and ghost laps for you to follow, whilst fixed setup series such as the LMP2 Prototype Challenge includes everything but the setups. For just $5.99 per month, this is a subscription that is more than worth your money.
How to install your new Coach Dave Academy setups
Once you've got your hands on your brand new setups, you've of course got to install them, but don't worry, it's a walk in the park.
When you've got your iRacing setups from Coach Dave Academy all downloaded, you'll be greeted with a few things for every series we provide setups and data for. Just like on Assetto Corsa Competizione, it isn't difficult at all to install your newly acquired content.
After downloading your bundle, you'll want to locate the following directory, This PC/Documents/iRacing as this is where you will need to drag and drop all of your Coach Dave Academy content.
Once you are here, select the Setups folder and drag and drop your Coach Dave Academy setups to its required car.
When you are in an iRacing server, you'll be able to select, use and modify all of these setups.
With all of this incredible content on offer for such a short amount of time, make sure you get your hands on our iRacing Setup Subscription and iRacing setup bundles. With such amazing offers, you won't be wasting a penny.
SimGrid heads to Bathurst for Black Friday
Along with the huge price reductions we are bringing you on our iRacing setup range this Black Friday, we've got yet more lined up for you.
This Friday at SimGrid we've got quite the race for you, as we head to one of the most highly regarded tracks in the world, Mount Panorama, for 60 minutes of fun across 4 splits!
GT3's at Bathurst is a legendary combination, so come along and enjoy a sprint around the Mountain, or if you don't feel like tackling this particular beast, you can always tune in to our live stream and watch from the stands.
Last note: For those waiting on ACC discounts, next week we will have something for you when we release the BMW setups!