Coach Dave Delta gets an upgrade that makes this app unparalleled in the sim racing industry.
We are proud to share that Coach Dave Academy has incorporated iRacing autoinstall within the Coach Dave Delta app. Now, just like with ACC before it, iRacing users of Delta now have the ability to auto-install setups on session join making Delta a truly peerless app for iRacing and Assetto Corsa Competizione.
Gone are the dinosaur days of having to open a plethora of applications and windows to access your different setups, data, files and more. Delta now makes sim racing effortless and is leading the way with its brand-new features.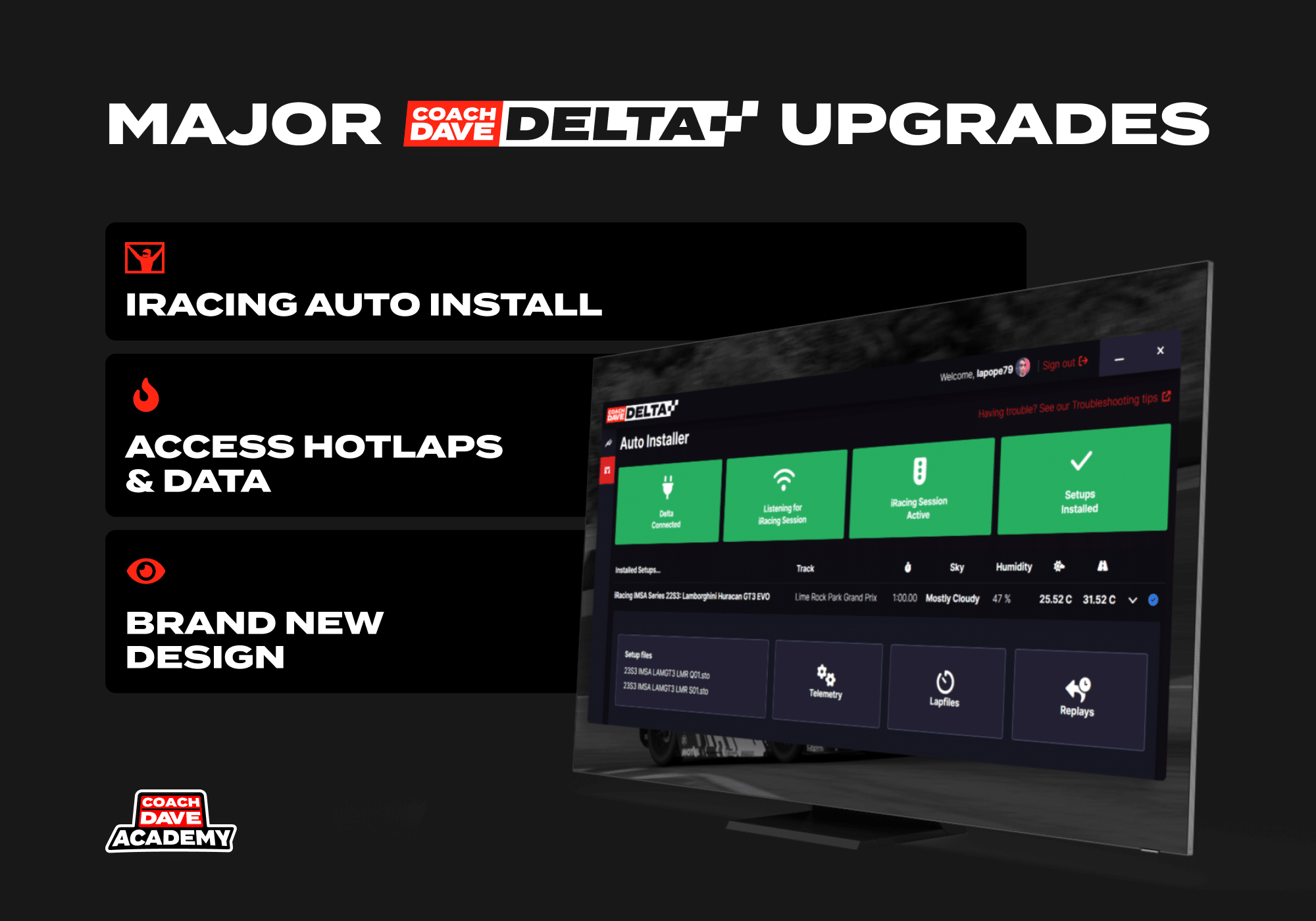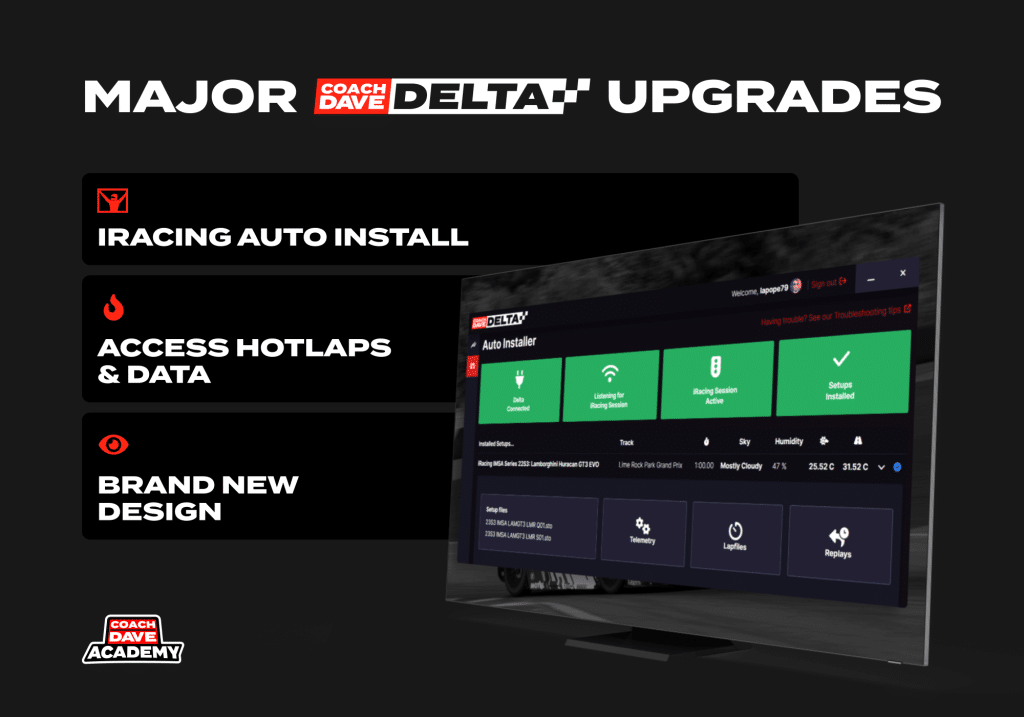 Brand New iRacing Features
iRacing auto install comes to Coach Dave Delta – Just like ACC, all you need to do is launch Delta with the iRacing tab selected and Delta will take care of the rest for you. It will listen for your iRacing session, wait for you to enter any practice, qualifying or race session and then the auto-install will begin.
You can configure what is auto-installed on session join from your profile area.
You will have the ability to install setups, lap files, telemetry and replay files from the auto-install homepage on Delta.
You can also watch the hot lap videos straight from youtube for the setups you are loading all within Delta.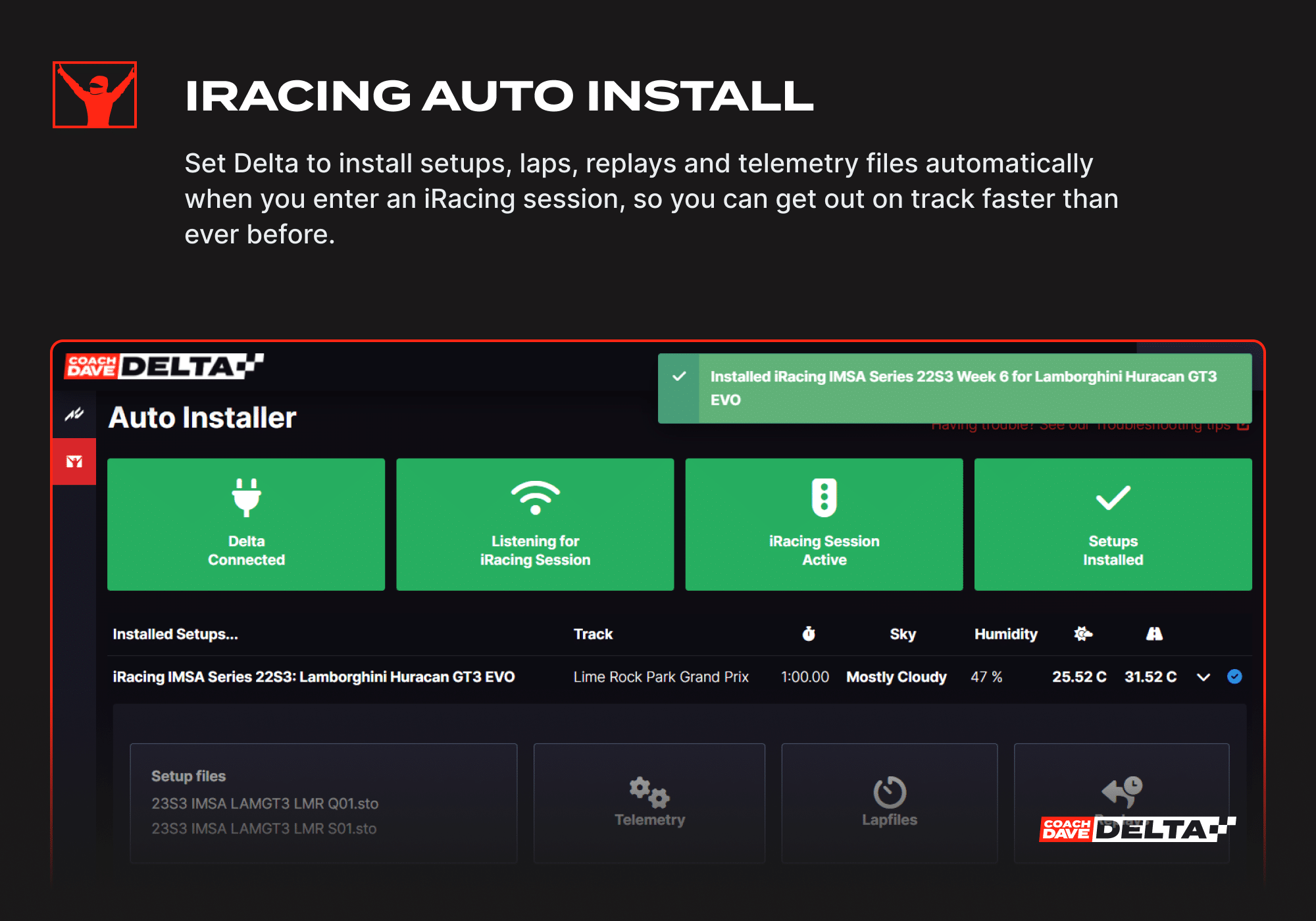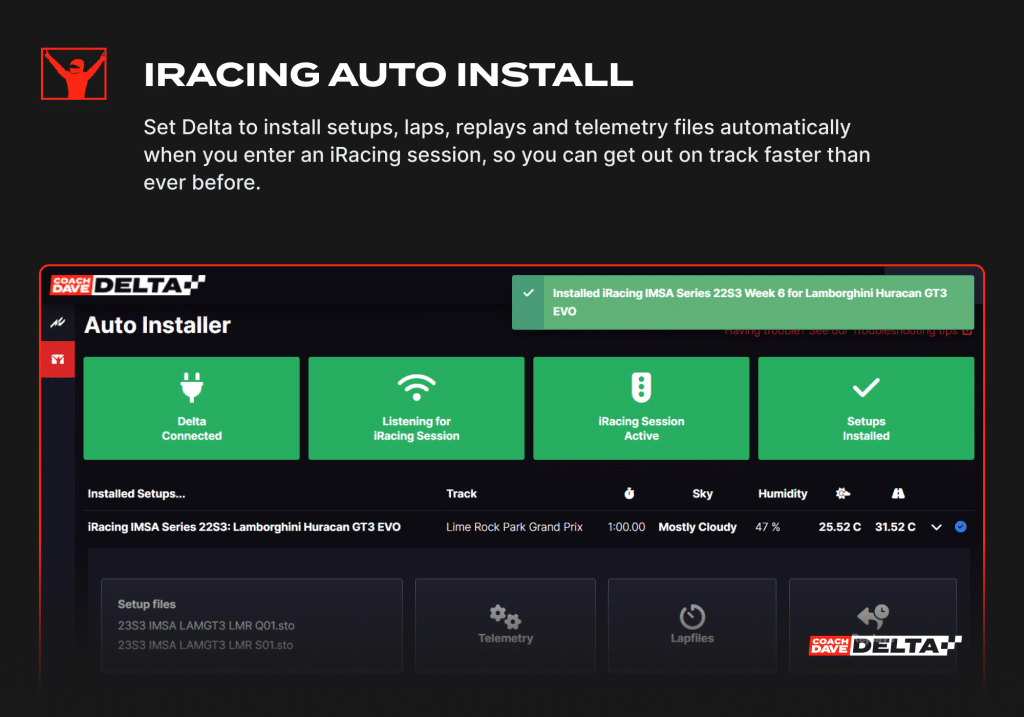 Industry Leading
These new iRacing features and designs are industry-leading. We would happily argue that we now have the best all-round app that can identify not only any iRacing session but also any ACC session without pressing anything and then autoinstall these setups straight into your setup folder.
Delta just became the must-have app to iRacers all around the world, so make sure to install your copy now.
Brand New Design
Underpinning all of these great new iRacing features is a beautiful new design on the app's homepage.

Coach Dave Delta has released a global front-end design change, with new buttons, icons and a layout that improves the user experience for both ACC and iRacing. If you liked how easy and flawless the app looked and behaved before, you are definitely going to enjoy the new version.
We have for you;
A new page design introduced with new buttons, new icons and a new layout.
Autoinstall homepage front-end redesign – Access every part of your ACC or iRacing bundle from one page, including motec data, hot lap videos and release notes.
If you take advantage of Coach Dave on Popometer you can also access those data packages from within Delta now too.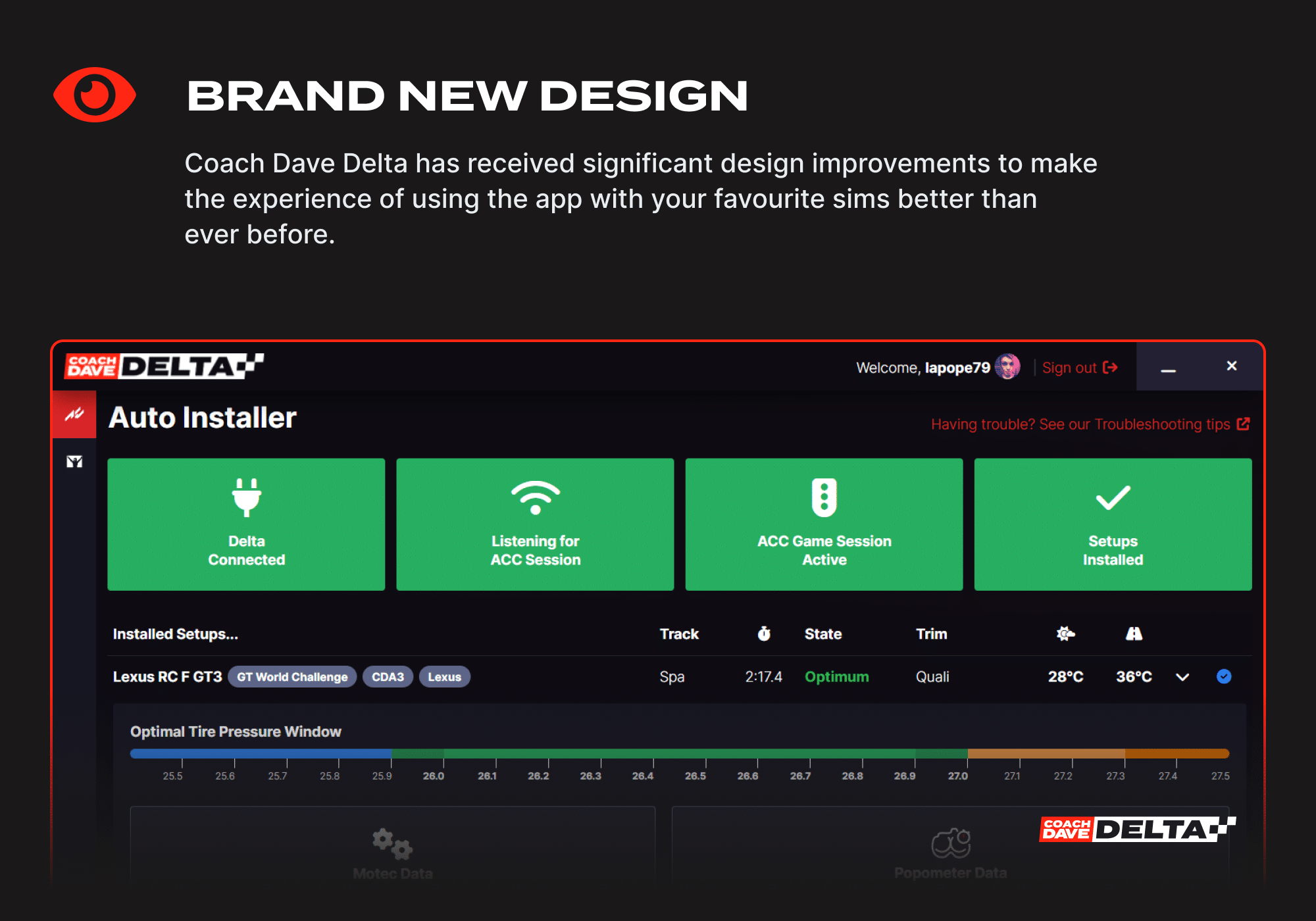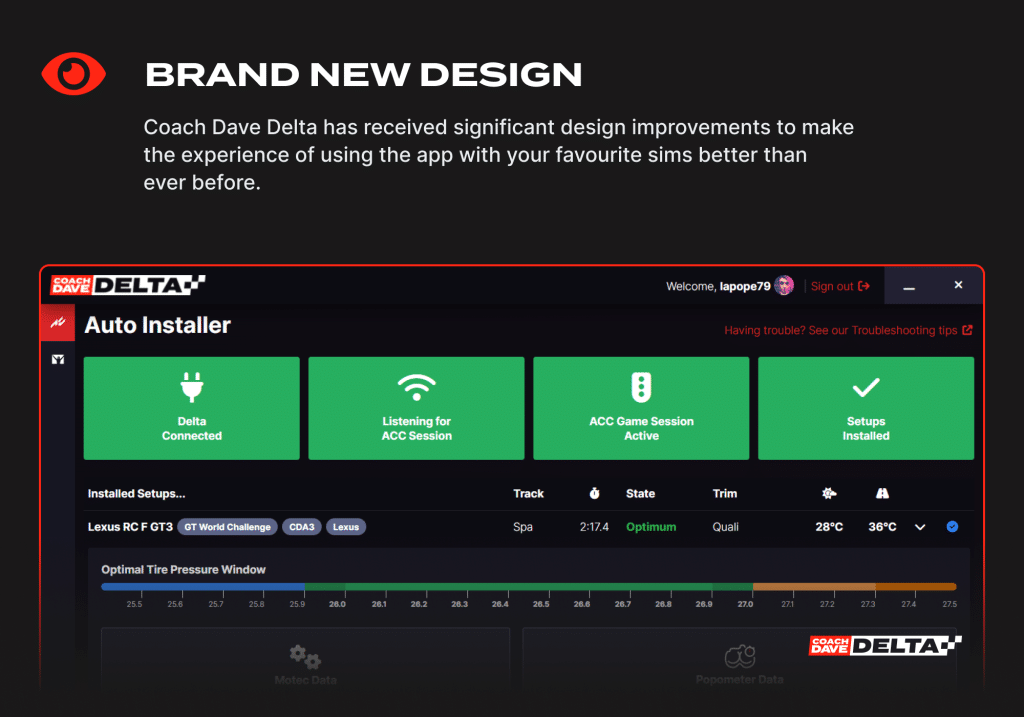 What Is Delta
Haven't heard of Delta before? You are about to enter a whole new world of setup management made easy. Coach Dave Delta is your one-stop shop, sim setup app for seamless setup management in Assetto Corsa Competizione and iRacing.
Not only does it handle your setup installations, you now get your lap files, telemetry, replay files and hot lap videos all within the Delta app.
Coach Dave Delta is a FREE app when you have a setup subscription for either ACC or iRacing through Coach Dave Academy and it gives the users a seamless experience.
Ready to have world-class setups at your fingertips? With a click of one button (literally), you are beating the competition whilst they are still stuck at the start line.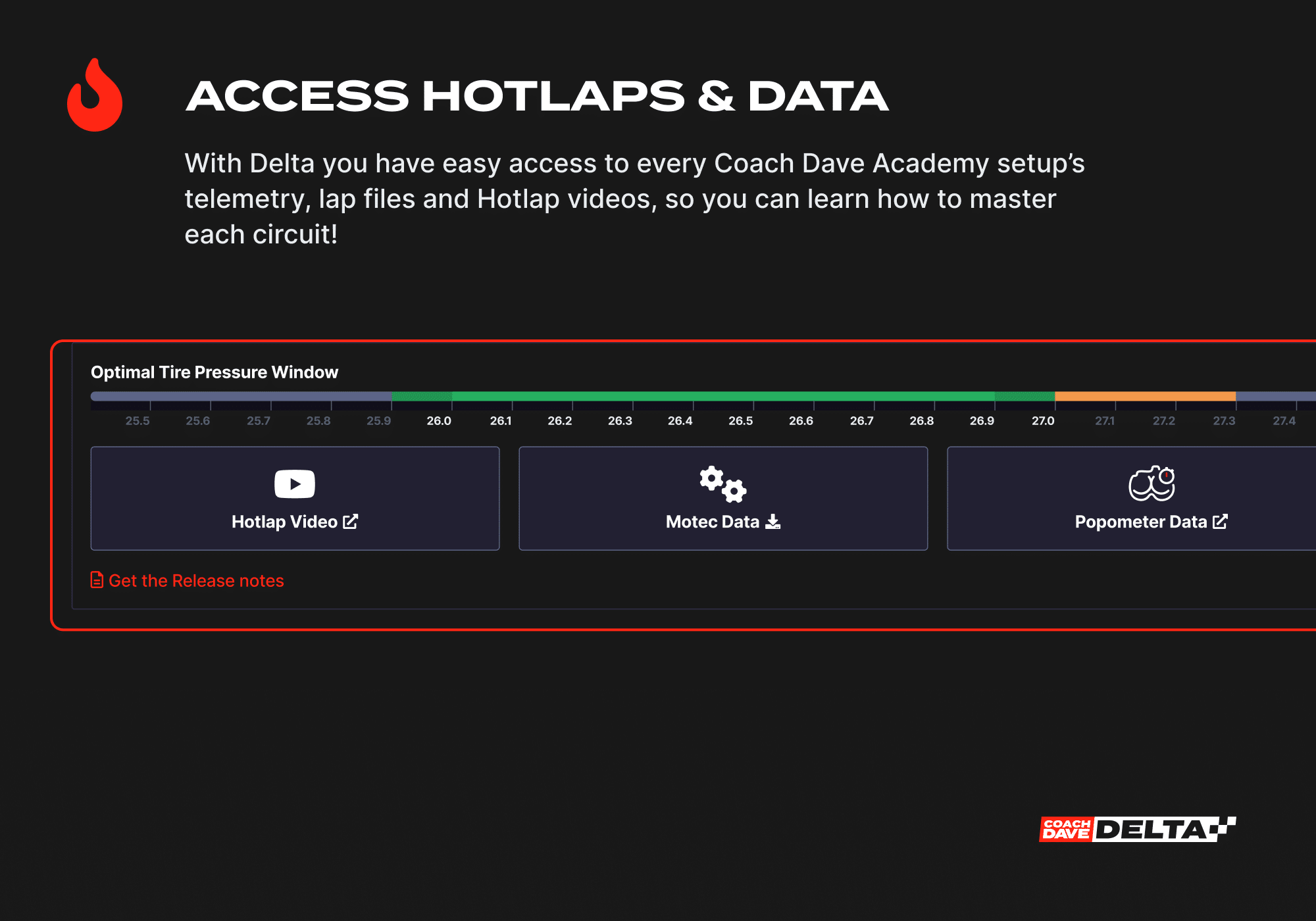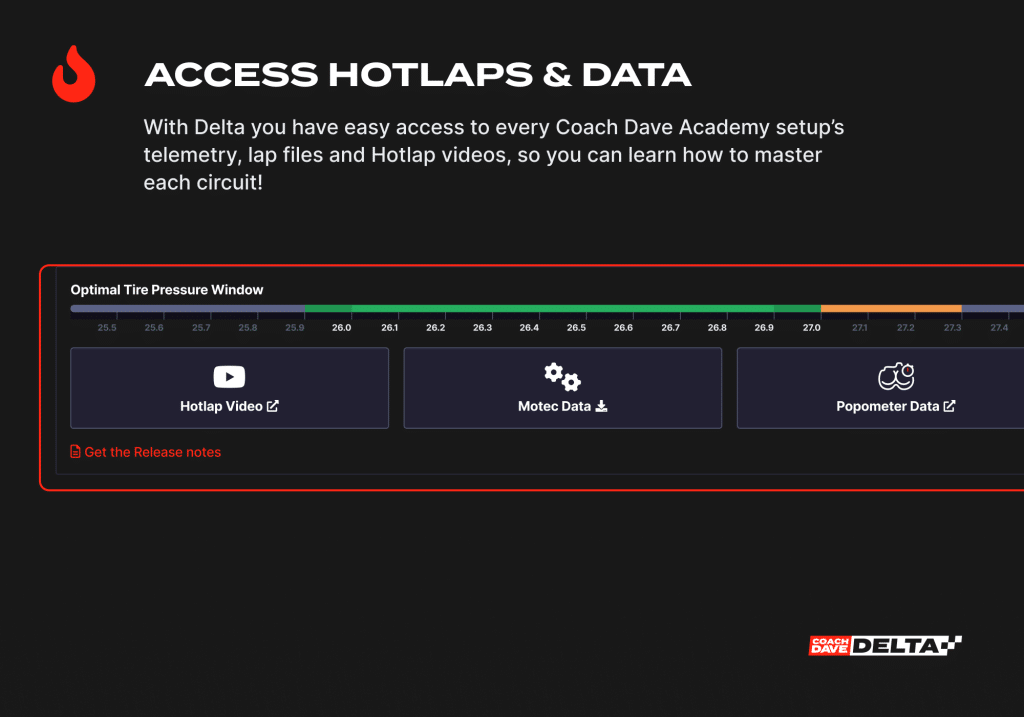 It is time for you to download Delta today and benefit from arguably the best setup tool on the market.
Setup Syncing – Syncronise all your Coach Dave Academy setups for iRacing and ACC in real time. No more downloads and unzips.
Seasonal & Majors Setups – Access brand new iRacing setups every single week as well as for iRacing Majors, plus all our ACC setups.
One-click Install – Easily browse our iRacing or ACC setups and select which you want to automatically install.
Driving Data – Download your iRacing and ACC motec data files directly from the Delta app with just a few clicks.
Hot Laps – Watch all of the hot laps right from YouTube within Delta before you hit the track with your new setups.