Our latest ACC release from Coach Dave Academy this week is centered around finishing the CDA3 updates for the cars we missed before the America DLC update dropped which disrupted the release of some GT3 CDA3 updates.
Lamborghini Huracan GT3 EVO Updates
The following tracks now have updated CDA3 setups for the Lamborghini Huracan GT3 EVO:
Brands Hatch
Misano
Nurburgring
Paul Ricard
Silverstone
Spa Francorchamps
Suzuka
Zandvoort
Zolder
Barcelona
Donington Park
Laguna Seca
Kyalami
Important Note
Like with updates to the same version setups beforehand, these will be named Q02 and R02's in your bundle. The only exception to this will be the BMW M4 GT3 which will be Q03 and R03, thanks to the aero map update that it received.
The updated setups will now be available to download in your purchased bundles or if you are an ACC subscriber, they will be available to download now.
If you are not an existing subscriber to the Coach Dave Academy ACC subscription, click the link below: 
For all the new CDA3 updates listed above, new hotlaps will be published on the Coach Dave Academy YouTube channel when they are ready to be uploaded.
Next Week's Plan
For next week, our main aim will be to finish the data packages for both the single make cars on the three new America DLC circuits, as well as finish the GT3 data runs for the wet setup packages as well for the new tracks. It will involve a lot of laps for the team, but that will mean all single make cars and the wet bundles are updated for the new America DLC.
We will also aim to have the Lamborghini Huracan EVO setups finished as a full bundle.
Live Setup Broadcast
Did you catch this week's live recorded broadcast?
Yesterday, our team of Taariq Adam and Saiduth Ramesh went and tackled COTA as part of the Audi R8 GT4 release package for the America DLC. Want to see how they got on? Then watch the video below:
REMINDER Your Chance To Gain 10% Off On 1-1 Coaching
We are also now proud to announce that if you are a subscriber of Coach Dave Academy you will now automatically get 10% off your next 1-1 coaching session booked through Coach Dave. All you need to do to ensure you qualify for the 10% off is the following:
Subscribe to the Coach Dave Academy service.
Ensure you are logged in to your account during the checkout process.
If you have any problems whatsoever with claiming your 10% discount, do not hesitate to contact one of the team in the Discord and they will be happy to assist.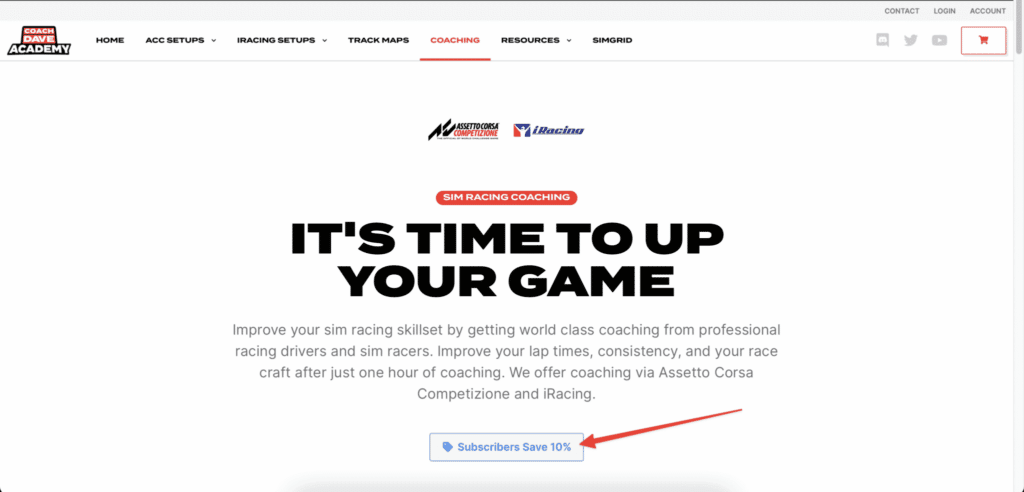 That is all from the team this week, we wish you a lovely day.