This week at Coach Dave Academy we are proud to release the first batch of updated CDA3 setups that follows our new philosophy. Below you will see a breakdown of what circuits are ready, as well as additions to America DLC wet setup data bundles and a recap of this week's ACC broadcast.
Mercedes AMG GT3 EVO CDA3 Updates
This week, our first circuit releases for the updated Mercedes AMG GT3 EVO CDA3 setups have been released. As discussed last week, these setups are new baselines and will be broken down into two categories. What you receive in your new bundle is as follows:
Fast – aimed at producing the fastest lap time the driver was comfortable doing.
Safe – A consistent race setup that should provide a safe baseline to use for almost any driver.
Qualifying – A low fuel variant of the fast setup aimed at producing the quickest lap time.
Motec data for the setups included in the bundle.
So what circuits have been completed so far and are ready for download?
Spa
Hungaroring
Barcelona
Paul Ricard
Zolder
Monza
Kyalami
Once all circuits have been completed, we will release the notes on the website that come directly from the sessions that the driver and engineer completed. In addition, a list of the driver and engineer combinations that worked on each track will also be published.
Want to download the new Mercedes AMG GT3 EVO setups?
Americas DLC Wet Setups
In the meantime, we have been hard at work last week creating data runs for the GT3 cars for the wet setup bundles. The following data has now been added for the America DLC tracks for the specified bundles:
Medium and heavy wet data:
Lamborghini Huracan GT3 EVO
Nissan GTR GT3
Live Setup Broadcast
Did you catch our latest live recorded broadcast?
Yesterday we had a great live broadcast with Taariq Adam and Saiduth Ramesh, tackling the new CDA3 updates for the Mercedes AMG GT3 EVO at Zolder. To watch the livestream in full just click the link below:
REMINDER Your Chance To Gain 10% Off On 1-1 Coaching
We are also now proud to announce that if you are a subscriber of Coach Dave Academy you will now automatically get 10% off your next 1-1 coaching session booked through Coach Dave. All you need to do to ensure you qualify for the 10% off is the following:
Subscribe to the Coach Dave Academy service.
Ensure you are logged in to your account during the checkout process.
If you have any problems whatsoever with claiming your 10% discount, do not hesitate to contact one of the team in the Discord and they will be happy to assist.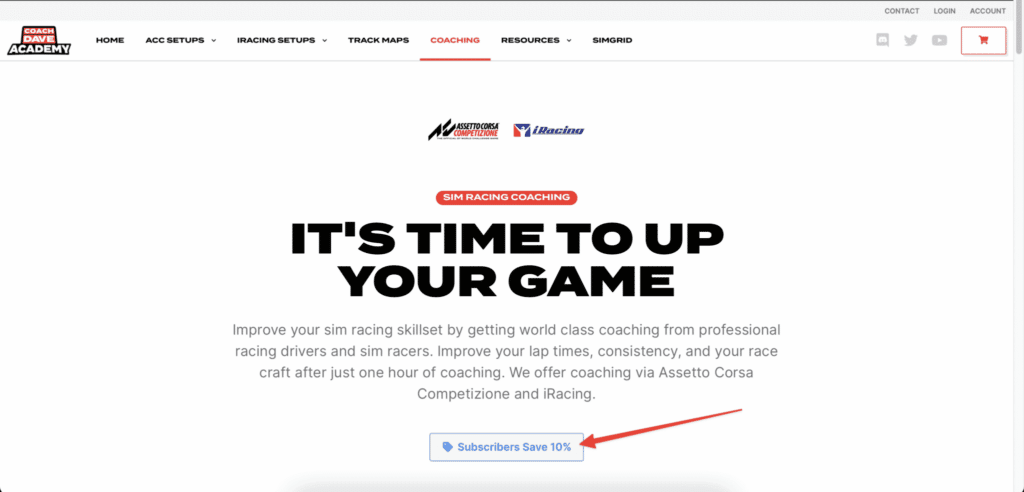 That is all from the team this week, we wish you a lovely day.