Our latest ACC blog post from Coach Dave Academy this week is all about our plans for the new CDA3 updates and what you can expect from GT3 updates to existing setups, now that all of the hotfixes of last week have been released.
We've Listened And Acted On Your Feedback
Over the past few weeks we have listened to what all our customers have had to say in the Discord channels and by email. Reading the variety of opinions and views has been great for the CDA team, as we have been able to formulate a plan that we feel will benefit all customers.
Our sole focus is to provide the best possible service and give customers class leading setups that cover a variety of styles and skill levels. So what exactly have we changed and how do you benefit?
There are four key areas that we are introducing with these latest updates.
New Setup Structure
A big portion of feedback we received from customers was regarding our setup offering per track and how one style of setup, whether fast or safe, was being used rather than an offering that covered both bases. We agree that following this one philosophy can segregate different levels of driver and therefore we have made some changes.
You will now get THREE setups per track with a CDA car/track combination, these are as follows:
Fast: Designed to go as fast as possible.
Safe: Designed to be a safe alternative to the fast setup.
Qualifying: based on the fast setup.
Motec data for all setups included in the bundle.
As you can see, we will now develop both fast AND safe versions for setup choices per track. As always, motec data for all setups will also be provided, meaning you get even more data from us.
Driver/Engineer Initials On The Website
Yes, you read this right, we have also introduced this. We heard the calls for a connection between driver/engineer and the customer when it comes to identifying setup styles and philosophies. For the new updates onwards, the driver and engineers initials that worked on that setup will be present on the website under the release notes section in the blog here
This will allow customers to identify drivers and engineers that suit their styles and then be able to easily identify setups at other tracks that were made by that team.
| | |
| --- | --- |
| Name Abbreviations | |
| Jakob Ostermann | JO |
| Saiduth Ramesh | SR |
| Jose Javier Buisan | JJ |
| Nick Deeley | ND |
| Luka Berk | LB |
| Taariq Adam | TA |
| Miguel Jimenez | MJ |
| Gregor Schill | GS |
| Tobias Pfeffer | TP |
| Dennis Schoeniger | DS |
Driver: Bold
Engineer: Italics
This also gives a peek into the team that work here at Coach Dave Academy and allows customers to see the work that goes on behind the scenes from these top drivers and engineers.
Naming Convention Change
| | | | |
| --- | --- | --- | --- |
| | | Setup Type | |
| New CDA3 Updates | CDA3 | Fast | CDA3 M4 GT3 ND/JO BAR RF04 |
| | | Safe | CDA3 M4 GT3 ND/JO BAR RS04 |
Fast Race Setup: RF01
Safe Race Setup: RS01
Fast Quali Setup: QF01
Safe Quali Setup: QS01
With the changes in setup structure and driver/engineer initials, means a change in naming convention too. I have highlighted above the example changes of how the new setup naming convention will look like.
Underneath are the acronyms for the new setup style, with the safe, fast and qualifying variants.
Notes Created For Every Setup Session
Yes this is a big one. For every GT3 car from this week onwards that we create setups for, we will be releasing notes for each circuit that we attend to give customers both feedback on setup style and the challenges the team faced when creating the setups. This will give customers a greater understanding of what we did and why, but also give them the chance to see recommendations for changes.
These notes will be published on the website when every FULL car release has been completed. It will be segregated by track to give the customer the easiest way to identify the notes they need, you can find them here. 
We will now start work on the CDA3 updates this week with the new structures in place post hotfix in the following order:
Mercedes
Audi
Porsche
Honda
Aston
BMW
Bentley
Ferrari
We will be releasing the setups each week as normal through the subscription.
If you are not an existing subscriber to the Coach Dave Academy ACC subscription, click the link below:
Americas DLC Wet Setups
In the meantime, we have been hard at work last week creating data runs for the GT3 cars for the wet setup bundles. The following data has now been added for the America DLC tracks for the specified bundles:
Medium wet data:
Bentley Continental GT3
McLaren 720s GT3
Medium and heavy wet data:
Ferrari 488 GT3 EVO
Mercedes AMG EVO GT3
Audi R8 EVO II
Porsche 991.2 GT3R
Live Setup Broadcast
Did you catch our latest live recorded broadcast?
Our team of Taariq Adam and Saiduth Ramesh went and tackled COTA as part of the Audi R8 GT4 release package for the America DLC. Want to see how they got on? Then watch the video below:
REMINDER Your Chance To Gain 10% Off On 1-1 Coaching
We are also now proud to announce that if you are a subscriber of Coach Dave Academy you will now automatically get 10% off your next 1-1 coaching session booked through Coach Dave. All you need to do to ensure you qualify for the 10% off is the following:
Subscribe to the Coach Dave Academy service.
Ensure you are logged in to your account during the checkout process.
If you have any problems whatsoever with claiming your 10% discount, do not hesitate to contact one of the team in the Discord and they will be happy to assist.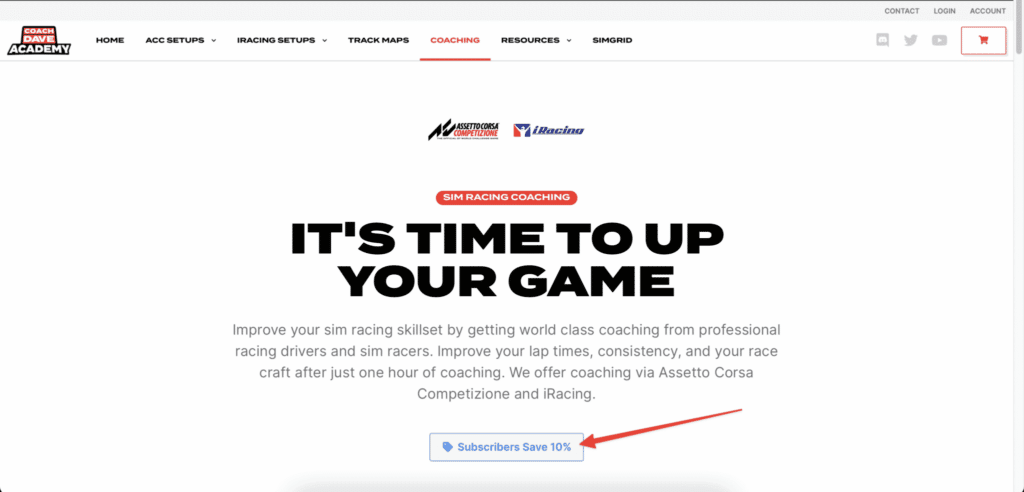 That is all from the team this week, we wish you a lovely day.