Week 8 Of Season 4 Has Been Released from Coach Dave Academy. What does everyone have to look forward to this week? Continue reading below to find out what you can expect as we enter the second half of the current iRacing season.
Lap Guides
For the eighth week in iRacing, we have three fantastic track guides from three of our iRacing experts. We have a monster GT4 lap guide from Corentin who is taking you round the Nurburgring Combined layout. Elsewhere Bart is taking the F4 out for a spin to enjoy Silverstones high downforce corners, whilst Suellio is back in the Porsche Cup to analyse and explain Imola for this week's racing.
Fixed Data Packages Week 8:
Porsche Cup Fixed – Imola
F4 Fixed Championship – Silverstone
IMSA Week 8 – Suzuka:
Dallara P217
Mercedes AMG GT3 EVO
Lamborghini Huracan GT3 EVO
Porsche 991.2 GT3R
BMW M4 GT3
Porsche Cup Open Series Week 8:
VRS Sprint And Endurance – Week 8 – COTA:
BMW M4 GT3
Lamborghini Huracan GT3 EVO
Mercedes AMG GT3 EVO
Porsche 991.2 GT3R
GT4 Falken Tyre Challenge – Week 8 – Nurburgring Combined:
Aston Martin Vantage GT4
Mercedes AMG GT4
Porsche Cayman GT4
Touring Car Turn Racing Challenge TCR – Week 8 – Nurburgring Combined:
Hyundai Elantra
Honda Civic Type R
Hyundai Veloster
F4 Ricmotech Challenge Championship – Open Week 8:
Week 8 Hotlaps Live:
You can find the week 8 hotlaps right now by clicking the below link:
Latest Livestream 02/11
This week we have another fantastic pre-recorded livestream coming up with Corentin Guinez and Oriol Domingo. Watch the full session live from 1pm UK time as they create the setups for week 8 on the Nurburgring VLN Combined layout, in the Mercedes AMG GT4 for the GT4 Falken Challenge. 
You can watch it right here:
Coach Dave 6 Hours Suzuka – iRacing
Coming up this weekend!
This event will be held on Sunday 6th November, the weekend prior to the iRacing Suzuka 10H Special Event. Both a great way to get some extra practice in within a competitive environment, whilst also having fun is the name of the game here.
Teams require between 2-6 drivers to be eligible to register and teams will have a choice of 7 GT3 cars. There is space for up to 60 cars on the track, and that means there is always the chance the safety car might come out to keep things interesting for everyone involved during the race.
Registration is open now and you can register your team here: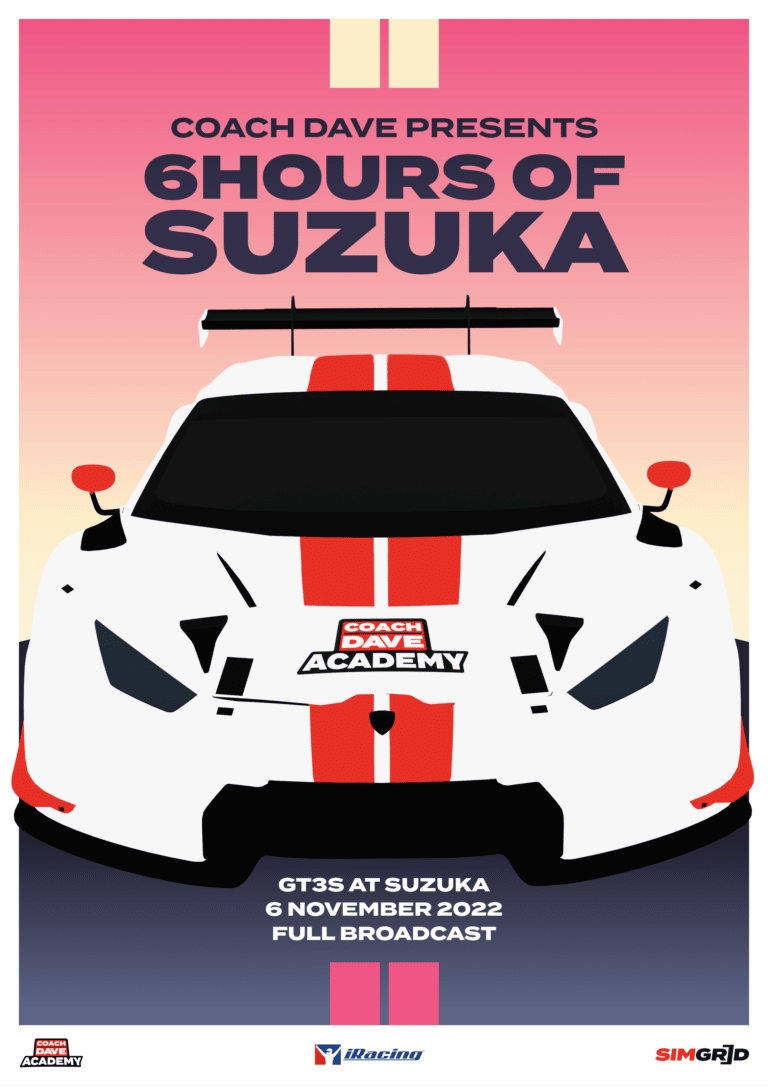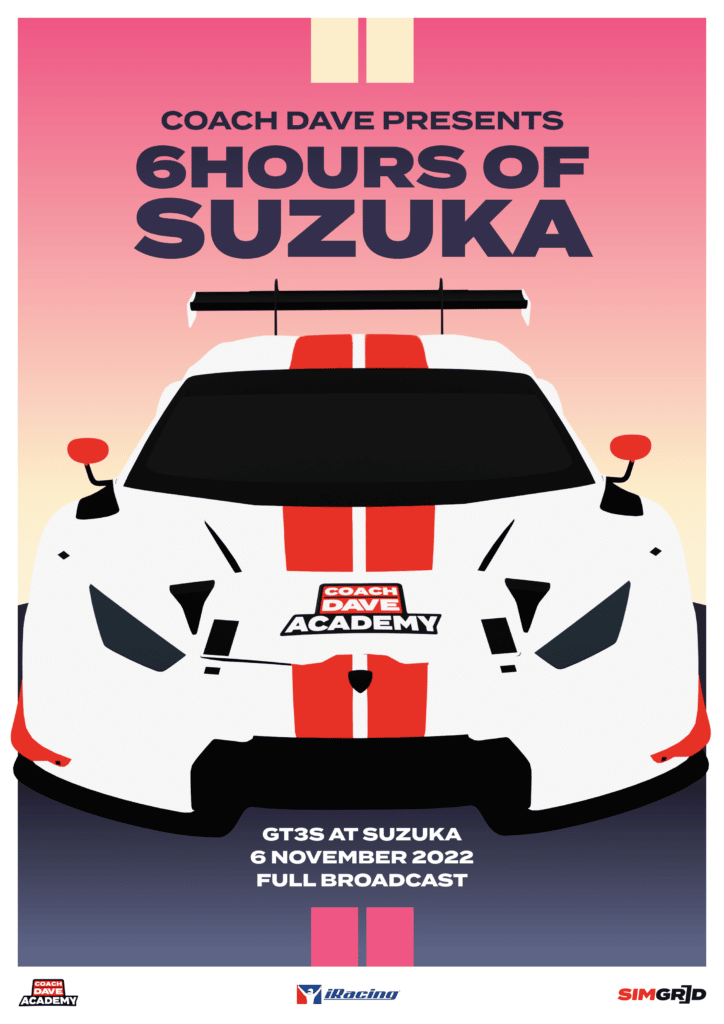 ICYMI VCO Interview With Corentin Guinez
Following on from his Touring Car class victory in the inaugural race of the IMSA Esports Michelin Global Championship alongside team-mate and fellow Coach Dave driver Kieran Harrison, Corentin sat down with VCO to talk about his sim racing activities, including the work he does with Coach Dave Academy. You can watch it below:
Have a great afternoon.