You can't drive a motorcycle without handlebars or a car without the steering wheel. But you can certainly drive a sim racing car without a racing wheel. Well, if you are a pad racer, that is. Racing on the controller or even the keyboard may have its merits, but if you wish to make a mark in the sim racing scene, you must hone your skills with a quality racing wheel.
The Sim Racing wheel market is full of incredible options that meet many people's needs, including tens of bases to attach these wheels to. This makes it easy to get lost, so let us guide you through what the best Sim Racing wheels are in 2023.
How to Choose a Sim Racing Wheel
The primary doubt we may all have, especially the amateur sim racers, would be how to pick "the right" sim racing wheel. Things are lovely with a controller, and some legends even race with a keyboard (more power to you), but you can only extract the maximum out of yourself with the best means, and a racing wheel helps you achieve precisely that. Here's why you should consider switching to a racing wheel, and how to choose a Sim Racing Wheel;
Performance
Performance is an essential metric when it comes to deciding how you will race. Your sim rig, racing wheel, display, hardware, and much more will all depend on what gives you maximum performance. With that in mind, there is no control scheme out there that can provide you with better performance than a racing wheel.
A wheel certainly helps in turning your car with the most minute of angles. All the buttons and controls you need are just a thumb's reach away. A racing wheel offers a one-stop solution for all your requirements allowing you to focus on only one thing; racing.
Realism
What can be more realistic than driving a car with a steering wheel? Perhaps, a vehicle that is driven using a controller, or better yet, a keyboard? As fun as it may sound, it is so impractical and definitely awkward to control. A racing wheel helps you bridge the gap between real-life racing and virtual cars in sim racing.
After all, a car is best driven with a wheel, physically or virtually. You can even find racing wheels that are custom-built for different racing categories. Not just that, you can even score some racing wheels that have been made explicitly for a particular game/franchise!
Miles Above Controller/Keyboard Racing
There is an argument for the trusty gamepad and the evergreen keyboard, no doubt. These control options offer a quick and easy way to get into any sim racing title you like. You also have the simplicity and ease of use to be happy about, and almost anyone can pick up and play any game with these devices.
However, that is where the pros end. While controllers and mouse/keyboard are suitable starter devices, they are still a long way off good simulation accuracy. If you wish to engage in sim racing professionally or even consider it seriously, it is highly recommended to switch to a racing wheel.
Picking Used Sim Racing Wheels Instead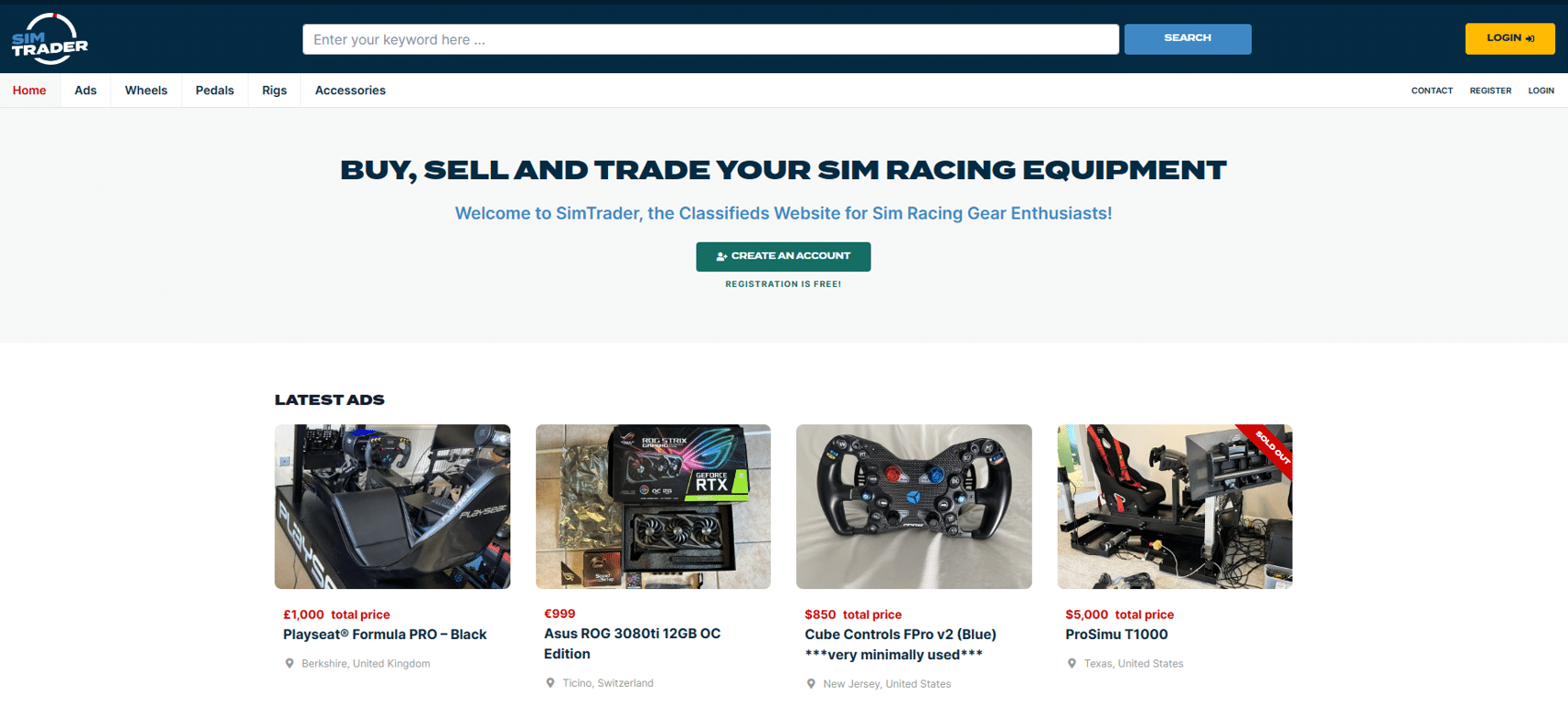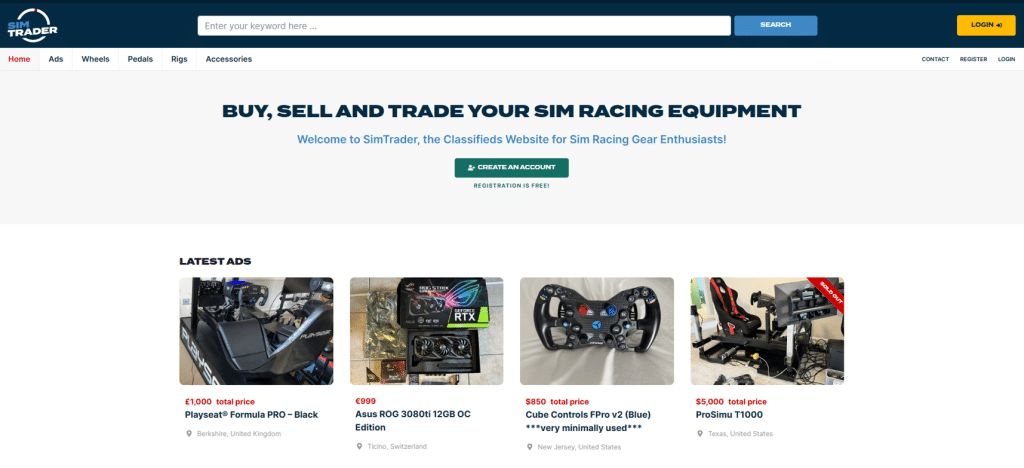 Alternatively to buying brand new, classified ads are a great way to pick up top quality items at a much cheaper cost, usually always returning more bang for your buck. Especially when talking about sim racing wheels which are always listed in abundance due to others upgrading or changing eco-systems.
With the current state of the market in what is probably its most purple patch ever, you can find wheels for almost all racing brands available including Cube Controls, Fanatec, Thrustmaster and all in between.
Some things to look out for when purchasing wheels could include the wear and tear of the buttons, rotary dials or switches and especially the shifter paddles. But most wheels can get replacement parts pretty easy.
The sim racing classified site SimTrader becomes your best friend when looking for used wheels. Not only can you pick up an item at a cut price, you might be able to pick up your dream wheel cheaper than you expected. Check out all the Sim Racing Wheels that are currently listed on the platform and you could be making your next racing wheel purchase with SimTrader.
Our Recommendations
There are numerous factors to keep in mind when you consider purchasing a particular racing wheel. While the budget is the apparent deciding factor, it is certainly not the only one. The racing wheel shape, force feedback mechanism and compatibility are equally as important. Having said that, these are some of our top recommendations for racing wheels you should buy.
Nothing is more authentic than this. For the first time in sim racing history, a steering wheel has been developed simultaneously for both real and virtual racing. Engineered by Fanatec in collaboration with BMW Motorsport, the Podium Steering Wheel BMW M4 GT3 sets a new bar for simulation realism.

As Fanatec put it, this is not a replica. This is the real deal. You can do laps on your simulator, detach the wheel and take it straight to your BMW M4 GT3 race car.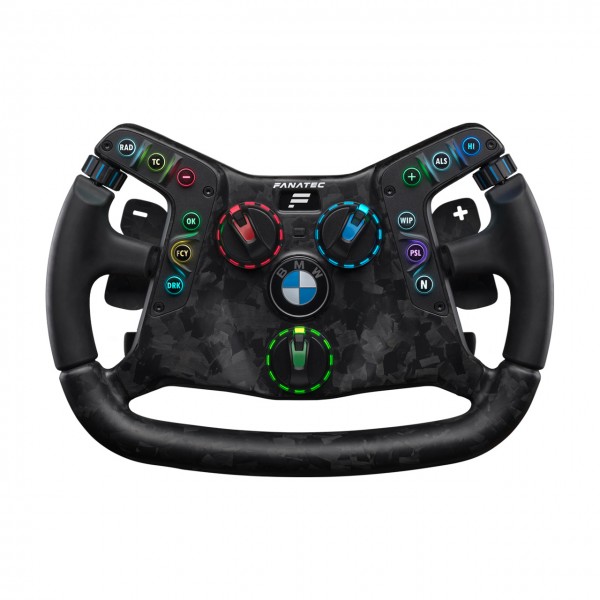 The all-carbon, RGB LED-backlit front buttons, backlit 12-position rotary switches, custom thumb encoders, dual-action magnetic shifters, dual-Hall sensor clutch paddles, and more make this one of the best wheels in 2023.
But it's no cheap wheel rim either, setting you back $1,500. The good news is this wheel rim is compatible with all current DD options from Fanatec, so whether you have the newest CSL DD 5NM base or the DD2 25NM base, you can be the owner of this BMW M4 GT3 wheel.
The most beloved Cube Controls steering wheel is back with its third iteration. The CSX-3 is designed to push the boundaries of the premium experience further and fulfil the expectations of a real driver. Coming in at $1,400, this is from the higher echelon of racing wheels.
CSX-3 is the highly recommended choice for a top-tier racing performance. It incorporates all the benefits of the best F-PRO features combined with the game-changer options of a steering wheel with display, now touch-screen for faster interactions.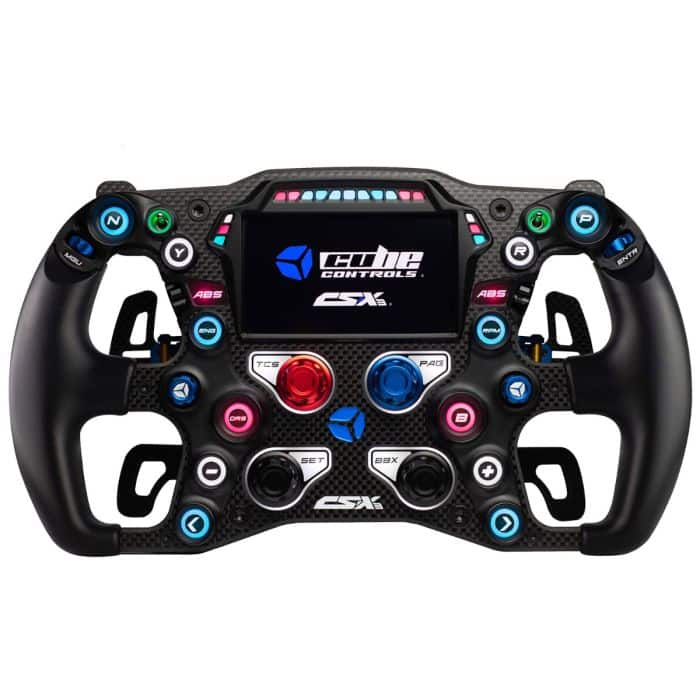 Thanks to the compatibility with SimHub, the customization of your dashboard layouts and RGB LEDs guarantees a whole new level of possibilities. The optional paddle set in CFRP (carbon fibre-reinforced polymer), will secure total control over your race.
The beauty of a cube controls wheel is that they are pretty much adaptable to all wheelbases with the right adapter usually supplied at purchase. So you don't need to panic if you have a Simucube, Simagic, Accurforce, Fanatec or even a Thrustmaster base. These cube-control wheels can be mounted to your existing base if you simply want a wheel upgrade without worrying about eco-systems.
ASETEK FORTE FORMULA WHEEL
The Asetek Forte Formula wheel is inspired by real-life formula-style race cars. And this has more rotary switches and thumb encoders than you will know what to do with. With 12 buttons, two-way toggle switches, seven-way kink switches, twelve position rotary encoders and six thumb encoders as well as 49 programmable LED lights, this really will keep your eyes on the wheel instead of the road.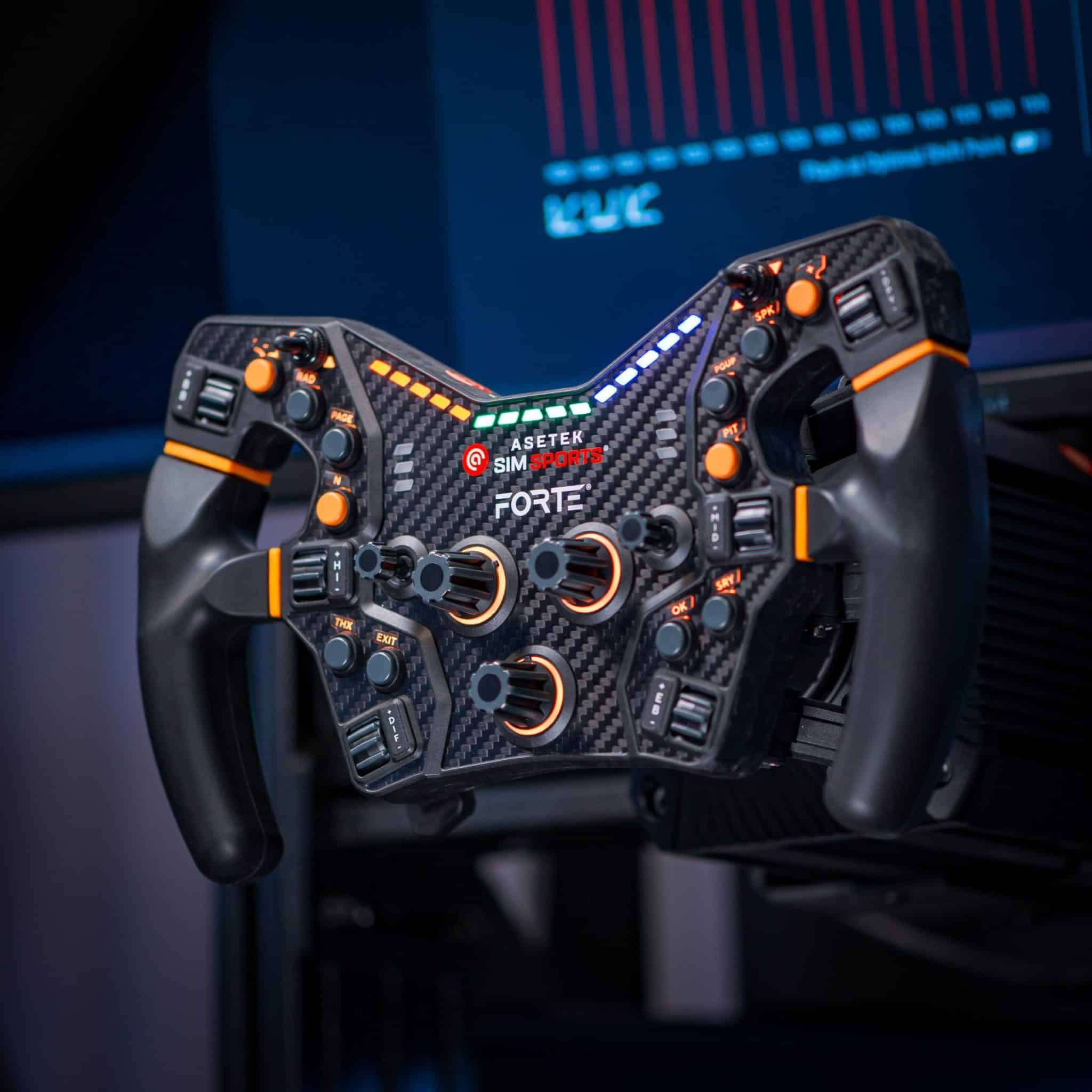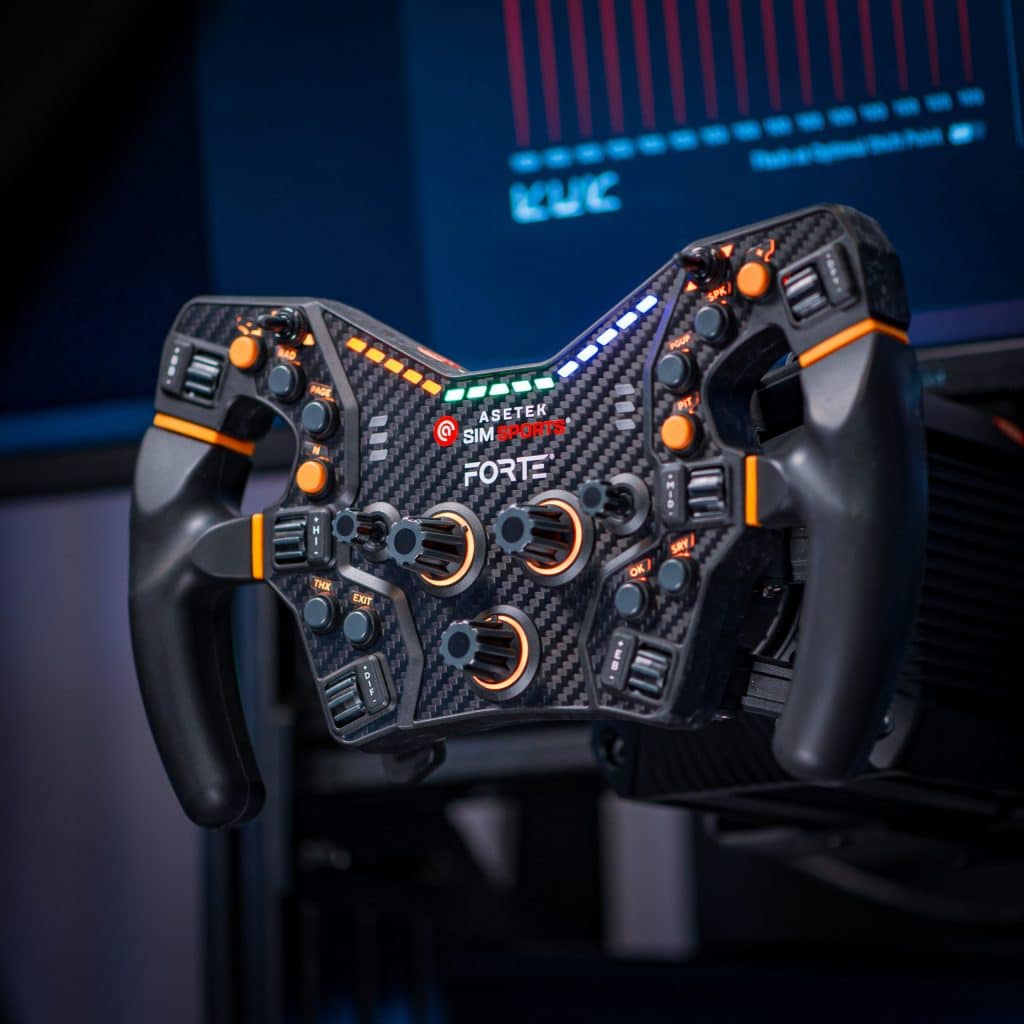 Of course, this wheel is here because of a brand-new and unique quick-release system. All Asetek SimSports steering wheels feature their own quick-release system, that is as easy to use as shifting gears – literally. To disconnect the wheel from the base, all you have to do is press a paddle and the wheel will be in your hands! They are not relying on wireless signals, batteries that need to be charged, or cables and USB connections that can break or fall off.
At the moment, the Asetek Forte wheel can only be used with the 18NM Forte or 27NM Invicta wheelbases also supplied by Asetek. But the wheel itself comes in at a very modest $600. Much cheaper than the $1,400 needed for the Cube Controls rim or the $1,500 needed for the Fanatec rim.
Enter the top-of-the-line all-new formula style wheel from Moza. The FSR Formula wheel comes equipped with a 4.3-inch built-in digital dash with 15 customisable UI options, as well as carbon fibre duel clutch paddles and a split-second quick-release system, with the wheel connecting to any Moza wheelbase via a wireless Bluetooth option.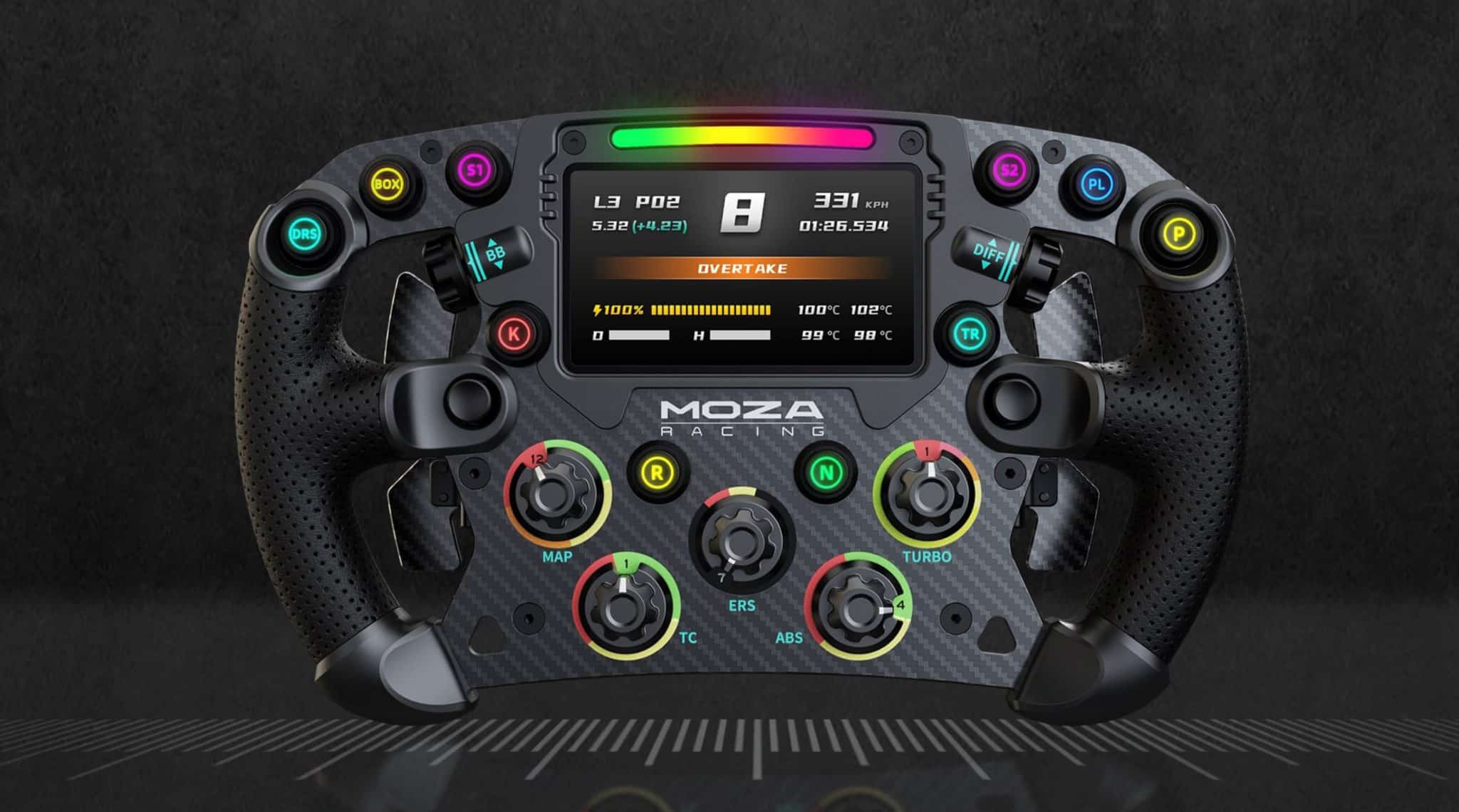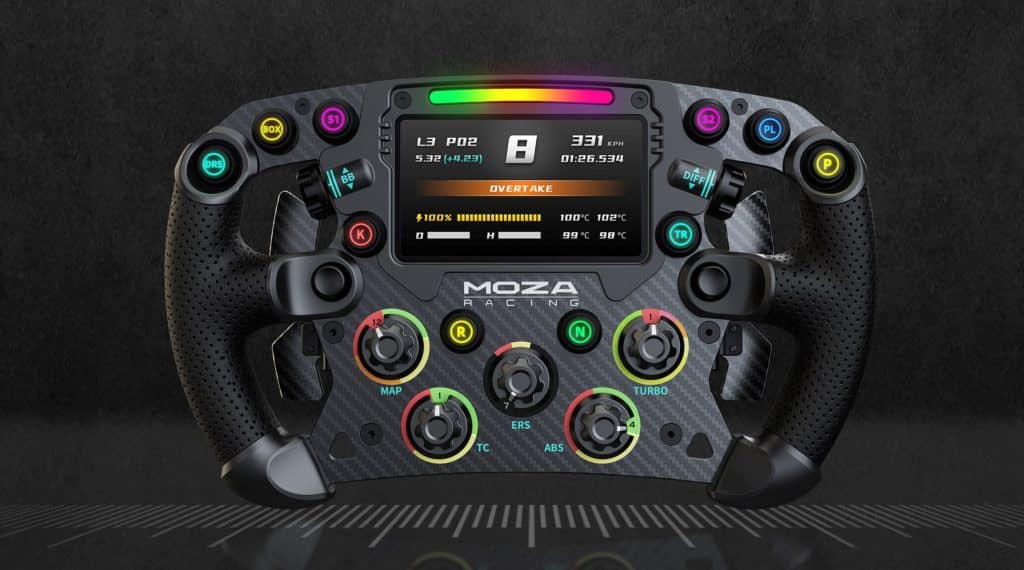 This is great if you are in the Moza eco-system and you have any of the R5/R9/R16 or R21 bases at your disposal. You will need the wheelbase adapter when purchasing this wheel rim, however, especially if you have one of the early Moza DD base designs that have an older quick-release system.
Again, at the lower end price wise of 'top range' wheels, coming in at $600 this may just be the best value for money rim in this list.
The Thrustmaster SF1000 is designed as a replica of the wheel from the actual Ferrari SF1000 Formula One race car, the upgrade to the previously licenced older generation Ferrari F1 rim from the early 2010s.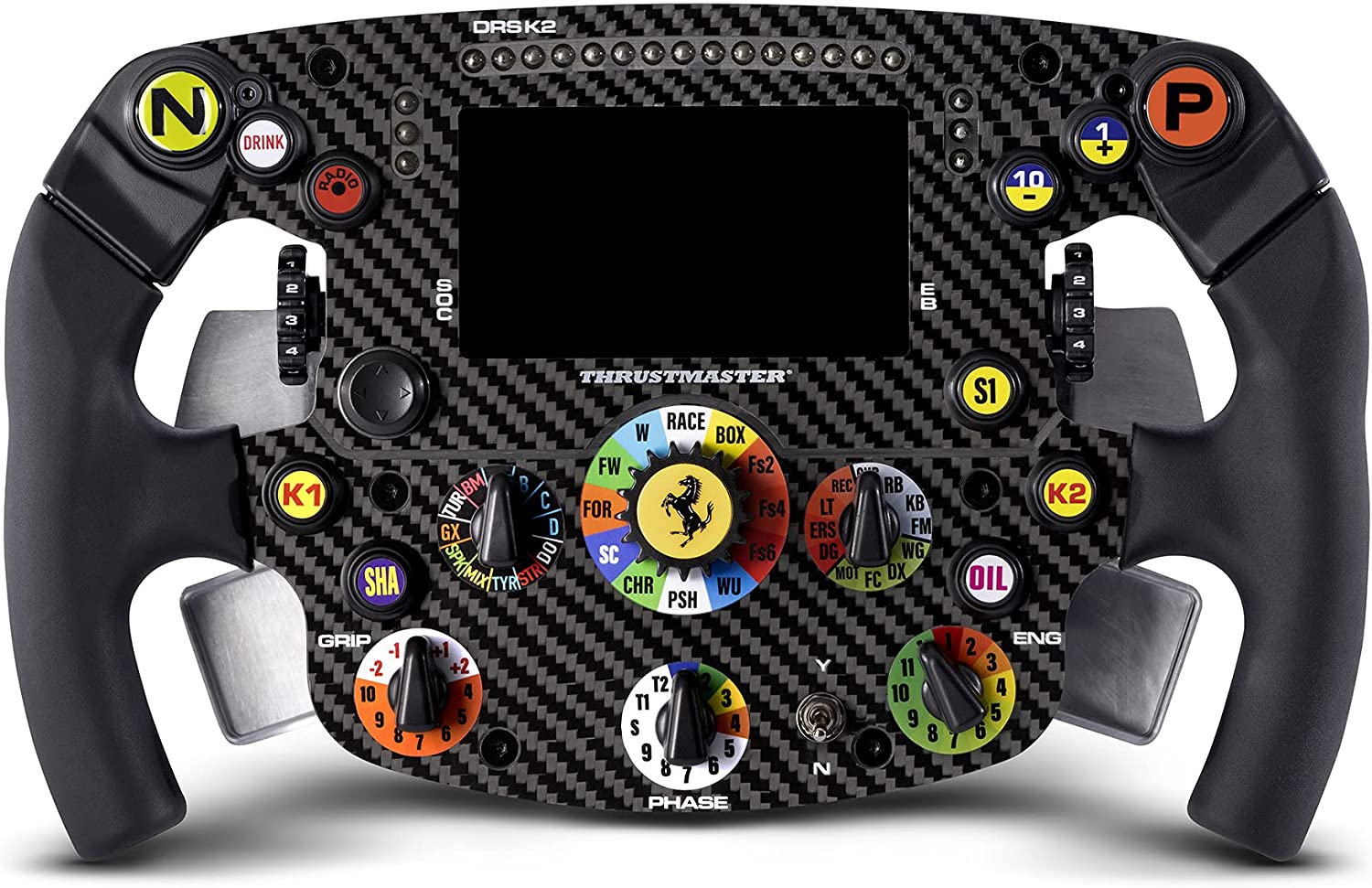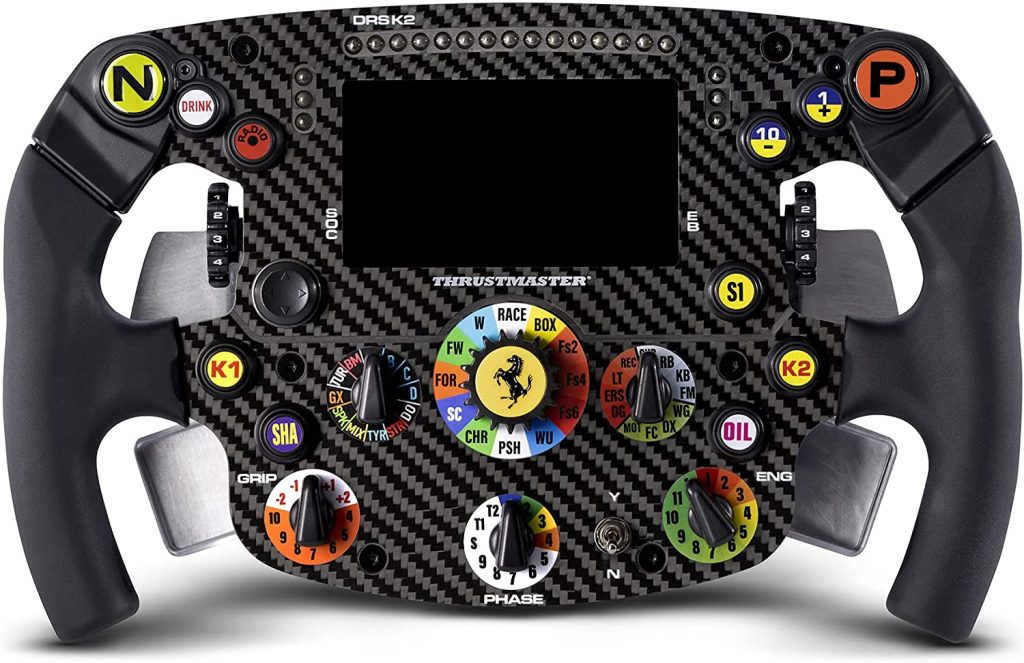 This wheel includes 21 LEDs and a 4.3-inch display, allowing for access to game menus and essential racing information, as well as 7 encoders and up to 25 action buttons. The Formula Wheel Add-On Ferrari SF1000 Edition features a carbon fibre faceplate for balanced, accurate Force Feedback, and incredible realism in racing simulation games. You can also upgrade the rim with the Thrustmaster T-Chrono Paddles paddle shifters as an extra.
The SF1000 rim is compatible with the following Thrustmaster T-Series racing wheelbases: TS-XW, T-GT, T300, TX, TS-PC & the newly released T818 DD base. So if you have the Thrustmaster eco-system, this is the top-end rim for you at a fraction of the cost of all other rims in this article – only $400.
We cannot have a sim racing wheels list without at least one circular rim being featured, and we believe this is the circular rim to be all and end-all.
The GSI GT-MAX 32 is the most advanced sim racing steering wheel GSI has made to date. It takes everything they've learned and elevates it to a new level of technology including features, construction and assembly. Just look at it!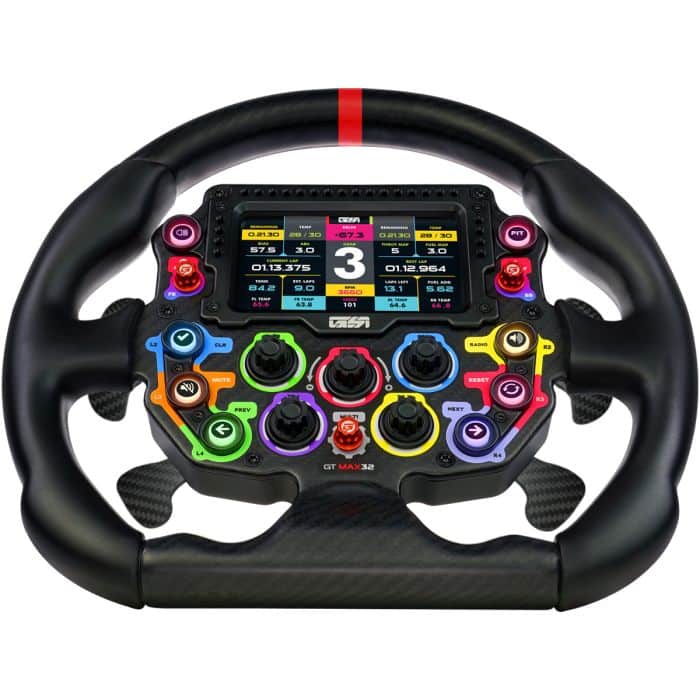 This wheel comes as standard with a 5-inch LCD touch screen, 3 seven-way switches, 4 rotary encoders, 8 LED push buttons, 1 centred absolute rotary dial and the wheel is one whole piece of constructed carbon fibre with grip moulds over the top. 
This is also the most expensive wheel rim on the list at $1,800. But what can you expect when no corners are cut and you are getting such a beautifully crafted piece of technology?
GSI are officially partnered with Simucube and all GSI wheels work harmoniously with any Simucube 2 DD wheelbase.
SimTrader – The only classified site you need to buy, sell and trade your sim racing equipment – Sign up today