The GT3 class of GT race cars has always been popular in both sim racing and real-world racing. The cars have a brilliant combination of power, downforce and handling that make them very rewarding to drive. However, they're not necessarily the most accessible cars to learn, especially when it comes to getting to grips with the relatively high downforce levels that they generate.
The GT4 class is one step down from GT3 with less downforce and slightly less engine performance. This reduced downforce means that the cars rely a lot more on low-speed mechanical grip and are more lively when pushed hard, but also often produce better racing, as is so often the case with slower vehicles. Here are the best GT4 cars in iRacing.
The current list of GT4 cars
All of the five GT4 cars currently present in iRacing can be found racing in three different series: the Falken Tyre Sports Car Challenge – where the class races alongside the Ligier JS P320 – the IMSA Michelin Pilot Challenge where GT4 cars accompany the TCR class and the GT4 Falken Tyre Challenge.
If you want to take to the open setup Falken Tyre Sports Car Challenge then you can get your hands on both GT4 and LMP3 setups as part of our iRacing Setup Subscription now.
GT4 cars vary in looks, handling characteristics, engine layout and more, but due to the presence of Balance of Performance (BOP), overall lap times are all similar between different challengers. Here are all of the GT4 cars currently in iRacing:
Porsche 718 Cayman GT4 Clubsport MR
BMW M4 GT4
McLaren 570S GT4
Aston Martin Vantage GT4
Mercedes-AMG GT4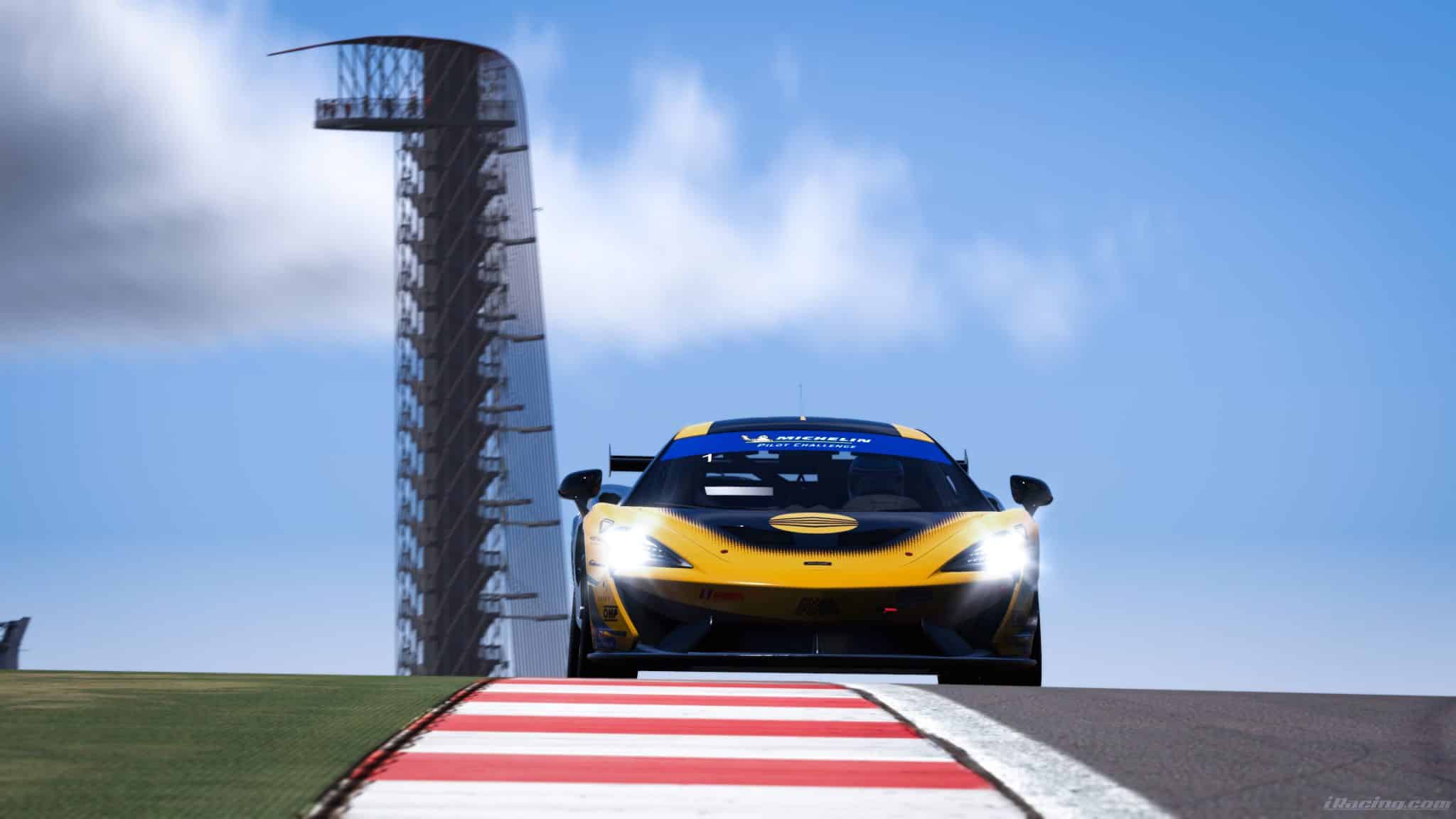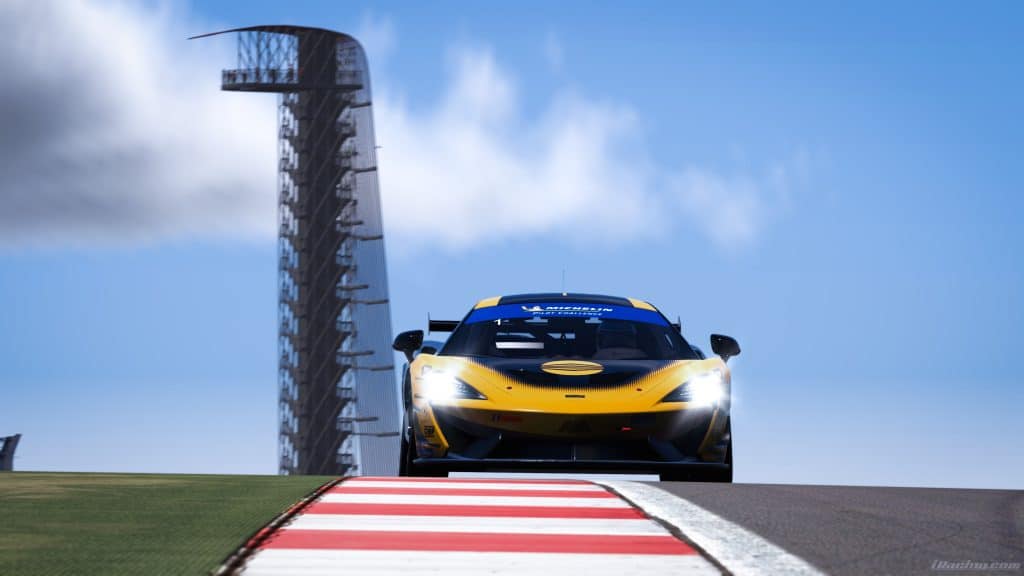 When choosing your car, you want something that's fast, predictable when pushed hard and stable over an entire race distance – which in the three regular series the GT4 class competes in will either be 120 minutes, 30 minutes or 15 minutes. Some cars are better over kerbs, while others may have a slightly higher top speed. It would be best to pick the best car for each track during the course of the twelve-week season, but that can become expensive because you may end up having to buy all of the cars!
---
Coach Dave Academy
In an open setup series, you're going to be at a hefty disadvantage if your car isn't dialled in correctly. But, with Coach Dave Academy's iRacing Setup Subscription – which brings you new setups every week from our team of professional iRacing drivers and engineers – you can be assured that the car underneath you is at its best. Paired with our free-to-download app Coach Dave Delta, installing setups is only a few clicks away.
Race setups
Qualifying setups
Onboard laps
Data packs
All crafted by professionals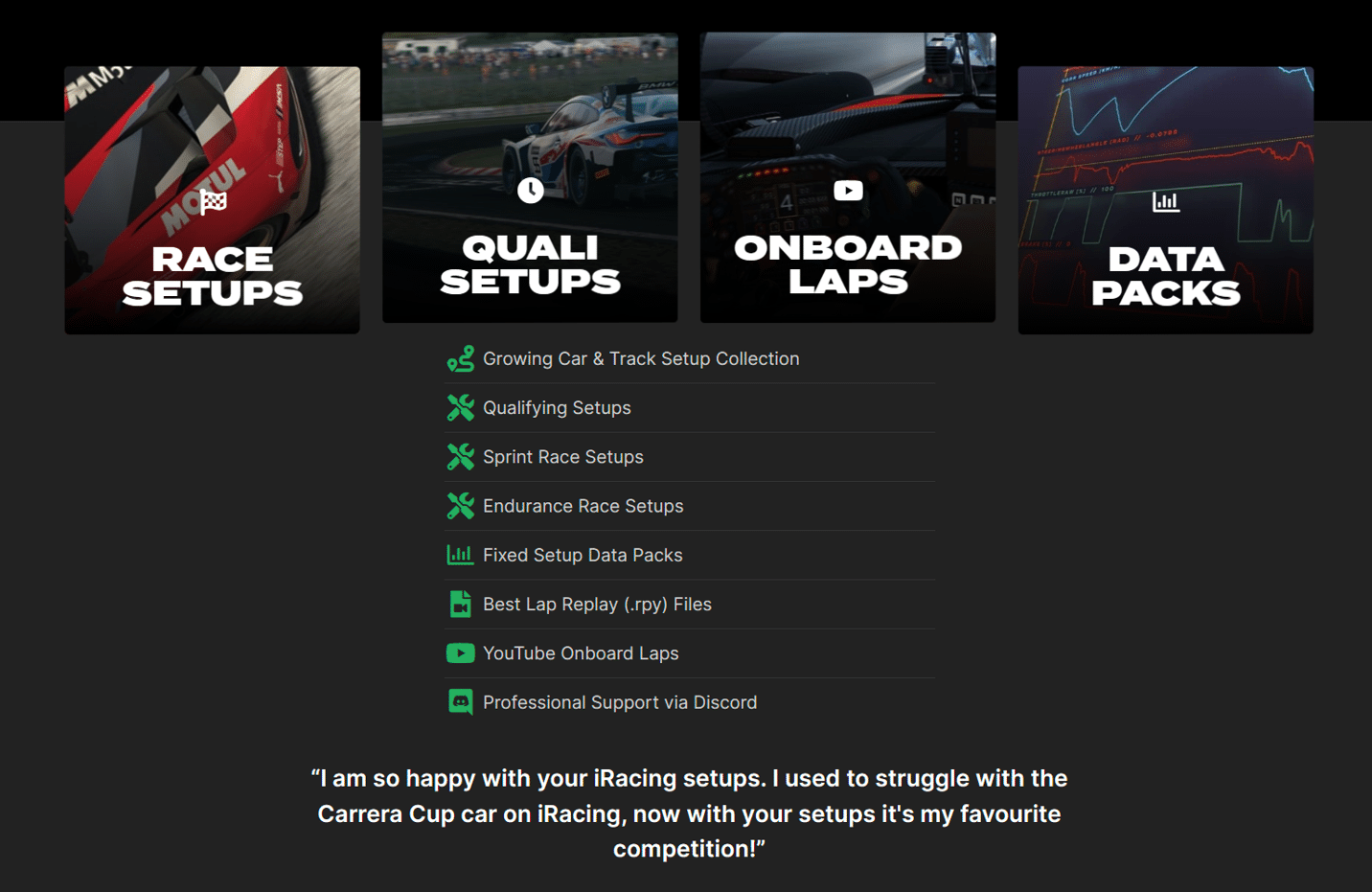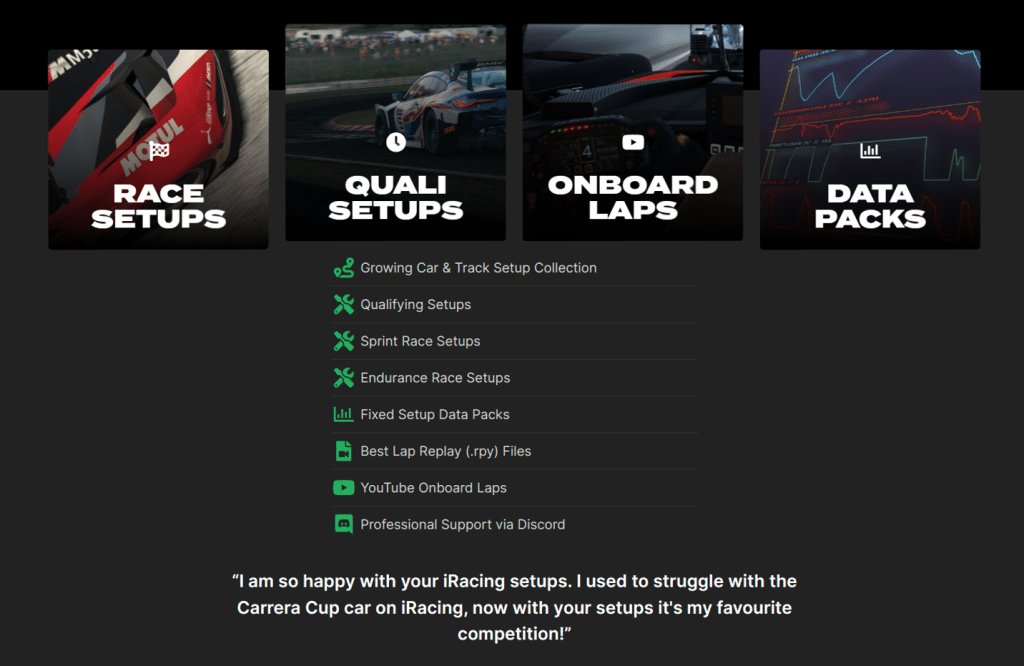 ---
Mercedes-AMG GT4
Similar in looks to its GT3 big brother, the Mercedes-AMG GT4 has a powerful engine that produces massive power and torque. Its V8 engine is front-mounted similarly to the BMW M4 GT4 and Aston Martin Vantage GT4, with the drive also coming from the rear wheels. Similar in styling and drivetrain to the Mercedes-AMG GT3 EVO, it's also equally as strong.
What makes the Mercedes-AMG GT4 the strongest GT4 car?
Can handle kerbs with ease
Forgiving due to its front-engine layout
Fast in most scenarios and does not possess one particular area of extreme weakness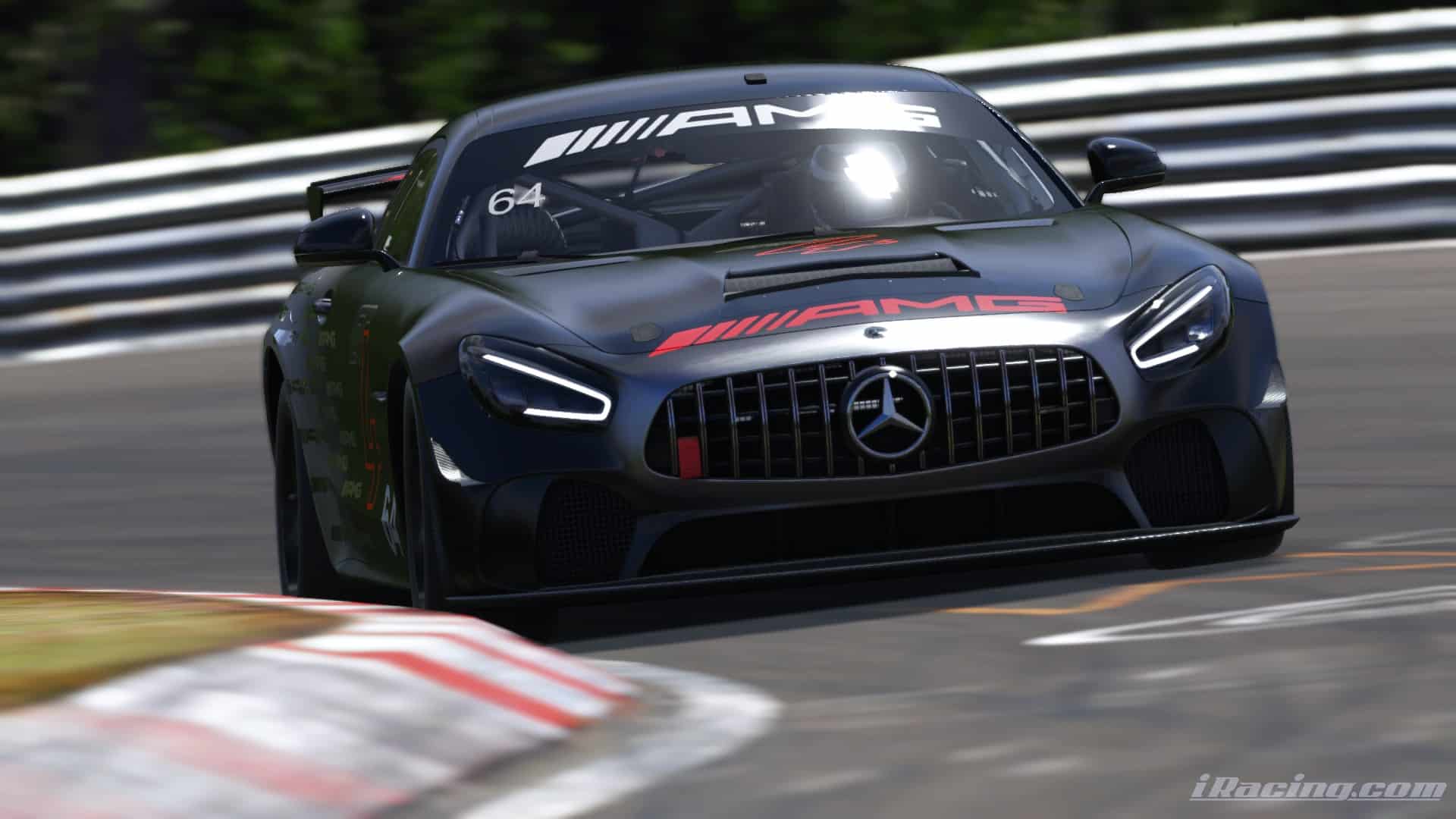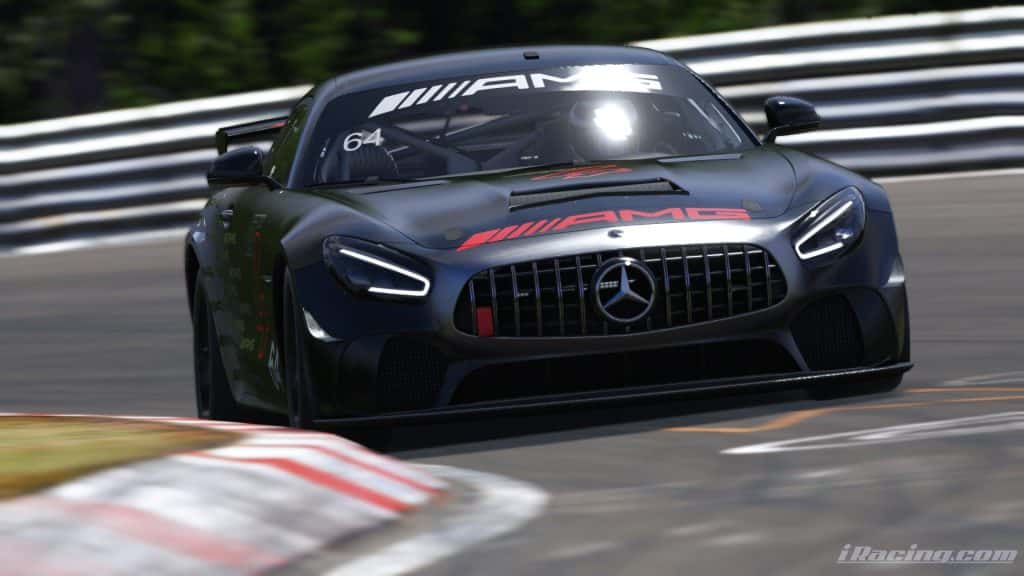 Whilst we'd recommend the Mercedes-AMG GT4 as the best GT4 car in iRacing, it isn't as nimble as cars such as the Porsche Cayman GT4 Clubsport – mainly due to that big V8 in the front – but it is really good over kerbs and has a huge amount of torque that can be utilised to give you good drive out of slower corners.
It should be easy to handle for beginner drivers due to its overall well-rounded balance, but it certainly has the overall pace to be a front-running car in the hands of experienced drivers on most tracks with the right setup.
Porsche 718 Cayman GT4 Clubsport
Unlike the GT4 offering from Mercedes-AMG, Aston Martin or BMW, the Porsche 718 Cayman GT4 Clubsport is not based on the same road-going car as its GT3 equivalent but is built from its own unique platform.
It's based on the road-legal Porsche 718 Cayman – the younger sibling of the Porsche 911 GT3 that the 992 GT3 R uses as its own basis – but, with many of the trademark characteristics of a Porsche, the 718 Cayman GT4 is a popular car amongst iRacers.
Why choose the Porsche 718 Cayman GT4 Clubsport?
It feels nimble and responsive
Strong in most cornering scenarios
Overall is a well-balanced and fun car to drive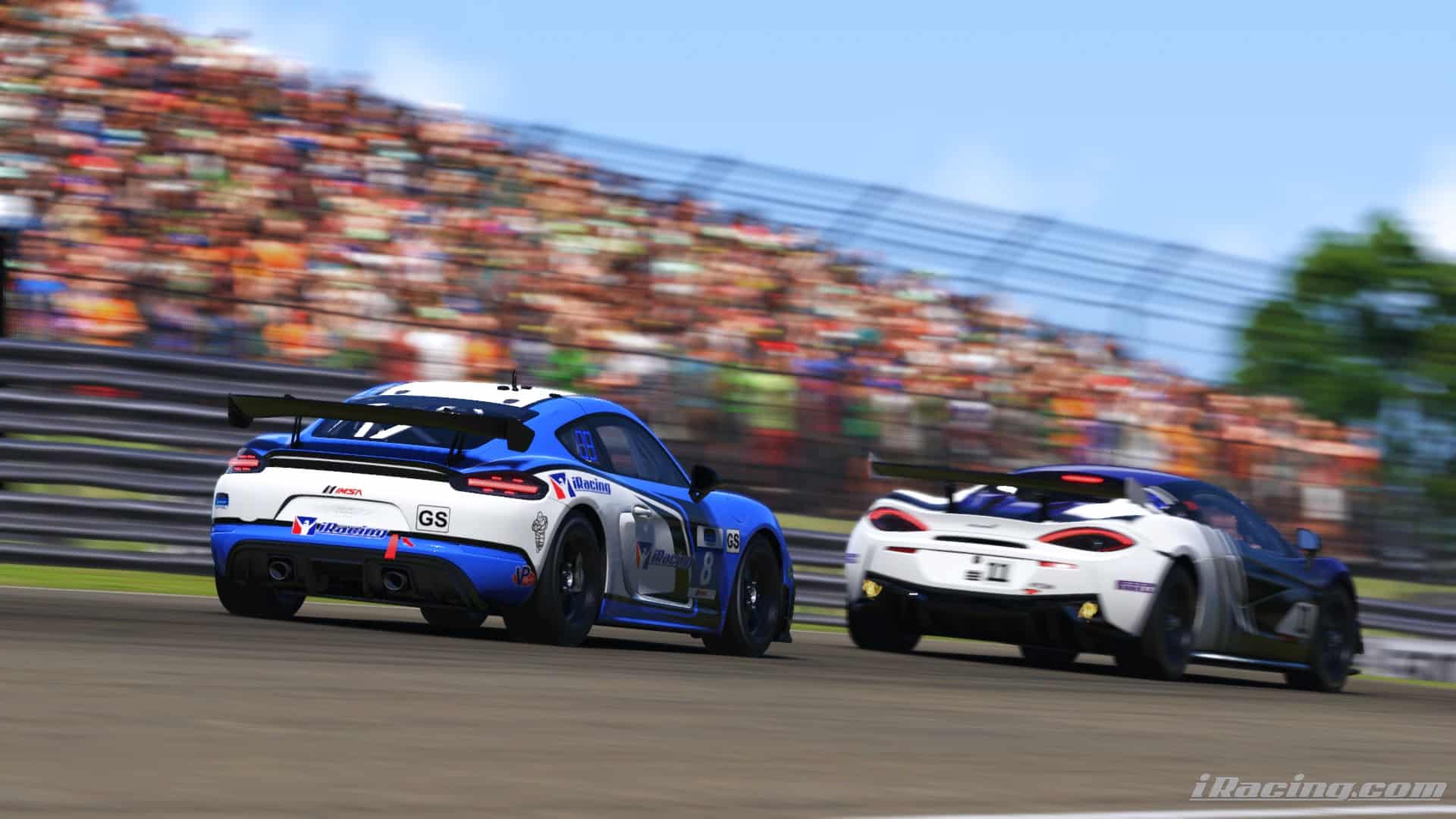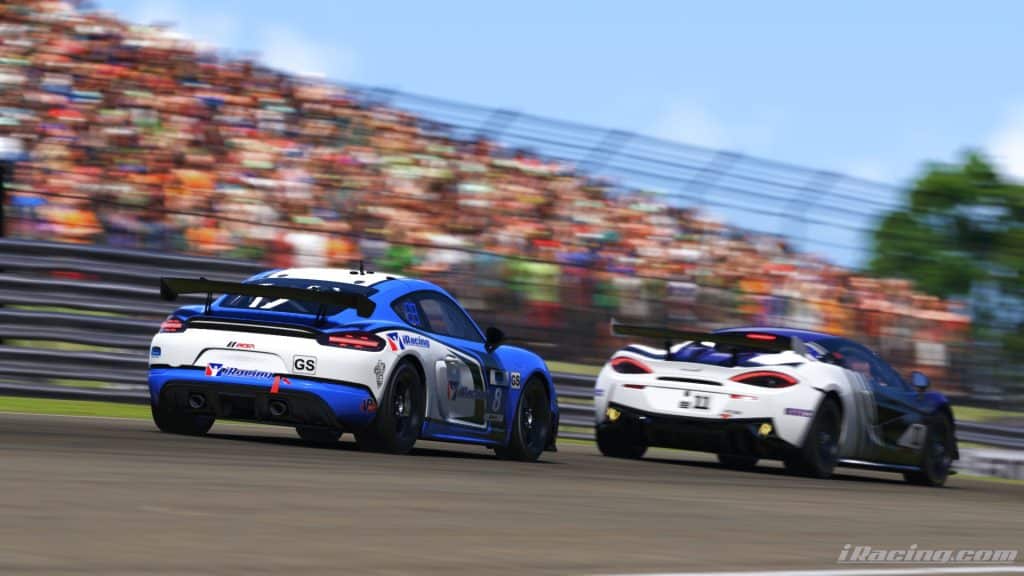 In keeping with Porsche tradition, the car has the classic Porsche styling cues and in turn, the same handling characteristics you might expect from the manufacturer.
However, where the 718 Cayman GT4 differs from what you might expect is with its mid-engined layout, which creates a less punishing driving experience than what you'll find in the Porsche 992 GT3 R. That doesn't take away from any of its responsiveness and agility, though.
That said, it still needs to be driven more carefully than its front-engined GT4 counterparts to be successful. You will need to be careful over kerbs and under braking you may find that the car suffers from some understeer, but overall, you will find that the Porsche has the potential to be a race winner.
Aston Martin Vantage GT4
The Aston Martin Vantage GT4 debuted in real-world racing in 2008 and has seen several revisions over the years, resulting in the car we see in iRacing today which is based on the 2018-spec road-going Aston Martin V8 Vantage.
Where is the Aston Martin Vantage GT4 competitive?
Possesses good straight-line speed
Rides kerbs better than some other cars in its class
Has a lot of natural rotation for its front-engined nature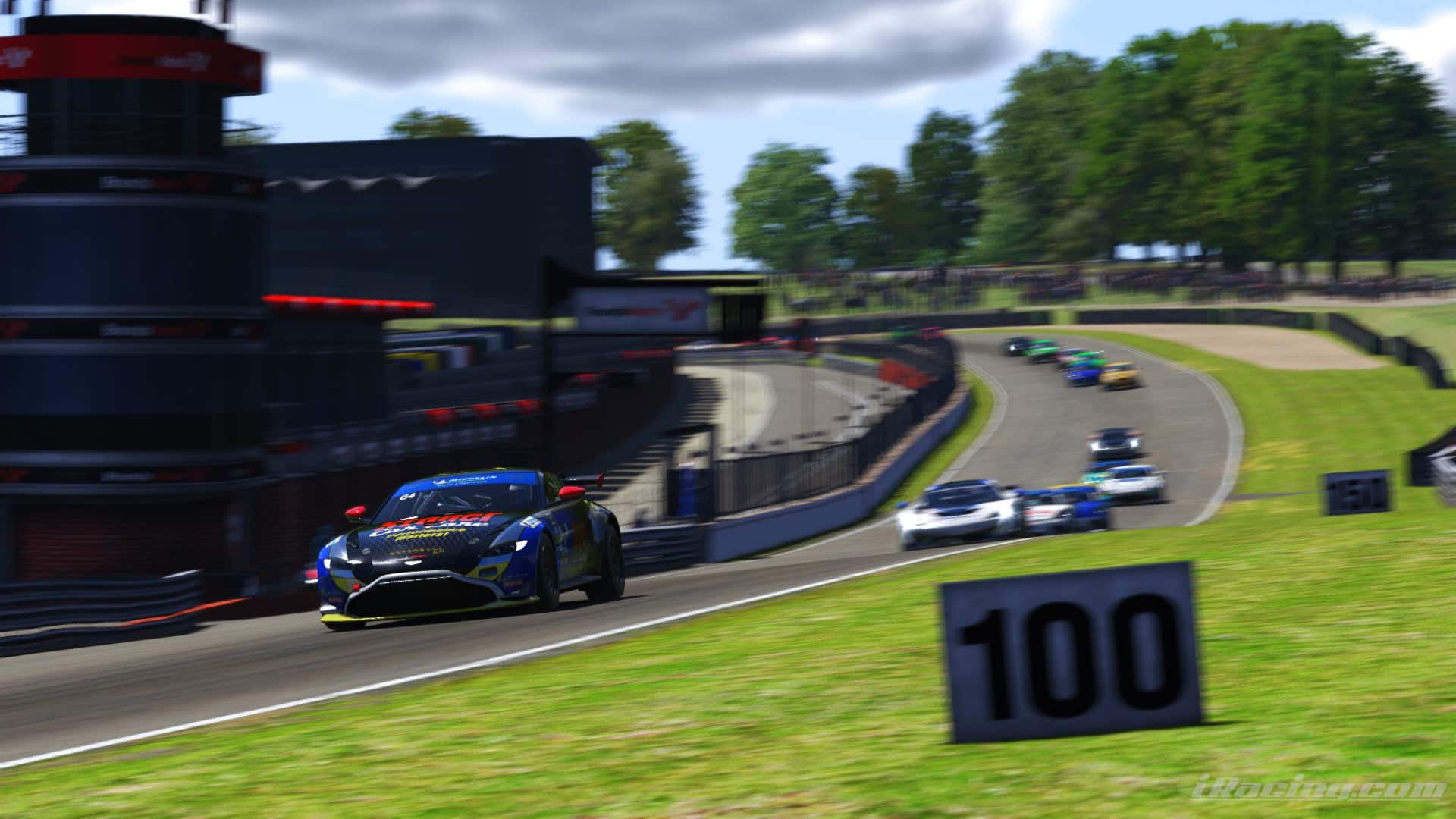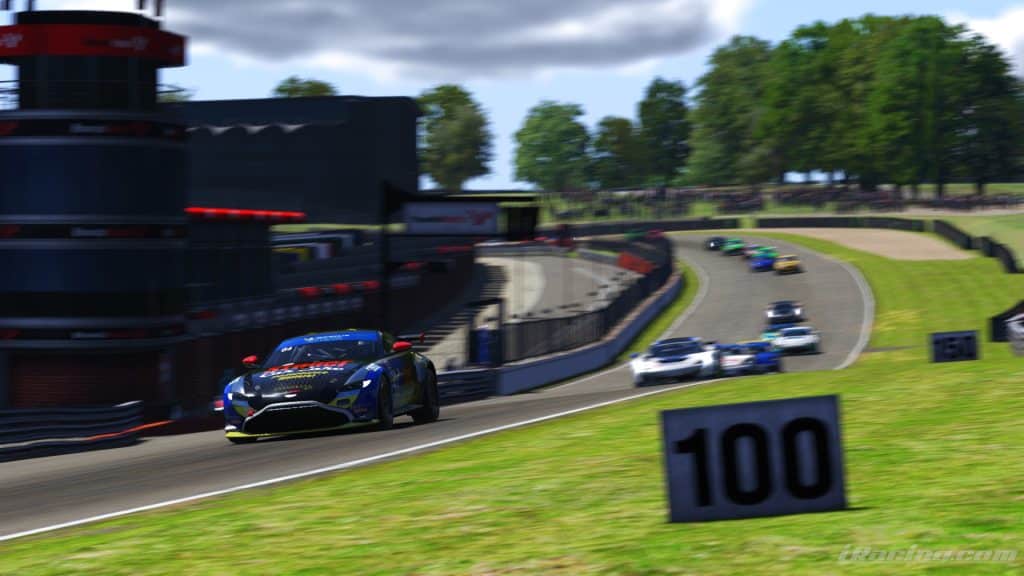 The Aston Martin Vantage GT4 is powered by a naturally aspirated front-mounted V8 that drives the rear wheels, giving it good straight-line speed, and decent handling over the kerbs.
However, that also means it's not the lightest of cars on this list, so being smooth with your inputs is essential. Furthermore, the front-engined layout is also partially to blame for the Aston Martin Vantage GT4's difficult-to-handle rear end at slow speed.
It's considered one of the weaker cars on the iRacing grid, relatively speaking of course, and therefore not a fantastic choice if you plan to consistently finish races near the front.
If you want to extract more from the Aston Martin Vantage GT4, make sure to pick up professionally developed iRacing setups courtesy of our iRacing Setup Subscription and download the Coach Dave Delta app to make installing them a breeze.
BMW M4 GT4
In classic BMW fashion, the 2018 M4 GT4 possesses a straight-six engine driving the rear wheels. Just like the Aston Martin Vantage GT4, Munich's BMW M4 GT4's most attractive aspects and its less appealing ones are a byproduct of its front-engined layout.
What makes the BMW M4 GT4 a good choice?
It's the fastest GT4 in a straight line
It has predictable handling
Overall well-rounded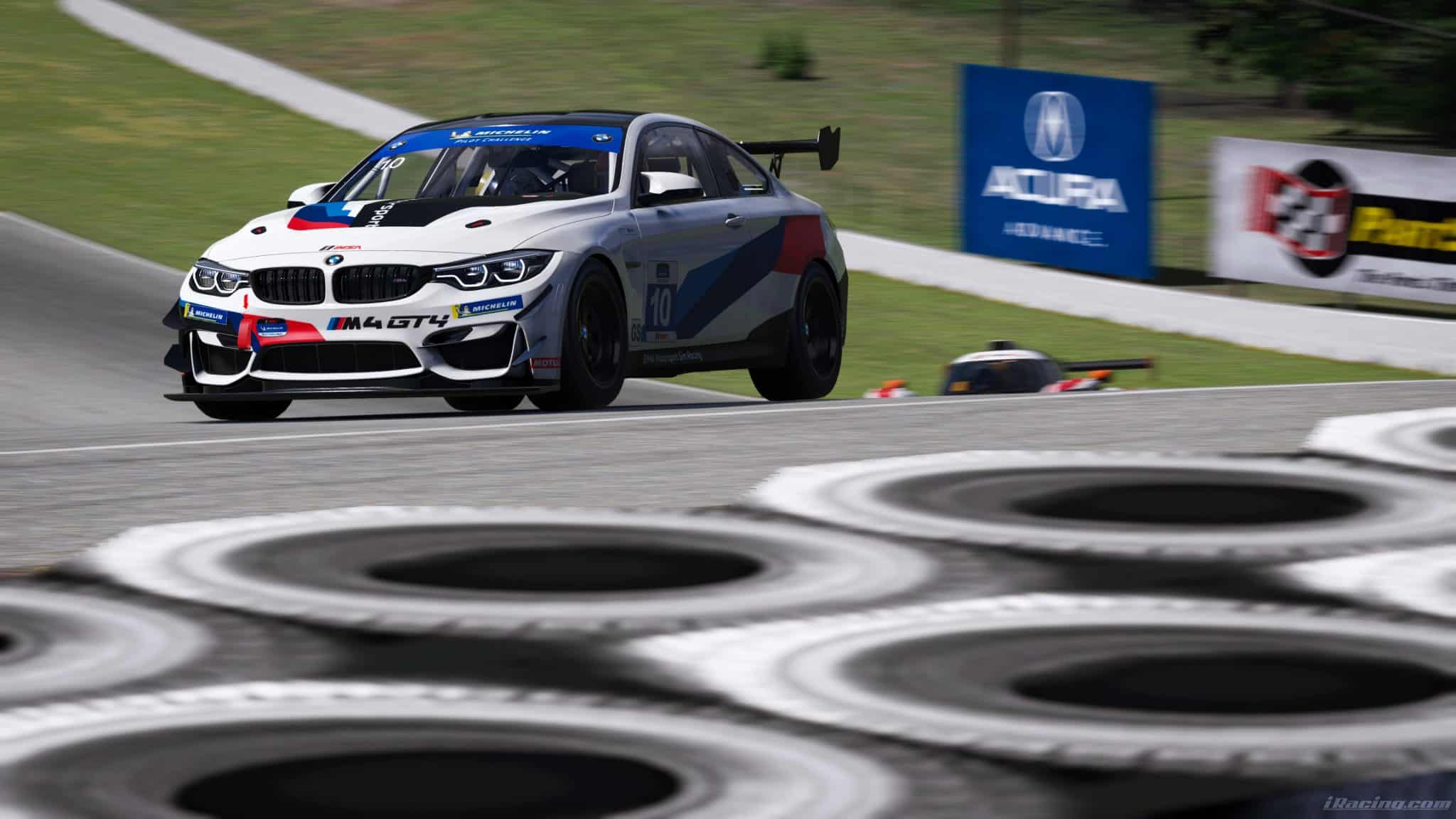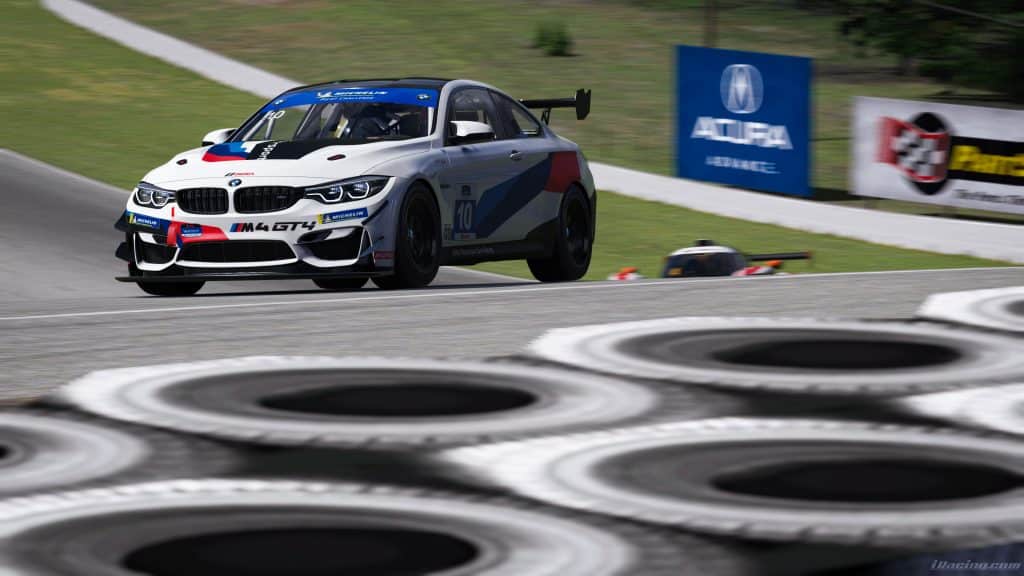 The car handles kerbs well and is generally good on all tracks due to its predictable handling nature, although it can sometimes feel sluggish, which is a classic consequence of being front-engined. But, that also makes it relatively accessible to beginners and it sounds amazing.
The BMW M4 GT4's success in real-world racing will make it very appealing to sim racers too, having won several races and championships internationally.
Are you wanting to master the BMW M4 GT4? We're here to help you with Lap Guides and Live Setup Sessions, such as this session where we show you how to set up the M4 GT4 at Watkins Glen.
McLaren 570S GT4
Released by the British manufacturer in 2016 and added to iRacing in early 2021 after receiving a refresh four years into its life cycle, the McLaren 570S GT4 is an interesting option in the GT4 class.
Powered by the brand's trademark-at-the-time twin-turbo V8 engine, McLaren has a long history of producing successful road-going cars and competitive on-track weapons, and the 570S GT4 continues this tradition. Before being replaced by the McLaren Artura GT4 for the 2023 racing season, the 570S GT4 enjoyed massive success in real-world racing which carries over into iRacing.
What stands out about the McLaren 570S GT4?
Sits in a good middle ground between having too much understeer versus oversteer
It's strong and reactive under braking
More nimble than GT4 cars such as the Aston Martin Vantage or BMW M4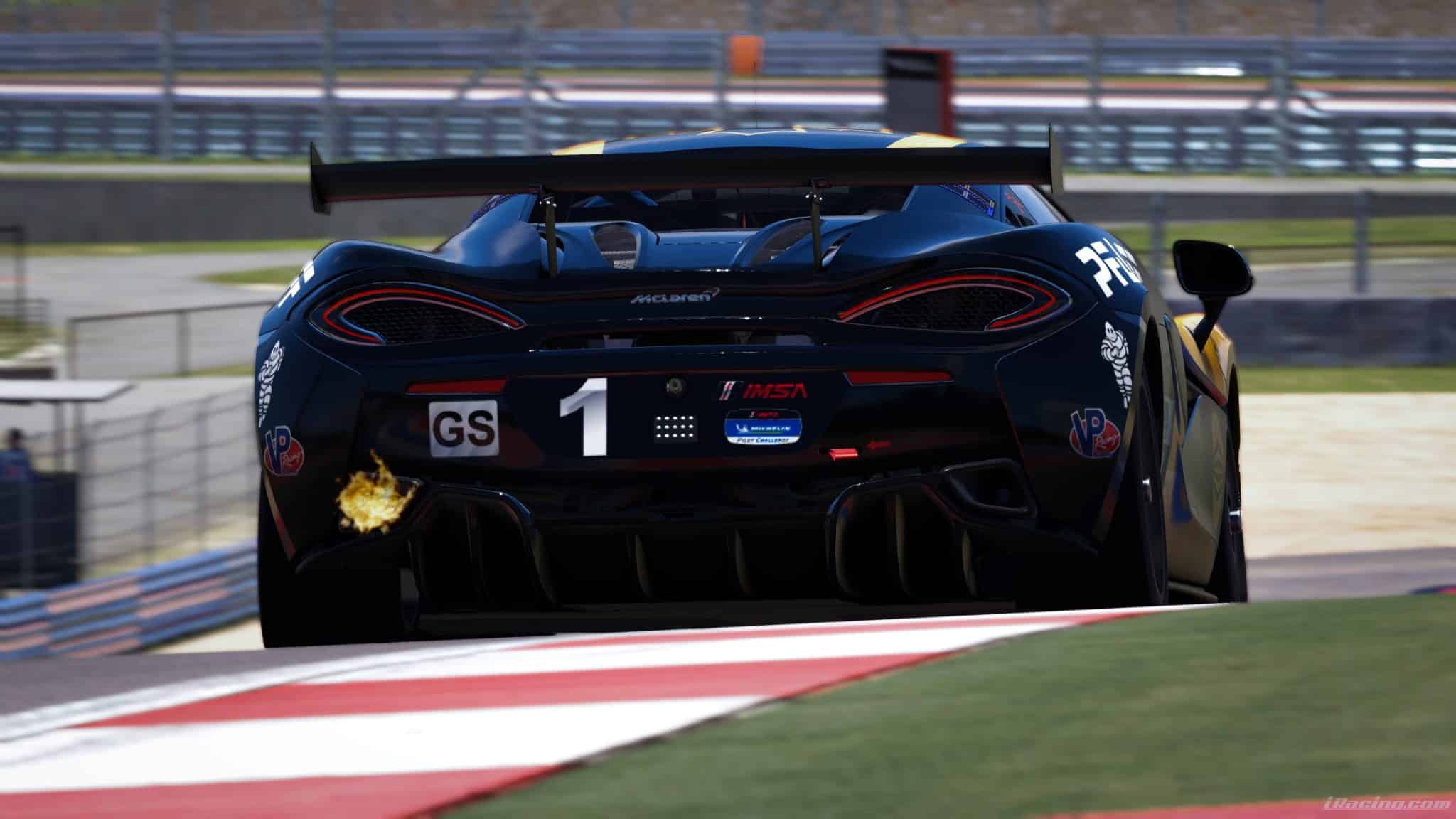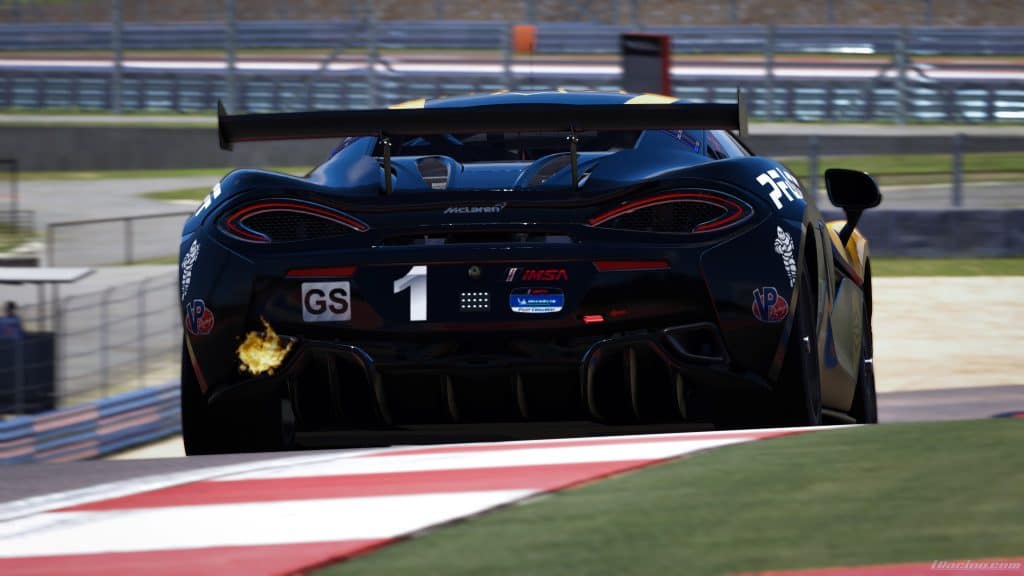 Largely down to the McLaren's mid-mounted engine, the 570S GT4 has balanced handling, rotates well under braking and sounds amazing. The car can be a bit understeering, especially after the apex, but that's easily dialled out with some setup adjustments.
The 570S GT4 is a very good all-rounder that should see you having great results if it's driven well with a good setup.
---
Coach Dave Delta
Installing setups and data packages has never been easier with the free Coach Dave Delta app by your side.
Linked directly to your iRacing Setup Subscription, Coach Dave Delta allows you to install setups and data packages in seconds. Gone are the days of having to traul through iRacing's files, now you can find all of our content for the cars and series that we cover in one interface – and install them with just one more click.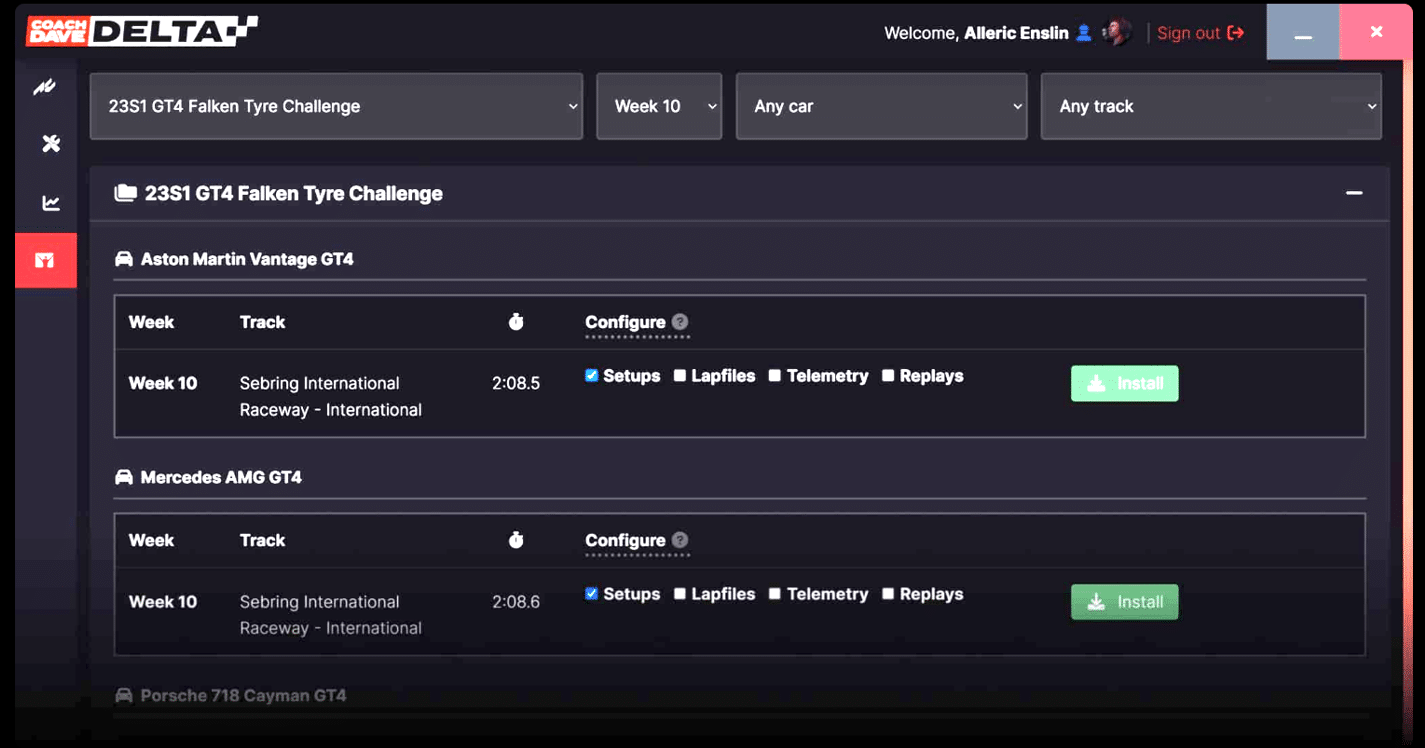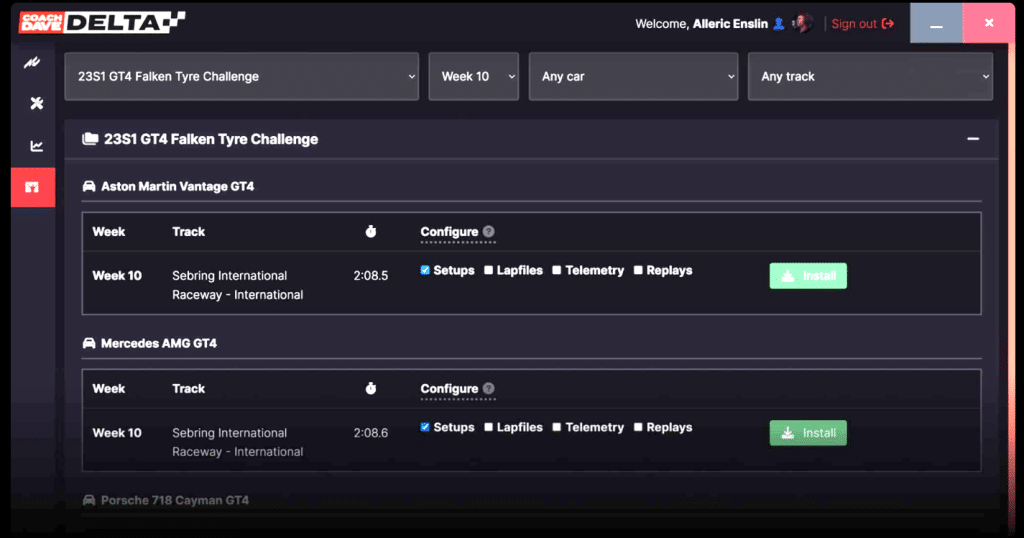 ---
Final thoughts
With five GT4 cars from five different manufacturers available on iRacing, it's quite easy to pick your favourite and just drive. Some people choose based on brand loyalty, and others choose, for example, based on looks or which car has the best sound, but choosing a car based on personal comfort is likely to help you get the most out of your car over the course of a 12-week Falken Tyre Sports Car Challenge season.
Overall, you'll find that the Porsche 718 Cayman GT4 Clubsport MR is tough to handle over kerbs, and we consider the Aston Martin Vantage GT4 to be not the most competitive car overall. These cars are still fast though due to BOP, with their disadvantages being minimal, and only really showing at their absolute limits. However, in any series that uses BOP, you will need every advantage that you can get, and we think that the Mercedes-AMG GT4 will be overall the car that will give you exactly that.