Mercedes-AMG is a brand that's synonymous with producing both road and race cars known for performance at the highest level. Their latest GT3 car is the Mercedes-AMG GT3 Evo which was introduced for the 2020 season to replace the then-ageing Mercedes-AMG GT3. It features the same engine as its predecessor but with updated styling, improved brakes and electronic systems, culminating in one of iRacing's fastest GT3 class cars.
Introduction to the Mercedes-AMG GT3 Evo
iRacing introduced the Mercedes-AMG GT3 Evo as part of the Season 3 2022 update, joining six other GT3 cars currently present on the platform.
The car is powered by a 550hp 6.2L bi-turbo V8 engine that's mounted in front of the cockpit, giving the Mercedes-AMG GT3 Evo a light rear end that requires constant management.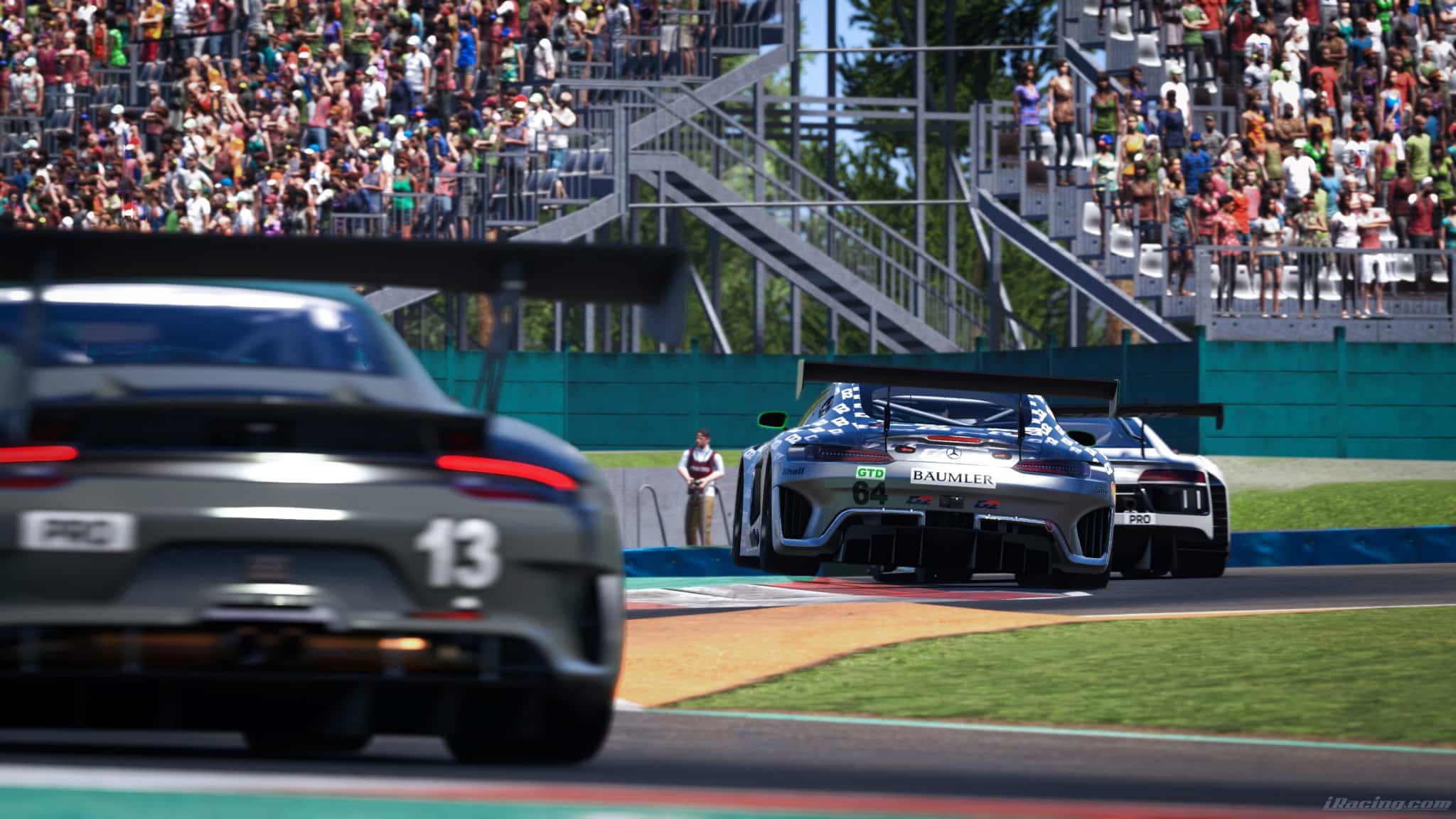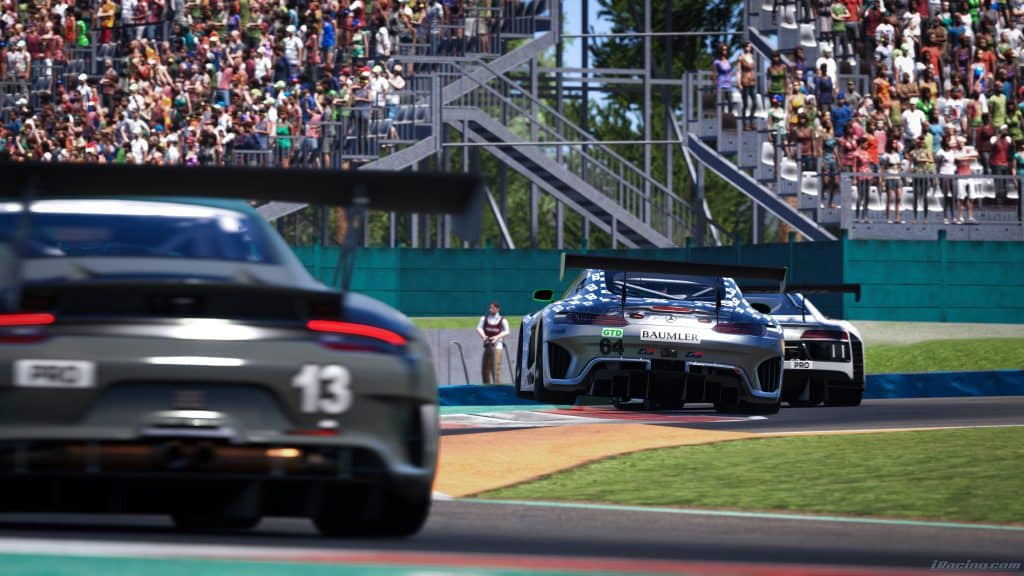 Just like the rest of the GT3 class, which the Mercedes-AMG is pitched against equally through Balance of Performance, it is rear-wheel drive and features a 6-speed sequential gearbox and Traction Control and ABS.
The car isn't available to race as a Rookie, though, and will require you to move up to a D or C Licence before getting behind the wheel.
Where you can race it
The Mercedes-AMG GT3 Evo is available to race in a variety of series ranging from short 20-minute sprints to long 4-hour mini-endurance events requiring multiple drivers that share the car over the course of the race.
We recommend the following two series that represent both single-class and multi-class racing to get the most enjoyment out of the Mercedes-AMG GT3 Evo.
GT3 Fanatec Challenge
The GT3 Fanatec Challenge is a GT3-only series that uses fixed setups with races lasting only 20 minutes. However, there are always full grids with very close racing and high Strengths of Field (SoF, the average iRating of drivers within a race), making for exciting action over a very short period.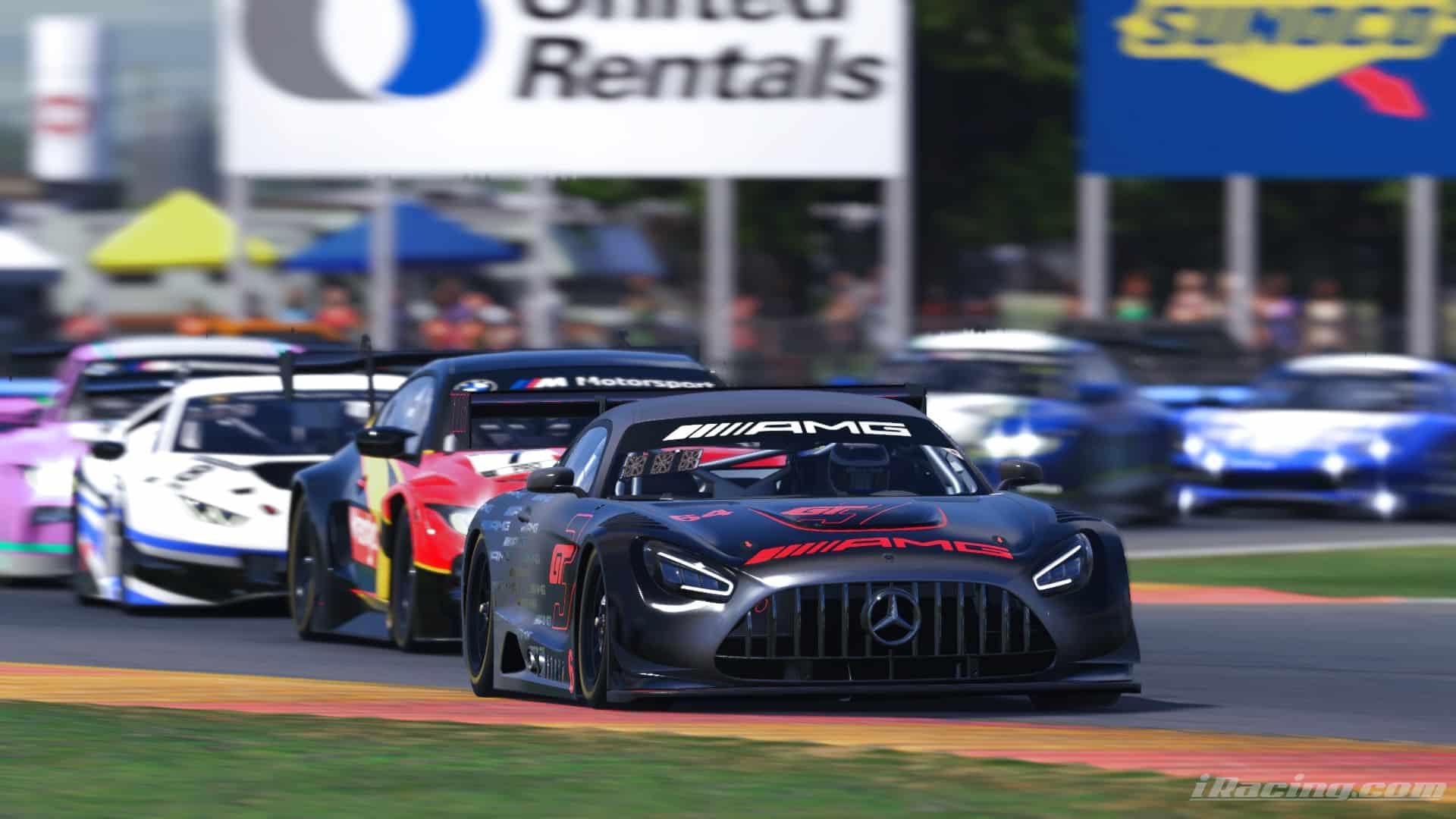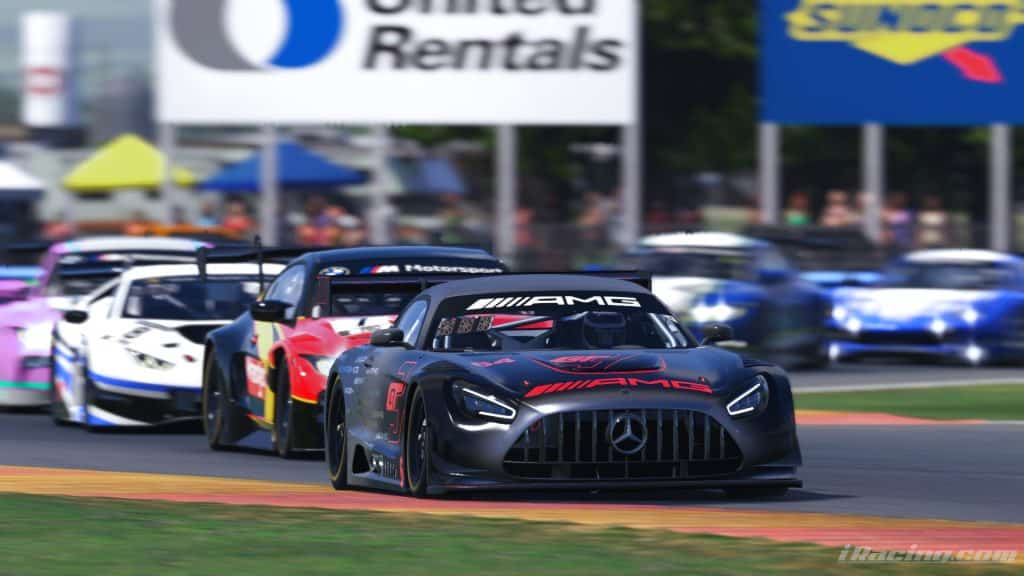 Races begin from a rolling start, with qualifying, which grants drivers two flying laps, occurring just before the race. There are no pit stops or serious tyre management to worry about, with the focus more on pushing hard for the full twenty minutes.
You'll need at least a C licence with a Safety Rating of 4.0 or higher to race in this series.
IMSA iRacing Series
This is probably the most popular multi-class series on iRacing, with packed grids and several splits during peak hours. This series combines the ever-expanding GT3 and GTP classes, as well as the LMP2 class which sits between them.
Races are 45 minutes long in the IMSA iRacing Series, with qualifying being a two-flying lap private session just before the race. Races begin with a rolling start with a clear separation between the classes. Pit stops for fuel are enforced with tyre changes being optional. Setups are open, which means that you'll need to load up one of the default setups or a custom one.
This series is a big step from the GT3 Fanatec Challenge, where drivers are expected to manage traffic while maintaining good lap times.
You'll need a B licence with a Safety Rating of 4.0 or higher to race in this series which means that you can move up from the GT3 Fanatec Challenge after acquiring a higher level licence. This series will prepare you for the longer duration series where you can take your Mercedes-AMG GT3 Evo and race it with teammates for four hours and in the case of special races, a massive 24 hours.
If you need some extra help mastering the Mercedes-AMG GT3 Evo at circuits present in series such as the IMSA iRacing Series, make sure to check out Coach Dave Academy's weekly Lap Guides, such as this one at Watkins Glen.
Where to find a setup
The default iRacing setups are not bad and can be adjusted to be quite competitive. Since the Mercedes-AMG GT3 Evo is front-engined, it's quite heavy at the front and requires stiffer settings of the springs, dampers and anti-roll bars. This helps with controlling the load transfer and gets you towards achieving a good balance.
Suppose you want to save time on setup tuning and want the best setups for both qualifying and the race. In that case, Coach Dave Academy offers setups made by our expert engineers to give you the perfect balance between speed and consistency.
Qualifying Setups
Race Setups
Best Lap Replay (.rpy) File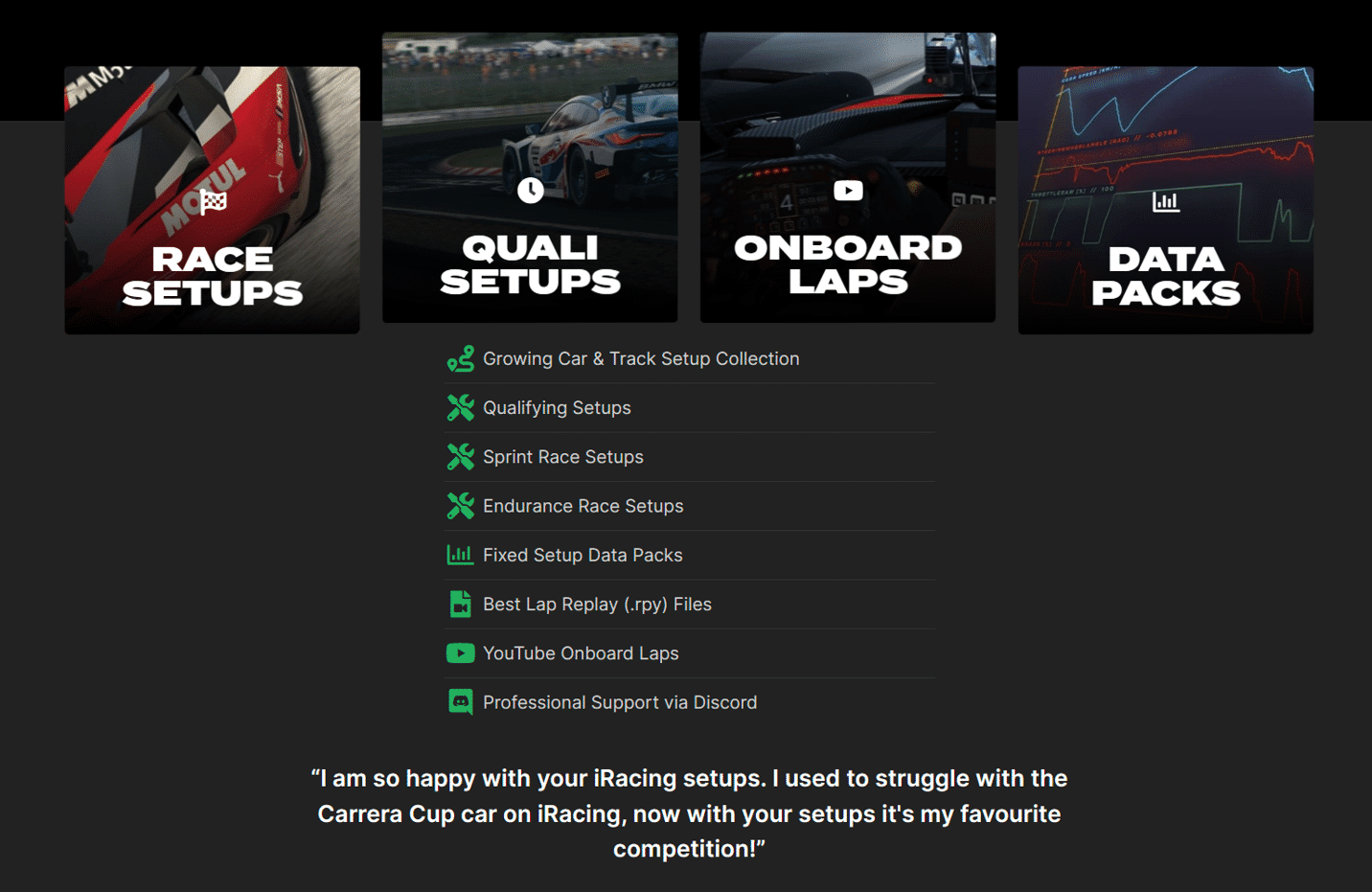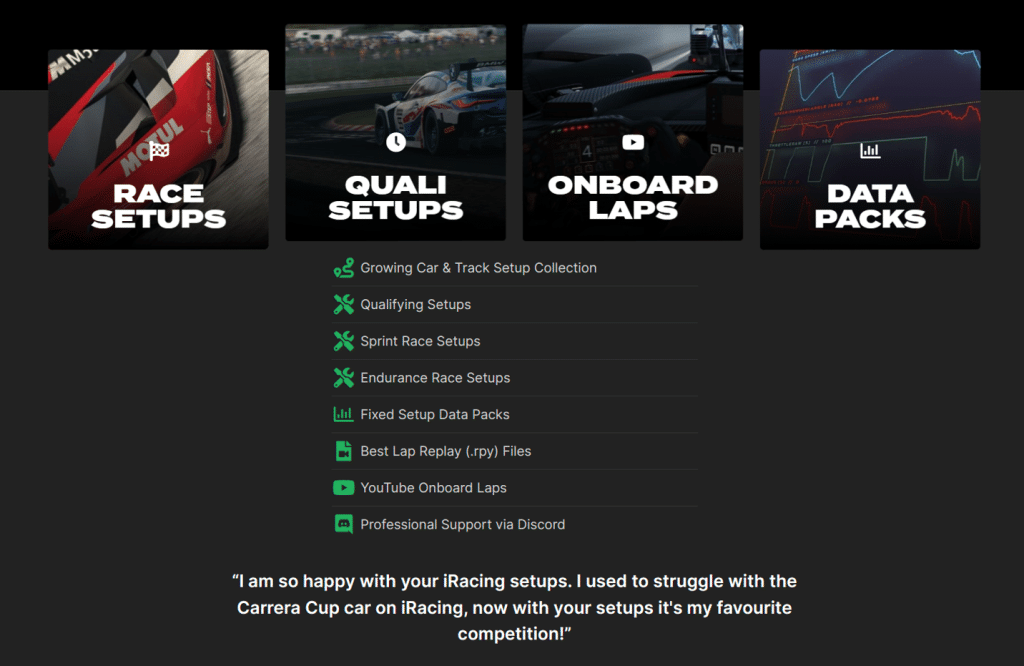 Understanding the car
The Mercedes-AMG GT3 Evo isn't a very easy car to master. It has a tendency to be a bit loose on the corner entry and on the exit as well; the prior is an inherent characteristic of the car's engine layout, whilst the lack of grip on corner exits can be caused by a minimally intrusive Traction Control system and the car's masses of power.
Even small moments of oversteer can result in huge losses of lap time. However, the following setup changes and driving style adjustments can help:
Use stiffer settings at the front for the springs, anti-roll bars and dampers.
Practice trail braking
Use smooth steering inputs
Use slightly higher gearing out of corners to minimise wheelspin
Engine and Acceleration
The Mercedes-AMG's huge V8 has tremendous power and torque, but it still delivers it smoothly. The optimal shift point is when the rev lights on the in-car dash flash all-red. This is just after 7000rpm, and shifting precisely at this point gives you the best acceleration.
The car does have Traction Control, so it's tempting to slam the throttle open and let the Traction Control catch you on the way out of corners, but this, in extreme cases, just kills the engine's RPM and ruins your acceleration. It's far more effective to run the lowest Traction Control that you can handle and to be more smooth on the throttle.
Braking and Cornering
A good, balanced setup is critical for getting the most out of the Mercedes-AMG GT3 Evo, but there's no substitute for a smooth driving style. Braking hard initially and then progressively bleeding off the brake pedal until you're deep into the corner is the most effective way to combat potential entry oversteer.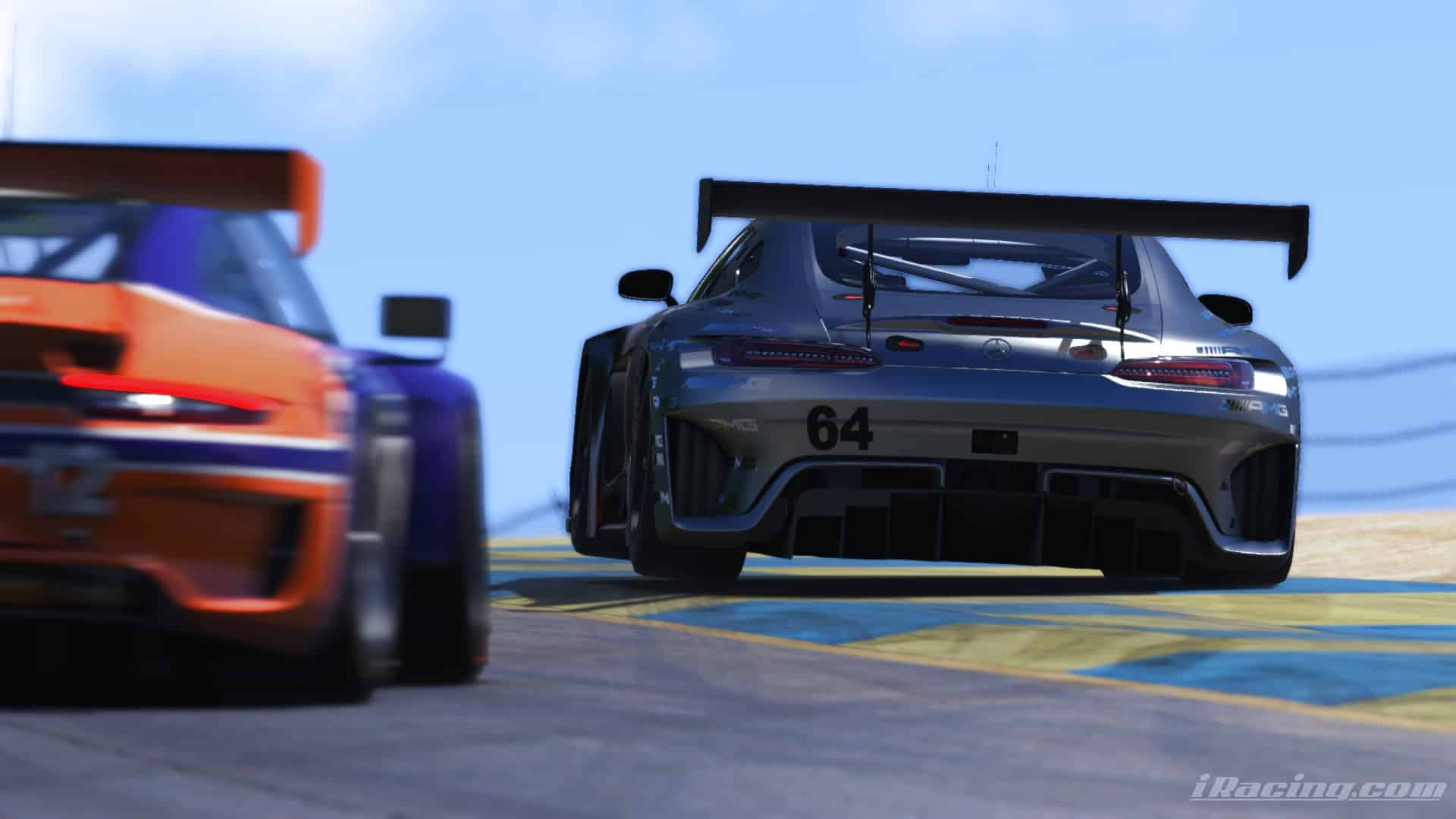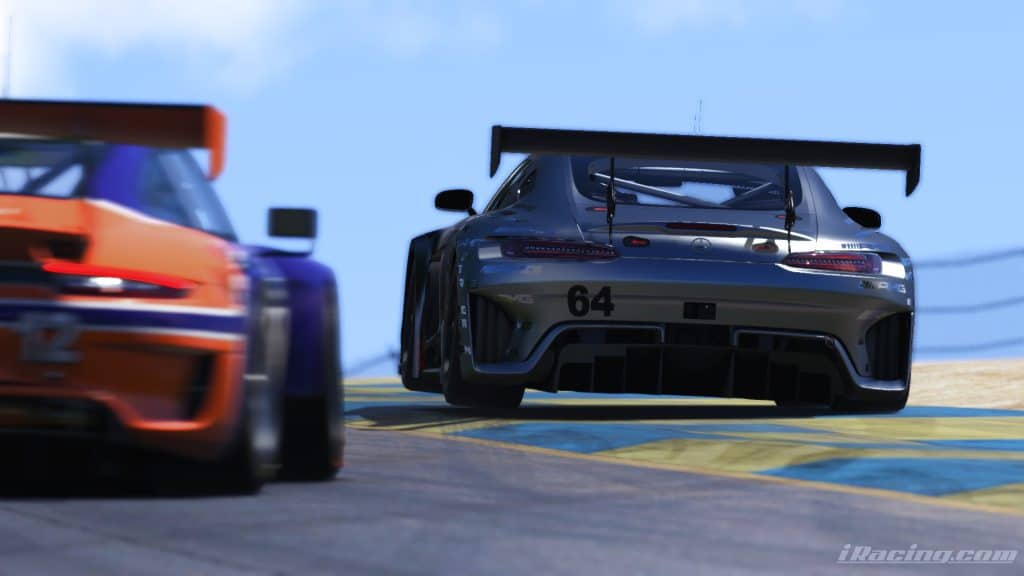 It's also a good idea to turn in a fraction later than you think to give the front tyres time to load up from braking before adding steering angle into the mix.
This is not an easy technique, but using light hands on the wheel can help you feel when the time for turn-in is required, as well as prevent you from overdriving the car.
Final thoughts
The Mercedes-AMG GT3 Evo is a beast of a car with masses of power and torque that can be difficult to manage. Its tricky handling characteristics can be a turnoff for some but will be rewarding to those who persevere in trying to master it.
Our driver coaches are always available to help you with fine-tuning your driving style to extract the most out of the car and get you to the front of the grid. This car may not be the easiest GT3 to drive on iRacing, but it's probably the most rewarding when you finally figure out how to take it to its limits.