Super Formula is the top open-wheel racing series in Japan, with a long history from the early 1970s. In the 2023 season, all teams use the same chassis provided by Dallara, engines by Honda or Toyota – both of which are included in iRacing – and tyres by Yokohama.
Although technical regulations limit the development of these cars, Super Formula is the second-fastest road racing series in the world after Formula 1. For example, in 2023, the fastest qualifying time at Suzuka in Super Formula was only 6.9 seconds slower than in Formula 1. Let's learn more about its iRacing translation.
Introducing Super Formula SF-23
The SF-23 is the new Super Formula chassis developed by Dallara for the 2023 season. Many technical specifications, except aerodynamics, resemble the previous chassis SF-19, used in the 2019-2022 seasons.
The new chassis has upgraded front and rear wings, side pods, engine covers and floor. According to Super Formula series promoters, the 2023 aero kit reduced the dirty air by half at the cost of only 8% total downforce, which should improve racing while keeping the overall pace close to the previous chassis.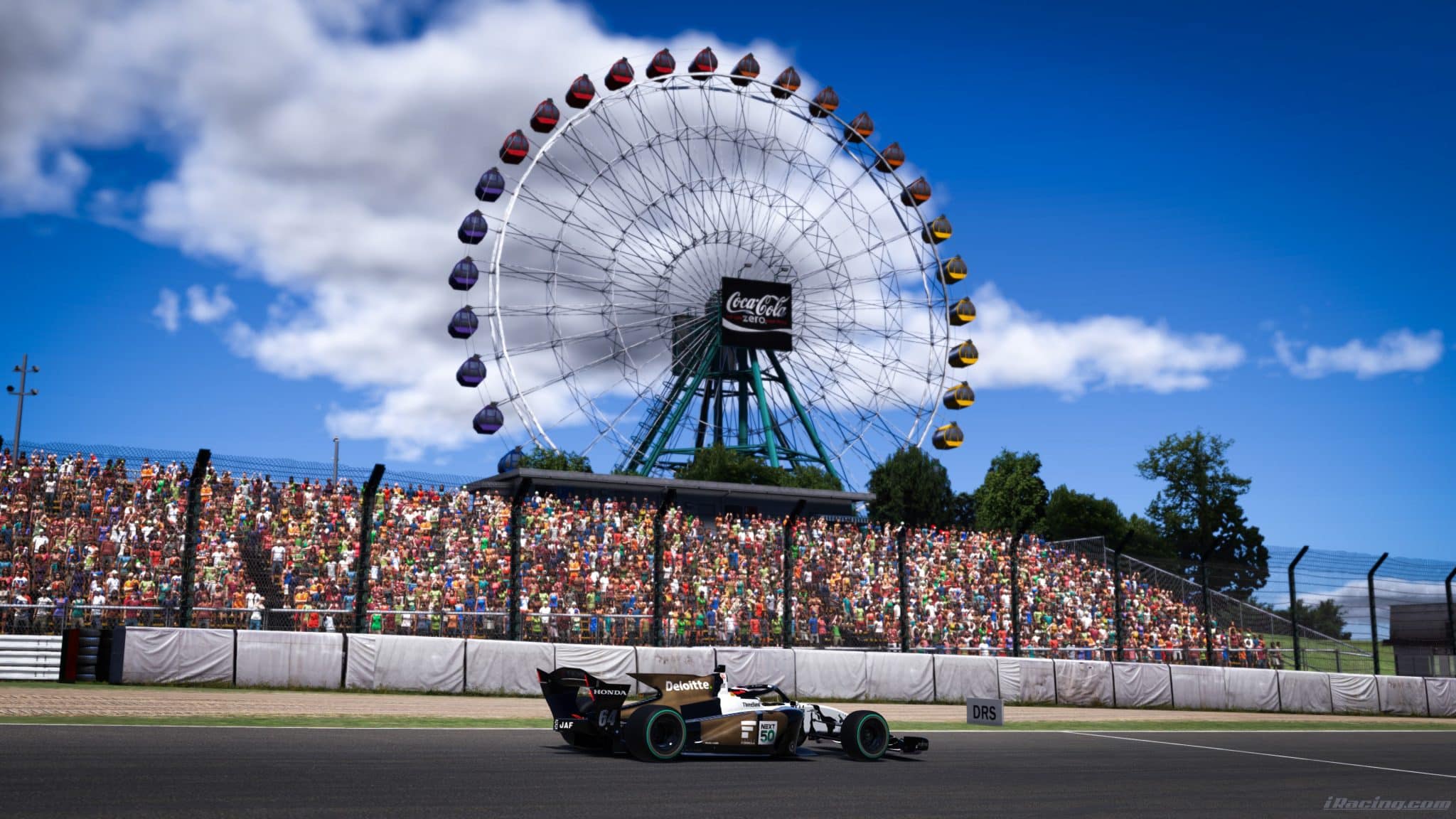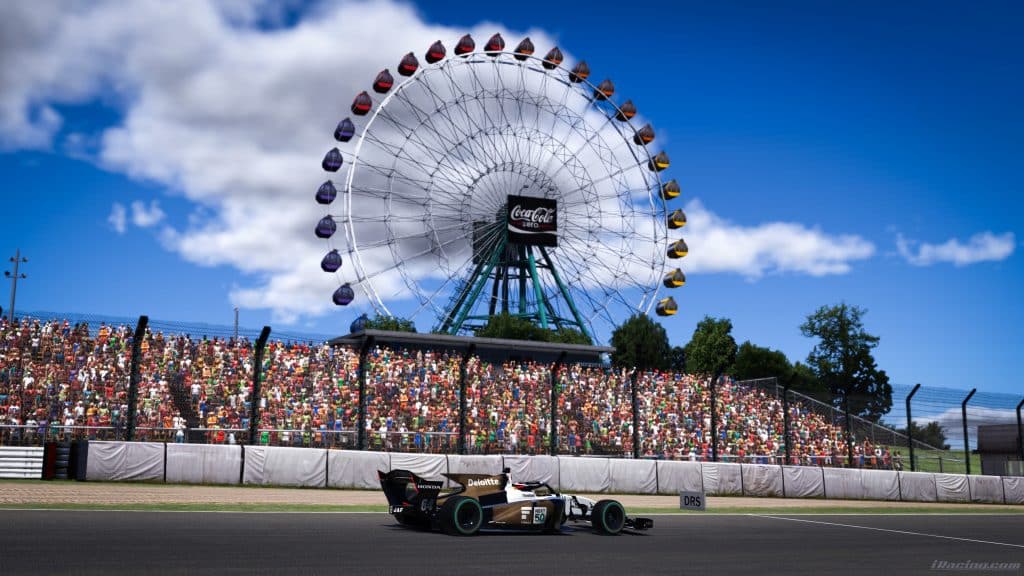 The Super Formula SF-23 with Toyota and Honda engines was added to iRacing in the 2023 Season 4 for 12.95 USD. In the open-wheel road racing series on the platform, the SF-23 serves as a stepping stone between slower Formula 3 cars (Dallara F3 and C licence championships) and faster Formula 1 cars (Mercedes-AMG W13 and A licence championships).
---
The Basic Car Characteristics
The Super Formula SF-23 uses a 2.0-litre 4-cylinder turbocharged engine with up to 550 horsepower. The car weighs only 670 kg and has a triple power-to-weight ratio compared to modern LMDh prototypes, so take care with the throttle if you are not used to fast formula cars. In addition, drivers can use an overtake system for 200 seconds during a race, increasing the maximum fuel flow and power by up to 30 horsepower.
Chassis
Chassis setup is crucial to maximise cornering performance because the diffuser generates a significant share of total aero downforce with minimal drag. Although the SF-23 does not have the sophisticated ground effect floor used in Formula 1, a correctly set chassis will enable higher cornering speeds and faster lap times.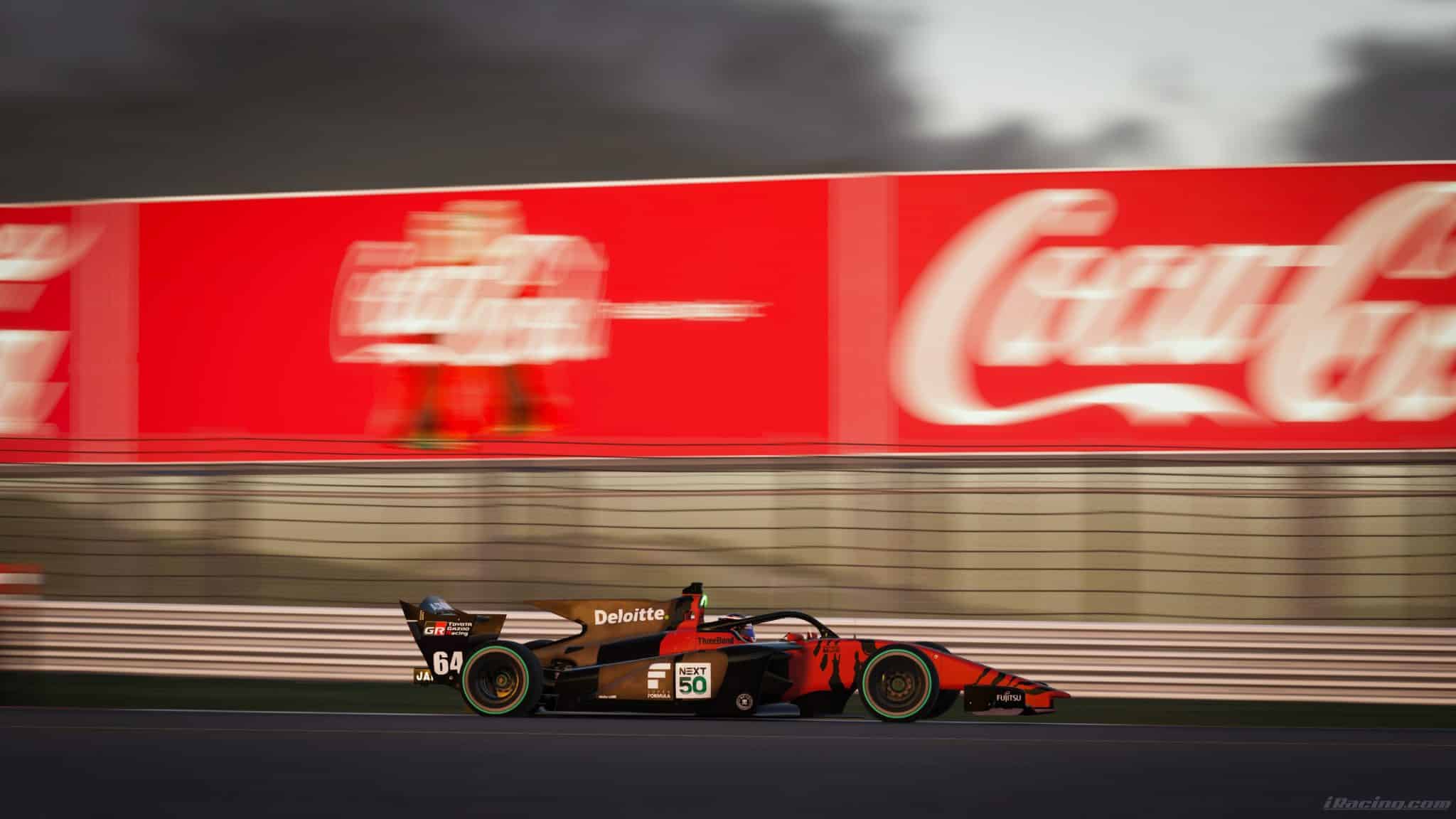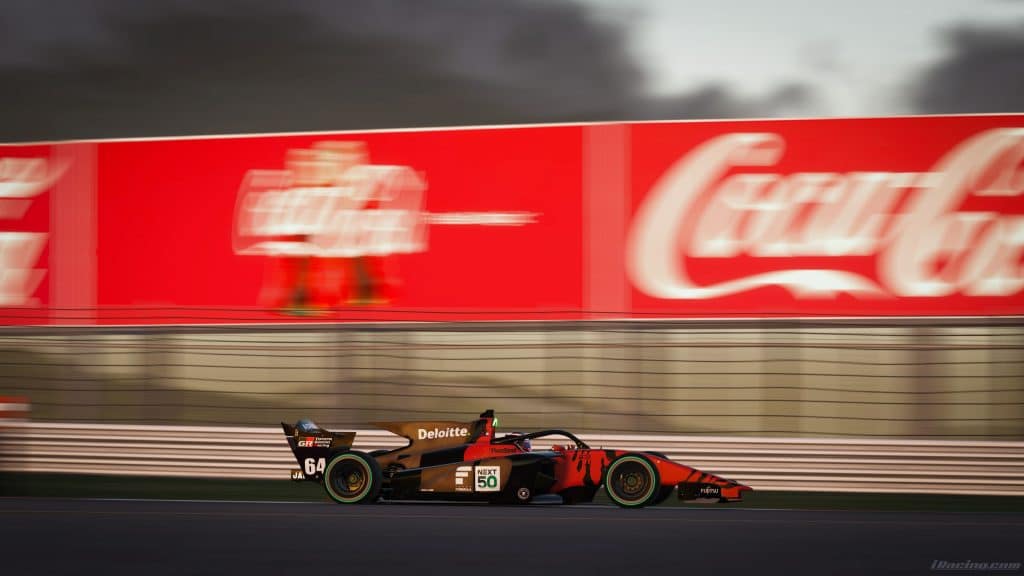 However, finding optimal values for front and rear pushrod lengths, torsion bars, and damper stiffness is challenging for two reasons:
Firstly, you must keep ride height low to maximise diffuser efficiency, but if the ride height is too low or the suspension is too soft, the aero under the car stalls in some corners, which leads to instant loss of downforce and snap oversteer. This behaviour can be unpredictable and punishing on bumpy circuits or curbs. The solution is a compromise between the ride height and suspension stiffness that considers the features of the specific track.
Secondly, it is tricky to get good aero and mechanical balance simultaneously. The SF-23 generates massive aero downforce, but it rapidly comes off the vehicle as you approach slow corners, and mechanical grip takes over. Dampers and torsion bar stiffness are the key instruments here: for example, softer front springs improve mechanical grip but hurt aero because of more chassis movement.
Aerodynamics
The aerodynamics is the second crucial part of the setup for the SF-23. As with any modern road open-wheel car, you can change front and rear wing angles. The rear wing is the main instrument for adjusting top speed and downforce, while the front wing helps fine-tune the aero balance and add front grip.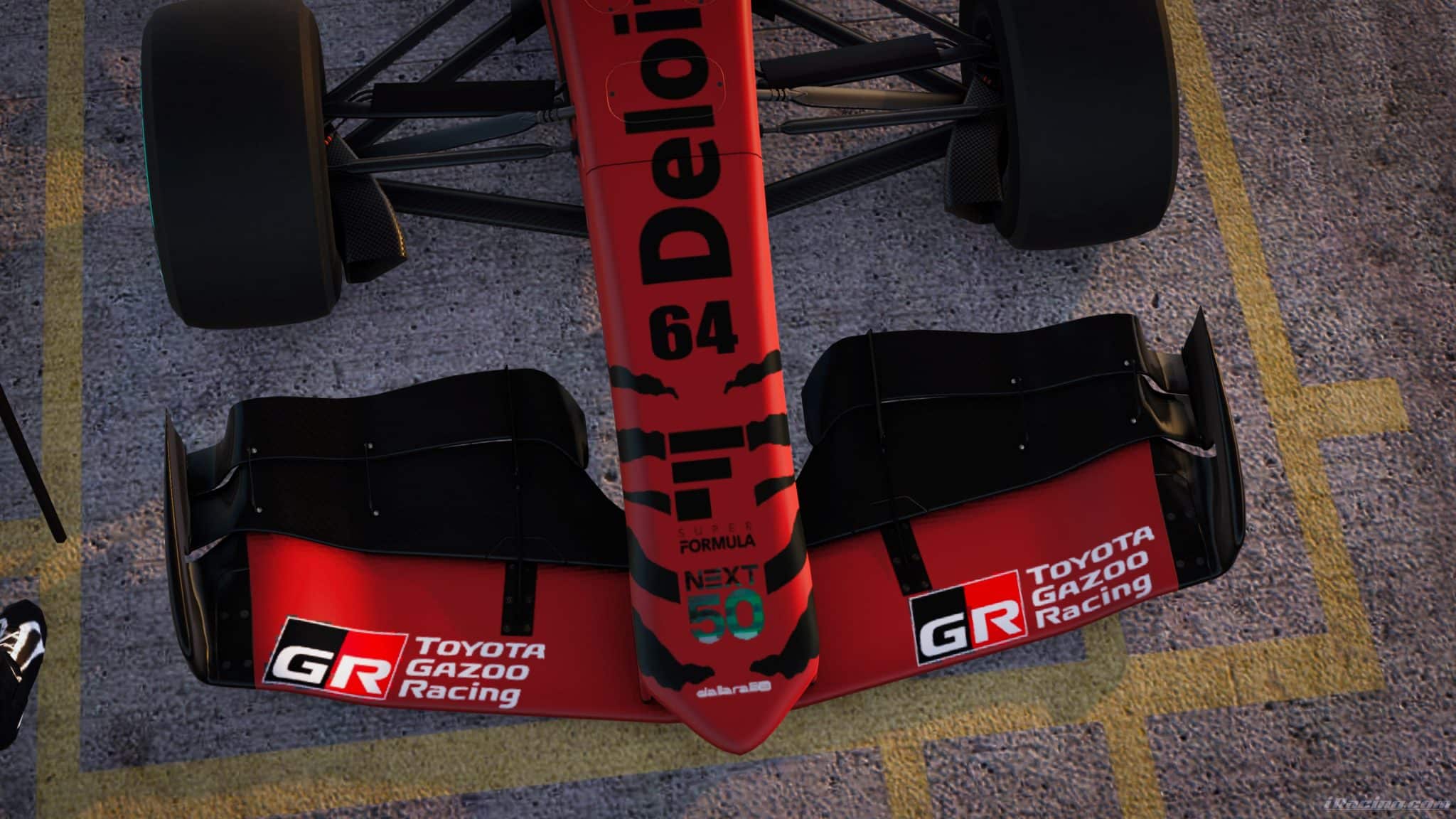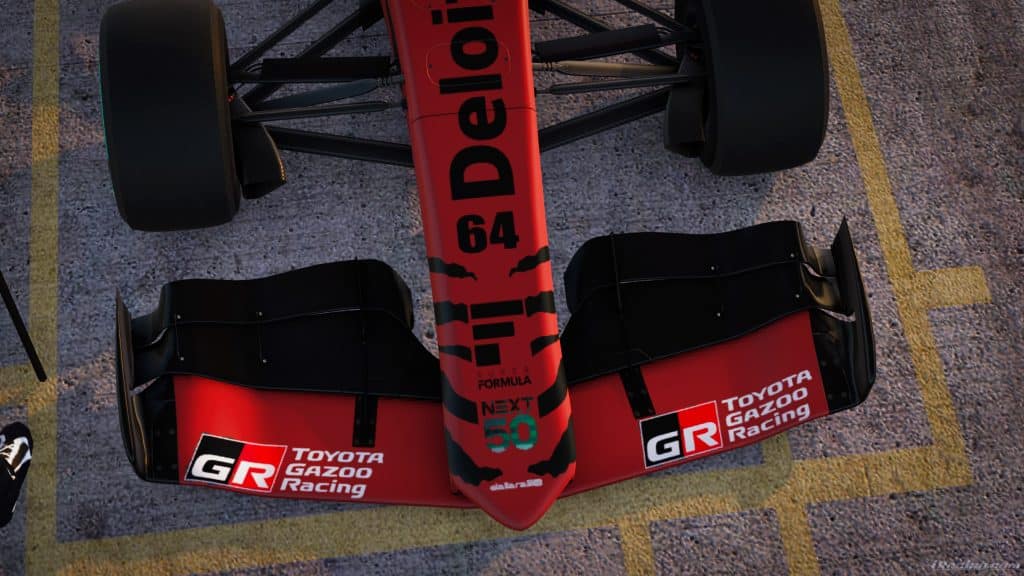 You can make competitive setups on most circuits with higher or lower aero settings. Generally, lower downforce setups that can deliver similar lap times are better for races because they make defending and overtaking on straights easier. Fuel consumption will be lower, too, which may allow to underfuel by a litre or two in longer races.
In the aerodynamics setup window, iRacing provides a useful aero calculator to check front and rear ride heights at speed. Aero load impacts ride height at high speed, so you may need to make minor adjustments to chassis settings after changing wing angles.
Drivetrain
In the SF-23, you can adjust the differential, throttle shaping and launch control RPM in the drivetrain settings. The engine in-car dials depend entirely on your personal preferences and the pedals you use. The differential, however, is an essential tool to adjust the car on the turn-in and corner exit.
Usually, the differential preload is set too low for the SF-23 because it creates too much understeer and front tyre wear overwise. Of course, with the low preload settings, you must be careful with the throttle during acceleration to limit wheel spin. Adjust differential after suspension settings because, as a blunt tool, it will reduce the chassis's ability to respond.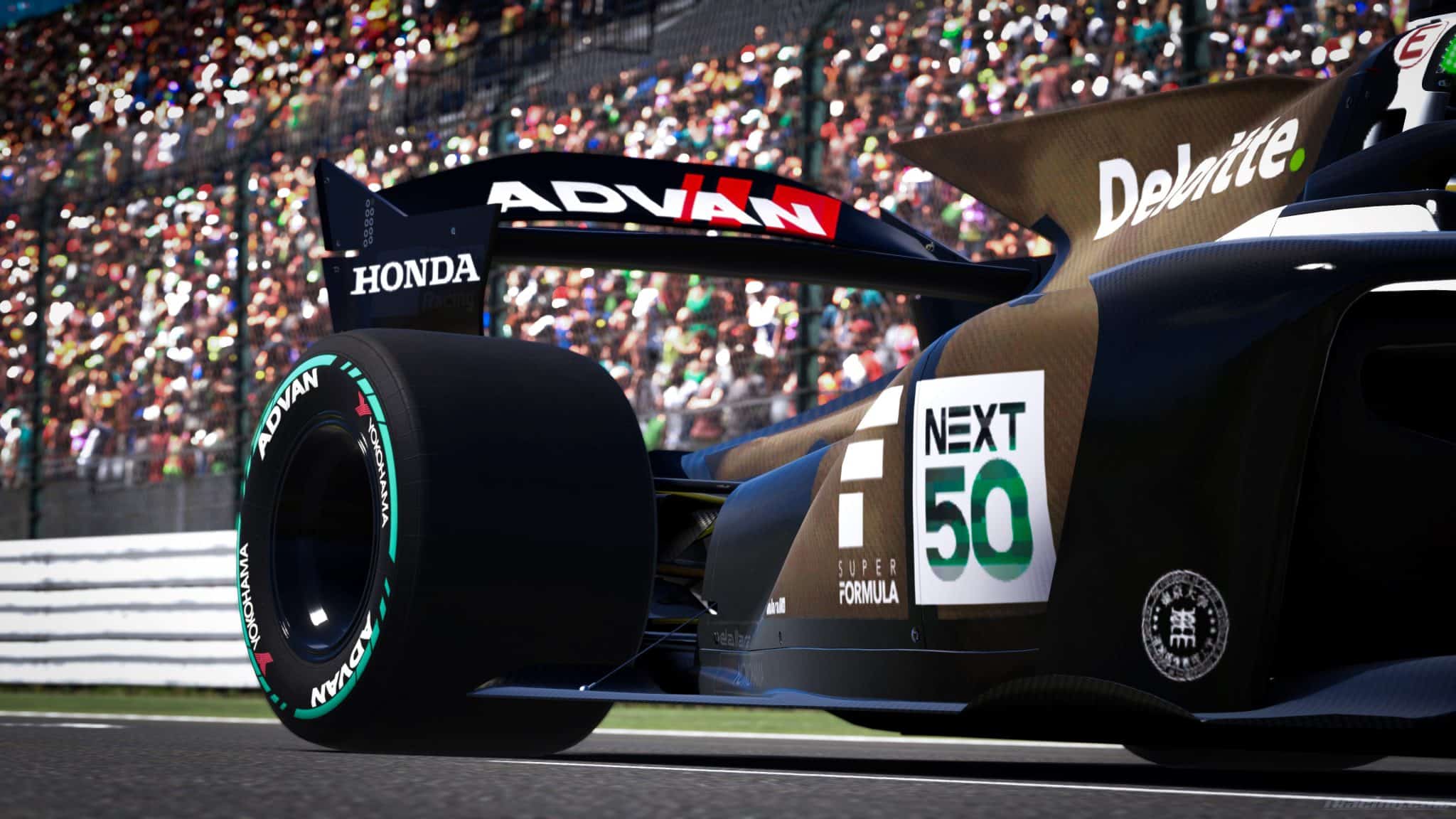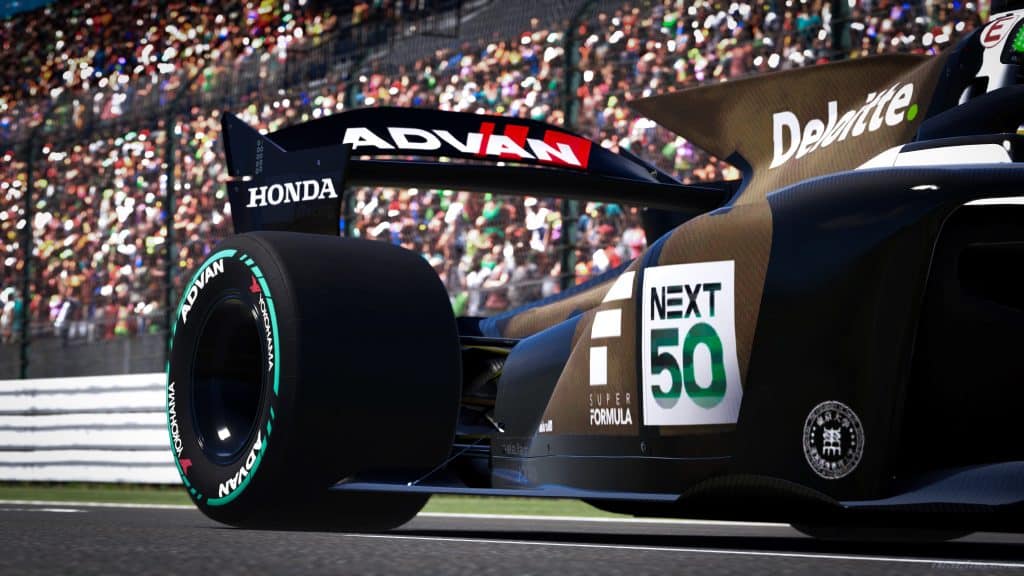 The overtake system then adds an element of strategy to Super Formula races. You can use it for 200 seconds during a race, but with a 100 or 110-second (depending on the track) delay between activations. The most appropriate times to activate it are during the first lap, for key overtakes and during final laps.
Braking
Remember that the SF-23 has significantly more tyre load during the early braking phase thanks to aero downforce at high speed. Therefore, you can be more aggressive in the initial application of brakes than in GT or prototype cars but more cautious with trail braking to avoid lock-ups.
If you need help understanding and setting up the SF-23, make sure to book a sim racing coaching lesson with one of the drivers or engineers in the Coach Dave Academy.
---
Where You Can Race It
You can participate in only one championship dedicated to Super Formula cars, called the Super Formula IMSIM Series. It is available to drivers with a B licence and uses a fixed or open setup.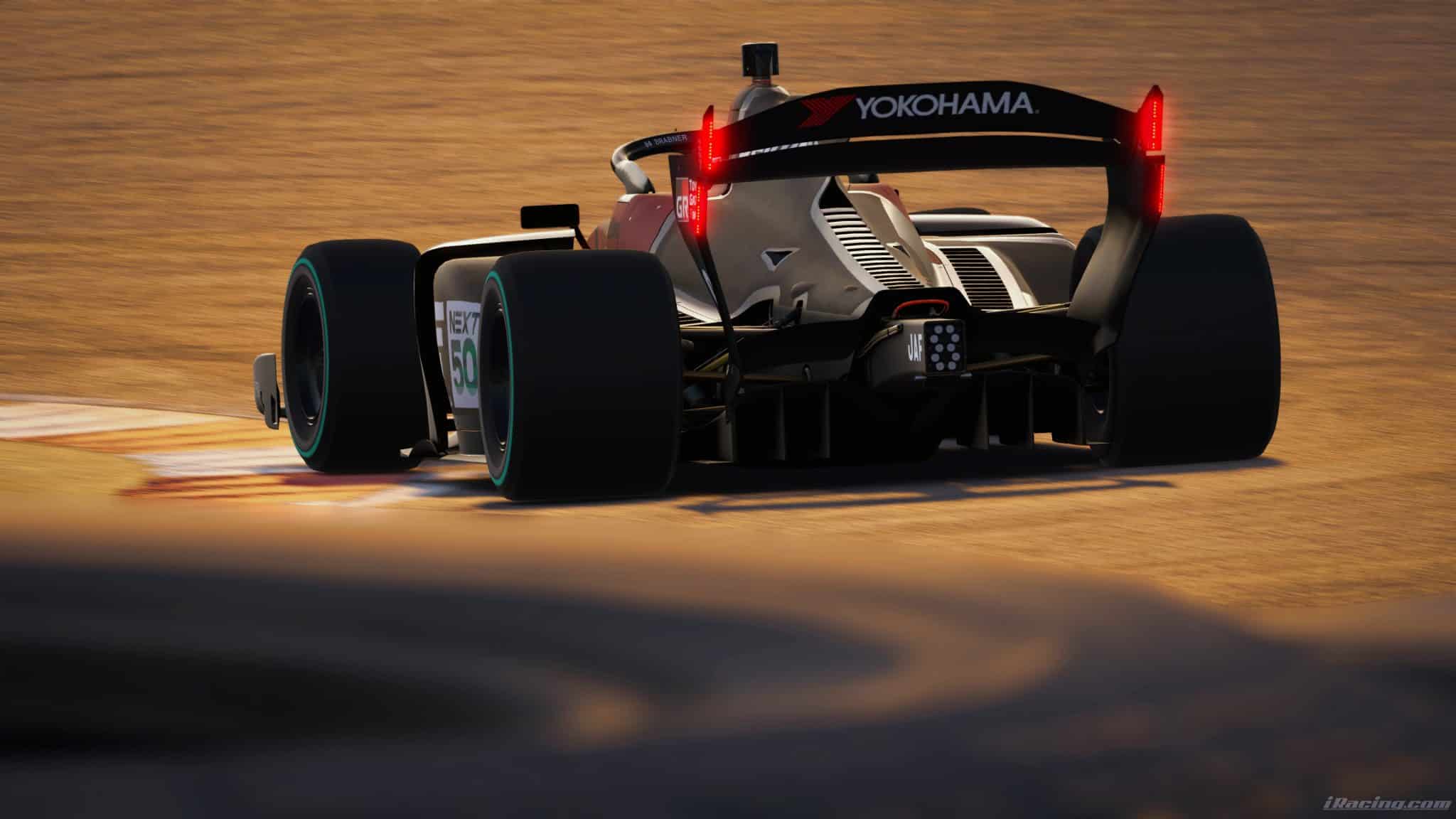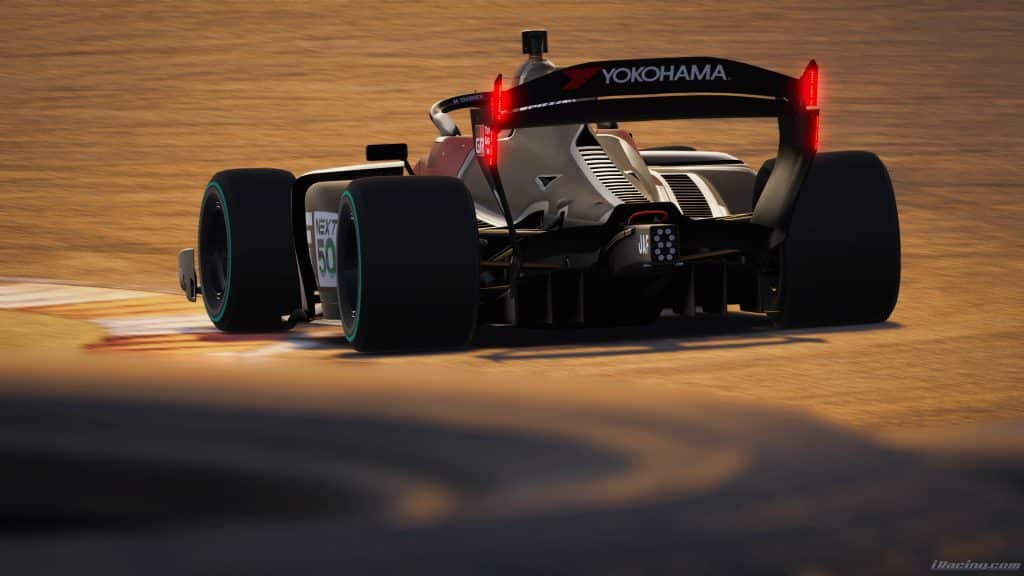 The calendar is the same for both versions of this championship. Unlike the real Super Formula series, the calendar is not limited to Japan and includes many circuits from Formula 1, such as Spa, Silverstone, Zandvoort and Barcelona. Only one track is a part of the base iRacing subscription; the rest are DLCs, which cost 15.95 USD each.
Races occur once every 2 hours and are approximately 100 kilometres for open setup and 50 kilometres for fixed setup versions. The grid includes a maximum of 25 drivers per split. The championship uses standing starts.
---
Final Thoughts
The SF-23 is an excellent addition to iRacing for drivers who enjoy open-wheel road racing because now you can progress from Formula 3 cars to something slightly slower and more straightforward than Formula 1. Nevertheless, Super Formula can teach you the setup and driving principles of Formula 1 cars: suspension settings, mechanical and aero balance, and overtake system management are all quite similar.