As all experienced with iRacing know, one of the most vital parts of getting the most out of any car and track combo is through the application of your braking. Having the right braking points, pressure and overall consistency can make or break a lap, sometimes accounting for multiple seconds a lap if executed optimally.
So what other than practice can you as a driver do to improve your overall consistency and become a better driver within iRacing?
Well, one of the biggest pieces of equipment that has an effect on your braking performance is your pedal set. You might be asking how a different set of pedals can help you as a driver. Well, as with real-life motorsport and car parts, not all pedal sets are made equal and spending money can improve you as a driver if taken advantage of in the right way.
With that in mind, we have gathered the best sets of pedals for iRacing to help you decide what equipment is best for you!
How to set up your pedals in iRacing
First, open up the iRacing program in any car and track combination
Next, go to the Options page and click on the Pedals button in the top right-hand "Input Calibration" panel
Follow the on-screen prompts

Make sure that when you are asked to depress your pedals, you depress your pedals the entire way for the most accurate reading

That's it! Go test out your new pedals and make sure they're working correctly.
The Top 5 Pedals
Product
Style
Price
Pros
Cons
Thrustmaster T-LCM Load Cell Pedals
Load Cell
Budget
– Cost-effective
– Spring and weight adjustments
– Structural Flexing.
Fanatec Clubsport V3 Pedals
Load Cell
Budget
– Lots of adjustments available
– Premium materials and design
– Loadcell is the same as the CSL Pedal set
MOZA Racing CRP Pedals
Load Cell
Mid-Range
– Part of the MOZA ecosystem
– Fully adjustable pedals
– Not console compatible
Heusinkveld Sim Pedals Sprint
Load Cell
Mid-Range
– Superior build quality
– Most accurate load cell
– Occasional mounting issues
Simagic P2000-R
Hydraulic
High-End
– Real-life pedal construction
– Customisable in Simpro Manager software
– Difficult to set up
As a general rule with iRacing, due to braking being a particularly sensitive area within the physics model, we will be sticking to loadcell brakes as this will offer the best ability to make small adjustments to the brake pedal required to get the most out of iRacing.
Low Budget
Thrustmaster T-LCM Load Cell Pedals
| | |
| --- | --- |
| STYLE: Load cell | BRAND: Thrustmaster |
The T-LCM Pedals are Thrustmaster's first offering of a pedal set that has a loadcell brake out of the box. This pedal set is a small price increase but offers many of the same features and is one to look out for if you are already integrated into the Thrustmaster ecosystem.
In terms of features, the main area of interest is the new addition of the load cell on the brake pedal, which can take up to 100 kilograms of pressure and has several different springs that can be swapped out to find that perfect pedal feel for each car within iRacing.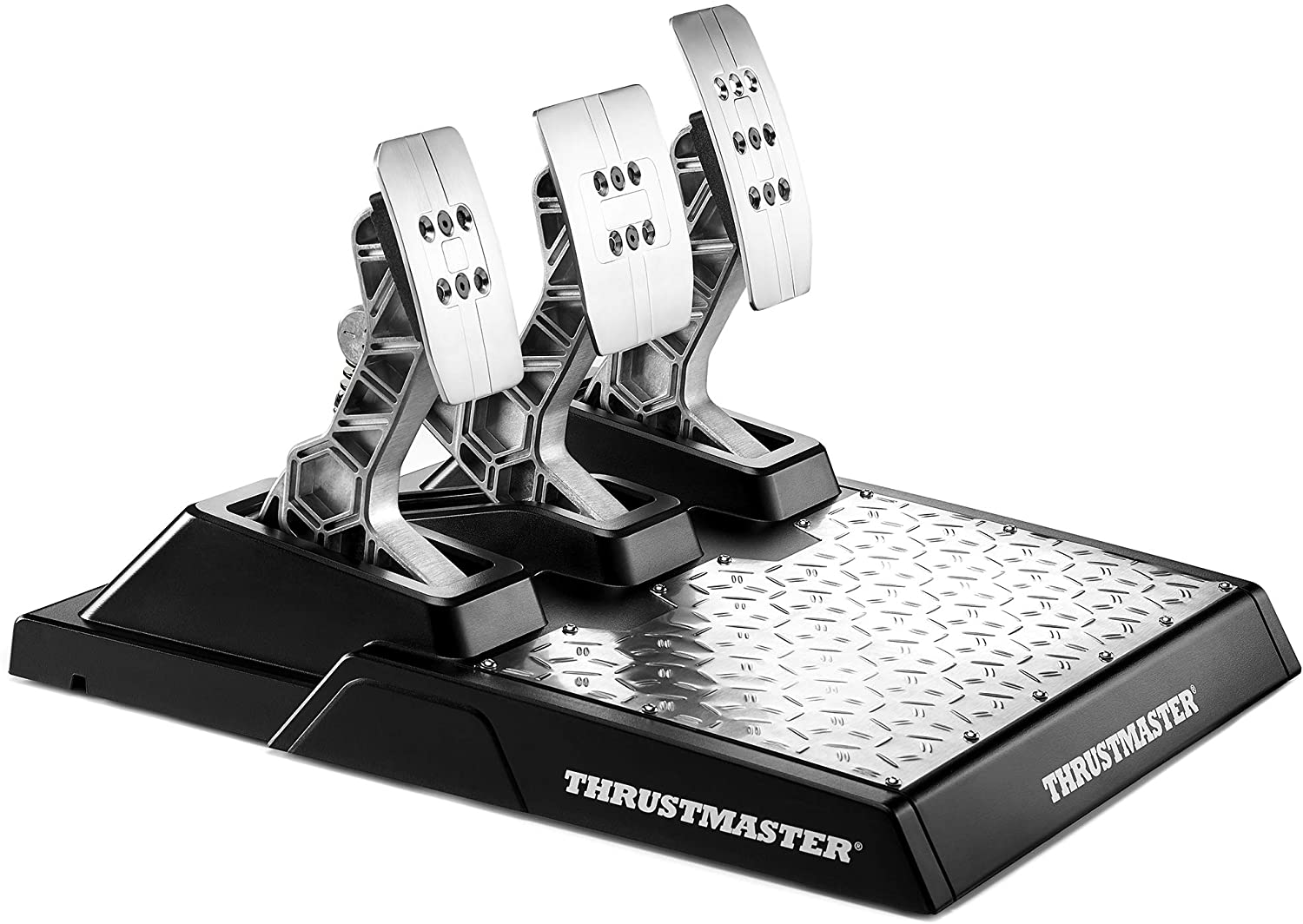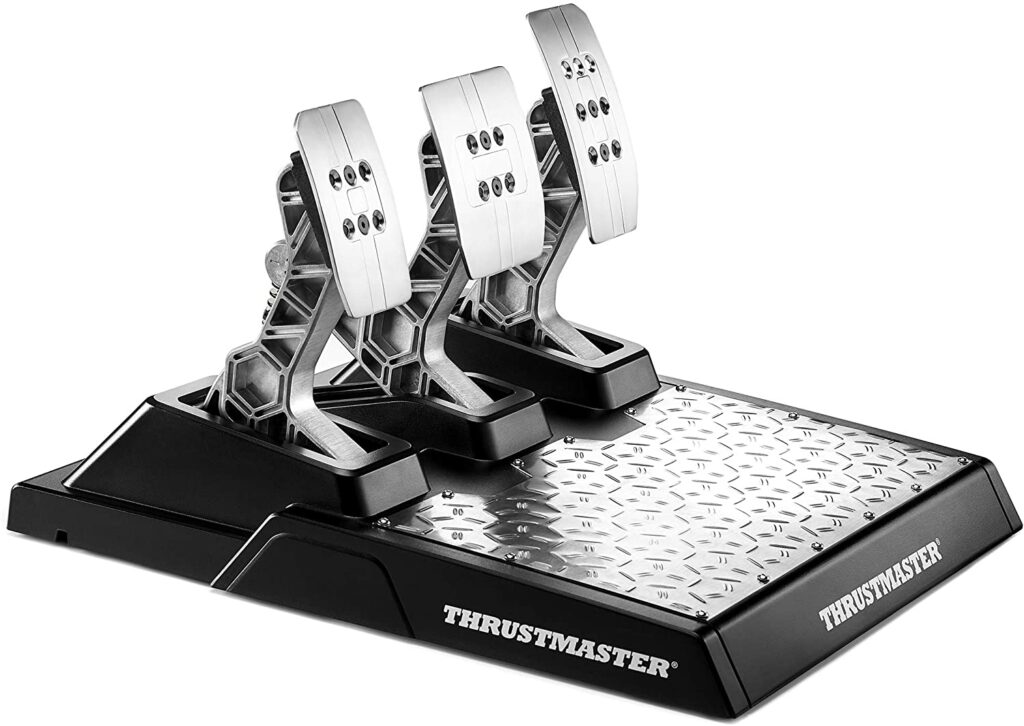 The throttle and clutch also come with magnetic HallEffect sensors that ensure that the pedals are long-lasting while still maintaining high-resolution input measurements.
The composition of the product features metallic base plates, with plastic casing surrounding the Metal arms and Pedals of the product. This means that you benefit from the high quality, reliable feedback, with weight-saving measures that truly mimic any racing philosophy.
The T-LCM Pedals will also work brilliantly with any Thrustmaster wheelbase and as with their competitors, the equivalent pedal set will also pair with any other wheelbase on PC, allowing upgrades to be made gradually.
Overall, this pedal set is perfect for any iRacer already integrated into the Thrustmaster ecosystem or someone looking for that true out-of-the-box experience with their pedal set.
| | |
| --- | --- |
| STYLE: Load cell | BRAND: Fanatec |
The Fanatec Clubsport V3 Pedals are the more premium offering brought to the market by Fanatec and are truly an upgrade from their cheaper CSL pedal set alternatives. They come with much more premium looks, build quality and ergonomic improvements.
The pedals themselves are aesthetically dominant, with a powerful sheet black colouring finish to the metal. The build design not only offers good looks but also provides a high level of build quality limiting pedal flex and ensuring the longevity of the product.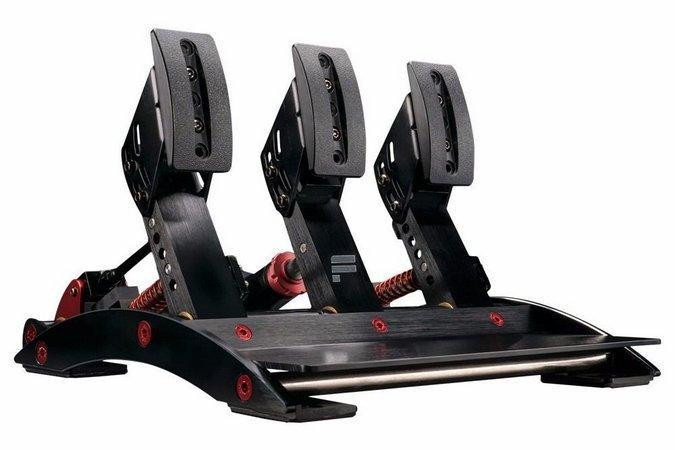 The set comes with a host of adjustability features such as the loadcell, pedal arm placement, angle and pedal face adjustment. The pedal faces themselves can be set up in multiple different configurations, allowing a truly unique customer experience.
The load cell brakes can handle up to 90kg of force allowing you to have the firm feel of a formula car or the progressive feel of a road car pedal, with no flex on the structural integrity of the product. If optioned when purchasing, the pedals also can have a hydraulic damper added to the throttle giving a more realistic feel improving the immersion by another step.
As a cost-effective product providing unrivalled levels of quality, these pedals are a great choice for the Sim Racer looking to up their game!
| | |
| --- | --- |
| STYLE: Load Cell | BRAND: MOZA Racing |
An up-and-coming brand in the sim racing market, MOZA Racing's CRP Pedals are a highly-adjustable three-pedal solution that gets you a taste of what the newest Direct Drive wheelbase manufacturer on the scene has to offer.
The CRP Pedals are designed like that of a modern-day supercar or hypercar, which can be felt in the aesthetic choices such as an organ-shaped throttle pedal as well as the technical features of the pedals themselves.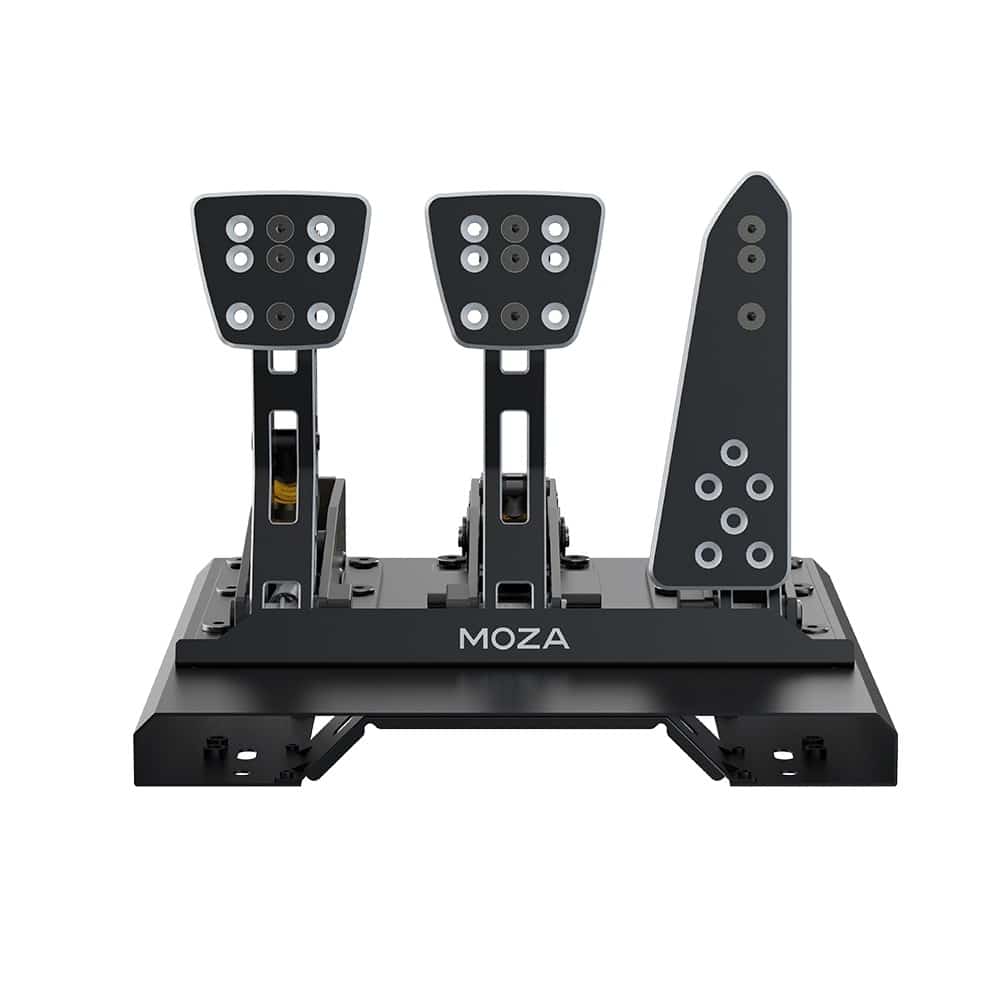 On top of a load cell brake, it boasts a three-stage clutch, which is designed to mimic the feeling of a real-world clutch pedal: at the first stage there is low resistance, the second stage features the "bite point" where a car would typically stall, and the final stage has a drop-off in the resistance, again designed to mimic how a real clutch would behave on a launch.
In addition to this, each pedal's resistance can be adjusted using springs and damping blocks included in the purchase. More customisation can be done in the MOZA Pit House App, where you can configure the linearity of each pedal, which means that you can create things such as throttle shapes and curves.
The CRP Pedals also connect to the computer via USB connectors, meaning that you can try out MOZA's ecosystem without investing in a new wheel. This can be helpful for someone looking to take the next step from their first wheel but unsure about which brand they want to commit to in the long run.
| | |
| --- | --- |
| STYLE: Load Cell | BRAND: Heusinkveld |
Quickly rising as one of the most reliable and popular brands in the space, Heusinkveld's Sim Pedals Sprint are quickly becoming regarded as a solid product for the top-end market.
Designed using CAD design software and laser cut from stainless steel – which allows for the weight of the pedal to be kept to a minimum without compromising the performance or feel – the Sim Pedals Sprint are crafted around a strong, compact and highly adjustable foundation intended for your home-use simulator.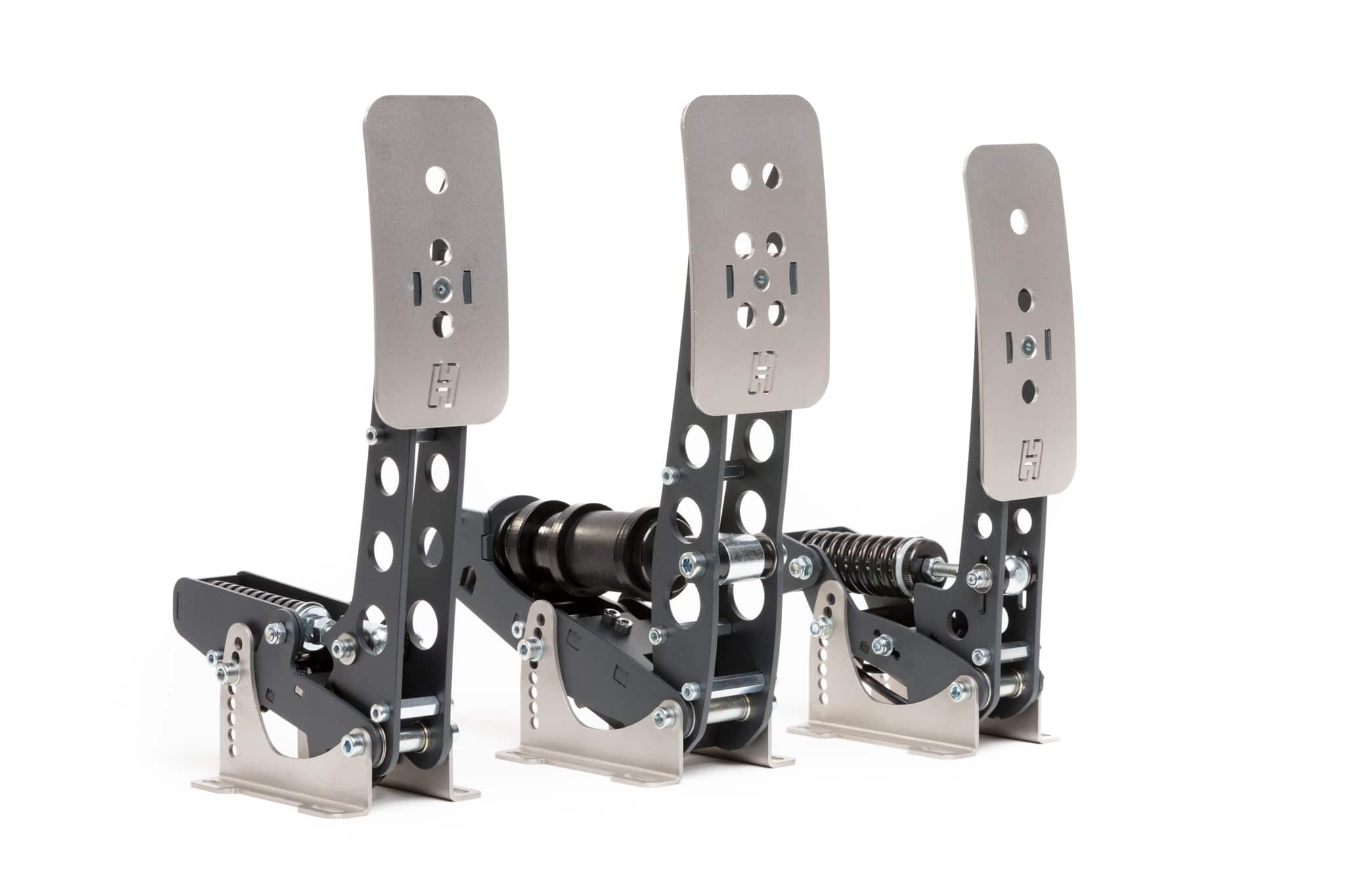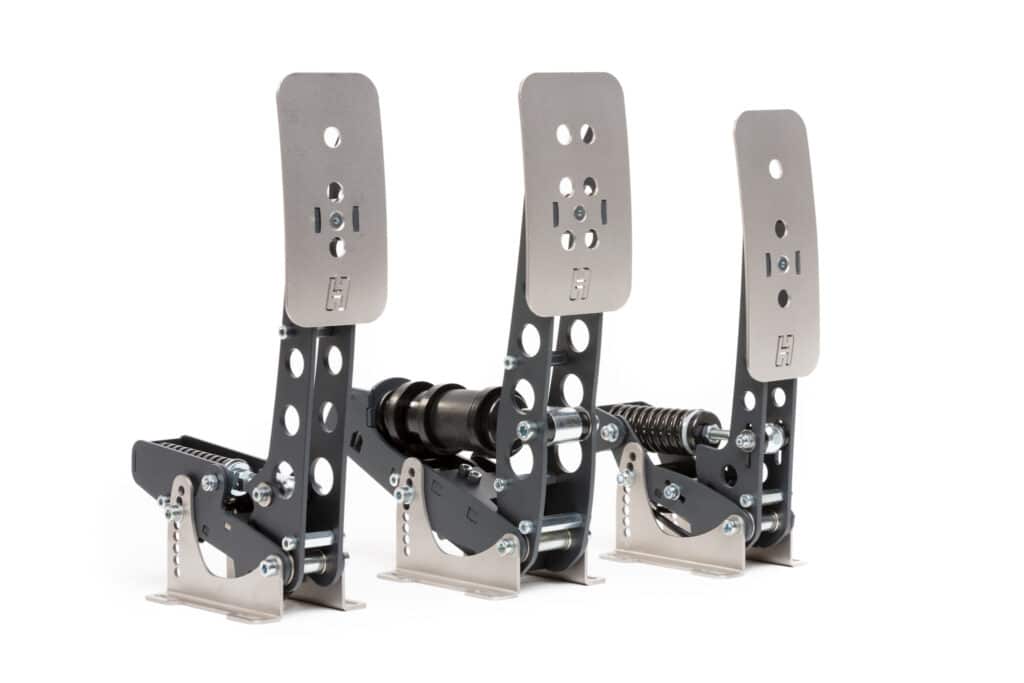 Furthermore, the numerical models that were made by Heusinkveld to accurately calculate pedal travel and force curves show just how much analysis went into the Sim Pedals Sprint.
This basis, combined with large amounts of software adjustment, comes together to provide an excellent experience for those looking to max out their iRacing experience.
| | |
| --- | --- |
| STYLE: Hydraulic | BRAND: Simagic |
The Simagic P2000-R is an elegant three-pedal solution that allows its users to get the feeling of real racing with excellent customizability in its software.
First to note, the brake is derived straight from the automotive world – making use of hydraulic pumps – which gives these pedals an instantly realistic feel. It means that you can expect the sensation generated from the pedals to replicate that which you'd feel in your own car. However, unlike being in a real car, you can do this from the comfort of your own home.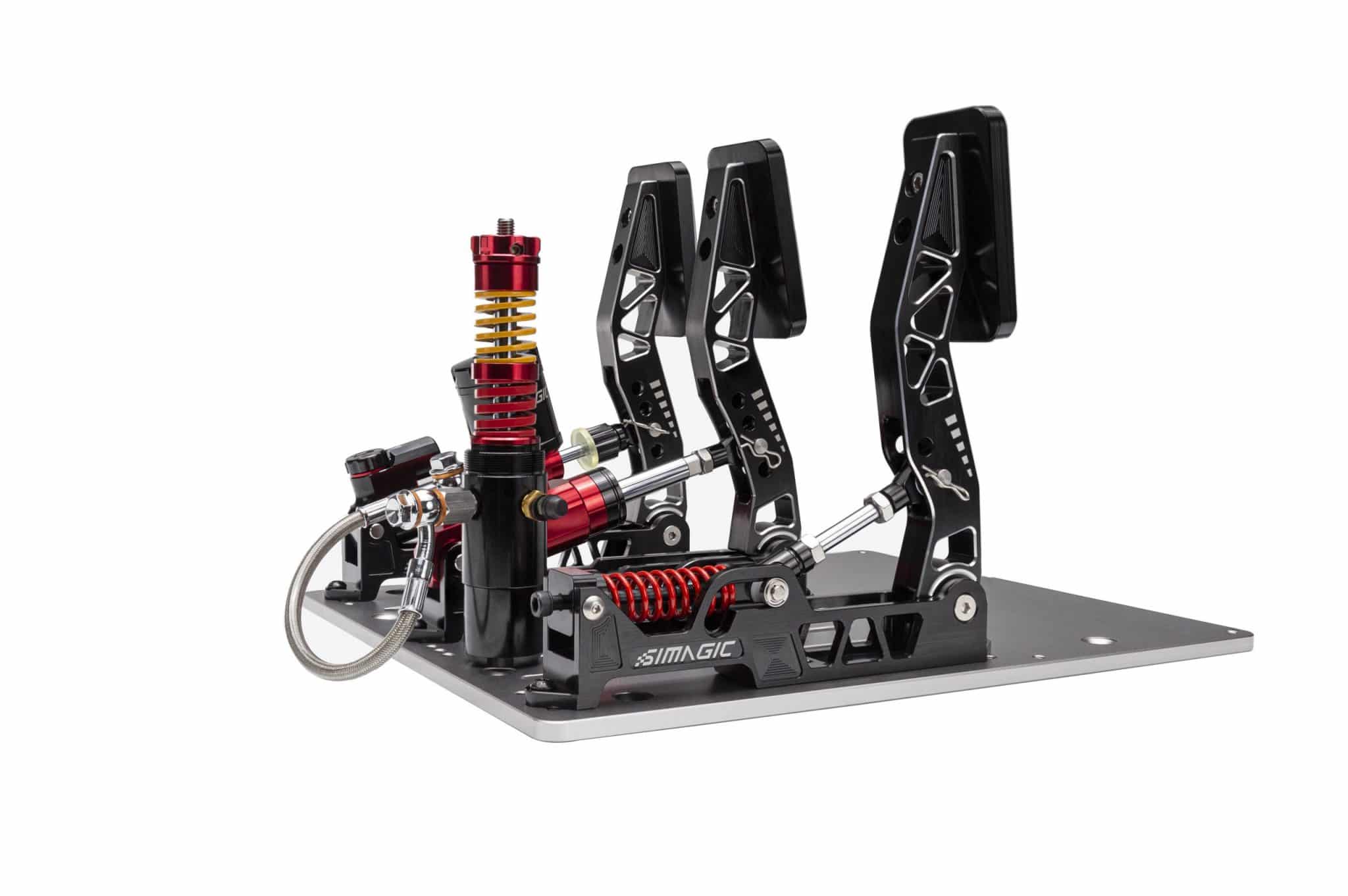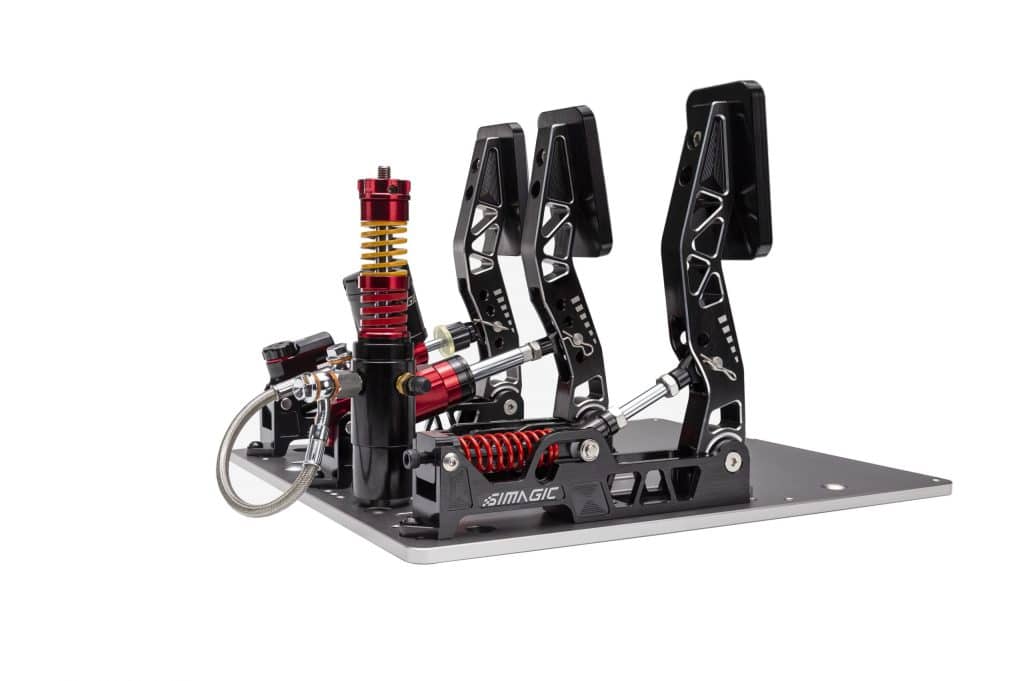 Perhaps the most unique innovation though is the concave clutch structure. Designed to mimic the real-world feeling of a bite point in a clutch, which rival products attempt through two-step or three-step clutch mechanisms, this is a feature particularly useful in series where getting off the line quickly is vital. If you're a regular to the Dallara F3 Series or Porsche Cup Series, these pedals may be for you.
On top of this, you can use the Simpro Manager software to customise dead zones, amongst other factors, with the ability to set different profiles for different games and different vehicles. If you're keen on switching between series and cars in iRacing, this is yet another potentially important feature.
Coach Dave Academy's Top iRacing Pick
Across this range of high-quality pedal sets, the top choice for Coach Dave Academy has to be the MOZA Racing CRP Pedals. At a competitive price point, the high level of adjustability in the pedal set that comes as standard is an excellent feature, whilst the three-stage clutch which mimics a bite point will help you excel in tough-to-master race starts.
Paired with the build and load cell quality, the Moza Racing CRP Pedals are a unique product and an excellent way to immerse yourself in iRacing.
---
iRacing and Coach Dave Academy
As we all know, pedals are not the only aspect of iRacing that is required to succeed across a full season. Here at Coach Dave Academy, we have put together a host of other content that cover the cars, tracks and much more that can be found in the tutorial section of the site.
Alongside that, Coach Dave Academy's team of professional drivers and engineers are hard at work developing new iRacing setups every single week which cover a plethora of different cars racing across nine different series, which you can get your hands on now as part of our iRacing Setup Subscription.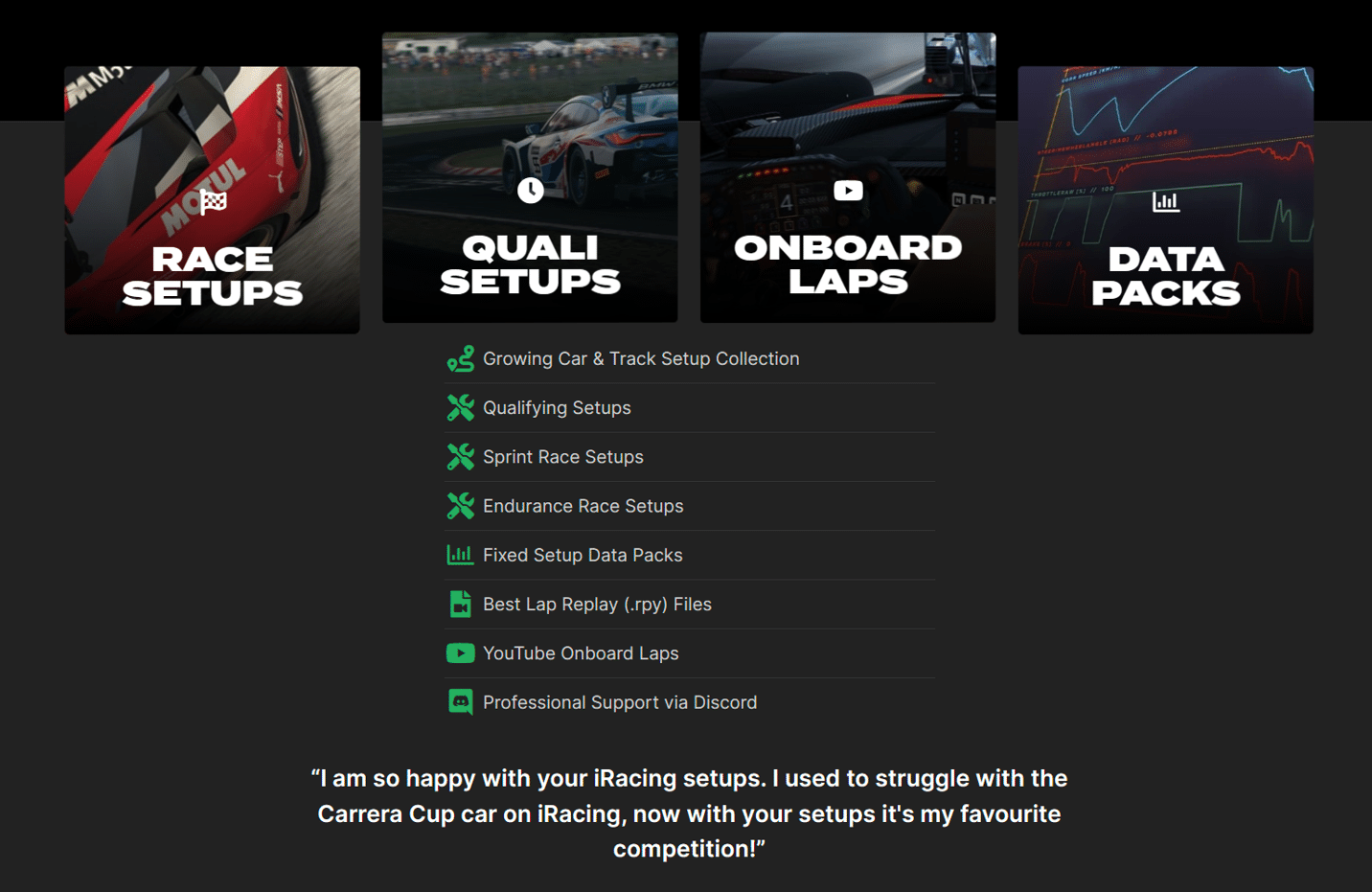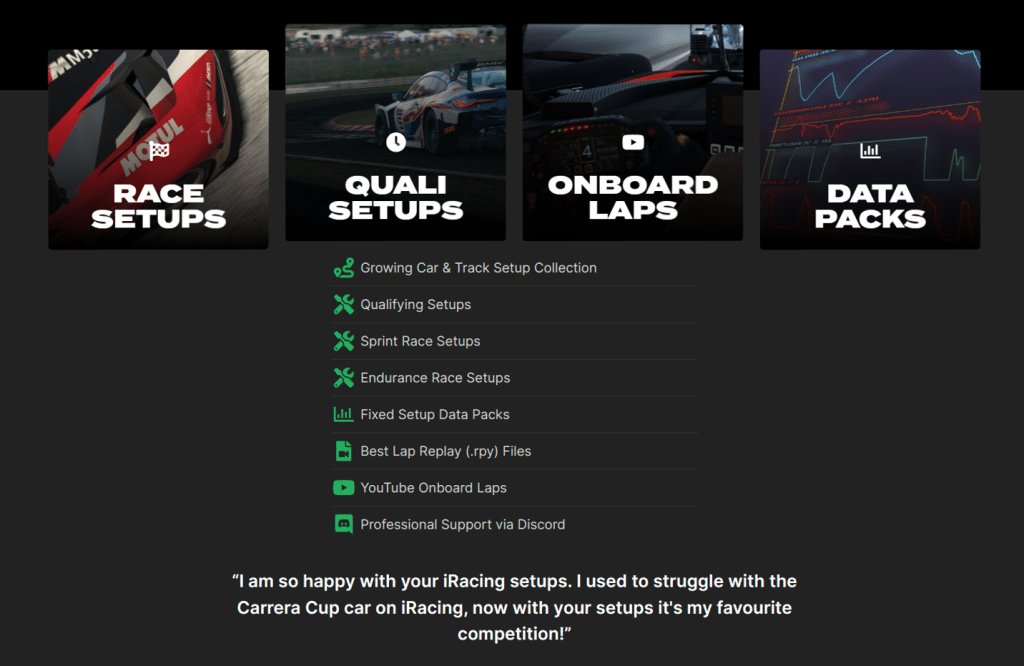 ---