As all experienced with iRacing know, one of the most vital parts of getting the most out of any car and track combo is through the application of your braking. Having the right braking points, pressure and overall consistency can make or break a lap, sometimes accounting for multiple seconds a lap if executed optimally.
So what other than practice can you as a driver do to improve your overall consistency and become a better driver within iRacing. Well, one of the biggest pieces of equipment that have an effect on your braking performance is your pedal set. You might be asking how a different set of pedals can help you as a driver? Well as with real-life motorsport and car parts, not all pedal sets are made equal and spending money can improve you as a driver if taken advantage of in the right way.
With that in mind, we have gathered the best sets of pedals for iRacing to help you decide what equipment is best for you!
How to set up your pedals in iRacing
First, open up the iRacing program in any car and track combination
Next, go to the Options page and click on the Pedals button in the top right hand "Input Calibration" panel
Follow the on screen prompts and make sure that when you depress your pedals, you depress your pedals all the way, as depressing them only partially will make 100% pressure the amount you depressed it to. So for example, if you only depress the brake pedal halfway, the halfway point on the brake will be recognized as 100% force. This can be useful for tuning bad potentiometers but otherwise should be avoided.
That's it! Go test out your new pedals and make sure they're working correctly.
The Top 5 Pedals
| | | | | |
| --- | --- | --- | --- | --- |
| Product | Style | Price | Pros | Cons |
| Fanatec CSL 3 Pedal set | Load Cell | £178 | All metal construction Plenty of adjustments | Loadcell not included out of the box |
| Thrustmaster T-LCM Load Cell Pedals | Load Cell | £186 | Cost-Effective.Sprint and Weight Adjustment. | Structural Flexing. |
| Fanatec V3 Clubsport Pedals | Load Cell | £279 | Lots of adjustment Premium materials and design | Loadcell the same as CSL Pedal set |
| Heusinkveld Sim Pedals Sprint | Load Cell | £577 | High Standard of build quality.Strong Customer Service. | Reliance on experience in pedal mounting. |
| SIMTAG Hydraulic Simulator Pedal System | Hydraulic | £1697 | Real-Life innovations.Unparalleled Build Quality. | Budgetary Limitations. |
As a general rule with iRacing due to braking being a particularly sensitive area within the physics model, we will be sticking to loadcell brakes as this will offer the best ability to make small adjustments to the brake pedal required to get the most out of iRacing.
Low Budget
| | | |
| --- | --- | --- |
| COST: £178 | STYLE: Load Cell | BRAND: Fanatec |
These pedals come in at the lowest price offering a complete three-pedal set including a loadcell without any modifications required. These pedals will function great for any sim racers already within the Fanatec ecosystem or for any PC sim racer looking for a reasonably priced upgrade for their sim rig, without needing to upgrade the whole package. Loadcell is especially important in iRacing, as some cars need very precise applications, removing the ability for use of pedals with potentiometers.
The pedal set comes with a throttle, brake and clutch pedal, ensuring no matter the type of car driven you have all the pedals needed, covering you across the wide variety of cars available in iRacing. The brake pedal here is the main point of interest with a loadcell also included that can take up to 90 kg of force allowing you to apply realistic pressure into the pedal adding to that feeling of immersion.
Not only this but despite this being the cheapest offering the pedals are still built from a number of premium materials. The pedal set is made from aluminium ensuring little flex allowing consistency in the feel each time you apply pressure to the pedals. The electronics included providing up to a 16bit resolution on the brake pedal and a 12bit resolution paired with a metal gear on the throttle and clutch pedal.
This pedal set is for any sim racer looking for a bang for their buck improvement within iRacing. The addition of the loadcell offers much more feel in the brake pedal and will improve any driver's iRacing experience.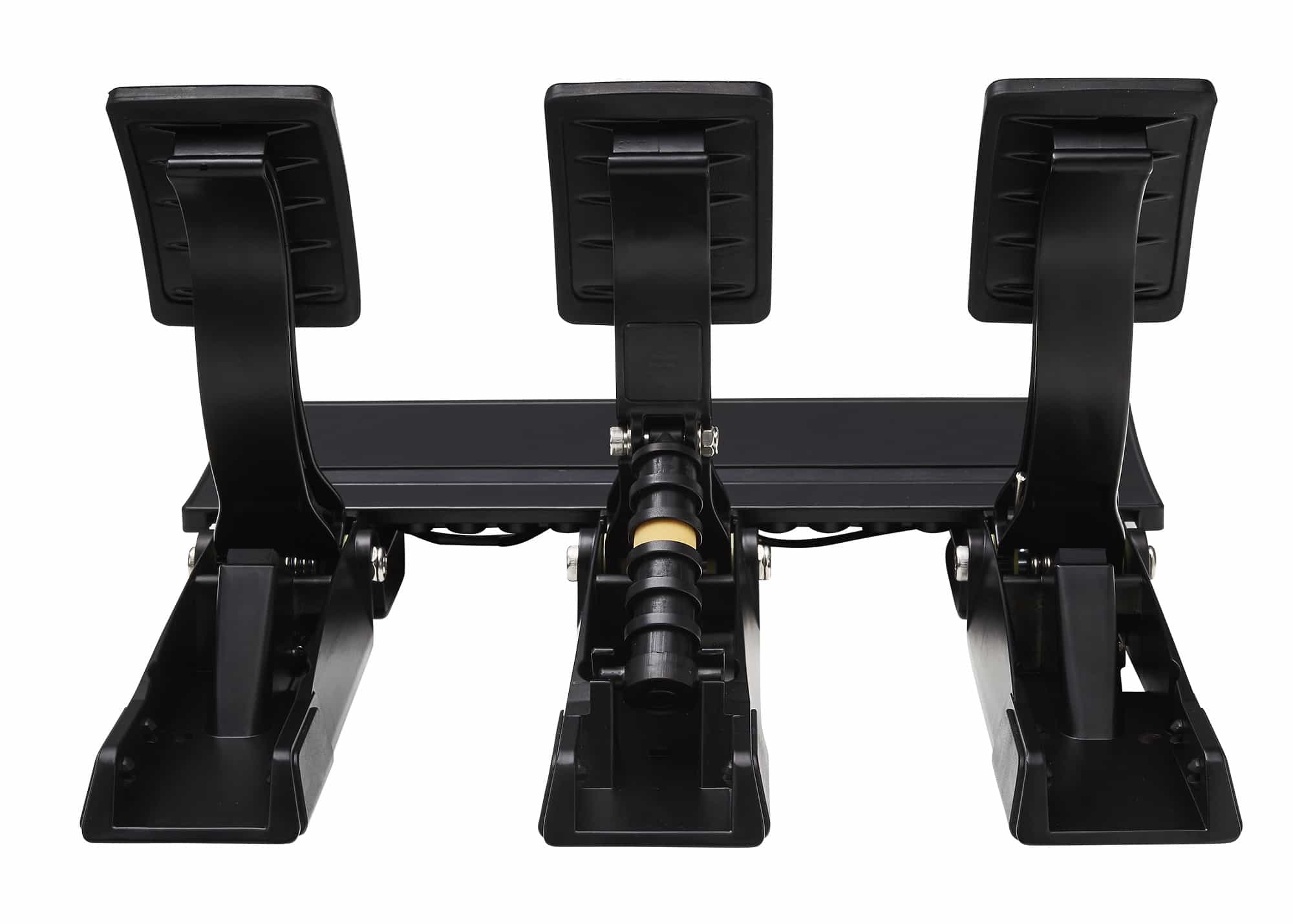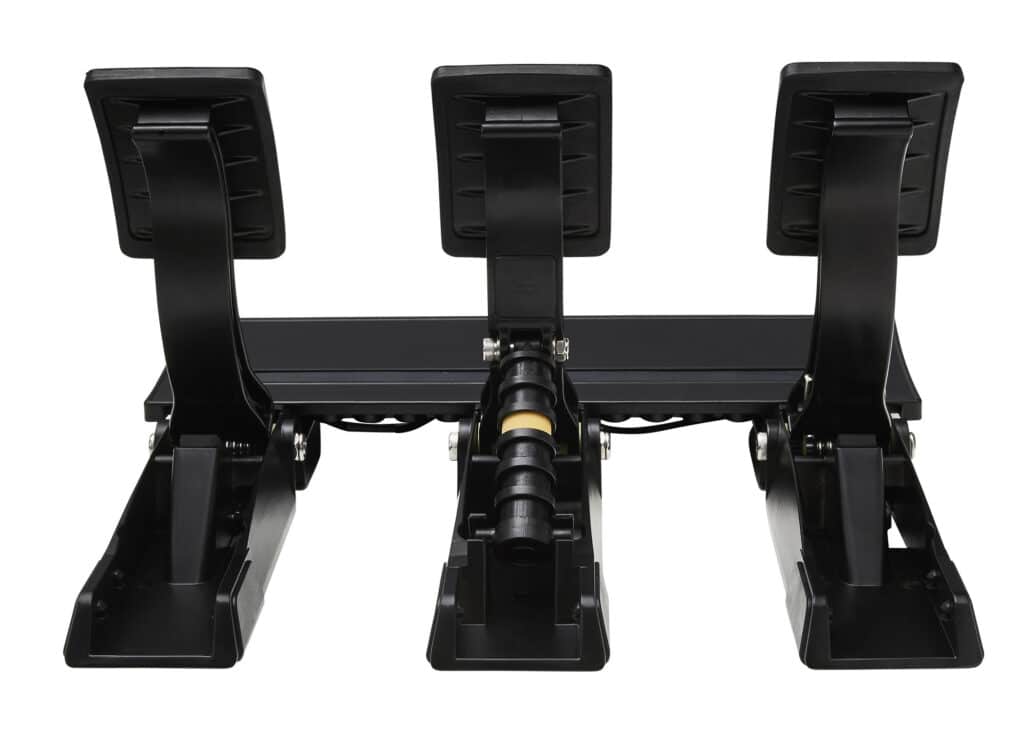 Thrustmaster T-LCM Load Cell Pedals
| | | |
| --- | --- | --- |
| COST: £186 | STYLE: Load cell | BRAND: Thrustmaster |
The T-LCM Pedals are Thrustmasters first offering of a pedal set that has a loadcell brake out of the box. This pedal set is a small price increase but offers many of the same features and is one to look out for if you are already integrated into the Thrustmaster ecosystem.
In terms of features, the main area of interest is the new addition of the loadcell on the brake pedal. The load cell can take up to 100 kg of pressure and has several different springs that can be swapped out to find that perfect pedal feel for each car within iRacing. If your looking for a guide on each car then check out Coach Dave Academy's Complete iRacing Car Cist. The throttle and clutch also come with magnetic HallEffect sensors that ensure that the pedals are long-lasting while still maintaining high-resolution input measurements.
The composition of the product features metallic base plates, with plastic casing surrounding the Metal arms and Pedals of the product. This means that you benefit from high quality, reliable feedback, with weight-saving measures that truly mimic any Racing philosophy.
This pedal set will work brilliantly with any Thrustmaster wheelbase and as with their competitors, the equivalent pedal set will also pair with any other wheelbase on PC, allowing upgrades to be made gradually.
This pedal set is for any iRacing sim racer already integrated into the Thrustmaster ecosystem or just someone looking for that true out of the box experience with their pedal set. This is a great choice for any sim racer looking to step their iRacing game up without breaking the bank along the way.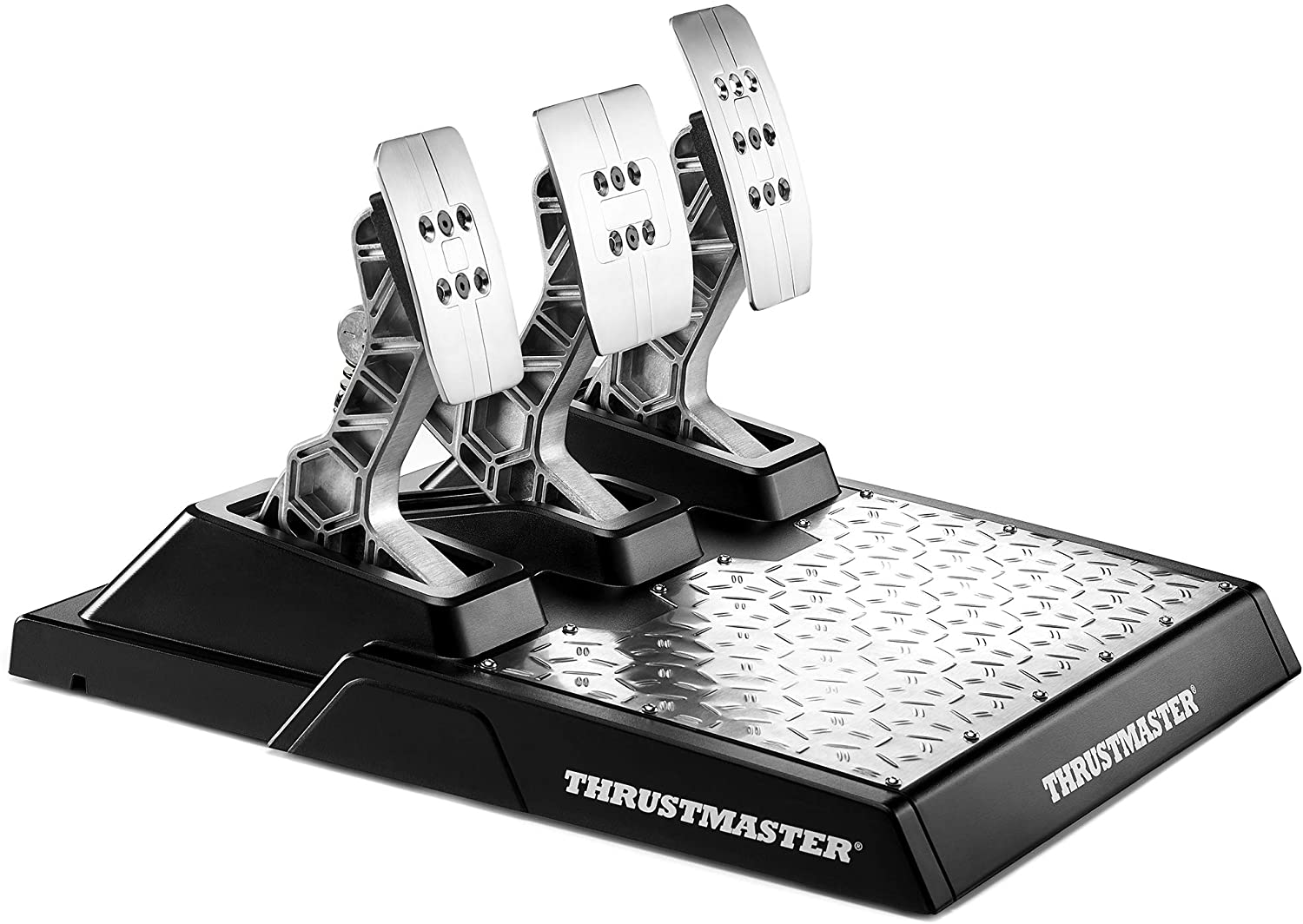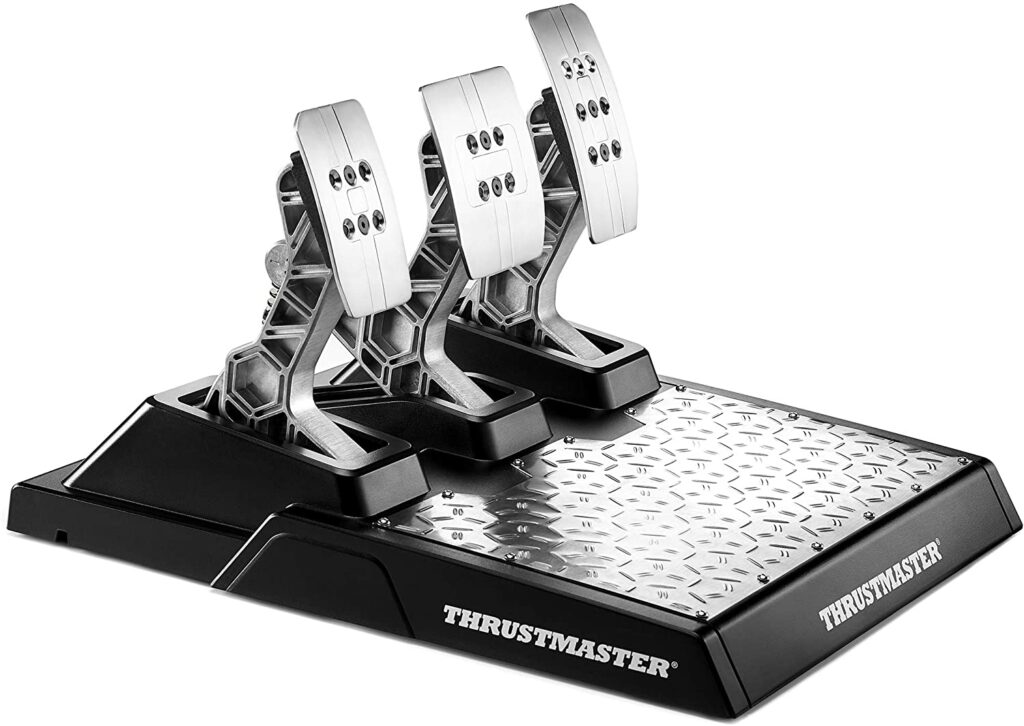 Mid-range budget
| | | |
| --- | --- | --- |
| COST: £279 | STYLE: Load cell | BRAND: Fanatec |
The Fanatec Clubsport V3 Pedals are the more premium offering brought to the market by Fanatec and are truly an upgrade from their cheaper CSL pedal set alternatives. They come with much more premium looks, build quality and ergonomic improvements.
The pedals themselves are aesthetically dominant, with a powerful sheet black colouring finish to the metal. The build design not only offers good looks but also provides a high level of build quality limiting pedal flex and ensuring the longevity of the product.
The set comes with a host of adjustability features such as the loadcell, pedal arm placement, angle and pedal face adjustment. The pedal faces themselves can be set up in multiple different configurations, allowing a truly unique customer experience. The load cell brakes can handle up to 90kg of force allowing you to have the firm feel of a formula car or the progressive feel of a road car pedal, with no flex on the structural integrity of the product. If optioned when purchasing, the pedals also can have a hydraulic damper added to the throttle giving a more realistic feel improving the immersion by another step.
As a cost-effective product providing unrivalled levels of quality, these pedals are a great choice for the Sim Racer looking to up their game!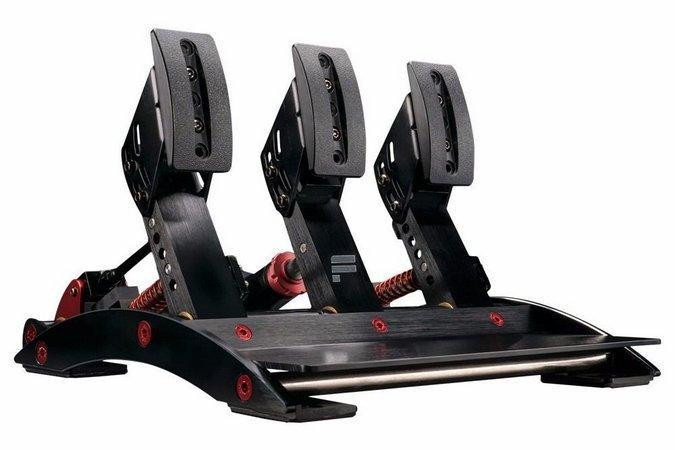 High Budget
Heusinkveld Sim Pedals Sprint
| | | |
| --- | --- | --- |
| COST: £577 | STYLE: Load Cell | BRAND: Heusinkveld |
Quickly rising as one of the most reliable and popular brands in the space, the Heusinkveld Sprint pedals are quickly becoming regarded as a solid product for the top end market.
The design of the pedals is done using CAD design software and laser cut from stainless steel, thus, allowing the weight of the pedal to be kept to a minimum without compromising the performance or feel.
The Sim Pedals Sprint are drafted around a strong, compact and highly adjustable design with the main parts made out of CNC precision laser cut steel, intended for your home-use simulator. Numerical models and designs were made to accurately calculate pedal travel and force curves, with the Heusinkveld team truly analysing how much travel each pedal will have in individual circumstances.
This foundation, combined with strong amounts of software adjustment, come together to provide an excellent experience for those looking to max out their iRacing experience.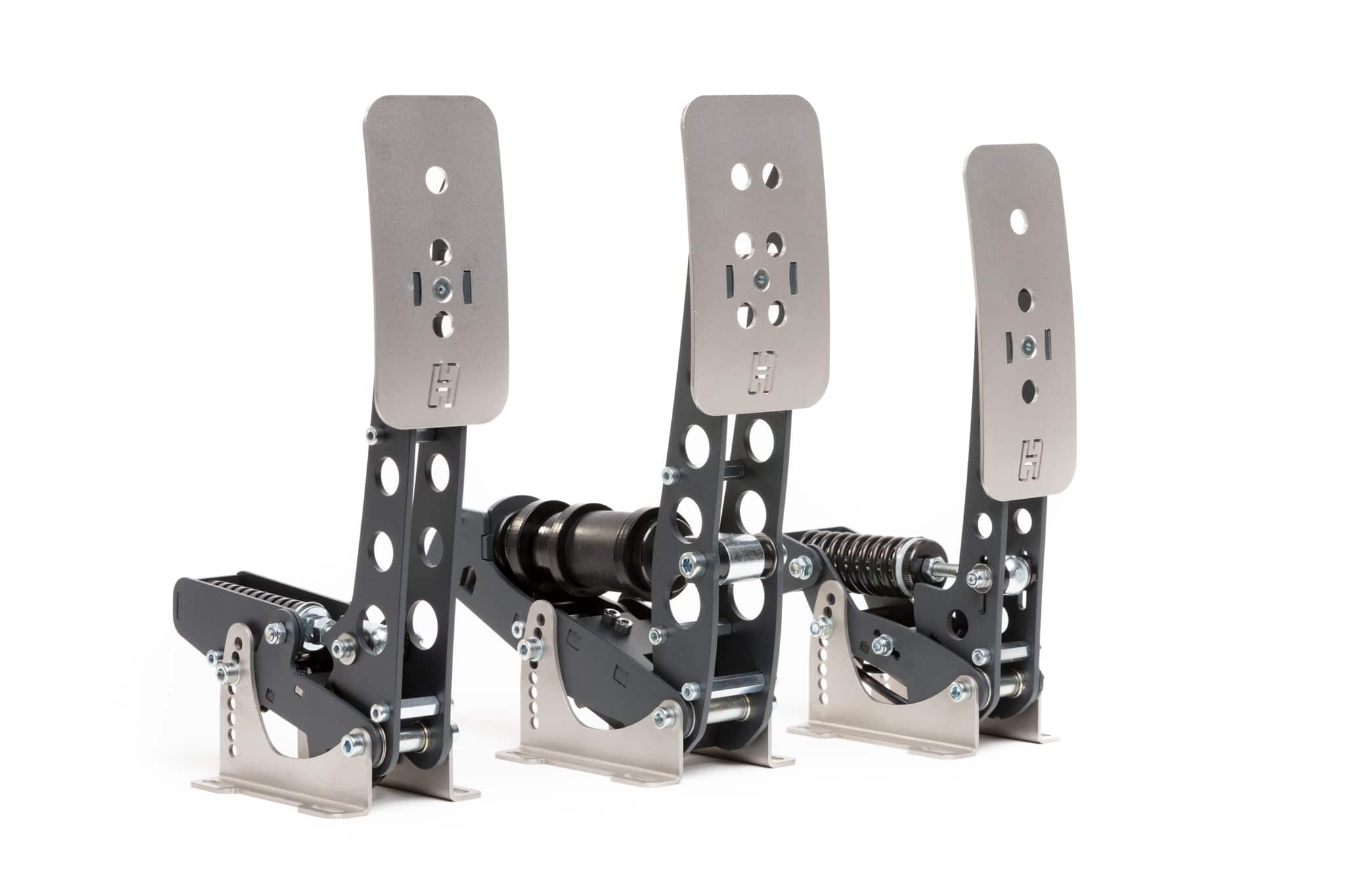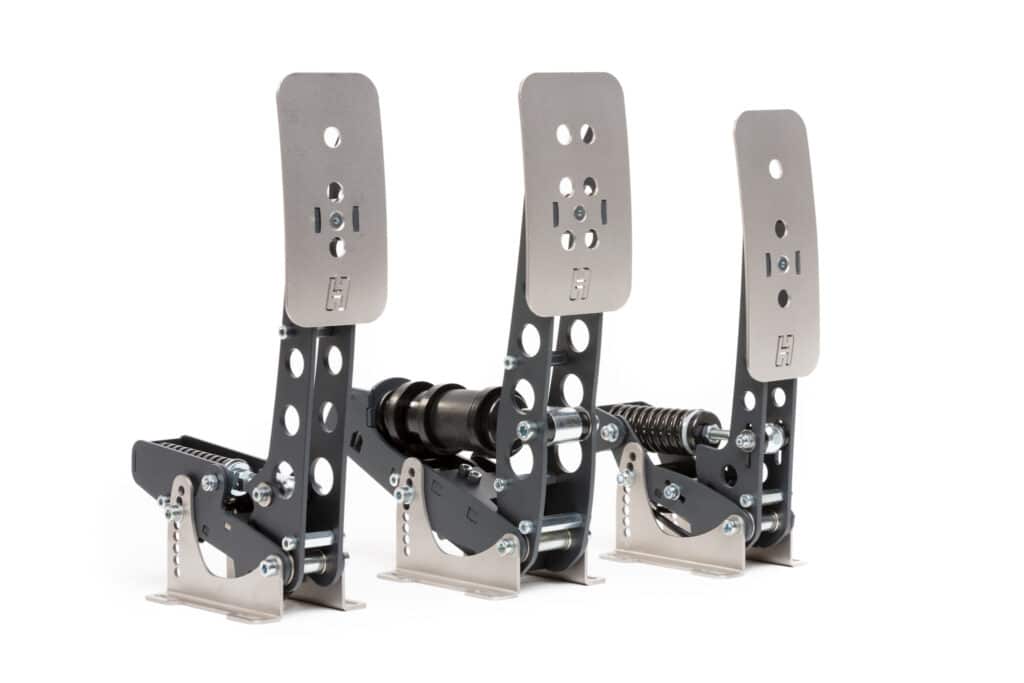 SIMTAG Hydraulic Simulator Pedal System
| | | |
| --- | --- | --- |
| COST: £1697 | STYLE: Hydraulic | BRAND: SIMTAG |
If you have no limitations around financial investment and want the most true-to-life experience possible, then you need to look no further than SimTag.
The pedal set is constructed from the Tilton 600 series pedal assemblies, used in many different race cars all over the world. This allows SIMTAG to build a pedal set that has its roots firmly in real life motorsport which can bring the iRacing experience to a new level of immersion.
The adjustment of the pedal set is as would be on any Tilton 600 series set. The pedals feature an adjustable ratio (5.29:1, 5.44:1, 5.75:1) and the original brake balance bar.
The pedal features innovative, hydrology based systems paired with oil impregnated bronze bushings at the pedals pivots, providing smooth and optimal sensations at every push. The throttle comes with a Bosch positioning sensor that has been tried and tested across the motorsport world. In addition to this, all the connectors are produced by Cosworth and have an anti-dust and moisture-resistant coating to ensure the accuracy and precision never fades. The combination of these features provides quality like no other pedal set can.
There is no other pedal set that will provide an experience closer to a real-life race car and for the true iRacing professionals, this is something that can not be overlooked. The tried and tested materials and electronics ensure that no matter the situation the pedal set will provide you with consistency ensuring that you as a sim racer can focus on the race at hand. If money is no object then the SIMTAG Hydraulic Pedal System is the only option to choose.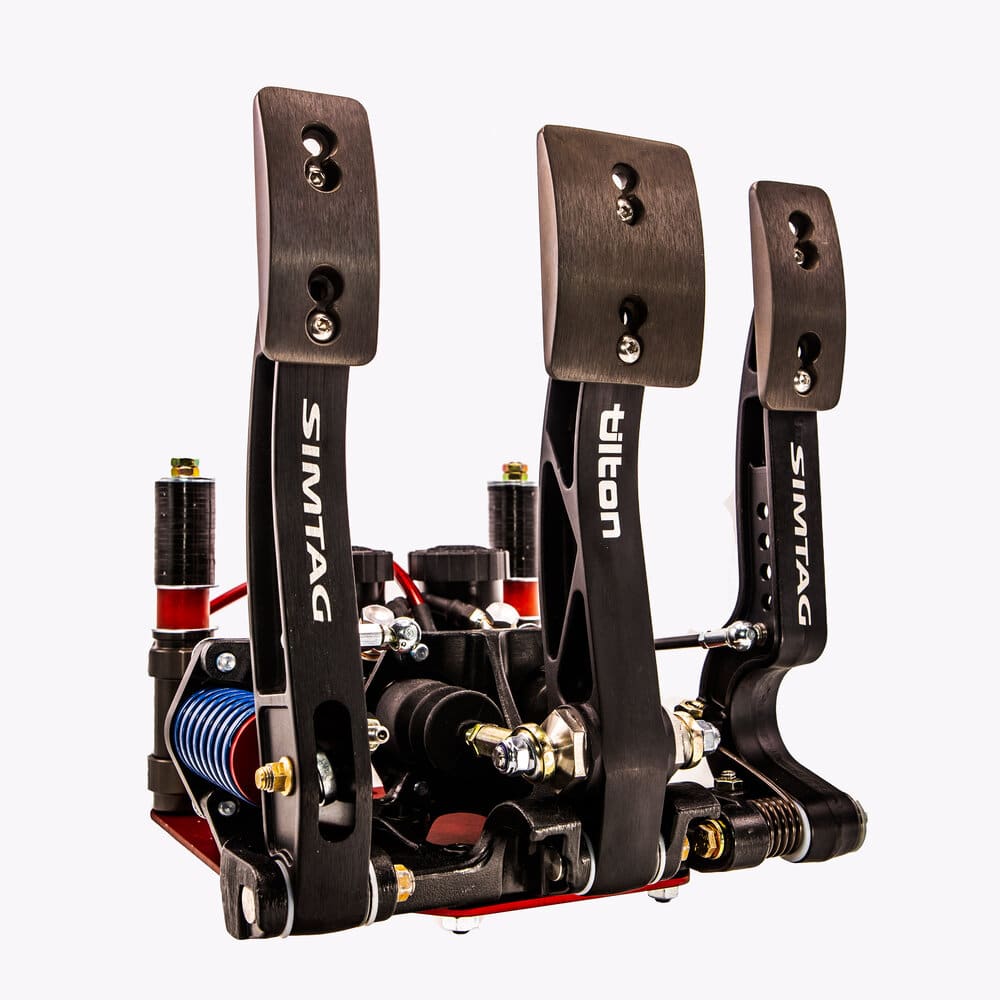 Coach Dave Academy's top pick
When it comes to our personal recommendation, for us the Thrustmaster T-LCM pedals are a very solid and reliable choice. With a combination of high-quality components, coupled with a low price point and weight-saving measures, these pedals offer all iRacers the ability to be at the top of their game with very few limitations.
Furthermore, the highly effective Thrustmaster Ecosystem means that these pedals will seamlessly fit into any racing setup, meaning you don't have to worry about compatibility issues.
iRacing and Coach Dave Academy
As we all know pedals are not the only aspect of iRacing that is required to succeed across its host of tracks and cars. Here at the Coach Dave Academy we have also put together a host of other content that cover the cars, tracks and much more that can be found in the tutorial section of the site.
Not only this but Coach Dave Academy's host of professional drivers and engineers have been hard at work developing our new set of iRacing setups. These setups already cover a host of different cars racing in the IMSA and VRS series, with more on their way. These setups have been put through rigorous testing and all hot laps completed with these exact setups can be found on the Coach Dave Academy Youtube Channel. We hope this helps you improve your sim racing experience and can get you onto that coveted top spot of the podium.