Moza Racing is an up-and-coming brand in the world of sim racing. From prize-giving in the GT Omega Assetto Corsa Competizione series to changing the career trajectories of sim racing fanatics in the world of iRacing, the brand's array of components and peripherals are quickly making it one of the most popular brands in sim racing.
Who is Moza Racing?
An up-and-coming brand originating from China, Moza Racing aims to make high-level sim racing more accessible and affordable. Much like the more established brand Fanatec, they only offer Direct Drive wheelbases. We have previously looked at what a DD wheelbase is here at the Academy if you wish to extend your understanding.
In addition to wheelbases, Moza also offers a variety of rims for their wheelbases as well as pedals to complete your sim racing solution. They also offer additional accessories with an aim to increase your immersion and enhance your sim racing experience.
Wheelbases
Each Moza Racing wheelbase is Direct Drive, and their model names indicate the Newton Metres of torque they can generate. This is a standard unit of measurement in sim racing for this equipment – Fanatec's CSL DD starts at 5Nm, whilst Thrustmaster's up-and-coming T818 outputs 10Nm and Logitech's recently-released G Pro offers 11Nm.
Moza's DD R5 model is the most popular model in their range. Available as part of a bundle with the round ES Steering Wheel and the SRP Lite Pedals, prices start at £569.99 before tax. Also included in the bundle is the table clamp for the DD R5, which allows for the wheelbase to be mounted on a wide array of different surfaces and a similarly large range of methods.
The next step up is the DD R9. Arguably the most direct competitor to offerings by the aforementioned Big Three, the price is also extremely competitive with prices ranging from £419 to £439 pre-tax. This is an impressive feat by Moza – in terms of pricing, it undercuts the first offerings by Thrustmaster and Logitech in the DD market whilst matching the price of the brand that has led the way in DD racing that is Fanatec.
The next offering is the DD R16. With no direct competition from any of the Big Three in terms of price or output, the £899 wheelbase offers a step up to high-power wheelbases without the higher costs that you can find from Fanatec's DD1 or DD2.
At the top of the list is the DD R21. Pricing between £1099 and £1199, this wheelbase is a direct competitor with the best of the best on offer from Fanatec as well as other smaller alternatives such as Simucube.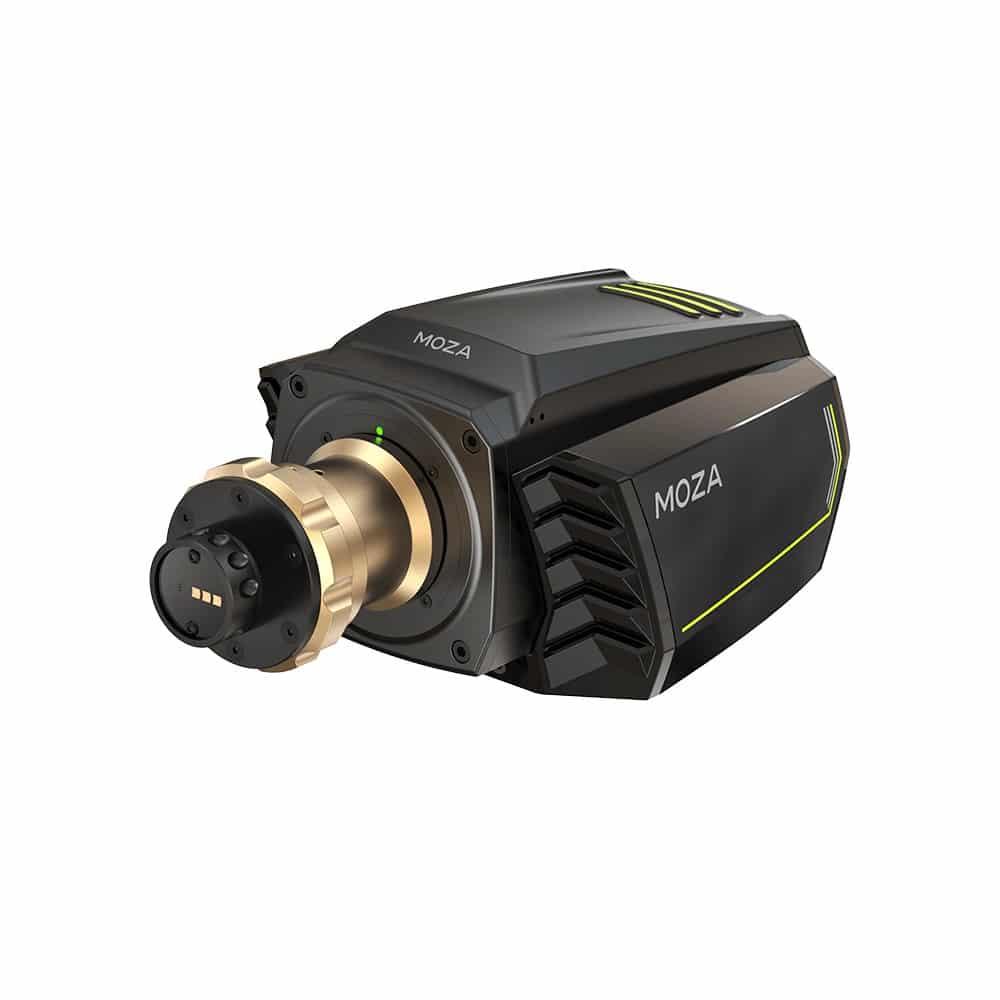 Steering Wheels
Moza's offerings in the field of wheels have expanded immensely in such a short period of time. So much so, there's pretty much one for every occasion!
In the traditional round rims, you have the RS, CS, and RS V2. The CS and RS V2 are a full circle, something which is very helpful in disciplines such as rally racing where you're often changing directions very quickly compared to open-wheel and prototype racing.
Their other offerings in regards to steering wheels are the GS GT Wheel and the FSR Formula Wheel. The latter is the more expensive, at £579 compared to £449, however, there is a great difference between the two options. Both do have a lot of similarities, such as hand-clutch paddles and a variety of buttons, knobs, and switches, however the layout of the central unit is noticeably different. This is because the FSR Formula Wheel has an integrated display, much like you'd expect in F1 or prototype racing, whereas the GS GT Wheel does not as GT racing typically has a separate heads-up display to the wheel.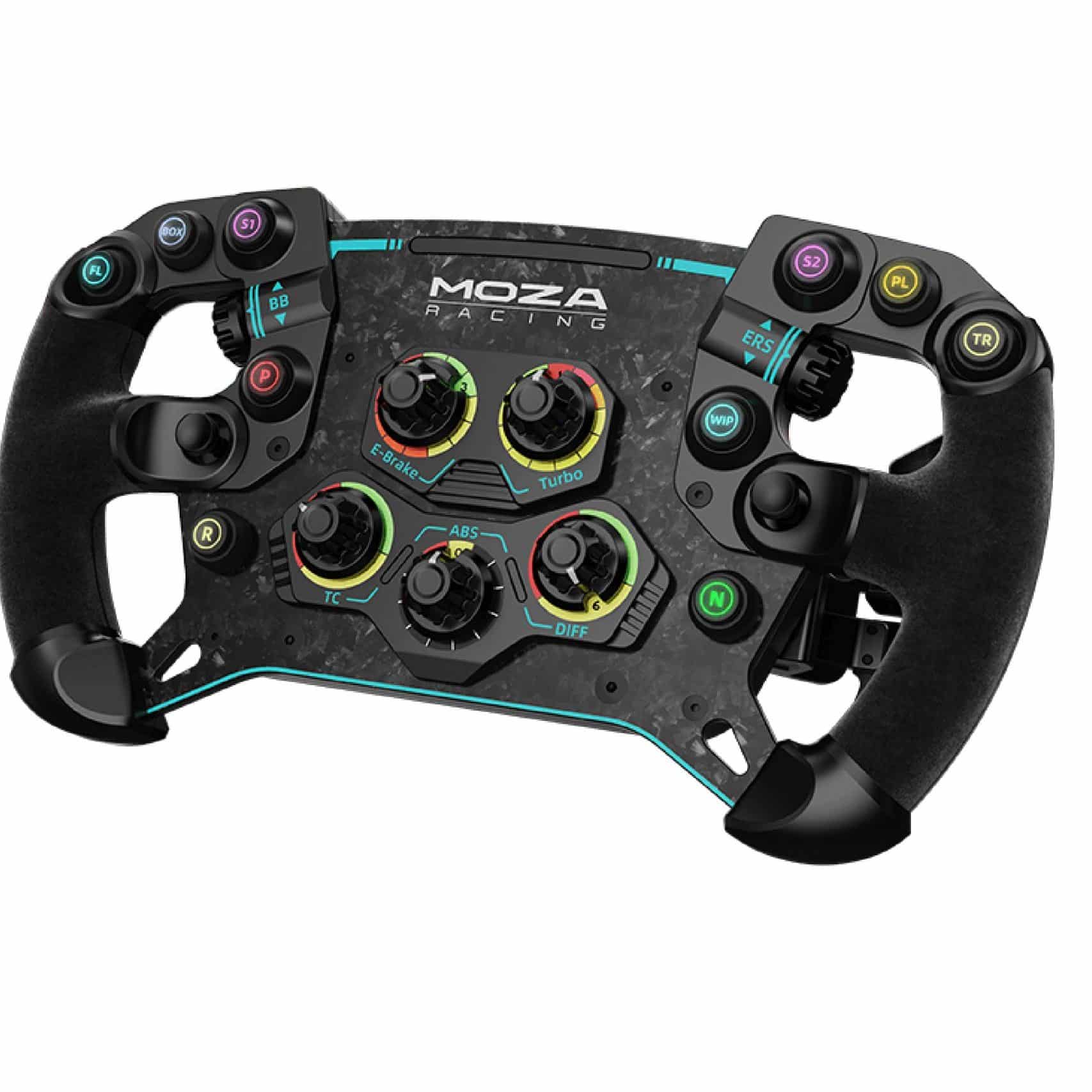 Pedals
There are 3 options on offer for Moza pedals, and they're each excellent in their own way. Each uses high-end technology, offering pinpoint accuracy and robust reliability that you might not get from the potentiometer-driven pedals that rivals have on offer.
The entry-level solution is the SRP-Lite. Included in the R5 Bundle, this simple solution is enough to get you up and running in sim racing. An elegant design at an affordable price, if you're looking to make that next step in your journey this is an excellent choice for you.
Next up, it's the SR-P Pedals. An enhanced three-pedal solution building on the SRP-Lite, it makes the most of the pressure sensors that detect your inputs. It also boasts an impressive 16-bit encoder that is incredibly precise and allows you even more control over the car than many rival products in the price window.
At the top end, you have the CRP Pedals. With a three-stage clutch and full customizability, it's no surprise that it ended up being our recommendation for the best sim racing pedals in 2023. The aluminium alloy construction is an incredibly sturdy and resistant build, and in addition to the top-of-the-range clutch, it also comes with a load cell brake pedal as standard. And, when we say fully adjustable, we mean it. From levels of resistance to overall travel of the pedals, you can really do anything that you want with these pieces of kit.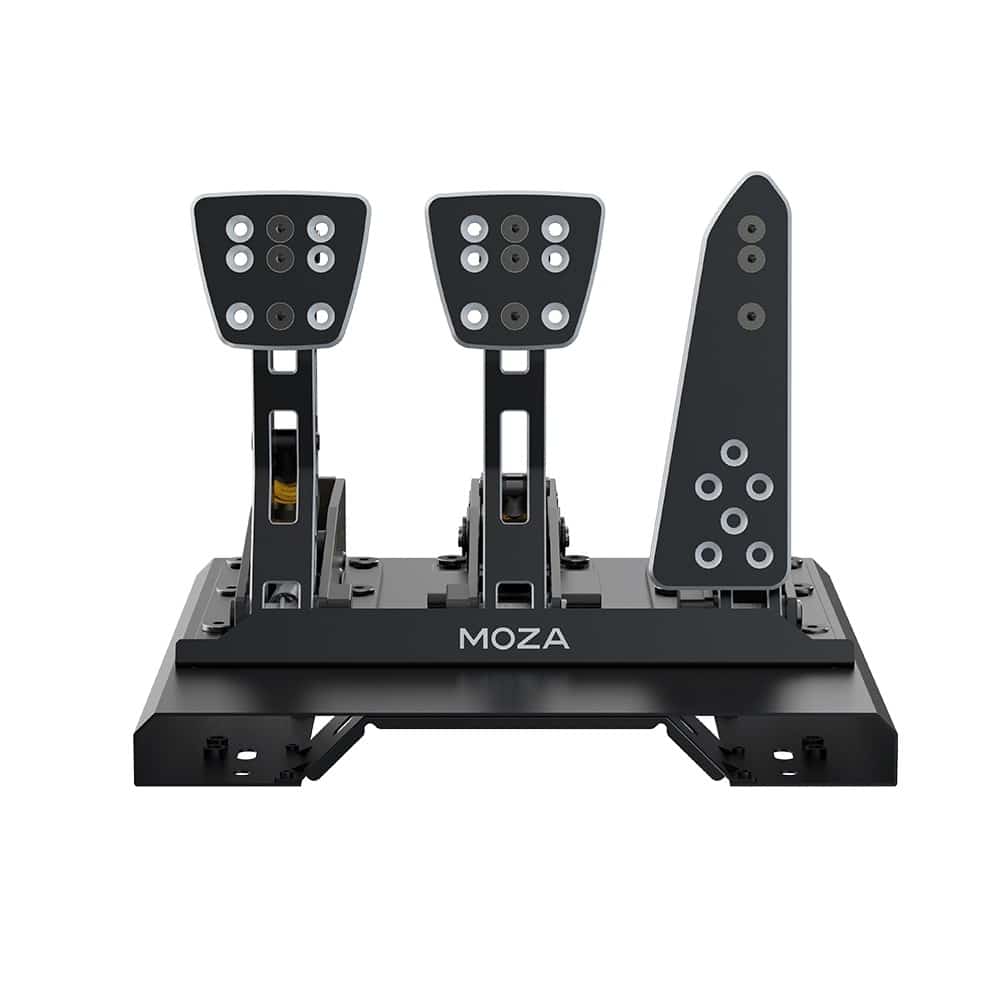 Accessories
There are a whole host of add-ons and accessories available to purchase inside of the Moza ecosystem. Many of these are alternative solutions to fitting kits, such as mounting plates, brackets, and clamps. Others are upgrade kits, such as the Quick Release Adapter and the Brake Performance and Accessory kit for the SR-P set of pedals.
However, perhaps the greatest options are the digital dashboards. Both of these are attachable to your wheelbase, however, the top-line RM High-Definition Digital Dashboard is only compatible with the R16 and R21 wheelbases. Both it and the CM HD Digital Dash boast 60Hz refresh rates, a fantastic colour range and integration through the Moza app. Simply put, these are fantastic pieces of kit that help you to take your sim racing experience to the next level.