The Thrustmaster T300RS is arguably the king of the mid-range when it comes to wheels – but if you don't know how to set it up properly, you can't extract the potential this wheel has to offer. Here at The Coach Dave Academy we are here to help, and so, this guide will walk you through step-by-step how you should set up your Thrustmaster T300RS.
Step 1: Securing your wheel
As soon as you have put your brand new wheel together, you need to attach it to a suitable sim rig or stable desk. If you already have a sim rig, stability won't be an issue, however, if you are using a desk, just make sure you have no objects close to the edge since the strong force feedback of the T300RS can send vibrations through the entire desk.
Once everything is fully secured using the clamp on the underside of the wheelbase, you need to plug everything into power sockets or attach any extra components, such as the pedals, to the base. As soon as you attach the USB to your PC, the T300RS, just like most other wheels, will calibrate via turning rapidly to its two lock extremes – so keep your hands away from the rim as it calibrates.
Step 2: The software setup
After unboxing your new wheel and attaching it to your rig, we're sure you are itching to get out on the track. But the first thing you need to do is download the latest firmware and drivers from the Thrustmaster technical support, after plugging all of your components in where needed of course. Here, you will also find the user manual for any further queries.
It is important to note that when you go through the setup phase, you must have the small switch on the bottom left of your base set to the 'PS3 mode'. You must keep your wheel on this setting when you are using it on PC.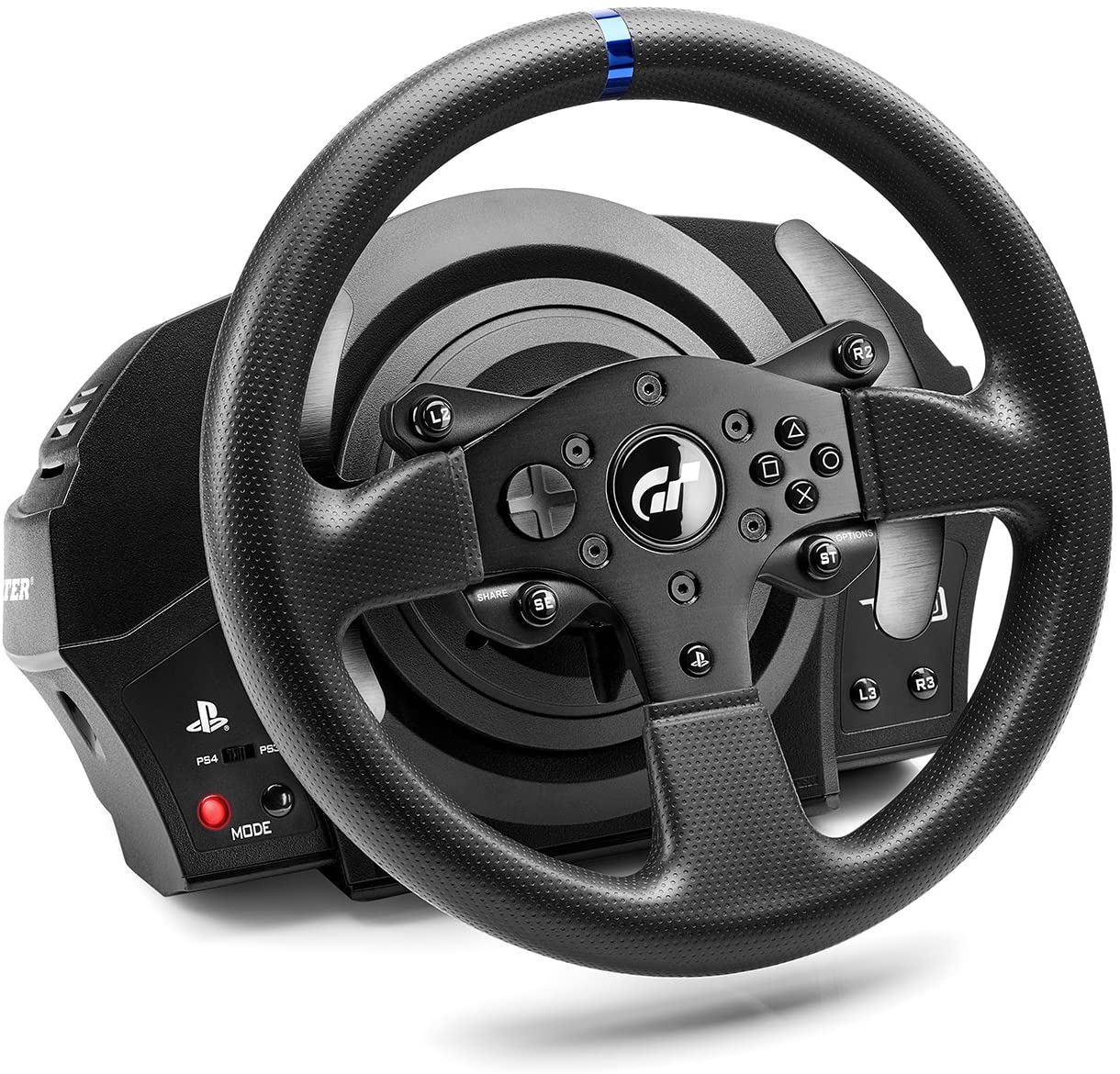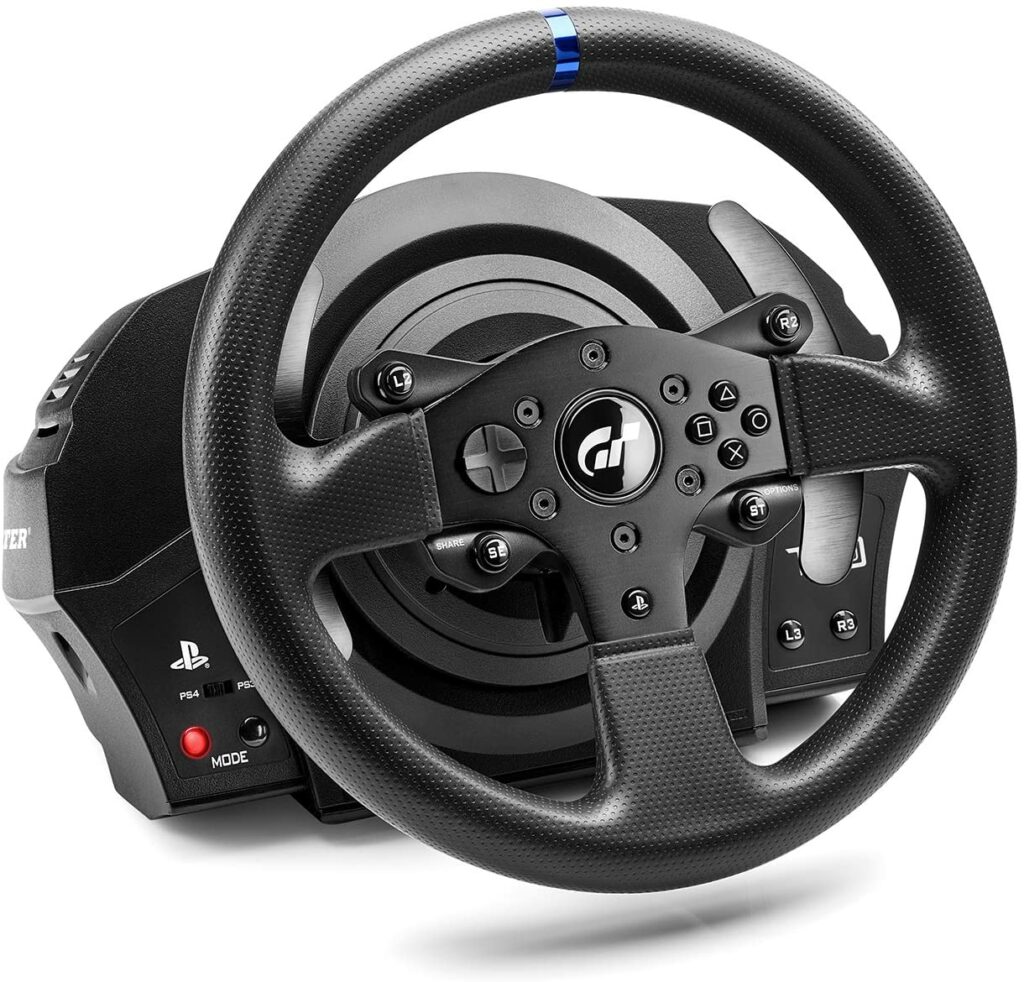 With these short downloads completed, you will now have working force feedback, access to the Thrustmaster Control Panel – which you will need later – and the firmware updater which will come in handy.
Step 3: Adjusting using the control panel
Now that you have all of the software required, you need to optimise your settings for ACC in the Thrustmaster Control Panel. After finding the control panel program through your Windows search tab – which falls under 'Thrustmaster FFB Racing Wheel' – you will be greeted with a small window called 'Game Controllers'. Here, you should hit properties, which takes you to the main control panel which consists of three tabs, 'Test Input', 'Test Forces' and 'Gain Settings'.
On the 'Test Input' page, the first thing to do is adjust the degrees of rotation. You should set this to 900°, which you need to later line up with your settings in ACC – 900° is the golden number for ACC; leave it at this and the game will make further adjustments to match the angle of rotation to the car you are driving.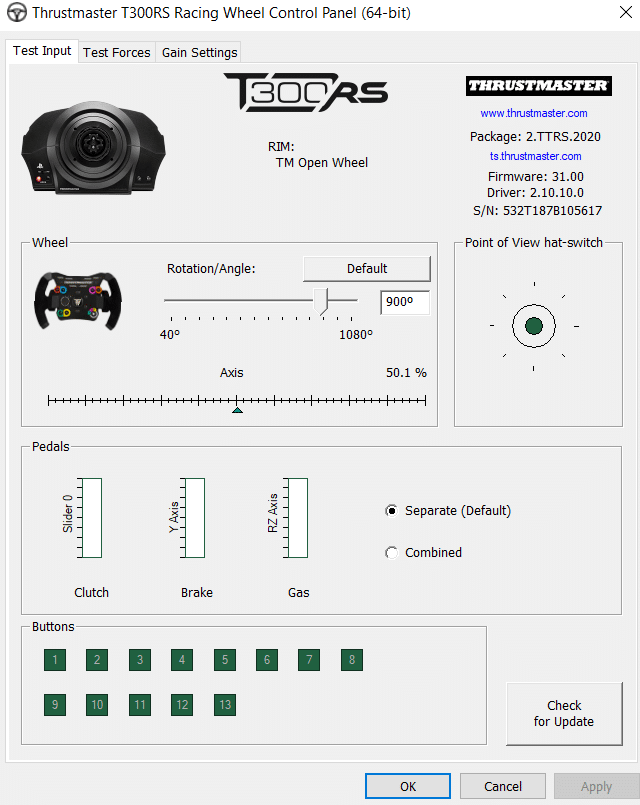 In the final page of the control panel, you will be greeted with six settings:
The overall strength of all forces – The master weight and force feedback
Constant – Forces that are constantly applied to the wheel like road surface detail.
Periodic – Forces that are only applied every so often, like hitting a large bump or kerb.
Spring – How quickly the wheel tries to return a central position. As you turn more, this force will get stronger.
Damper – The amount of force you need to apply to turn the wheel.
Auto centre settings – If the wheel automatically centres when you let go. This should be left to be decided by the game.
After speaking to some of Coach Dave Academy drivers, these are the settings that they find to be optimal: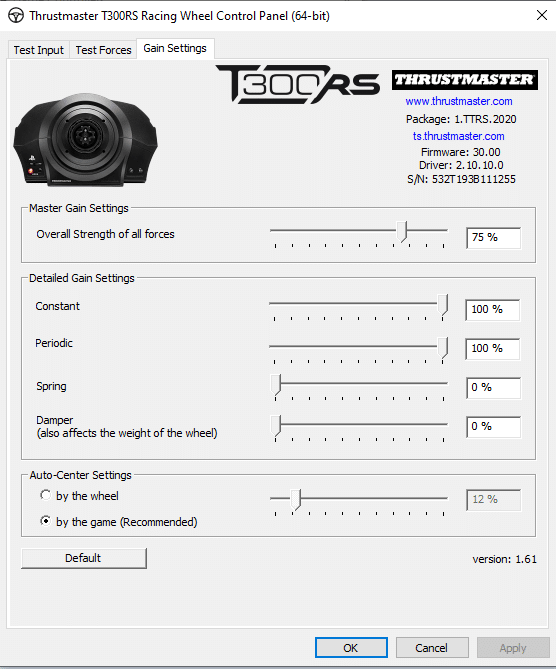 However, you can change the overall strength if you are feeling too much or too little weight through the wheel. Some cars in ACC have a higher wheel weight than others, whilst some are lighter, so you may often change this if you are constantly swapping cars or struggling with weight.
Step 4: Applying the best T300RS settings for ACC
Not only do you need to set up your force feedback in the Thrustmaster Control Panel, but also in ACC itself. Most of the output you receive is game controlled, so this is very important to have optimal feeling in the wheel.
Inside the 'Controls' settings in ACC, there are two categories that have the most effect. These are the 'Force Feedback' settings and the 'Advanced' settings. The 'Force Feedback' settings consist of the following:
Gain
Minimum Force
Dynamic Damping
Road Effects
Frequency
The 'Advanced' settings consist of:
Steer lock
Steering linearity
Brake Gamma
Gearshift Debouncing
Here are the settings that Coach Dave Academy recommends: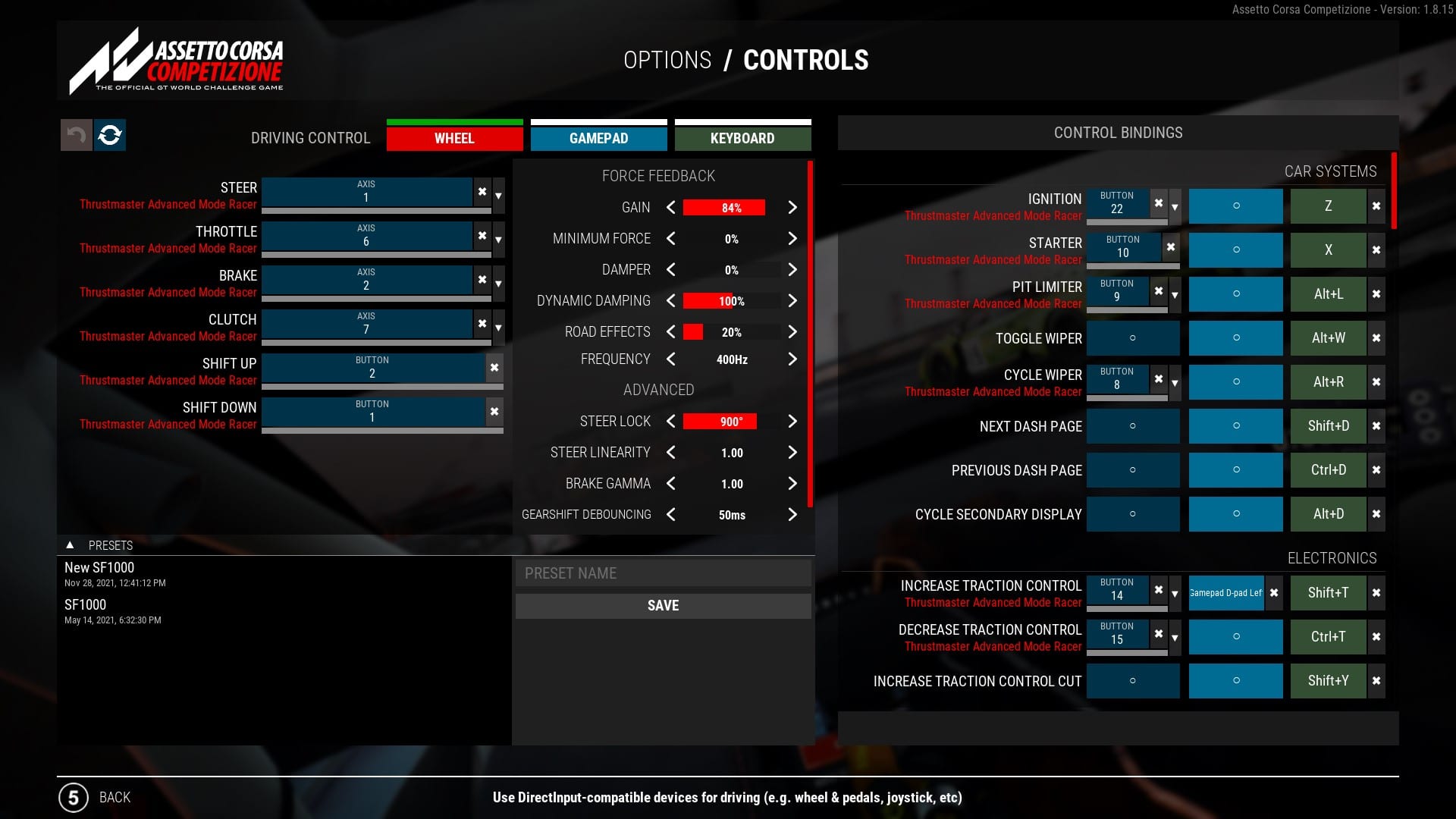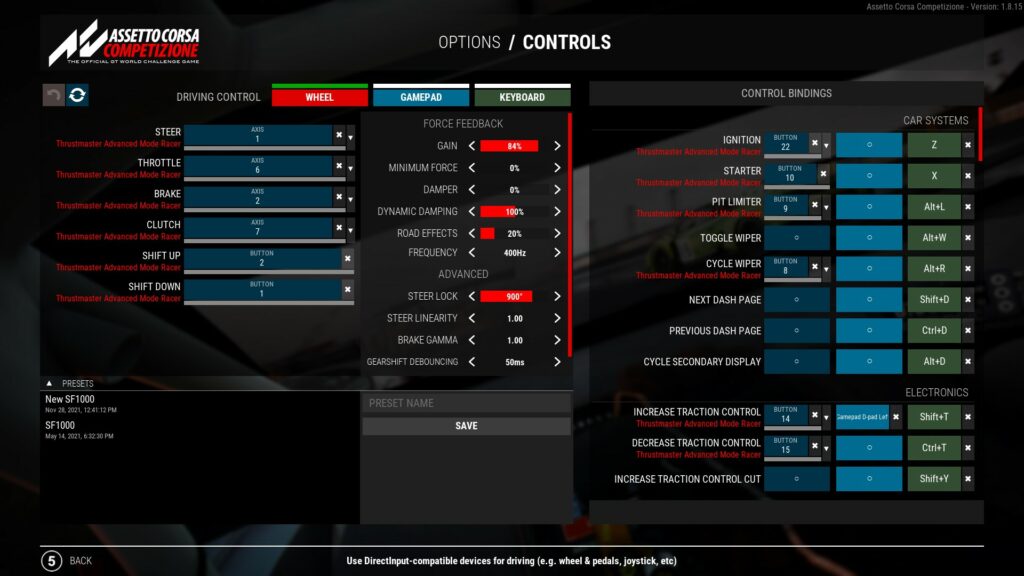 Settings such as the steering linearity, brake gamma and gearshift debouncing aren't anything you need to worry about unless you have an issue with your wheel or pedals in which the brake gamma might be adjusted.
Step 5: Finding your perfect control bindings
The final thing you need to do before you can get out on track is to assign buttons to different controls. There are three columns when doing this which allow you to bind controls to a keyboard, wheel or gamepad. With a limited amount of buttons on your wheel, you may run out of room and require the usage of a keyboard which can be used seamlessly to also control certain mechanical or HUD functions.
When assigning controls to your wheel, I strongly advise binding well used functions as close to your thumbs as possible. These can include traction control, brake bias and engine map adjustments. However, this part of setting up your T300RS is the part you can tailor most to your liking and can even vary from track to track depending on what settings you want to change on the go.
Now that you know how to fully set up and optimise your Thrustmaster T300RS for ACC, we know that you will have the best experience possible with one of the best wheels on sale.