Do you ever feel like the buttons on the wheel just aren't enough? Or, sometimes, do you want to immerse yourself further into your sim racing dreams and have some extra buttons that make you feel like you're really behind the wheel of the car you're racing?
If the answer to either of those is yes, then you'll probably be looking at button boxes. There are many ways that you can end up with a button box, and in this article, we'll look at the best options for pre-built solutions as well as the good old-fashioned DIY approach.
What are Button Boxes?
In a broader, sim racing sense, a button box is a piece of hardware that behaves like the consoles that you often see in real-world racing cars.
A button box can be used for all sorts of functions. In the real world, it's usually used to control the ignition, starter motor, windscreen wipers, indicators, and other lights. In the sim racing world, it can also be used to bind other commands to an array of buttons, switches, joysticks and knobs. They can then be mapped to particular actions, commands, even to run scripts on another program! This can allow streamers to run transitions on their stream with one hand and turn hot laps with the other.
The next question is, obviously, how do I get my hands on one?
Product
Price
Pros
Cons
Ricmotech RacePro H22
$229.95
Variety of inputs
Mountable with optional extras
Small design
Grid Engineering 911 Dash Button Box
$625.00
Immersive designs inspired by the real world
High start-up cost
Apex Sim Racing Race Deck Button Box
$175.00
Compatible with devices such as the Elgato StreamDeck
Customisable with a variety of options
Expensive optional extras
DSD CSL DD
$145.75
Mounts directly to your wheelbase
Affordable relative to rival products
Import shipping for customers outside of US
Pre-Built Solutions
The pre-built market is full of a wide array of choices, with some being carbon-fibre copies of what you'd expect to see in a real race car and others being a blend of multipurpose designs and some outright unique concepts.
The likes of Ricmotech, for example, pride themselves on having designs that are inspired by the real world of motorsport but original in concept. From their entry-level Slimbox that features a blend of buttons and knobs to their higher-end designs that feature switches and more, there's something for every kind of enthusiast in their store.
One standout product is the RacePro H22. With 6 two-way switches, 4 buttons, 2 safety toggle switches, 2 multi-function encoders, and a knob designed with brake bias tuning in mind, it more than packs its punch for its cost of $229.95. If you're looking for something that looks the part as well as doing the part, then look no further!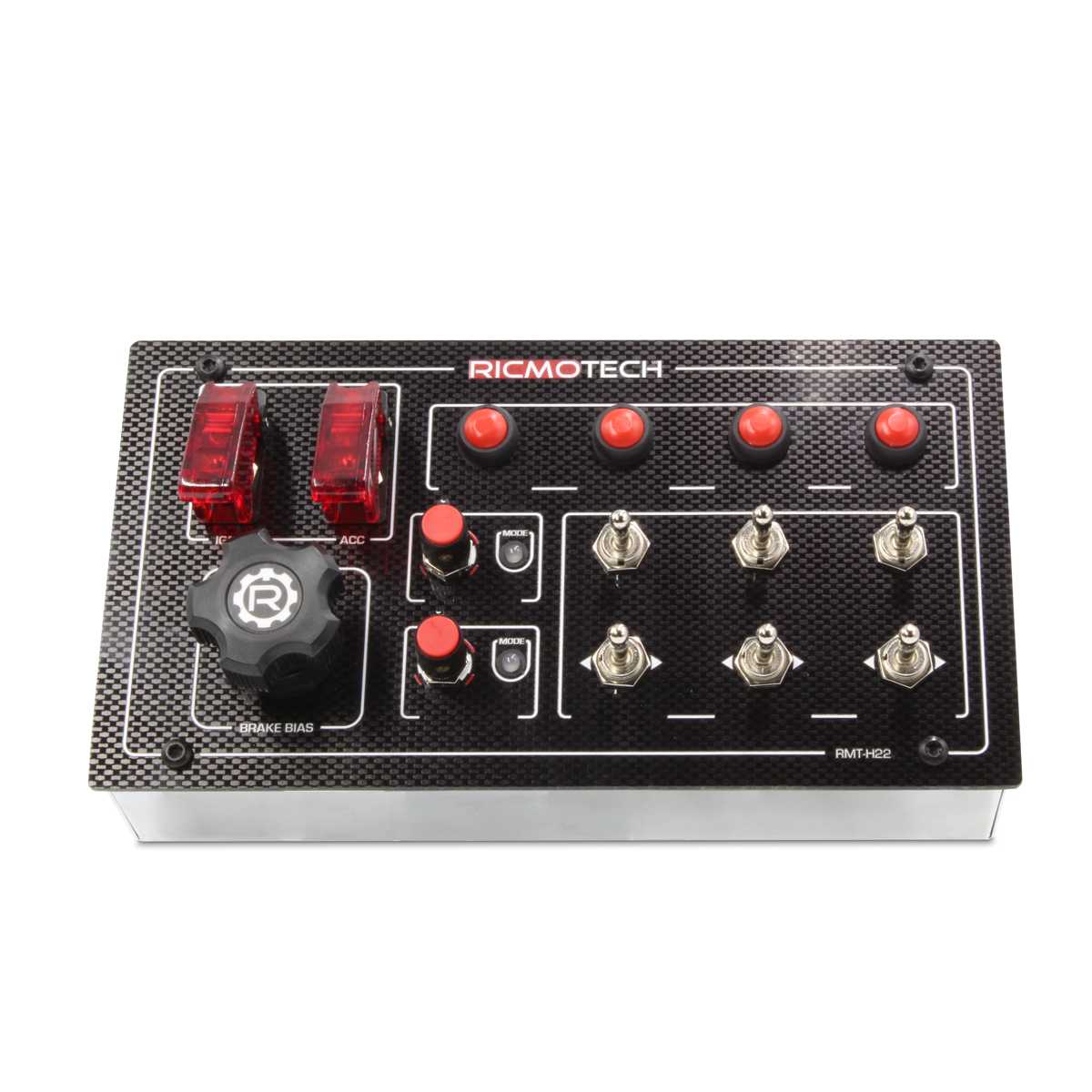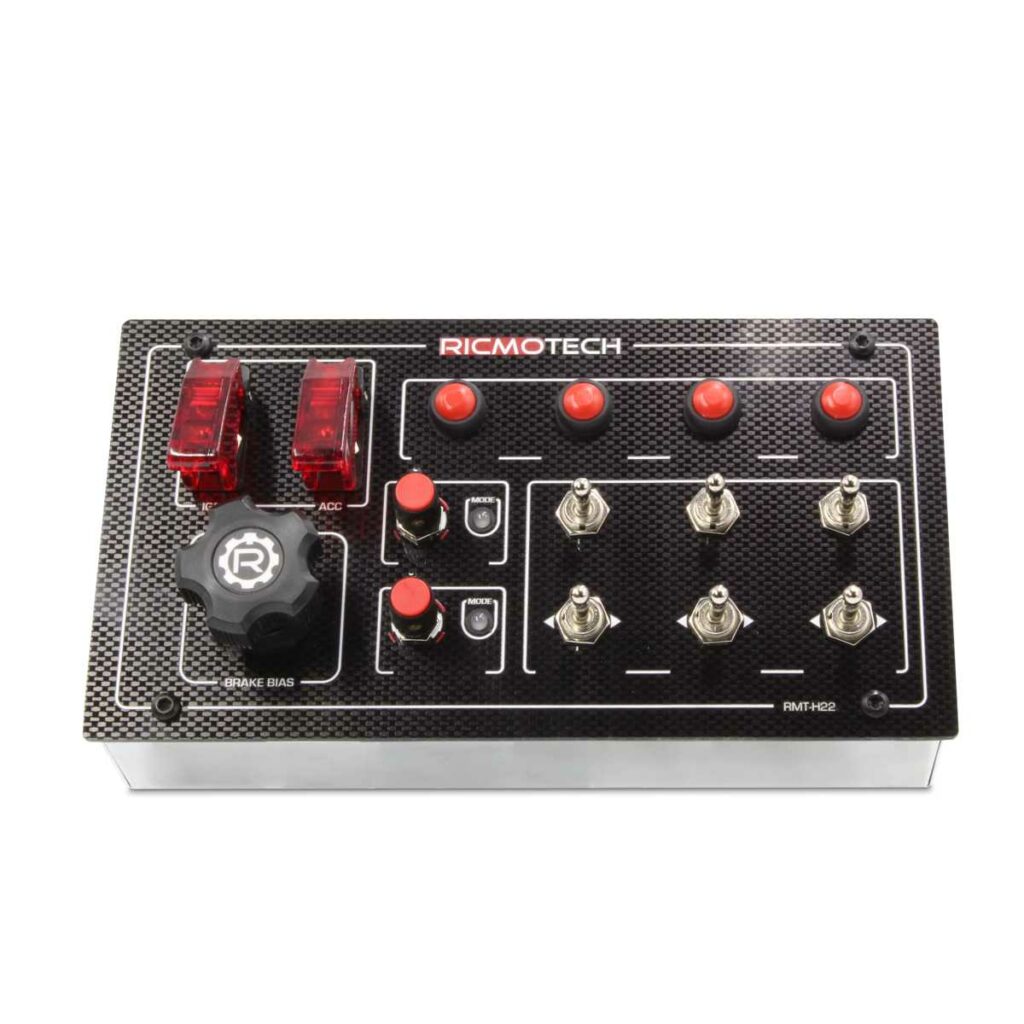 Grid Engineering 911 Dash Button Box
Grid Engineering has a beautiful array of designs that mimic the real world of motorsport. From the likes of Porsche to Ferrari, their products capture the essence of iconic motorsport dashboards and deliver it to you in an immersive format. With a variety of inputs and a sleek shape that looks just like the real deal, this can be the perfect approach for any die-hard manufacturer aficionados.
A product of particular note is the 911 Dash Button Box. Mimicking the real thing, it features 3 encoders that can be finely tuned as well as a dozen switches, a safety switch, and a handful of buttons. If you're an aficionado of Stuggart's finest, look no further!
Apex Sim Racing are an interesting group in their approach. Whilst some of their designs mimic the real world of racing, such as their P911 model, others actually lean a bit closer to a DIY approach. Some of their products have slots for Elgato StreamDecks for example, which allows for you to have a blend of the wonders of pre-built solutions as well as part of the Do-It-Yourself attitude.
An excellent example of this is the Race Deck Button Box. At a modest $175.00, it carries 5 buttons as well as up to 3 7-way multi-function switches. However, the big selling point is that it comes with a cutout that is perfect for an Elgato StreamDeck. Looking at trying to broadcast while you're racing? With the Race Deck Button Box, these functions become seamless as you can change things in-game as well as out of it with a slight move of the finger.
Derek Speare Designs (or DSD) are known for some excellent button boxes straight out of the United States. From simplistic and customisable designs to full bespoke units designed for top-of-the-line wheelbases, their range has a little bit of something for everyone.
A great example of this is their product for the Fanatec CSL DD. With one unit (left or right) clocking in at $145.75 each and the pair coming in at $275.75 (plus shipping), you get purpose-built units that clip right on to what you're currently running. Featuring a wide array of buttons, switches, joysticks and rotaries, you get the quintessential immersive experience at a modest budget from an independent manufacturer. What else can sound remotely like the sim racer's attitude?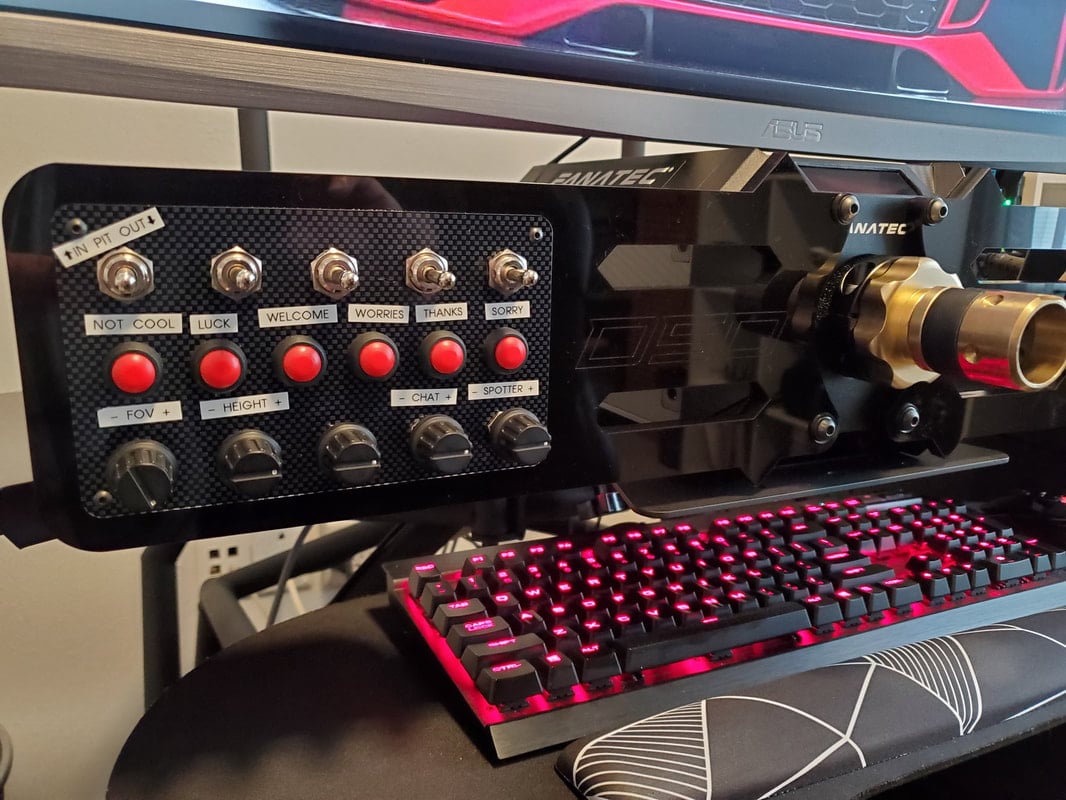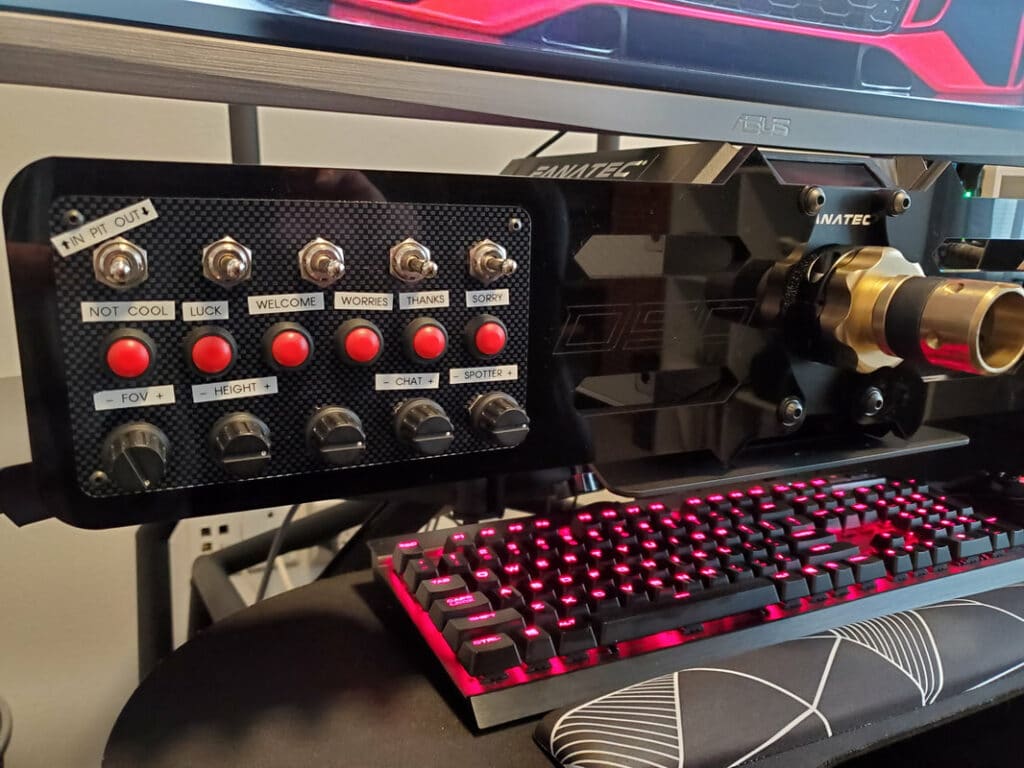 The DIY Approach
Elgato StreamDeck
As already mentioned, the Elgato StreamDeck is a fantastic way to essentially make your own button box. With the ability to bind functions to the keys, both through the native Elgato software and through third-party plugins, the question that you'll be asking is what it can't do rather than what it can. With customisable LED keys and even a set of trick Pedals as their newest product in the range, it's an excellent way to control other programs and to broadcast while you're also behind the wheel of the sim of your choice.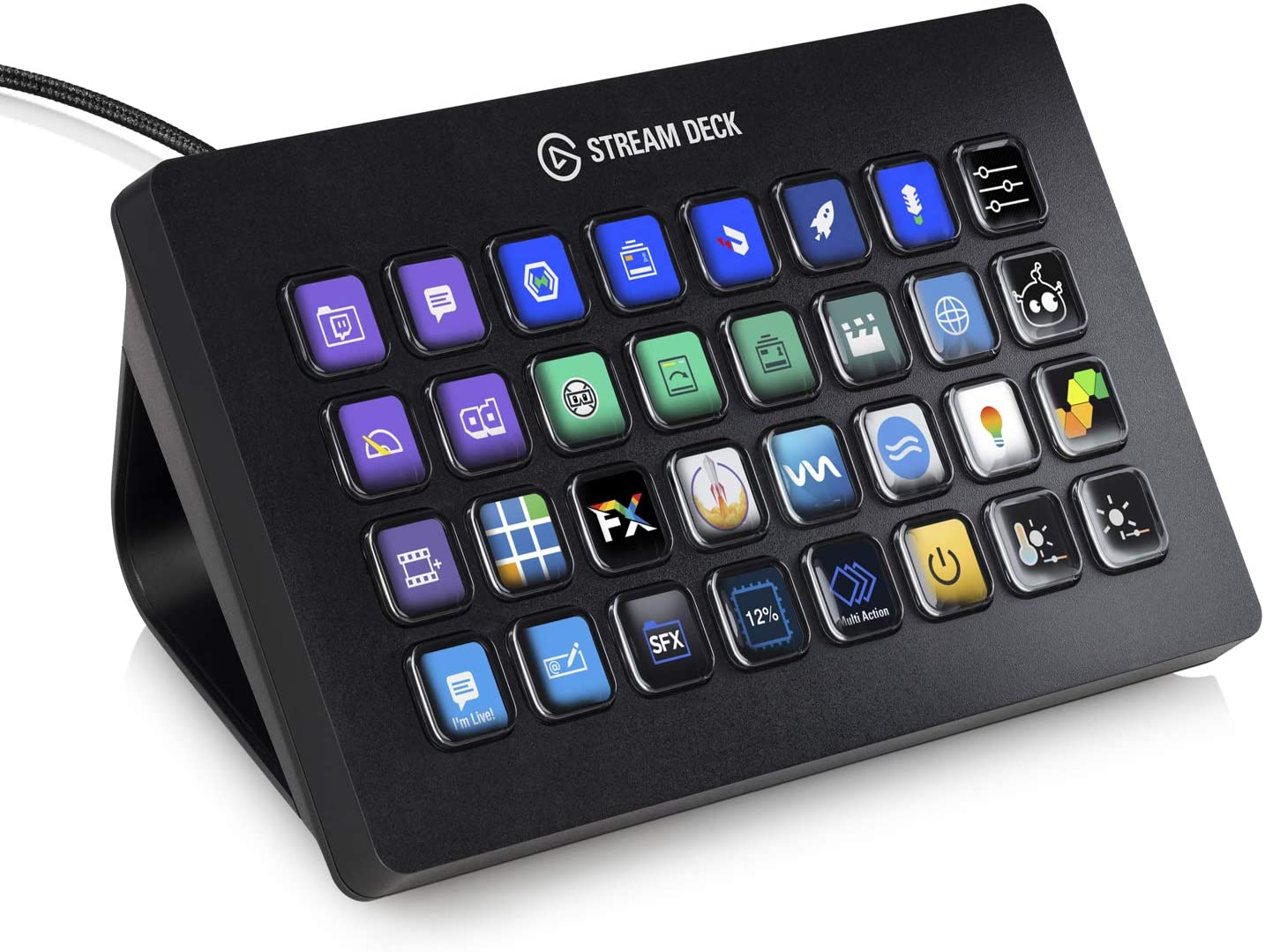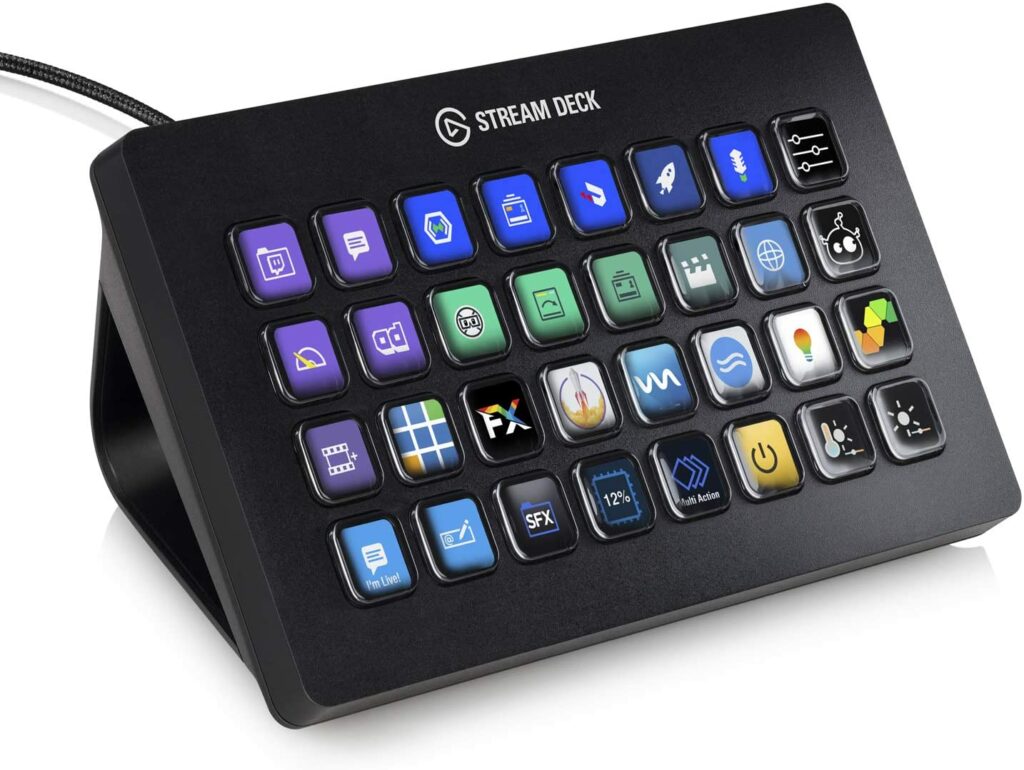 What About Buying Used Sim Racing Accessories?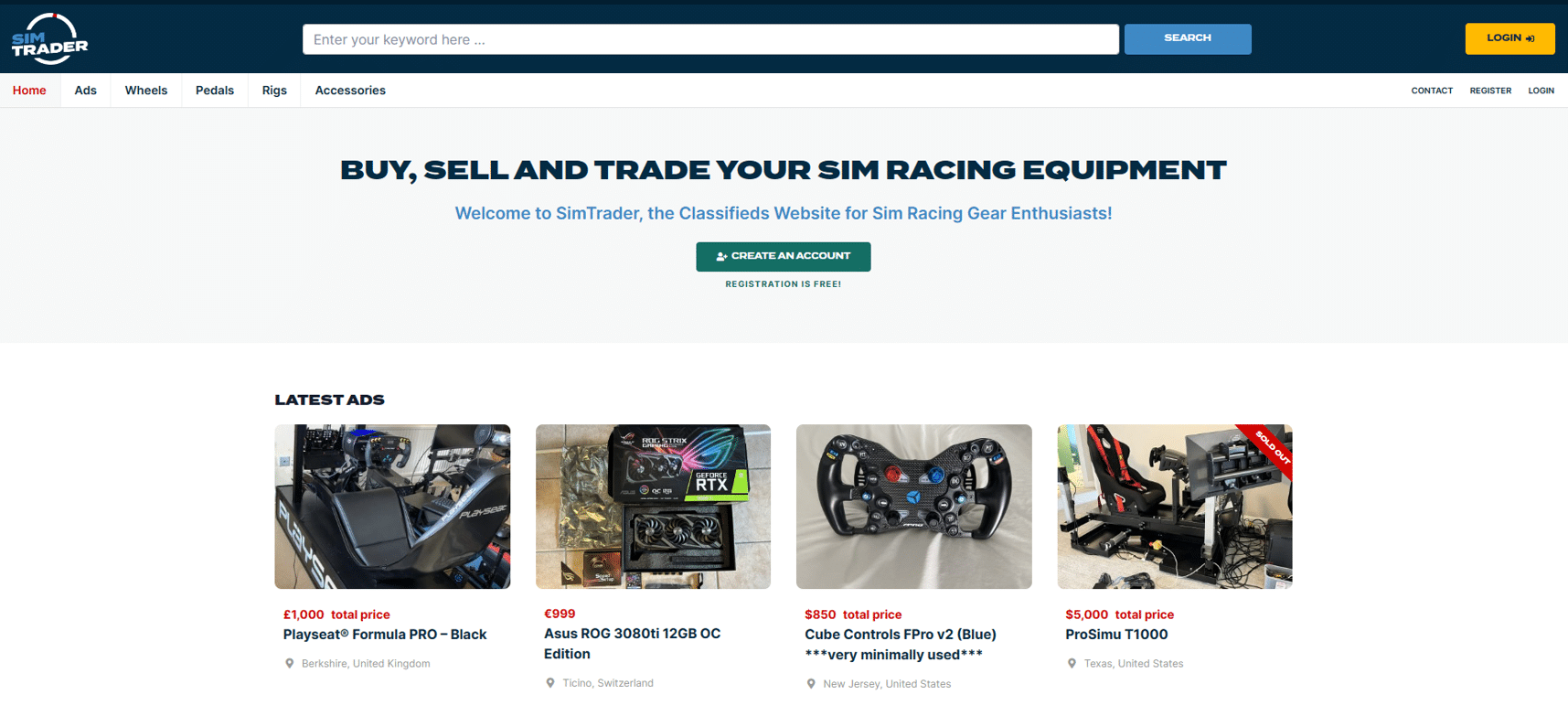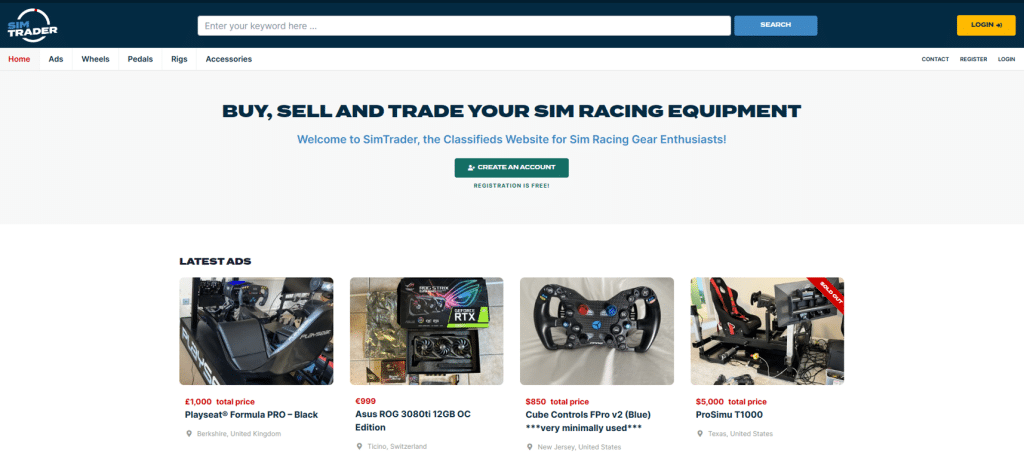 Because of the sim racing boom during the pandemic there are a plethora of sim racing gear now on the marketplace as the normal world resumes and people have less time to race, meaning you can pick up bargains of all kinds to kit out your sim racing equipment to go racing.
One of those areas where you can find top quality items for sale are button boxes. As these companies like to create new products each year, people tend to put aside their old button boxes in place for these new ones and there is nothing wrong with them. So they are usually listed for a relatively cheap price and as they say, one mans trash is another mans come up.
This is where the sim racing classified site SimTrader can help. You can buy, sell or even trade with other users on SimTrader. So before you scroll further, you may want to check out the current sim racing deals here instead of purchasing new.