Audiophiles, this one's for you. When building the ultimate sim-racing rig there are many aspects that can bring your experience to the next level and sound is one of these aspects. Feeling the car but also reacting to the sounds the car makes can be a crucial aspect to become a full-fledged driver.
There are a number of different types of speakers on the market, and understanding what you want from them is the most important factor in deciding what to purchase. For the purpose of this deep dive we will be looking at speakers that help add a level of emersion, but what does this actually mean?
What we're looking for
Immersion is that almost unexplainable feeling when you almost forget you are racing on a built simulator and its starts to feel more like driving a real car. There are many aspects to this but sound is one of the most stimulating senses of driving a car that can get you there with relative ease. Speakers offer a level of immersion that headphones just can't as there is no need to simulate that wide sound in a pair of over-ear headphones when you can have the truly directional audio of speakers.
For a quick and simple overview of our favourite speakers in each category see the list of speakers and their pros and cons below.
Our Picks
Category
Pros
Cons
Logitech Z333
Stereo
Most cost-effective
Simple to set up
Limited audio channels
Lack of subwoofer limits bass
Logitech Z906
5.1 Surround Sound
Full spatial audio
Includes remote control USB and 3.5mm jack connectivity
Complex to set up correctly
Mounting options limited
Requires dedicated space for sim racing
Sony HT-S40R
Sound Bar
Simplicity of set-up
Compact sleek design Wireless rear speakers
Simulated surround sound
Audio quality limited by wireless features
Klipsch 7.1.2
7.1.2 Surround Sound
At Home Dolby Atmos
Sound Quality unmatched
High price
Need for an audio receiver
Stereo
Stereo speakers are simply a two-speaker setup that can output two different audio channels, this will most commonly be left and right channels. These split audio channels play a big part in giving your speakers a much richer and fuller sound through what is known as a spatial stereo effect that simulates the direction in which the audio has come from.
One great aspect of stereo speaker setups is that there is only the need for two speakers making finding the space for mounting much simpler and less complex than other offerings. However, it is key to remember that two speakers can only simulate spacial audio for a true directional audio experience more speakers are required. This also ensures that you can spend as much money on the speaker quality without having to purchase multiples, therefore making stereo speakers the best bang for your buck option.
You might ask, why does this matter for sim racing? Well as many of you will currently experience with your headphones you have information fed to you through your left and right ear. This information can be invaluable in giving you the direction an overtaking car is approaching or even when you start to run wide on those ever-so-noisy kerbs. Don't discount the advantage sound can give you when used effectively.
The Logitech Z333 is a set of stereo speakers with the addition of a subwoofer to add extra depth to the sound. The speaker setup comes as simple as they get with a 3.5 mm headphone jack input so can be connected to any pc set with ease. Adjusting the volume of the speakers is also made much easier with the addition of a wired volume controller that can be mounted to a sim rig for quick adjustments.
Despite only having two speakers there is plenty of power allowing you to crank up the volume and get the most from the sound of each and every car. If you are looking for a low entry into the speaker world before committing to a more complex setup then these are a great choice.

The Audio engine A5+ wireless is a set of speakers for any sim racer looking for an accurate sound above all else. These speakers are designed to provide an evenly balanced sound to bring out the sound as the developers of your favourite simulator intended. These speakers are perfect for those with limited space as there are only two speakers that can be placed on a desk or even a bookshelf with no wires to worry about due to their Bluetooth connectivity.
These speakers are great for those with limited space but still care about their audio quality during their sim racing session.
Surround Sound True 5.1
Surround sound is something we have all experienced at some point when at a friend's house or the cinema and it can be amazing if done correctly – this is no different for sim racing.
Surround Sound, more specifically the 5.1 setups, are a range of speakers that are positioned around you to provide a much more accurate directional audio experience. This experience is achieved through the 5 main speakers for the mid and high tones and 1 subwoofer for those deep bassy tones, hence the name 5.1. Unlike Stereo speakers that are simply left and right channels, 5.1 surround sound is a little more complex as it includes a total of 6 channels and requires each speaker to be placed in a predetermined location so the correct audio can be fed into your ears. This set-up is most commonly three speakers placed in front of you and then 2 behind, plus the subwoofer.
Once you have a set of surround sound speakers set up correctly there is almost no beating it in terms of the accuracy of the directional sound. Sim racing is one of those experiences that can take full advantage of this simulating that cockpit-like experience through the use of sound. Stereo will give enough information to be effective but surround sound takes everything to the next level and immerses you in the experience.
The Logitech Z906 is one of the most feature-rich sets of speakers on the list. The Z906 comes with five sets of speakers and the addition of a single subwoofer, providing a 360-degree sound with the addition of extra bass. The speaker system can be connected to your pc using USB or a 3.5 mm jack giving you the choice of which port to take up on your PC.
A nice addition to this speaker set is that multiple devices can be connected to the speaker set at once meaning when you switch from your pc to a console or any other device no cable swapping is required. One of the biggest plus points for this set is the addition of a remote meaning you can adjust the volume and speakers without leaving your sim rig. For the PC-focused sim racer, the Logitech Z906 is the best offering on this list.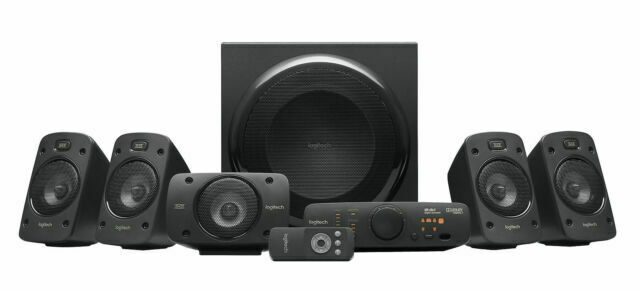 As with the first recommendation comes another from the well-known brand Logitech, namely the Z607. This offering is at a much lower price bracket giving you a much easier entry into the 5.1 surround sound speaker range. With this price reduction, does come a reduction in features but the must-have aspects are still included. As with other 5.1 setups, this set comes with a five-speaker and a subwoofer giving that full-range experience if set up in the full configuration. The speakers still come with a remote, meaning there is no need to leave your sim rig to adjust the volume.
A nice addition to this set is the offering of Bluetooth so if your pc has Bluetooth included then you can set this speaker set up wirelessly to the pc, not the speakers are still linked by cables. The Z607 is a much more price-friendly offering to anyone looking to get their first set of 5.1 surround speakers or those after a budget-friendly option.
For those looking for an alternative to the Logitech offerings, there is another set of speakers called the Monoprice 10565. These speakers are for those looking for a simpler design that will blend into the background of your sim setup and not be a focal point of the setup.
Despite their subtle looks, these speakers still offer a full range of features with the typical 5 speaker set-up and the addition of a subwoofer. These can be connected either wired or wirelessly offering a few options to fit your sim rig setup. The speakers can only be connected via wires so is something to take note of. As well as these can only be mounted on stands and are not suited for wall mounting. However, the price of these speakers can be found much lower if shopped around or if you can find a set on sale. If so these are an amazing offering for those looking for a simple but effective setup that doesn't break the bank.
Soundbar integrated surround sound
A soundbar is one of the most popular products on the market due to its small nature and typically sleek design. The main feature of a sound bar is that the front 3 speakers in a 5.1 surround sound setup are merged to become one long bar that is easily slotted below your TV. Many sound bar solutions still offer the rear speakers and a sub but can be purchased without for those looking for a one-piece set-up.
The advantages of a sound bar are its compact design with surround sound-like features. However, it is important to note that much of the directional audio is simulated due to the compact nature of the front three speakers. Sound bars are a product for those looking for convenience and ease of set-up before they look for absolute accuracy in their audio.
For sim racing a sound bar is best suited for those that play using their living room TV and spend most of their time watching the TV and sim racing as a secondary use. The sound bar gives you that versatility of use but still that much more rounded directional audio experience than your TV speakers ever could.
The Sony HT-S40R is a great 5.1 surround sound offering for those without the space to set up 5 individual speakers. The front speakers are combined in one to make a soundbar setup, another benefit is that the rear speakers are wireless meaning there is little cable routing required around your sim rig. Despite the condensed setup, you don't lose the full 3D-sounding experience that adds so much immersion to the driving experience. For those looking for speakers that are easy to set up but still with all benefits of 5.1 surround sound then the Sony HT-S40R is a great choice for any sim racer.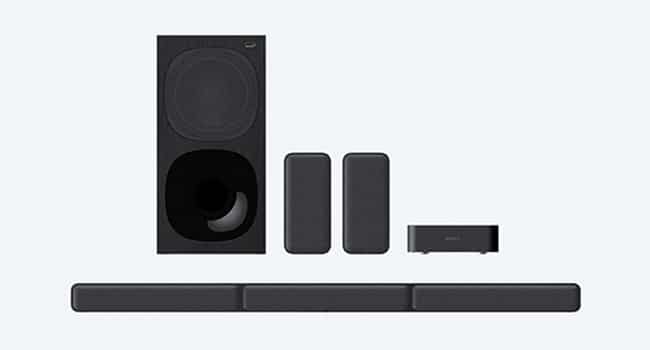 The JBL Wireless Surround Home system is the next step up in the soundbar offering with a 9.1 surround sound setup condensed into three different speakers. The unit has one front speaker that has two detachable side speakers that can be placed behind you to give you that 3d sound effect. The unit is Bluetooth compatible so can be connected to your PC wire-free reducing the need for complex cable routing around your sim rig. For those sim racers with a big budget and the need for wireless connectivity, the JBL Wireless Surround Home is a no brainer.
High-end
If you're looking for some of the best speakers on offer and money isn't the main concern for your purchase then you are going to want to look for something known as a receiver. A receiver is exactly what it sounds like: it is a hub for all your speakers to connect to but what makes it special is its ability to drive multiple speakers at a much higher level.
There are a host of other benefits and features to a receiver, but for this piece, we will be focusing on the audio capabilities. It must be noted when looking to purchase a system not all come with speakers. Here will include both a receiver and speakers for each recommendation.
The Klipsch 7.1.2 speaker system paired with the Denon AVR-x3700H is an amazing set-up for any audio-obsessed sim racer looking to maximise the immersion levels of their racing experience. The speakers will give you the absolute best 7.1 surround sound experience on the market with ample power to be able to go to volumes much higher than any person needs, but if you are after that scream of your favourite engine then this certainly can provide the volume needed. The addition of seven speakers will also add that extra positionality to the audio improving on an already immersive 5.1 surround sound setup.
These speakers do require a much more involved setup than most to make sure you are taking advantage of their capabilities, to find the best way to arrange the speakers and follow the Dolby guide carefully when setting up.
To ensure that you can take advantage of the capabilities of the speakers you will need to pair these speakers with a capable receiver and the Denon AVR-X3700H is a great option. This receiver has Dolby atmos capabilities providing the best sound quality. Additionally, the receiver also has the ability for 4k 120hz passthrough so there will be no loss in gaming quality either.
This set-up is not for the faint-hearted and is certainly only to be purchased by those committed to the absolute best audio quality. If that is you and you have money burning a hole in your pocket then the Klipsch speaker set and Denon receiver is a pairing that will trump almost any other setup out there and bring the sound of any car right to your sim racing setup.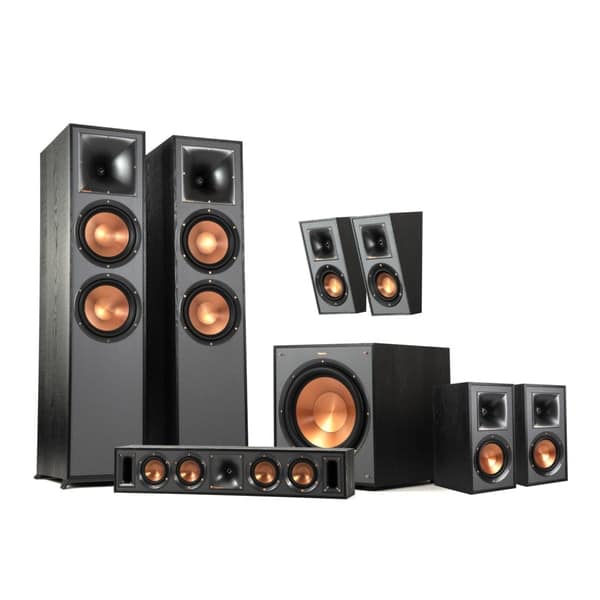 Conclusion
We've covered some amazing speaker setups you could get your hands on that would vastly improve your levels of immersion in the sim. If you're looking for something else though, another great option is looking for a second-hand set of speakers, the high-quality sets are very durable and can last a lifetime so don't be afraid to pick up any of the recommended sets second-hand.
The perfect sim rig doesn't stop with speakers there are a host of other options for your wheel, seat and screens to really step up the level of immersion for anyone's rig. Check out the other recommendations brought to you by Coach Dave Academy's range of experienced professional sim racers and engineers. Alternatively, if you are just looking for some new sim racing content to enjoy why check out one of the many car set-up streams over on the Youtube channel.