Gaming has been around for quite some time now, hasn't it? Just like evolution, gaming has undergone a series of changes and Virtual Reality Gaming is where we seem to have arrived at the moment. So naturally, VR must translate to all genres of gaming and sim racing is no exception. In fact, VR should be intuitive to sim racing as racing is an immersive experience regardless of the discipline. Therefore, it's time we look at some of the best VR headset offerings currently out on the market.
What is a VR Headset?
A Virtual Reality (VR) headset allows users to experience a screen (game or interactive experience) with complete immersion. VR differs from Augmented Reality (AR) in that while AR combines digital components with real-life capture, VR is entirely digital.
A VR headset projects a feed on its display lens (one for each eye), and the brain does the rest, making the media come to life. Thus, players experience the video/game as if they are inside the proceedings and everything is happening around them. A neat little technology that is still a work in progress.
Why Buy a VR Headset?
From a gamer's point of view, VR is the closest you can feel to a game without it happening in real life. VR is the next logical step in their journey to achieve perfect harmony between body and game for a sim racer. If you're too distant from a motion rig but want to experience at least part of that immersion, VR is the way to go.
Your head movements while racing, peripheral vision, and hand-eye coordination are all elevated while racing in VR and using a headset brings you one step closer to the real thing. If you have the funds to invest in a good VR rig and a headset, we suggest you look into the tech as the technology is only set to grow over time.
Factors to Consider While Buying a VR Headset
Buying a VR headset is not exactly straightforward, but there are some primary factors you need to consider before making your choice:
Range of Motion
Make sure you know the area available to you while gaming to move around. While moving around for sim racing is redundant, the space you have allows you to select specific headsets that have external trackers that need to be set up in the room. Limited headspace also restricts your VR motion.
Budget
This goes without saying, but VR headsets are expensive. You can get a mid-range smartphone at these prices and maybe even a flagship one if you opt for the costly headsets. Setting a budget is easy, and you have various options for budgets of all kinds.
Compatibility
Compatibility does not just refer to your system but also the games you wish to run. Most VR headsets on the market run like a peach on Windows, and per-game compatibility has to be compared with their official websites. As a general rule of thumb, if you opt for a headset from an established company, there are higher chances of it running on most of the sim racing games on offer.
Display and Sound
This factor is a little tricky to assess for gamers who aren't that tech-savvy. To simplify the display choosing process, keep an eye on the resolution of each screen (per eye), and the refresh rate offered. As for the sound, you can find VR headsets with in-built speakers or none at all. They may or may include a mic too. This configuration is purely on player preference.
Field of View
Last but not least, your FOV numbers are crucial to your sim racing experience. A wider FOV allows you to see more while moving less, whereas a narrower FOV will feel very restrictive. A wide FOV is more naturally appealing as it mimics our real-life FOV, and as a sim racer, you should opt for a wider FOV, amongst other features.
Our Top VR Headset Picks for Sim Racing
Without further ado, here are the five best VR headsets we feel you should take a look at for your sim racing needs: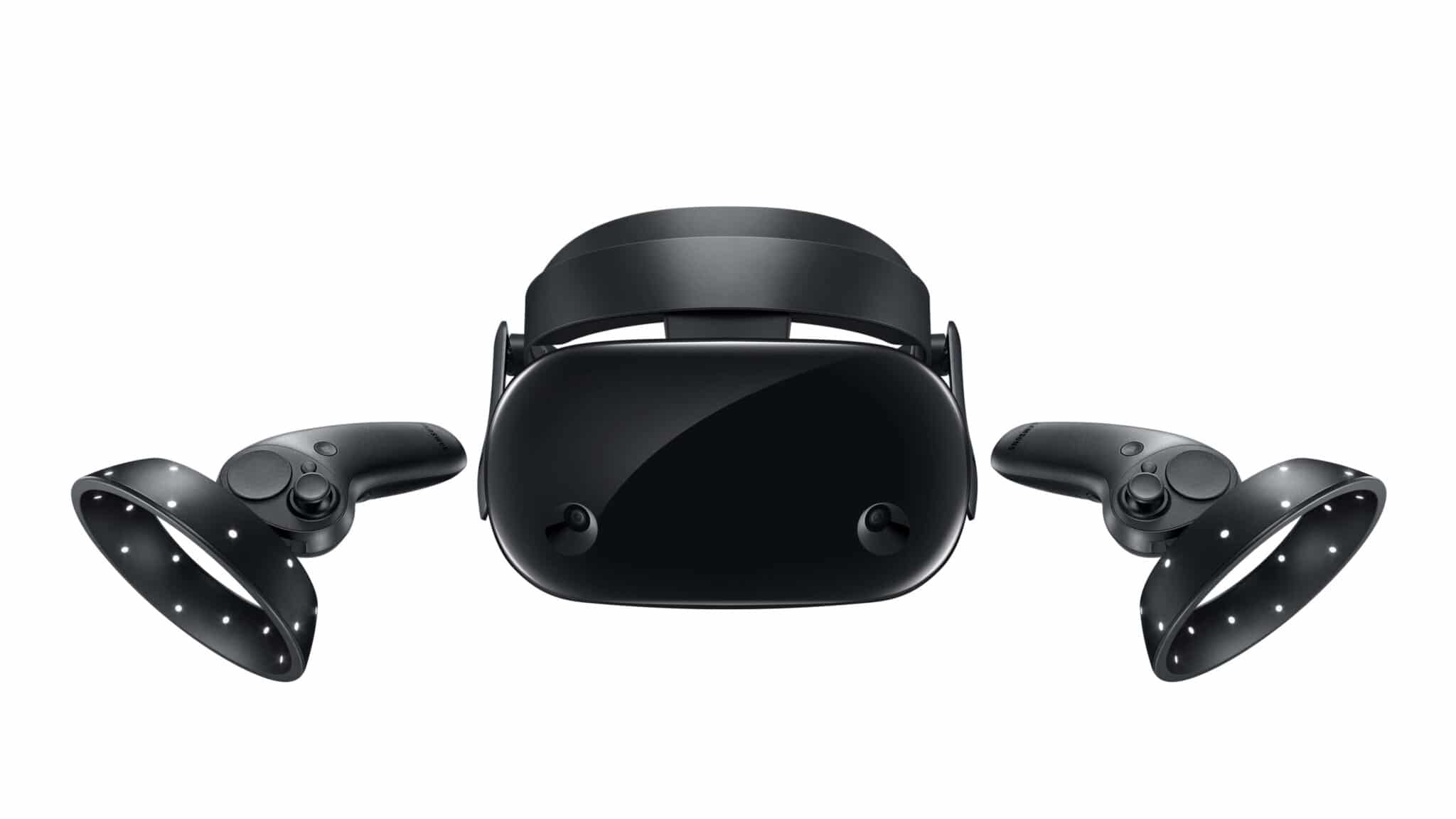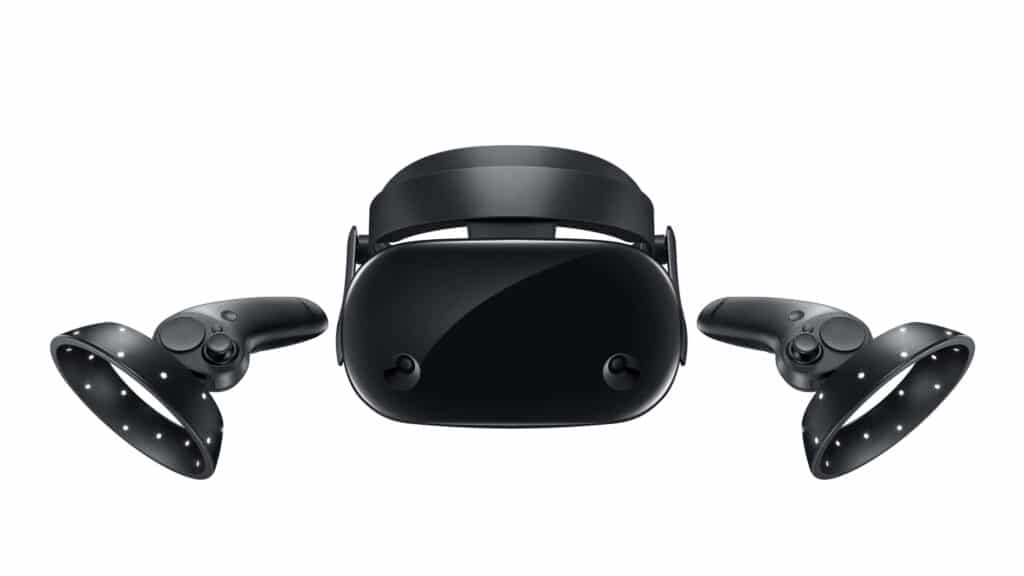 When it comes to VR headsets, the Samsung HMD Odyssey+ is the cream at the top. Lightweight and very easy to use, the HMD Odyssey+ is a Windows Mixed Reality headset that comes with a pair of 3.5-inch dual AMOLED screens with a 3K display that will give you an incredibly realistic 110° Field of View. It's also equipped with Samsung's anti-screen door effect technology and an AKG-tuned audio setup that provides natural surround sound.
You won't have to worry about the lenses fogging up, either, thanks to a cooling fabric that's part of the headset's makeup that not only prevents fogging but provides comfort for more prolonged usage. It also comes equipped with a 90Hz refresh rate, doing its best to eliminate motion sickness. It also has a built-in microphone, ideal for racing with friends without using an external microphone.
The Samsung HMD Odyssey+ is a higher-end VR headset, coming in at the pricier side of the budget range. Speaking of numbers, this beauty will set you back by around 500 USD in the current market, but it is certainly as good as a VR headset can get.
Pros:
The best headset you can find on the market now.
Top-notch display.
Surround sound and internal sensor tracking.
Cons:
A higher budget option.
A little on the heavier side.
Delicate for rough usage.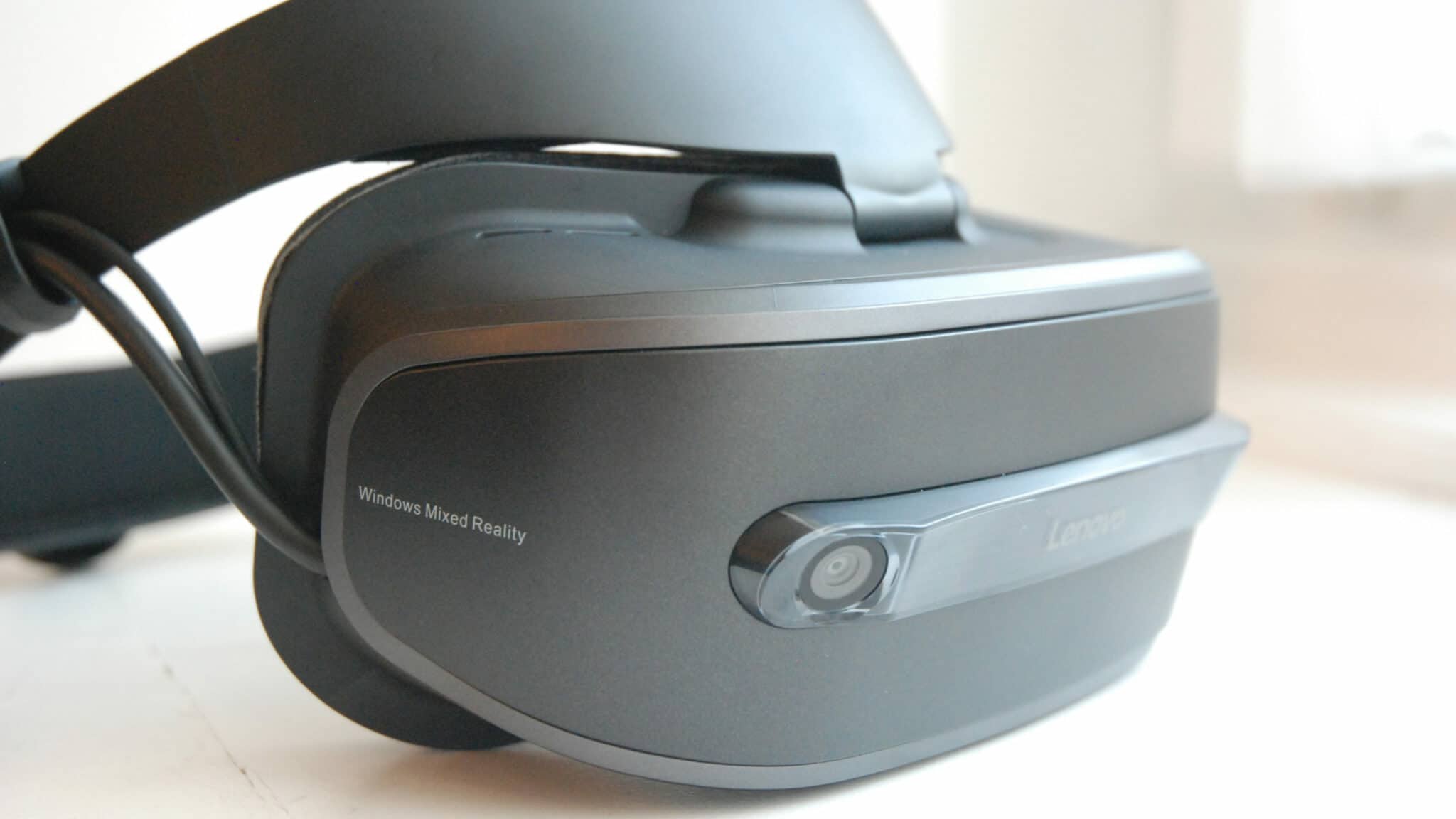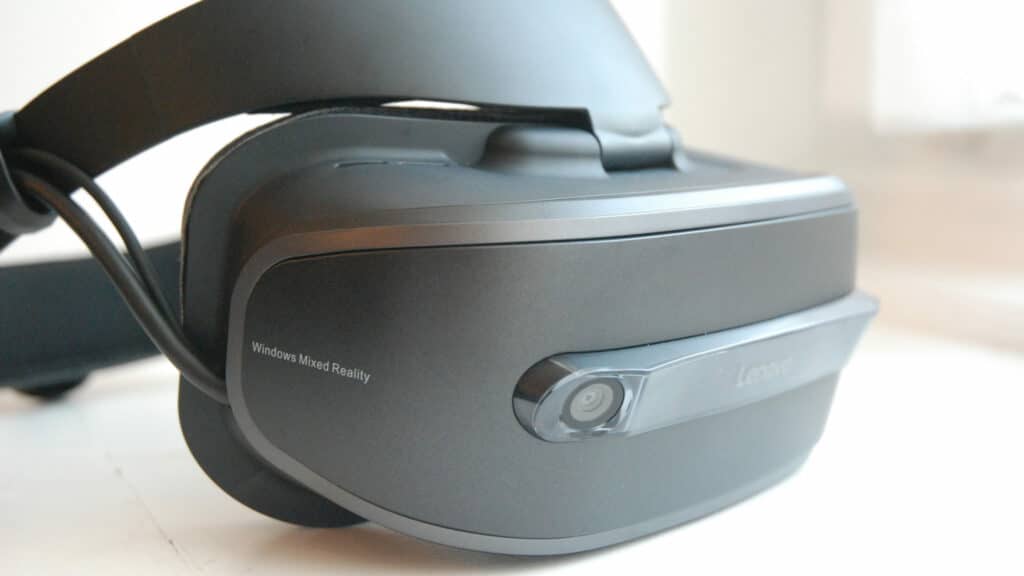 The Lenovo Explorer headset provides a slightly lower resolution per eye than the Samsung HMD Odyssey+, but its 2880×1440 display offers excellent visuals. The display is also slightly smaller in size, making it ideal for those who don't mind sacrificing screen size for a lower weight. Armed with 90Hz and 110° FOV too, viewing pleasure is guaranteed.
A unique selling point of the Lenovo Explorer is the handy visor functionality that allows you to move it up and off of your face quickly and easily. This means that you don't need to take the entire headset off when you need a break, allowing you to rest between races with minimal hassle. Sadly, in-built audio is not a feature in the Lenovo Explorer, and you'll have to adjust with an external audio device using a 3.5mm jack.
The Explorer also uses inside out tracking, similar to the Odyssey+, which means there is no need for extra sensor towers. This means you get a good range of motion without losing any space around you, ideal for smaller racing rigs where space is limited. While Lenovo doesn't sell it directly, you can purchase the headset elsewhere online. A very affordable option and feature-packed, we recommend this budget option.
Pros:
Lightweight design.
Visor technology for user comfort.
Internal tracking.
Cons:
No internal audio.
Smaller screen size.
Not easily sourceable.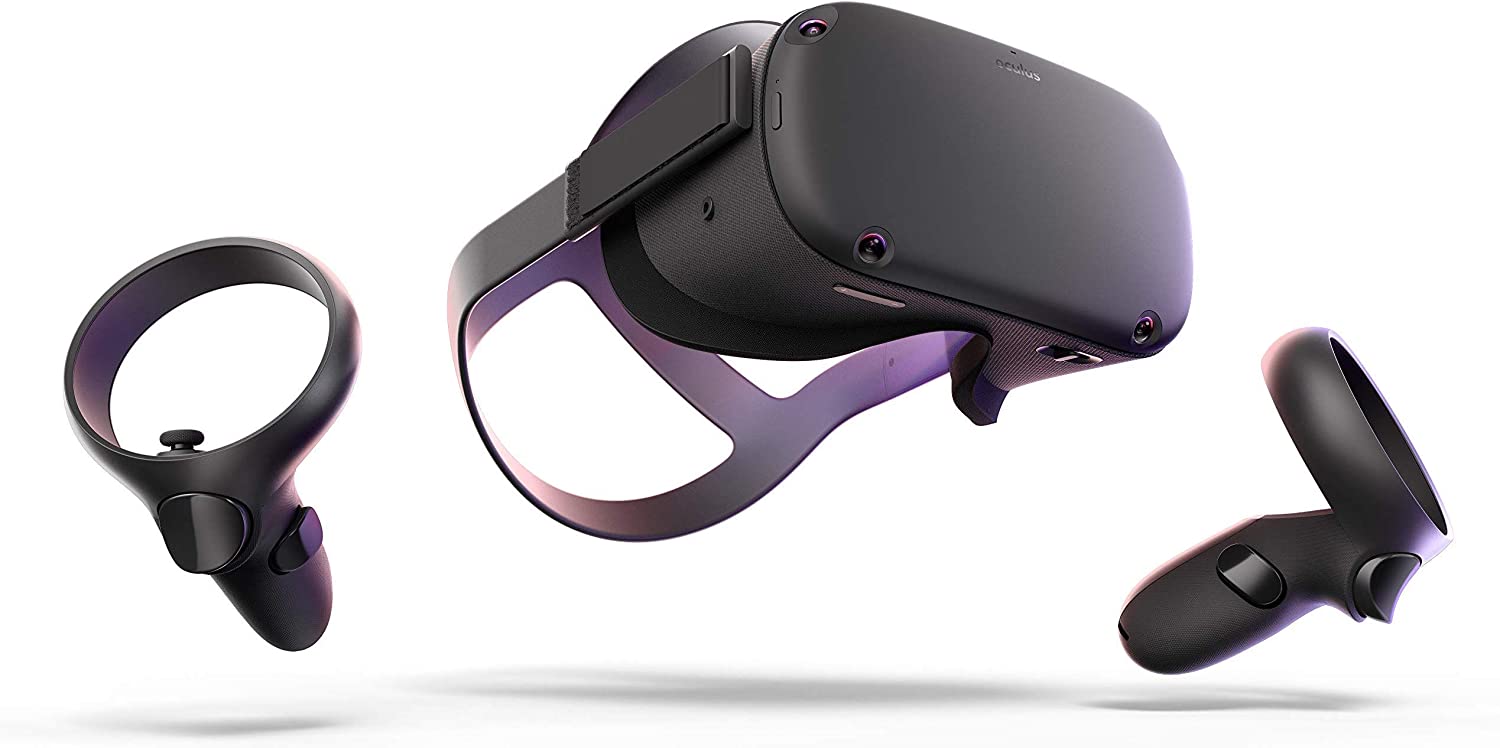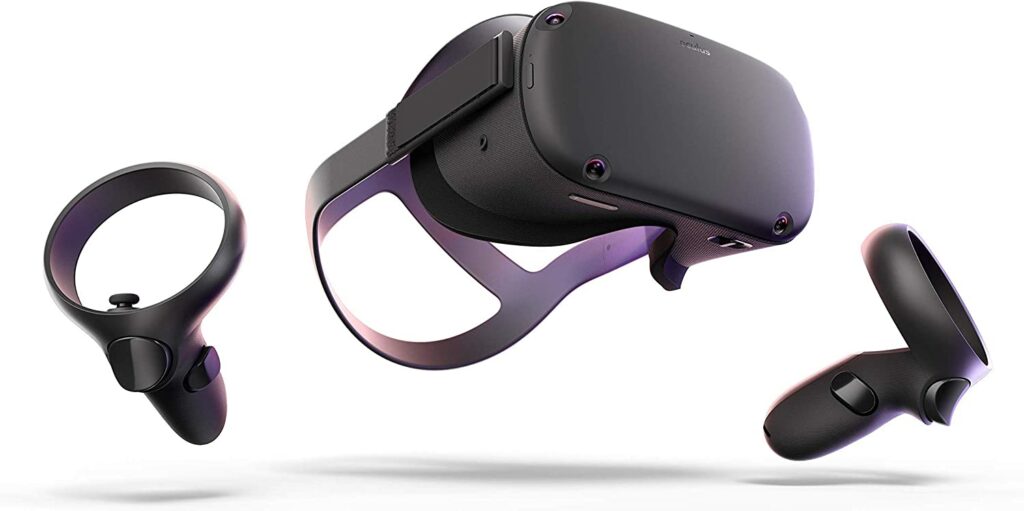 If there's one VR headset that can offer some serious competition to the Samsung HMD Odyssey+, it must be the Oculus Quest. Oculus has been the brand image of the VR industry and is a heavyweight in the hardware market. Oculus Quest and Oculus Rift are excellent devices, but the Quest is an ideal headset for sim racing.
While it doesn't possess the same performance as the Oculus Rift S, you will hardly notice it while you are gaming. Power and portability are the headset's strong suits. The OLED screen provides a crisp 2880 x 1600 resolution, and the 100° FOV is enough to give you that natural VR experience.
The Oculus Quest is also lightweight at just 571 grams. It doesn't need extra sensors, cables, or any restrictive accessory. Best of all, you don't even need a powerful gaming PC for it to function. The Quest is entirely standalone. It may not be as sophisticated as the Rift S, but at $399, you get more than enough of the money you spend to buy one.
Pros:
Super lightweight.
Bang for its buck.
Standalone device.
Cons:
Slightly compromised performance compared to the Rift.
Basic design and features.
High resolution but limited FOV and refresh rates.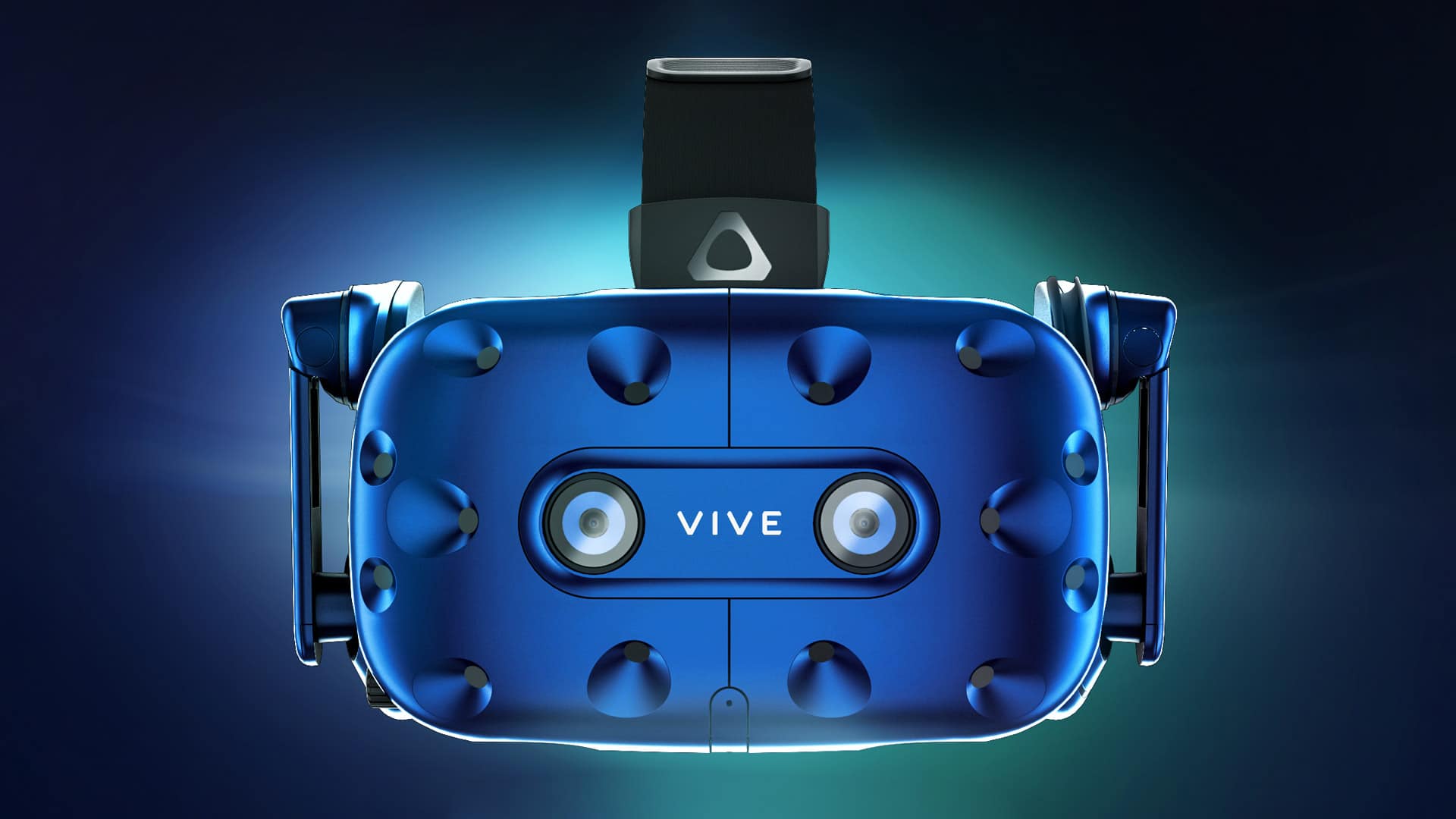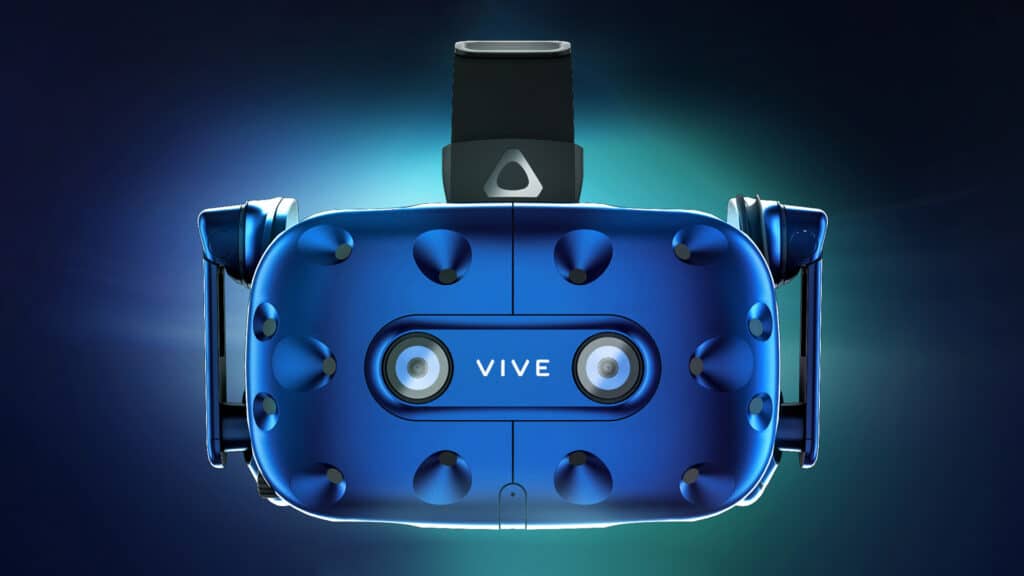 If you're looking for an established name in the industry, the HTC Vive Pro is your answer. The Pro Starter Kit from HTC comes in at the higher end of the budget range, and so it is only for those looking to get the most regardless of the price. However, in terms of quality, the Vive Pro delivers. The Vive Pro has a 1440×1600 resolution (per eye) with a refresh rate of 90Hz and 110° FOV.
The HTC Vive Pro comes with a built-in sound system and a microphone to the headset, allowing a seamless media experience. One place where the Vive Pro shines is the motion tracking capabilities. The Vive Pro uses external tracking, which yields accurate motion tracking for more precise matching of in-game movements with the movements your head makes.
Although the motion tracking is superior, the price-to-value ratio makes this already slight difference much less favourable. Nevertheless, the HTC Vive Pro is a contender if you are happy to spend cash. HTC is one of the pioneers of the VR headset market, and the company has always been a top performer when it comes to its products, like the Vive Pro, which rolls out a little higher — around $800 — than most of its rivals.
Pros:
Excellent display and hardware.
Built-in speakers and mic.
Excellent motion tracking sensors.
Cons:
Highly out-of-budget to most gamers.
Faint screen-door effect (pixelation).
Smaller in size compared to the competition.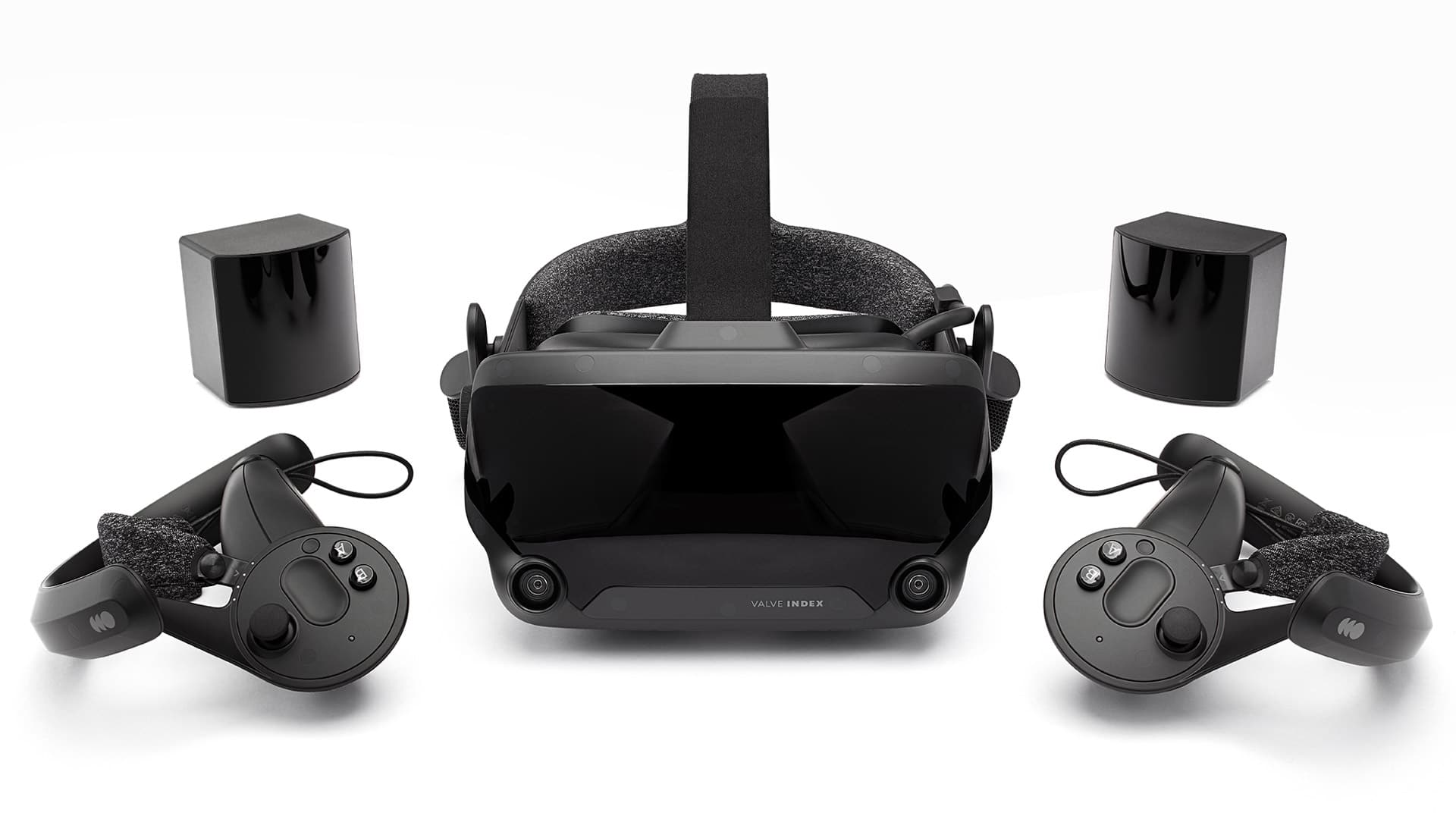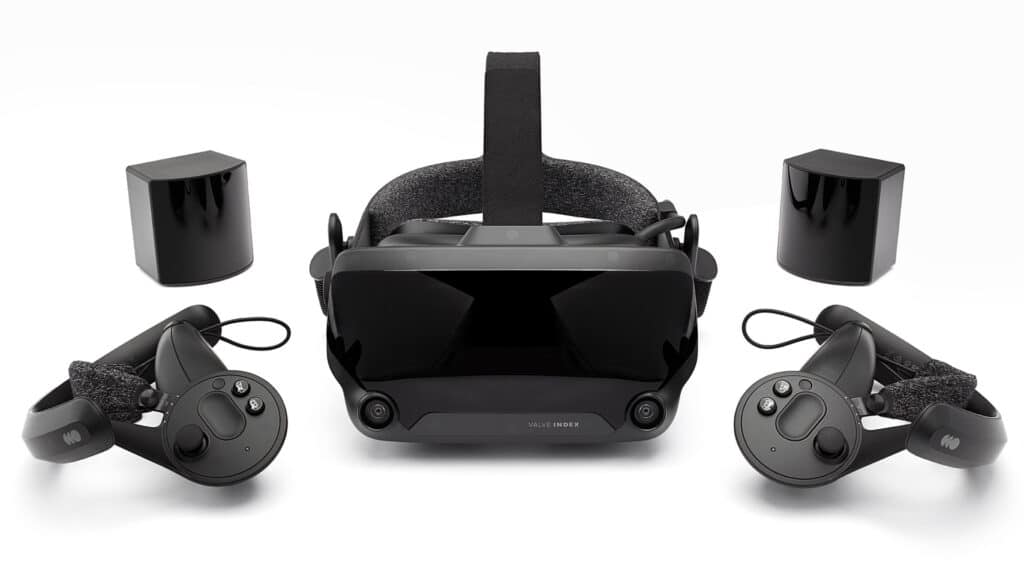 Many VR headsets offer you A or B, but if you want to talk about the allrounder boss of this category, look no further than the Valve Index. The supposedly quoted "Big Daddy of all VR Headsets" lives up to its name because it offers supreme hardware at the highest quality, thanks to its four-figure price point.
The Valve Index boasts some of the best visuals of any VR headset and a refresh rate of 120Hz that can theoretically go up to 144Hz in experimental mode (and it most definitely will). The headset also comes with a best-in-class 130-degree field of view. The headset is also equipped with technologies like per-finger tracking via the Index controllers, USB passthrough for future accessories, and crisp audio courtesy of the near-field speakers located just above the ears.
The Valve Index is arguably the most complete VR headset that you can buy for your PC. But that distinction comes with a heavy price of more than $1,000. So if you want the best, you have to shell out some extra. However, the Valve Index is a no-brainer if your budget is even remotely close to this price tag. A must buy if you can!
Pros:
Best display in the market.
Index controllers are a treat to use.
Best-in-class features.
Cons:
Extremely pricey.
Sturdy but delicate build.
It can feel heavy at times.
And that forms the top 5 list of the VR headsets we wholeheartedly recommend. VR is by no means a casual investment, and the high entry point to the tech leaves this technology accessible and sensible to only the most dedicated gamers. However, if you are a sim racer looking to expand your horizons (pun intended), you should try one of these VR headsets. Get up to speed using the headset over at Daily Racing and ply your trade over at SimGrid. As always, keep your eyes peeled for more guides and tutorials at Coach Dave Academy. Happy racing!