Assetto Corsa and Assetto Corsa Competizione are both driving simulators developed by Kunos Simulazioni. However, the simulators are set out to achieve vastly different goals and have key differences as such.
ACC is developed with the intention of simulating GT class racing with a focus on the Blancpain GT series and the Spa 24hrs. ACC keeps the focus on racing others in real life GT spec cars in a PvP fashion – giving the experience and feeling as though you are roleplaying as a world class GT driver.
Assetto Corsa however, aims to simulate a wide range of vehicles and tracks – from cruising in a Fiat 500 Abarth in the Scottish Highlands to racing LMP1 cars down the Mulsanne Straight. The more varied driving experience of AC attracts a wide range of players giving everyone the driving sensation they desire.
Game Engine
A game engine is a key factor in the look and feel of any game as it is the backbone on which all the code is written. This will define the games ability to apply physics, graphics and a host of different features within the game. Once a game has been developed on an engine it will then be limited to what capabilities and limitations this engine provides. This is one of the key factors that differentiates Assetto Corsa and Assetto Corsa Competizione from one another
Assetto Corsa
Assetto Corsa was built on a bespoke in-house game engine developed by Kunos themselves. The goal of this game engine was to allow the development of a complex physics system but with plenty of customizability. The ability to alter and add to the game has allowed the community to heavily modify the game with cars, track, graphical mods, and physics tweaks. This customizability has kept the simulator relevant with physics updates, visual overalls and new content.
Assetto Corsa Competizione
Assetto Corsa Competizione was developed on Unreal Engine 4, created by Epic games, allowing an extremely focused, complex and detailed simulation to be created. The Unreal engine allows the physics simulation of the tyres and aerodynamics to be hyper-focused providing an almost unprecedented realism in the driving experience and feel of GT racing cars. In addition to this, the graphics that Unreal Engine 4 can provide are class-leading and give Assetto Corsa Competizione a photo-realistic appearance.
The two simulators hold key differences in the game engine which produce a completely different experience for the user. Despite these differences, both simulators still provide a very close to reality driving experience but the variation in game engines allow one to have a range of customizability and the other a hyper-focused realistic experience.
Physics
Assetto Corsa and Assetto Corsa Competizione share the same routes in terms of the physics engine. They both have a range of similar features when comparing them on the surface level. The complexity in both is class-leading and are more than sufficient to feel as if you are driving a real car on a real track. Where they differ is in the details but to understand the weight these changes had first you need to know how it all started with Assetto Corsa.
Assetto Corsa
When Assetto Corsa was released it was one of the leading simulators for realistic driving simulation. Within the simulator, there are many different points of information that are all used to apply a host of effects upon the car being driven. These include tyre contact patches, suspension travel and G-forces to name just a few. All of this was then translated into an industry-leading force feedback system that provided the driver with steering feedback that felt realistic and replicated what the car was experiencing. All of this gave the simulator a driving experience that feels like driving a real car and variation between each car and track.
Where this begins to become limited was the physics are applied in a general fashion due to the range of content provided. No car will be exactly as it is in real life but the simulation can get as close as is needed for anyone to enjoy. It must be noted that the physics are still a great representation but that is the keyword to remember it is very much a representation and not a one to one replica.
Assetto Corsa Competizione
Assetto Corsa Competizione has been built upon the same physics model that was seen in Assetto Corsa. However, it was altered vastly to fit the Unreal Engine's product set, enabling an increase in detail of the simulation. One of the key areas of improvement has been the tire model physics, which aims to provide more points of information while the car is being driven. The increase in gathered information on the contact patch of the tire has allowed a more accurate 3D simulation of the tire in terms of flex and damping with relation to pressure and temperature. The additional information can then be fully exploited to give the most realistic tire simulation in a Kunos game yet.
However, Assetto Corsa Competizione's improvements have not stopped there one of the most complex parts of a car's simulation has been chassis flex, the twisting and contortion of the underlying framework of the car. Previously Kunos had stated this was not possible in Assetto Corsa due to the great variety of cars and lack of accurate data. With the more focused range of vehicles, Kunos has been able to now develop individual chassis flex for each car.
The addition of new data points and physics parameters to Assetto Corsa Competizione brought about a new level of detail that had not been seen in Assetto Corsa. Both simulators provide a very realistic experience that has levels of depth and complexity most never truly consider. The key difference to note between the two simulators is Assetto Corsa is about providing a realistic experience and Assetto Corsa Competizione is about mirror reality one to one.
Tracks and Cars
The tracks and cars play a big role in defining the experiences the simulators provide. Both Assetto Corsa and Assetto Corsa Competizione provide a very different range of cars and tracks for several reasons. Some of these cars overlap but it is important to note the reasons for the content choices and the levels of detail that have been spent on each.
Assetto Corsa
In Assetto Corsa a wide scope of cars were added to the game with the final official Kunos car count reaching 178 and hundreds more developed by the community and manufacturers. The range of official Kunos cars consisted of full blown race cars such as the Ferrari SF70H 2017 Formula 1 car to everyday street cars such as the BMW 1 Series M Coupe. The community cars vary even more but most notably, Ferrari and Dallara developed their own cars into the game using real-life data to facilitate esports leagues for driver development. The huge range of cars meant that no matter what kind of driving experience desired, Assetto Corsa has it to offer. However, the huge range of cars means that each car does not reach the same level of detail as seen in Assetto Corsa Competizione.
The range of tracks in Assetto Corsa is much of the same story exhibiting 18 tracks officially from Kunos with many more that have been created by the community. The advantage this gives Assetto Corsa is that there is a huge variety of types of tracks from real-life roads to race tracks from every corner of the world. All of Assetto Corsa's tracks will provide more of a general representation rather than an accurate one which can be useful for learning the layout of a track but the finer details are lost due to the lack of ground-based data.
Assetto Corsa Competizione
In Assetto Corsa Competizione there are intentionally a limited number of cars due to the focus on the GT racing series specification. The total number of cars in Assetto Corsa Competizione comes to 34, this includes GT3, GT4, Cup and SuperTrofeo. With such a hyper-focused range of cars, Kunos were able to add an extremely high level of detail to each car. This level of detail was achieved using CAD files and detailed photographs of the interiors to gain the finer details. For this reason, Kunos has leveraged the knowledge of an array of GT racing drivers, such as David Perel, to improve the driving feel, look and sounds experience to what is found while driving a real-life GT car. The level of detail in Assetto Corsa Competizione did not stop with the cars, the same care and attention was taken to all 15 tracks in the game.
Each track in Assetto Corsa Competizione has been developed using a laser-scanned model to represent every surface change and undulation. Using such accurate data allows the tracks to almost be exact representations to their real-life counterparts. This level of detail can be an invaluable training tool for real-life racers to understand the characteristics of a track before ever setting foot on the tarmac. Kunos did not stop there, recently they have added the addition of grip variation to track versions, where resurfacing has occurred, allowing more representative lap times to be achieved in the game.
Although both games provide a host of cars and tracks the content of each provides a very different experience. Assetto Corsa gives the driver the ability to live out their dreams of driving their favourite car and track combo. Whereas, Assetto Corsa Competizione aims to provide the user with a lifelike experience of being a GT racing driver. This variation in content focus is one of the main differentiating factors between the simulators and is often why many prefer one over the other.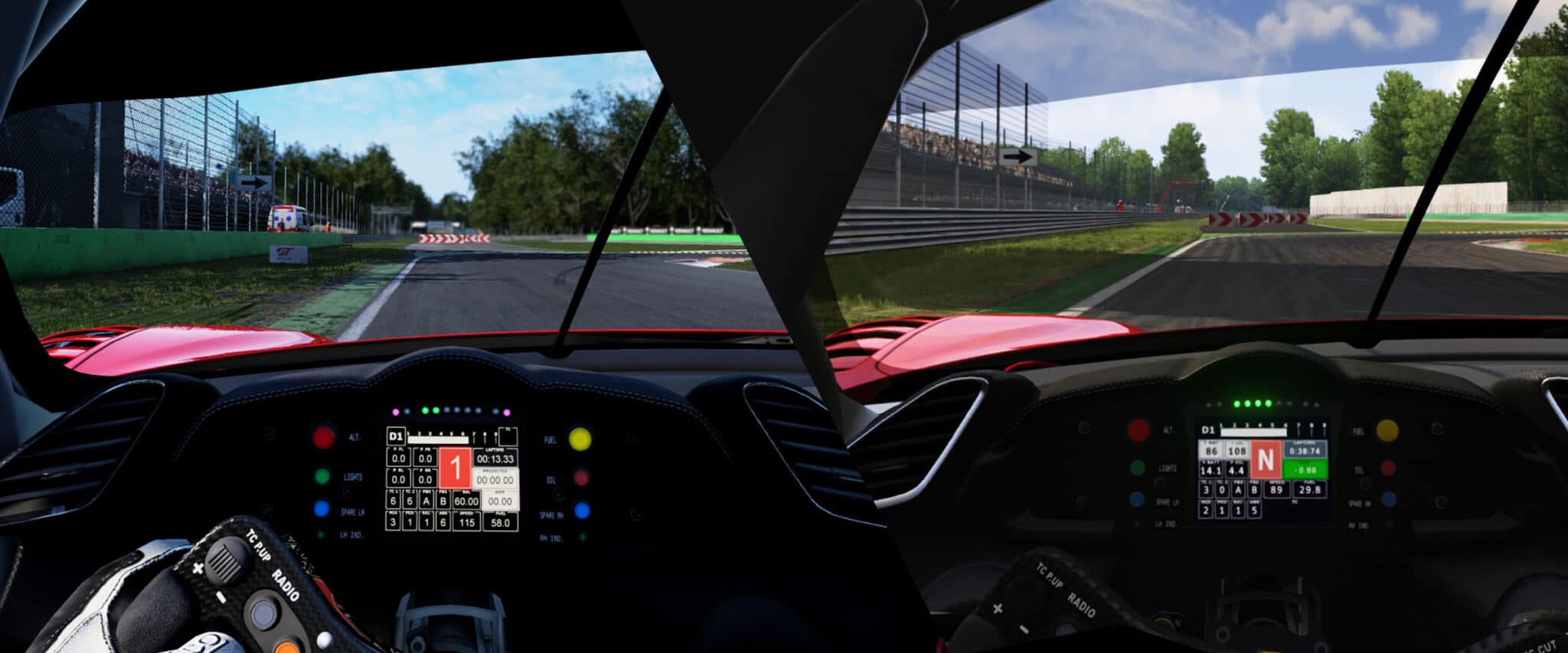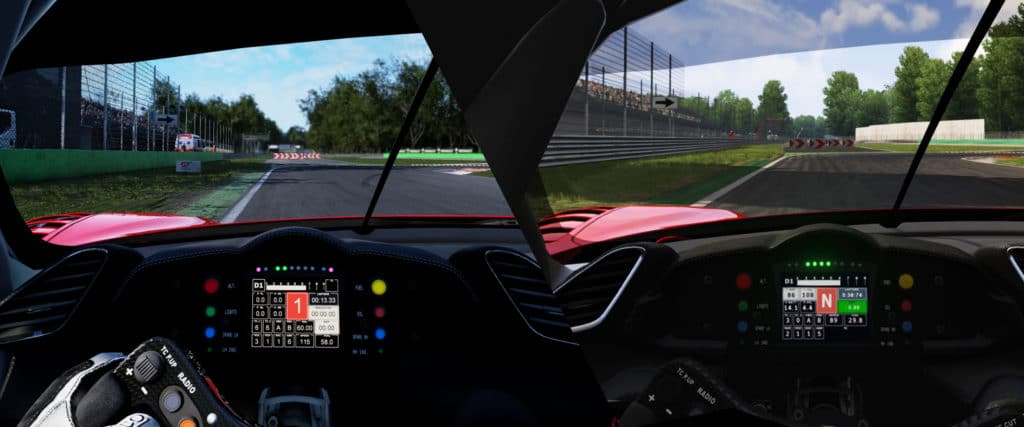 Multiplayer
Both Assetto Corsa Competizione and Assetto Corsa have had such large success among fans and racers alike due to the vast and complex multiplayer experience in both. These online experiences allow you and all your friends to race, drift, cruise and have lots of fun as if you were all driving the same piece of tarmac.
Assetto Corsa
Assetto Corsa as a whole is a light experience when it comes to online multiplayer. What Assetto Corsa aims to do is provide whatever driving experience the player desires and this is reflected in the structure of the multiplayer. Players of the game can go onto the server lists and see everything from F3 racing to cruising around the LA canyons. The range of provided driving experiences creates a much more casual experience as you can drop in and drop out with ease and still have plenty of fun. This is one of the key aspects of Assetto Corsa that keeps players playing even to this day.
Assetto Corsa Competizione
In Assetto Corsa Competizione the multiplayer experience is heavily focused on bringing the real-life Blancpain GT series experience to the online world. The game provides not only a general server list where you can jump in and race at any time of the day but also competition servers where the racing gets much more serious. These competition servers have been designed to give the feel of a real race weekend with long qualifying and racing sessions to have you immersed in the experience of being a professional driver in a real-life event. This level of mirroring of real-life racing often brings an enjoyable experience but with long sessions and no rewinds, it can become frustrating if you are taken out on the first lap by an over-eager racer. This is not to say the experience is not class-leading, when it all goes well, but highlights the time commitment required to truly see the full breadth of what the game has to offer.
As for multiplayer is where almost all of the simulators users spend the majority of their driving time this is key when deciding what you want from your driving time. Assetto Corsa will give you a casual and more relaxed experience allowing you to do exactly what you want at any time of the day. Whereas, Assetto Corsa Competizione is much more of a competition focused experience where you as a driver can test your speed and prowess as a simulator driver.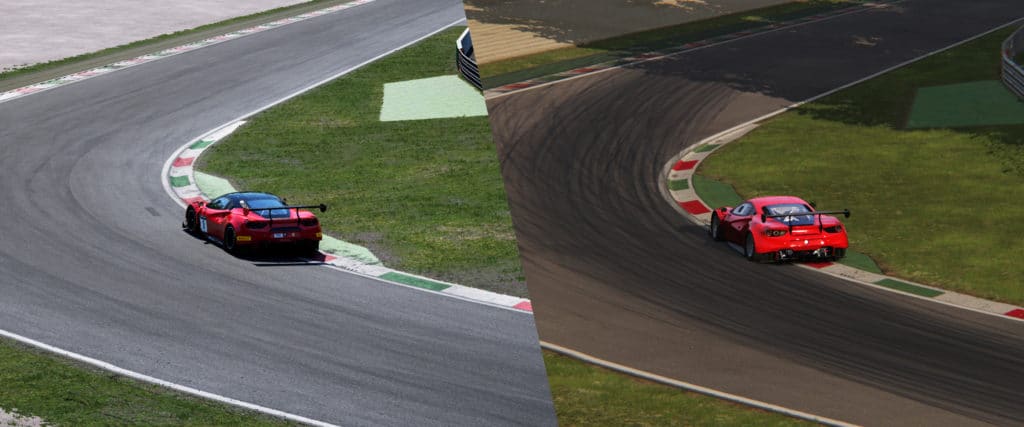 Adjustability
One final note to touch on is the array of adjustability within the two games in regards to the car dynamics. In both Assetto Corsa and Assetto Corsa Competizione, you are provided with a huge range of adjustability to each car from suspension damping, camber and toe angle to fuel loads and aerodynamics. However, there are some slight differences between the two.
Assetto Corsa
In Assetto Corsa, unless specified by the developer, you can adjust almost every feature that the car has to offer. Specific to Assetto Corsa, due to the in-house game engine, is that you can also adjust things such as sounds and physics parameters from the file directories of the simulator with relative ease. This allows you to customize and create a car that sounds or drives in any way you desire.
Aftermarket programs such as Content Manager have streamlined this process greatly giving full control of the cars and tracks to the end-user. Due to this free range of adjustability, a trial and error approach is often needed to car setups, some can be found online through forums but the reliability of these can be an issue. To get the most from Assetto Corsa lots of practice and learning is required to get cars to drive just how you as a driver like them.
Assetto Corsa Competizione
As Assetto Corsa Competizione aims to represent a real racing series, this comes with a host of rules on car adjustability that mirror those of the real world series rules and regulations. Examples of this could be the gear ratios, which are not adjustable amongst the GT cars in Assetto Corsa Competizione as this is set out in the Blancpain series regulations.
As Assetto Corsa Competizione is a competitive environment the desire to have a setup that is reliable and predictable due to the realistic nature of the racing in Assetto Corsa Competizione has allowed companies such as The Coach Dave Academy to use real-life drivers and engineers to develop a product that can assure this level of quality. These setups come at a small cost but pay their way into making you a more consistent and accurate driver as they are built around making you both faster and safer.
Both simulators provide adjustability for very different reasons, one to allow the user to tailor the experience to their preferences and the other to squeeze the last bit of performance out of every car. These both are more than sufficient and enhance the driving experience but must be understood to make the most out of each simulator.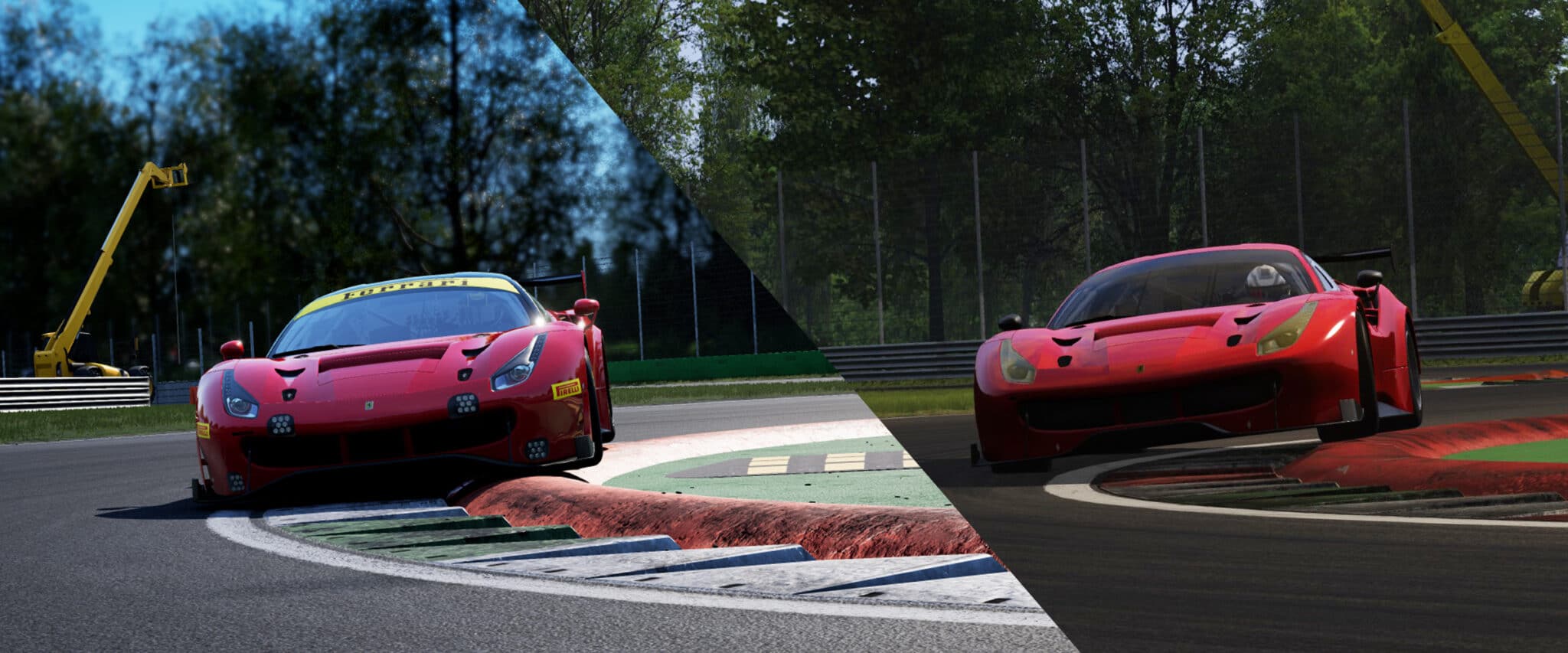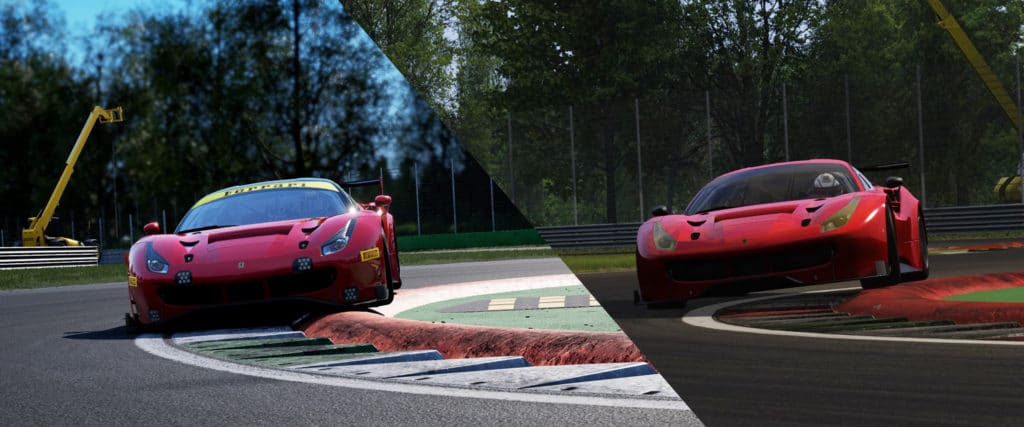 Summary
To Finish off, it is clear that both Assetto Corsa and Assetto Corsa Competizione are great driving experiences – but ones that cater to very different audiences. The players of each often overlap but both have their advantages and downfalls. Assetto Corsa Competizione will give you a feel of realism but is very limited in scope whereas Assetto Corsa gives you all the content you could desire but falls short on the finer details of real-life driving. Both are great simulators and both are an absolute must for any person wishing to dive into the sim racing world.