Endurance is a special type of motorsport where races are long, more than one driver shares the car and finishing the race is an achievement in itself, never mind winning it.
The Dallara P217 LMP2 is a prototype racer that's designed specifically for endurance racing and, for many drivers, represents the perfect endurance racing vehicle.
Introducing the Dallara P217 LMP2
The P217 is manufactured by Dallara, a company that has rich motorsport going back half a century. The P217 is built around a carbon fibre monocoque and powered by a V8 engine producing 600hp. The car weighs in at 930kg, which combines with that amazing V8 to give it serious performance on the straights. It also has huge downforce that's comparable to a single-seater formula car that ensures it corners like it's on rails.
If you want to watch how our professional drivers get the LMP2 around a race track fast. Watch our extensive lap guide videos below:
---
Where You Can Race It
The Dallara P217 LMP2 will be introduced to you as soon as you get your B license in iRacing. It is here that the highest level of multiclass racing is also introduced to you.
The Dallara P217 LMP2 has two series at B licenses and one series at A license you can participate in and these are;
The LMP2 Prototype Challenge – Fixed setup series
The IMSA iRacing Series – Open setup multiclass
The European Sprint Series – Open setup nulitclass
LMP2 Prototype Challenge
The LMP2 Prototype Challenge is a fixed setup one-make series with 20-minute races. This fast pace, quick turnaround racing leaves no space for strategies and the racing can be hard as you are paired with drivers of similar level. It is all about making moves early and being aggressive on the tyres for 20 minutes.
IMSA iRacing Series
The IMSA iRacing Series is a much different ball game however, with multiclass in action, strategy in play, and more time to make your moves. The races are 45 minutes in length and traffic management will be key. Racing with the GT3 class of cars this series is a great combination.
European Sprint Series
Much like the IMSA iRacing Series you are met with multiclass racing of the highest order. But this time the racing is 60 minutes in length. You need to make a mandatory pitstop, so tyre strategy comes into play and traffic management will be another big factor for you to consider. You race with GTE which is similar to GT3s but is actually slightly faster. Although they use a different compound of tyre which slows them down again.
Please note: iRacings ESS Series is changing for Season 4 in 2023, becoming a single-make GTE class and being downgraded to B license, with IMSA becoming the home of multiclass racing in the Dallara P217 and being upgraded to A license.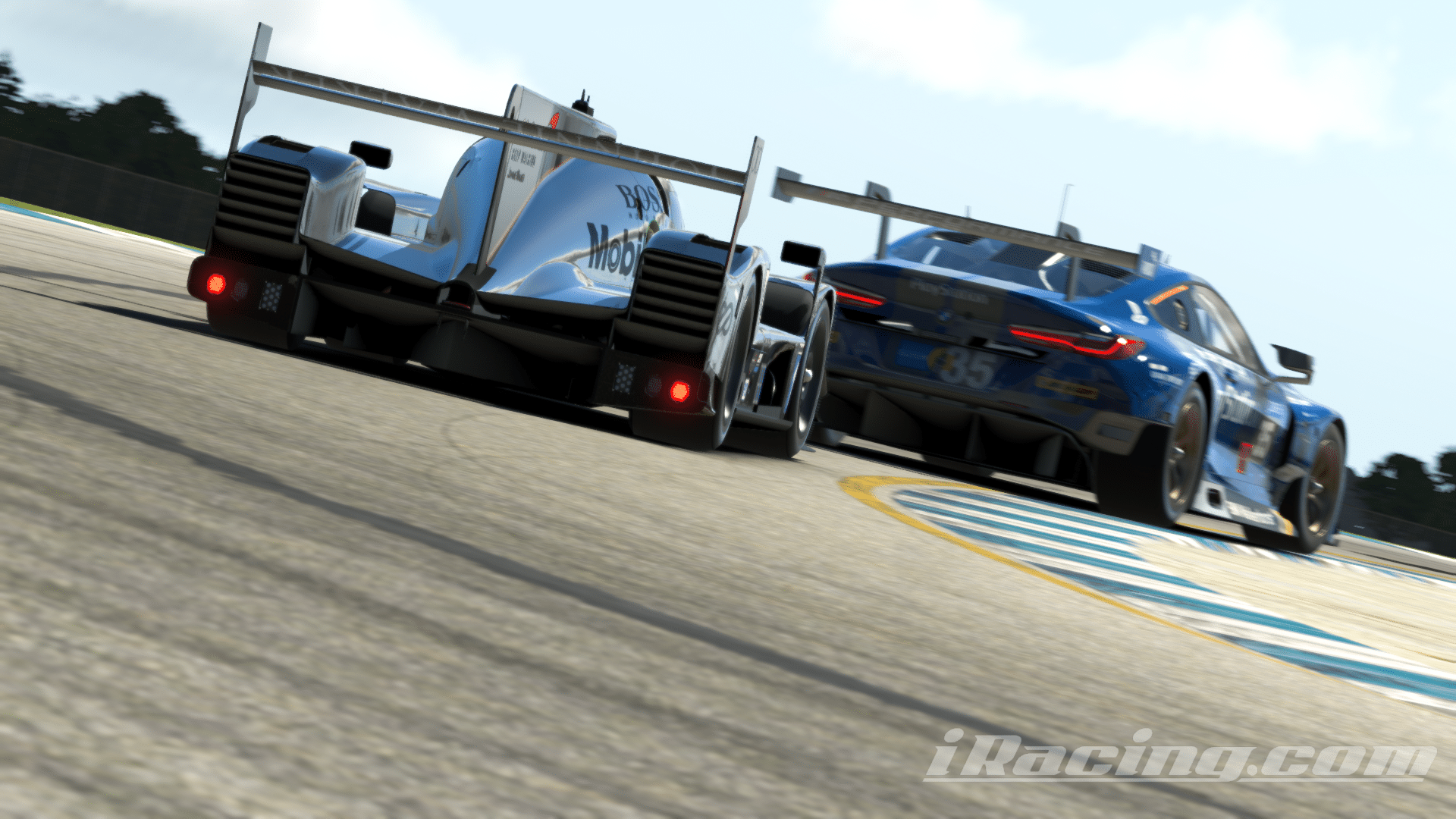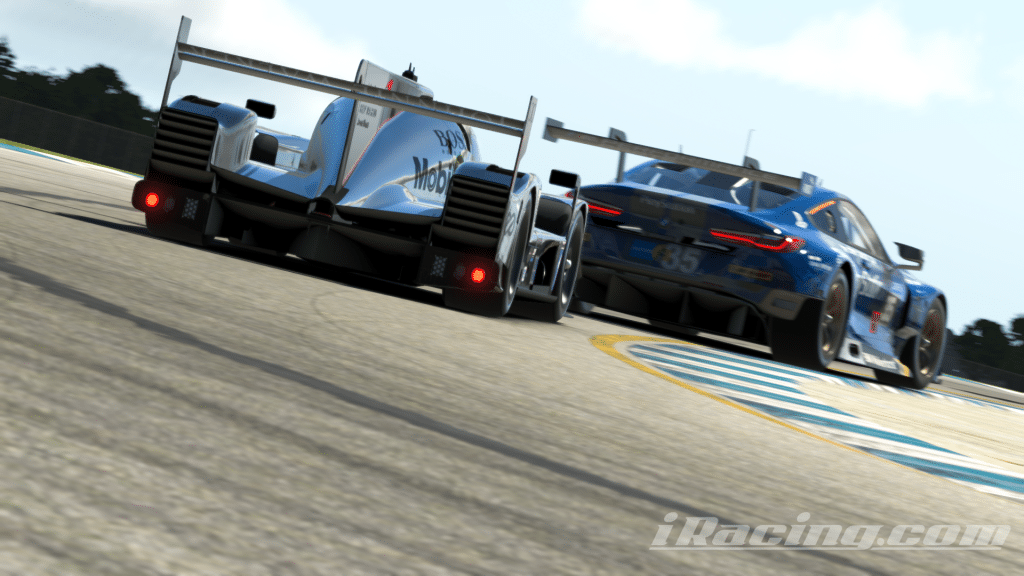 The basic car characteristics
The car's lightweight, impressive power and powerful aerodynamics give it similar handling characteristics to a Formula 1 car. Its setup options are also similar to an F1 car with more or less the same suspension, aero and differential settings.
One feature that's on the P217 that's not on an F1 car is traction control (TC). This allows the driver to have a little bit of leeway when on the absolute limit.
Like any other car in iRacing, the P217 takes a lot of time to dial in, with intricate aerodynamic adjustments and the aforementioned suspension and differential changes.
To help you make the next step up in driving the Le Mans prototype, we're here to help at Coach Dave Academy, developing setups every week for the Dallara P217. You can get your hands on these as part of our iRacing Setup Subscription.
---
Choose Coach Dave Academy
Here at Coach Dave Academy we pride ourselves on having some of the best iRacing drivers and engineers on the team creating professional setups each and every week of an iRacing season.
With the Dallara P217 LMP2, it is no exception. With Setups by Manu Rey O Largo, Marvin Strehl, Niclas Heide and Kieran Harrison. If you know iRacing, you know these names! With a combined average of over 8k iRating.
With the free Coach Dave Delta app when you have a Coach Dave Academy iRacing subscription all this becomes yours. Delta is fantastic because it takes away all the guesswork you may need with a setup.
The app auto-installs all the expertly-made setups by the team at Coach Dave Academy for you for whichever car/track combination you are racing with.
You get qualifying setups
You get race setups
You get the onboard laps
You get the data packs
Made by professional iRacing drivers and engineers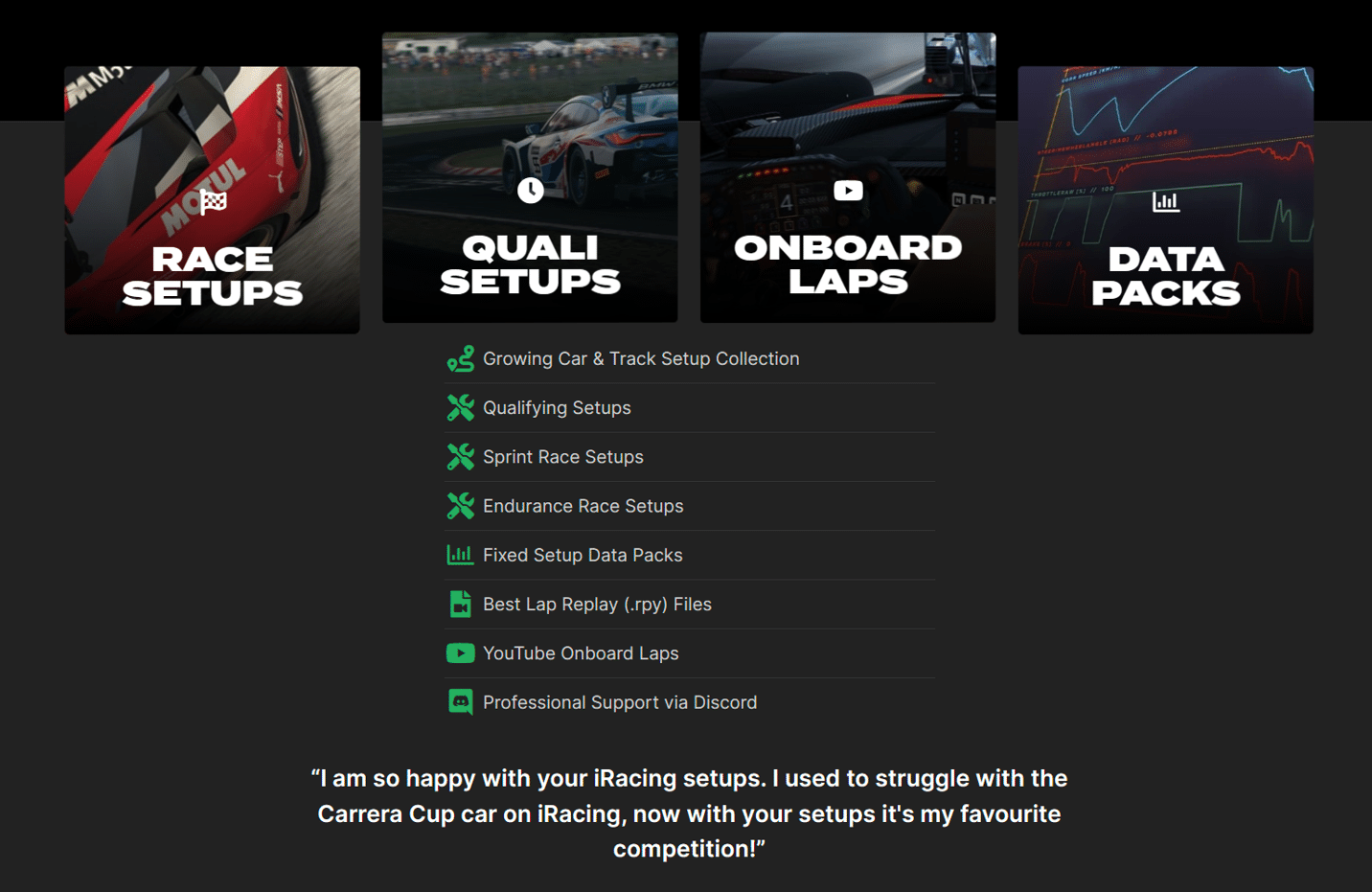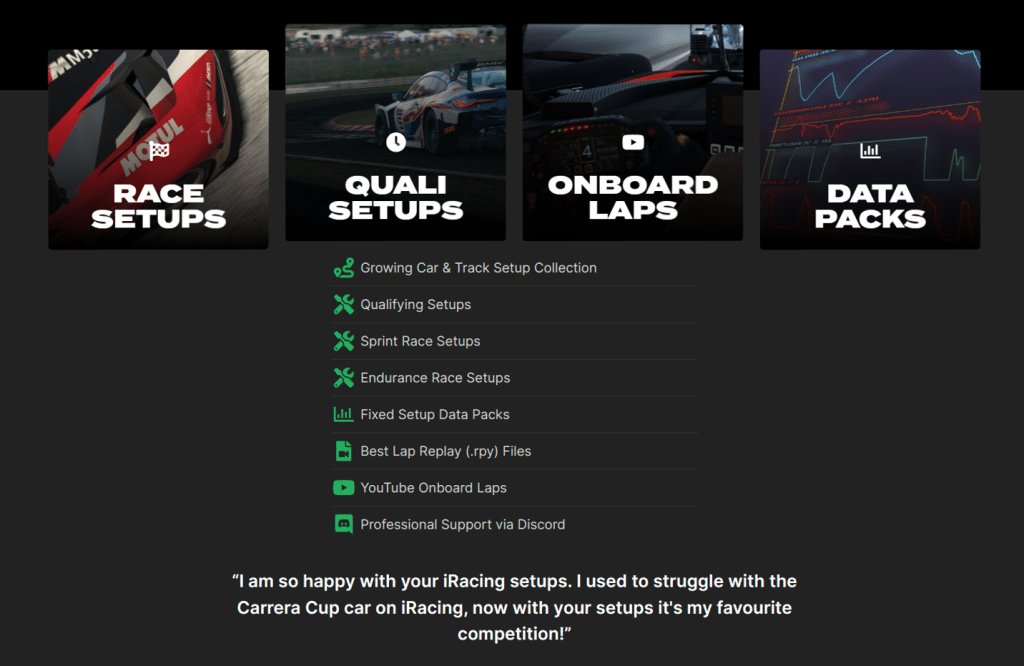 ---
Aerodynamics
The car has two main downforce trim levels: standard and low. The standard downforce configuration is used for the majority of tracks, and the low downforce configuration is used for tracks such as Le Mans or maybe Monza.
Within these two main configurations, there are various options to adjust the downforce to find the perfect balance between top speed on the straights and good grip through the corners.
The two main areas to focus on when setting up the car's aerodynamics it the rear wing angle and the front dive planes. The rear wing angle can be adjusted by increasing the number to add more downforce and also lowering the number to remove downforce.
This wing adjustment makes the biggest difference in overall grip in medium to high-speed corners. The front dive planes are for adding some front-end grip and help with eliminating high-speed understeer.
Steering and Cornering
The P217 has wonderfully responsive steering that provides detailed feedback to the driver. The car reacts very quickly to steering input but does not like being thrown around. It's best to drive the P217 very smoothly without aggressive steering inputs.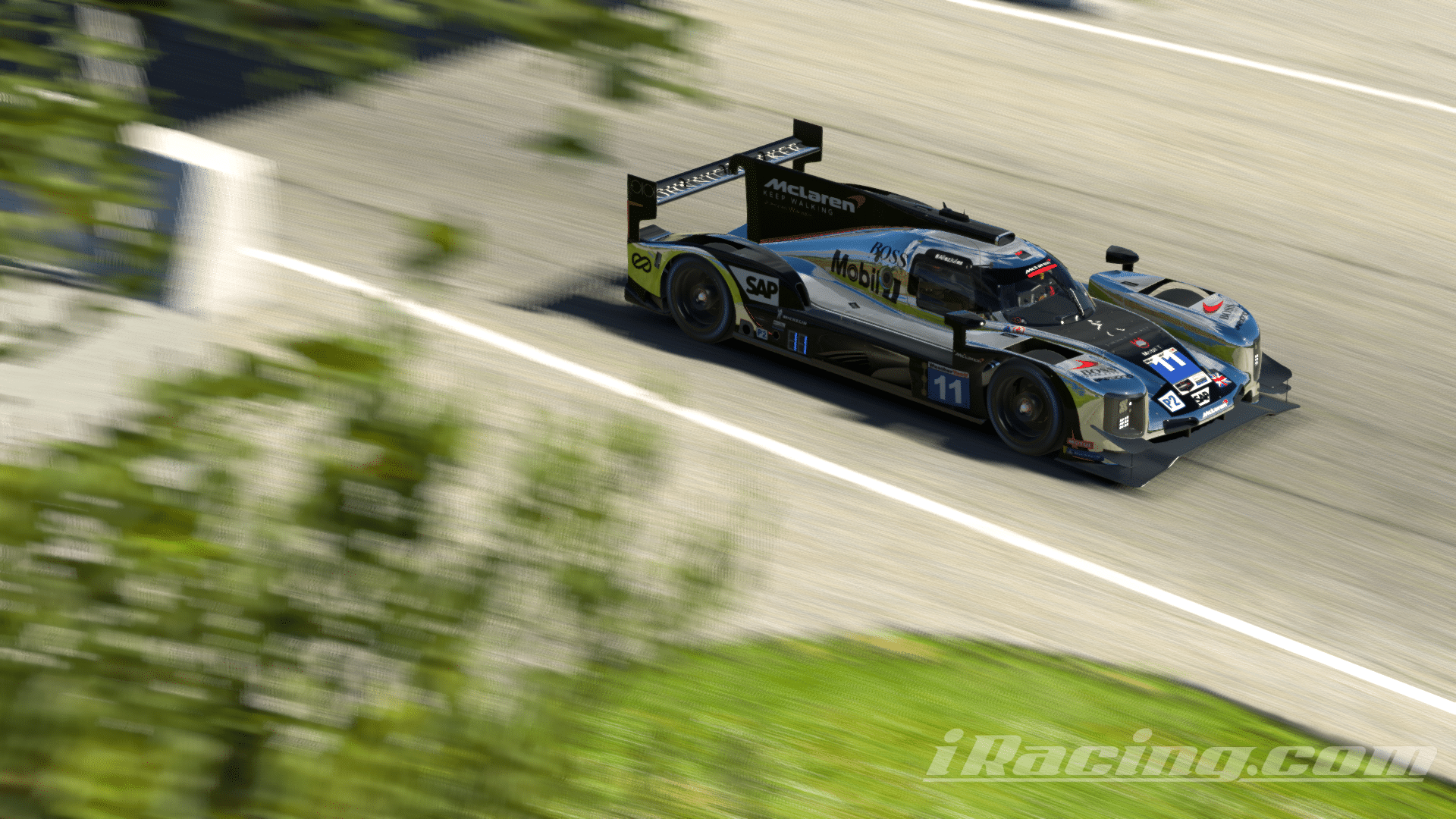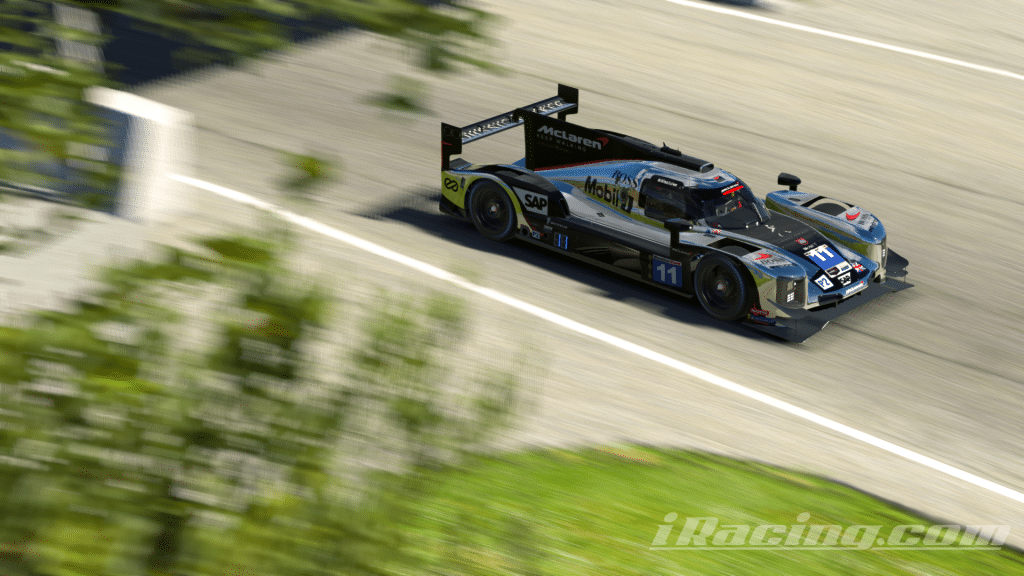 Being aggressive with the wheel or throttle may cause the traction control to trigger, which can cause a large loss in lap time. The steering wheel has a set of rev lights with two triangular clusters of lights on either side that indicates if the TC is currently engaged or not.
It's preferable that these lights remain off since every time they come on to help you catch a slide or sudden oversteer, it automatically removes some throttle input and reduces your forward momentum.
As mentioned before, the Dallara P217 prefers a smooth driving style. Therefore, it's important that you focus your energies on being more consistent than outright single-lap pace.
Engine and Power Delivery
The 600hp V8 at the back of the P217 is a beast that can catch you out, especially in the low-speed corners. Since the car is running relatively slow with very little aero grip, it's important in these types of corners to be very careful with throttle input.
It's advisable to short shift to a higher gear when exiting slow corners to reduce the engine's rpm and minimise the possibility of wheelspin and loss of traction.
The rev lights on the steering wheel indicate when to shift up in gear, and it's preferable to shift up when the second and third blue lights switch on. However, when short shifting, make sure you shift up well before the first blue light.
Timing these shifts and modulating your throttle is a key area in the Dallara P217, learning to apply this knowledge at every track you visit is just as vital. Helping you learn the tracks of iRacing in the P217 are our Lap Guides, streamed every week to help you learn the latest car and track combinations.
---
Final Thoughts
The Dallara P217 LMP2 is available on iRacing to be raced in a variety of categories. We highly recommend beginners start with the LMP2 Prototype Challenge. This is a fixed setup series with races lasting only 20 minutes. It's essentially an arrive-and-drive series but allows you to learn the car without any other categories of cars to distract you.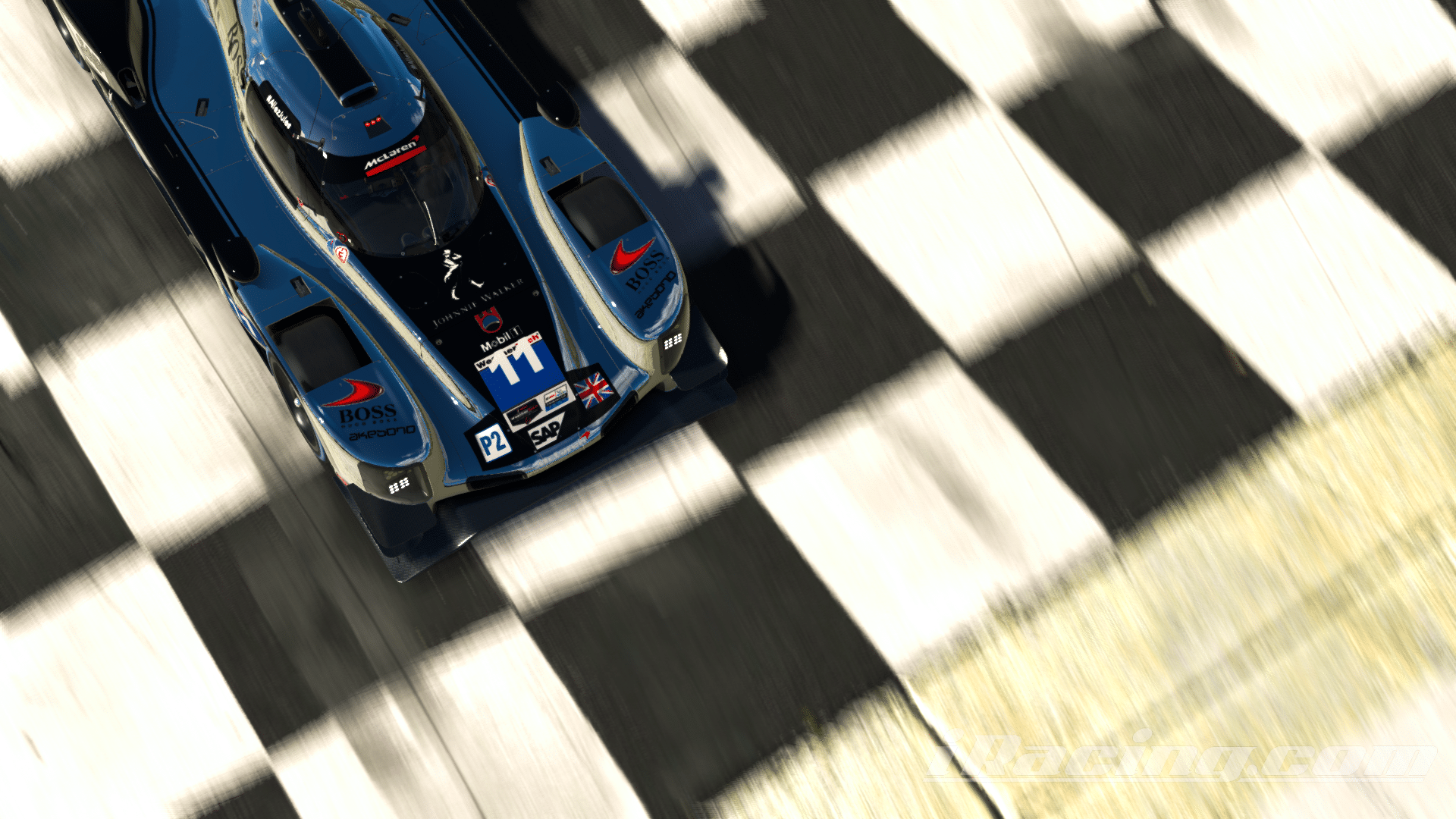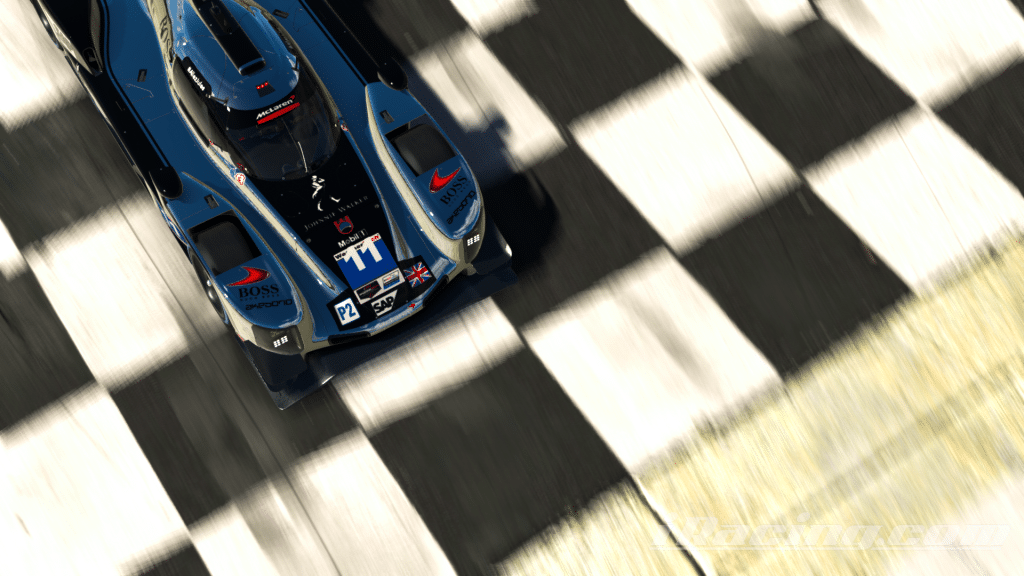 The next series we recommend is the European Sprint Series. This is a 60 minutes race series with compulsory pitstops with the track being shared with faster LMP1s and slower GT cars. From here are the much longer team-based endurance races and, eventually, the special races that can be as long as 24 hours.
The Dallara P217 is an amazing car that rewards precise driving and patience. It's all about being smooth, careful and finishing races. If you're struggling to find pace or if you're not sure which way to go with the setup, drop in at Coach Dave Academy. We're here to help you with pre-made setups and telemetry data that will get you up to speed quite quickly, along with driver coaching to take your driving to the next level.
We highly recommend the Dallara P217 LMP2 to drivers of all skill levels, and we're sure you will enjoy driving it as much as we have.