The name Lamborghini immediately makes you think of classic cars like the Countach and the Diablo — cars that went as fast as they looked. The new Lamborghini Huracan GT3 EVO2 is an amazing beast that combines the classic, spectacular styling of Lamborghini with excellent speed, everywhere.
Introducing the Lamborghini Huracan GT3 EVO2
The Huracan GT3 EVO2 was introduced to Assetto Corsa Competizione as part of the recent V1.9 update. It's therefore brand new to the simulator, as it also is in the real world, and features a variety of upgrades compared to its Huracan GT3 EVO predecessor.
Get up to speed right away courtesy of Coach Dave Academy using the Coach Dave Delta app that will auto-install every Lambo setup for every track. It will get you on track with the correct tyre pressures out the box and you will be fighting at the front straight away!
It's powered by a massive 5.2L V10 engine coupled with a 6-speed sequential gearbox that drives the rear wheels (as are all other cars in ACC). The engine is crucially also mid-mounted with the aim of giving the car more balanced handling characteristics — in the Huracan GT3 EVO, this often led to the car feeling overly snappy, but that's something that has changed with the EVO2.
The car looks amazing courtesy of various aerodynamic upgrades, particularly at the very front and very rear, and sounds even better with its fabulous naturally aspirated V10 engine that is synonymous with the Lamborghini Huracan platform.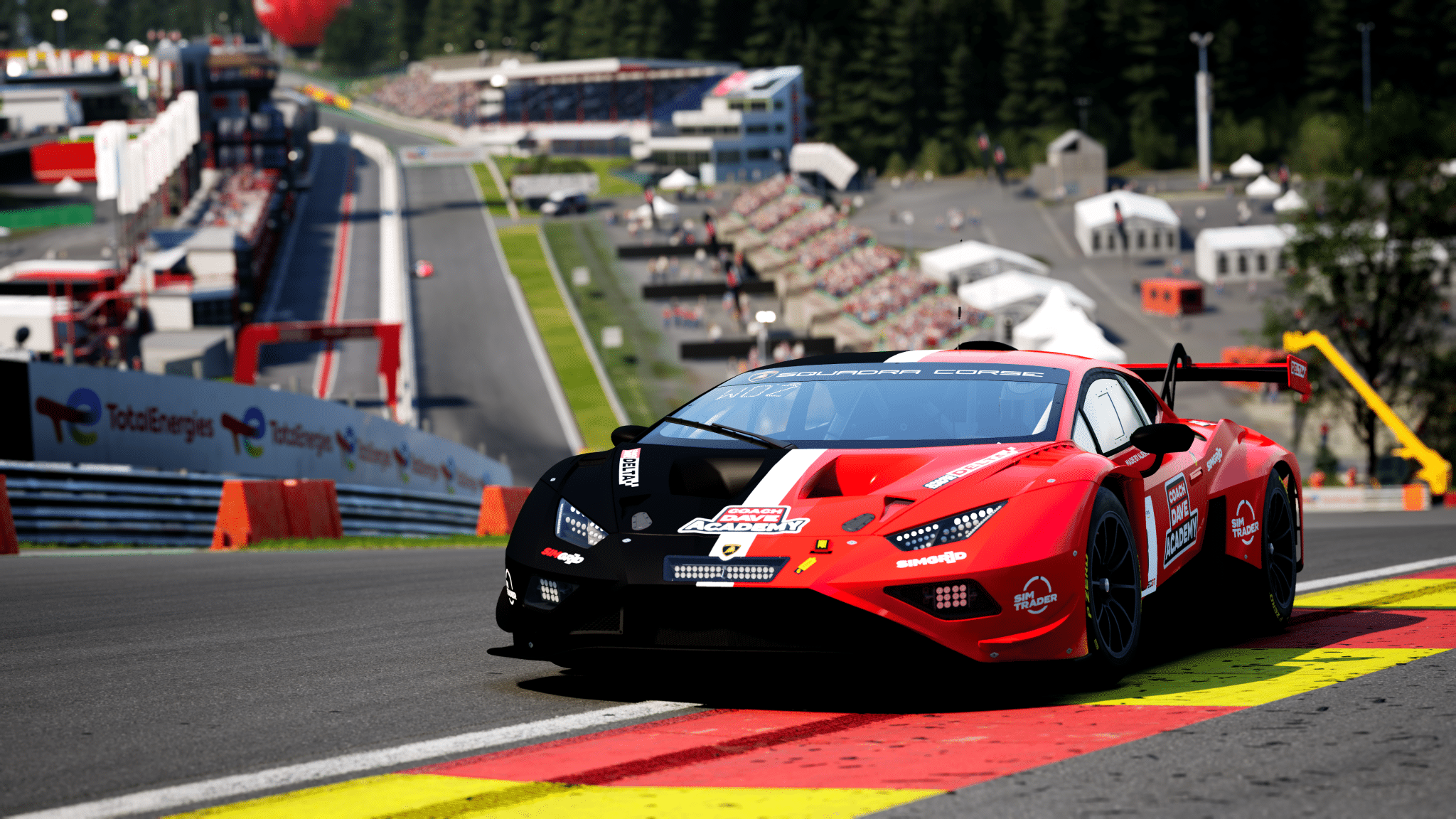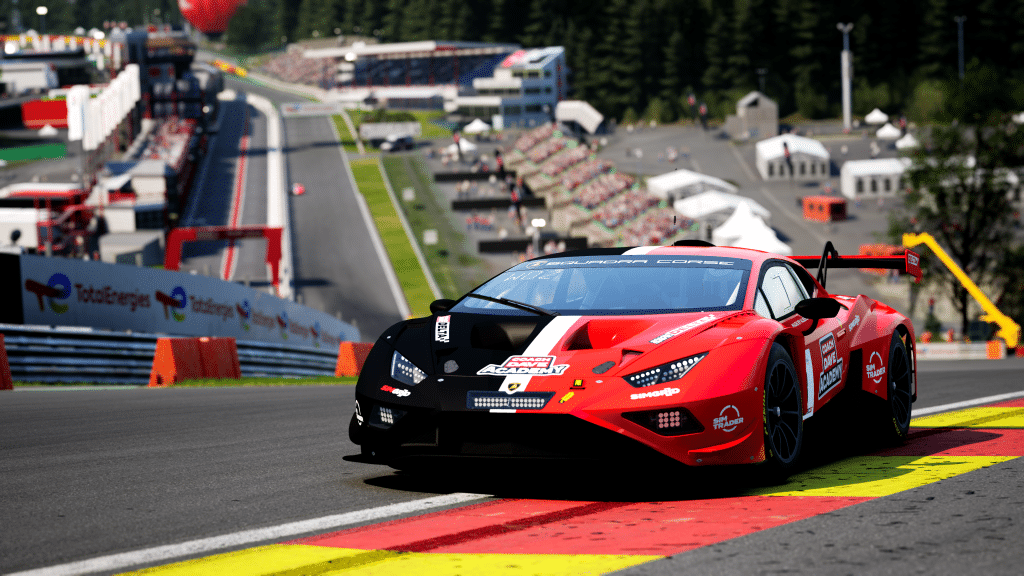 The basic car characteristics
With the Aggressive Setup preset, the car feels balanced as well as relatively stable under braking. This means an instant improvement over the Huracan GT3 EVO — the car will feel more rounded but will still retain its trademark pointy front end and strong rotation.
Due to the naturally aspirated V10 engine that powers the Huracan GT3 EVO2, you will also find that the car is naturally strong on corner exits and especially off of a rolling start. These are both potentially crucial advantages that are held over some of its turbocharged GT3 counterparts, such as the new Ferrari 296 GT3, which you can learn more about here.
Attacking large kerbs can throw you offline and even spin you out, however, after the V1.9 update, this can be dialled out of the car more successfully with greater setup tinkering behind the scenes. Softening the front and rear suspension can help with this effect.
Coach Dave Academy's comprehensive setup bundles and data packs courtesy of our ACC Setup Subscription should get you up to speed.
Steering and Cornering
The Huracan requires 620°of steering wheel rotation that must be set in both your steering wheels software and in-game. The car feels rock solid during cornering, with very good feedback giving you the feeling of confidence, even at the limits of grip.
You will need to give the tyres time to warm up, which can take a couple of laps before you reach the widened 70°C to 100°C operating window. Once there, the car feels balanced, predictable, and pointy, although not as nimble as the Ferrari 296 GT3.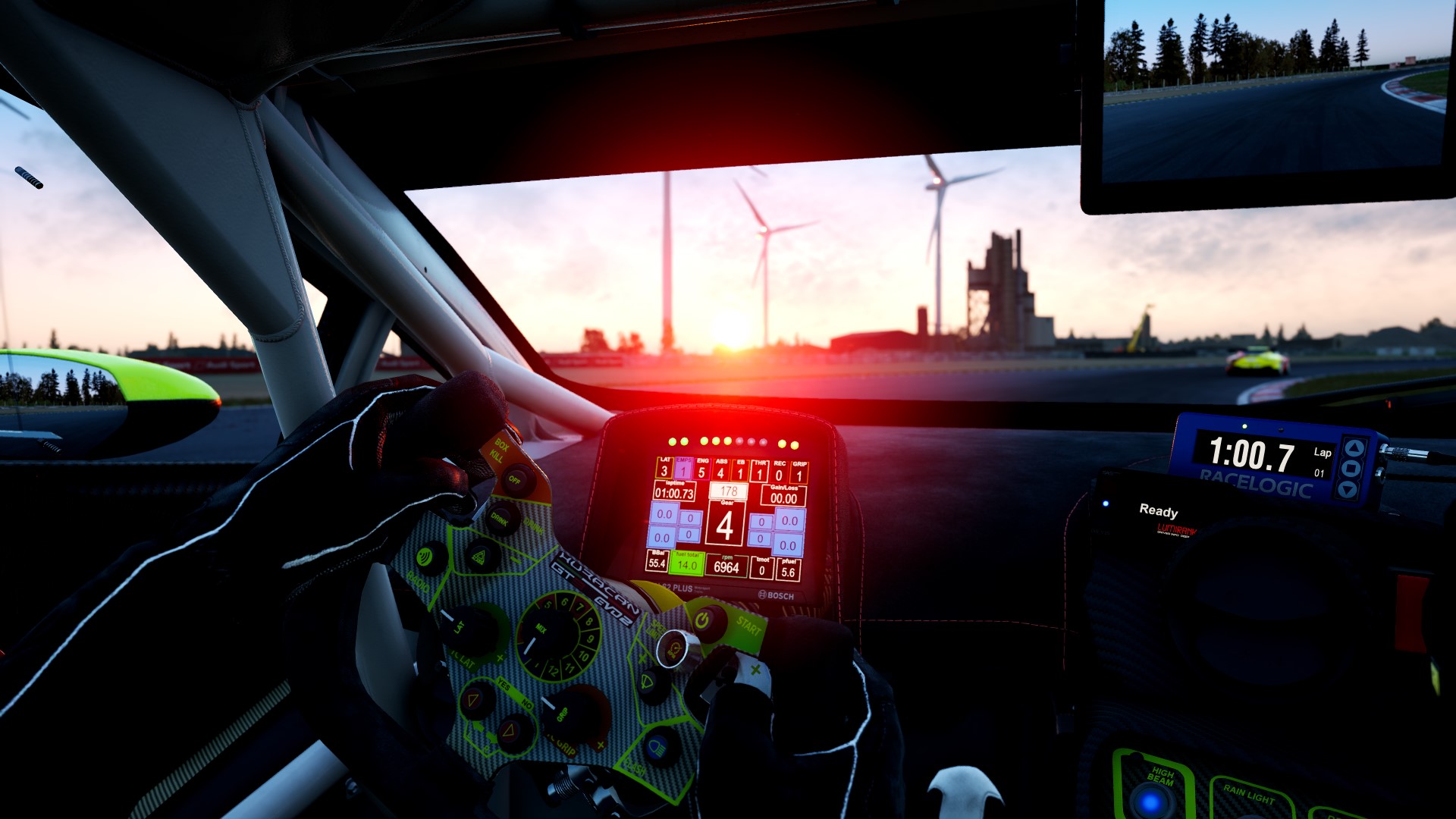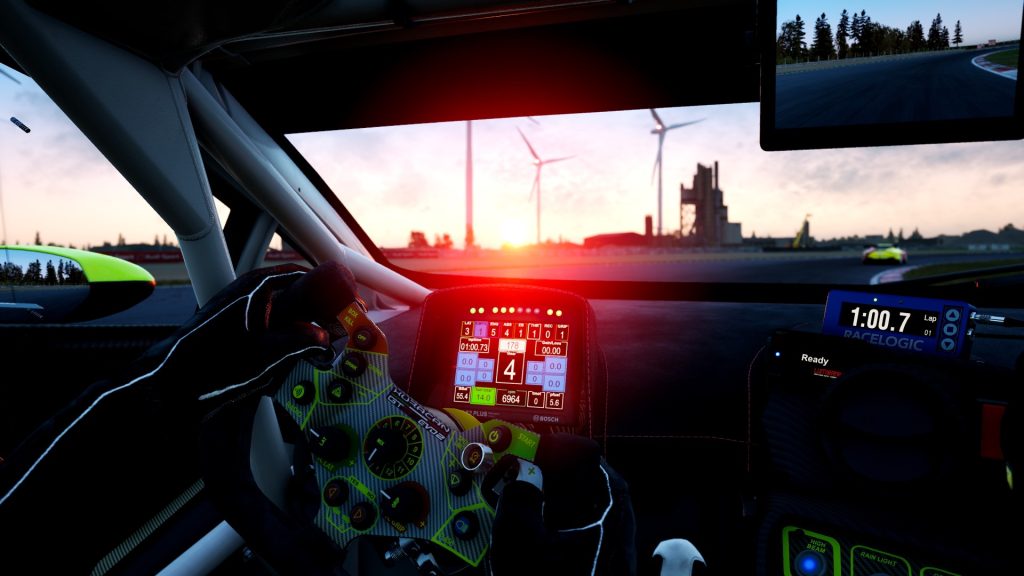 You need to keep your tyre pressures between 26.0 and 27.0 to ensure optimal grip levels, and it's also recommended that the pressures between the front and rear tyres stay as close to each other as possible to prevent any potential handling imbalances.
Aerodynamics and Bodywork
Similar to other GT3 cars in ACC, aerodynamic adjustments are taken care of on the Huracan by changing settings on the front splitter and rear wing. The rear wing has the biggest contribution to changes in overall downforce levels, while the front splitter is more about finding better aero balance rather than increasing overall downforce levels by a large margin.
Since the front splitter can add more drag and reduce your top speed, it's recommended that you look at other ways of dialling out understeer or oversteer. For example, if you're struggling with slight understeer in fast corners, stiffening the front anti-roll bar may be more beneficial than using the front splitter. Stiffening the front springs can also help with reducing understeer in lower-speed corners but this must be balanced against the potential for increased tyre wear.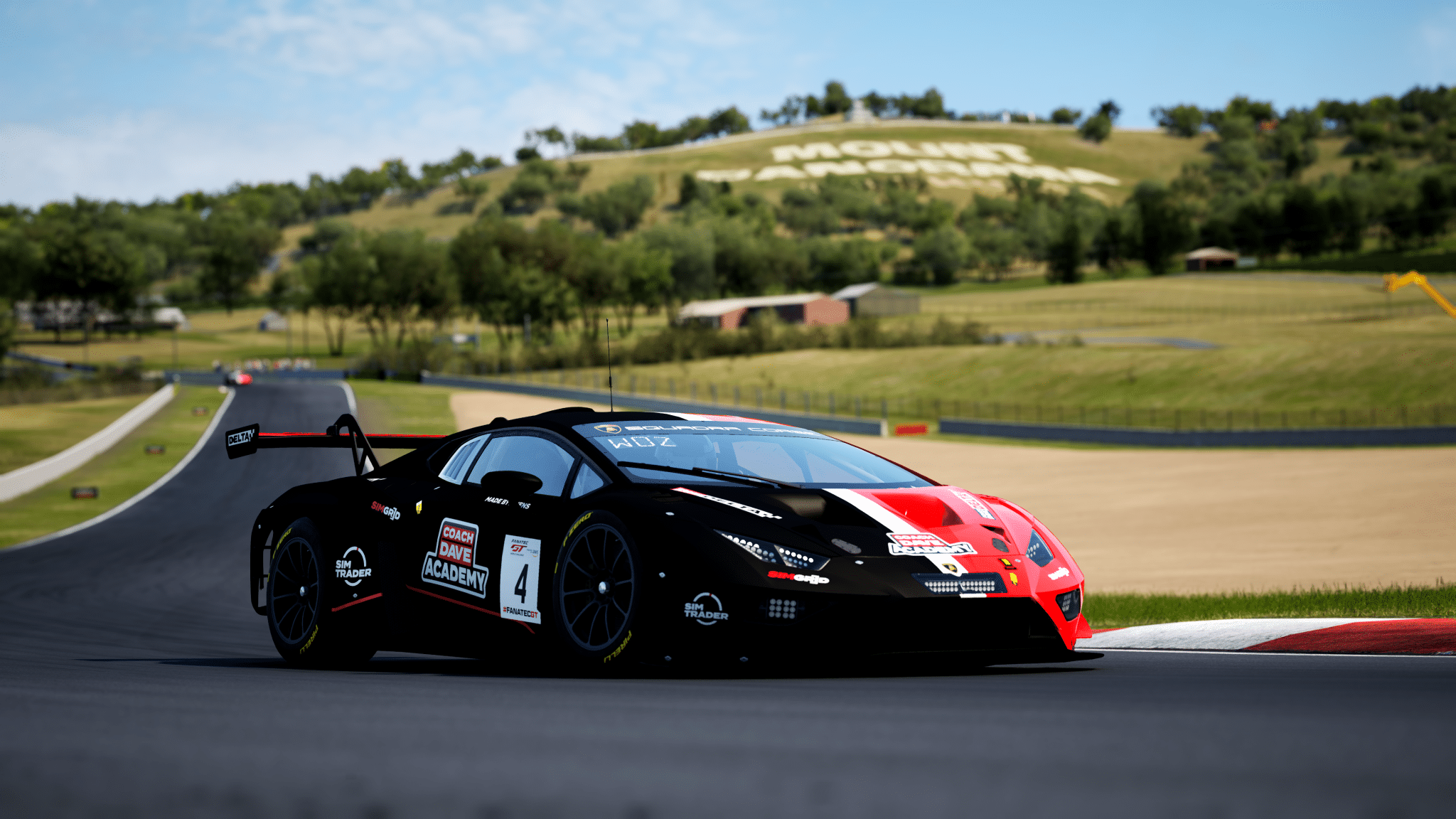 Power Delivery and Braking
The power from the 5.2 V10 is delivered smoothly without any sudden surprises. Therefore, it's easy to balance the car on the throttle mid-corner without worrying about a sudden change in torque that could cause a snap of oversteer.
Traction Control is available but, as usual, must be used to improve performance and not as a catch-all for over-aggression driving. This means that you still need to be smooth on the throttle to prevent the Traction Control from kicking in too heavily, which will thereby reduce your forward momentum. However, what's here to help you is the TC2 driver aid — a second level of traction control customisation that's new to the Lamborghini Huracan GT3 with the introduction of the EVO2.
The car feels very stable under braking, even when pushed hard. Trail braking is advised to help shorten your braking distances and get you to the apex faster, but in the Lamborghini Huracan GT3 EVO2, you've also got engine braking maps to play, which is a feature unique to the car. 
Engine maps one through five don't affect the engine's power output and are instead there to offer differing levels of engine braking — one being the minimum and five the maximum. This setting can easily be adjusted on a corner-by-corner basis to provide more or less rotation, but should also be used in conjunction with other aerodynamic factors that could stabilise or loosen the rear end on the corner entry. The difference between engine braking levels is instantly noticeable.
Our driver coaches can assist with your braking if you're struggling with learning how to trail brake, as well as help you brush up on all the other fundamentals of good driving.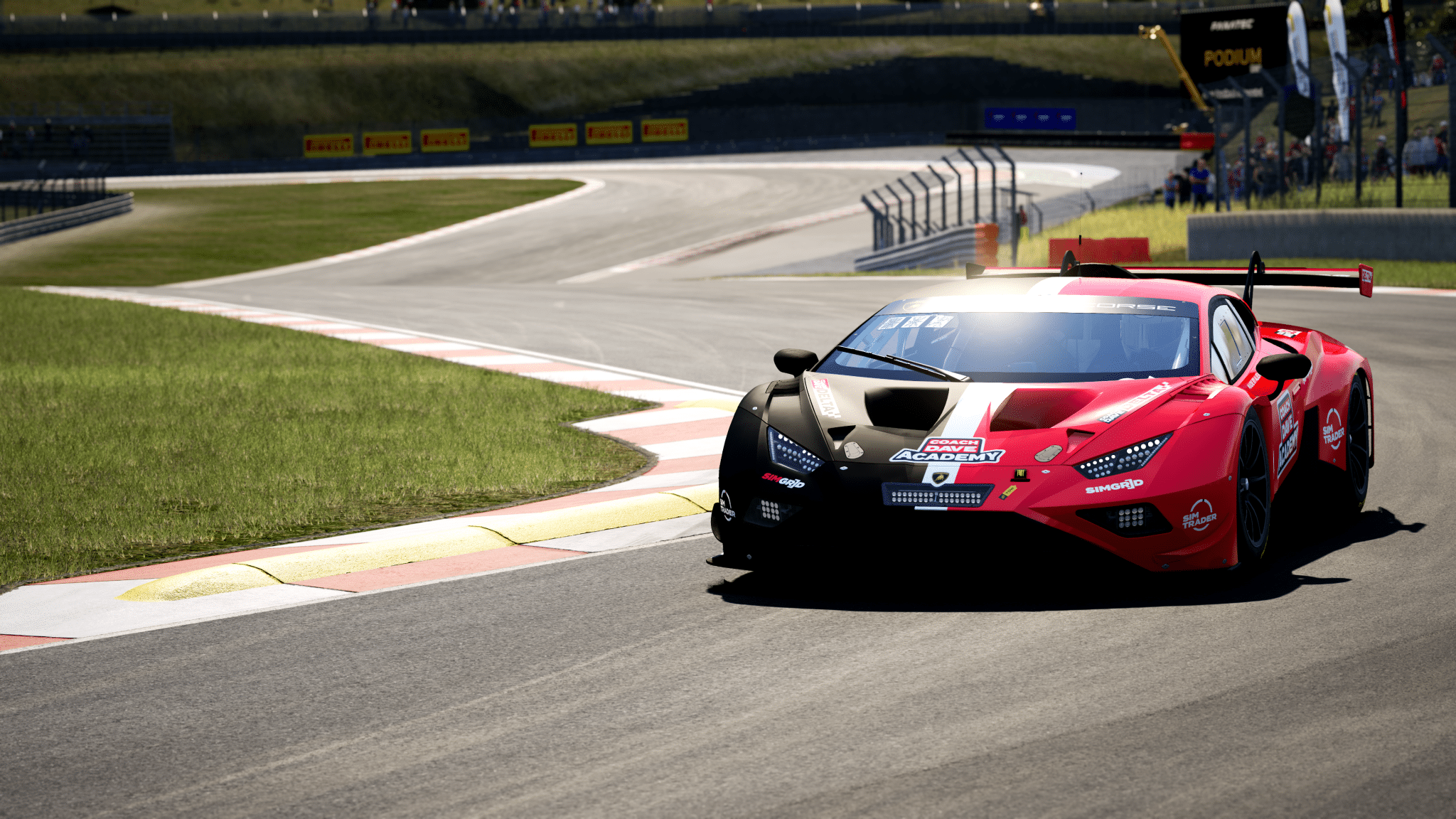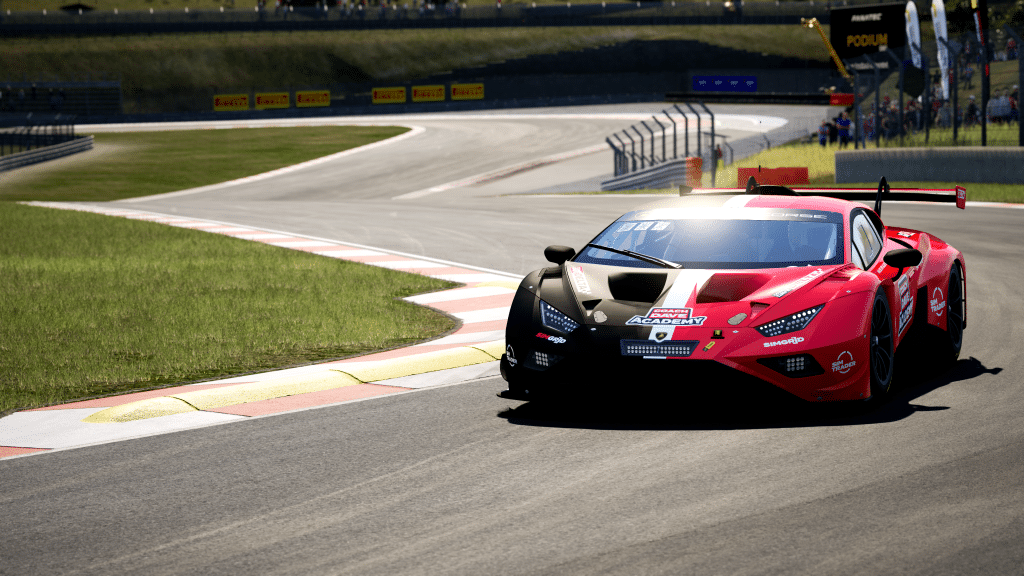 Final thoughts
The Huracan GT3 EVO2 is brand new to Assetto Corsa Competizione and represents the latest in GT3 technology. With improved driver aids and a better aerodynamic balance, Lamborghini's latest GT3 offering provides a greater feeling that it's "plug and play", whilst still able to be pushed to the limit.
The Lamborghini Huracan GT3 EVO2 sounds fantastic, is easy to drive initially and can be rewarding once you've tweaked it to maximise its potential, however, it is still better suited to someone with a smoother, less aggressive driving style.