While the vast majority of competitive sim racers on Assetto Corsa Competizione will opt to use a racing wheel, there are still players out there that make use of a game controller. In this guide, Coach Dave Academy will be showcasing the Ultimate Controller Settings for Assetto Corsa Competizione.
The different controller settings
Before configuring the various controller settings, it is helpful to understand what each of the available settings represents.
Vibration intensity: Refers to the level of vibrations from the car and the track that is simulated through the controller.
Deadzone: This refers to how far the thumb stick (also referred to as an analogue stick or control stick) can be moved before it is registered as an input in-game. In Assetto Corsa Competizione, this value ranges from 0-100%, with higher values representing a longer response time and lower values representing a shorter response time.
Speed Sensitivity: This refers to the sensitivity of the steering in relation to the speed of the car. This option ranges from 0-100% in Assetto Corsa Competizione, with lower values meaning that the steering can essentially be turned lock to lock regardless of what speed the car is travelling and higher values meaning that the steering will become less sensitive with higher speeds.
Steer Filter: This refers to how quickly the car can be turned from lock to lock in relation to controller inputs. This value ranges from 0-100% in Assetto Corsa Competizione, with lower values meaning the steering responds instantly and higher values meaning the car will steer slower.
Steer Speed: This is fairly similar to Steer Filter and refers to how fast the steering responds to inputs from the controller. This value ranges from 0-100%, with lower values representing lower steering speeds and higher values representing faster steering speeds.
Steer Gamma: This refers to the level precision of the steering, in other words, the way in which the inputs of the controller are translated relative to the steering capabilities of the car in-game. This value ranges from 1-3 with 3 being more precise and 1 being less precise.
Steer Assist: As a controller cannot convey force feedback in the same way that a wheel can, steering assistance provides an automated response to the car losing control and ultimately makes the driving experience a lot more manageable. In Assetto Corsa Competizione, this can be set to either "Enabled" or "Disabled".
Control Bindings: This refers to the button assignments for various car functions on the controller itself such as ignition, shifting gears up or down, the pit speed limiter, etc.
Our recommended controller
Whilst there are a variety of controllers on offer for PC gaming, we would recommend the Thrustmaster E-Swap controller. Featuring exclusive T-MOD technology, the ESWAP PRO CONTROLLER has been developed to adapt to all gaming styles thanks to its completely modular ergonomics, industrial-grade components, dedicated configuration software for the controller, and an ecosystem of additional modules allowing for unlimited upgrading possibilities. This product is an officially licensed PlayStation 4 device and is also compatible with PCs running Windows 10.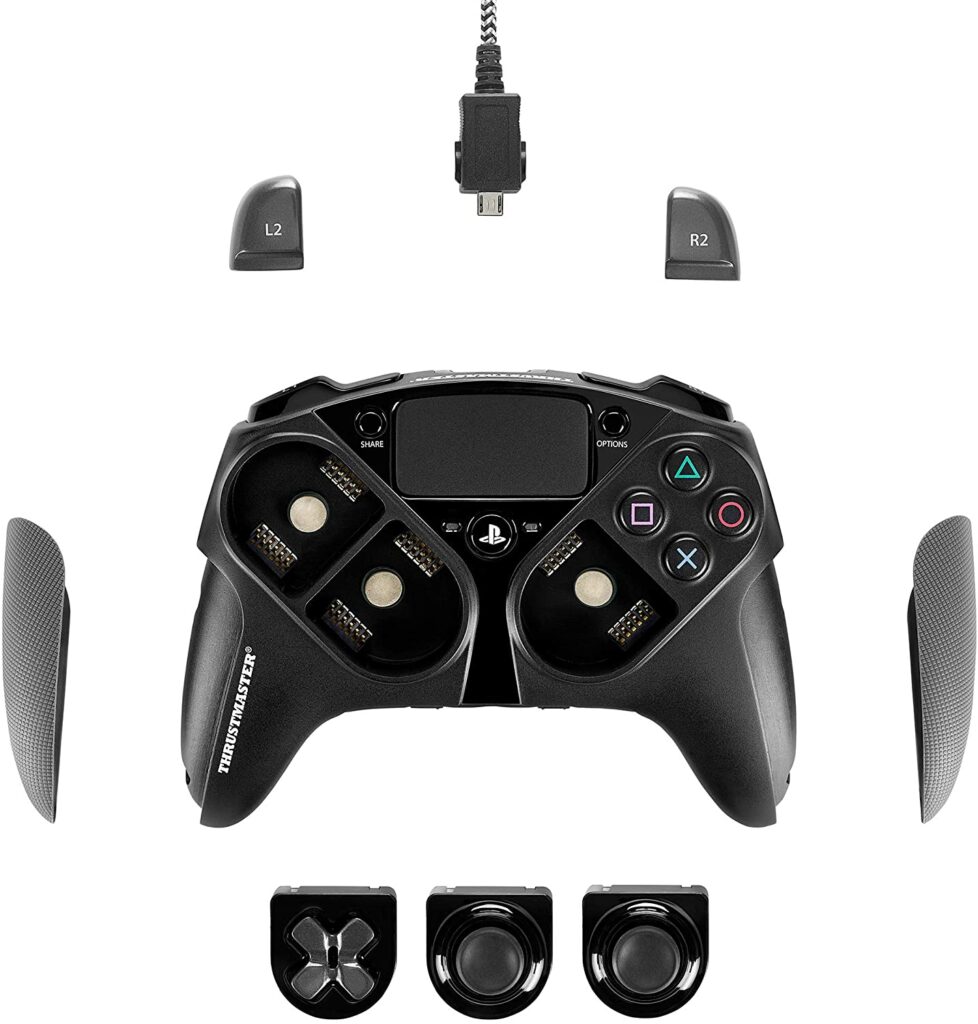 The default controller settings
The default settings are not necessarily poor by any means, however, they are not particularly enjoyable to work with if you are getting into Assetto Corsa Competizione for the first time with a controller. It is recommended that you take some time to acclimatize yourself with what a controller feels like before you try to adjust any settings, which may take a few hours. That said, they can certainly be improved, as initially they can feel quite twitchy and imprecise, particularly for wheel users trying a controller for the first time. The default controller settings look like this: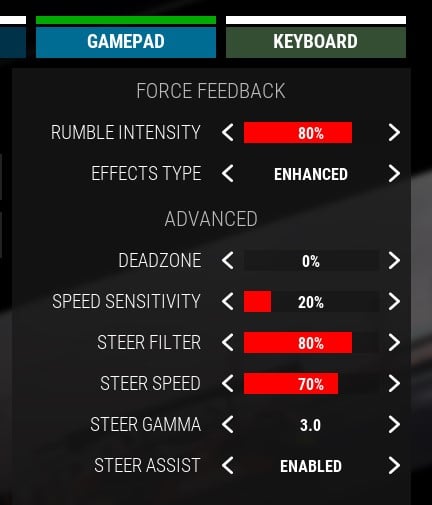 Our recommended controller settings
The ideal controller settings for any given driver is entirely subjective. What may work for one racer, may not work for another. However, having spent time fine-tuning your controller settings, they make look something like this: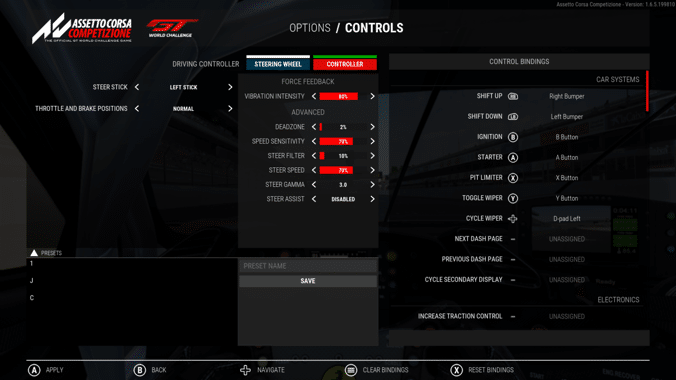 These settings provide a very balanced and, more importantly, workable driving experience that is less twitchy than the default settings. While they may still be slightly twitchy, due to the nature of driving on a controller, with practice, they reward smooth inputs and allow for consistent lap times. As previously mentioned, these settings may not be exactly perfect for every driver, but they can act as a solid starting point.
The controller bindings work well at their default settings, you may choose to change these depending on your personal preferences.
In short, the important settings are as follows:
Vibration Intensity: 80% (left as default)
Deadzone: 2%
Speed Sensitivity: 70%
Speed Filter: 10%
Steer Speed: 70%
Steer Gamma: 3.0
Steer Assist: Disabled
Control Bindings: Left to default (however, each individual driver may choose to assign these in accordance with their personal preferences).