Aston Martin is one of the most prestigious British car brands of all time. From James Bond to Le Mans, Casino Square and the Monaco Grand Prix, you're often hard-pressed to find a sportscar brand as iconic. And their V8 Vantage GT3 is, naturally, one of the front-runners and fan-favourite cars in Assetto Corsa Competizione. So let's jump under the hood of this car and find out what makes it tick!
Introduction to the Aston Martin V8 Vantage GT3
A front-engined behemoth powered by a beefy 4-litre V8 twin-turbo, the Aston Martin is an excellent first car for people starting out in ACC. With up to 120L of fuel and a size that's a blend of compact enough to be a good car to attack with and big enough to not be unstable on the kerbs, it's a car that's fantastic to work with.
This is even more the case in changeable conditions. The Aston Martin's stability is incredibly rewarding, as it means that you can build up your confidence nicely for all of the challenges, trials and tribulations that ACC can throw at you. And, if you're looking for some wet setups, you can pick up our wet bundles here.
The Basic Car Setup
Much like any GT3 car in ACC, the Aston Martin has a couple of quick tricks to make it faster.
One is understanding its traction control settings. Some cars such as the Aston Martin V8 Vantage GT3 have two Traction Control parameters that you can adjust, which are known as Gain and Slip. By running the Gain on a low setting and the Slip on a high setting, you are able to make the most of the in-car electronics as the Traction Control won't intervene unless it's absolutely necessary to have it in order to save the car from a spin.
A great starting point when it comes to understanding what makes the Aston Martin really work is figuring out what is best for it in the setup menus.
We have an array of setups available here at Coach Dave Academy for the Aston Martin V8 Vantage GT3. All you have to do is download our new Coach Dave Delta app. The app will take care of loading setups for qualifying and races with correct fuel loads and even correct tyre pressures based on the track temperatures with its fantastic auto-install feature, meaning no more second guessing!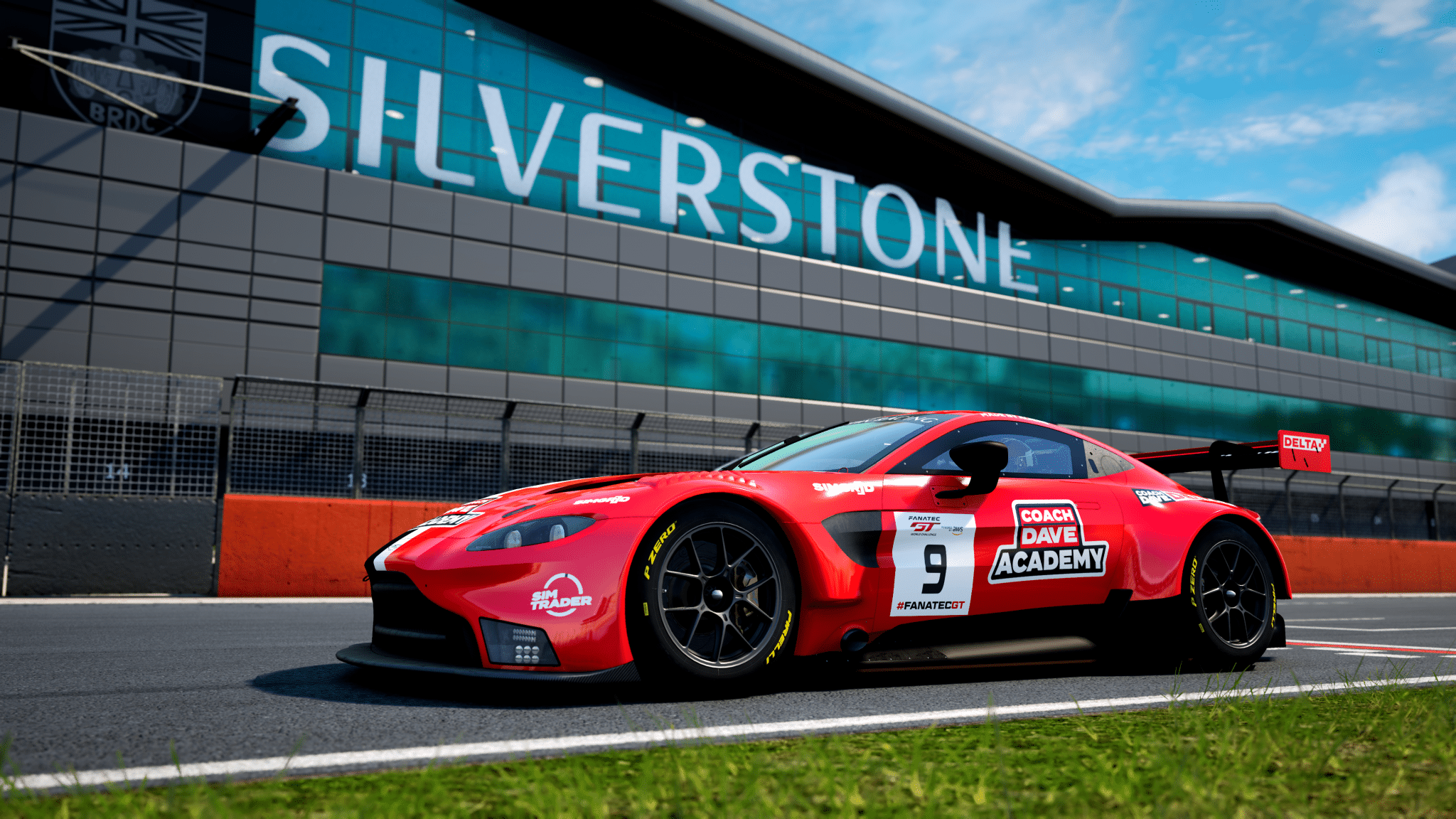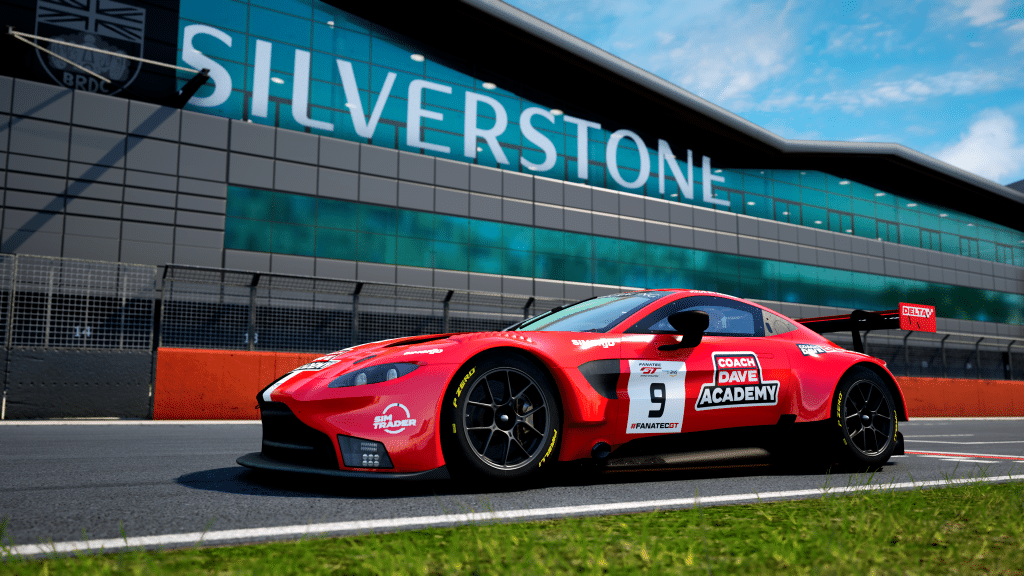 Aerodynamics and Bodywork
The aerodynamics and bodyworks of the V8 Vantage GT3 work together well to make it a low-slung, aerodynamically efficient weapon on the track.
Wider than it is tall, the Aston Martin is able to handle kerbs and cambered corners better than other cars because the forces that act on it are spread out more evenly than in some of its counterparts.
In those respects, it handles more akin to a mid-engine car in the corners whilst being able to handle kerbs and other small impacts much better than a mid-engine car.
Steering and Cornering
One of the great aspects of the Aston Martin V8 Vantage GT3 is how predictable it is when steering and cornering. Whilst it may not be the most boisterous or flamboyant car around the corners, it can handle kerbs better than others and gives you exactly what you expect when turning it in for a corner. 
The way that the V8 Vantage GT3 handles kerbs is only paralleled by cars such as the Bentley Continental GT3.
However, unlike the Bentley, its relatively short wheelbase and shorter height mean that the car is more agile in the corners and able to handle higher-speed corners better than its British counterpart.
This is because it has a relatively low centre of gravity, allowing forces to be more evenly spread throughout the chassis.
Want to see the difference between both cars? Our ACC setup subscription service gives you access to all of the setups and MoTeC data for every car in Assetto Corsa Competizione, as well as a 10% discount on our world-class coaching service, for as little as £7.99 per month.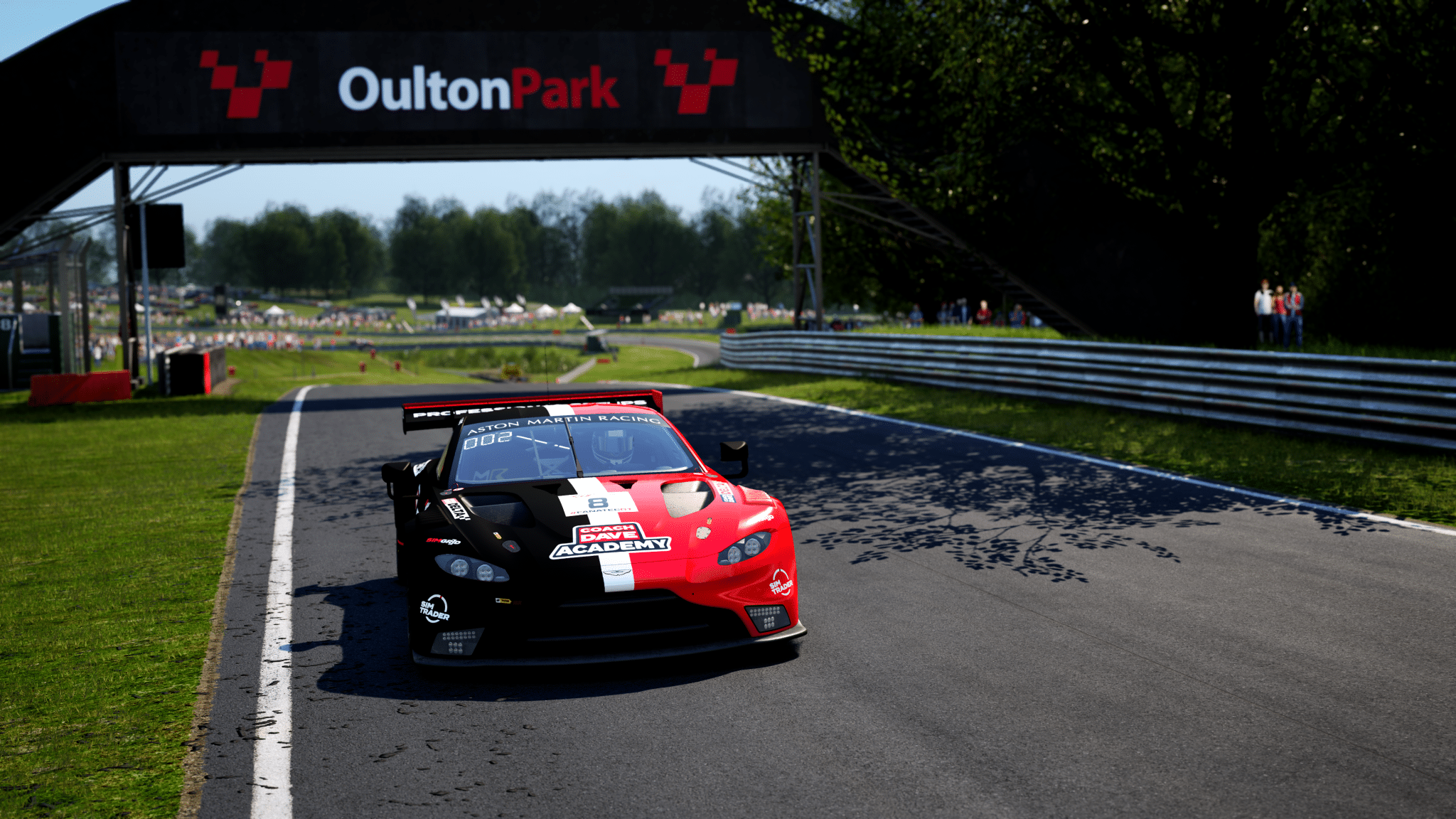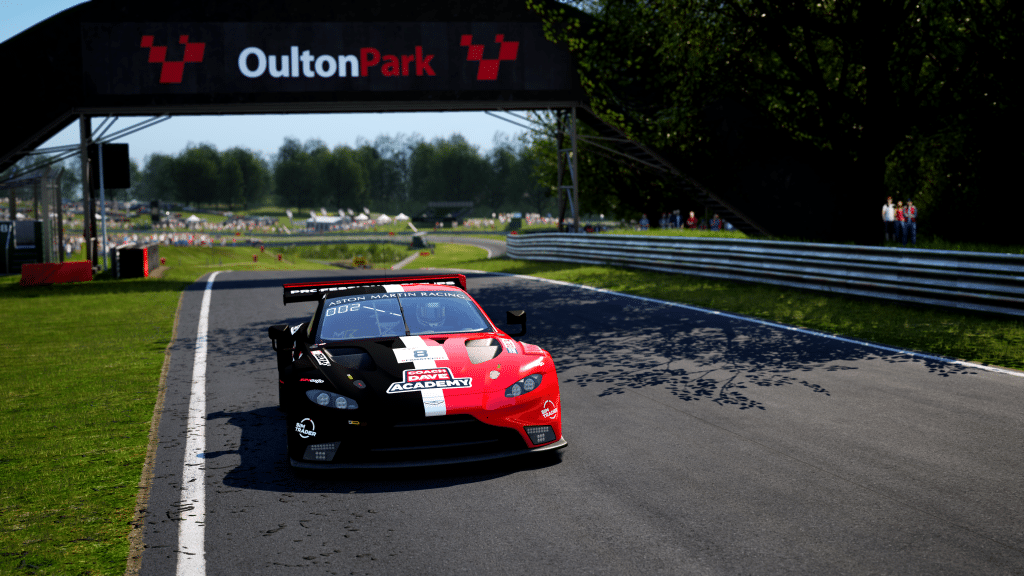 Power Delivery and Braking
Power is one aspect where the V8 Vantage is very complex. Whilst it can struggle on initial power output, when the turbo kicks in there's very little that can contend with the Aston Martin's mighty torque.
Whilst its strength has been reduced in more recent updates, and our guide to reading changelogs will help you to understand what these changes entail, it is still one of the reasons why many people have the V8 Vantage as their weapon of choice.
At the same time, the car is relatively stable and predictable under braking. As a front-engine car, it does not require the same delicate treatment of kerbs as a Ferrari or a McLaren, and at the same time, it is more stable under heavy braking as it is not as dependent on trail-braking as a technique compared to its mid-engine rivals.
Sometimes, that power can get a bit daunting. That's why the new Coach Dave Academy setups feature a "safe" option for drivers to cut their teeth with. You can find out more about our file naming structure here.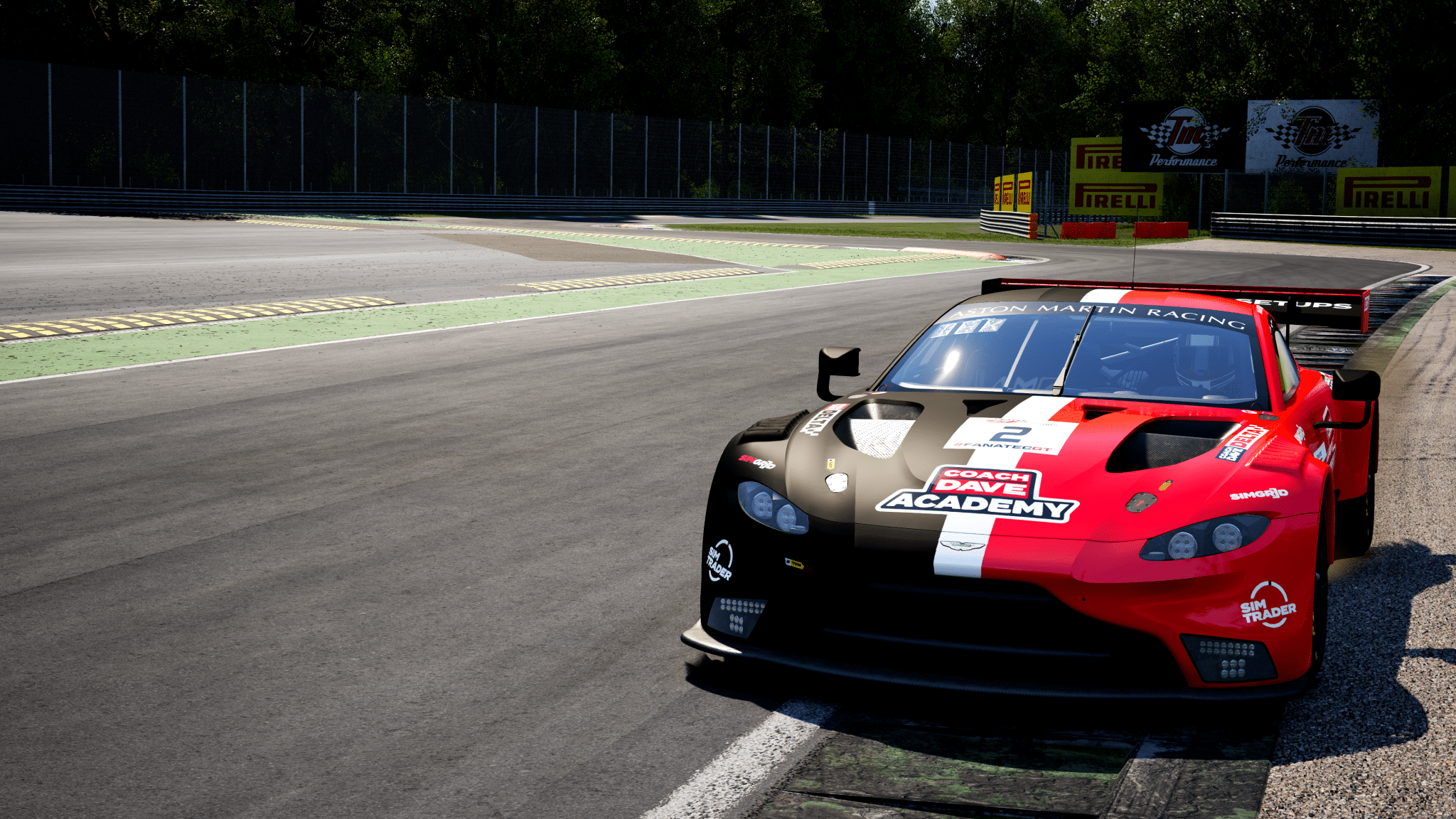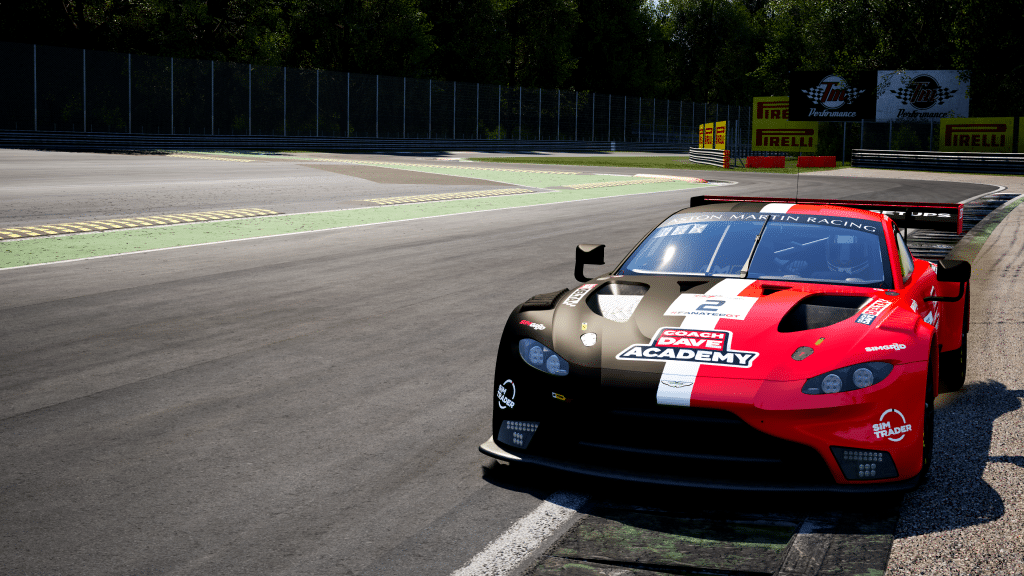 Need any Extra Help?
Here at Coach Dave Academy, we're always open to supporting you on your sim racing journey. On top of our comprehensive setup subscriptions for Assetto Corsa Competizione and iRacing, we offer a variety of Coaching sessions to help you get those extra tenths and seconds out of the car.
On our other platforms, such as YouTube, you can also watch our live setup sessions and our onboard laps for our hot laps set using our Coach Dave Academy setups.