For many years, the LMP1 Hybrid category of prototypes represented the pinnacle of sportscar racing with incredible speed combining massive amounts of power with huge downforce levels.
However, all of this performance came at a price that made the cost of entry too high, leaving the category to only a handful of big-name manufacturers like Porsche, Audi and Toyota, with eventually only the latter remaining.
Thankfully, the powers that be created a new ruleset – LMDh and LMH – that allows for fast cars with hybrid technology that can be run at a much lower cost.
Amidst the boom of the new top class of endurance racing, the Cadillac V-Series.R joins the BMW M Hybrid V8 as the second GTP class car to be released in iRacing.
Introducing the Cadillac V-Series.R GTP
The category that replaces LMP1 is called Hypercar and is comprised of two similar rulesets that race alongside each other thanks to Balance of Performance (BoP): Le Mans Hypercar (LMH) and Le Mans Daytona H (LMDh).
The new Cadillac V-Series.R is an LMDh sportscar prototype that's built on a Dallara chassis similar to that of the BMW M Hybrid V8, and it replaces the Cadillac DPi-V.R that was once General Motors' entry to top-flight sportscar competition in IMSA. 
In real life, the Cadillac V-Series.R competes in both the IMSA WeatherTech SportsCar Championship and the FIA World Endurance Championship.
Despite it being introduced just this year, the car has already found success with two wins in the IMSA Championship and a third-place finish at the 2023 24 Hours of Le Mans – just one of many reasons why this GTP class beast is a fan-favourite.
The Basic Car Characteristics
The Cadillac V-Series.R is powered by a massive naturally aspirated 5.5L V8 that drives the rear wheels via a 7-speed sequential gearbox, giving it good natural driveability.
The internal combustion engine is supplemented by a 50KW electric motor that forms a hybrid power unit which generates energy during braking and deploys it under acceleration – just like in the BMW M Hybrid V8.
In iRacing, the car has balanced handling with excellent grip levels in the medium to high-speed corners. It must be driven smoothly in slow corners to prevent sudden snaps of oversteer in a similar vane to its BMW LMDh counterpart, however, what will instantly stand out to you as a driver is that the V-Series.R is far easier to just jump into and drive.
Steering and Cornering
The Caddillac V-Series.R has a wonderfully detailed steering response that loads up nicely in medium and fast corners, giving you a feeling of confidence. This sure-footedness is even felt through high-speed chicanes while climbing over entry kerbs and applying the power quickly over exit kerbs.
However, you need to be very careful when exiting the pits and during the first lap of a stint. The car needs time to warm up the tyres due to the lack of tyre warmers in the GTP class, and this can take one or two laps depending on track temperature, car setup, driving style and more.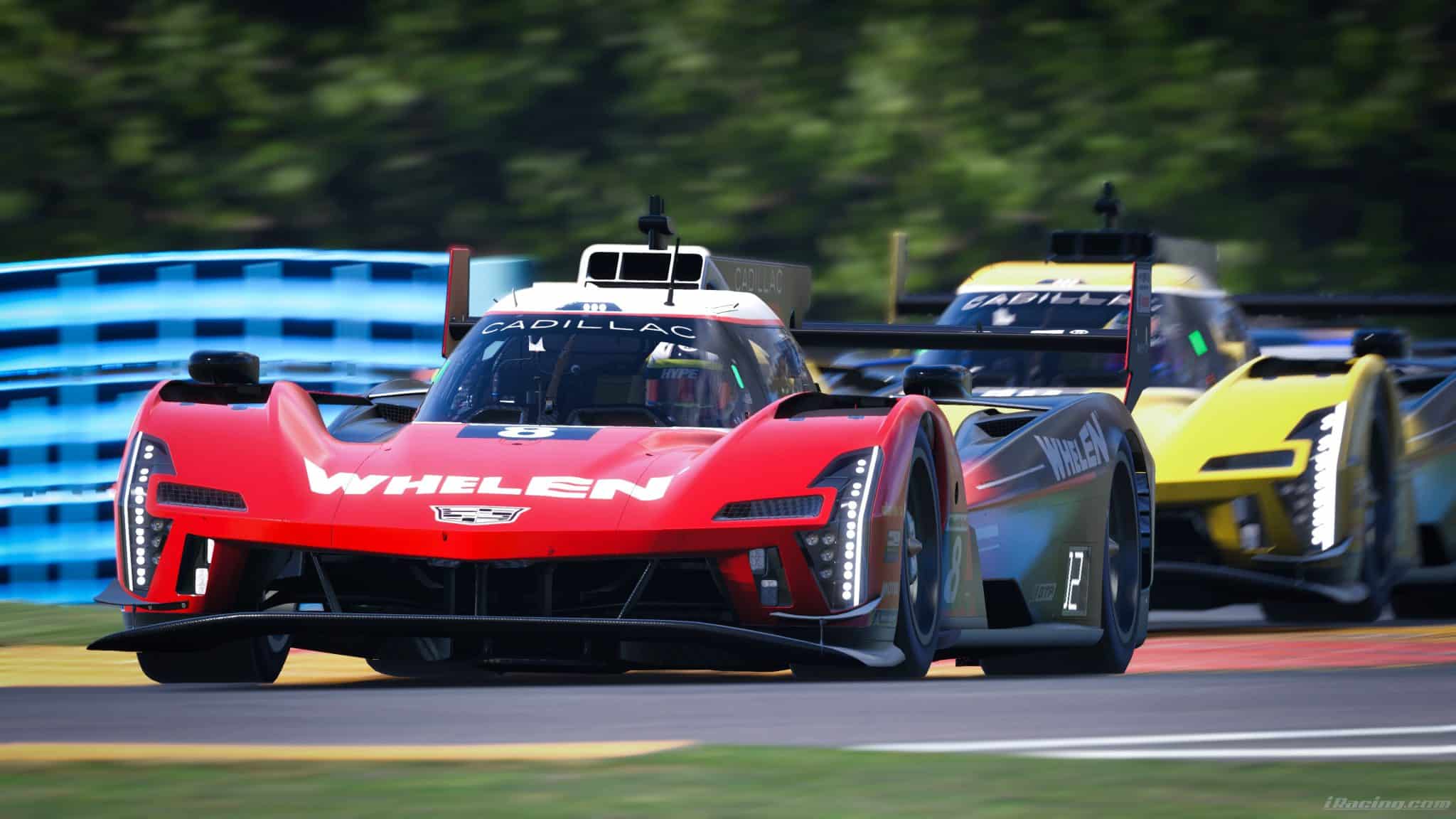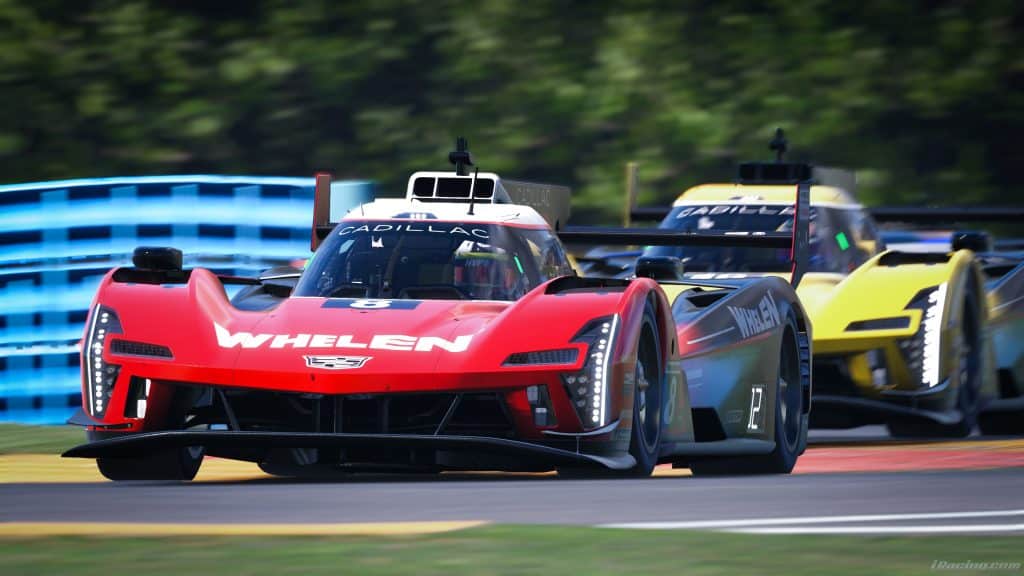 Adopting a driving style where you have a gentle turn-in is recommended to prevent overheating of the rear tyres, and keep the front tyres from degrading too heavily over the course of a stint – something the V-Series.R is more susceptible to than the BMW.
Braking very late and trying to flick the car into a late apex isn't recommended since this not only increases tyre wear and tyre temperatures but will almost guarantee an eventual unrecoverable spin.
If you need more help truly understanding the driving style required for the Cadillac V-Series.R, make sure to check out one of Coach Dave Academy's Lap Guides.
Aerodynamics and Bodywork
The car's downforce is regulated by increasing the rear wing angle in the setup menu. Simply, the higher the angle, the higher the downforce.
It's tempting here to run high downforce everywhere because of the excellent grip levels it provides, but this comes at a cost: increased drag.
Depending on the type of track, it's vital that you find the balance between good levels of grip and high enough top speeds. It's pointless having a car that quick around a few corners, but you're a sitting duck on the straights.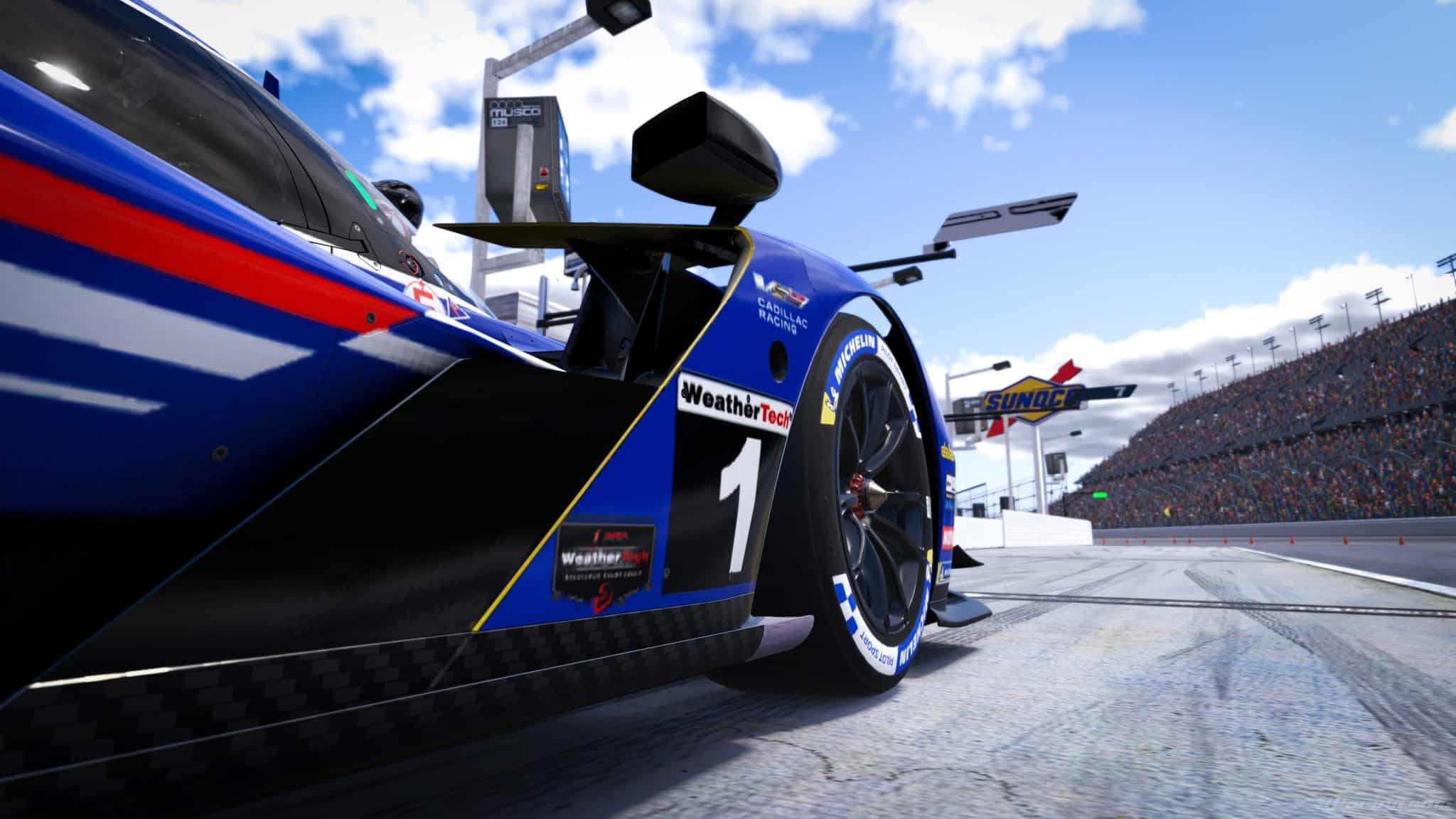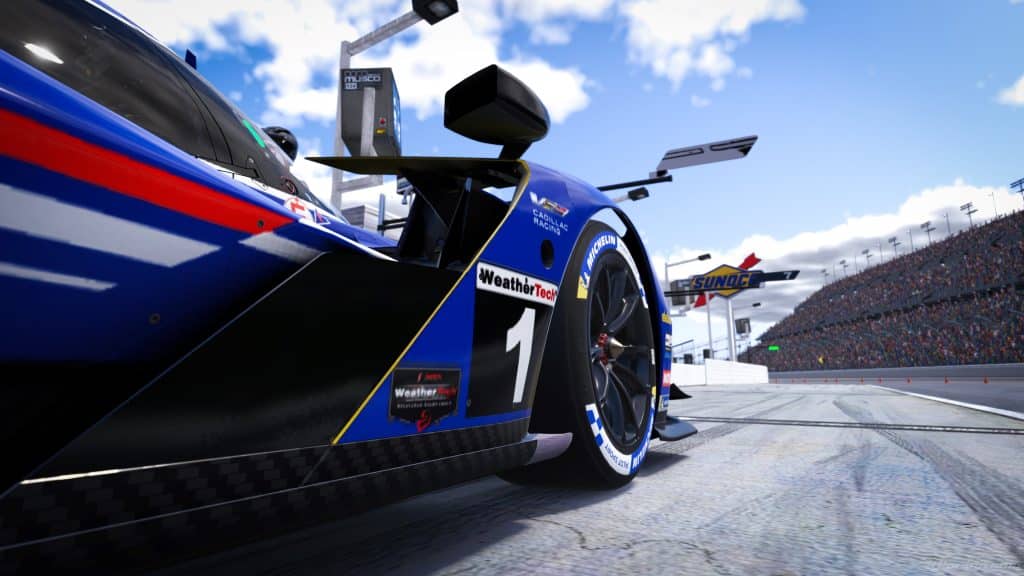 The car also uses a third spring at the rear and a heave spring at the front that can help with improving the behaviour of the car during vertical loads.
Stiffening the front heave spring can help control the ride height and improve aerodynamic performance
Over-stiffening it can cause the car to bounce too much on bumpy surfaces.
Generally, you should be able to stiffen these springs more on smoother tracks like Road America and soften them on bumpy tracks like Watkins Glen.
To help you find the perfect balance around each track across the entirety of an iRacing season, Coach Dave Academy's iRacing Setup Subscription provides you with new setups and data packages every week.
Power delivery and Braking
The 5.5L V8 engine produces 505kW of power and a massive 630Nm of torque whilst maxing out at 8770rpm.
Despite all of this power, the car feels very responsive and predictable right across the rev range. The only time it may catch you out is when you overheat the tyres by trying to over-rotate the car under aggressive braking or if you push too hard, too quickly on cold tyres, especially in very slow corners.
Due to the lack of turbochargers present in the Cadillac V-Series.R, power comes more progressively than in the BMW M Hybrid V8, making it more manageable on traction as a result.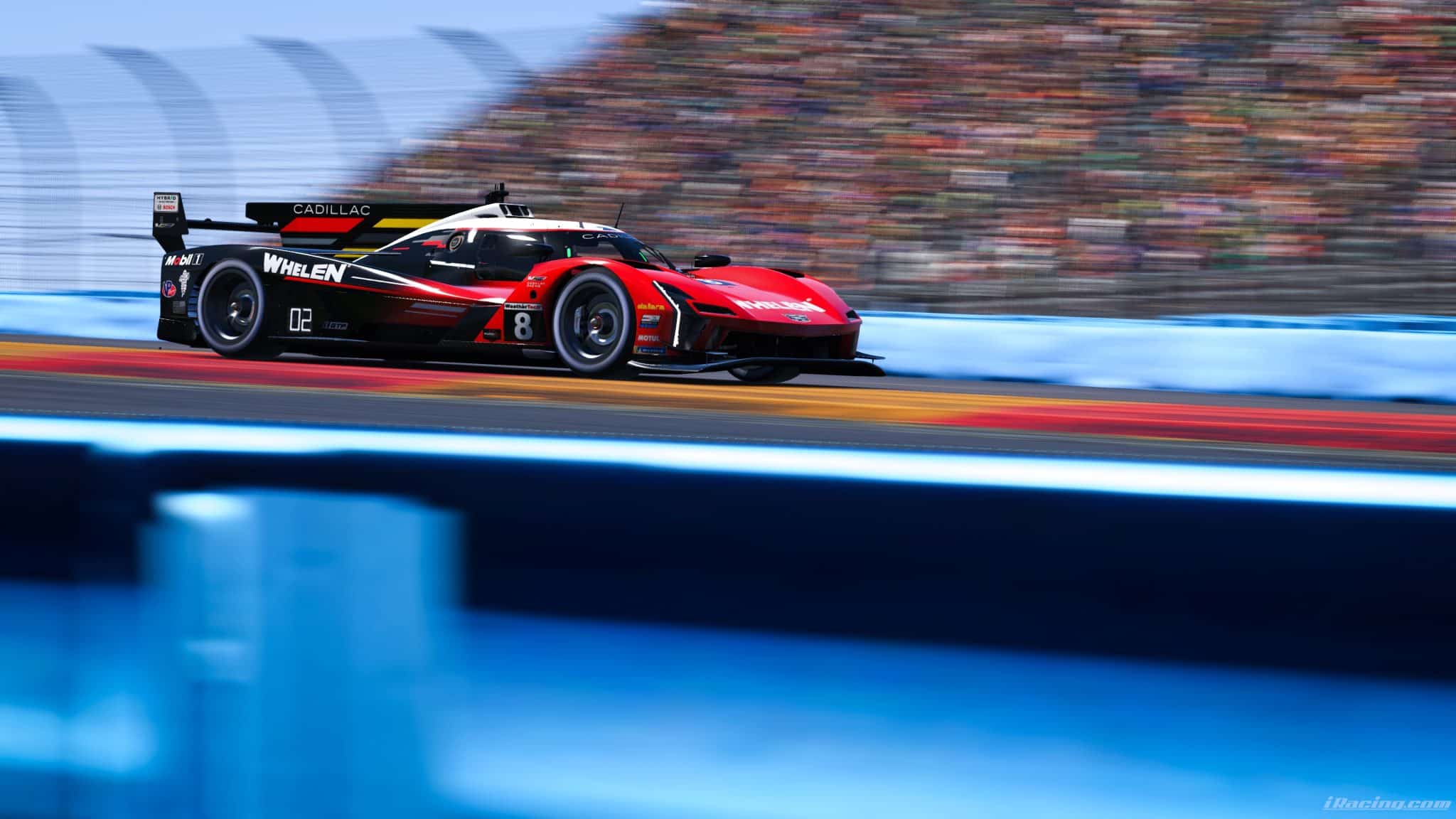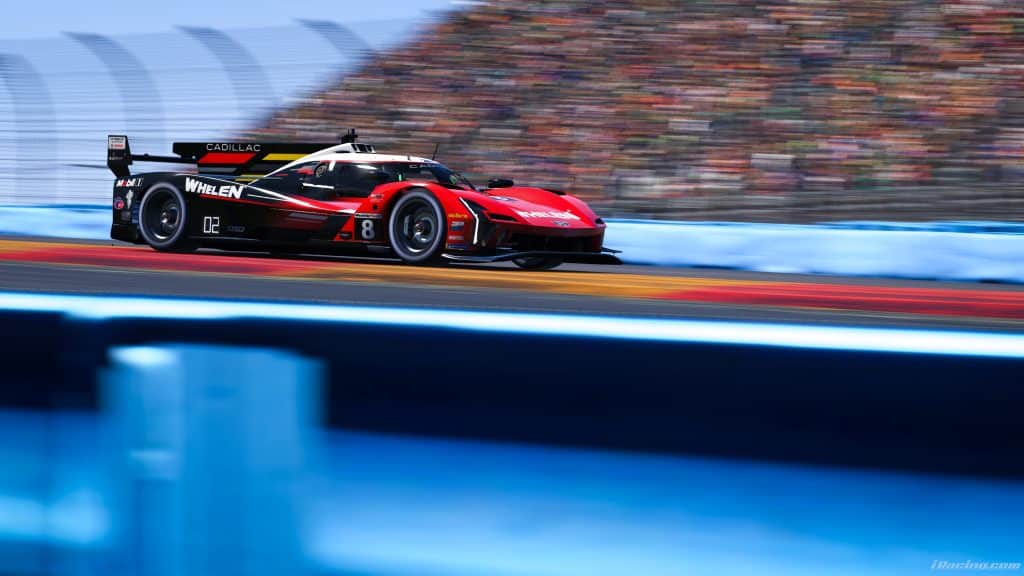 Meanwhile, on the brakes, the V-Series.R can seem difficult to get right due to its lack of ABS (Anti-lock Braking System), which is a dynamic you may already be familiar with from other cars such as the Dallara F3, or the Dallara P217 – both of which you can pick up setups for now as part of our iRacing Setup Subscription.
However, there are multiple tools within the setup menu to help you out:
You can change the brake compound from High to Low, with Low offering less braking performance which can improve driveability
Front and rear master cylinders can be changed in size primarily to provide more or less brake line pressure, making the brakes feel snappier at smaller sizes and vice-versa
Brake bias allows you to change the distribution of brake pressure between the front and rear of the car
Brake migration can move the car's brake bias forwards or rearwards as braking continues
Still struggling to get the hang of the Cadillac V-Series.R? Why not consider a coaching session with one of Coach Dave Academy's professional drivers?
Electronics
Whilst the V-Series.R may not have ABS – as mandated by the LMDh ruleset – it does have a variety of other electronic systems that you can fine-tune on the go.
Traction Control is available in both TC A and TC B forms, and we suggest that you map the adjustment of these systems to your steering wheel to allow for in-race adjustments as the fuel burns off, the tyres wear, and the track rubbers in.
Alongside Traction Control, five modes are available for deployment/regeneration of hybrid power:
No Deploy which is used to charge up the battery in Qualifying and Practice
Balanced Mode which is recommended for the majority of the race because it keeps your battery's SOC (State of Charge) stable
Attack Mode which quickly drains the battery to give you more power, but is therefore only recommended in short bursts for overtaking
Qualifying Mode which is used for maximum battery deployment for one or two laps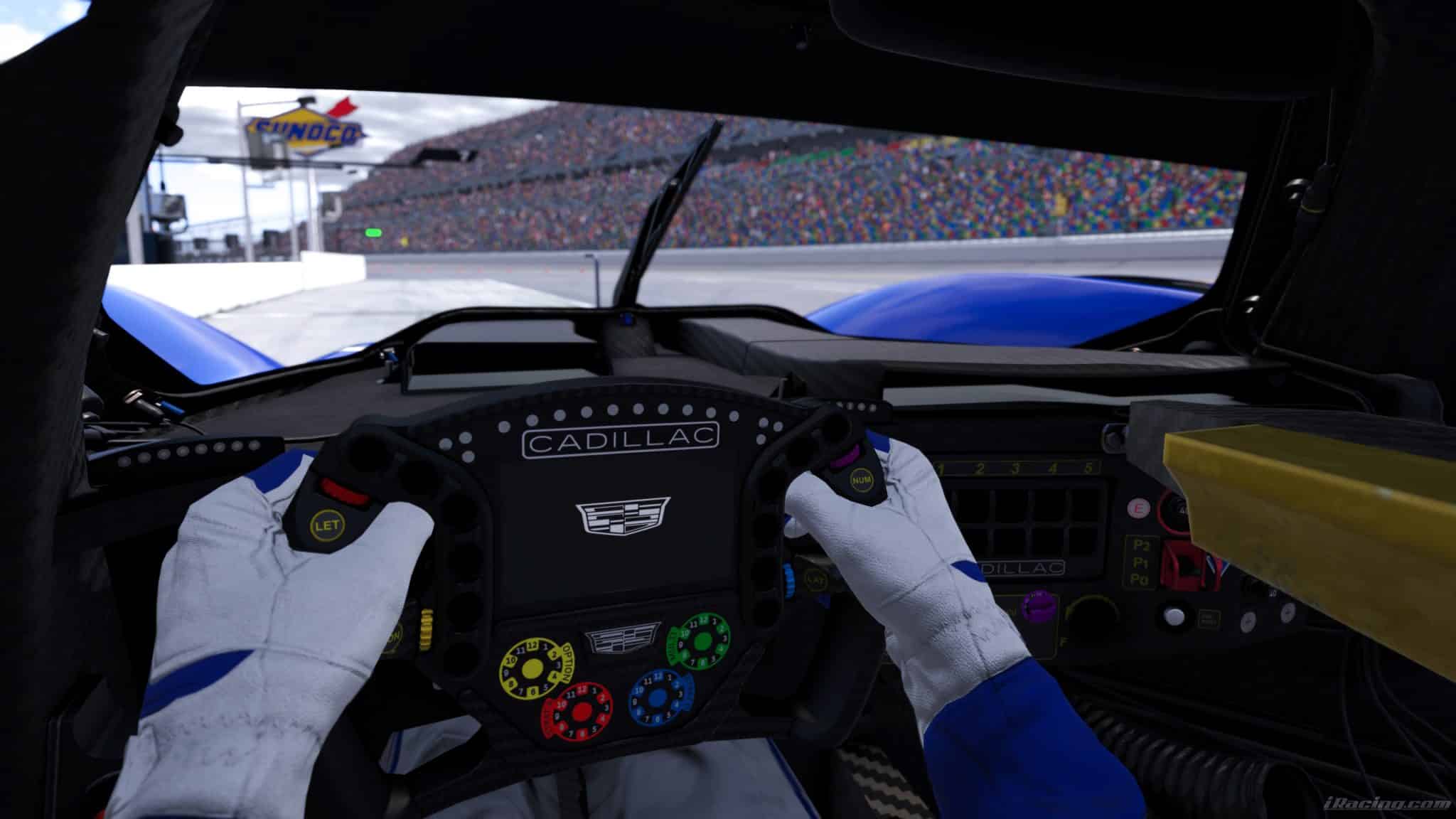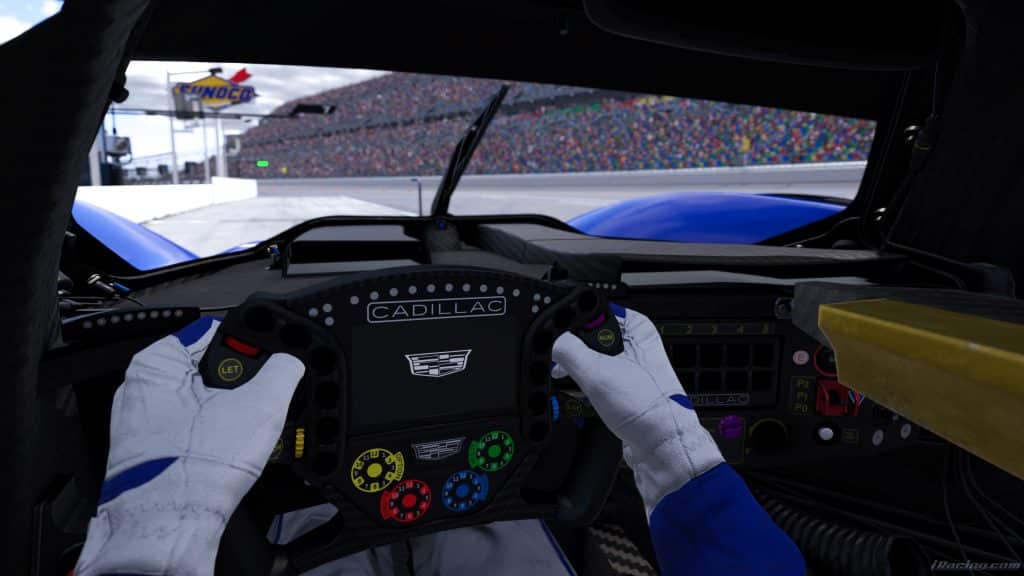 How you manage your hybrid deployment and exploit its various modes will be crucial to your success on the track. Remember, you can only change your battery's deployment mode four times during one lap.
It must also be noted that Attack Mode will not only discharge the battery very quickly, but force the Energy Recovery System to attempt to regenerate this lost energy over the next lap or two, resulting in a potentially large loss in lap time.
You can use Build Mode here to help recover energy quickly, but this must be managed carefully to prevent further time loss or a drop in track position.
Final thoughts
The Cadillac V-Series.R sounds amazing and handles impressively well. However, it will need a little bit of effort early in the learning process to understand its behaviour on cold tyres, how to maximise ERS regeneration and how to really maximise its grip through low-speed cornering.
Nevertheless, the car is then very rewarding to drive, with fantastic feedback and the feeling of buckets of power and grip.
The Cadillac V-Series.R may be based on the same chassis as the BMW M Hybrid V8, but we can assure you that it's a very different animal that you'll find to be exceptionally rewarding once you've tamed it.