Today we have a very exciting announcement to make at Coach Dave Academy, as we are proud to announce that we have partnered with the data analysis tool Popometer, founded by Nils Naujoks.
Why Are We Doing This?
Having used Motec software since our inception for our customers, we appreciate that for some people, it can be a daunting and overwhelming application to operate when trying to understand where and why you are losing time compared to our reference lap times.
This is where the Popometer data analysis tool comes into its own. Instead of a plethora of custom maths channels or endless data traces, the Popometer interface blends large data trace graphs with a physical racing line that showcases your inputs in an easy to digest format.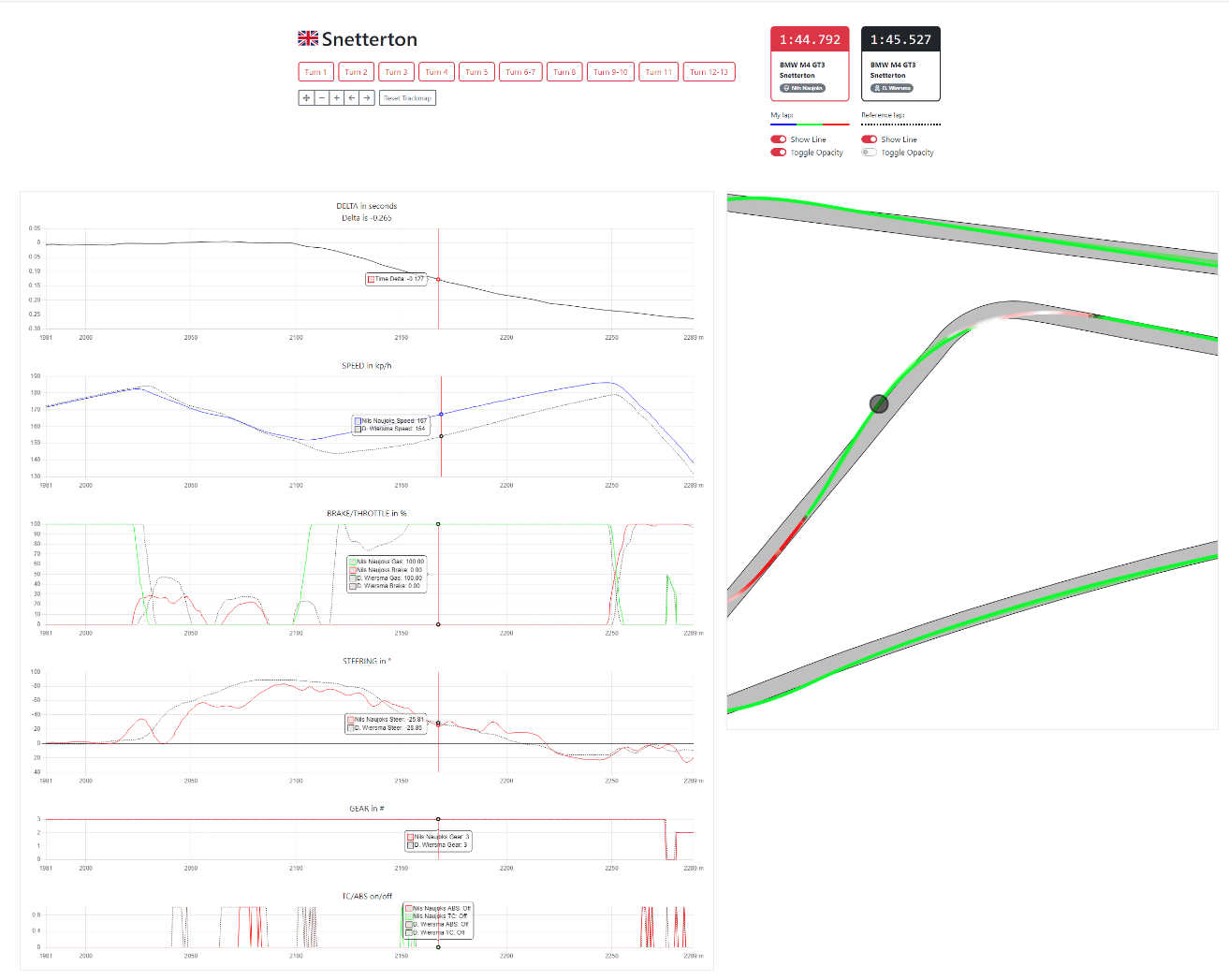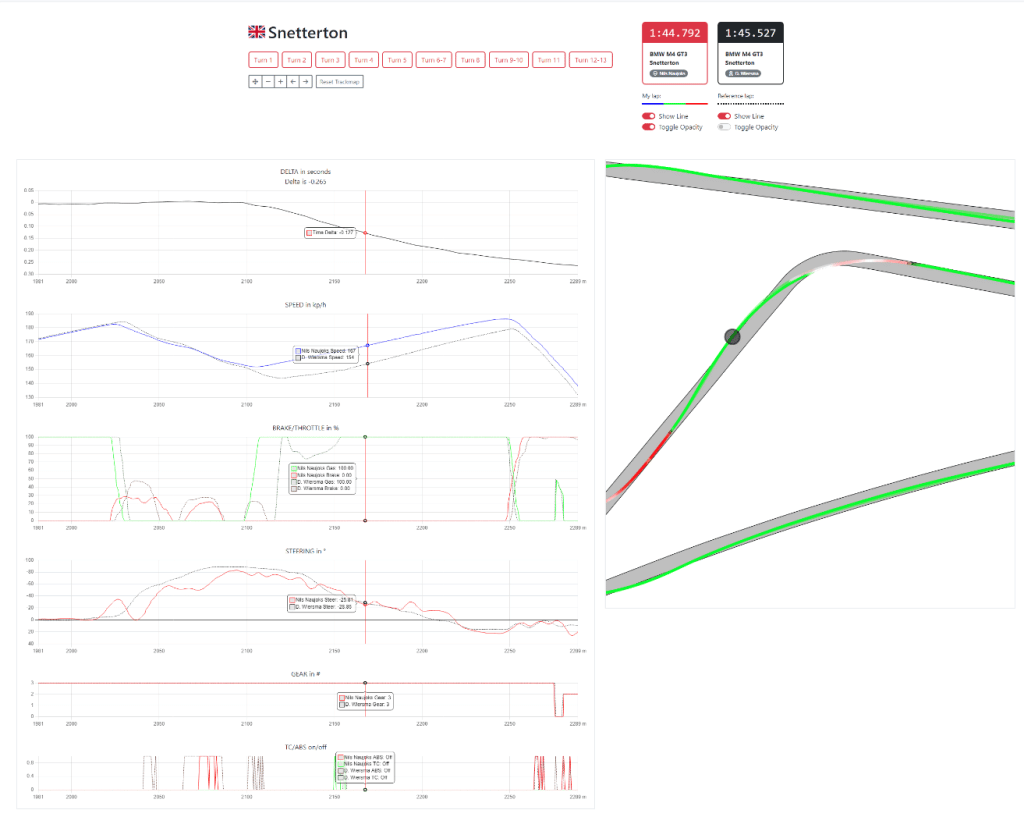 We appreciate that for some people, this is a much more intuitive way of analysing your data from Assetto Corsa Competizione, and that some of our customers may already use the Popometer tool to analyse their own laps.
What Does The Collaboration Offer?
From today, Coach Dave Academy will be offering the data runs from the sessions we complete for every setup we create, on Popometer, for you to compare and analyse against. This is a separate addition available to all customers, where the very same data laps we save in Motec can now also be viewed in Popometer.
For existing customers, nothing changes for you from our normal offerings through the bundles or the subscription. This is an additional feature that you have free choice of subscribing to on Popometer if you wish to use the Popometer tool instead.
As you can see from the below image, Coach Dave Academy now has its own profile page and Popometer subscription service, where if you wish to, you can subscribe and have access to our data for all completed car packages.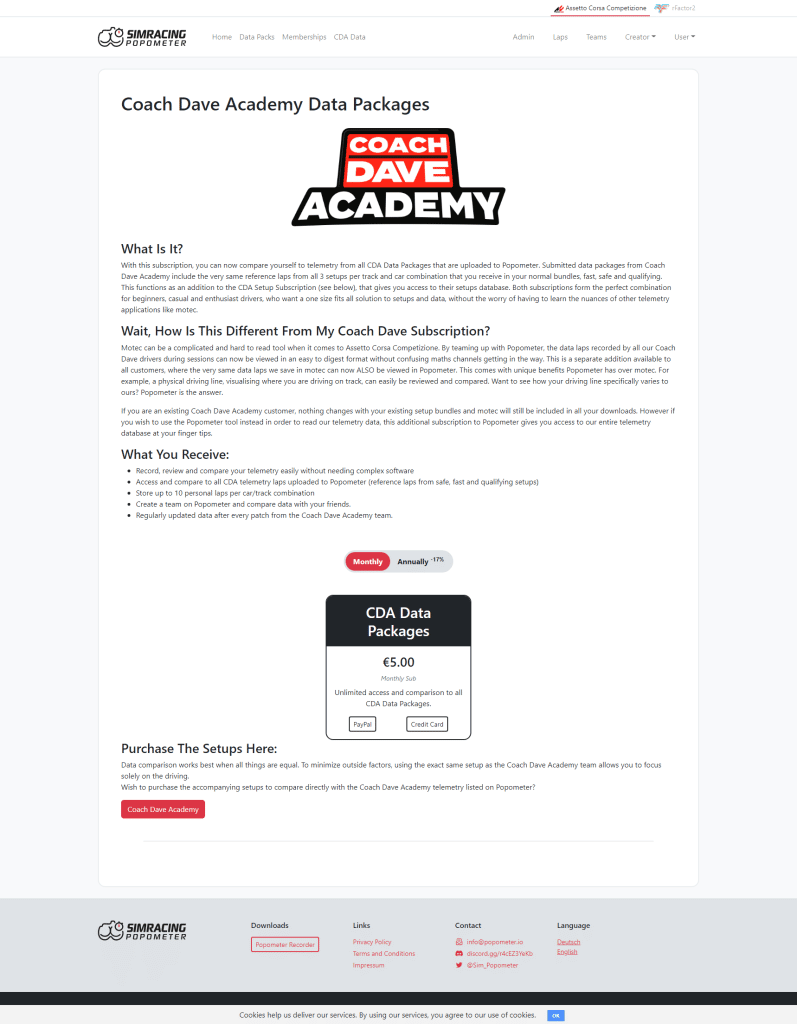 At a glance the benefits are:
Record, review and compare your telemetry easily without needing complex software
Access and compare to all Coach Dave telemetry laps uploaded to Popometer (reference laps from safe, fast and qualifying setups)
Store up to 10 personal laps per car/track combination
Create a team on Popometer and compare data with your friends.
Regularly updated data after every patch from the Coach Dave Academy team.
Subscribe Here
Subscribe to the Coach Dave Academy Popometer Subscription right here:
How Do I Find Out More?
An excellent question and one we are happy to answer. If you are interested in this new partnership and how it could benefit you, we have created an in depth blog explaining this new exciting chapter, and what you can expect to receive from getting a Coach Dave Academy Popometer subscription right here:
Have Any Questions?
If you have any questions about Popometer after reading this, or want to speak to one of the team, head over to our Discord: