This week at Coach Dave Academy we start to release tracks for the Honda NSX GT3 EVO bundle, a chance to revisit our latest livestream, as well as a reminder about our latest new setup companion app which can be downloaded on the Coach Dave Academy website.
Honda NSX GT3 EVO "2" Updates Started
This week, our first batch of updated setups have been completed which means you can now experience fast and safe variants of the Honda NSX GT3 EVO from Coach Dave on 8 different tracks.
As discussed, these setups are new baselines and will be broken down into two categories. What you receive in your new bundle is as follows:
Fast – aimed at producing the fastest lap time the driver was comfortable doing.
Safe – A consistent race setup that should provide a safe baseline to use for almost any driver.
Qualifying – A low fuel variant of the fast setup aimed at producing the quickest lap time.
Motec data for the setups included in the bundle.
So what circuits have been completed so far and are ready for download?
Tracks Released So Far:
Imola
Misano
Paul Ricard
Zolder
Brands Hatch
Snetterton
Silverstone
COTA
The first batch of notes for the 8 tracks have also been published for the Honda NSX, you can find them right here with this link:
What's Next?
The following is the release list we are working from for GT3 updates in V1.8.
Mercedes – Done
Audi – Done
Porsche – Done
Honda – In Progress
Aston
BMW
Bentley
Ferrari
How To Download
You can access these setups for both cars multiple ways:
Through the Delta app
In your download area on the website
By redownloading the tracks with your owned bundle package
Coach Dave Pitlane Returns
I want to thank everyone who attended our first Q&A session codenamed "Coach Dave Pitlane". It was a great hour long chat with everyone and we are returning this week for episode 2 on Friday. 
Did you miss out last week and want to get involved? Then read below to find out how you can attend…
How does it work?
This will be a weekly Q&A session that happens EVERY FRIDAY at 5pm UK time within the Coach Dave Discord. It will last 60 minutes and will cover customer queries. You NEED to have the Assetto Corsa Competizione role on our Discord channel
The session will be split into 2 areas. The first will be an open talk from us, summarising the work we have actively done on each of the releases so far.
This will generally span 10 minutes per car where we discuss 3 things:
What we've found when testing each car in regards to their requirements.
What we've changed on the setups compared to the previous versions.
Why we've changed what we've done on each car.
The cars we will be discussing are:
Mercedes AMG GT3 EVO
Audi R8 GT3 EVO 2
Porsche 991.2 GT3R
Honda NSX GT3 EVO 2
The remainder of the session will be an open stage for people to raise subjects they want to discuss with us. We've set it up to be a voice channel where people can request to talk, you can find that channel right here in the Discord:

Not a member of our Discord yet? Join here with this link:
Latest Setup Livestream
Our latest livestream happened a couple of weeks ago on Assetto Corsa Competizione. Focussing on the latest Audi R8 EVO 2 release, both Jakob Ostermann and Saiduth Ramesh went and tackled Mount Panorama in the car to produce the latest fast and safe variant setups.
Did you miss the chance to watch the livestream? If so, where were you?!
Have no fear, the full livestream can be viewed right here below:
A new livestream based on the Honda updates will be release next Wednesday, stay tuned to watch that as the team tackles Paul Ricard.
Coach Dave Delta Receives An Update
I want to thank everyone who has given us feedback regarding our new beta app "Delta". We have been working hard to quash bugs and small issues that customers have been facing. Alongside that process, I am happy to report that small quality of life features are also being added.
As of this morning, update 0.9.3 was released that brings the following changes:
NEW Setups you've already installed are now marked by a green tick icon
NEW You can now see which setups have been updated (since you last installed), they're marked by a blue update icon
FIX download usage being consumed even if you have previously installed that same setup before
These new last uploaded/last updated icons will now be visible in the Delta app and look like this on your main Dashboard: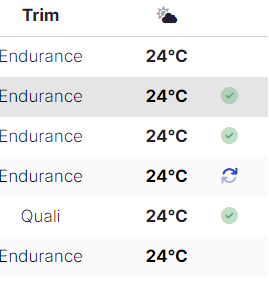 Haven't downloaded Delta yet?
Download the new app for free and find out more about Delta here: https://coachdaveacademy.com/delta/
Want to know how to install Delta?