👉 You must be a setup subscriber to use Delta
Coach Dave Delta is an application that makes it super easy to install and manage your ACC and iRacing setups. As well as check your MoTec data, replay files, lap files, hot lap videos and more.
In order to use the app, please follow these instructions:
Step 1: Purchase Delta
In order to download and install Delta, you need to be a Coach Dave Academy setup subscriber. To become a subscriber, please follow the link below:
Once you have subscribed, please log in to your account and revisit this tutorial page from your account dashboard.
Step 2: Download the App
Thank you for becoming a subscriber!
To download the Delta App, simply click the download button below and wait for the zipped file to get added to your downloads folder on your PC.
Step 3: Install the App
The next step is to unzip the file, you will see a .exe file appear. Install that file to your PC, ideally installing it to your Desktop or Program Files folder.
Step 4: Activate your Account
After installing Coach Dave Delta, simply open the app and then follow the instructions to connect your account.
Please note: you need a valid Coach Dave Setup Subscription in order to use the app.
The first time you open the app, you will be presented with this screen.
Login with Discord
Connect your active Discord profile to the app in order to log in.
Connect your Coach Dave Account
After logging in with Discord you will be directed to your profile screen on Delta with a button to link your Coach Dave Account.
Once logged in via Discord, you need to connect your Coach Dave account.
Click the Link Account Button
You will be redirected to the Coach Dave Academy website
Enter your account login details that you use for Coach Dave Academy
Make sure it's the same account details as your Coach Dave Subscription
Click Login
If successful you will be redirected back to the Delta App
Login to your Coach Dave Account to complete the account connection.
Step 5: Installing Setups
There are two ways to install your setups using Delta for both ACC and iRacing:
Auto-install: Automatically detects the session you're in and which car you've chosen, and then automatically installs the setups for you.
One-Click Install: Displays a list of all the setups created by Coach Dave Academy which you can then click on to install to your machine.
ACC Auto-install example
iRacing Auto-install example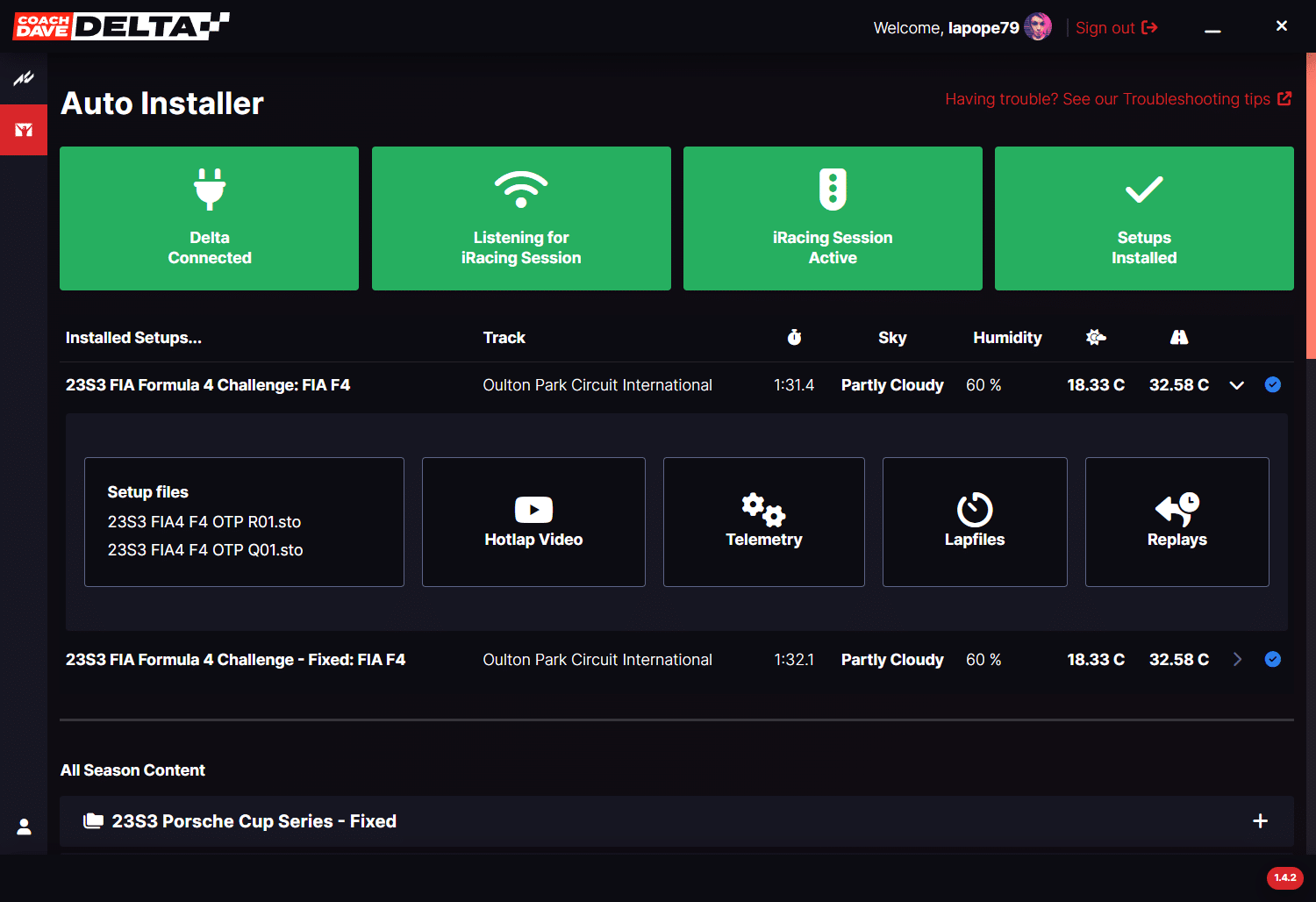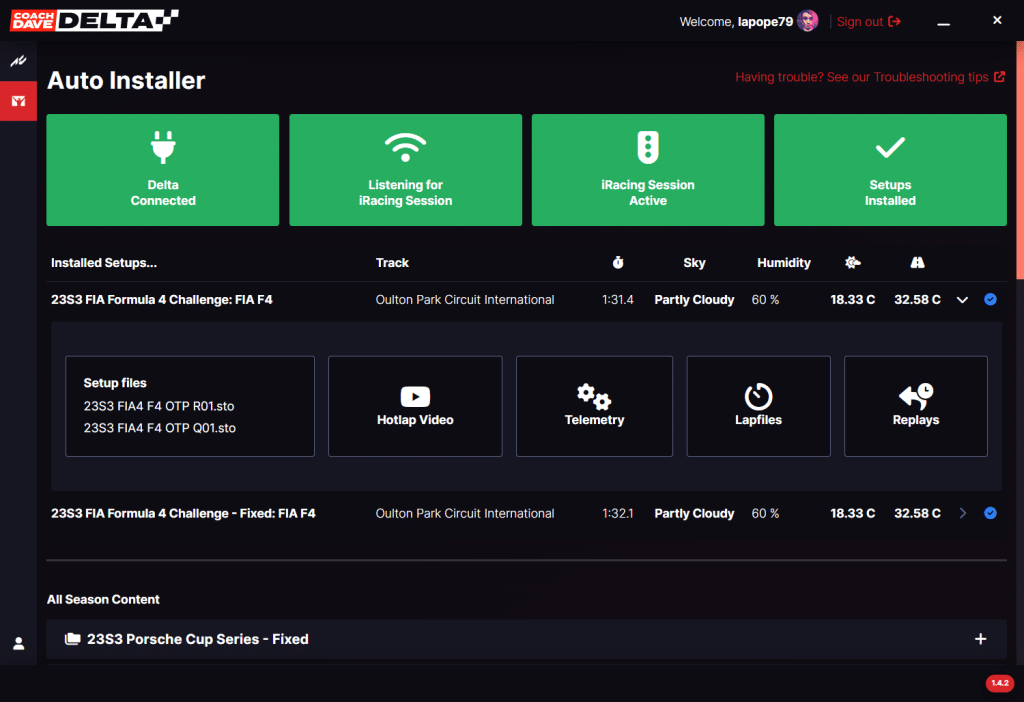 Auto-Install System Tutorial
ACC Tips For Auto Install
Open Delta.
Connect your setup directory. Example: (C:\Users\James\Documents\Assetto Corsa Competizione).
Jump to the auto-install homepage.
Leave the app running and start up ACC.
Join any ACC session with your favourite car/track combo.
Press the load/save button on the setup screen and wait a couple of seconds.
Click off and back on and the setups will have loaded into your folder for you.
Things To Take Note Of
We have seen instances where certain Anti Virus software or VPNs have interfered with the Delta connection to ACC. Make sure you make an exception for the Delta app with your AV software and disable your VPN.
Sometimes the app can drop connection, you can reset this by doing a ctrl+shift+F5 master refresh.
iRacing Auto Install Steps
Open Delta.
Navigate to your profile page on the main interface.
Click on the "connect iRacing folder" button.
Connect your MAIN iRacing folder (not your setups folder) normally situated in your documents folder.
Jump to the auto-install homepage.
Leave the app running on the iRacing tab and start up the iRacing UI.
Join a server with content that we support with our season content schedule.
That is all that is to it, it really is that simple.
Having Trouble?
If you're ever stuck or have any questions, please join our Discord Community, where our team will help you find your way.