Well-known for their Liquid Cooling solutions, Asetek's SimSports arm is a force that is ever-growing on the sim racing market. With a variety of Direct Drive solutions on offer to customers, something that you can read more into with our Guide to Direct Drive wheels, Asetek is staking its claim in an ever-expanding roster of competitive and excellent sim racing brands on the market today.
Bundles
Each of Asetek's three bundles comes with a Direct Drive Wheelbase, a Steering Wheel and a set of Pedals. However, what's included in each one varies greatly.
Their entry-level offering is the La Prima™ Bundle. At a list price of just over €1000, it boasts 12Nm of peak output with a Formula-style wheel and a two-pedal solution. With a sleek design and a nice and compact layout, it is arguably a direct competitor to the Logitech G Pro wheelbase that we have featured in our list of the Best Direct Drive Wheels on the market today.
At about €1700, the Forte® S Series Bundle is the next step up. With an independent throttle and clutch, extra inputs on the steering wheel, and featuring an increase to 18Nm peak output, it pits itself against the Moza R19 we explored more in our In-Depth look at Moza Racing.
The top-line bundle is the Invicta™ Bundle. Starting at around €2300, or going up to just over €2400 for the enhanced S Series, it carries the same steering wheel as the Forte whilst also clocking in at a whopping 27Nm of peak torque and a high-quality set of pedals that will rival many specialist brands.
Wheelbases
What's really handy about Asetek's lineup is that the different ranges in their ecosystem all share the same name. This means that, much like with the bundles we've mentioned, the ranges of wheelbase increase gradually.
La Prima™ is an entry-level offering with 12Nm of peak torque. This makes it an excellent option for someone looking for their first Direct Drive wheelbase. The reason for this is two-fold – firstly because it offers a good output whilst not putting you at greater risk of injury and secondly because it makes it pound-for-pound very competitive compared to both independent rivals like Moza Racing and mainstream rivals like Fanatec. However, it is only available as part of a bundle at about €880.
The Forte® is the next step up. At 18Nm, it's a step up from La Prima and comes in at the same price at just over €880. This would be an excellent option to pick if you're looking for something serious, or if you're looking for a rival to the higher-end options that the likes of Simucube have on offer.
And the top brass, of course, is the 27Nm Invicta™. Starting at almost €1,300, this is the option for the die-hard sim racers. It's only the specialists that can compete with the force of this unit, and even then it's hard to find a rival that competes as well as the Invicta™ in terms of bang-for-buck power.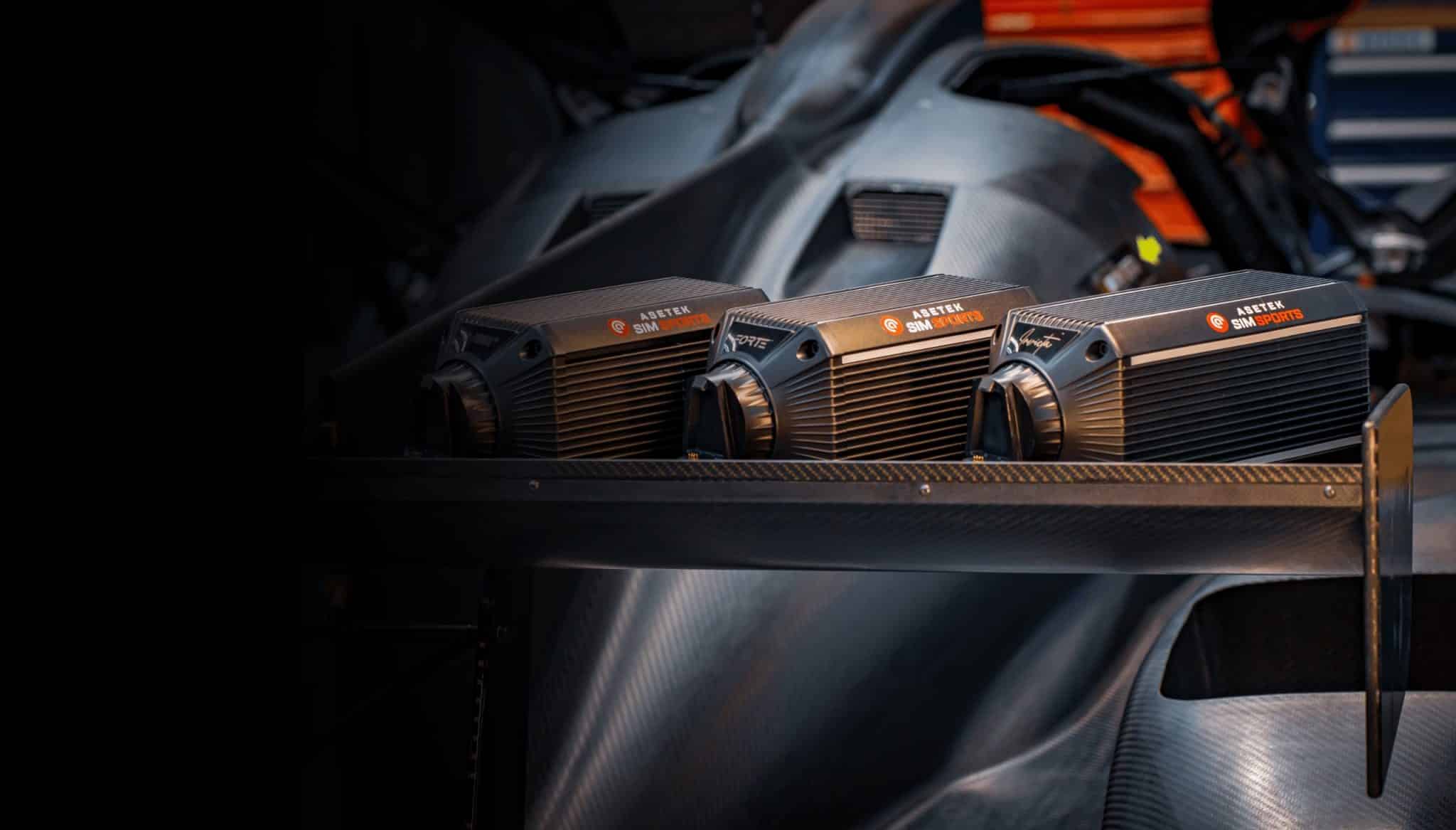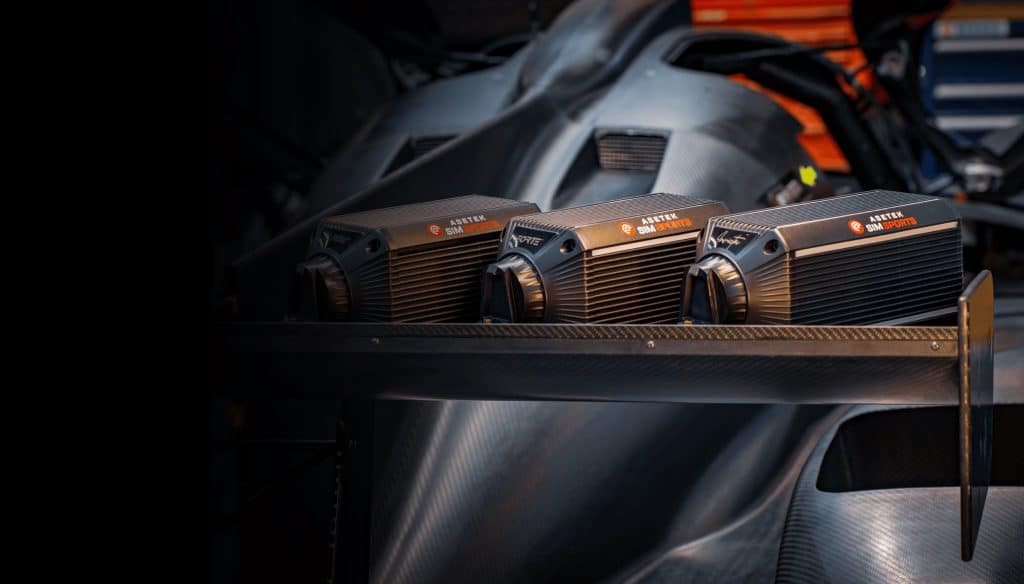 Steering Wheels
As of right now, Asetek SimSports have two wheels on offer.
La Prima™ is only available as part of a bundle with the wheelbase of the same name, whereas Forte® is available as a standalone wheel at €550. Where Forte builds on La Prima is in the electronics, as both have the same base Formula-style design. It adds on 4 further rotary switches, two multi-directional switches, and further LEDs around each of the buttons as well as on other parts of the wheel.
This is an excellent addition for someone who races GT racers or Prototypes, as these lights will be useful in showing when Traction Control and Anti-Lock Brakes are getting triggered. They are a worthwhile addition if you are looking at setting up a long-term solution or if you're looking at a new sim racing wheel as a standalone.
Pedals
Asetek's pedals are designed with upgradability and longevity in mind. From the entry-level La Prima solution, you can upgrade to the Forte and Invicta solutions with just few adjustments. Not only that, but even at entry level you have an adjustable set of pedals that can be tailored to your liking.
Higher-end solutions come with a hydraulic brake cylinder, mimicking the feeling that you get from a real-world brake pedal. Each pedal set can also be upgraded with an additional clutch, an excellent investment for sim racers who like to race with an old-style H-pattern gearbox.
In addition to the excellent products already offered by Asetek, they also carry one product that is unparalleled by other brands. That's the Asetek SimSports® Pagani Huayra R Sim Racing Pedals. Available for about €840, these carry official Pagani branding as well as the design made famous by one of the posterchild hypercars on the market. The ultimate component for any sim racing petrolhead, it leads the way when compared to most of its rivals on offer today.
Accessories
The accessories that Asetek offer are, in some cases, more extensive than many other brands out there. Whilst some products, such as face plates for pedals, are items that you would often see other brands offering for their solutions, others such as a Steering Wheel Wall Mount are options that you would wish to see offered by rival brands. And, clocking in at a relatively modest €12.60, it's an accessory that looks good and doesn't break the bank doing it!
Another product that you'd rarely see anywhere else is a footrest. However, Asetek offers their Invicta™ Throttle Footrest in two sizes from €33. At such a low price, this add-on could be a worthwhile accessory if you're looking for somewhere to put your feet during lengthy stretches of endurance races. It could also be a good solution for the casual driving games enthusiast, allowing you to enjoy nights in games such as Euro Truck Simulator 2 without tiring yourself out from constantly resting your feet on the pedals.
Elsewhere, Asetek's options in apparel are exciting. The Invicta™ Sim Racing Boots, coming in at slightly over €84, will certainly put up with the rigorous strains and stresses of sim racing on industrial-level equipment. Elsewhere, the Asetek SimSports® Cap at €16.80 is a nice afterthought for the summer afternoons and deflects the glare if you so happen to sim race near a sun-facing window.