How to Choose a Sim Racing Wheel for PC
If you are in the market for a new sim racing wheel it's easy to feel like you are going around in circles when you attempt to research what wheel will be a good fit for both your system and budget. In this article, we'll make it a lot easier for you to find that perfect racing wheel, by breaking the wheels down into categories in order to make this more focused on what works for you.
Racing wheels may look the same on the surface, but every wheel on the market has a place and due to this, it can be difficult to compare wheel "A" with wheel "B" and so on. The best thing to compare wheels is by breaking them down into categories such as price, type, and skill level. Today, we will go through the types of wheelbases on the market and what they mean, followed by our recommendations for the best PC Racing Wheels on offer in 2023.
Wheelbase type
Wheelbases come in a variety of technologies such as; direct drive, belt-driven, and gear driven. These wheelbase types differ in price point and the performance that they deliver, which makes it difficult to compare one type to another as they are all targeted at a specific sim racer. For example, it wouldn't make sense for a new sim racer to spend the money on an expensive direct drive wheel when the investment wouldn't yield a corresponding improvement in their capabilities.
Direct Drive Wheelbase
This wheelbase type is the most powerful, most expensive, and preferred by many pro-sim racers. The wheelbase is exactly as it sounds, the rim is driven directly by a large motor that is capable of delivering large amounts of torque typically greater than 20Nm of torque with exceptional and unrivalled smoothness with no loss of detail thanks to the ability to interpret high-frequency force feedback information that isn't possible in the belt or gear-driven wheelbases.
A direct drive wheelbase is as close to a real steering wheel in a racecar that you can get as there is nothing in between the rim and motor that can dampen or alter the information that's being transmitted from the road wheels to your hands. As a result, you will know exactly what's happening with your car when driving at or near the limit.
While a direct drive wheel won't guarantee that you will be quicker, it does give you all the tools that you need to realize your potential in terms of car behaviour, so indirectly it's possible that you will be faster in time if you are more connected to your car.
Belt-Driven Wheelbase
There are many high-quality belt-driven wheelbases on the market that are designed with the average sim racer in mind that deliver performance ranging from good to exceptional performance for the price point. The reality is that the casual sim racer makes up the majority of the market and as such a corresponding amount of product are available to mere mortals or Aliens-in-training. Short of springing for a much more expensive direct drive wheelbase this route is much more reasonable for most casual to intermediate sim racers that are progressing further into the sport. The return on investment with a belt-driven wheelbase is much better as the cost is substantially lower in comparison to a direct drive unit.
The performance of belt-driven wheelbases has rapidly advanced in recent times with units that deliver significant amounts of force feedback that is smooth and detailed that some of these wheelbases perform similarly to more expensive direct-drive units. Belt-driven wheelbases are typically in the middle of the pack in relation to pricing.
Gear-Driven Wheelbase
These wheelbases are considered entry-level in nature and typically have smaller force feedback motors when compared to belt-driven units and as a result, they do lack some refinement and detail when it comes to how the force feedback is delivered. The motor is has a small pinion gear affixed to the output shaft that connects to a larger gear that's mounted on the spindle of the wheel. This is a simple way to deliver force feedback but it can be noisy and "notchy" for the user.
As expected this type of wheelbase is the least expensive, which makes it a prime option for a new sim racer to experience a higher level of immersion and control over the car. There are many competitive sim racers that use gear-driven wheels and enjoy the performance that they deliver. If you are new then this is the place where you will probably dip your toes into the racing wheel pool so to speak.
The Best Sim Racing Wheels for PC
Simucube 2 Pro
The Simucube 2 Pro is a direct drive wheel that is popular among several sim racing professionals and esports organizations. The Simucube 2 Pro delivers a substantial amount of torque (25Nm) via a powerful brushless motor, with ultra-low latency so that your inputs register when you need it the most. A quick-release hub that's compatible with a variety of wheels as well as the Simucube wireless wheel. The Simucube wireless wheel This feature eliminates the need to have a cord that dangles when you are steering. It also negates the need for pin connectors that may wear or break over time while swapping wheels. Simucube doesn't produce pedals so you'll have to source them separately. Simucube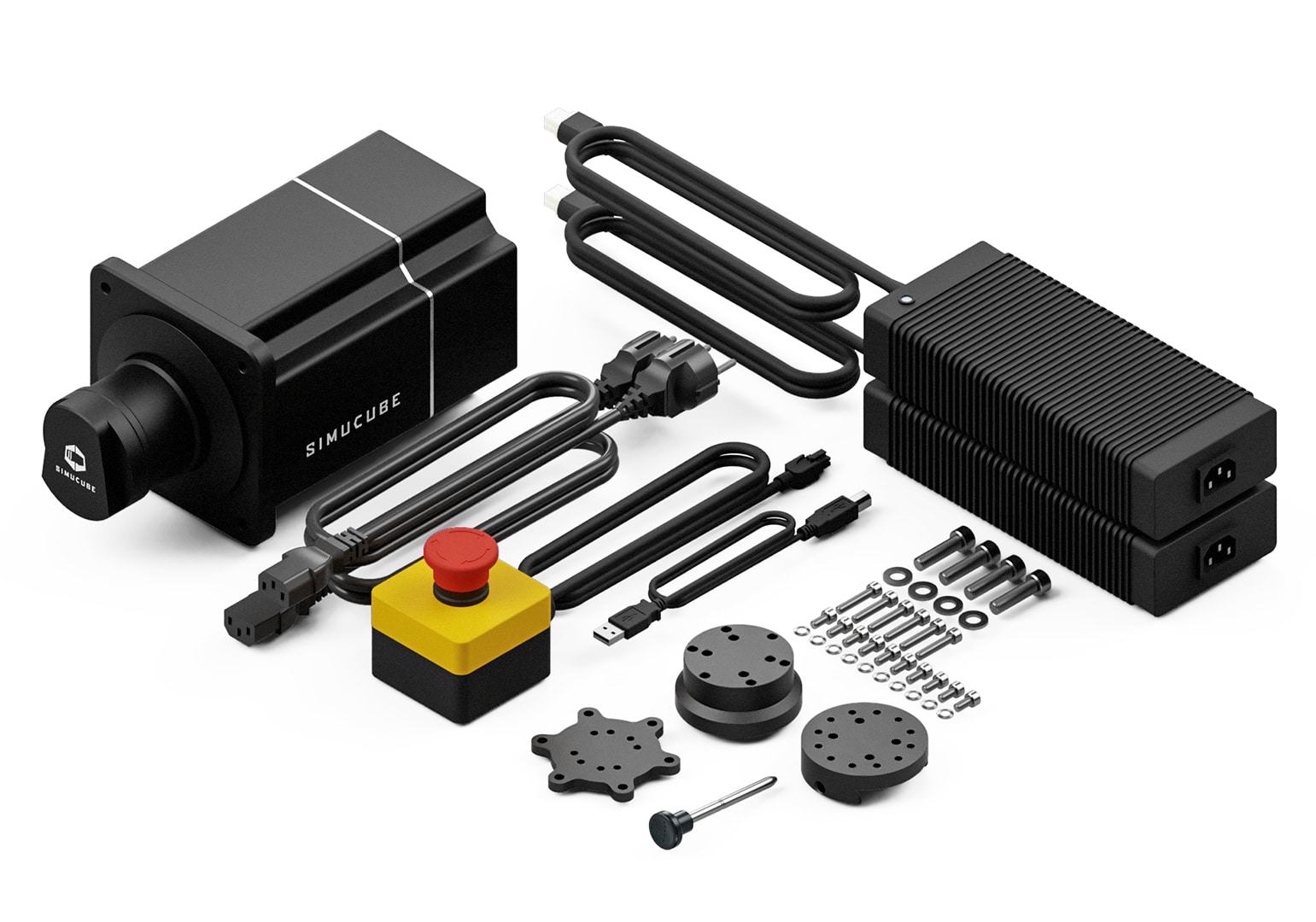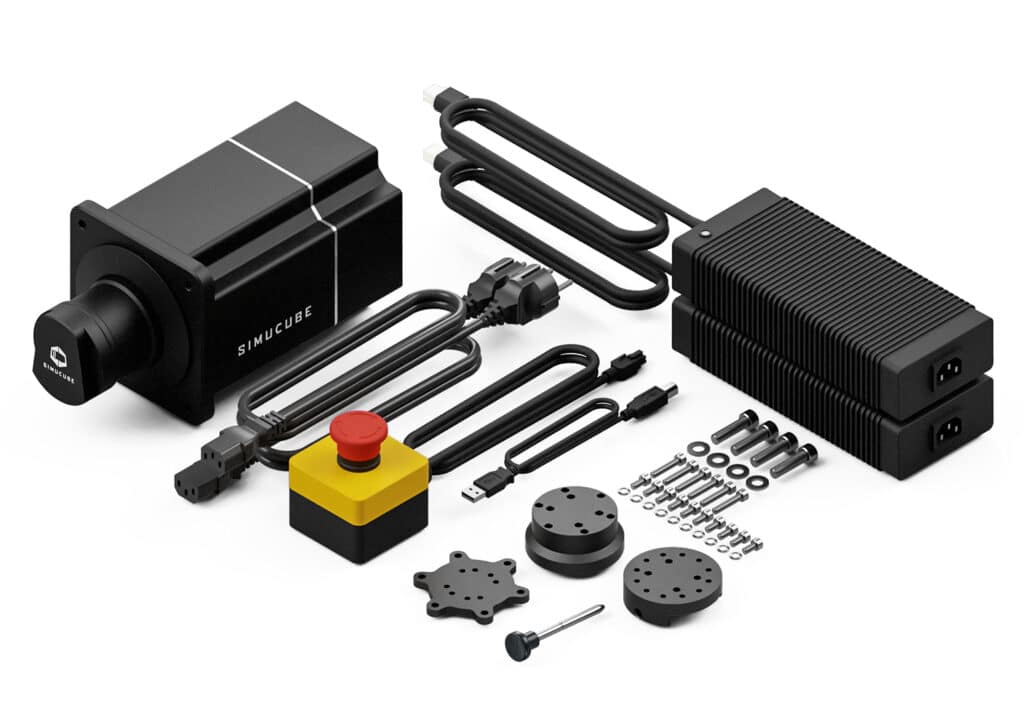 VRS Directforce Pro
Direct drive wheels are typically the most expensive wheelbase on the market due to the cost of the motor and components, however, VRS has decided to go against the narrative and make a direct force wheelbase that's fairly reasonable without skipping on the important bits. The VRS Direct Force Pro features a 400-watt power supply that powers a MiGE motor that generates 20Nm of torque. The Directforce Pro is the relatively new kid on the block and new accessories and updates are in the works for this wheelbase such as an optional mount that allows you to use the wheel of your choice with the Directforece Pro. Pedals must be sourced separately. VRS Directforce Pro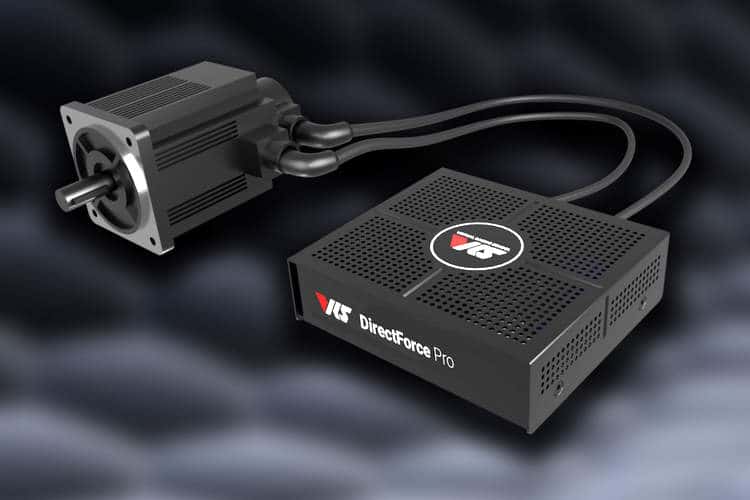 Fanatec Podium DD1
Fanatec is well-known for its quality sim racing products and the Podium DD1 direct drive wheelbase is no exception in terms of quality and technology. The Fanatec Podium is a plug-and-play proposition for the PC, which makes it easy to get up and racing for the first time setting it up and is fully compatible with all of the products in the Fanatec ecosystem. This means that if you have upgraded from one of their other belt-driven wheelbases you can retain the rims and/or pedals that you previously invested in.

The motor is capable of generating 20Nm of torque and has an unlimited range of rotation that is user adjustable and features a 400W power supply. The Podium DD1 uses a high-speed USB cable that has a 1000Hz update rate for lightning-fast response and low latency performance. The Podium DD1 features a small OLED screen that can display pertinent information such as FFB telemetry, clipping, and wheelbase telemetry. Pedals are sold separately. Fanatec Podium DD1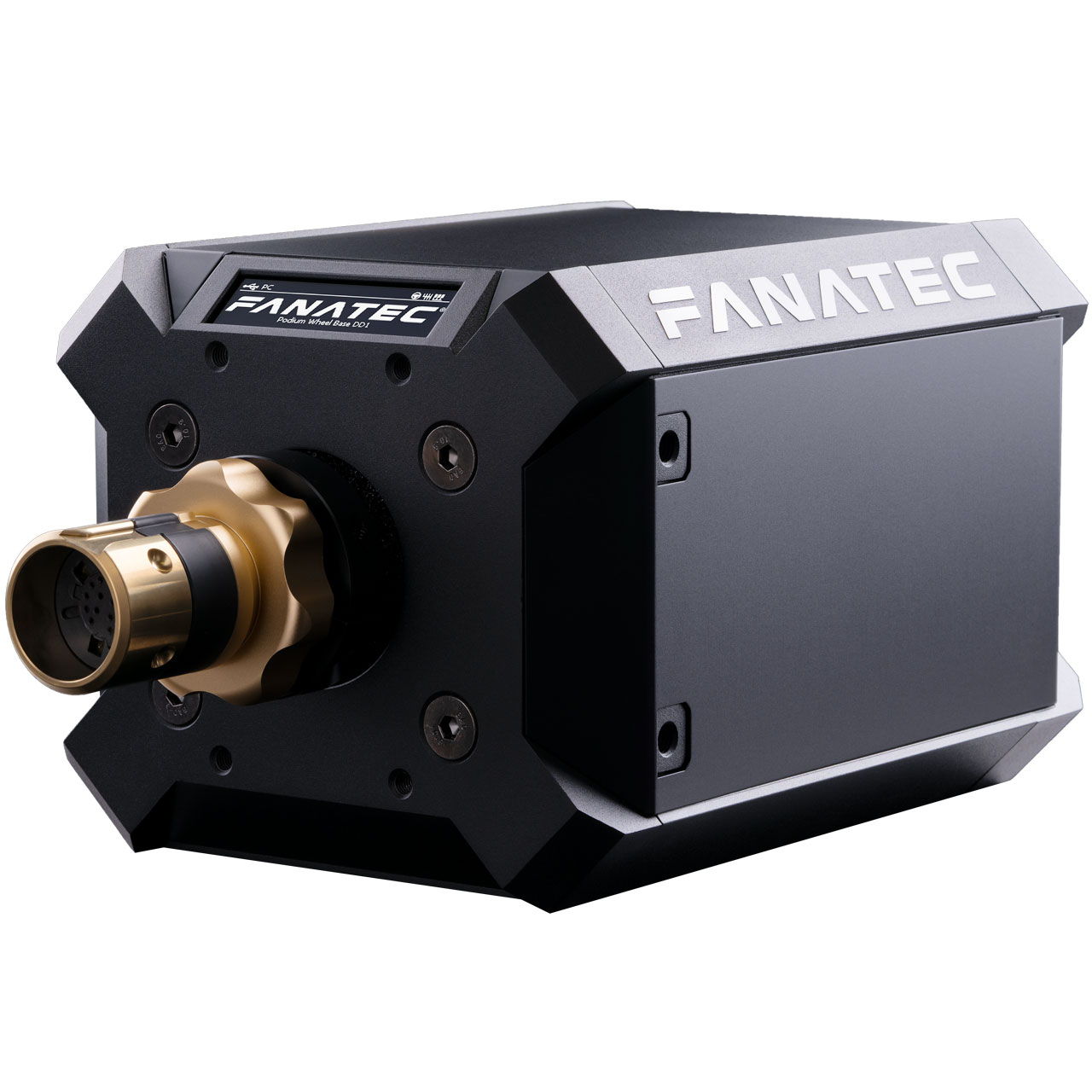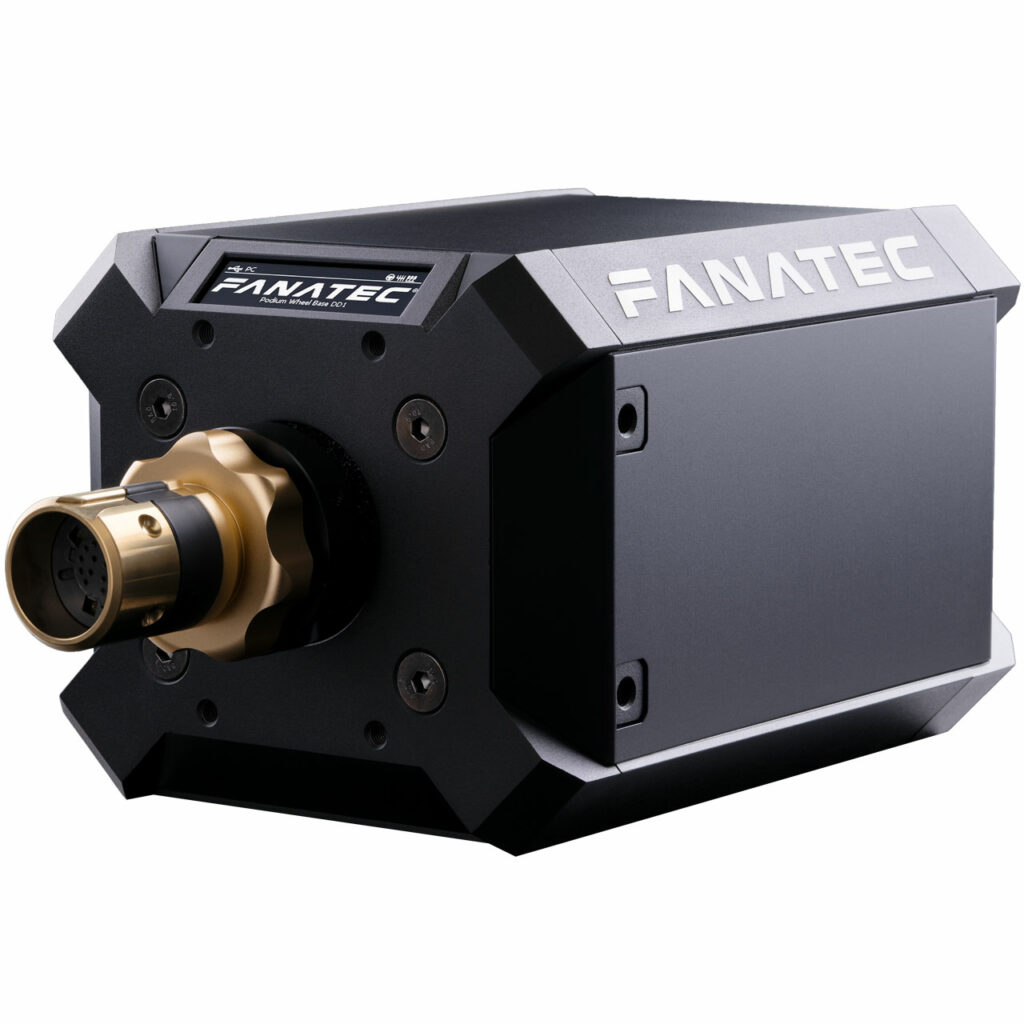 Thrustmaster TS-XW Racer Sparco P310 Competition Mod
The Thrustmaster TS-XW Racer Sparco P310 Competition Mod wheelbase is the wheel of choice for Pro and Amateur sim racers alike. The TS-XW shares the smoothness and detail that the more expensive T-GT wheel is known for. It also shares the same 40-watt brushless servo motor with motor cooling so no noisy fan is required. The motor drives a dual belt system and provides 1080 degrees of adjustable rotation and is responsible for the force feedback that Thrustmaster has been renowned for.

The centrepiece of this wheelbase is the Sparco P310 rim. The P310 rim is a 1:1 scale replica of the original D-shaped rim and is wrapped in genuine suede leather and is detachable. The rim features a pair of metal sequential paddle shifters, 14 mappable buttons, and a multi-position "hat" switch that can be used to navigate menus. Unlike the direct-drive wheelbases in the guide, the TS-XW comes with a set of T3PA pedals that includes the conical rubber brake mod for improved braking performance. Thrustmaster TS-XW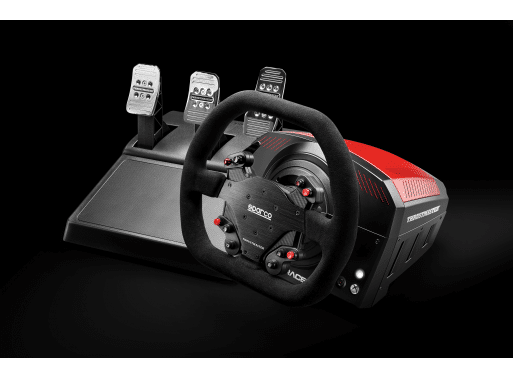 Thrustmaster T-GT
This is undeniably the best Thrustmaster wheel in their lineup and one of the smoothest wheels on the market in regards to force feedback delivery. Thrustmaster collaborated with Polyphony who are the developers of the Gran Turismo franchise for the Sony Playstation. It only makes sense to include this wheel as it's directly targeted at Gran Turismo drivers. There are several features of the Thrustmaster T-GT wheel that Playstation 5 owners will benefit from.
The T-GT wheel features T-DFB that adds an extra dimension of force feedback to the wheel but adding road, suspension, and vibration that's transmitted through the steering column that improves your immersion and lap times by knowing exactly what your car is doing while driving. This feature is exclusive to Gran Turismo Sport but the T-GT will perform brilliantly in other sims as well.
The 40-Watt brushless motor provides powerful and linear force feedback that is the best short of a direct drive wheel. The rim that's included with the T-GT features a variety of switches, rotary knobs, and a pair of thumbsticks that allow you to perform tasks such as custom livery design or photo mode without the need of the controller.
The T-GT also features 1080 degrees of rotation and a detachable leather-wrapped steering wheel.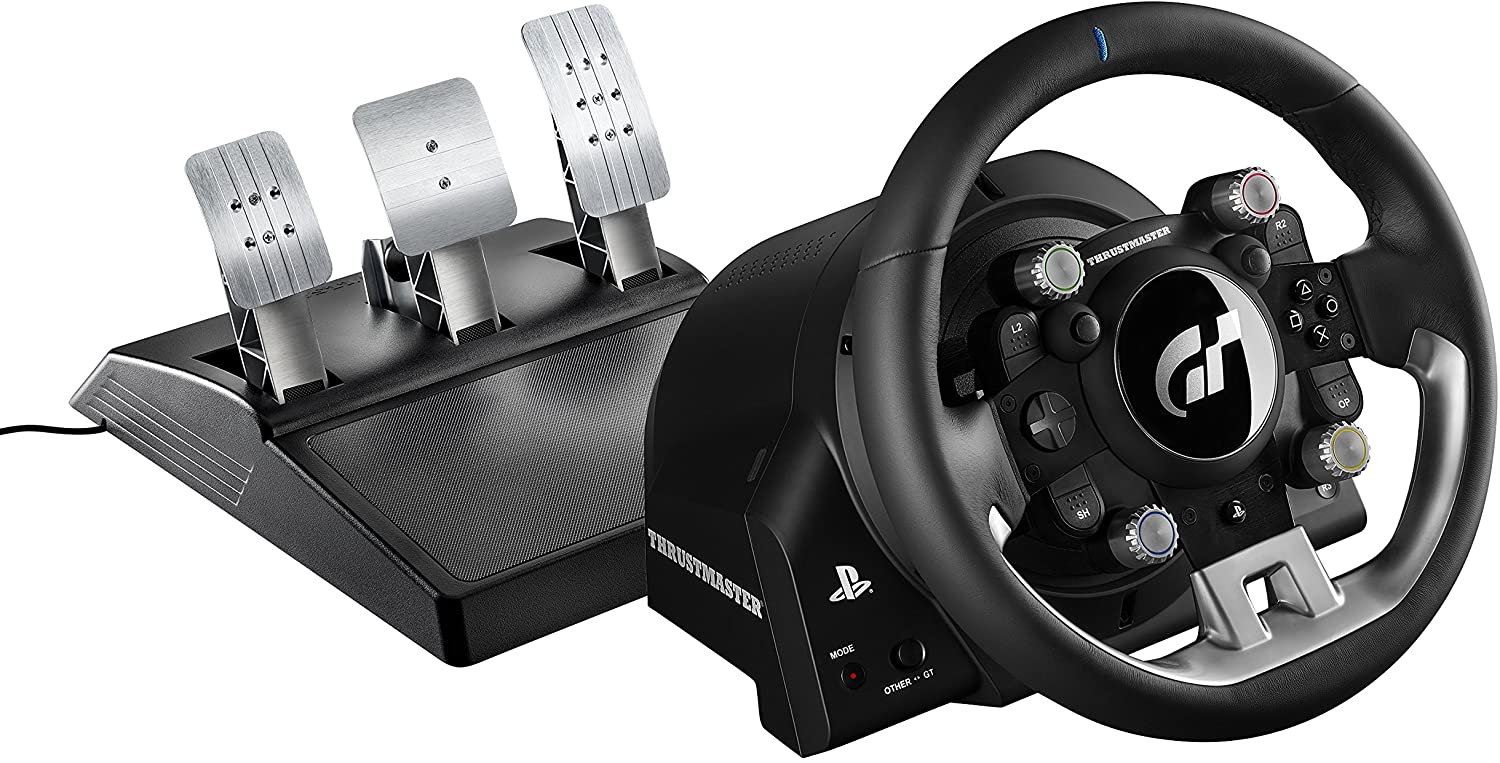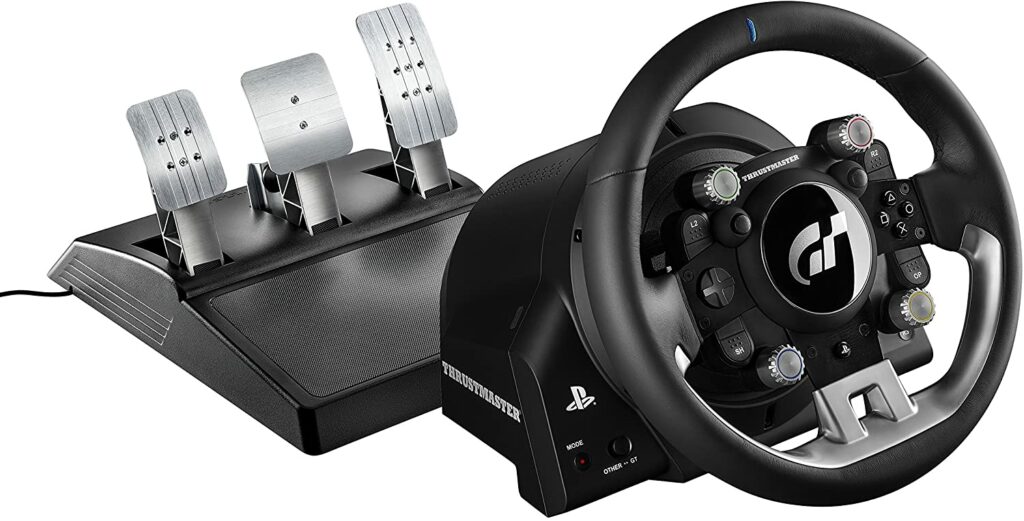 Logitech G923 TrueForce
Logitech has been producing racing wheels for a long time. Many famous sim racers started out racing on the famous G29 wheel as it was one of the only options back in the day for aspiring sim racers. As the years moved on and technology improved, Logitech has been able to improve its products while targeting a niche segment where new sim racers are ready to take racing more seriously.
The G923, which is a gear-driven that features the new Logitech True Force technology that allows the driver to feel more detail in the road surface, vehicle dynamics, which improves your ability to respond to condition changes and adjust your driving style, which results in the potential for more consistent and quicker laps. The G923 also features Launch Control and Dual Clutch for compatible games that can enhance your racing experience.
A leather-wrapped rim with an anodized aluminium centre marker and rim-mounted shifter paddles is used to control your vehicle. On the face of the rim features all of the buttons that you'd normally find on a wheel such as a directional pad, four analogue buttons, a large rotary wheel, and bumper buttons.

The pedals of the G923 features a brake pedal that now has a progressive spring that improves brake pedal feel and allows for proper trail braking, a feature that was omitted on the preceding G920. The Logitech G923 is a great entry for anyone that's ready to step out of the arcade racing world and dive into the serious sim racing world. Logitech G923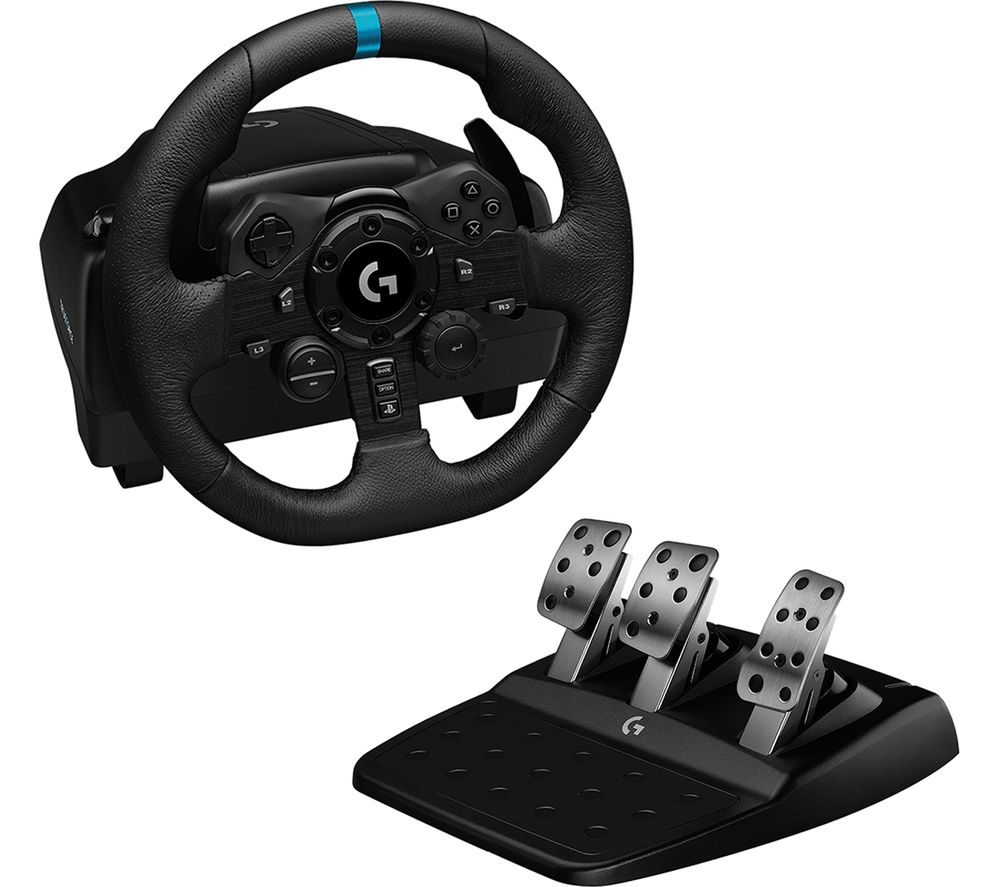 Wheel
Pros
Cons
Simucube Pro
Extremely powerful
One of the best FFB systems in any wheel
Expensive
Not 'plug and play'
VRS Directforce Pro
Great quality for the price
Lots of updates on the horizon
Both pedals and rims must be bought separately
Fanatec Podium DD1
Very good direct drive FFB
Simply set up
Price
Thrustmaster T-GT
Best FFB system from Thrustmaster
Features T-DFB
Better suited to higher end Thrustmaster pedals than those included
Thrustmaster TS-XW
Cheaper than T-GT, but similar performance
Great for both pro and amatuer sim racers
Included pedals
Logitech G293 TrueForce
Lots of buttons for mapping
Uses Logitech's TrueForce system for improved FFB
Improvements over its predecessor aren't huge