Direct Drive racing wheels are the most high-end and realistic sim racing wheels on the market. With less mechanical interference due to their internal design, Direct Drive wheels provide a much more involved driving experience with stronger and smoother force feedback.
In this guide, we will be comparing some of the different products from different brands to determine what is the best Direct Drive sim racing wheel.
What is a Direct Drive wheel?
Most consumer-grade wheels like the Logitech G920 and the Thrustmaster T248 use either a belt or a gear system in conjunction with an electric motor to deliver force feedback. A Direct Drive wheel on the other hand is essentially a steering wheel mounted directly to a motor. This means that the user can experience the full force feedback of that electric motor. As there are fewer components involved, this greatly increases the immersion of the sim racing experience.
These motors are generally much larger than those featured on consumer-grade wheels and generate much more torque. Consumer-grade wheels produce around 2 Nm of torque, whereas Direct Drive wheels can generate up to 40 Nm. That's such an extreme difference that high-end Direct Drive wheels often come with a "killswitch" to prevent you from sending yourself to the Emergency Room the first time you look at a barrier the wrong way.
Whilst some Direct Drive wheels are able to be mounted to a desk, many of them require a rig to be able to be used effectively. Luckily, if you're looking for a sim racing rig on a budget, we've got that covered.
Why a Direct Drive wheel?
The main benefit of a Direct Drive wheel is the level of immersion that they offer compared with a gear or belt-driven wheel, as they provide a much more accurate simulation of steering feel. While a Direct Drive wheel will not necessarily make the user a faster driver, it may make them more consistent.
They can convey even the most subtle handling characteristics, intricate road and surface detail, the shift of inertia in the car while cornering as well as other subtle nuances that a gear or belt-driven wheel simply cannot match. This is because gear-driven and belt-driven wheels are restricted to a series of cogs and pulleys, which naturally lose finer details and stronger forces as a result of their design.
The design of Direct Drive wheels means that they can transmit higher-fidelity signals and give you a more realistic feel. In sonic terms, it's like comparing listening to that WMA file you ripped from a CD through earphones to listening to lossless FLACs through a 5.1 Surround Sound system.
Because of the level of feedback these wheels offer, drivers will be able to detect understeer, oversteer and other handling characteristics much more easily. As the handling of the car is more predictable, drivers will be able to avoid mistakes more easily, therefore they'll be faster in the long run.
Is a Direct Drive wheel compatible with games consoles?
Whilst most mainstream Direct Drive wheelbases from the likes of Fanatec, Logitech, and Thrustmaster are compatible with modern games consoles, other specialist and independent manufacturers tend to only make their wheelbases for PC sim racers. However, even within the big three brands, differences in console software mean that one setup will be able to be used on only Xbox or PlayStation. As a result, you need to be very careful to check what platforms your wheelbase is recommended for before purchasing.
Are Direct Drive wheels better?
Direct Drive wheels offer a more complete and satisfying experience compared to the mainstream products on the market. This is mainly due to the force feedback response, which is way more precise, reliable and consistent.
Precise because it makes you feel every detail of the track, even the most insignificant bump there is.
Reliable, as the direct connection between the steering wheel and the motor, reduces the components involved and consequently reduces the chances of breakdowns.
Consistency is another important factor, especially for endurance races. With Direct Drive wheels, the chance to see the force feedback fading away during the race is reduced to the minimum. Build quality is top-notch. The whole structure needs to be stiff enough, as engines can generate up to 25 Nm of torque.
If you're looking to take this next step in your sim racing journey, you can immerse yourself further with the way you're sitting at your setup. Luckily, we have you covered with our ultimate sim racing seats guide as well as a list of affordable options for those looking for their next investment on a budget.
Torque characteristics
Torque characteristics represent the power a motor can generate and transmit to the Direct Drive wheel. These can vary depending on the AC adapter in use and, in some cases, the quick-release type as well.
The two main torque characteristics producers tend to mention are holding torque and torque ripple. Holding torque performance is important, as it determines how smooth the motor will be while resisting rotation. Torque ripple is a sort of vibration perceived when the motor shaft rotates. Most Direct Drive wheels producers have worked hard in the direction of trying to reduce it.
Succeeding in doing so has been crucial, as you can get a more desirable effect on the steering wheel for the user experience.
However, it is important to remember that turning up the torque does not always mean a better experience. Too high levels are not necessary and for prolonged use it is recommended to not exaggerate. The higher the torque, the higher the consumption.
Find Your New Direct Drive Wheel Using SimTrader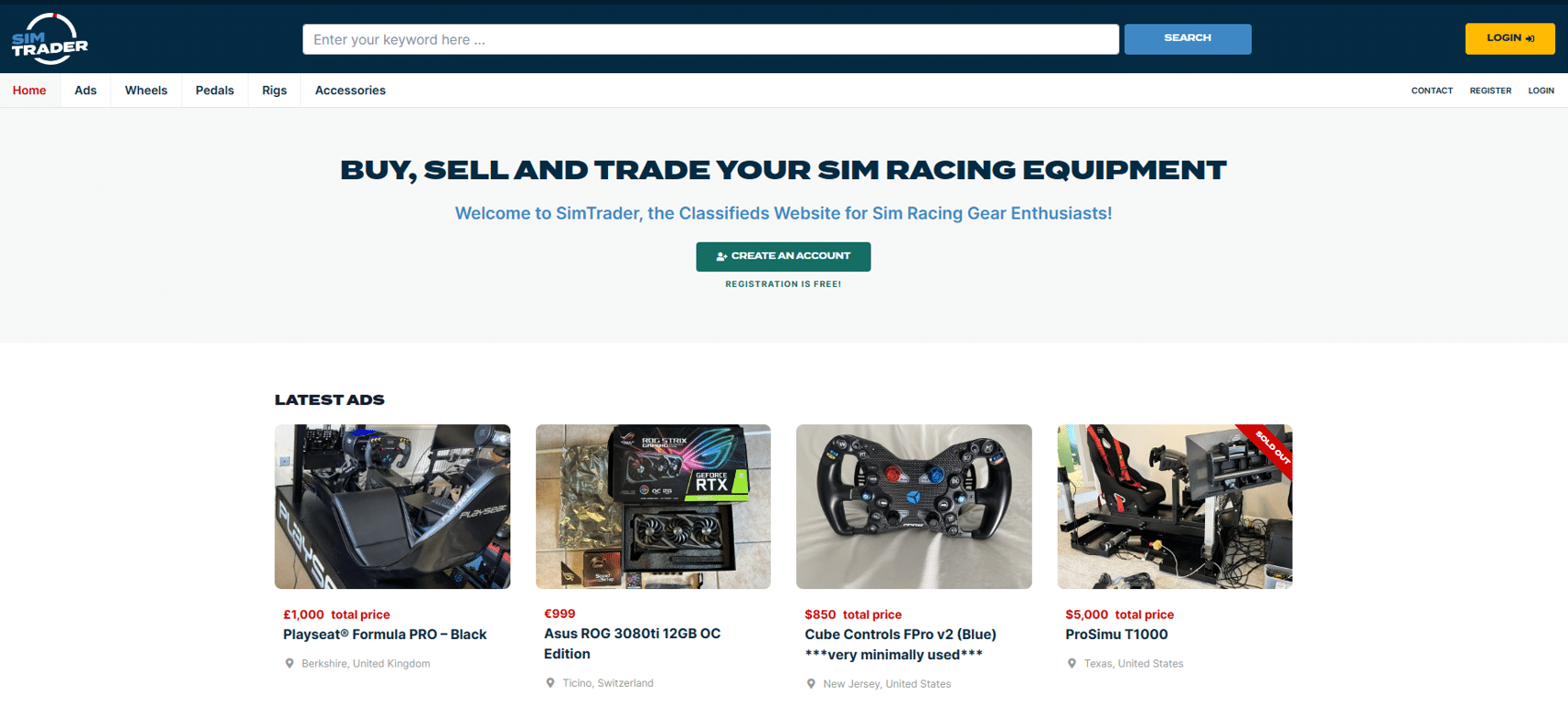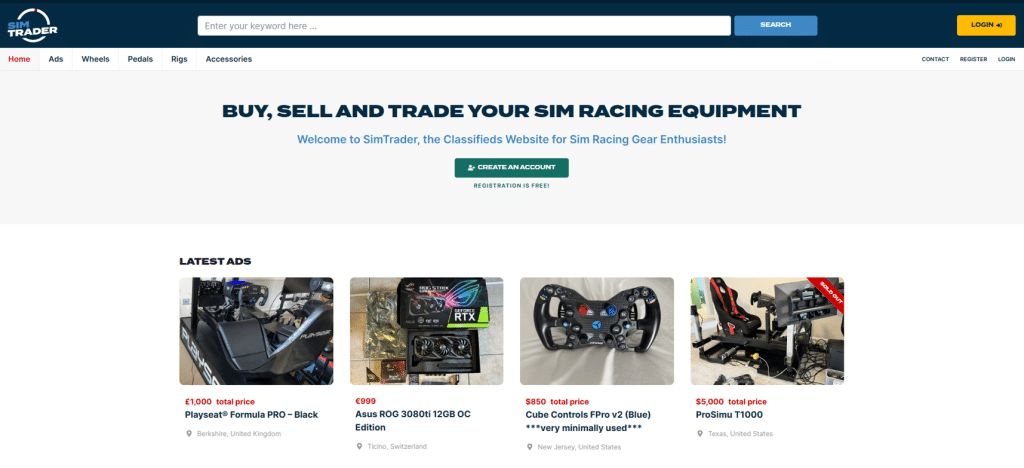 Top of the range direct drive wheels can become costly, ranging at the bottom end from $300 all the way up to $1500 just for the wheel, without a base, and up to $3000 for a base and wheel combined.
Classified ads can be a great way to combat this steep pricing and you can pick up top-quality items at a much cheaper cost. You can sometimes find brand-new items that are of no use to someone else or top-quality used goods for amazing value that have had minimal use.
This is where the sim racing classified site SimTrader becomes your best friend. Purchasing such expensive items can be a daunting prospect when not brand new but with SimTrader every seller goes through a verification process so you can be sure its a genuine sale.
Click the button below and you could find your new direct drive base waiting for you.
Summary
Direct Drive Base
Category
Pros
Cons
Thrustmaster T818
Mid-Range
– Works with current Thrustmaster ecosystem
– Futureproof design
– Pedals and wheelbase are sold separately
Fanatec CSL DD
Budget
– Affordable
– Wide range of Fanatec steering wheels
– Torque may not be high enough
– Pedals and wheelbase sold separately
Logitech G PRO Racing Wheel
Mid-Range
– Higher output than rival offerings
– Innovative TRUEFORCE technology
– Pedals sold separately
– Only one rim available as standard
Simucube 2 Ultimate
Top-Range
– Unparalleled levels of torque
– High-performance fine-tuning
– Expensive compared to alternatives
– Requires high-end mounting solution
MOZA Racing R5
Budget
– Available as a budget bundle
– Can be desk-mounted
– Lower torque than some non-Direct Drive alternatives
The best overall Direct Drive wheel
Thrustmaster T818
The newest entry on our list, and the first foray into Direct Drive technology for one of the top sim racing brands out there, Thrustmaster's T818 base was long-anticipated by people throughout the industry, and it doesn't fail to deliver on the hype. Boasting 10Nm of torque and a sleek hexagonal face, it looks stunning and doesn't require you to splash the cash. At €599.99 for the wheelbase, it's cheaper than comparable offerings from rival brands.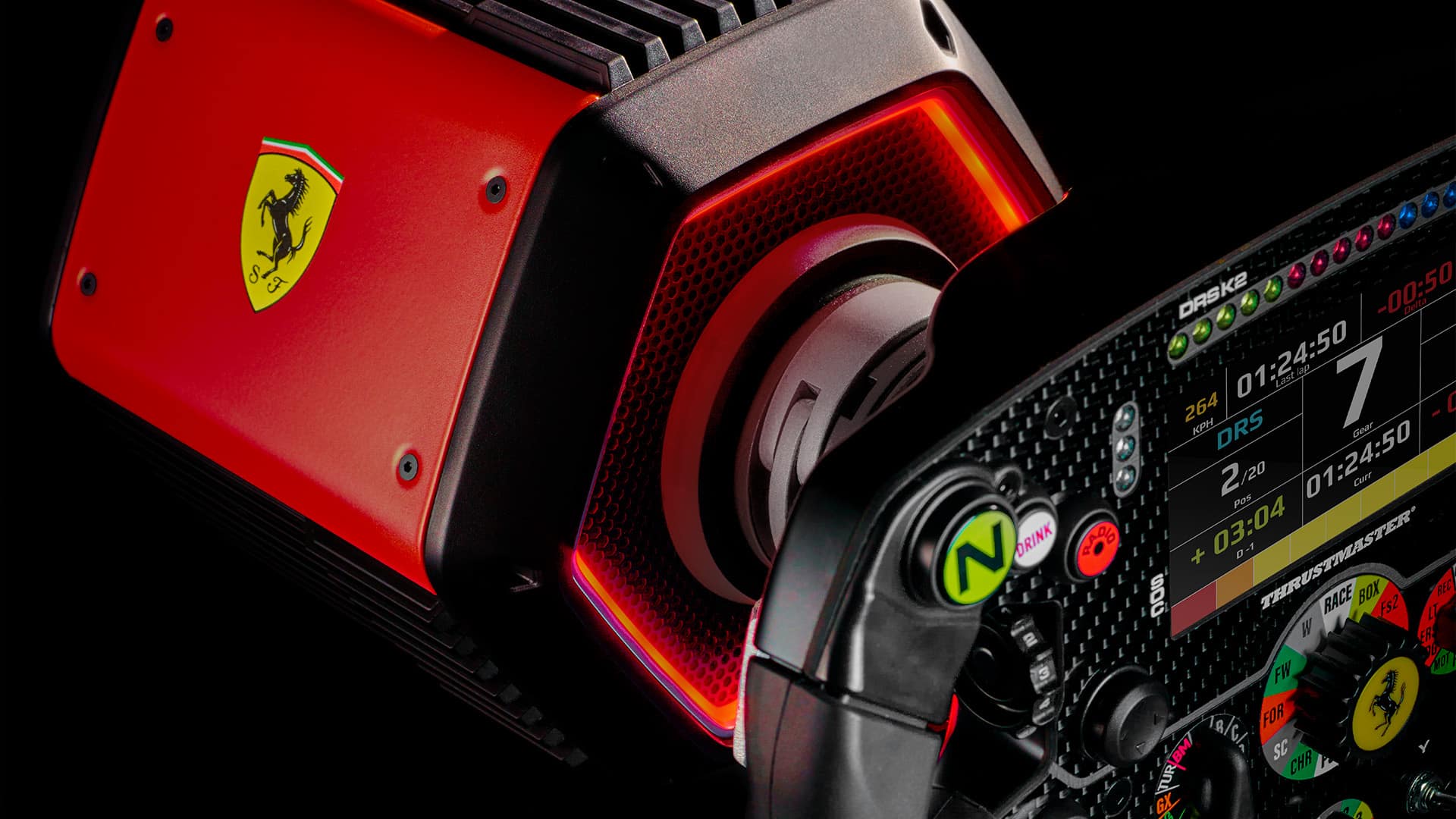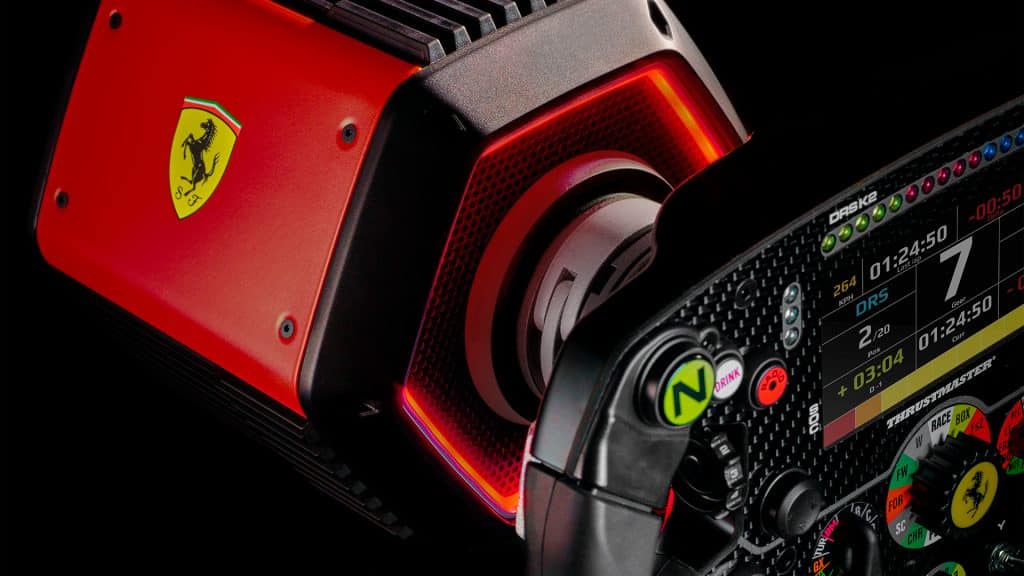 Perhaps the greatest feature that Thrustmaster can boast is the amazing compatibility that the T818 has. Despite having an all-new quick-release system, it is compatible with every wheel rim in Thrustmaster's current range. In addition to this, it's futureproofed with a system designed to work with the next Thrustmaster ecosystem. It's an excellent investment for the short-term and the long-term.
The best Direct Drive wheel for Xbox
Fanatec CSL DD
Fanatec is famous for its DD1 and DD2 Direct Drive wheelbases which are as powerful as they are expensive. This high cost puts these wheelbases out of reach for many sim racers, but Fanatec addressed this problem last year with the release of their CSL DD range. These wheelbases are less powerful than their DD1 and DD2 brethren but still offer a high enough level of torque that should satisfy the vast majority of sim racers.
The range consists of a 5Nm (€349.95) that is PC and Xbox compatible and two 8Nm variants to take care of PC/Xbox (€499.95) and PC/Playstation (€599.95) compatibility. The main advantage of these wheelbases is the powerful force feedback with highly detailed forces being transmitted to the driver with essentially zero delays.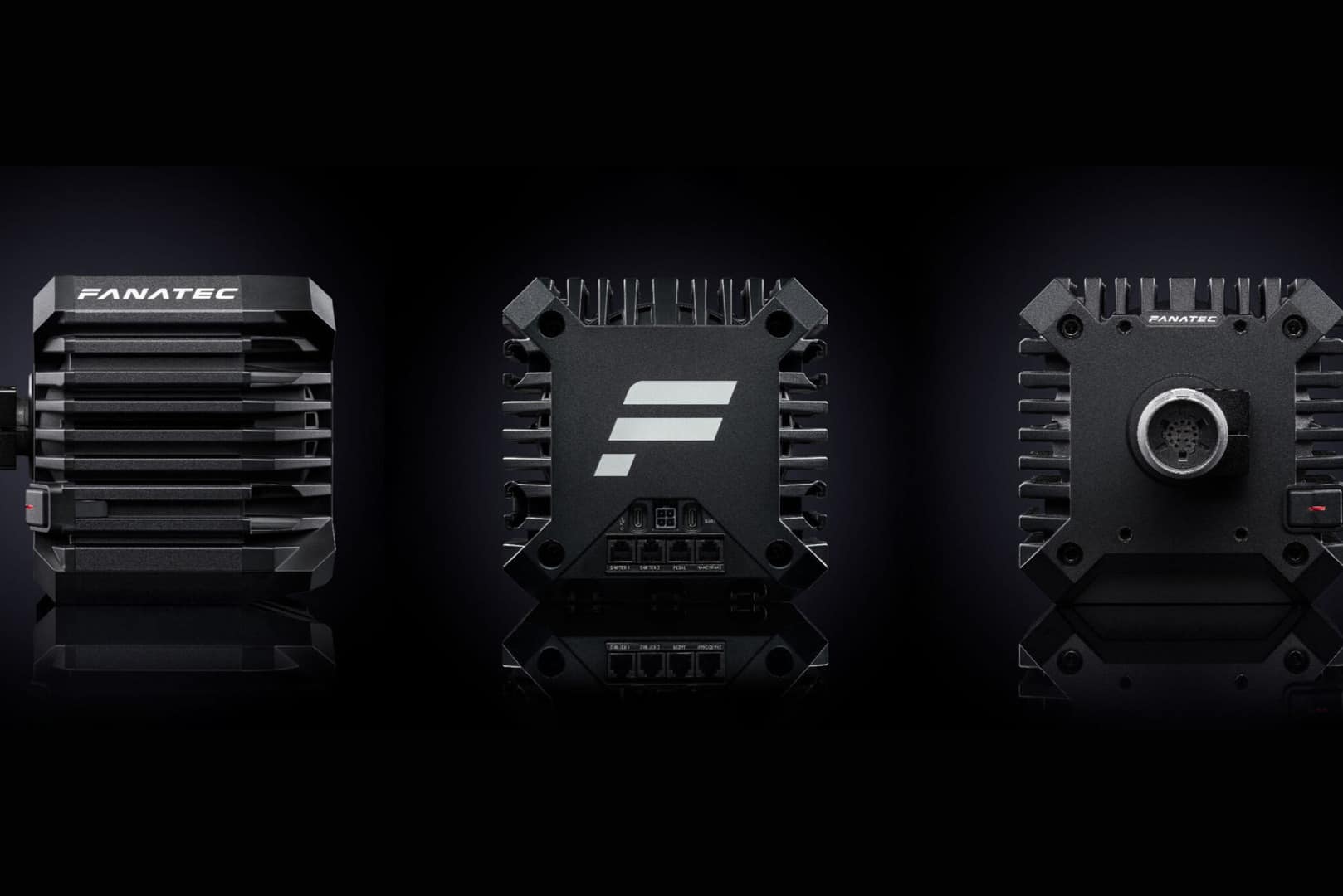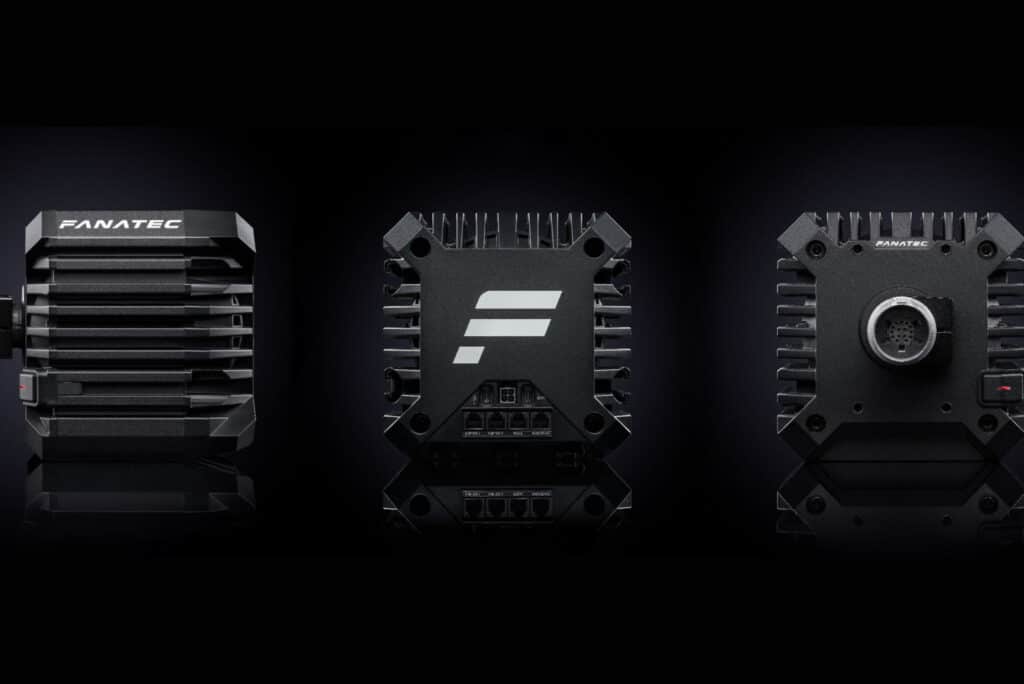 The other huge advantage is the extensive range of steering wheels that Fanatec offers that you can swap between via support for a quick-release system.
This means that you can use the CSL DD wheelbase with F1-style steering wheels, rally wheels and GT-type wheels that will give you a similar experience to owning a DD1 at a far lower cost.
The CSL DD range are excellent Direct Drive wheelbases at an amazing price. Couple that with Fanatec's excellent range of steering wheels and easy-to-use software makes it worthy of consideration for a budget buyer.
The best Direct Drive wheel for PlayStation
Logitech G PRO Racing Wheel
Starting at €999 for the wheelbase and rim, Logitech's G PRO Racing Wheel was a surprise announcement when it was released late in 2022. With a peak output of 11Nm, it boasts a higher output than most other wheelbases on this list. At the same time, with the TRUEFORCE technology first seen on the G923 wheel, it builds on the successes that Logitech has had over its decades of experience.
The main difference between the Logitech offering and other brands on this list is that there's a limited variety of wheel rims available for the base. At present, Logitech offers the standard wheel rim for each platform: the PlayStation/PC and the Xbox/PC versions.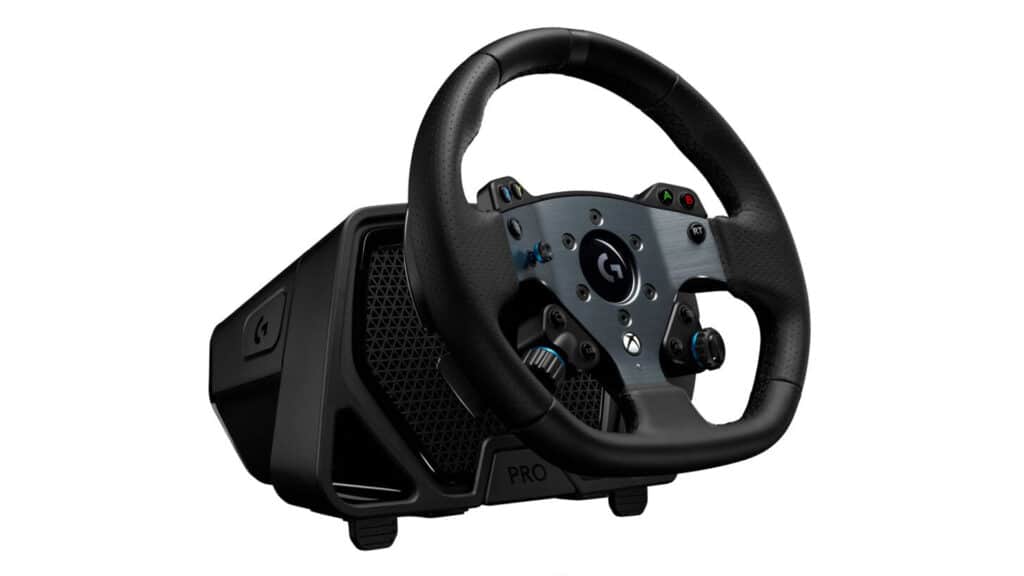 At the same time, the only pedals that are compatible with it for PlayStation use are €350. Whilst they do have an adjustable load cell, they are more expensive than similar offerings from the likes of Fanatec, Moza, and Thrustmaster.
Overall though this is a pretty competitive option and is likely to only become more attractive over time as the ecosystem develops. With PC compatibility as well as PlayStation, Logitech offers you a wheelbase that allows you to sim race on multiple platforms.
The best Direct Drive wheel for PC
Simucube 2 Ultimate
Simucube is held in high regard among sim racers and was one of the first to enter the Direct Drive market. The 'Ultimate' version is the top-level wheelbase of the latest Simucube 2 range initially released in 2019.
The Simucube 2 Ultimate features a Direct Drive motor with 32 Nm of maximum torque, meaning incredible force feedback with heightened levels of feel and responsiveness. Simucube has also put a lot of work into reducing the torque ripple, cogging and grain. These efforts have certainly been a success, as the Ultimate is notably smooth.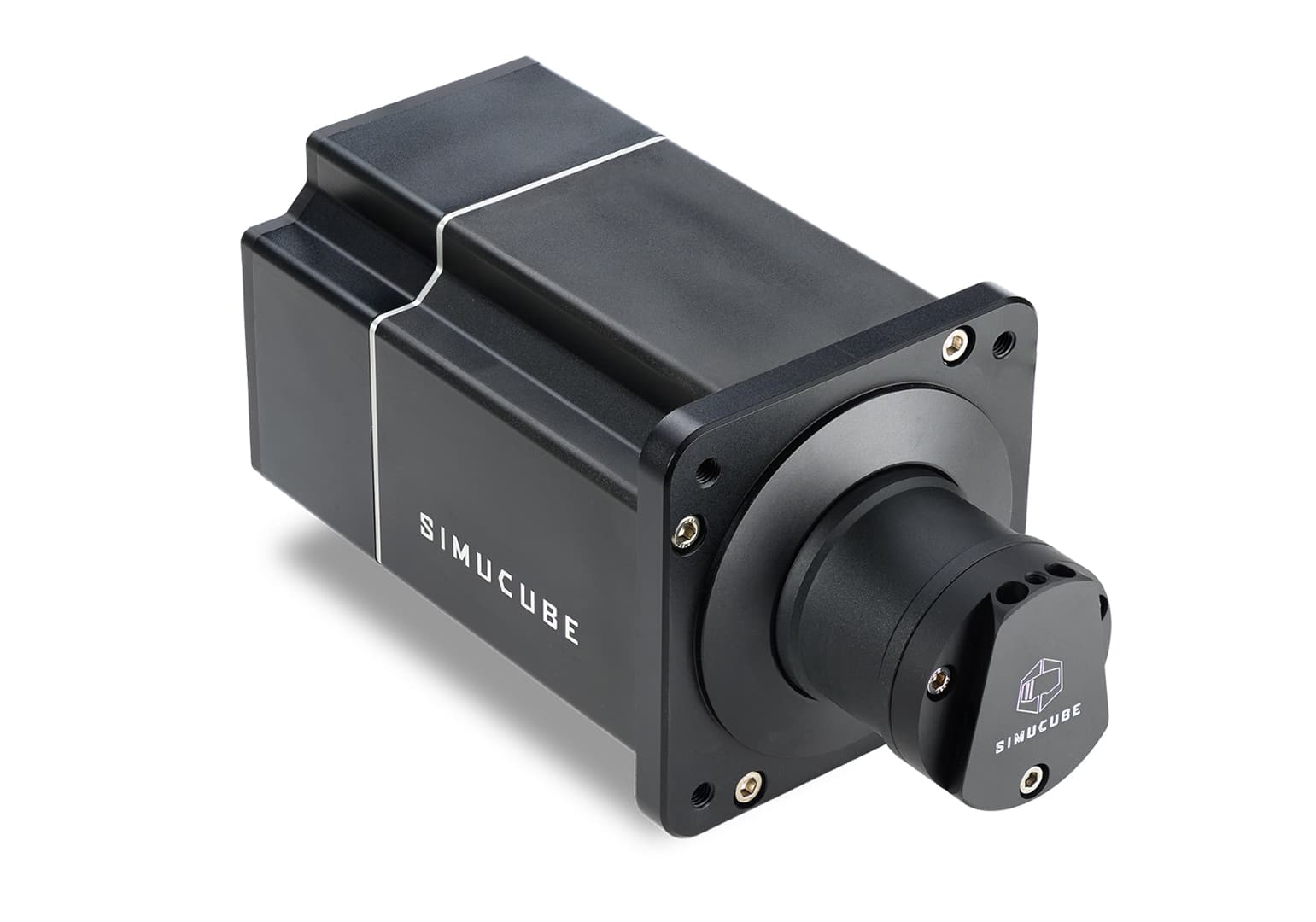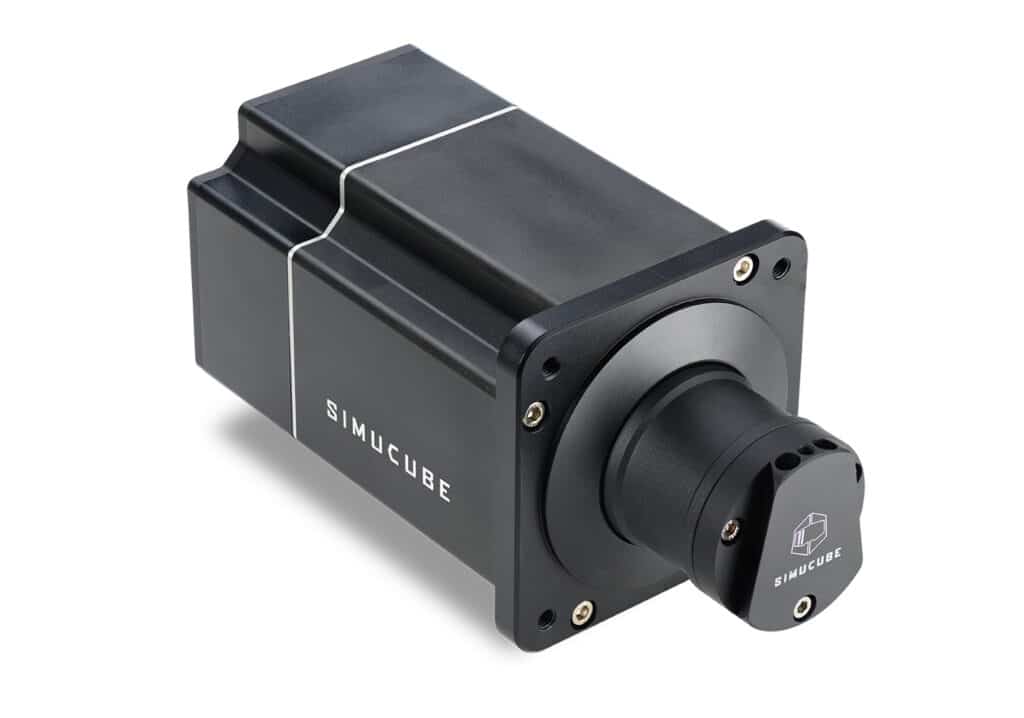 It also features a quick-release system as well as the wireless wheel function, which allows the user to connect a wheel rim to the base without any wires.
But, already coming with a hefty price tag, even more money will need to be spent on adaptors for products that are not immediately compatible (wheel rims, pedals, etc) as there is no official Simucube ecosystem and the products that are compatible with it are generally very expensive.
The Simucube 2 Pro is a very polished and very competitive option in the Direct Drive wheel market and as such, it is very popular among serious sim racers.
The Cheapest Direct Drive Wheels
Moza Racing R5
Starting off at €350 for the wheelbase, or €599 as part of a bundle, Moza Racing's R5 is a fantastic way to start racing with a Direct Drive wheelbase on a budget. Coming with the round ES Steering Wheel and the two-pedal SR-P Lites as standard, it provides you with high-tech high-end experiences without breaking the bank.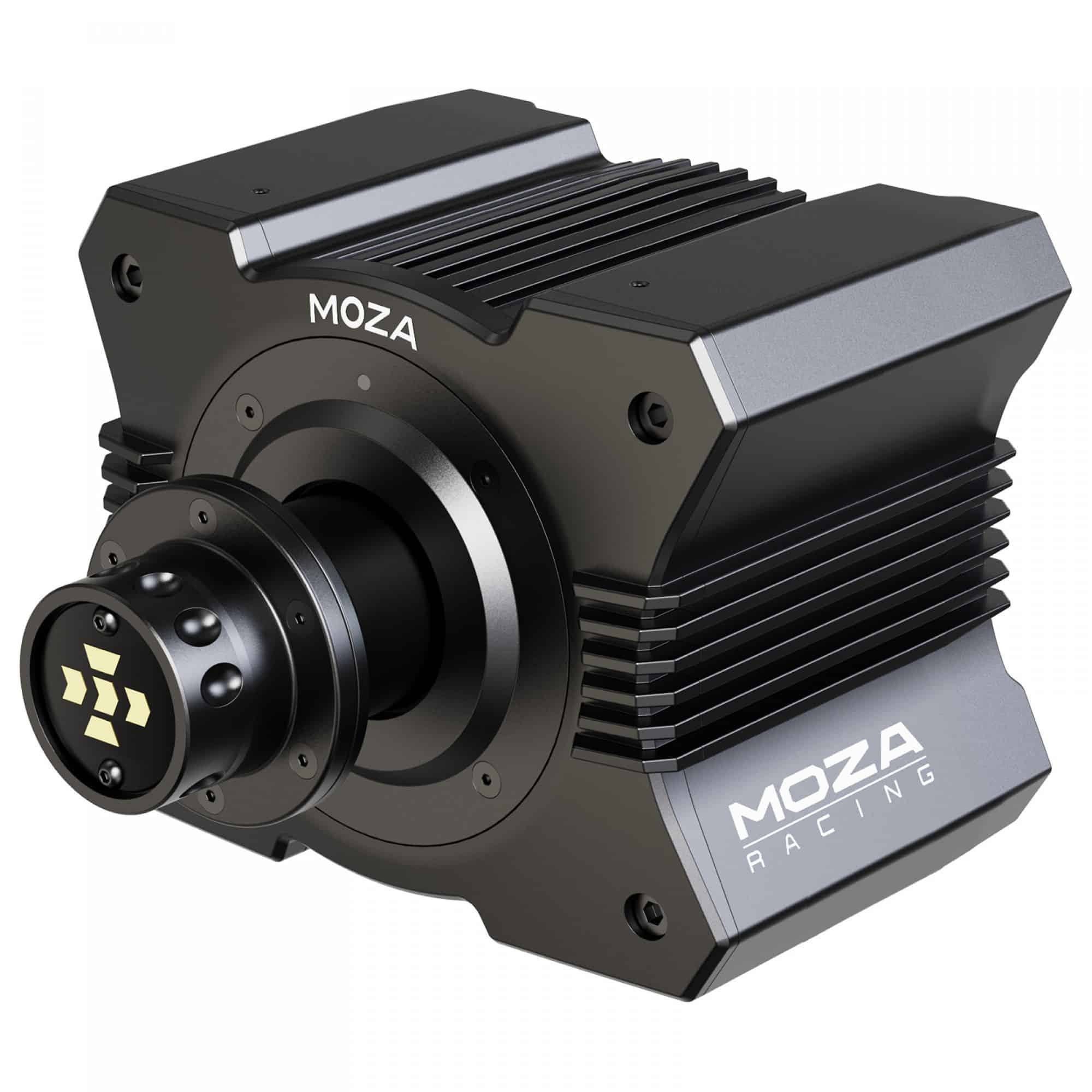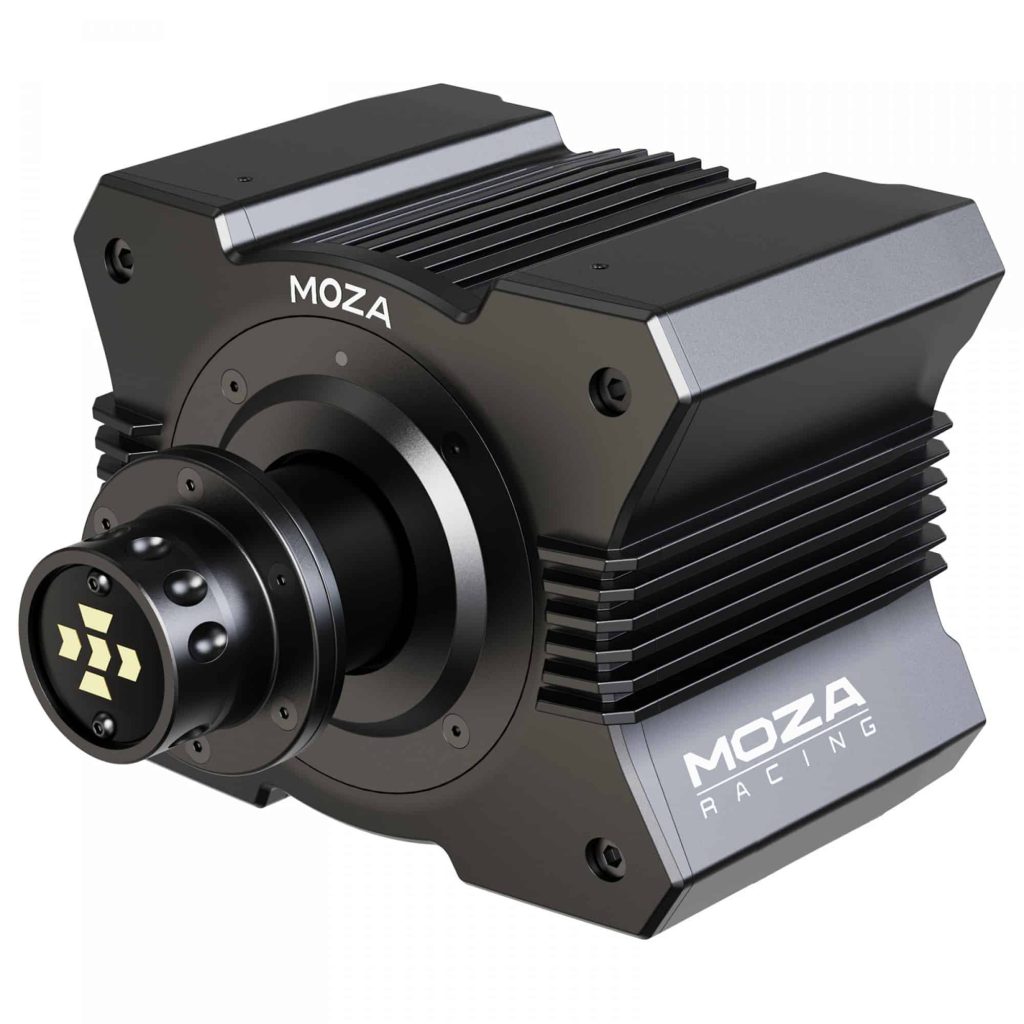 Thanks to Moza's own software, the setup is incredibly customisable. From adding in other devices to being able to configure your own throttle shapes to suit your tastes, this is a fantastic offering for somebody looking to personalise their driving experiences as they make the step up the ladder.
SimTrader – The only classified site you need to buy, sell and trade your sim racing equipment – Sign up today