Direct drive racing wheels are the most high end and realistic sim racing wheels on the market. With less mechanical interference due to their internal design, direct drive wheels provide a much more involved driving experience with stronger and smoother force feedback.
In this guide, we will be comparing some of the different products from different brands to determine what is the best direct drive sim racing wheel.
What is a direct drive wheel?
Most consumer-grade wheels like the Logitech G920 and the Thrustmaster TMX use either a belt or a gear system in conjunction with an electric motor to deliver force feedback. A direct drive wheel on the other hand is essentially a steering wheel-mounted directly to a motor. This means that the user can experience the full force feedback of that electric motor. As there are fewer components involved, this greatly increases the immersion of the sim racing experience.
These motors are generally much larger than those featured on consumer-grade wheels and generate much more torque. Consumer-grade wheels produce around 2 Nm of torque, whereas direct drive wheels can generate up to 25 Nm.
They can convey even the most subtle handling characteristics, intricate road and surface detail, the shift of inertia in the car while cornering as well as other subtle nuances that a gear or belt-driven wheel simply cannot match.
Why a direct drive wheel?
The main benefit of a direct drive wheel is the level of immersion that they offer compared with gear or belt-driven wheels, as they provide a much more accurate simulation of steering feel. While a direct drive wheel will not necessarily make the user a faster driver, it may make them more consistent.
Because of the level of feedback these wheels offer, drivers will be able to detect understeer, oversteer and other handling characteristics much more easily. As the handling of the car is more predictable, drivers will be able to avoid mistakes more easily, therefore they'll be faster in the long run.
Is a direct drive wheel compatible with games consoles?
Some direct drive wheels are compatible with games consoles but the vast majority are PC only. Generally, Fanatec is one of the only brands that offer a direct drive wheel on a console. If you intend to use a direct drive wheel for consoles be sure to check that it is compatible before making your purchase.
Direct drive wheels important factors
As their name hints, direct drive wheels are basically a steering wheel mounted directly to a motor. For this reason, the compatibility between the latter and the hub becomes crucial. The connection can be of three different types, depending on the brand you choose: wireless, motor connection or standalone wired steering wheels.
Steering wheel electronics are connected to the motor or to the computer via Bluetooth or via a proprietary solution, such as Simucube wireless. Battery duration might last something between hours and years depending on which solution you go with. This might be a concern, especially in endurance races and you usually have to lose some power-hungry functionalities as displays or led. Of course, getting rid of the cable is a big pro, especially if you have multiple steering wheels around.
A physical motor connection gives the advantage of having no cables around, but this way you are locking yourself in the brand ecosystem unless you buy unofficial adapters or other accessories that let you use generic wheels.
Finally, standalone wired steering wheels are the most flexible solution. You can get every functionality available on the market: displays, LEDs, analogue axis, and rotary switches as soon as you accept having the cable around. Standalone steering wheels might be used everywhere, as long as the solution does not require any kind of data connection to be in place between the base and the steering wheel.
Are direct drive wheels better?
Direct drive wheels offer a more complete and satisfying experience compared to the mainstream products on the market. This is mainly due to the force feedback response, which is way more precise, reliable and consistent. Precise because it makes you feel every detail of the track, even the most insignificant bump there is. Reliable, as the direct connection between the steering wheel and the motor, reduces the components involved and consequently reduces the chances of breakdowns. Consistency is another important factor, especially for endurances. With direct drive wheels, the chance to see the force feedback fading away during the race is reduced to the minimum. Build quality is top-notch. The whole structure needs to be stiff enough, as engines can generate up to 25 Nm of torque.
Torque characteristics
Torque characteristics represent the power a motor can generate and transmit to the direct drive wheel. These can vary depending on the AC adapter in use and, in some cases, the quick release type as well. The two main torque characteristics producers tend to mention are holding torque and torque ripple. Holding torque performance is important, as it determines how smooth the motor will be while resisting rotation. Torque ripple is a sort of vibration perceived when the motor shaft rotates. Most direct drive wheels producers have worked hard in the direction of trying to reduce it. Succeeding in doing so has been crucial, as you can get a more desirable effect on the steering wheel for the user experience.
Rounding up this paragraph, it is important to remember that turning up the torque does not always mean a better experience. Too high levels are not necessary and for prolonged use it is recommended to not exaggerate. The higher the torque, the higher the consumption.
The Best Direct Drive Wheels
SimXperience AccuForce V2
The SimXperience AccuForce V2 is one of the most affordable direct drive wheel options, priced at as little as $628 depending on which option is selected (there are 3 options to choose from; DIY, Your Way or the complete package).
Unlike many of its direct-drive competitors, the AccuForce V2 does not utilize a brushless servo motor and instead makes use of a hybrid stepper servo motor with 13 Nm of torque. As a result, the quality of the force feedback is slightly less polished than some of the more premium options out there but it is still very smooth and translates excellent levels of detail nonetheless.
Despite being a budget option, the AccuForce V2 has a useful feature that many more expensive wheels do not. Unlike many direct drive wheels which require tuning for every individual game or car each time it is used, the AccuForce V2 is supported by the SimXperience Sim Commander 4 software which allows for easy switches between wheel tunes for specific games and cars.
Depending on which option is selected, the AccuForce V2 comes with an alcantara wrapped wheel with adjustable carbon fibre paddles and a button box featuring 12 buttons in addition to the AccuForce horn button in the middle of the rim.
Ultimately, the SimXperience AccuForce V2 is a compelling budget direct drive option.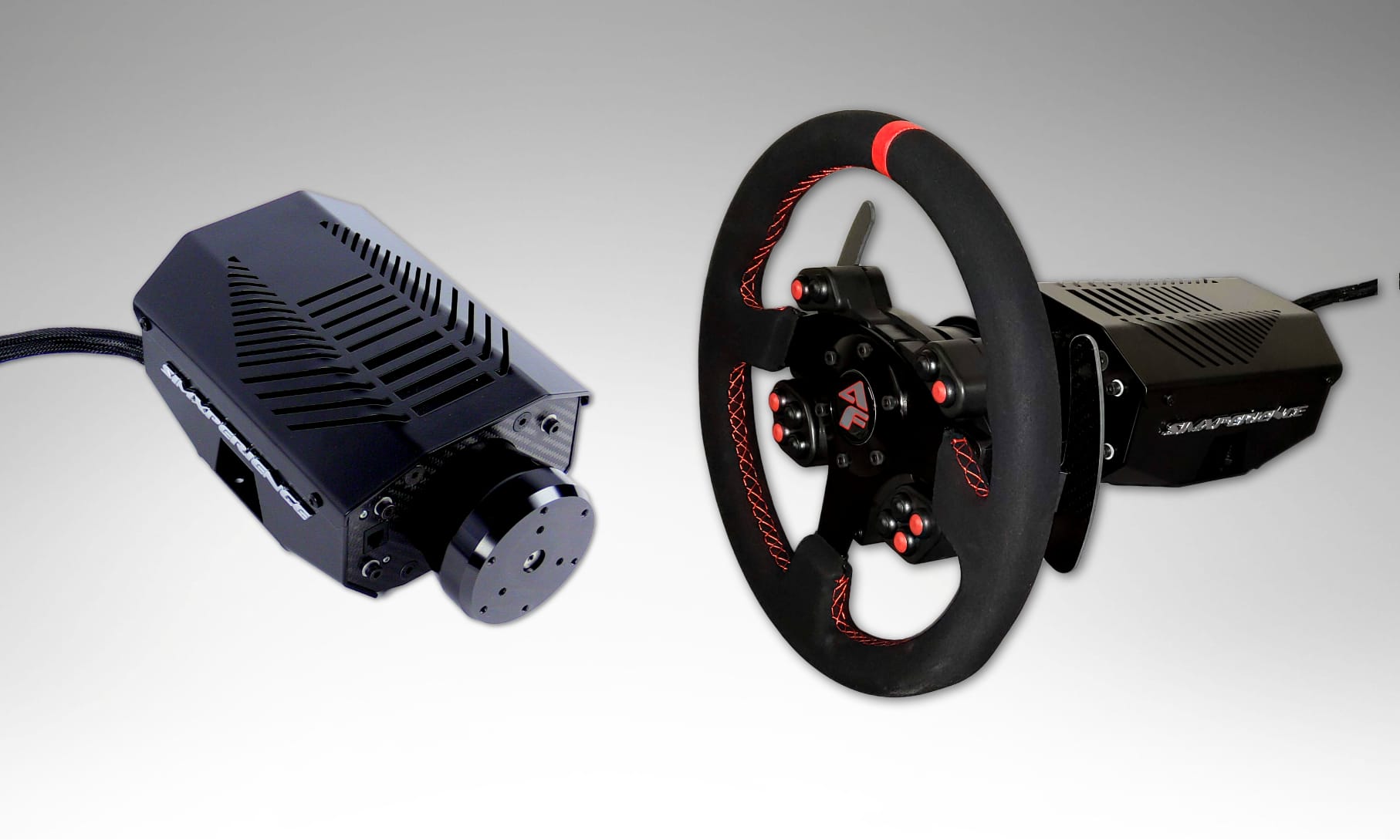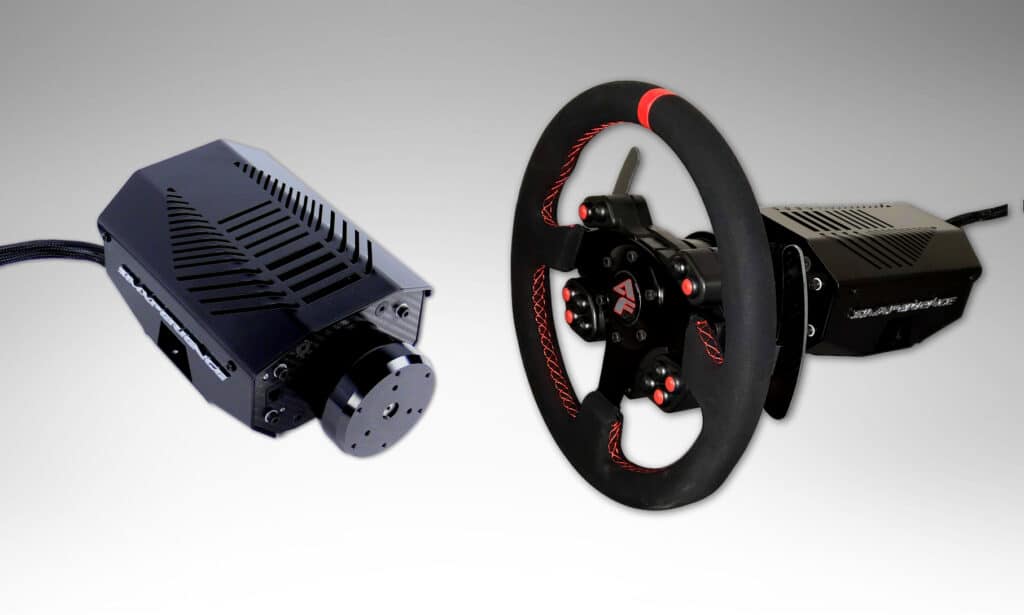 Fanatec CSL DD
Fanatec is famous for its DD1 and DD2 direct drive wheelbases that are as powerful as they are expensive. This high cost puts these wheelbases out of reach for many sim racers, but Fanatec addressed this problem last year with the release of their CSL DD range. These wheelbases are less powerful than their DD1 and DD2 brethren but still offer a high enough level of torque that should satisfy the vast majority of sim racers.
The range consists of a 5Nm (€349.95) that is PC and Xbox compatible and two 8Nm variants to take care of PC/Xbox (€499.95) and PC/Playstation (€599.95) compatibility. The main advantage of these wheelbases is the powerful force feedback with highly detailed forces being transmitted to the driver with essentially zero delay. We think that the other huge advantage is the extensive range of steering wheels that Fanatec offers that you can swap between via support for a quick-release system.
This means that you can use the CSL DD wheelbase with F1-style steering wheels, rally wheels and GT-type wheels that will give you a similar experience to owning a DD1 at a far lower cost.
The CSL DD range are excellent direct drive wheelbases at an amazing price. Couple that with Fanatec's excellent range of steering wheels and easy-to-use software makes it worthy of consideration for a budget buyer.
VRS DirectForce Pro
The VRS DirectForce Pro is one of the newest budget options for direct drive, released in 2020 and priced at $799.
This wheelbase makes use of a tried and tested 20 Nm MiGE motor which offers exceptional force feedback. The DirectForce Pro comes very close in quality to much more expensive options and communicates exceptional levels of surface detail and car handling characteristics. Like other budget options, the force feedback is ever so slightly less polished but not to an extent significant enough to discredit it as a very competitive option.
VRS is slowly building an ecosystem that can be used with this wheelbase and intend to release their own wheel rim at some point, however, they currently offer a Motor Hub Adaptor for 3rd party wheel rims at $49.
The latest budget addition to the direct drive wheel market is an impressive alternative to the established options and with a new and expanding ecosystem, expect more from VRS and the DirectForce Pro in the near future. .
Simucube 2 Pro
Simucube is held in high regard among sim racers and was one of the first to enter the direct drive market. The 'Pro' version is the second level wheelbase of the latest Simucube 2 range released in 2019, sitting between the cheaper Sport and the more expensive ultimate.
The Simucube 2 Pro features a direct drive motor with 25 Nm of maximum torque, meaning incredible force feedback with heightened levels of feel and responsiveness. Simucube have also put a lot of work into reducing the torque ripple, cogging and grain. These efforts have certainly been a success, as the Pro 2 is notably smooth.
The 2 Pro features a quick-release system as well as the wireless wheel function, which allows the user to connect a wheel rim to the base without any wires.
The Simucube Pro 2 is priced at $1499 and has a 24-month warranty. However, more money will need to be spent on adaptors for products that are not immediately compatible (wheel rims, pedals, etc) as there is no official Simucube ecosystem and the products that are compatible with it are generally very expensive.
The Simucube 2 Pro is a very polished and very competitive option in the direct drive wheel market and as such, it is very popular among serious sim racers.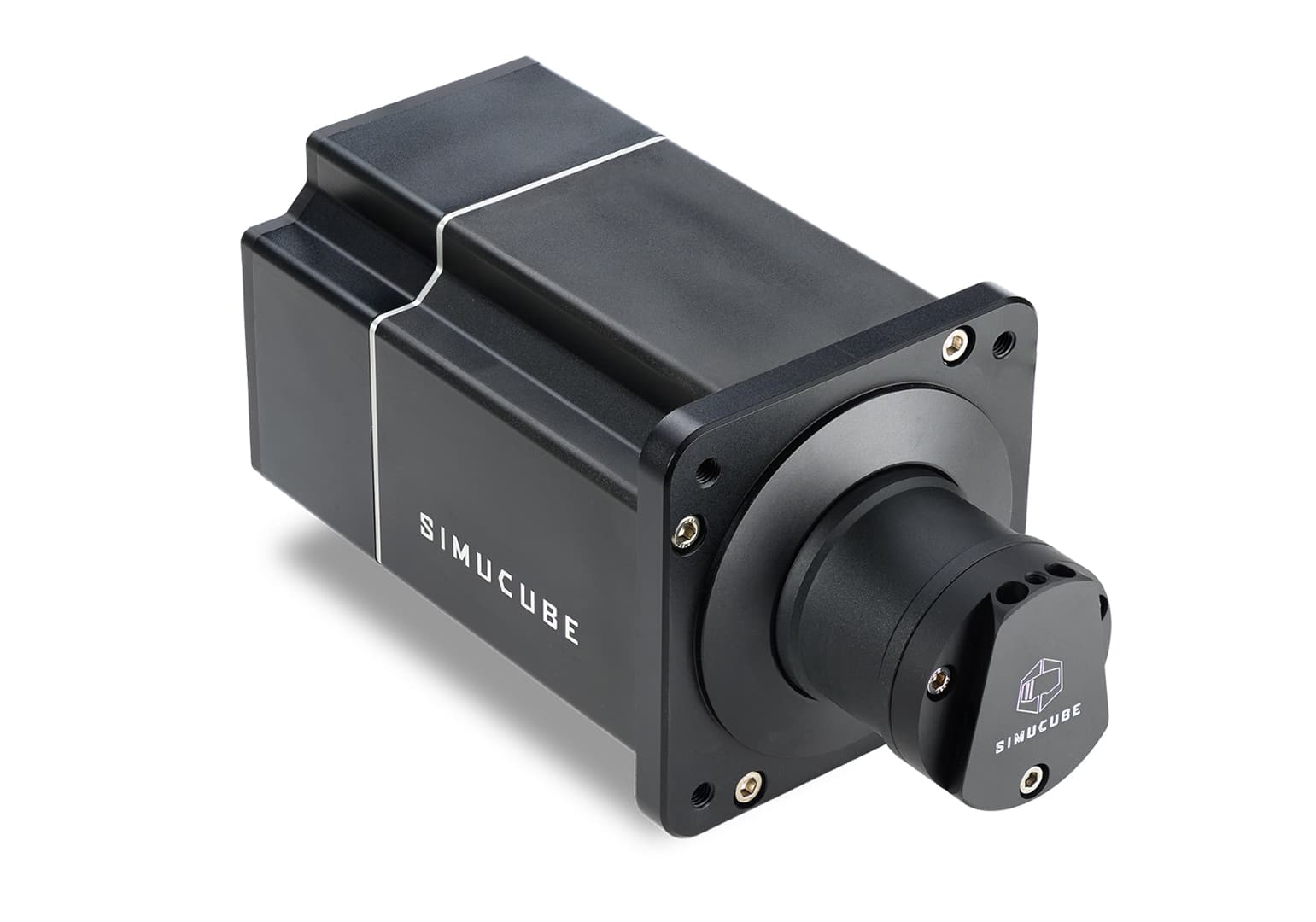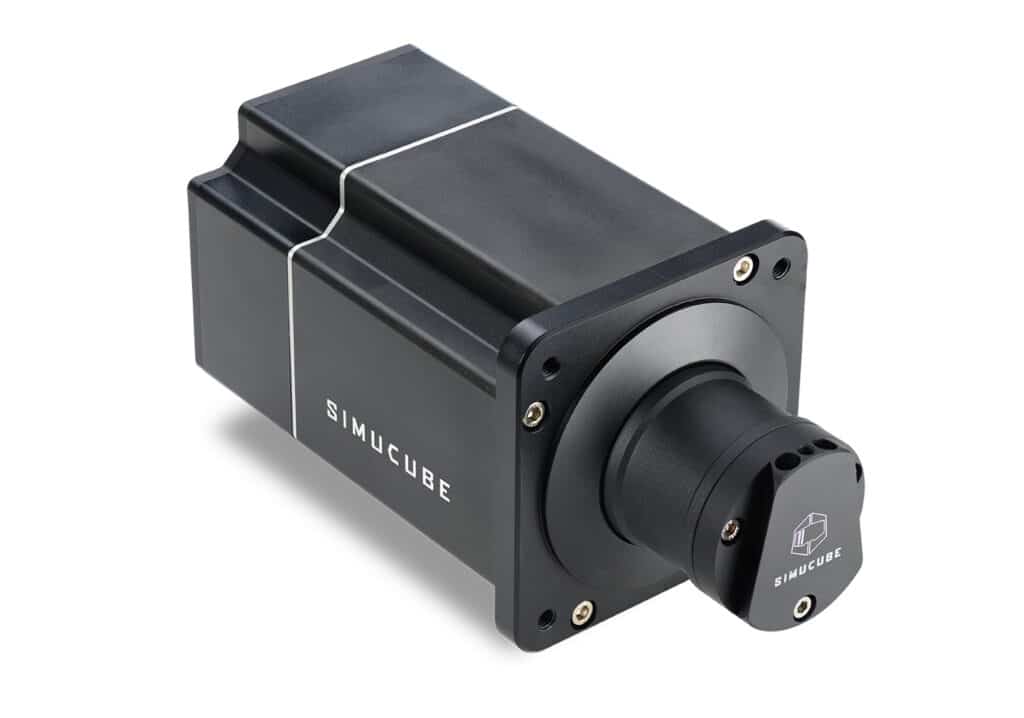 Sim-Pli.city SW20 V3
Sim-Pli.city is one of the lesser-known sim racing brands but their SW line certainly holds up to the more mass-market direct drive wheels. The SW20 V3 is no exception.
Like many direct drive wheels, the SW20 features a 20 Nm motor and superbly translates car handling characteristics and surface detail through force feedback. However, what is impressive about this direct drive wheel in particular is the level of input detail that the wheel's encoder can detect.
It has been demonstrated that it is even able to pick up even movements as subtle as a finger being brushed along the wheel rim while remaining on a 1:1 scale, i.e these inputs are still in sync with what the car is doing in-game and will not influence the steering disproportionately.
In terms of tuning, the SW20 tuning software is very simple and intuitive. It has all the required options for setting adjustments such as rotation, torque and the overall weight of the steering without being overwhelming.
It is also reasonably priced at $872, listed on the Sim-Pli.city website. While the SW20 is certainly a niche option when it comes to direct drive wheels, although it is certainly a competitive one.
Fanatec Podium DD2
Fanatec is one of the biggest brands for sim racing equipment and is renowned for its racing wheels. Their flagship Podium DD2 wheelbase most certainly holds its own in the direct drive racing wheel market.
Fanatec claims a peak torque of 25 Nm and no less than 20 Nm in a race situation from the motor, offering an exceptional level of strength and detail through the force feedback.
Aside from driving characteristics, the Fanatec Podium DD2 has a host of useful features. Similar to other Fanatec products, it is equipped with a multi-purpose OLED screen that displays wheel tuning information, force feedback data, the wheel's temperature, motor data and more.
It is also backwards and forwards compatible with any previous or future Fanatec products, including wheel rims, hand brakes, shifters, etc. Furthermore, unlike many direct drive wheels, the Podium DD2 is also compatible with Xbox as well as PC.
The Podium DD2 is decent value for money, even as the more expensive model in the Podium line, at $1499 and it comes with a 5-year warranty. Its overall exceptional quality has made it immensely popular as a direct drive option.
MOZA Racing R16
MOZA Racing is a relatively new entrant to the world of sim racing hardware but they've quickly established themselves as direct competitors to the likes of Fanatec and Simucube.
They offer three direct drive wheelbases with their R16 being our mid-range pick. At $999 excl VAT with 16Nm of torque, it's positioned to directly take on its Fanatec and Simucube rivals. Its aluminium body looks the part and the quick release system for its range of steering wheels completes a professional-looking package. The R16 supports three different steering wheels from MOZA that should cover most drivers' needs.
16Nm of torque is a huge amount that the R16 uses to pass on even the tiniest details to the driver. It's really high-quality wheelbase that we're sure will satisfy even the most serious of sim racers.
Simagic Alpha
The Simagic Alpha is Simfai Solutions' range-topping direct drive wheel. It is one of the later additions to the high middle of the global direct drive wheel market, rivalling Simucube and Fanatec after being on sale exclusively in Asia for some time now.
The Alpha uses a 15 Nm 3-phase servo motor that provides excellent weight and force feedback like many direct drive wheels.
Perhaps the main appeal of the Simagic Alpha is that it offers almost everything that wheelbases from Fanatec and Simucube, but that even with a wheel rim it actually costs roughly the same as a Podium DD or a Simucube 2 Sport or Pro without a wheel rim. Currently, there are three-wheel rims to choose from with additional options for a killswitch and aluminium mounting brackets. And this ecosystem is also getting bigger with Simfai going as far as to offer entire sim racing setups.
The Simagic Alpha starts at $1499 listed on the Simagic website however this may vary from country to country as it is distributed globally through authorised resellers.
Ultimately, the Simagic Alpha is a reasonably priced rival to the Fanatec Podium DD range and the Simucube 2 and a very competitive one at that.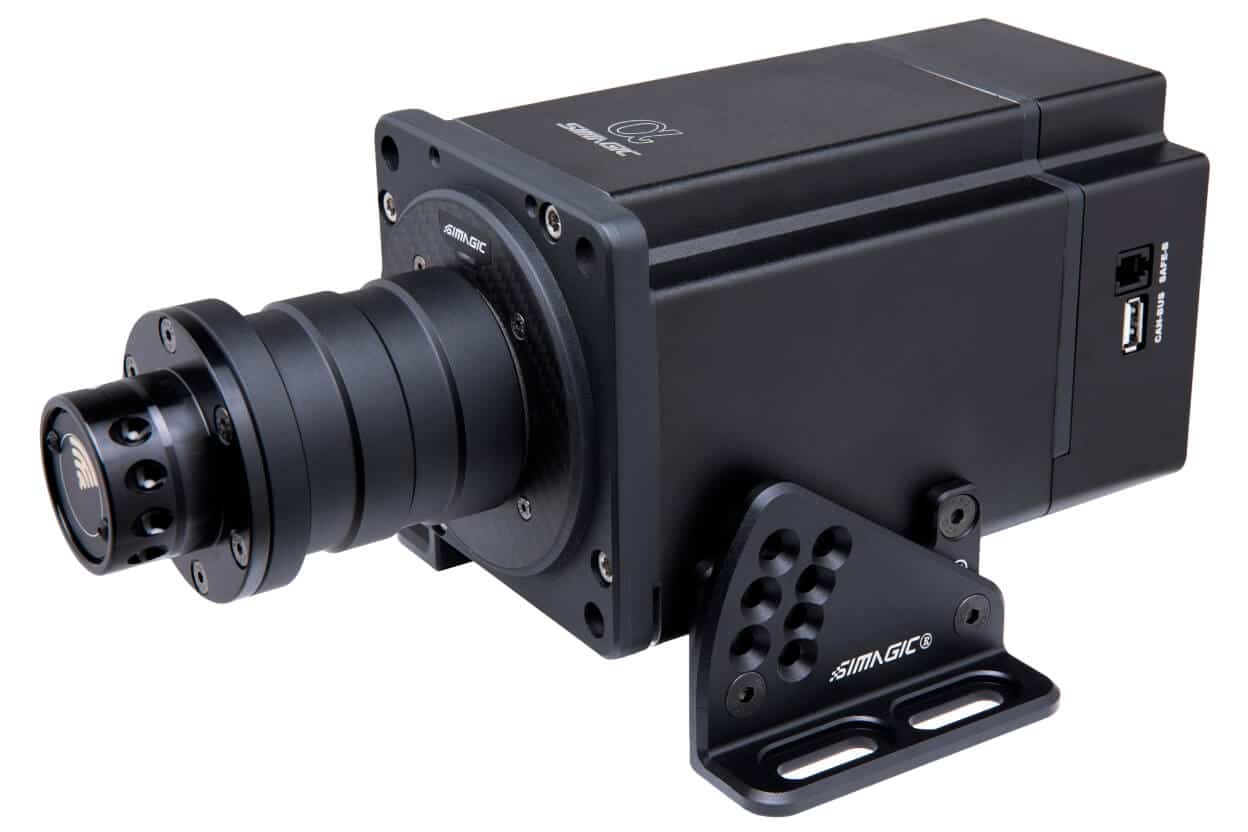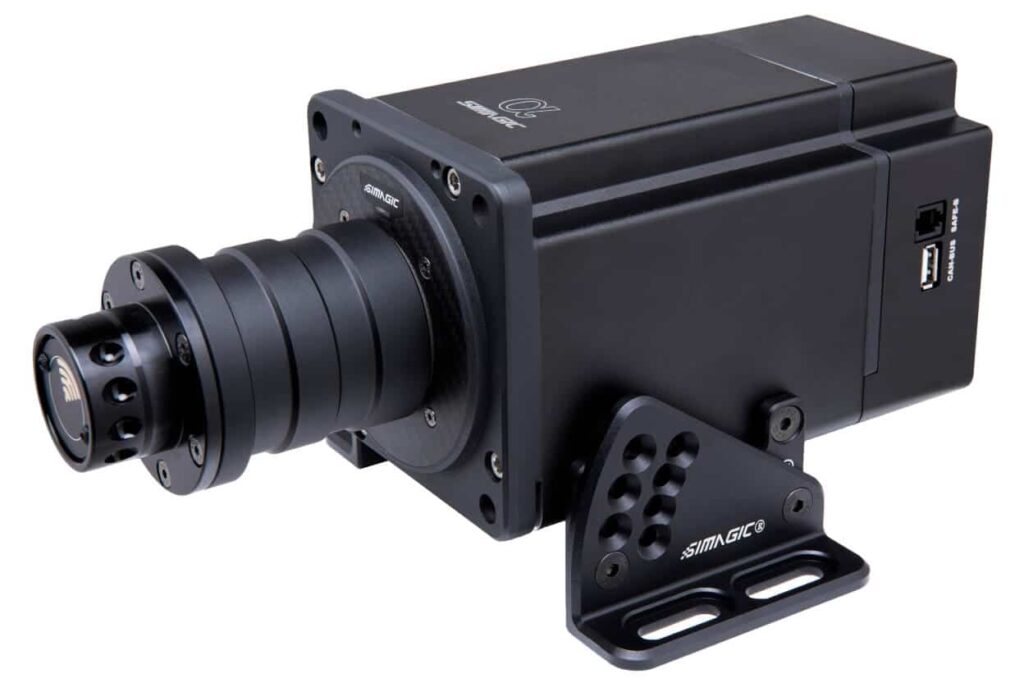 Leo Bodnar SimSteering 2
The Leo Bodnar SimSteering 2 is perhaps the pinnacle of all direct drive racing wheels. While it is available to consumers, this wheel is primarily used by F1, sportscar and touring car race teams.
The SimSteering 2 (specifically the standard 52 version) features a motor with 16 Nm of torque. While this is hardly class-leading, there is zero cogging and it is incredibly smooth compared with even the best direct drive wheels. Amazingly, it can pick up finer details of track surfaces and car handling characteristics that even the most high-end equipment wouldn't. This realistic translation of even the most subtle nuances makes using the SimSteering 2 a driving experience that is practically second to none.
The wheelbase will require some optional extras, one of the wheel rim adapters for example is a must-have as it allows for the use of aftermarket wheel rims. That said, almost any aftermarket wheel rim can be used with the SimSteering 2.
There seems to be a consensus among the sim racing community that this wheel is beyond almost anything that any consumer-grade brand can offer. However, it comes at a price. The wheelbase alone for the standard 52 model is priced at $4170.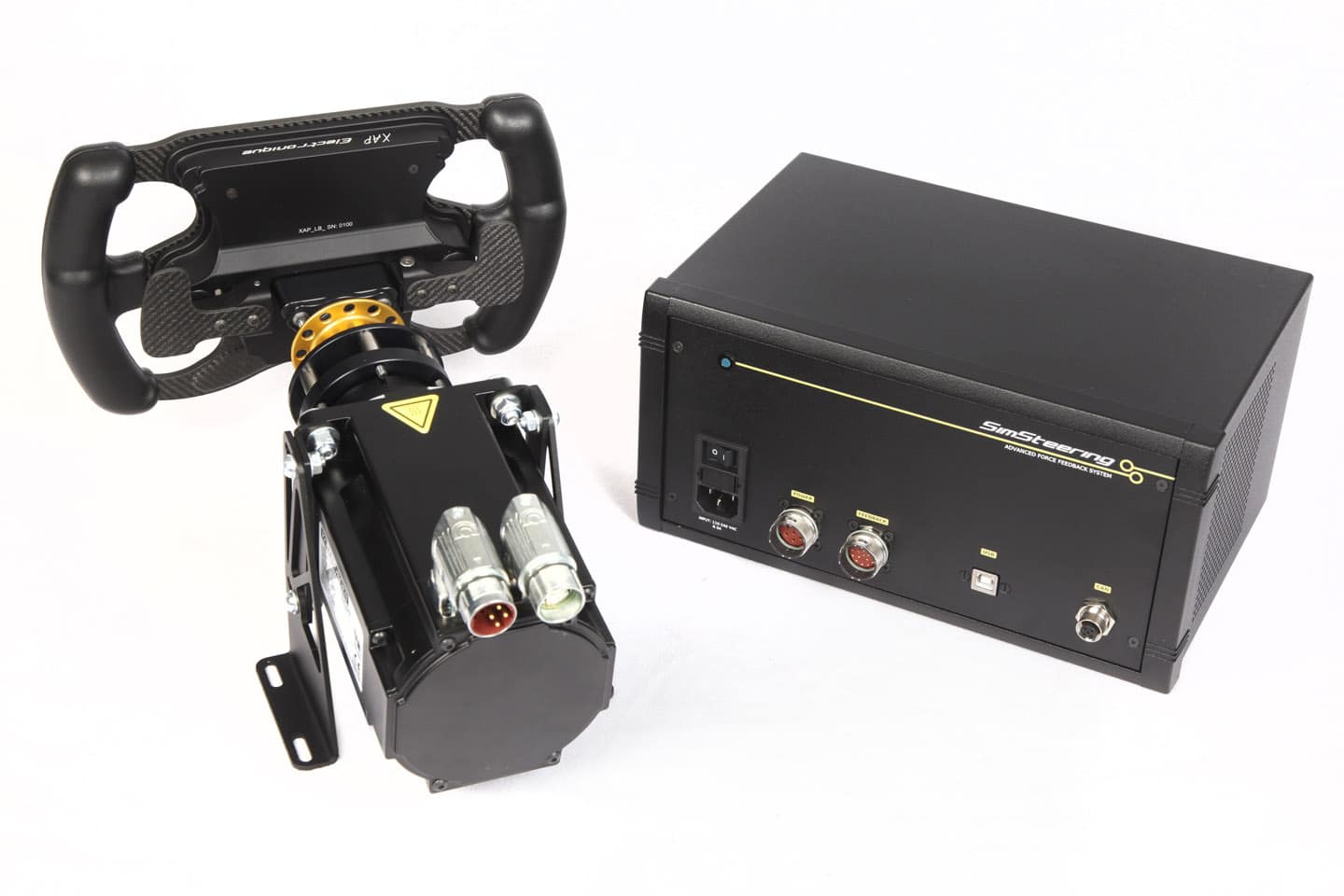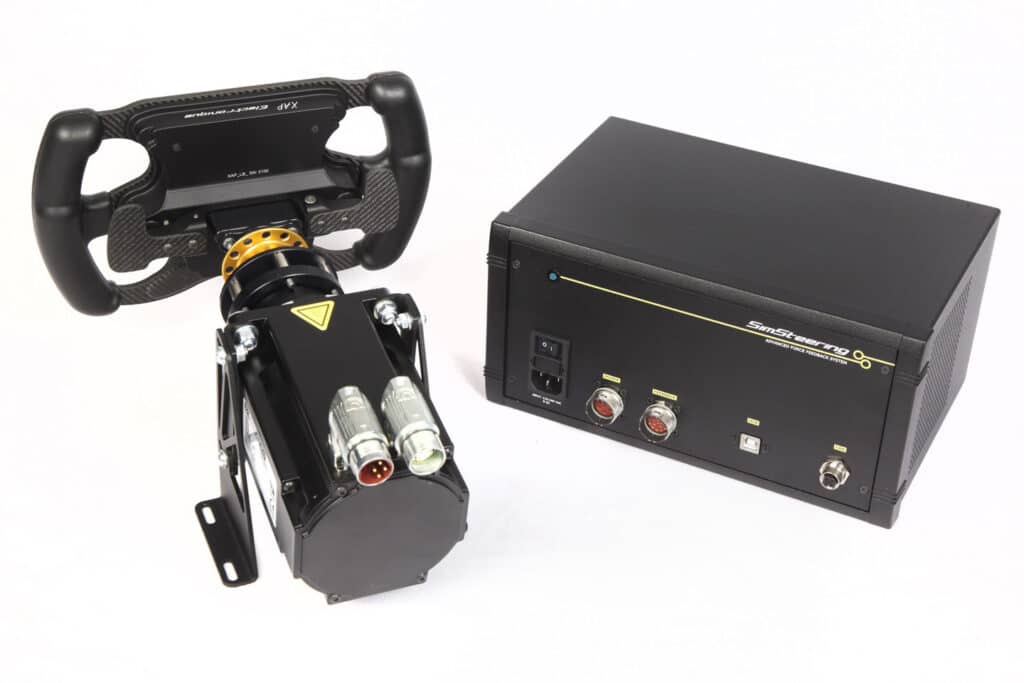 Is a direct drive wheel worth the money?
Whether a direct drive wheel is worth the money comes down to the purposes of the user. If you want a wheel that is suitable for arcade or simcade racing games and you're just looking to make your driving experience a little bit more interesting, then a direct drive wheel is simply unnecessary.
Summary
Summary
Direct Drive Base
Category/Price
Pros
Cons
SimXperience AccuForce V2
Budget (From $628.95)
Affordable.Flexible. options.
Optional alcantara wheel high quality.
Force feedback not quite as polished as more expensive options.
Fanatec CSL DD
Budget (From €349.95)
Affordable
Wide range of Fanatec steering wheels
Torque may not be high enough
VRS Direct Pro
Budget (From $799)
Affordable.
Promising ecosystem.
Force feedback ever so slightly less polished than more expensive options.
Simucube 2 Pro
Mid Range (From $1499)
Excellent force feedback.
Compatible products are very expensive.
Sim-Pli.city SW20 V3
Budget (From $872)
Easy to tune.
Reasonably priced.
Niche option, offering limited support.
Fanatec Podium DD2
Mid Range (From $1499.95)
"Plug and Play" style.
Console support.
Good ecosystem.
Simucube 2 may be smoother at times
Simagic Alpha
Mid Range (From $1499)
Excellent value for money.
Wheel rim often included in price.
Price may vary.
Depending on the reseller.
MOZA Racing R16
Mid Range ($999 excl. VAT)
Very powerful with incredible detail
Good range of steering wheels
New to the market and not proven
Steering wheel range needs more choices
Leo Bodnar SimSteering 2
Top Pick (From $4168.51)
Superior feedback and build quality.
Heavy price tag.