Assetto Corsa Competizione is a complex combination of simulation and racing such that every single situation provides a different outcome. Whether it be setups, tyres, track, each factor plays a huge role. The braking performance of your car contributes immensely to your overall performance while racing. Having confidence in the brakes is a crucial ingredient for a driver to be both fast and consistent.
Choosing the Correct Brake Pad Type
In simple terms, the brake pad dictates the braking efficiency of your vehicle. While there are other parts at play, such as the brake ducts and the brake discs, the pads are the primary source of slowing the car down.
Brake pads are easily susceptible to wear and reduction in efficiency depending on usage. Here are a few terms that you must remember to understand the braking prowess of your car better.
Pad Wear
Pad Wear refers to the ultimate wearing down of your brake pads. Each set of pads has a lifespan (ideally), and the friction offered will slowly reduce along with the material reducing over time. The moment your pads reach a particular threshold of wear, where the thickness of the pads cannot provide a contact patch with the disc due to severe loss of pad material, they will lose their braking power, and you will be left with a car that cannot stop (fun, right?).
The last thing you want is a car without brakes, no matter how brave you are. Hence, judging the approximate life cycle of your pads is crucial.
Brake Fade
Brake Fade happens when the pad fails to "bite" the disc or vice versa. Biting refers to these two elements' surfaces gripping each other, creating friction and sticking together to allow braking to take place. Biting can only occur when the brakes are in the optimum temperature window.
Brake fade occurs due to extreme heat caused by repeated application of your brakes and/or in an aggressive manner. Heat is a natural by-product of braking, but when the brakes cannot be cooled efficiently, the heat cannot be dissipated quickly, and your braking efficiency is reduced.
A lesser-known phenomenon is having very cold brakes. Your brakes are too cold to work correctly (below the operating range) and need to be warmed up. Knowing the operating temperatures of your brakes is the best way to prevent brake fade.
Brake Bias
The last term is brake bias. Also known as Brake Balance, it refers to allocating braking power to each wheel. If you've been racing or watching motorsport for a while, you would have heard the terms front-bias, rear-bias and balanced braking.
Front-bias is when your front brakes have more braking power than the rear brakes while rear-bias is the exact opposite. Balanced means that you have a 50-50 (F/R) split in braking power for front and rear. The bias is entirely based on your driving style and what helps you race the best.
Even the best single-seater cars do not run a 50-50 bias. Most setups run a front-bias with F1 cars aiming for 52-48 to 55-45 while front-engine cars even run up to 60-40. Mid-engine cars are somewhere in between with a 56-44 59-41 bias. The higher the front-bias, the more stable the car, albeit with an increased chance of locking up.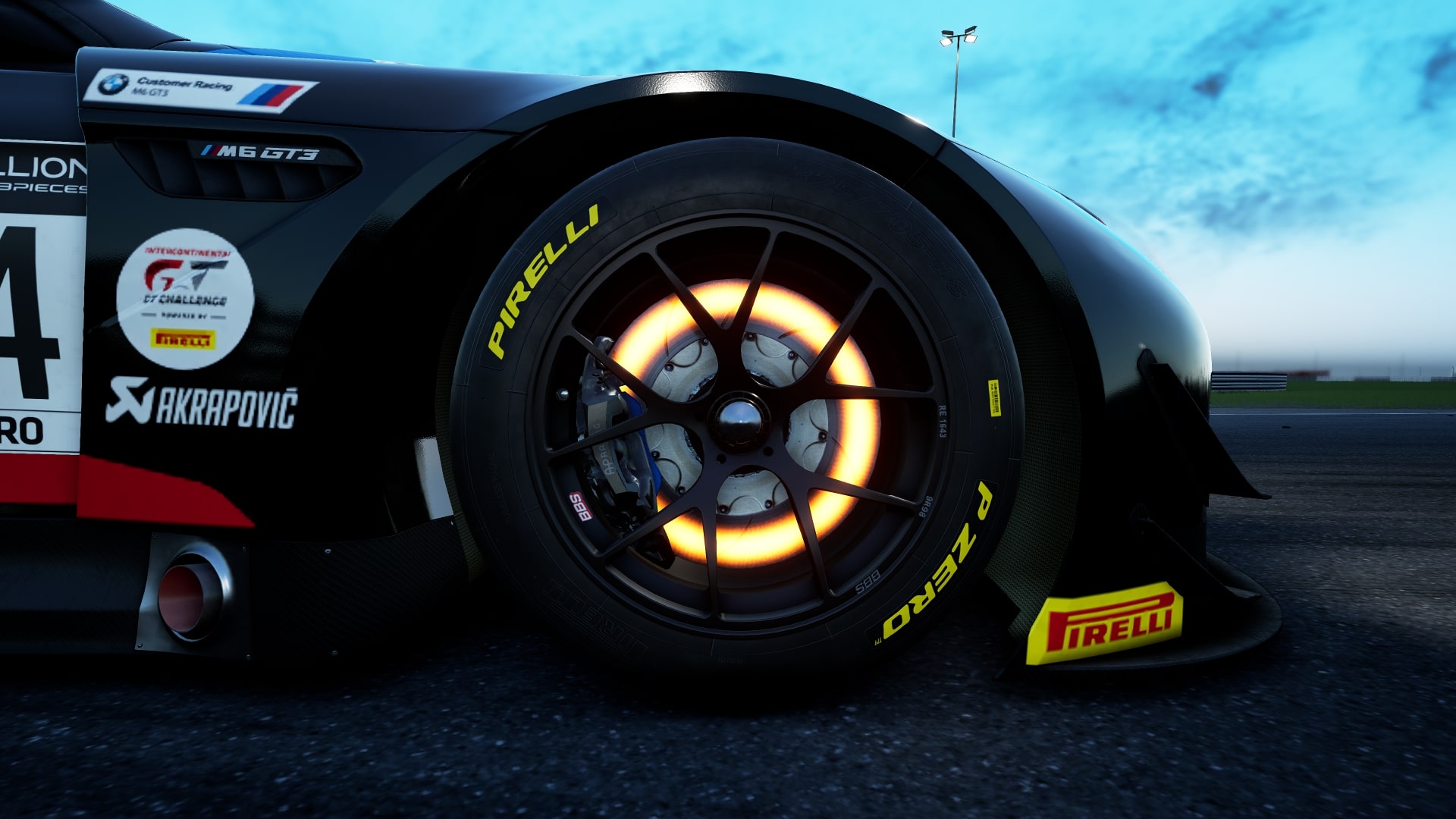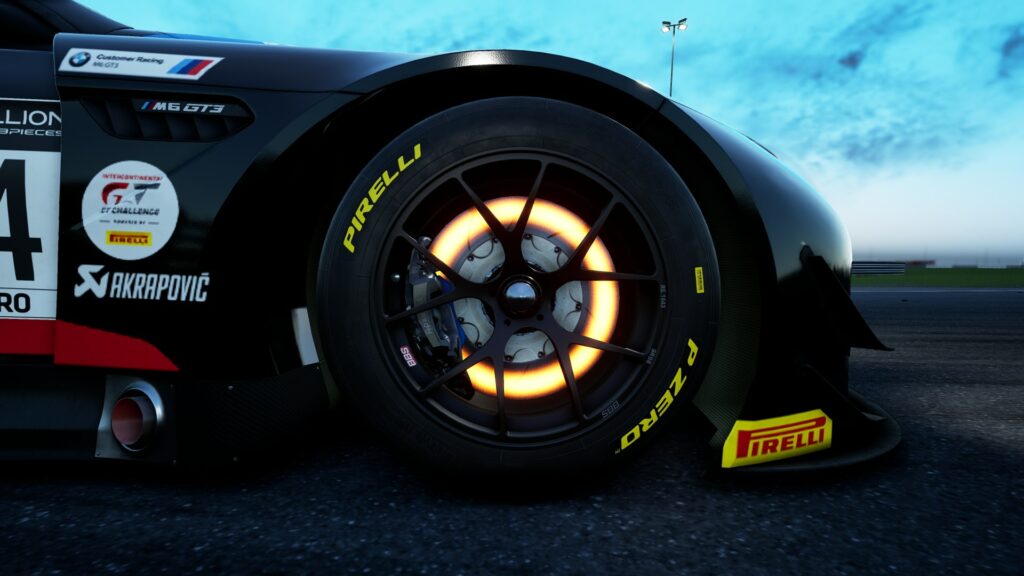 Types of Brake Pads
In ACC, brake pads have been split into types to help sim racers decide which pads to use depending on the session. Broadly speaking, ACC has four different brake pad types for GT3 cars and two pad types for GT4 cars.
GT3
Pad 1
Pad 1 is best used for shorter events. Anything that falls under 3 hours of racing is suitable for Pad 1, although they last between 90-120 minutes in realistic conditions. These are no longer the clear-cut most potent brake pads in ACC since the V1.9 update, however, offer the highest coefficient of friction. Everything isn't exactly perfect with this type as these pads also cause aggressive disc and pad wear.
Additionally, the pads tend to heat up rapidly, so frequent brake fade is a genuine concern. This will also cause your pedal modulation to go awry once overheated and are downright dangerous to use for more than 3 hours. They also require you to maintain the strict temperature window in order to function optimally. If not held, the brakes will start suffering.
Pad 2
Very similar to pad 1 in terms of performance but not purpose, this type is better suited for endurance racing. They have a good coefficient of friction, good braking performance and decent disc and pad wear. The pads can easily last for 12 hours and can even stretch to 20 hours if you've got a feather foot.
Pedal modulation is consistent, allowing you to gauge the braking accurately for the session's entirety and provides useful feedback during overheating and predictability. A reliable option overall.
Pad 3
Pad 3 is the type specially designed for wet weather racing. The pad offers moderate braking performance, medium friction but provides a really good pad life with intermediate disc and pad wear. Your stopping distance will increase and even more so in dry weather, but that comes with the benefit of them working efficiently even in colder temperatures.
You also get excellent pedal modulation and linear pedal feedback throughout the stint. As a bonus, these pads can also be used for extremely long dry endurance races and not just for wet weather. However, it is advised to keep Pad 3 only for extreme wet weather as the friction coefficient can make your brakes feel incredibly wooden (slow and weak) in dry conditions.
Pad 4
This is the "Participation Certificate" equivalent of brake pads. Pad 4 is as useless as headlights on an F1 car. This pad is mainly integrated into the game for simulations and mimicking Pad 1's wear characteristics. Theoretically speaking, this pad offers the highest coefficient of friction, highest braking performance and the most aggressive disc and pad wear and can last for about an hour tops.
But that just tells half of the story. Despite having "some" lifespan on paper, the reality is quite harsh (no pun intended). These pads deteriorate very quickly and will be completely worn out in a couple of laps. They have terrible overheating and brake fade and should only be kept for demonstration purposes.
GT4
Pad 1
As GT4 brake pads are considerably underpowered compared to GT3 brake pads, you have smaller, more delicate pads to calibrate. These pads are similar to that of a road car and work harder with more cooling required to control these heavy GT4 cars. Pad 1 for a GT4 car is identical to Pad 4 of the GT3 car. It is reliable for only 30 minutes, but you do have an easier time maintaining them.
Pad 2
Pad 2 is the recommended type for GT4 cars in all instances. This type is similar to Pad 2 of GT3 cars and is ideal for all racing conditions as it offers predictable pedal feedback and provides stable performance even in cold weather. Another plus is that you can go for aggressive ACC setups while using these pads.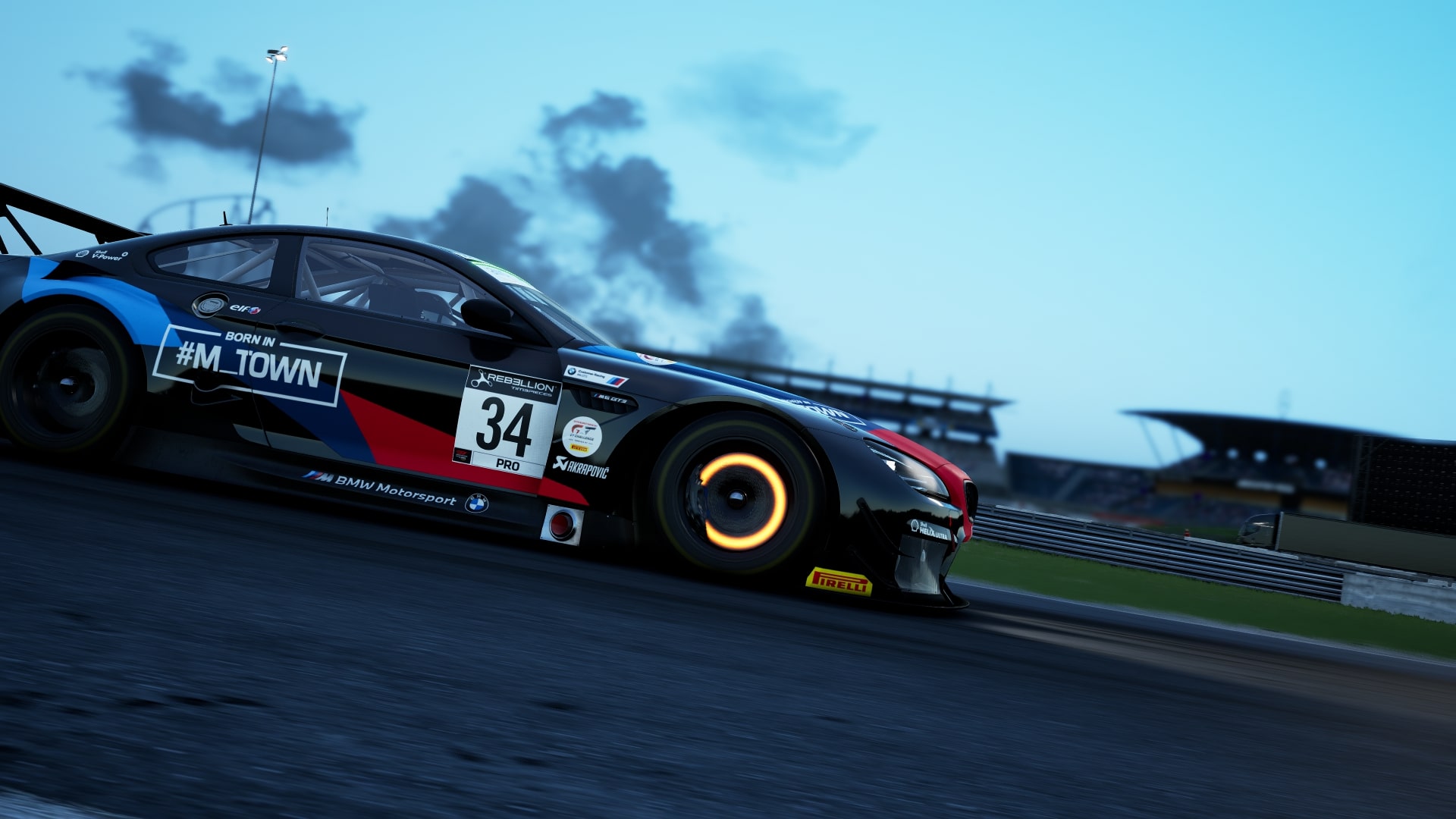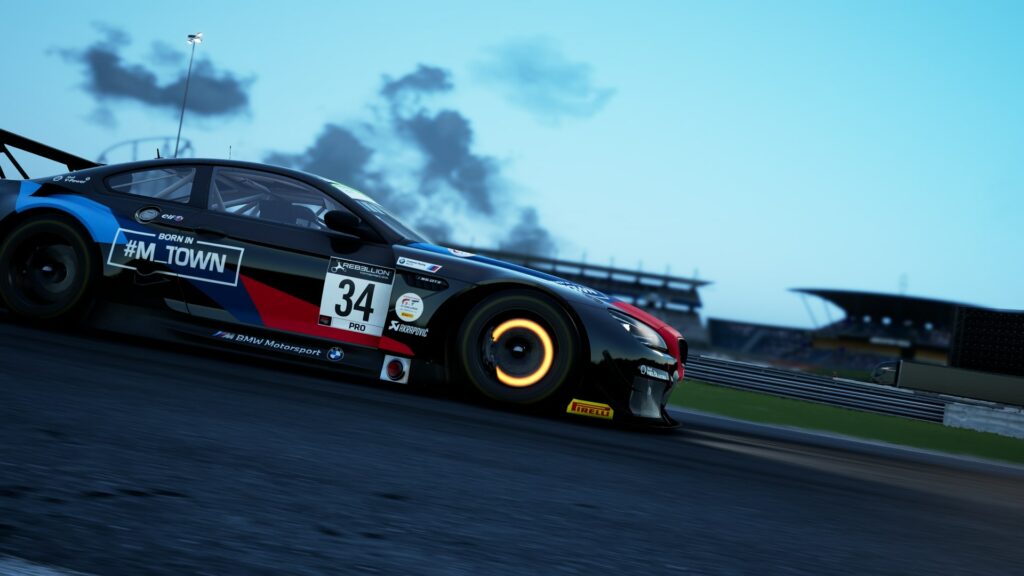 How to Select the Correct Brake Pad
Now that we know what the different brake pads are, it's time to identify where each type can be used. Here are the various categories and the recommended choices:
Session Condition
GT3 Brake Pad Type
GT4 Brake Pad Type
Hotlap
Pad 1
Pad 1
Qualifying
Pad 1
Pad 1
Dry Race (Under 2 hours)
Pad 1
Pad 2
Dry Race (2-18 hours)
Pad 2
Pad 2
Dry Race (up to 24 hours)
Pad 2
Pad 2
Damp Conditions
Pad 2
Pad 2
Wet Race
Pad 2
Pad 2
Extremely Wet Conditions
Pad 3
Pad 2
Practice
Pad 1 – Normal Practice

Pad 4 – Extreme Simulation
Pad 2 – Normal Practice

Pad 1 – Extreme Simulation
Brake Wear Simulation
Pad 4
Pad 1
Maintaining Your Brake Pads
Selecting the correct brake pad is just the first step. You still need to know how to manage and maintain your brake pads for maximum results. Here are a few tips to help you get in the groove:
Spotting your Braking Point
Perhaps one of the most crucial aspects of racing (and sim racing) in general is identifying your braking zones, this goes a long way in optimising your braking performance. More accuracy in braking zones leads to lesser load on your brakes. It is a delicate balance which comes with practice and a careful study of each track using track maps and trackside markers helps.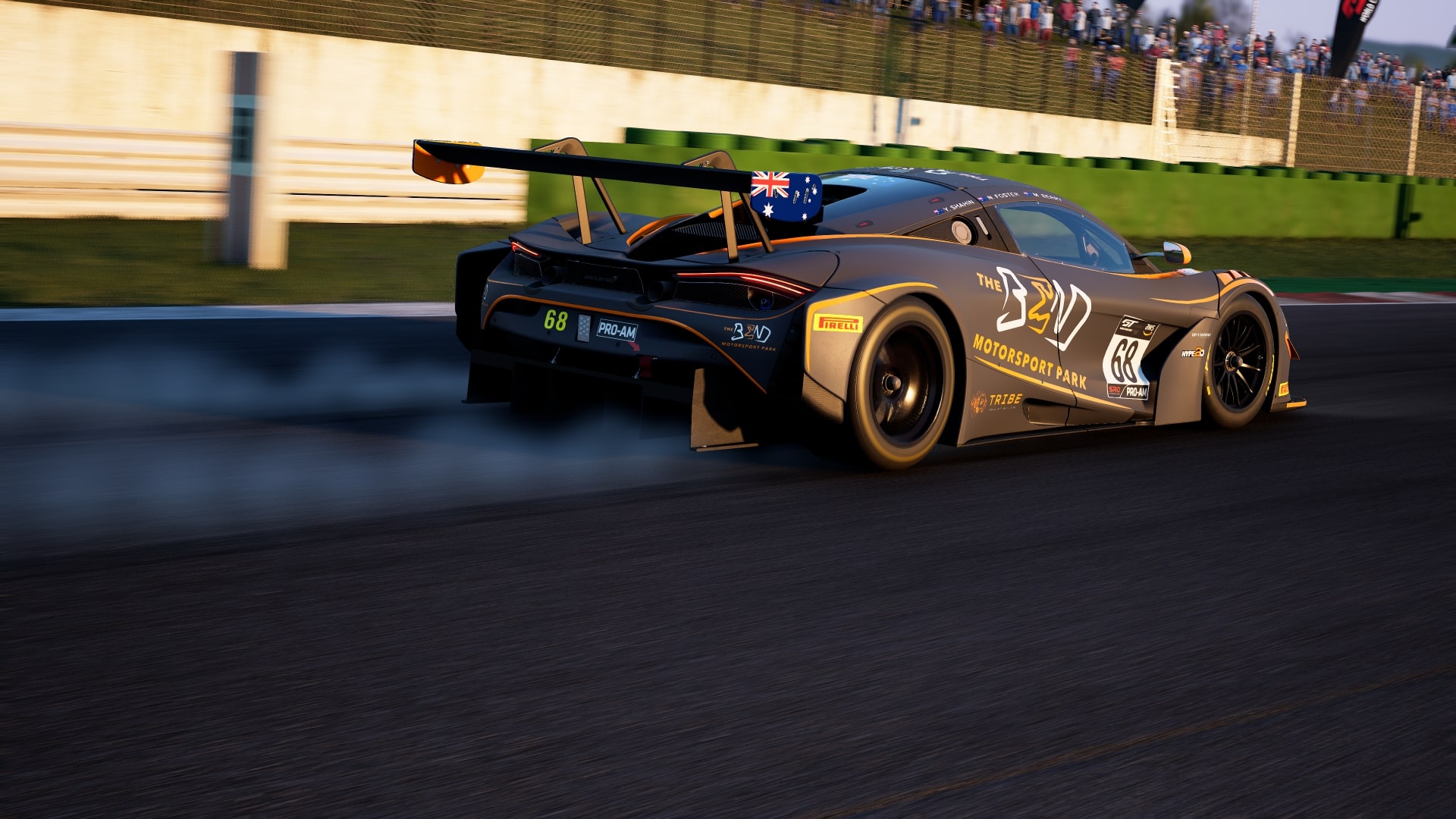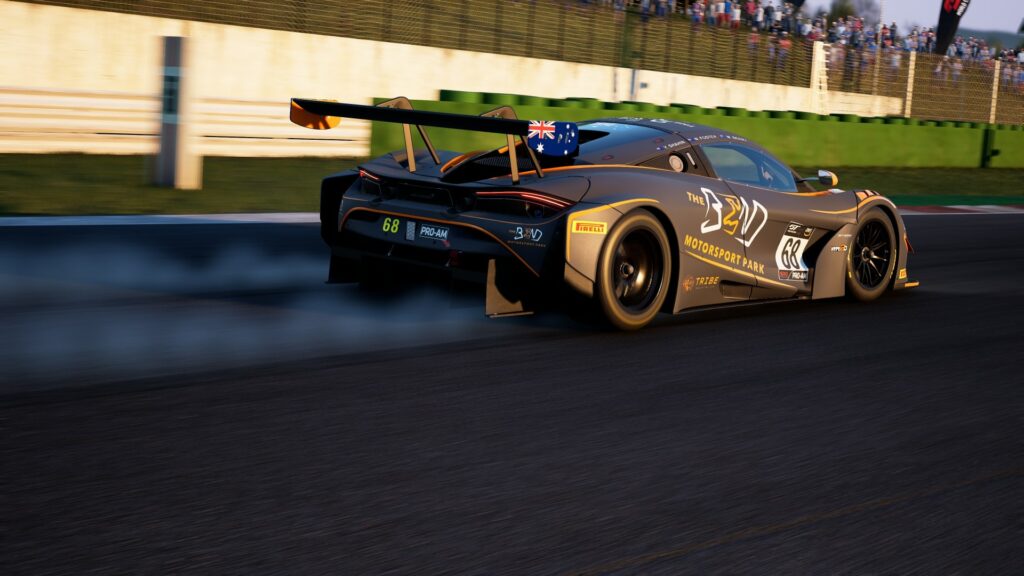 Adjusting your Brake Ducts
A car's brake ducts help guide air into your brake assembly. The disc and pads get extremely hot under application and air is the fastest way to cool them. In ACC, you can adjust your duct opening to determine the amount of air allowed to pass through. Brake Ducts can be adjusted from 0 (completely closed ducts) to 6 (completely open ducts). Do note that changing duct settings affects your aero balance to a certain extent.
At 0, you will face brake fade and overheating every time you brake, with temperatures reaching 1000°C quickly while 6 will cause your brakes to cool down rapidly but barely attain the working temperature windows. As a rule of thumb, it is better to have lower values for Pad 2 and 3 (GT3) and Pad 2 (GT4) while Pad 1 and 4 (GT3) and Pad 1 (GT4) require higher duct values.
Deciding your Braking Method
Numerous braking methods can be employed while racing, and each strategy has its pros and cons. Depending on the track, the car, surface and the weather, some techniques are preferred over the others. Most popular braking methods include threshold braking, cadence braking and trail braking but more on that later!
And that concludes the technical analysis of the various brake pads available in Assetto Corse Competizione. The data above will surely help sim racers get into the rhythm they need to optimise their braking performance. For more tutorials like this, don't forget to check out Coach Dave Academy! To improve and expand your sim racing credentials, check out the Daily Racing feature available on The Sim Grid!