Let's say that you've just invested in a new monitor. Perhaps it's one we've recommended as one of the Best Sim Racing Monitors. However, you haven't thought much about where these monitors are going to go. Perhaps your rig doesn't have any attachments for a monitor. Perhaps you only use a desk to mount your wheel to, a desk which is cluttered with other peripherals like your mouse and keyboard. In that case, a monitor stand might be the thing for you.
What should I look for in a Monitor Stand?
Before you purchase your monitor stand, you will need to consider the following:
Your Monitor. Monitor stands vary as much as the monitors themselves. You will need to make sure that the stand can comfortably fit your size of monitor or monitors.
Type of Mounting. Some monitor stands will hard-mount to a wall, some will mount to a desk or rig and some will be free-standing from the floor. As a result, you will need to think about which kinds of mounting you are able to do.
Your Environment. How big is the room that your rig is in? Do you race from the same spot that you do when you're browsing the internet, reading the latest releases from the Academy? These questions are ones you will need to answer when finding the most suitable and appropriate monitor stands.
Do monitor stands work with any monitor?
If you've been in the market for a new monitor we're sure you will have found a huge variation in results. They come in all shapes and sizes, quite literally. Whether it be curvature, size, or width, each monitor will have some variation in either of these three departments, meaning they need their own specific type of stand to support them. You won't be able to put a curved ultrawide monitor on a small standard width stand and so on, so you'll need to look for more specific stands for your monitor.
Single-Monitor Stands
This section will look at monitor stands for users that run a single monitor or an ultrawide monitor. With a variety of mountings and layouts, these are the best of the best for those starting out with a single-monitor setup.
AmazonBasics Wall Mount LCD Arm
Clocking in at £75.00, the AmazonBasics Wall Mount LCD Arm is an adjustable arm for a single monitor. As it is mounted to the wall, it allows for adaptability as you can use the monitor at a desk as well as at a rig. It is especially useful if your rig is separate from your main desk as you can pivot and rotate the arm so that it can be used in multiple places effectively.
However, as a budget option, there are some compromises that have to be made. Firstly, the biggest monitor that Amazon claims it will support is 32 inches. In addition to that, it is designed with traditional 16:9 monitors in mind. This means that it would not be suitable for most ultrawide monitors as well. Whilst it is a budget solution, it is not a specialised solution.
Sim Lab Single Monitor Stand
A free-standing monitor stand, Sim Lab's Single Monitor Stand can accommodate almost any monitor or television screen. At £149.00, it is adaptable and adjustable which means that there's something for everyone in it. In addition to that, it can attach to most sim rigs. This means that you don't have to worry about any issues with the stand being a separate entity as it can fit seamlessly into your sim racing solution. It is also quoted as being able to support any size of monitor, meaning that it will be usable if you have a 16:9 monitor as well as an ultrawide monitor.
However, it does require users to have a large designated area to support a large free-standing monitor stand. The size of the stand also means that, if you are not attaching it to a rig, it can be difficult to move the stand with a monitor attached to it due to the size and weight of it and a monitor.
Next Level Racing Freestanding Monitor Stand
At £153, Next Level Racing's Freestanding Monitor Stand comes in at a slightly higher cost than the Sim Lab stand. However, the stand is easier to move thanks to having castor wheels as part of its construction. This would be useful for sim racers whose rig is separate from the main part of their computer as it means you are able to move the stand seamlessly between positions. It is suitable for monitors between 24 inches and 85 inches in size, meaning that most single-monitor solutions are supported by this stand.
However, there are some compromises that are made with this purchase. As with the Sim Lab Single Monitor Stand, it is still a large stand by necessity and as a result, will be difficult to move in small and cramped spaces. Another issue that Next Level Racing's Freestanding Monitor Stand has is that, since it is designed to be moved with these castor wheels in mind, it is not attachable to a sim rig without making large-scale compromises.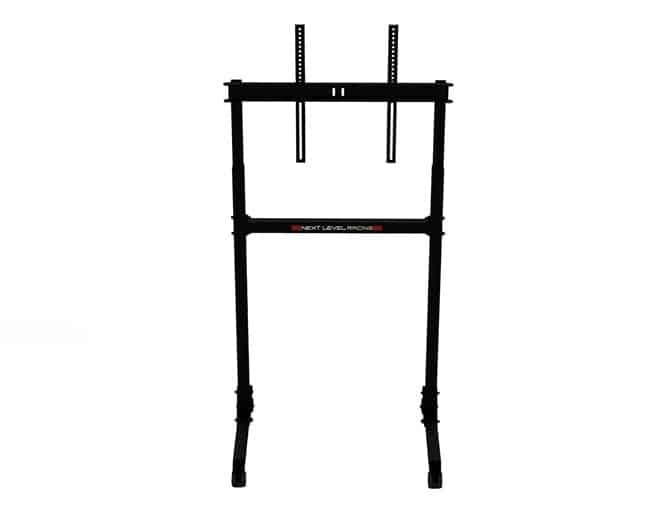 Triple-Monitor Stands
Running a triple-monitor solution often comes with its own unique challenges. These can vary from the monitors that you're running to the angle that you want the monitors to be at. As a result, you need a monitor stand that can mount various monitors in various positions whilst keeping at an even level to immerse yourself fully in the experience.
Sim Lab Triple Monitor Mount
Coming in at £228, Sim Lab's Triple Monitor Mount is similar to their Single Monitor Stand that we've already discussed in our earlier section. Freestanding but able to be attached to most rigs, it allows for variability and versatility in terms of monitor spacing and monitor angles. The angles can be set between 40 and 75 degrees, with monitors between 19 inches and 45 inches supported on the stand.
On the other hand, like with the Single Monitor Stand, it is difficult to move the Triple Monitor Mount if needed. However, this is amplified further with the Triple Monitor Mount as it is a larger and heavier product. This means that it is the best product for someone who is likely to only use it at their rig, unless their rig moves easily.
Trak Racer Cockpit-Mounted Triple Monitor Stand
Clocking in at £254, Trak Racer's Cockpit-Mounted Triple Monitor Stand is designed to be attached to vertical supports on almost any sim rig. This means that the monitors are likely to be closer to you when you are sat at your rig. In turn, this can help you by allowing for more options in rotation angle and field of view to better immerse yourself in the sim racing experience. It can also support monitor sizes up to 45 inches, similar to the Lim Lab Triple Monitor Mount.
The downside is that, whilst it is designed to be suitable on most rigs, it is only usable if you have one of these rigs. The mounting pattern means that you will need to account for the width of your rig as well as the height and rig of your rig and hardware components so that your monitors don't touch your wheelbase.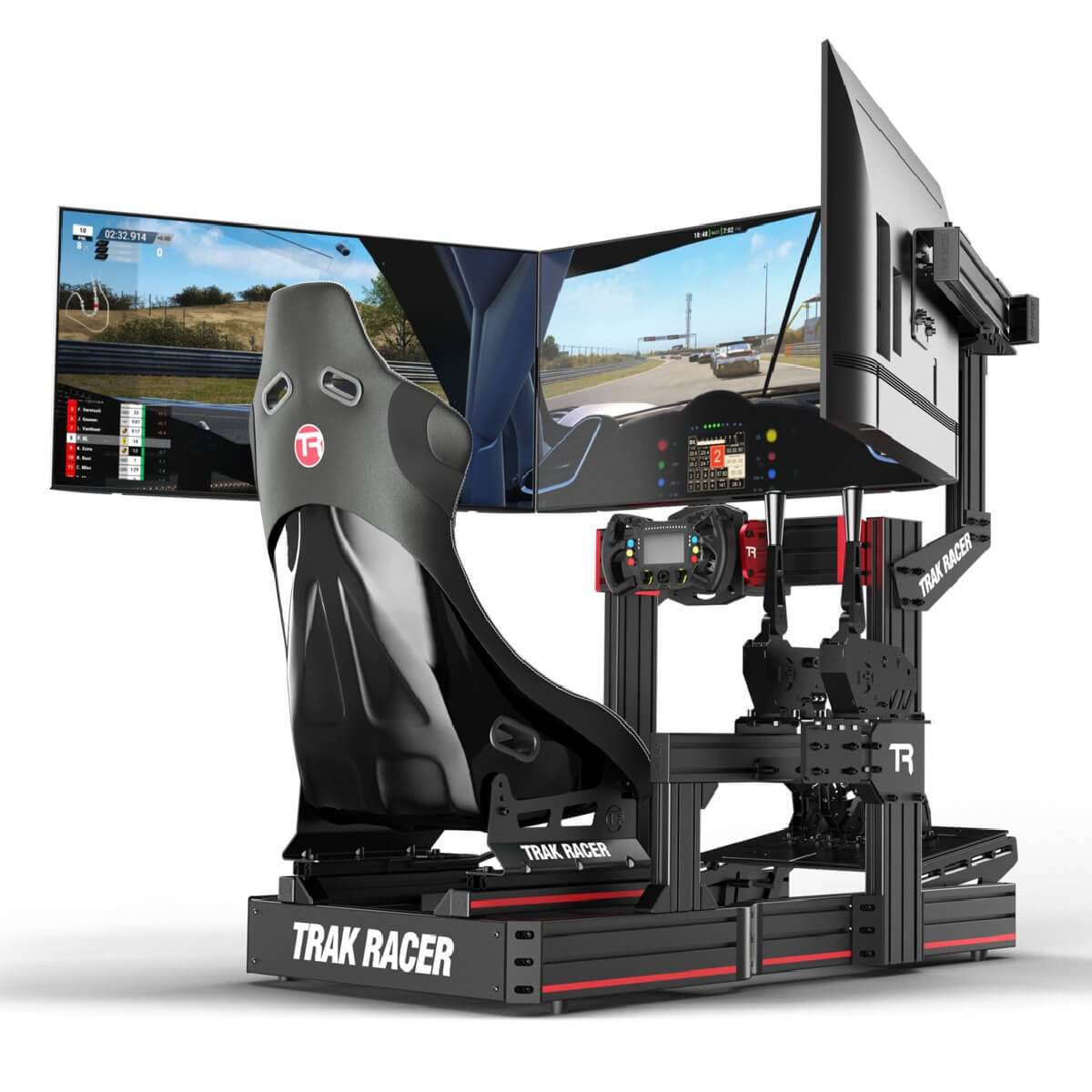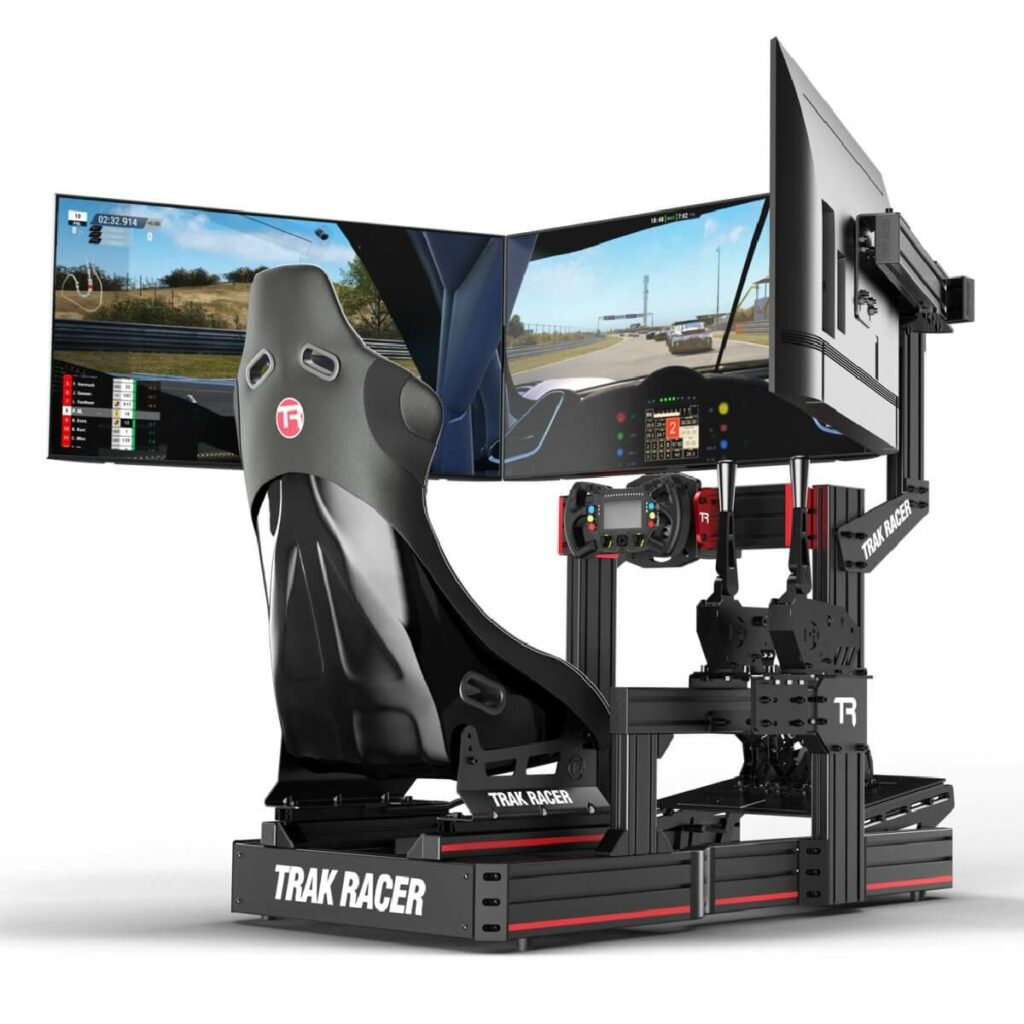 Next Level Racing Freestanding Triple Monitor Stand
Listed at £305, Next Level Racing's Freestanding Triple Monitor Stand is the most expensive of the three options. However, much like with their Freestanding Monitor Stand for single monitors, the Freestanding Triple Monitor Stand also features castor wheels. That means that it's possible to move it between different environments easily.
However, the required monitor size is between 32 and 65 inches. This can be an issue to users who are looking to use smaller monitors, with the range on the Sim Lab Triple Monitor Mount being between 9 and 45 inches covering a wider spread of monitor users.
Item
Cost
Pros
Cons
Sim Lab Triple Monitor Mount
£228
Attachable to most rigs
Able to stand freely
Takes up large area
Difficult to move
Track Racer Cockpit-Mounted Triple Monitor Stand
£254
Most compact solution
Allows for greater variety in settings
Only mountable to compatible rigsRig setup may be compromised to fit monitors
Next Level Racing Freestanding Triple Monitor Stand
£305
Easy to move
Suitable for larger monitors
Requires the most space to set up
Requires larger monitors than others