One of the most important parts of any sim setup is the monitor. Choosing the right display can make the difference between a smooth and immersive experience and potentially being held back by inadequate equipment. Don't know where to start? We have some recommendations for you.
Key factors to consider
Size: It is very important to consider the size of your monitor as well as how far it will sit from your eyes in order to have a usable FOV. Generally, it's best to have at least a 27-inch monitor for a single monitor setup.
Resolution: A higher resolution will give you greater sharpness and image quality. It's not going to make you faster, but it'll be nice to look at.
Refresh rate: While 60hz is a standard refresh rate for a non-gaming monitor, stepping up to 144hz or 240hz may offer you a serious competitive advantage when driving on the limit, providing you have the precision to take advantage of it.
Bezel width: Important to consider how thin the bezels are on your monitor even if you are getting a single monitor setup, as you may wish to upgrade to triples in the future.
Single Screen picks
For those looking for just a single monitor, it's important that you pick a monitor that's big enough to support a usable mathematically correct field of view, which for most people will be around 28°. To be on the safe side, we've chosen monitors that are 32 inches minimum, as any monitor smaller than that may become a very small window on some rig setups. Here are our recommendations.
Size: 31.50"
Resolution: 1920×1080
Refresh rate: 144z
Price: £235
The AOC C32G1 is a perfect budget option for anyone looking for a high refresh rate single monitor setup. The 1080p resolution is completely adequate for its size with no noticeable pixelation from most viewing distances, and its price makes it perfect for anyone looking for a 32-inch high refresh rate single monitor without breaking the bank. Please note that the bezel thickness is deceiving, as there is a bit of dead display between the screen and the bezels, so this monitor may not scale well for a triple setup.
Size: 31.50"
Resolution: 2560×1440
Refresh rate: 144z
Price: $339
For those wanting to step up to a higher resolution, the Acer ED323QUR offers a great value for a 32-inch monitor with a 144hz refresh rate and Radeon Free Sync. The bezels are also thin, making them potentially upgradable into a triple monitor setup. The 1440p resolution should improve image clarity at the expense of framerate, but with titles that support DLSS or FidelityFX, you may receive close to the same quality with a significantly lower framerate cost.
Size:42.00"
Resolution: 3840×2160
Refresh rate: 120hz
Price: $1499.99
With a 4k resolution, 120hz refresh rate, and a 42-inch display, the Acer Predator CG437K is the perfect choice for anyone that likes racing on a TV but doesn't want the input lag or low refresh rate associated with them. Just make sure your pc can handle it, as 4k at a smooth 120fps on titles such as Assetto Corsa Competizione, will be very difficult to achieve without the top of the line hardware.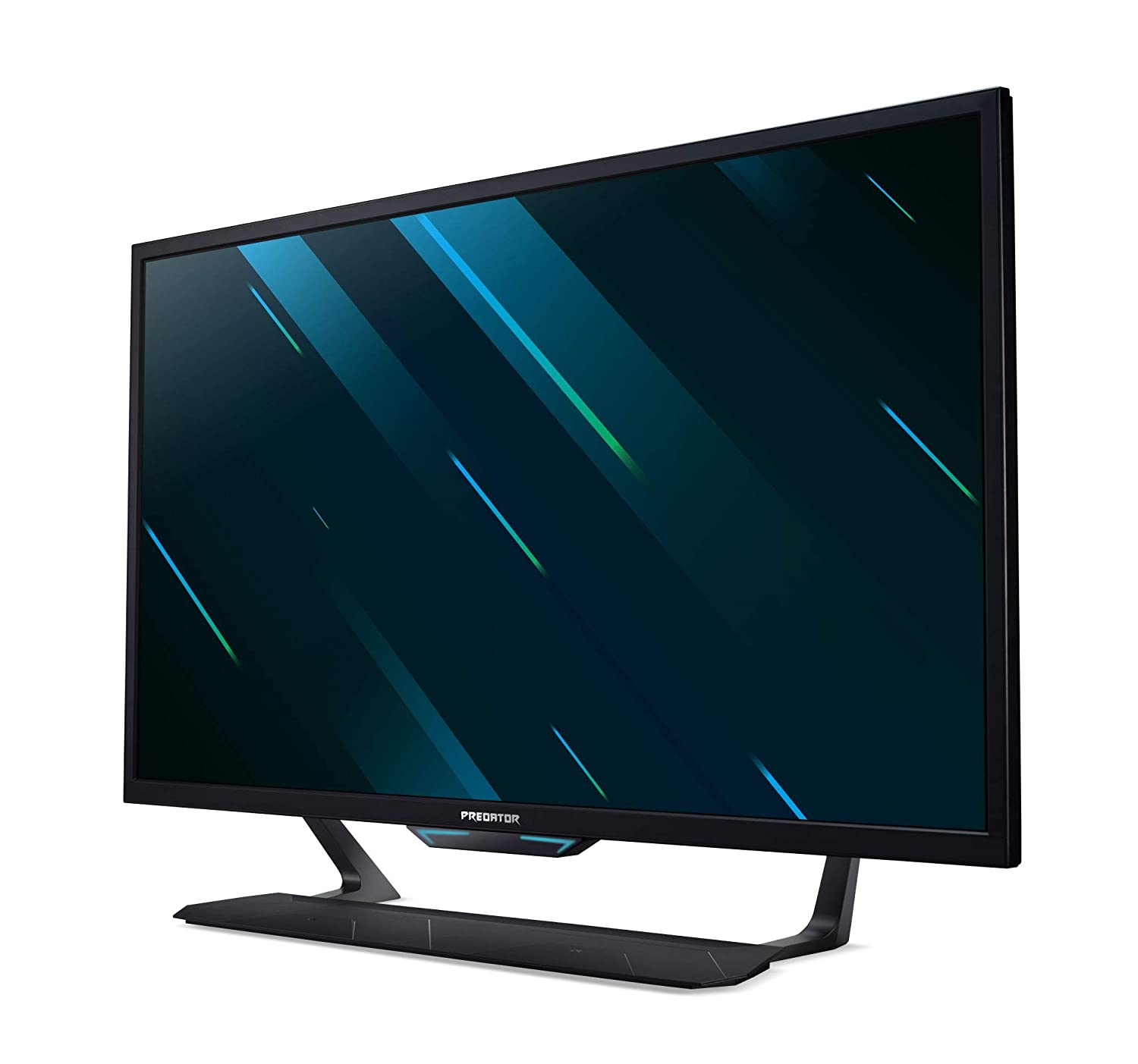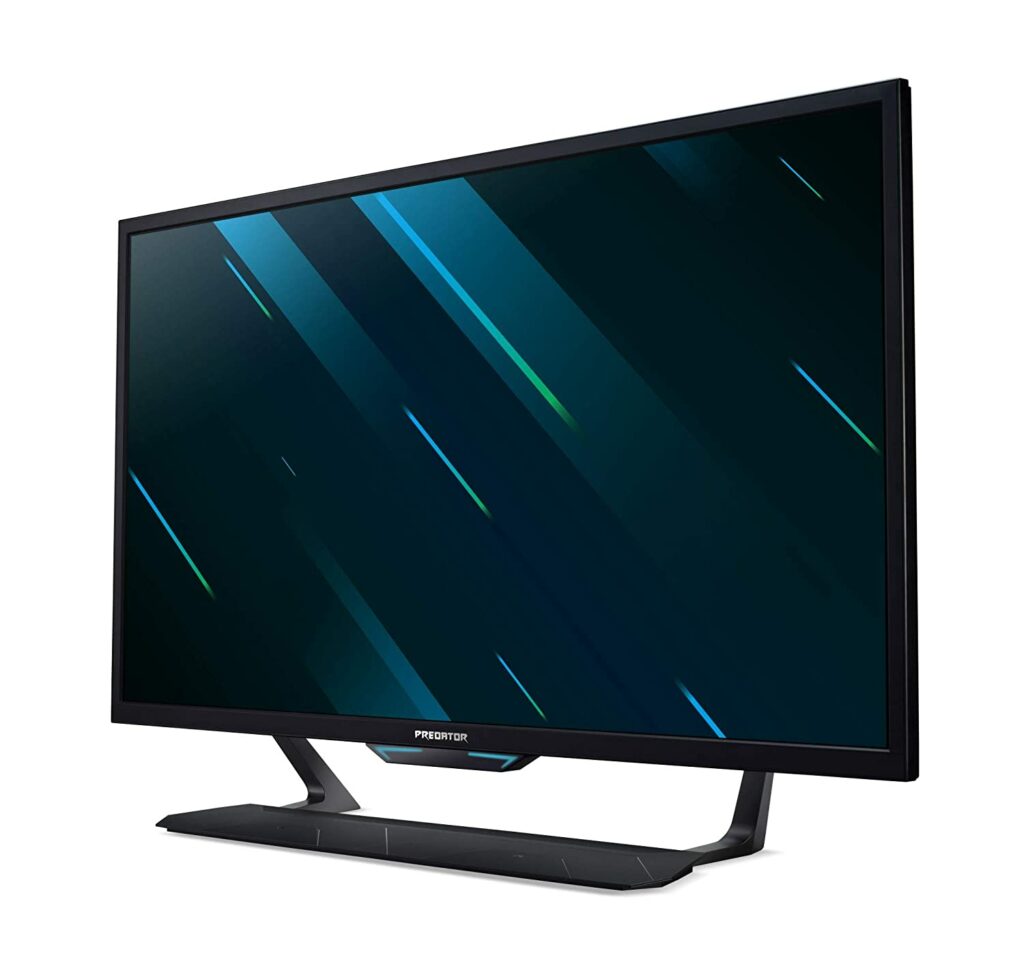 Triple Monitor picks
For the ultimate non-VR immersive experience, triple screens are the standard for a reason. They allow a wide field of view that wraps around your field of vision and makes the use of your vision and spotting apexes much more natural than it is on a single monitor setup. Here are our recommendations for monitors that will be suitable for a triple screen setup.
Size: 27.00"
Resolution: 1920×1080
Refresh rate: 144hz
Price: £218 (x3 = £654)
At such a low price, this 144hz 1080p monitor is an excellent choice both as a single monitor if you can seat it close enough, and as a triple setup as it has thin bezels. This is also an IPS panel, making the colour reproduction very high quality in contrast to many other budget displays that use VA technology. With a high 144hz refresh rate, three of these monitors will go very nicely in your sim setup.
Size: 27.00"
Resolution: 2560×1440
Refresh rate: 144z
Price: $299.99 (x3 = $899.97)
If you're looking for a 1440p high refresh rate monitor, the Acer XV272U is our pick. It has thin bezels and is at a competitive price point. This panel has Nvidia G-Sync, which requires an Nvidia graphics card. This can prevent screen tearing at high refresh rates, as can AMD's equivalent, Radeon Freesync, found in other monitors and compatible with all graphics cards. A high refresh rate plus 1440p is a winning combination, although your PC will need to be able to pump out this quality.
Size: 27.00"
Resolution: 2560×1440
Refresh rate: 240z
Price: £699 (3x £2.097)
For those looking for the ultimate performance out of their rig with no sacrifices, this 1440p 240hz monitor with thin bezels is our pick. Just make sure your hardware can take advantage of the 240hz refresh rate across all 3 screens. This is also an HDR 600 panel, making its colour range much wider than most monitors. This is also plenty suitable as a single monitor if you want the bigger colour range without spending 2 Large on a triples setup.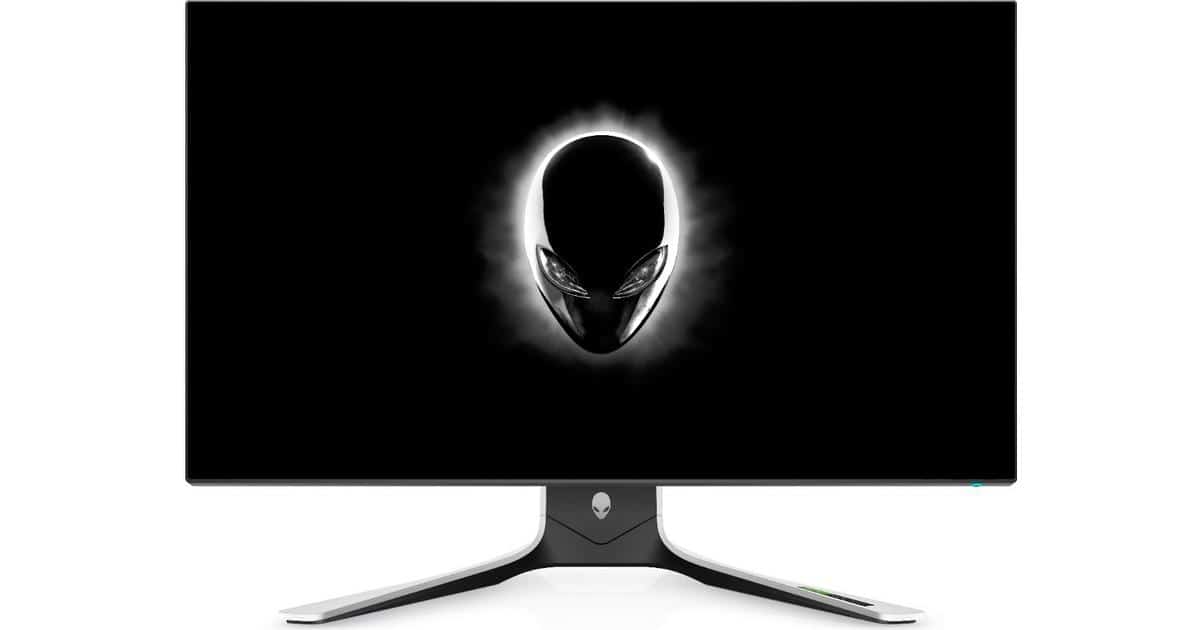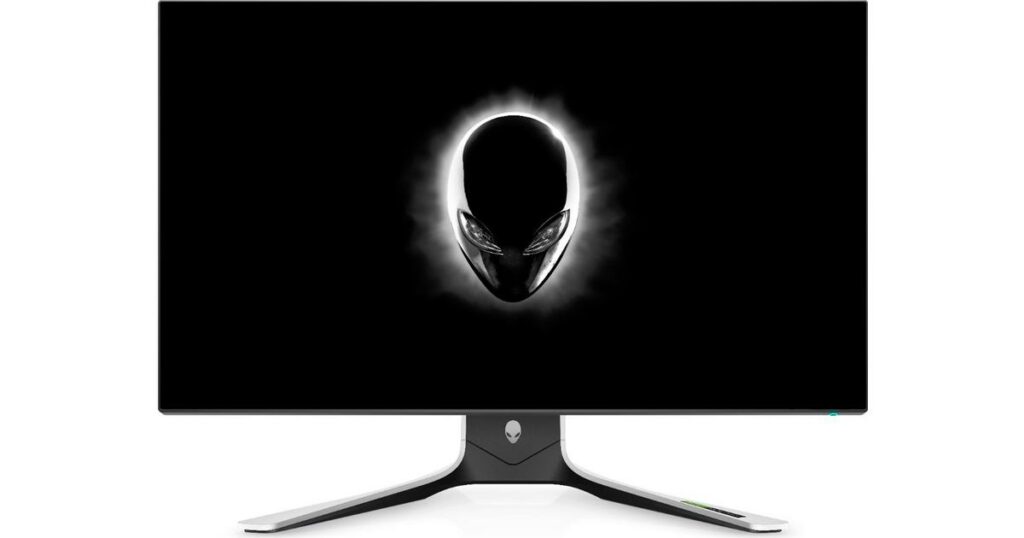 Ultrawide picks
If you're looking for some of the advantages of triples without the bezels getting in the way, consider an ultrawide monitor. Here are our picks.
Size: 34.00"
Resolution: 3440×1440
Refresh rate: 144z
Price: £438.95
While not the flashiest monitor in the ultrawide market, the Gigabyte G34WQC offers a 21:9 aspect ratio which allows you to turn up your field of view a fair bit, and at a price that may not completely break your bank. Keep in mind that the size may be a little small compared to other ultrawides, so you may find your mathematically correct FOV to not be as big as you may be aiming for in an ultrawide setup.
Size: 49.00"
Resolution: 3840×1440
Refresh rate: 144z
Price: £782.89
At a 32:9 aspect ratio, the ASUS ROG Strix XG49VQ effectively combines two 1440p displays into one seamless ultrawide monitor, albeit with a slightly lower horizontal resolution. If you're looking for an ultrawide for maximum field of view and immersion, this will be the best bang for your buck.
Size: 49.00"
Resolution: 5120×1440
Refresh rate: 240z
Price: £1,098.95
For those looking for an ultrawide that makes zero compromises, the Samsung Odyssey G9 has a 240hz refresh rate and a 32:9 aspect ratio with an even higher horizontal resolution than the Asus. If you want to reap every ounce of power from your graphics card for an ultra-smooth 240hz ultrawide experience, the Odyssey G9 has you covered.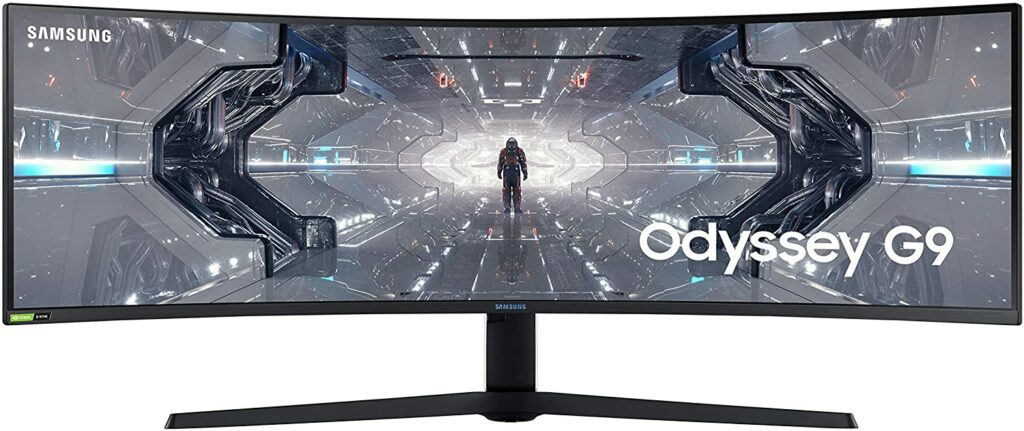 Conclusion
As always before any big purchasing decision for your sim racing setup, do your research and make sure it will work for you. Read/watch as many reviews as you can and check the market to see if something else may suit your needs better, especially in such a competitive market. However, these monitors will be solid picks for a long time to come and will suit your Sim Racing needs.