If you're looking for Direct Drive wheels straight out of Germany, Fanatec is the name that will be at the top of your list. On top of carrying title sponsorship for the Fanatec GT World Challenge, the series officially licensed to Academy-favourite Assetto Corsa Competizione, the company also have partnerships with manufacturers such as Porsche, BMW, and the British M-Sport outfit that are famous for their GT exploits with Bentley running Ford's WRC entry since 1999.
This article will give you a guide on the what's what and who's who in Fanatec's lineup, as well as recommend the best offer for you in Fanatec's rostrum.
Wheel Bases
Fanatec's current roster of wheelbases is all Direct Drive bases. If you're not sure what that means, you can read our Complete Guide on Direct Drive Wheels for Sim Racing. In brief, they provide instant and lossless force feedback more reliably than gear-driven or belt-driven solutions such as the Logitech G29 or Thrustmaster T249.
Honourable Mention – Gran Turismo DD Pro
Starting at €699.95 for a 5Nm version and going up to €969.85 for the Pro Premium bundle that features a Load Cell brake and 8Nm of torque, the Gran Turismo DD Pro is a ready-to-race bundle that carries the official licensing of the iconic Gran Turismo series.
Featuring PlayStation compatibility alongside conventional PC compatibility, this bundle stands out for its unique Gran Turismo wheel rim. Featuring 5 different 5-way directional sticks. It also features 11 buttons all designed with the PlayStation system in mind. With the rim able to be swapped out just like with any other Fanatec wheelbase, it's a reliable option with a unique option of PlayStation usage.
Budget Option – CSL DD
Coming in at an impressive €349.95, the Fanatec CSL DD is a fantastic starter option as a wheelbase. At 5Nm of torque, the entry-level version carries quite a punch whilst also being an accessible option to a sim racing newcomer.
At €499.95, you can pick up a punchier 8Nm version of the wheelbase. With multiple extra options available for mounting, from desk and table clamps to the standard array of rig mountings, it's an adaptable solution that is fantastic for anyone starting out and a reliable option for someone looking to delve into the Direct Drive market.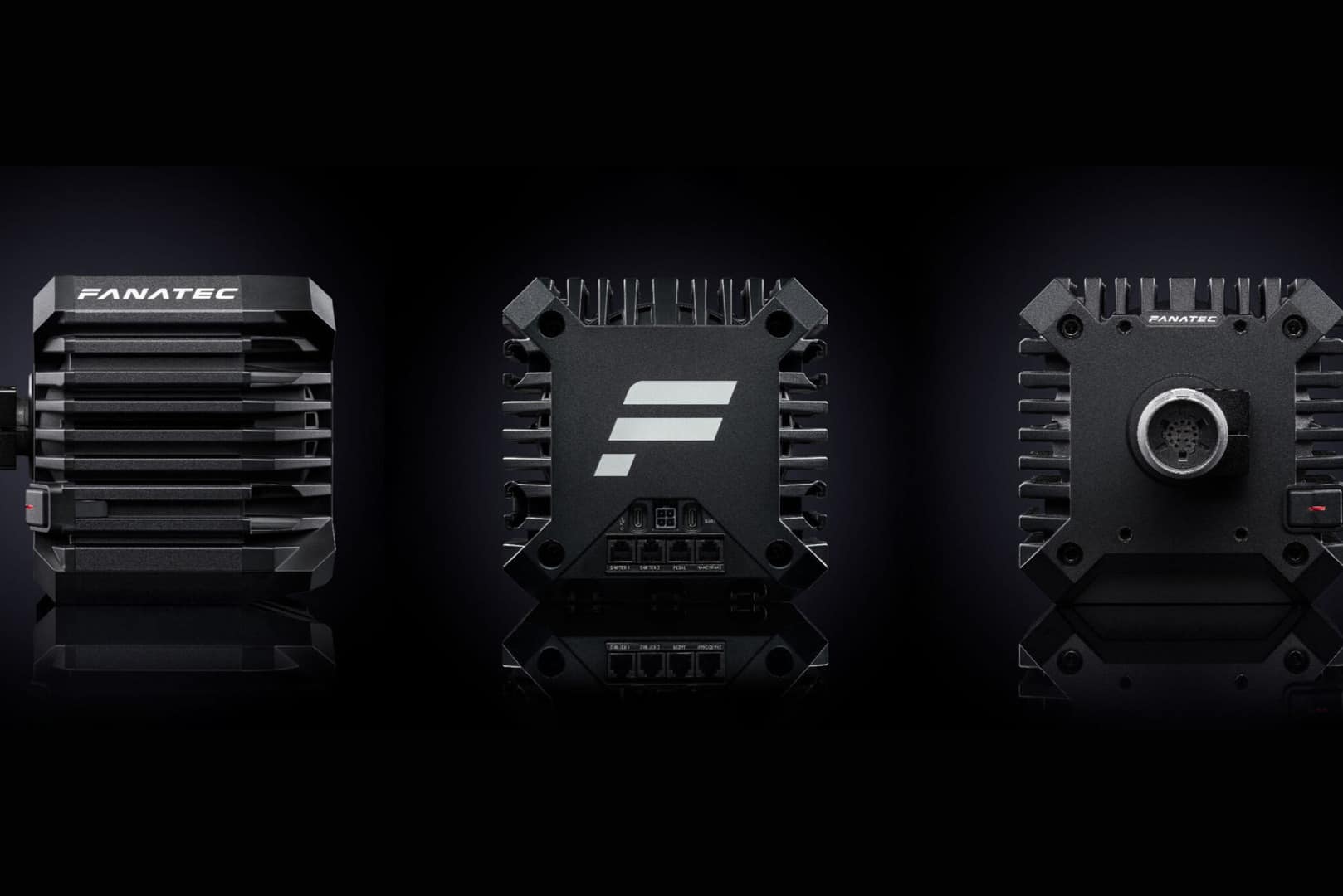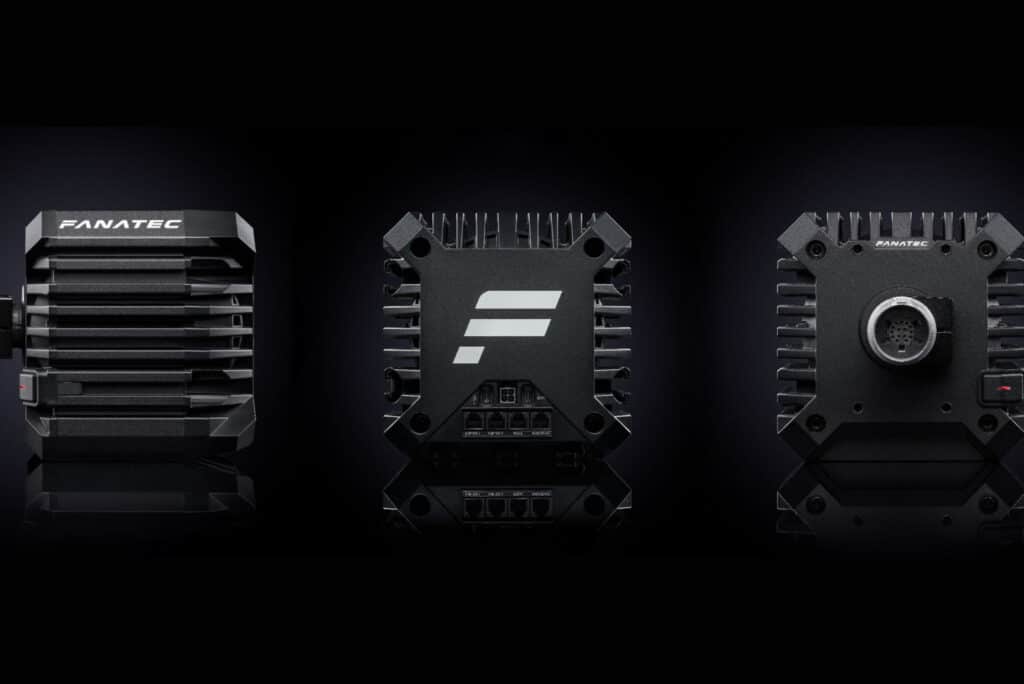 Mid-Range Option – Podium DD1
At €1199.95, the Fanatec Podium DD1 boasts a peak torque output of 20Nm in addition to a maximum rotation angle of 2520 degrees and an OLED display for tuning the finer details of this unit. So strong is this unit that, whilst you can mount it using the same 3-point mounts that the CSL DD uses, it is recommended that you hard-mount the base to a rig. If you're looking for the next step up from the CSL DD, or are otherwise looking to overcome the lengthy delivery delays from the in-demand unit, the Podium DD1 is an excellent option.
Top-Range Option – Podium DD2
So strong that it requires a killswitch, Fanatec's Podium DD2 clocks in at €1499.95 with a mammoth 25Nm of peak torque. With a 5-year warranty and all of the excellence of the DD1, this new-and-improved solution is still far ahead of the curve and will be ahead of the standard for years to come.
Wheelbase
Price
Pros
Cons
CDL DD
From €349.95
Affordable Option
Multiple mounting solutions
Possibly long delivery times
1080 degrees maximum rotation
Podium DD1
€1199.95
Cheaper than Podium DD2
2520 degrees maximum rotation
Hard-mounting recommended
Older technology than Podium DD2
Podium DD2
€1499.95
25Nm peak torque output
Lengthy 5-year warranty
High cost at €1499.95
Hard-mounting recommended
Should I Buy Used Fanatec equipment?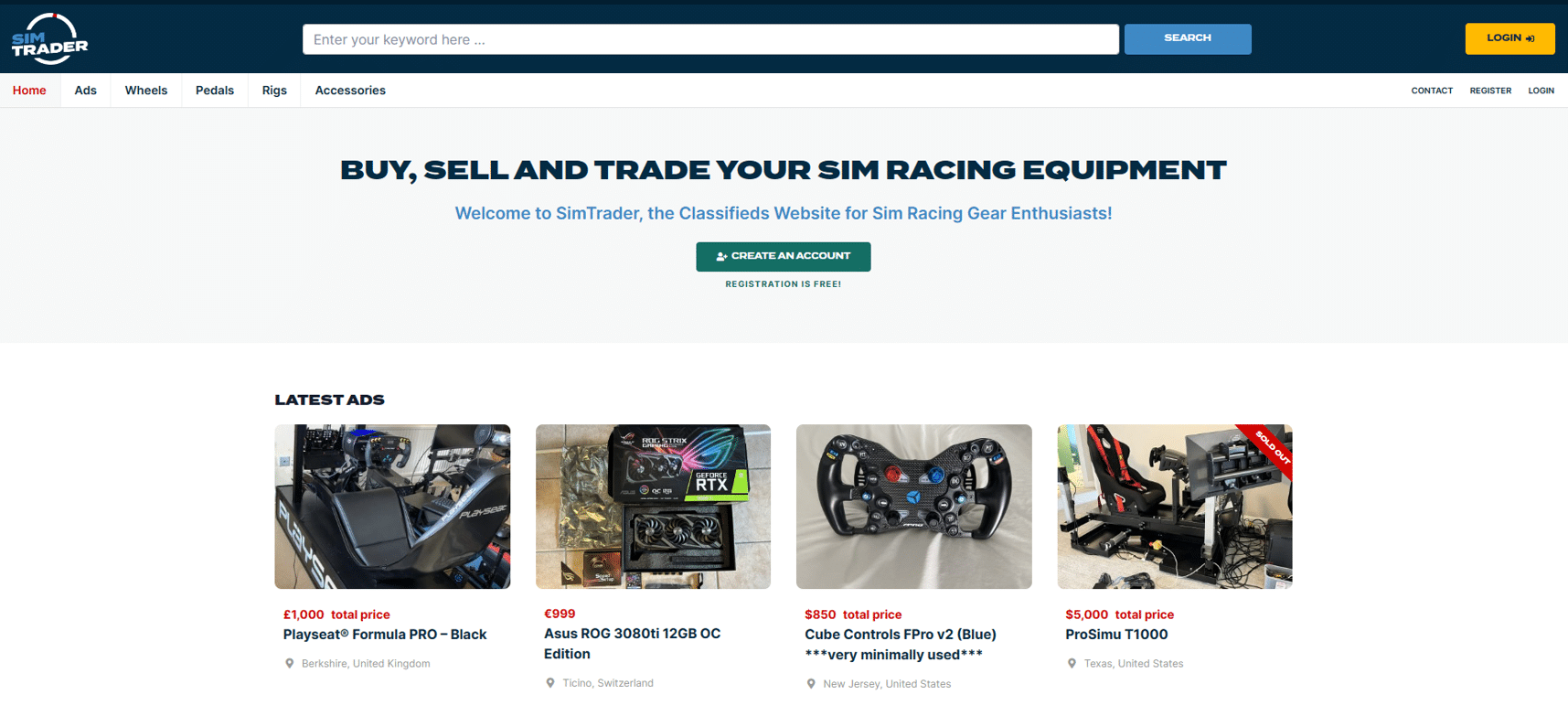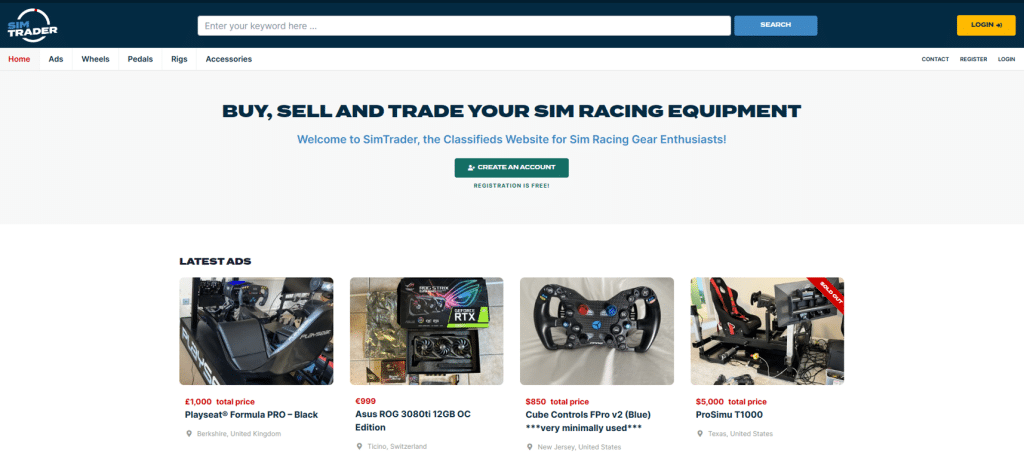 When purchasing used goods such as wheel bases or wheel rims there are a number of options to consider. Such as the age of the product and how reliable are they over time – is it still in warranty? Does it have bad reviews of components failing?
Other things to consider could be the mounting options of the base to a rig or even the wheel to the base as Fanatec offer different (Q)uick (R)eleases for different models and we know the old QR model has a tendency to fail over time.
Right now its never been a better time to purchase Fanatec gear through classified ads. They are a great way to pick up top quality items at a much cheaper cost, usually always returning more bang for your buck, mainly because Fanatec seems to be the most listed sim equipment on the market right now. But this is where you can grab a bargain for items that are almost brand new.
This is where the sim racing classified site SimTrader can help and you might even want to list the items you will no longer be using here also. You can buy, sell or even trade with other users on SimTrader. So before you scroll further, you may want to check out the current sim racing deals here instead of purchasing new.
Click To See Current SimTrader Deals
Wheel Rims
Fanatec's wheel rims have great variety in shape, size, and function. From buttonless round rims for drifting and stock car racing to all the bells and whistles that you'll find on high-end vehicles from the worlds of GT, prototype, and open-wheel racing, there's a bit of something for everyone in Fanatec's range.
Budget Option – CSL Elite WRC
The CSL Elite WRC is an excellent starter option for someone looking to delve into the world of sim racing or someone taking the next step up to a Direct Drive wheel. Available for €199.95 by itself and as part of a bundle with the CSL DD for €699.90, it's definitely something that will make you feel like the next Frenchman called Sébastien or the next Kalle Rovanperä on this officially-licensed wheel from the World Rally Championship.
Mid-Range Option – ClubSport Steering Wheel Formula V2.5
The ClubSport Formula V2.5 comes with a little bit of everything at €389.95. In addition to 11 buttons, the wheel also comes with toggle switches to incrementally adjust items, the patented FunkySwitch™ system that is part D-Pad, part-button, part-rotary switch as well as multiple encoders and multi-way switches that can be used to set traction control, brake bias, engine maps and more.
Top-Range Option – Podium Steering Wheel Fanatec GT World Challenge
With the licensing of the prestigious Fanatec GT World Challenge and clocking in at €629.95, this Podium-series wheel boasts it all. With secondary paddles that can be mapped to be a clutch or a handbrake and more, it also features buttons and rotaries, multi-way switches and the famous FunkySwitch™. On top of that, its comprehensive display on the steering wheel can track multiple parameters from speed to lap times to gaps ahead and behind. If you're looking to invest in a high-end solution to kick-start your Direct Drive journey, this is the wheel rim for you.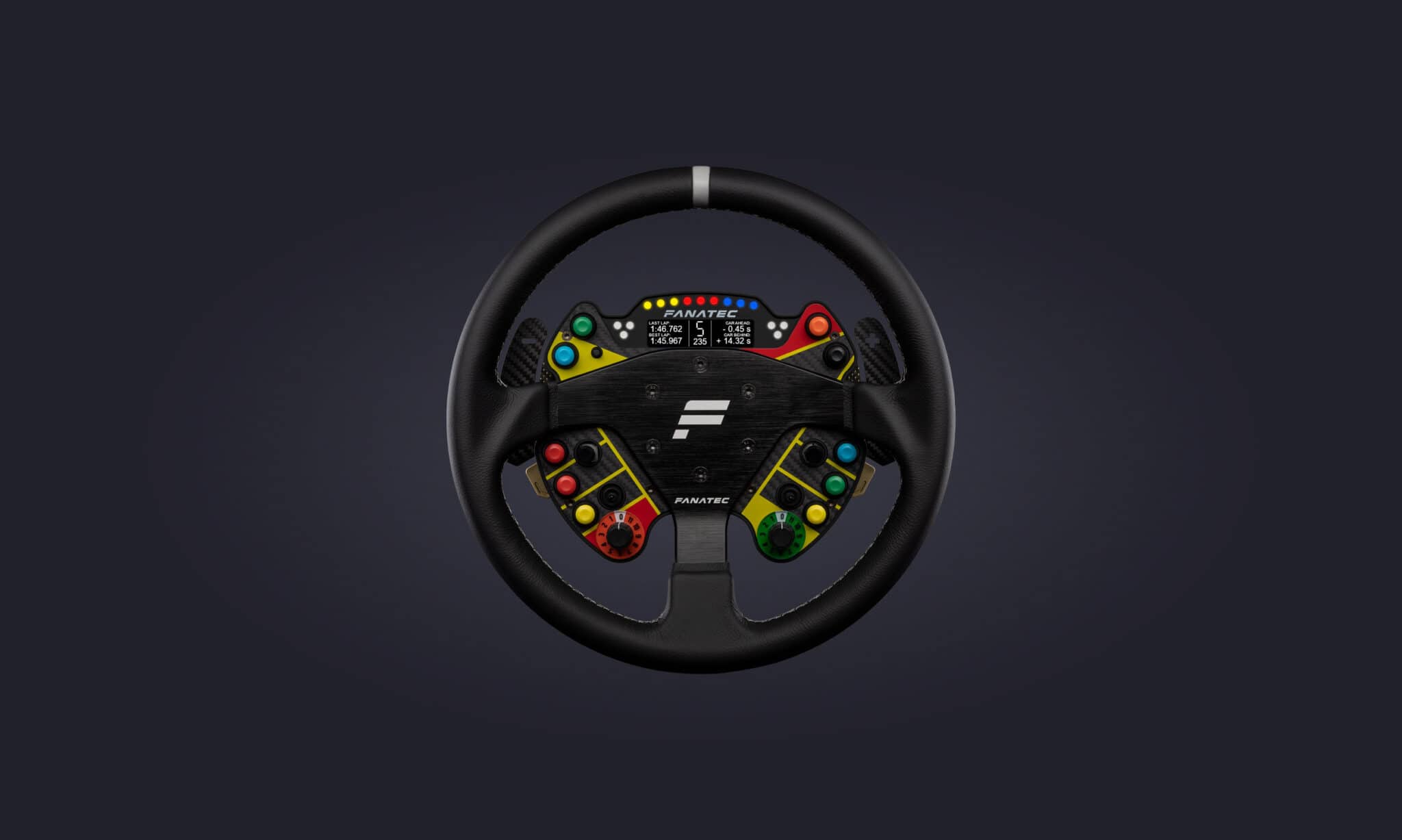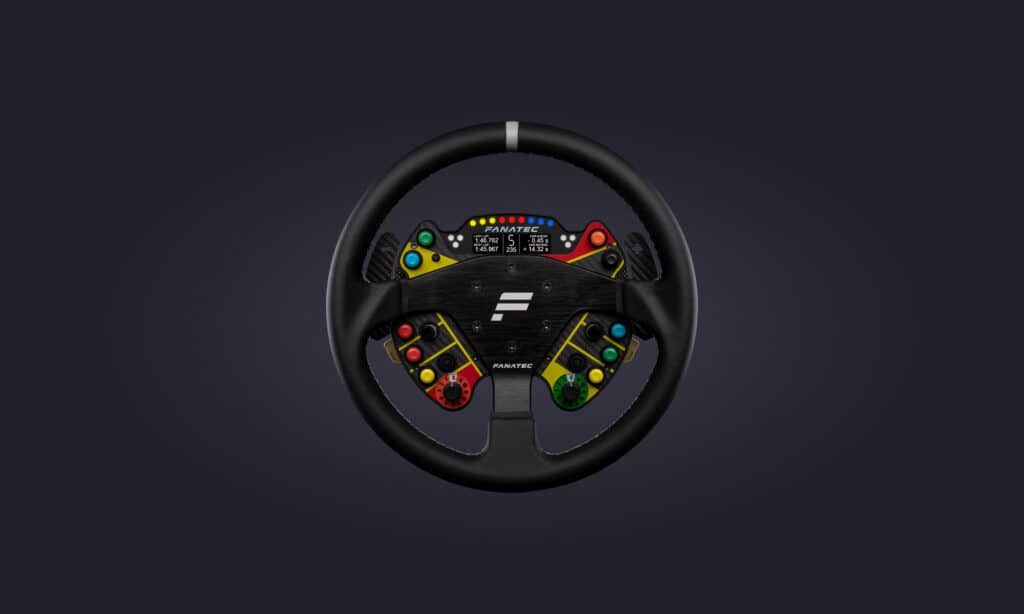 Honourable Mention – Podium Steering Wheel BMW M4 GT3
Clocking in at €1499.95, the Podium BMW M4 GT3 has a unique story to tell. The first of Fanatec's big leaps into the real world of motorsport, this wheel is the exact same as the ones that are used in BMW's latest GT challenger. Imagine saying that your sim racing wheel meets FIA standards? That's something that you'll be bragging about all the way to the nearest apex.
Well, before you miss it and go flying into the wall because you were too busy boasting about the adjustable paddles and how the BMW logo acts as a D-pad. With similar wheels coming from a partnership with British outfit M-Sport, such as for the Bentley Continental GT3 and the Ford Puma Rally1, it's the start of something exciting for sure.
Wheel Rim
Price
Pros
Cons
CSL Elite WRC
€199.95
Low cost
Variety of inputs
Weaker plastic Quick Release as standard
Slightly less durable materials used in production
ClubSport Formula V2.5
€389.95
Strong metal Quick ReleaseFeatures Multi-Position switches
Complex build filled with buttons
Formula shape potentially incompatible with high angles of rotation
Podium Fanatec GT World Challenge
€629.95
Built-in display
Extra paddles that can be used for clutch/handbrake
High initial cost compared to others
Lengthy delivery wait time
Our Recommendation – CSL DD 8Nm w/ ClubSport Formula V2.5
A combination of power and budget, the CSL DD in its 8Nm form is resetting the standard in the sim racing world. With the ClubSport Formula V2.5 as a wheel, you get something that does a little bit of everything with a wide array of inputs at a modest price. Included with your wheel you get the sturdy metal Quick-Release too, meaning you can put all the force through the wheel with confidence and send your car into the next corner.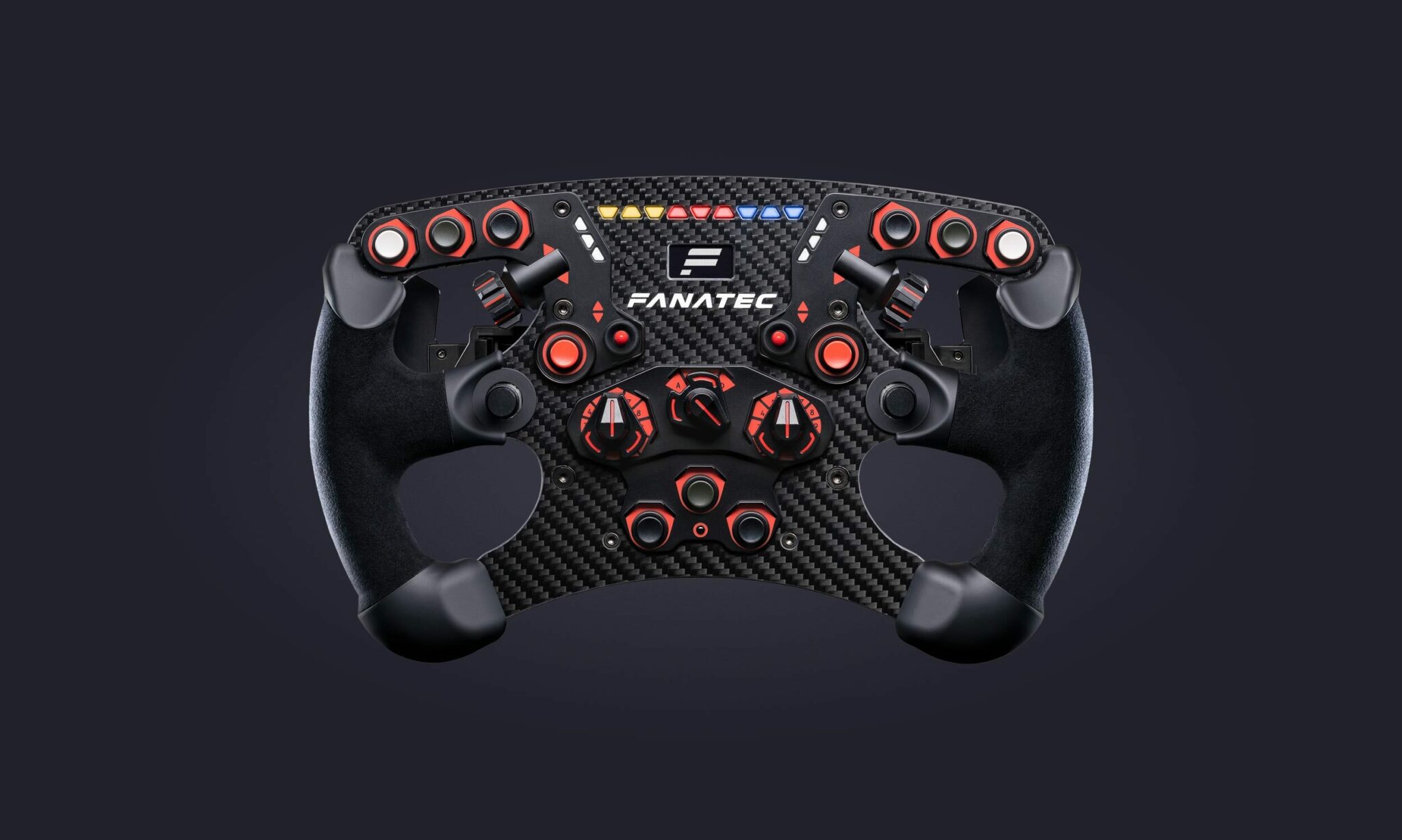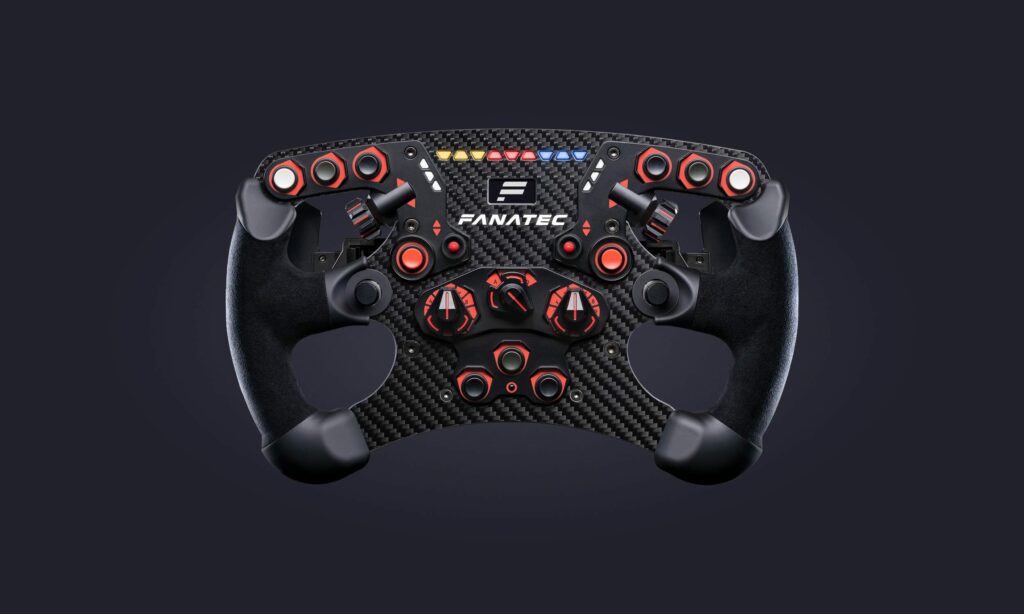 SimTrader – The only classified site you need to buy, sell and trade your sim racing equipment – Sign up today