You can't ride a motorcycle without handlebars or drive a car without the steering wheel. But you can certainly drive a sim racing car without a racing wheel. Well, if you are a pad racer, that is. Racing on the controller or even the keyboard may have its merits, but if you wish to make a mark in the sim racing scene, you must hone your skills with a quality racing wheel. Let's discuss some of the top racing wheels for Assetto Corsa Competizione.
How to Choose a Sim Racing Wheel
The primary doubt we may all have, especially the amateur sim racers, would be how to pick "the right" sim racing wheel. Things are lovely with a controller, and some legends even race with a keyboard (more power to you), but you can only extract the maximum out of yourself with the best means, and a racing wheel helps you achieve precisely that. Here's why you should consider switching to a racing wheel, and how to choose a Sim Racing Wheel;
Performance
Performance is an essential metric when it comes to deciding how you will race. Your sim rig, racing wheel, display, hardware, and much more will all depend on what gives you maximum performance. With that in mind, there is no control scheme out there that can provide you with better performance than a racing wheel.
A wheel certainly helps in turning your car with the most minute of angles. All the buttons and controls you need are just a thumb's reach away. A racing wheel offers a one-stop solution for all your requirements allowing you to focus on only one thing; racing.
Realism
What can be more realistic than driving a car with a steering wheel? Perhaps, a vehicle that is driven using a controller, or better yet, a keyboard? As fun as it may sound, it is so impractical and definitely awkward to control. A racing wheel helps you bridge the gap between real-life racing and virtual cars in sim racing.
After all, a car is best driven with a wheel, physically or virtually. You can even find racing wheels that are custom-built for different racing categories. Not just that, you can even score some racing wheels that have been made explicitly for a particular game/franchise!
Miles Above Controller/Keyboard Racing
There is an argument for the trusty gamepad and the evergreen keyboard, no doubt. These control options offer a quick and easy way to get into any sim racing title you like. You also have the simplicity and ease of use to be happy about, and almost anyone can pick up and play any game with these devices.
However, that is where the pros end. While controllers and mouse/keyboard are suitable starter devices, they are still a long way off good simulation accuracy. If you wish to engage in sim racing professionally or even consider it seriously, it is highly recommended to switch to a racing wheel.
Our Recommendations
There are numerous factors to keep in mind when you consider purchasing a particular racing wheel. While the budget is the apparent deciding factor, it is certainly not the only one. The racing wheel shape, force feedback mechanism and compatibility are equally as important. Having said that, these are some of our top recommendations for racing wheels you should buy.
With the T300 RS, you have the best in class at a reasonable price. The classic Thrustmaster wheel setup is tailor-made for the PS5 & PS4 (works with the PS3 also) and, thankfully, works with a PC as well. The force feedback offered by the wheel is crisp, sharp and accurate. The wheel is very versatile, and you can use it for rally racing, endurance racing and open-wheeler racing using the same wheel type!
You do have the issue of heating getting in the way as the cooling fans spew the hot air upwards. Be prepared to smell the hot air, but that is hardly a deal-breaker. You also get mapped handbrake buttons only, but you can buy a handbrake attachment for your rally games. Overall, the Thrustmaster T300 RS is the perfect blend of competitive sim racing and a budget option, and we haven't been disappointed by it so far. The T300 RS will cost you just under 500 USD.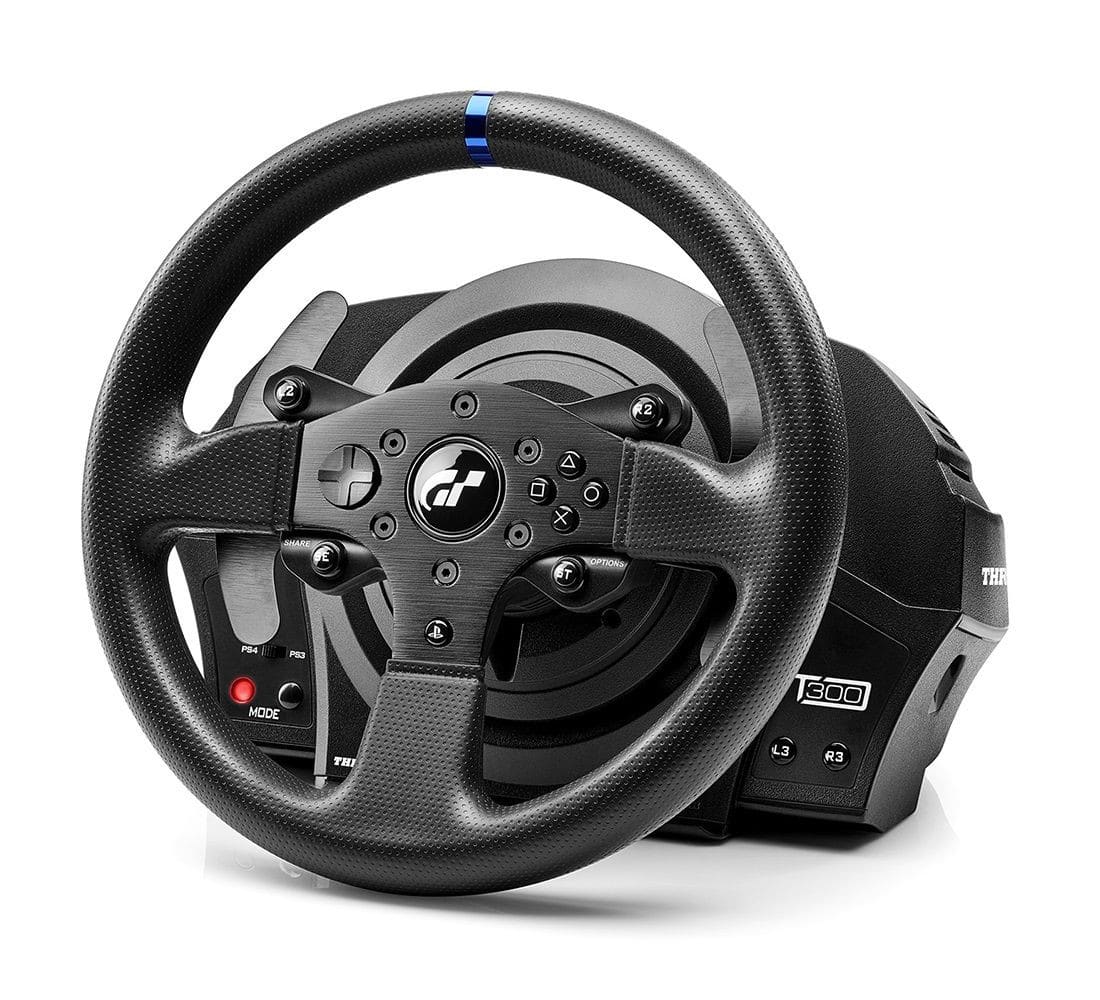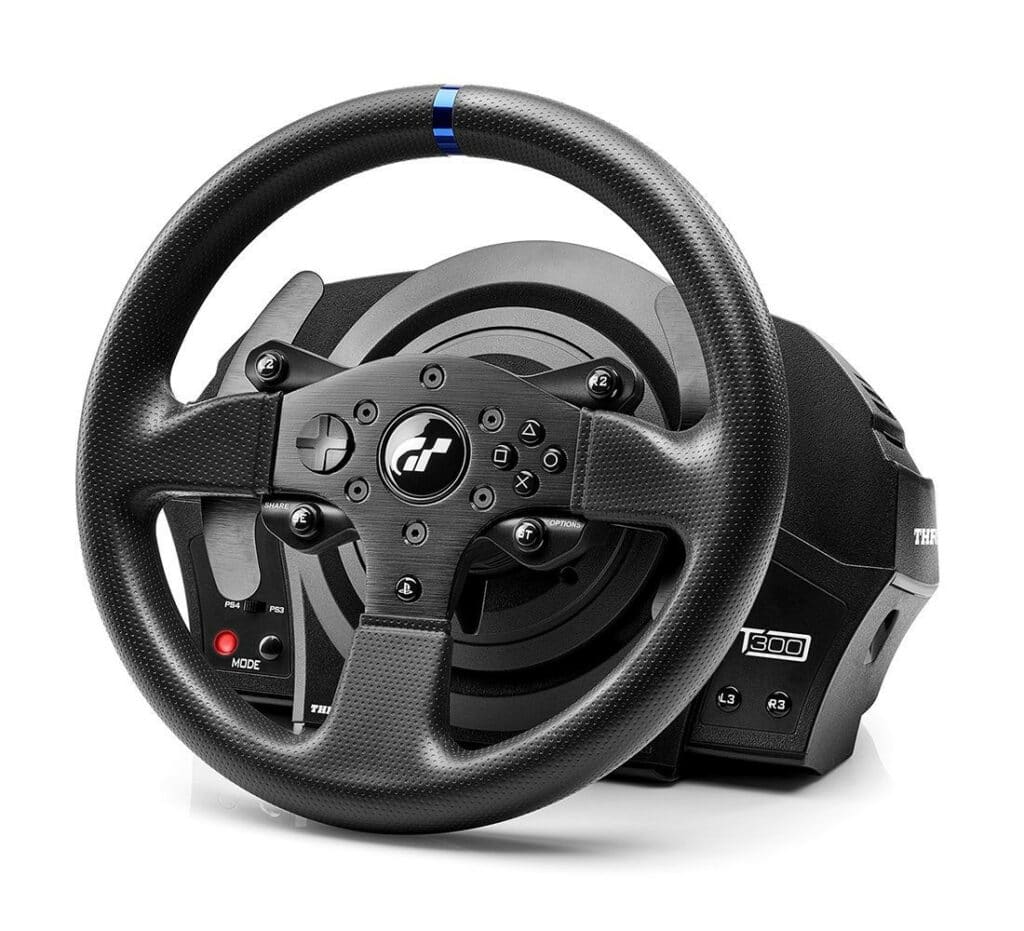 Our Top Xbox Pick – Thrustmaster T248
Like the G923, the Thrustmaster T248 is a steering wheel set that includes both the wheel/wheelbase and pedals. The pedals are magnetic-based, a step up from potentiometer-type pedals that should give you improved reliability and longevity. The brake pedal is the stand-out pedal from the three-pedal set. It has four settings for stiffness that you can adjust by changing springs to give you a pedal feel that's the next best thing to a loadcell pedal.
The steering wheel has the usual paddle shifters and a complement of buttons and switches that you can map to the various settings you would need in your favourite sim. However, one stunning feature for the $400 pricepoint is the on-wheel digital display that can show speed, lap times, RPM etc. The Thrustmaster T248 is a definite step up from the Logitech G923 and is packed with surprising features, considering its $400 price tag.
Our Top PC Pick – Leo Bodnar Sim Steering 2
Direct Drive Wheels form the royalty class in sim racing wheels. There is nothing better than racing with a direct drive wheel, and the experience offered by one is the closest you can get to real-life driving. Keep in mind that the Leo Bodnar piece is primarily a wheel hub/base, but you can use any aftermarket wheel add-on with the system.
There are several DD wheels on offer, but our best pick has to be the Leo Bodnar Sim Steering 2. The wheel is often considered the benchmark for all sim racing wheels in the industry and offers a sense of realism next to none. For a more detailed review of the Leo Bodnar wheel and other Direct Drive Wheels, check out our Direct Drive Wheels for Sim Racing Guide.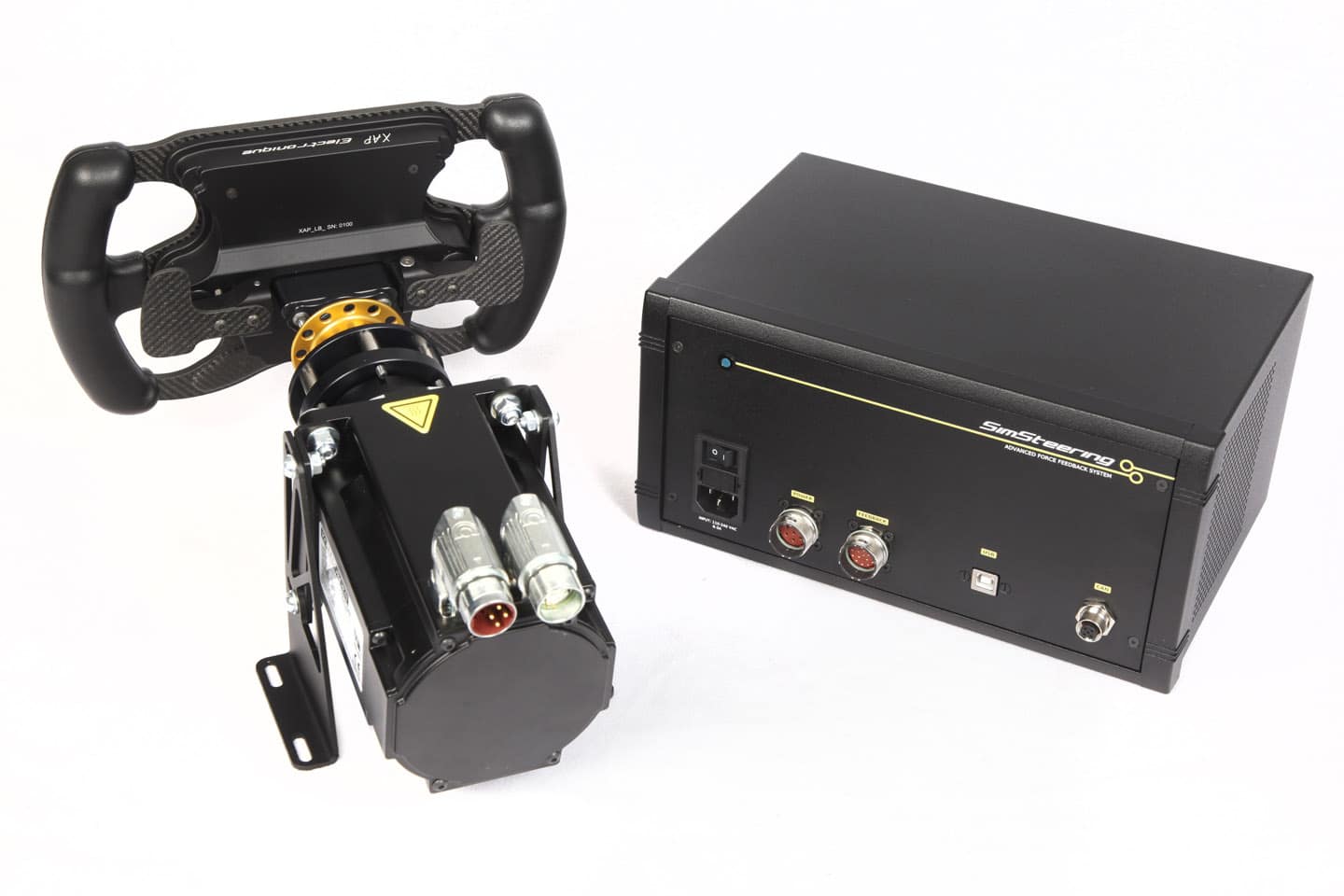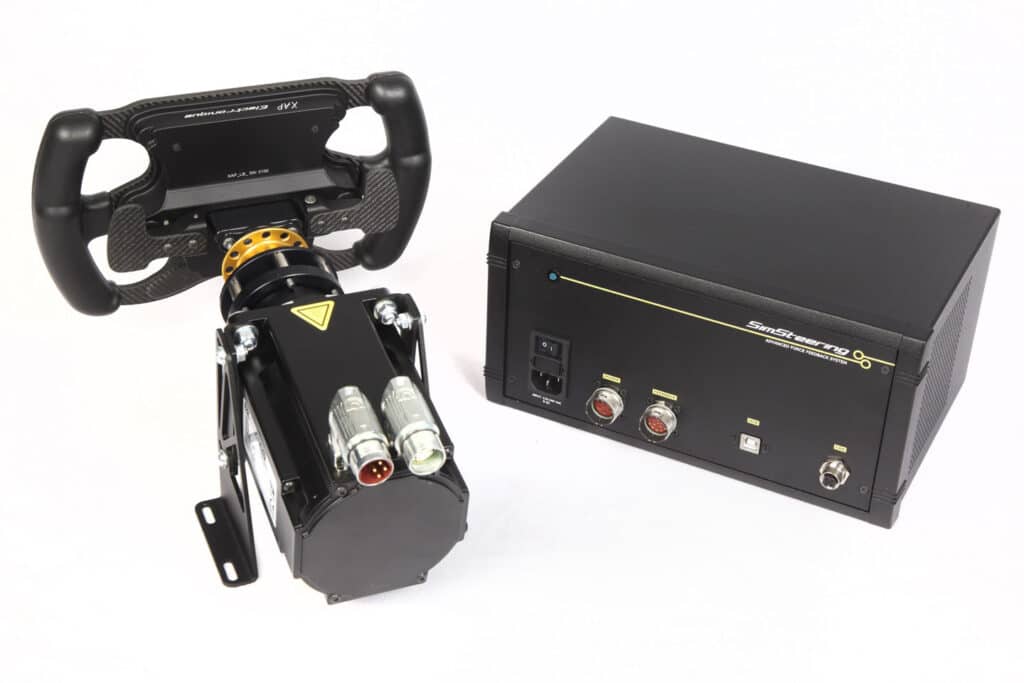 Logitech G923
This is essentially the latest version of the venerable G25 from back in the day. It's a wheel and wheelbase with a set of pedals, including a clutch pedal. Two versions are available for compatibility with Playsation and Xbox, both being PC compatible. The G923 sells for $399, which is excellent value and a perfect system for beginner sim racers. It features a wide range of on-wheel controls, improved force feedback and responsive paddle shifters. The leather-wrapped steering finishes off the wheel, making it a very high-quality product for the money.
One added advantage is that the wheelbase can be used independently of the pedals. This means that you can upgrade the pedals to something more higher-end and keep the wheelbase until you can afford to upgrade that as well.
Even though this is the latest in the G-series of racing wheels from Logitech, it still leans heavily on the technology of its predecessors to give you a reliable experience that is supported in just about any racing sim.
Our Top All Round Pick – Fanatec CSL DD
Fanatec introduced its CSL DD wheelbase in 2021 as its first entry-level direct drive wheelbase. The CSL DD is available in a 5Nm (€349.95) version and a slightly more powerful 8Nm (€499.95) version. However, the 5Nm version can be upgraded to 8Nm by replacing the power supply for €149.95. Both CSL DD wheelbases are compatible with PC and Xbox.
Fanatec also makes a Playstation-compatible variant of the CSL DD that's only available in the 8Nm model for €599.95.
All three versions are really powerful, with highly detailed feedback. A wide range of wheels is available for these wheelbases, from Fanatec, which covers Formula racing to GT and even rally-style wheels. The CSL DD is the most cost-effective direct drive solution available anywhere. It is highly recommended for anyone who wants the direct drive experience without breaking the bank.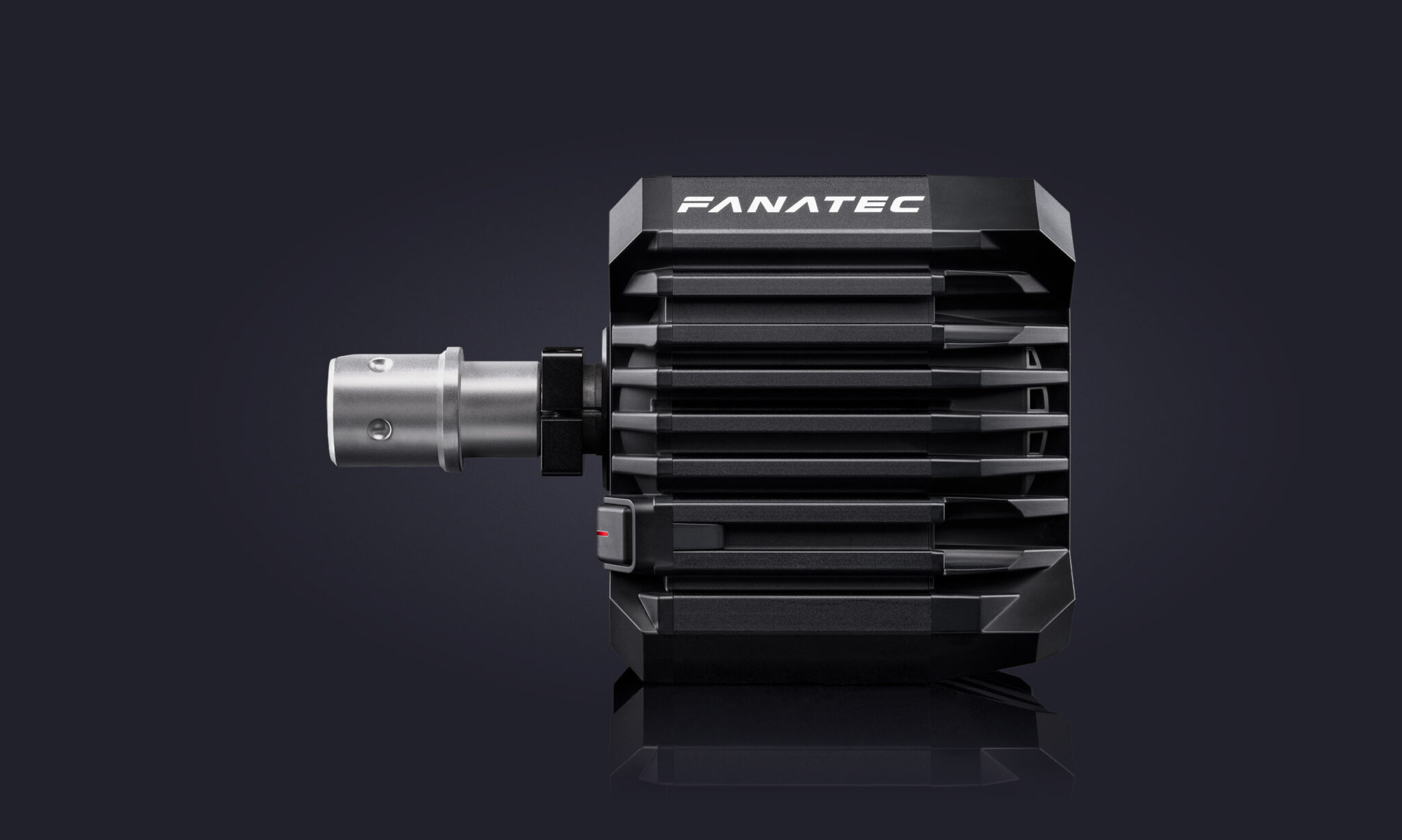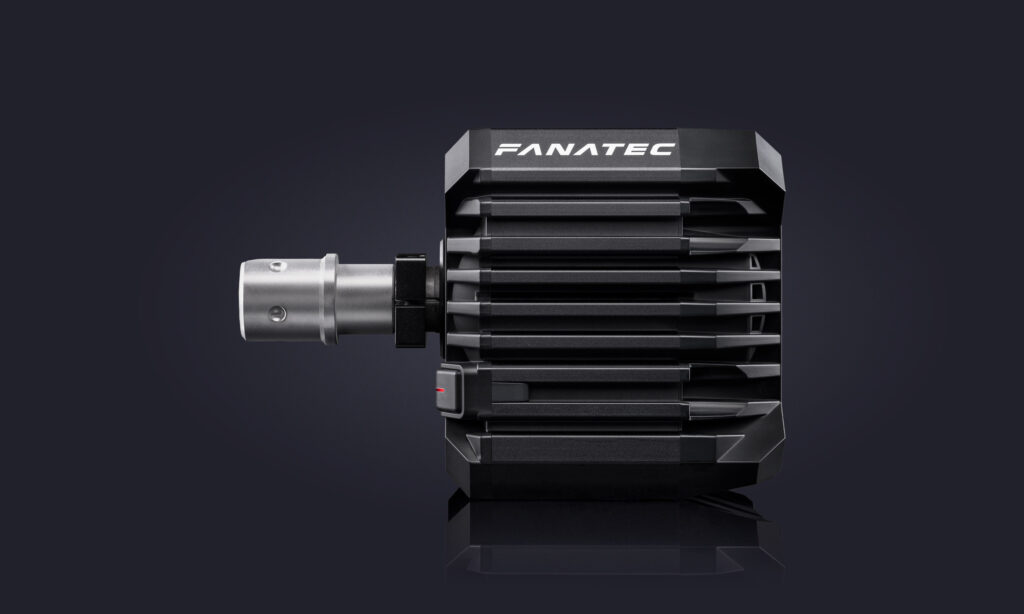 And that concludes our pretty little list of the best sim racing wheels we think you can get for your sim racing setup. Any of the above choices is bound to give you the best experience possible, and you are the ultimate judge of the choice you make. As always, try out your new wheel over at The Sim Grid. For more tutorials, guides and much more, head over to Coach Dave Academy. Stay tuned for more!