A consistent and precise pedal feel can allow the driver to control the braking performance of the car without second-guessing what the car will do. This improves braking performance, tyre wear and overall car control as pitching and instability can be better regulated.
It is clear pedals can make or break a driver's ability to be consistent and perform at their peak level, making choosing the right pedals key. So, let's break down the six must-have pedal sets if you are looking to race at the top of your game in Gran Turismo 7.
What are Sim Racing Pedals?
Sim racing pedals are a core part of any sim racing rig. They are the very basis of your rig and are essential to any form of racing as they allow you to control the brakes, throttle and often the clutch in your car. The feeling they provide allows for the precision racing that everyone looks for, as it gives you superior control over your car.
Will Upgrading My Pedals Make a Difference?
Put briefly, upgrading your pedals can help you knock tenths and seconds off of your lap time.
What you will find with console racing is manufacturers like to sell you bundles, where they have a wheelbase, steering wheel and pedal set together for a fixed price. Usually, the pedals they include in these bundles are budget options, some without load cell functionality, making it harder for you to be consistent.
Upgrading the pedal set is a must in these situations. For example, with "load cell" technology, the brake pedal has a greater form of resistance that mimics the kind of brake pedal you'd come across in real-world driving and racing.
This can be very helpful if you are racing a lot of different car types that are available in Gran Turismo 7. Without a load cell pedal set, it is easier to lock up the brakes than it is with load cell pedals due to the added precision.
What Do I Need To Consider?
On a computer, you can typically run a wheelbase and pedals from two separate manufacturers with little issue as you can assign different inputs to different devices via USB.
However, on a PS5, this is not possible as it requires every input to come from a single device. As a result, if you are looking at purchasing pedal upgrades, the upgrades available in that brand's ecosystem must also be considered.
A major factor to keep in mind is therefore to determine if a pedal set is compatible with a console because your pedals must be plugged directly into the wheel base only for them to work.
If you're looking at Thrustmaster or Fanatec for a pedal set, for example, you can only purchase upgrades from whichever brand you have originally purchased from unless you're happy to start again with a new wheelbase. Make sure to read more about our guide to the best Sim Racing wheels for Gran Turismo if you're in the market for a brand-new setup.
Pedal Rundown
Product
Style
Price Range
Pros
Cons
Fanatec CSL Pedals
Magnetic
Budget
Available as two pedals for a budget solution
Upgradable to a Load Cell
Worse build quality compared to high-end Fanatec pedals
Thrustmaster T3PM
Magnetic
Budget
Elegant three-pedal solution
Spring-loaded brake mimics Load Cell
Large amounts of plastic components
Fanatec CSL Elite Pedals V2
Load Cell
Mid-Range
Fully-metal design
Highly adjustable both physically and electronically
Older design compared to rivals
Thrustmaster T-LCM Load Cell Pedals
Load Cell
Mid-Range
Affordable load cellsInterchangeable springs
Flex under load
Logitech G PRO Racing Pedals
Load Cell
High-End
All pedals are highly-adjustable
Can be used on any Logitech wheelbase
High start-up cost compared to Thrustmaster T-LCM
Fanatec Clubsport V3 Pedals
Load Cell
High-End
Part of the Fanatec ecosystem
Vibration motors for added immersion
Brake performance kit not included
Fanatec CSL Pedals
| | | |
| --- | --- | --- |
| RANGE: Budget | STYLE: Magnetic | BRAND: Fanatec |
If you're looking to get a decent pedal set on a budget, the Fanatec CSL Pedals are possibly your go-to solution. The only two-pedal set on this list, the CSL Pedals can be an excellent starting point for someone looking to whet their sim racing appetite.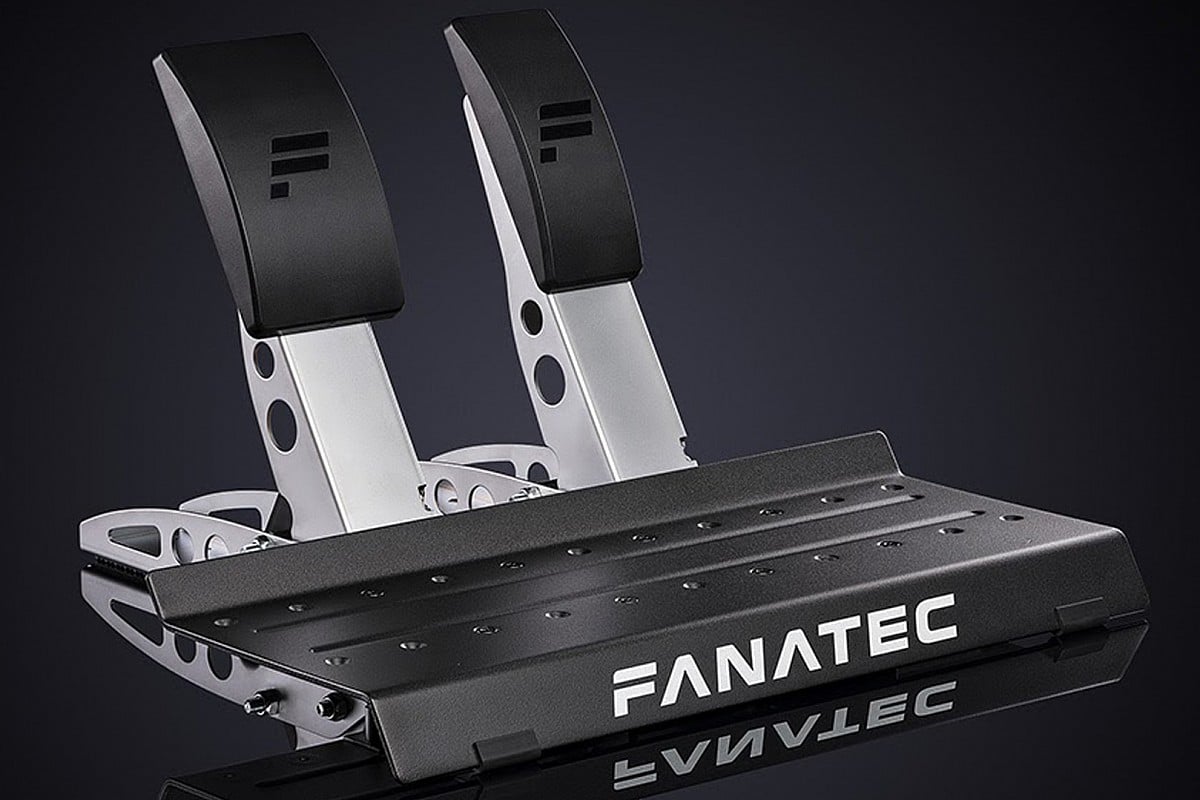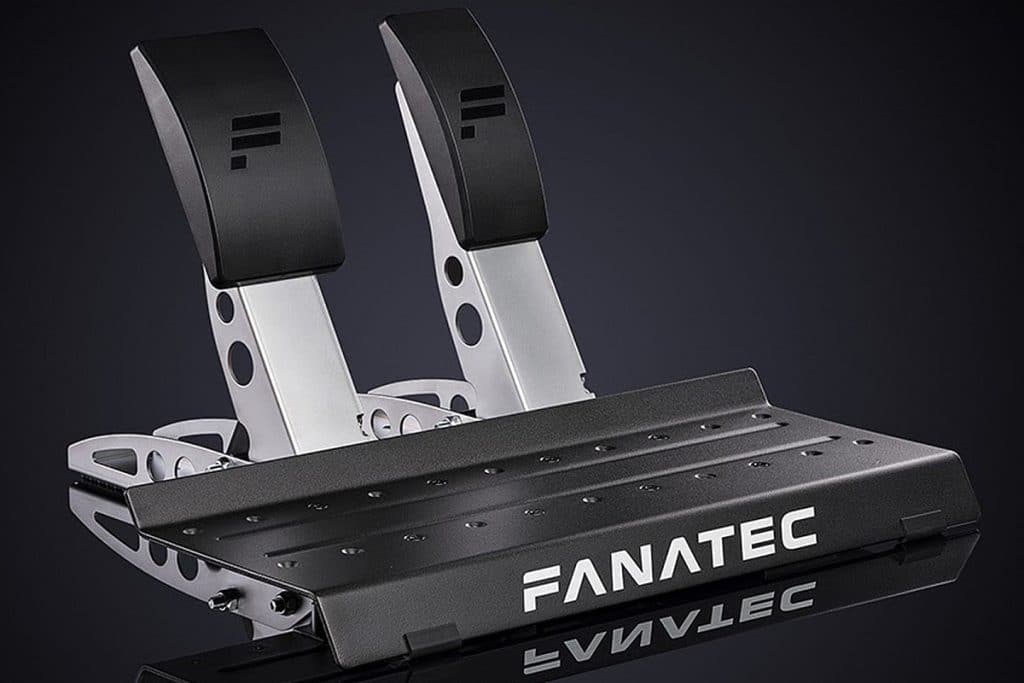 They can be adjusted both in terms of their faces and in terms of their spacing across the pedal plate, allowing you to have the pedals close together like you would expect from a formula car, or have them further apart to fit the style of a GT car's pedal box – rare customisation at this price point.
Another strength of the CSL Pedals is that they can be upgraded to a three-pedal set with a load cell brake. This can make the set ultimately the best of both worlds, being an affordable solution for newcomers as well as being able to meet the current standard of load cell braking when you inevitably catch the sim racing bug.
Thrustmaster T3PM
| | | |
| --- | --- | --- |
| RANGE: Budget | STYLE: Magnetic | BRAND: Thrustmaster |
Thrustmaster's T3PM set is a dependable three-pedal solution with high-quality metal faces.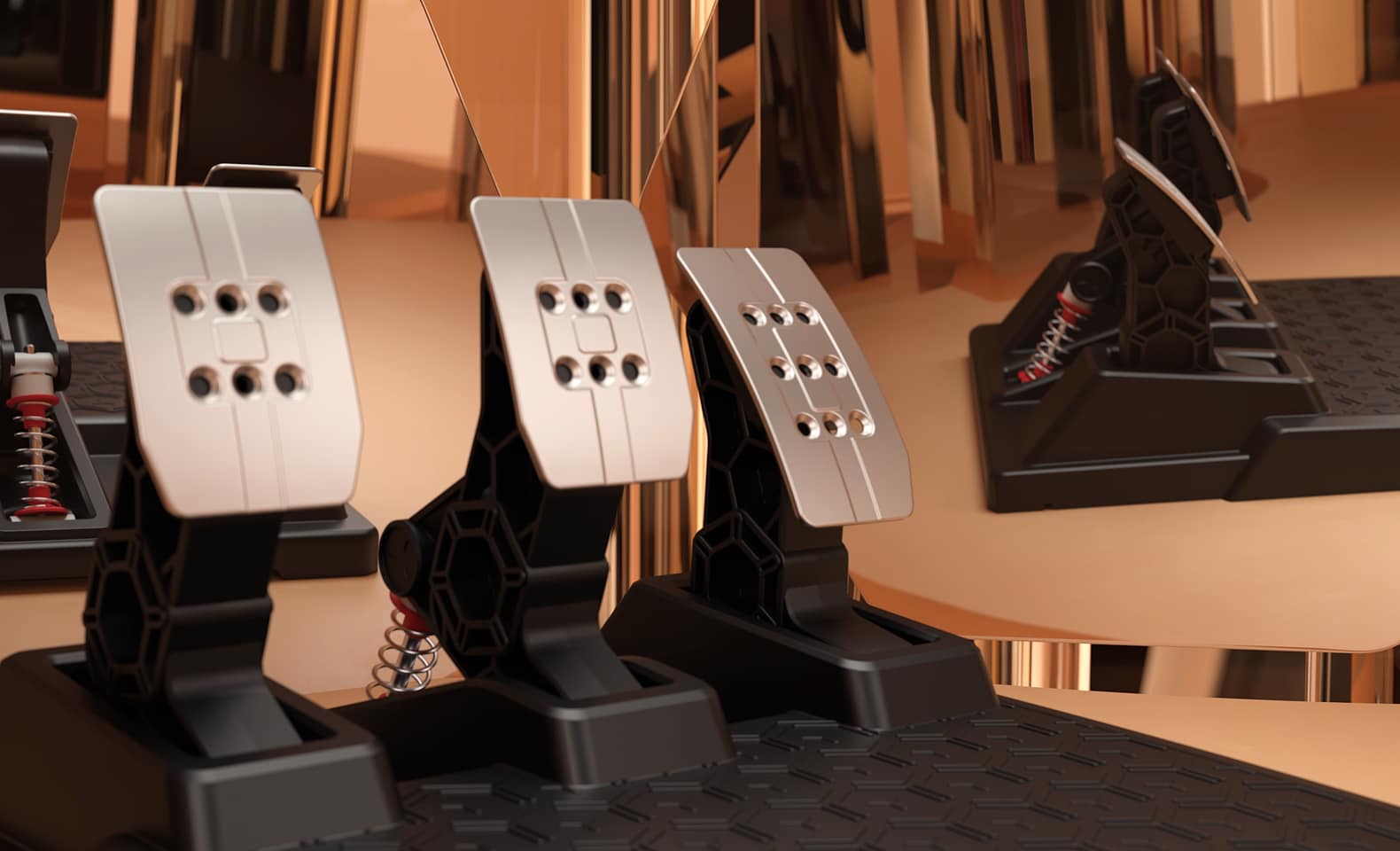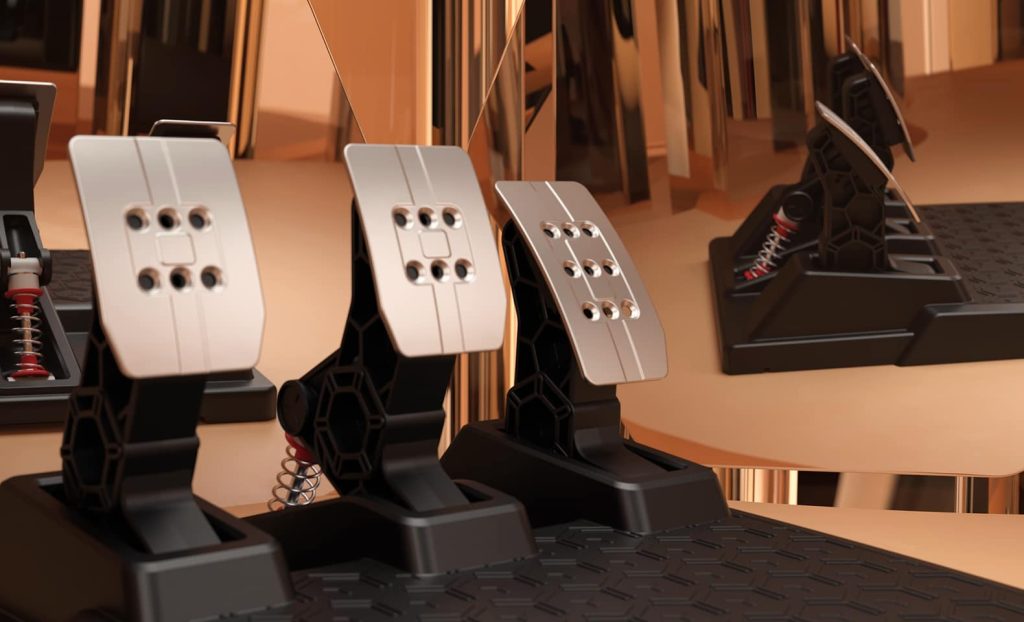 Whilst the T3PM does not have a load cell brake, it does have a spring-loaded brake pedal which mimics the effect of a load cell brake. This means that the pedal has progressive resistance, which makes it more difficult to add braking power as you apply more pressure. This can help when you're starting to drive classic race cars such as the Ferrari 330 P4 – a car from the bygone age before anti-lock brakes were a thing.
The T3PMs are also incredibly adaptable, and can be used in a variety of different applications. Rig or no rig, permanent or temporary setup, the T3PMs are easy to adjust and even easier to move. This can make it an excellent starting point for sim racers, and it also makes it a decent solution for seasoned drivers.
Fanatec CSL Elite Pedals V2
| | | |
| --- | --- | --- |
| RANGE: Mid-Range | STYLE: Load cell | BRAND: Fanatec |
A new-and-improved solution that builds on the incredibly popular CSL Elite Pedals of days gone by, Fanatec's CSL Elite Pedals V2 are as formidable on the current market as the originals were when they first launched.
One great feature of these Fanatec pedals is how adjustable they are, both when it comes to software and hardware. You can use your Fanatec wheelbase to adjust the maximum braking force, meaning that you can reduce how much braking you physically have to do to produce "maximum braking" in the sim, and you can also physically adjust the springs on the brake pedal to adjust the amount of physical resistance produced by the brake pedal.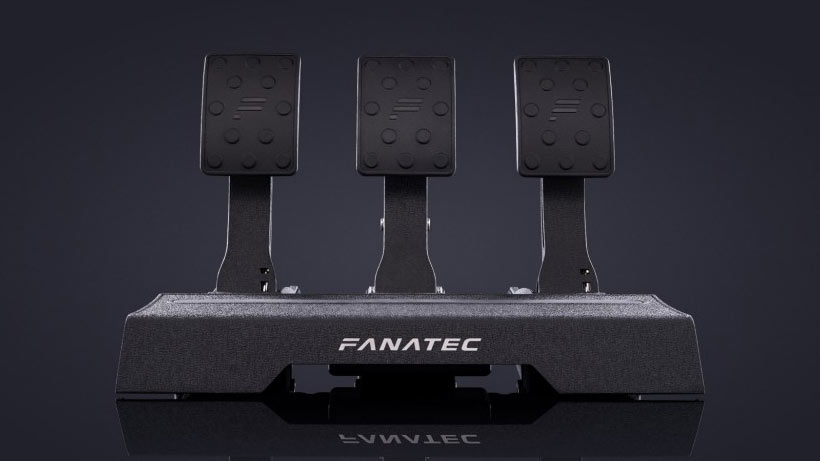 There are other physical adjustments that can be done to adapt your CSL Elite V2s, though. You can change the positioning of the pedals or even remove one of them and run a two-pedal solution if you solely run prototypes and formula racers. You can also change the pedal faces as well from the standard rubber grips to metal faces like you would expect in high-end machinery.
So, whether you're driving a McLaren MP4/4 or the awe-inspiring Nissan GT-R Nismo GT3 that takes centre stage in the Gran Turismo movie, you've got the ability to further immerse yourself with your pedal setup.
Thrustmaster T-LCM Load Cell Pedals
| | | |
| --- | --- | --- |
| RANGE: Mid-Range | STYLE: Load cell | BRAND: Thrustmaster |
The T-LCM Pedals are Thrustmaster's first move into the load cell pedal market. However, they still bring the brand's signature reasonable pricing and high-quality design.
The pedals have a metal material construction for the pedal head and arms which ensures limited flex on the main stress areas of the pedals. There is also a textured metal base plate that can be used to rest your feet while also giving a high-quality look and feel.
In terms of features, the main area of interest is the new addition of the load cell on the brake pedal. The load cell can take up to 100 kilograms of pressure, allowing you to put a huge amount of force through the pedal set just like a real-life brake.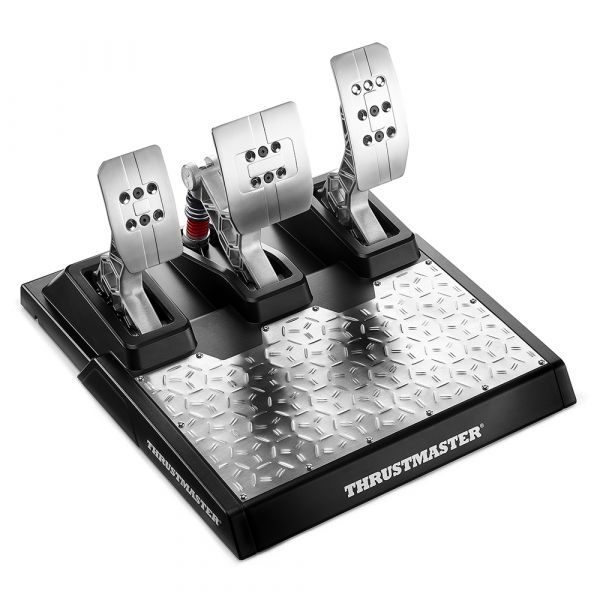 With the load cell, six different springs can also be swapped out to ensure you can get the pedal feel that suits you best and works best for the sim rig the pedals are mounted in. If you are driving a historic car, such as the Jaguar XJR-9 Group C Prototype, or the modern Aston Martin V12 Vantage GT3 from the era of anti-lock brakes, you can adjust the resistance so that you feel like you're really the next Jann Mardenborough.
With this, the throttle and clutch also come with magnetic HallEffect sensors that ensure that the pedals are long-lasting while still maintaining high-resolution input measurements.
One key advantage these pedals have over many others is that, if paired with a wheel from the wide-spanning Thrustmaster ecosystem, then these are compatible with almost all devices ranging from console to PC. So, if you are looking for an entry-level set of pedals while not losing out on the great feel of a load cell then look no further than the T-LCM Pedals.
Logitech G PRO Pedals
| | | |
| --- | --- | --- |
| RANGE: High-End | STYLE: Load cell | BRAND: Logitech |
A suitable upgrade if you're using a Logitech wheelbase, or if you're picking up the new Logitech G PRO wheelbase, the Logitech G PRO pedals are the first load cell offering from one of the most famous gaming brands out there.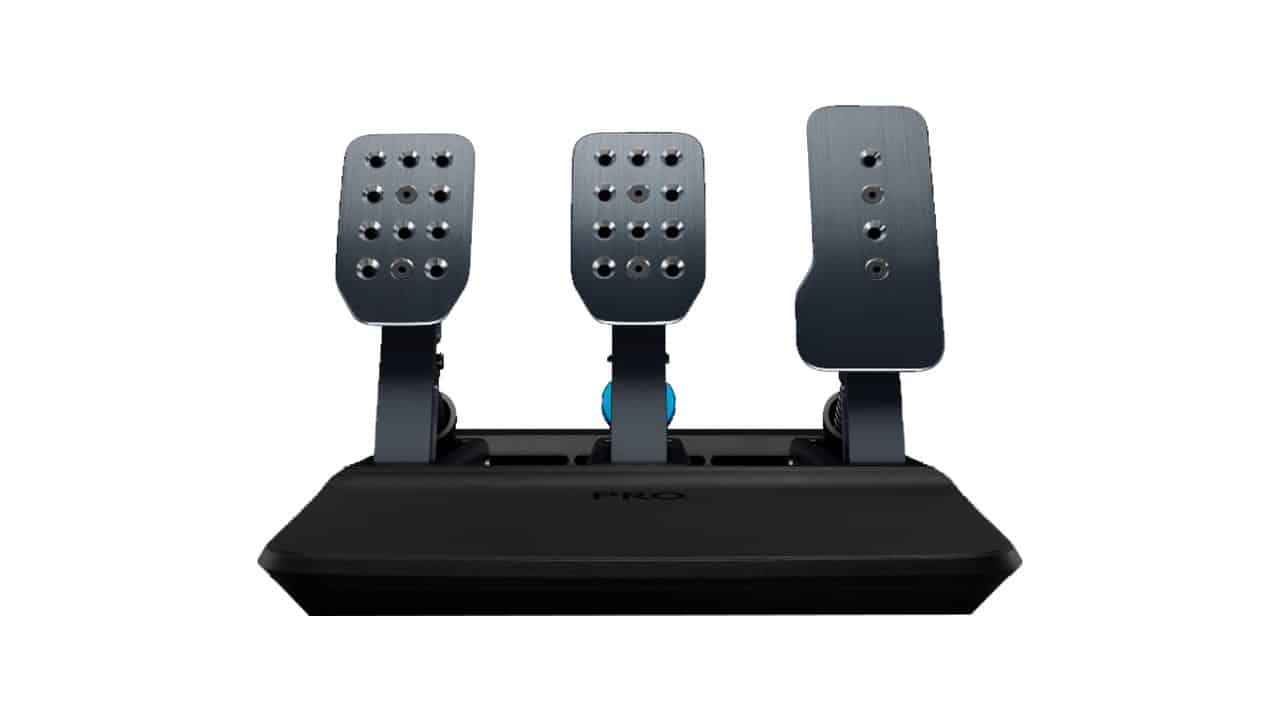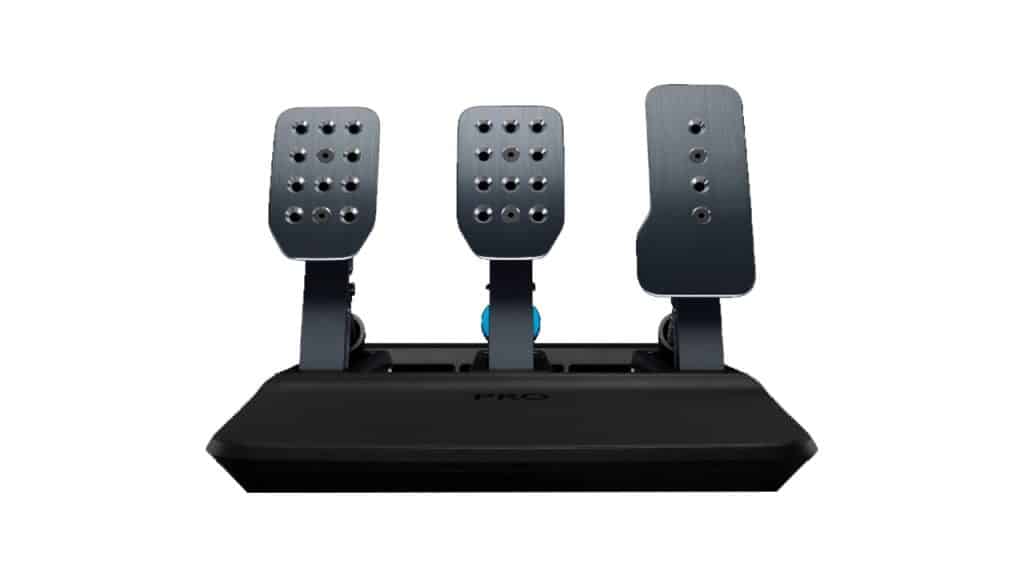 They feature an elegant design, made to be as easily customisable as the rest of the pedal set which is arguably the greatest feature compared to its rivals.
Not only can the load cell be adjusted to allow for a resistance higher or lower, but so can the springs on the clutch and throttle, the pedal faces and the positions of the pedals as well. There are very few other pedals on the market, even in the specialist PC scene, that can boast this same level of personalisation.
Fanatec Clubsport V3 Pedals
| | | |
| --- | --- | --- |
| RANGE: High-End | STYLE: Load cell | BRAND: Fanatec |
If you are in the Fanatec ecosystem already or are looking for a set of pedals to improve a starter sim racing setup, then the Clubsport V3 pedals are a great choice to consider.
They come with a striking black-coloured metal finish that blends in well with most sim rigs, whilst the metal structure keeps the pedals stiff and secure when racing making them sure to last you for many sim racing sessions.
The Clubspot V3 pedal set comes with a host of adjustability features too, giving you the ability to tweak them to your liking. The pedal faces can be adjusted into many configurations too, which allows all different styles of drivers to find what fits them best.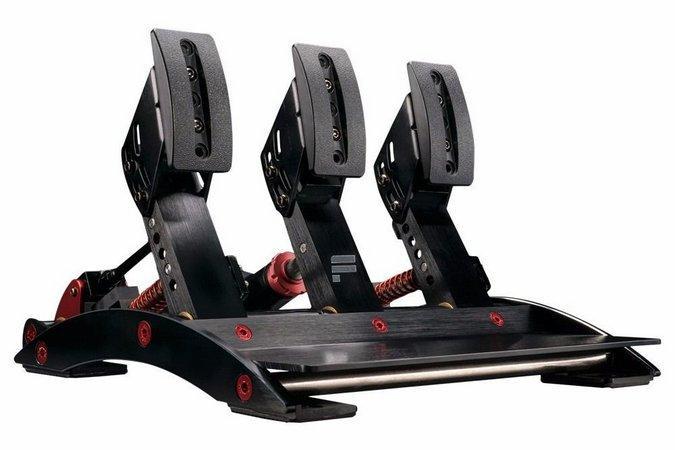 In addition, the load cell brake, capable of handling 90 kilograms, can be adjusted to give you the firm feel of a formula car – such as the Dallara SF19 – or the progressive feel of a road car pedal like the all-new Nissan Z.
If optioned when purchasing, the pedals also can have a hydraulic damper added to the throttle giving a more realistic feel.
The Fanatec Clubsport V3 pedals are a great choice for those looking for that new next step into the sim gear world. If you already have a Fanatec wheelbase, you can be sure these will be a happy addition.
Important To note
Something very important to note with all of our recommendations in this guide is that all of these pedal sets are compatible with a plethora of different wheelbases on Gran Turismo as long as they remain in their respective ecosystem.
For example, you can use the T-LCMs with a Thrustmaster T300 RS or TGT-II, and you can use any of the Fanetec pedals featured in this guide with the Fanatec Gran Turismo DD Pro 5NM & 8NM variations.
Thanks to Logitech's new backwards compatibility hub, you can use the Logitech G Pro pedals with any of their G29, G293 & Pro racing wheelbases.