The PlayStation 5 has a lot to offer sim racers. In addition to console ports of some of the most realistic simulators out there such as Assetto Corsa Competizione, it also boasts exceptional exclusive titles such as Gran Turismo 7. However, unlike with computer gaming, there isn't the same kind of variety when it comes to sim racing equipment that you can use on a PlayStation.
In this article, we'll dive into some of the best solutions out there to help you sim race on Gran Turismo and other PlayStation platforms. From budget solutions to top-of-the-line technology, these wheels will help you turn that extra lap and find that next tenth of a second.
What Should I Look For?
The first thing to look out for is if the manufacturer recommends their wheelbase for use with PlayStation systems. Manufacturers such as Fanatec have a variety of products, many of which are not compatible with the PlayStation software as they are designed to be Xbox-compatible. These wheels can be recommended for PlayStation 5, however, PlayStation 4-compatible wheels will also work on a PlayStation 5.
Because of the way in which compatibility is measured, you don't need to look out for which wheel is the most compatible. In fact, you only need to look out for if it is compatible in the first place.
What Do I Need To Consider?
Perhaps the most important element to consider when buying a wheel for PlayStation and Gran Turismo – compared to buying one for a PC – is that you are investing in a particular ecosystem. On a computer, you can typically run a wheelbase and pedals from two separate manufacturers with little issue as you can assign different inputs to different devices.
However, on a PS5, this is not possible as it requires every input to come from a single device. As a result, if you are looking at purchasing a wheel, the upgrades available in that brand's ecosystem must also be considered. If you're looking at Thrustmaster or Fanatec for a wheelbase, for example, you can only purchase upgrades from whichever brand you have originally purchased from, which makes looking at each component part even more important.
For example, if you're looking to invest in a long-term run of sim racing, is it worth purchasing a Direct Drive wheel from the outset? Likewise, is it worth compromising on pedals that use potentiometers when buying a wheel in order to save those crucial extra bucks?
Our Picks
Product
Price Range
Pros
Cons
Thrustmaster T150 Force Feedback
Low-budget
Low cost
Has the basic elements of a racing wheel
Compromises in build quality and materials
Thrustmaster T248
Medium-budget
Competitively-priced
Reliable and robust technology
Only usable with the factory rim
Logitech G923 TRUEFORCE
Medium-budget
Robust solution
Improved version of the most popular family of wheels
Dated gear-based solution
Thrustmaster T300RS GT Edition
Medium-budget
Affordable compared to competitors
Entry into a customisable ecosystem
Older belt-driven design
Fanatec Gran Turismo DD Pro
Medium-budget
Affordable Direct-Drive technology
Massively-customisable ecosystem
Lengthy wait times for products
Thrustmaster T-GT II
Medium-budget
Cutting-edge patented technologies
Developed in conjunction with Polyphony Digital
High start-up cost
Logitech G PRO Racing Wheel
High-budget
Higher output than rival offerings
Innovative TRUEFORCE technology
Pedals sold separately
Only one rim available as standard
Thrustmaster T150 Force Feedback
Starting our list off, the Thrustmaster T150 Force Feedback is as fantastic a budget offering for the PlayStation 5 – just as it was for the PlayStation 4. With a maximum 1080 degrees of rotation that can be adjusted down to 270 degrees depending on the game that you're using it for, it's something that is adaptable to any sim racing situation.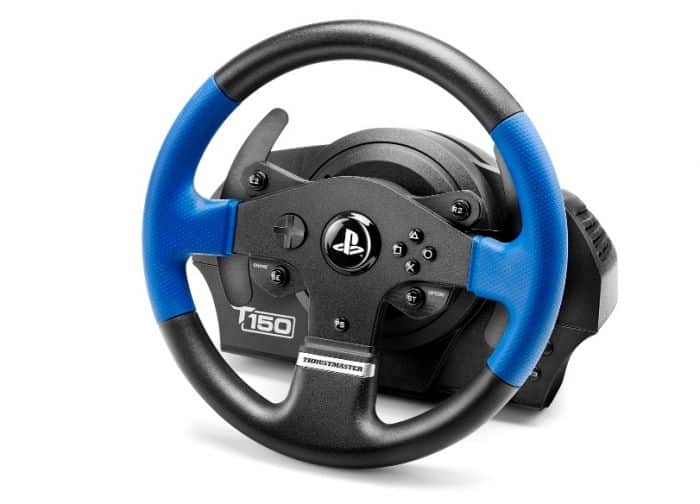 Perhaps the biggest strength of the T150 is that it's an excellent starting point with the Thrustmaster ecosystem. Whilst higher-end products allow for different rims to be attached, the T150 allows for upgrades to the T3PA 3-pedal solution as well as the T-LCM solution that comes with a load cell brake. It is also compatible with other Thrustmaster add-ons such as the TH8A shifter.
However, there are some compromises that you make when purchasing the T150. Firstly, the pedals that the T150 comes with as standard are of a plastic build whilst most of its competitors will use metals for a sturdier feel. The force feedback bears a similar compromise, as the belt and pulley system brings consistency but doesn't have the same detail as higher-end systems.
Thrustmaster T248
Launched in 2021, the T248 is an excellent blend of the gear-driven formula seen in competitors such as the Logitech G923 as well as the belt-driven technology that Thrustmaster is famed for. This hybrid means that you get the consistency of a belt-driven force-feedback solution as well as the lengthened durability of a gear-driven device at a solid price.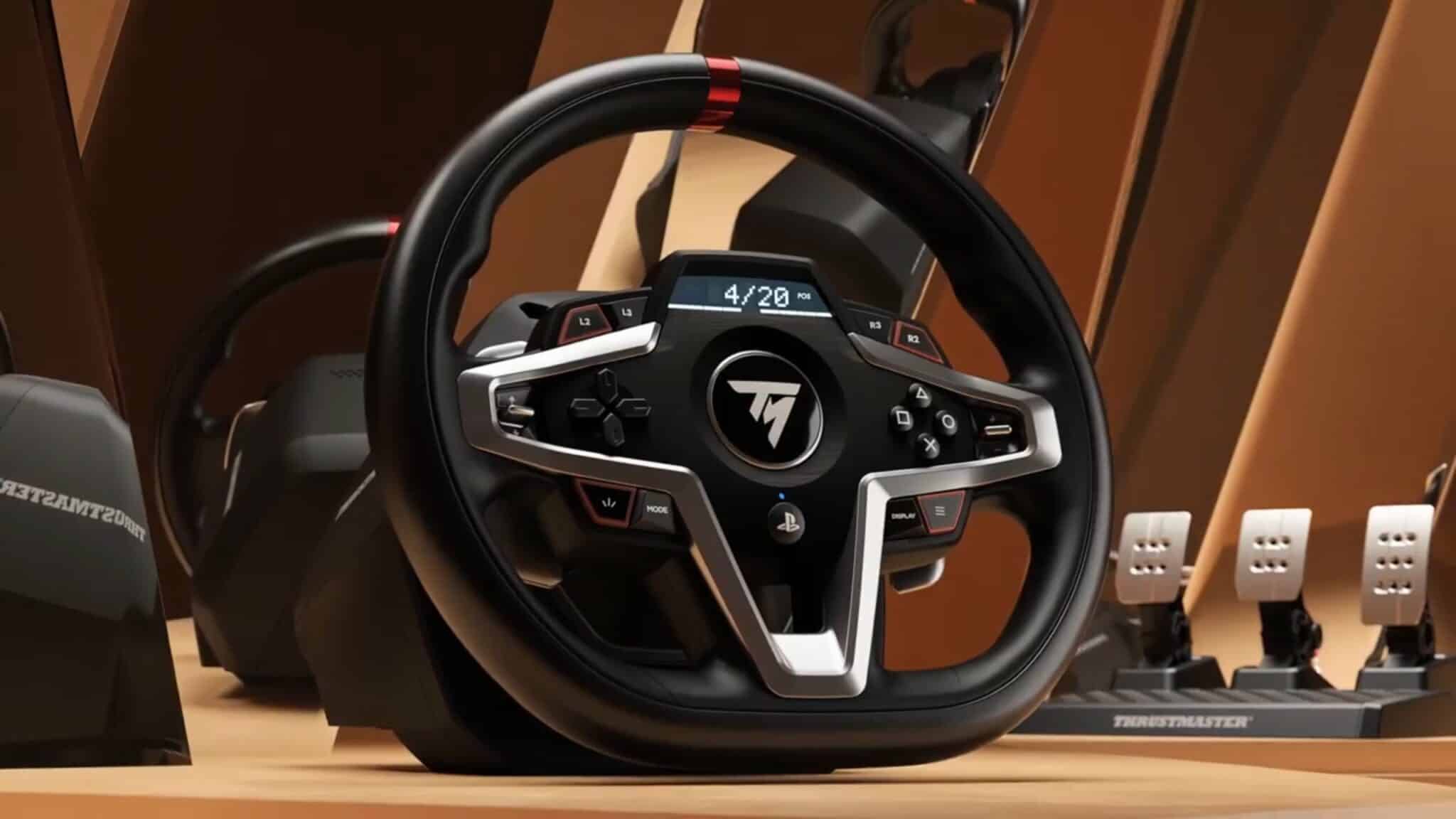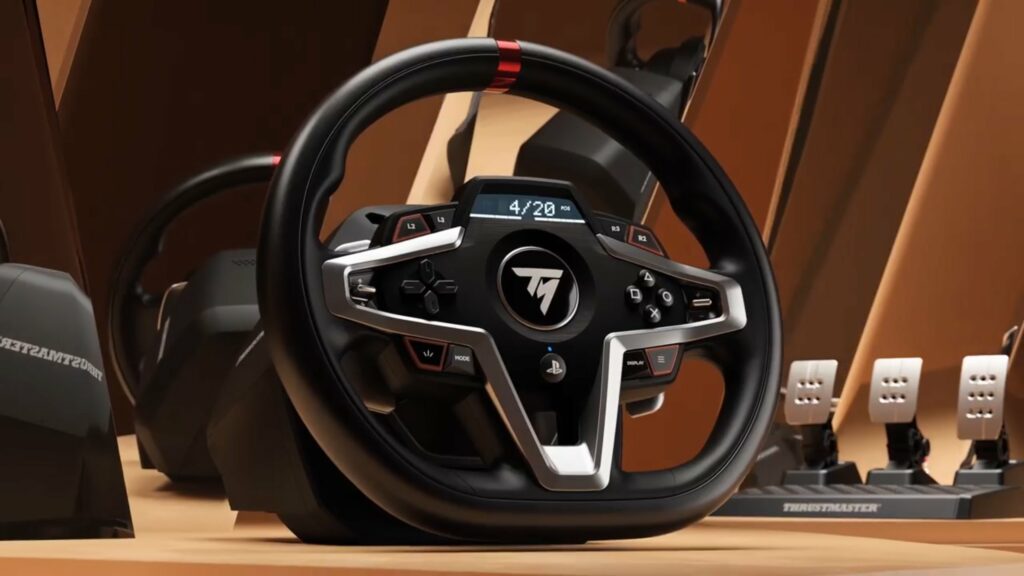 With an integrated display for such metrics as RPM, position, and speed, the T248 offers unique peripherals rare at its price point. It also features two two-way encoders that can be mapped to functions such as cycling up and down pages which will give you extra control without a keyboard and mouse.
The T248 is an excellent step into the sim racing world if you're looking for something slightly heavier-duty than the entry-level offerings and a sure-fire solution for Gran Turismo.
Logitech G923 TRUEFORCE
More expensive than the previous generation and also compatible Logitech G29, the Logitech G923 TRUEFORCE is the next evolution in one of the most popular series of wheels on the market. A tried-and-tested solution, the G923 features its patented TRUEFORCE system that adds more depth to the gear-driven force feedback design, meaning that you can feel more through the wheel while still keeping the reliable system of force feedback.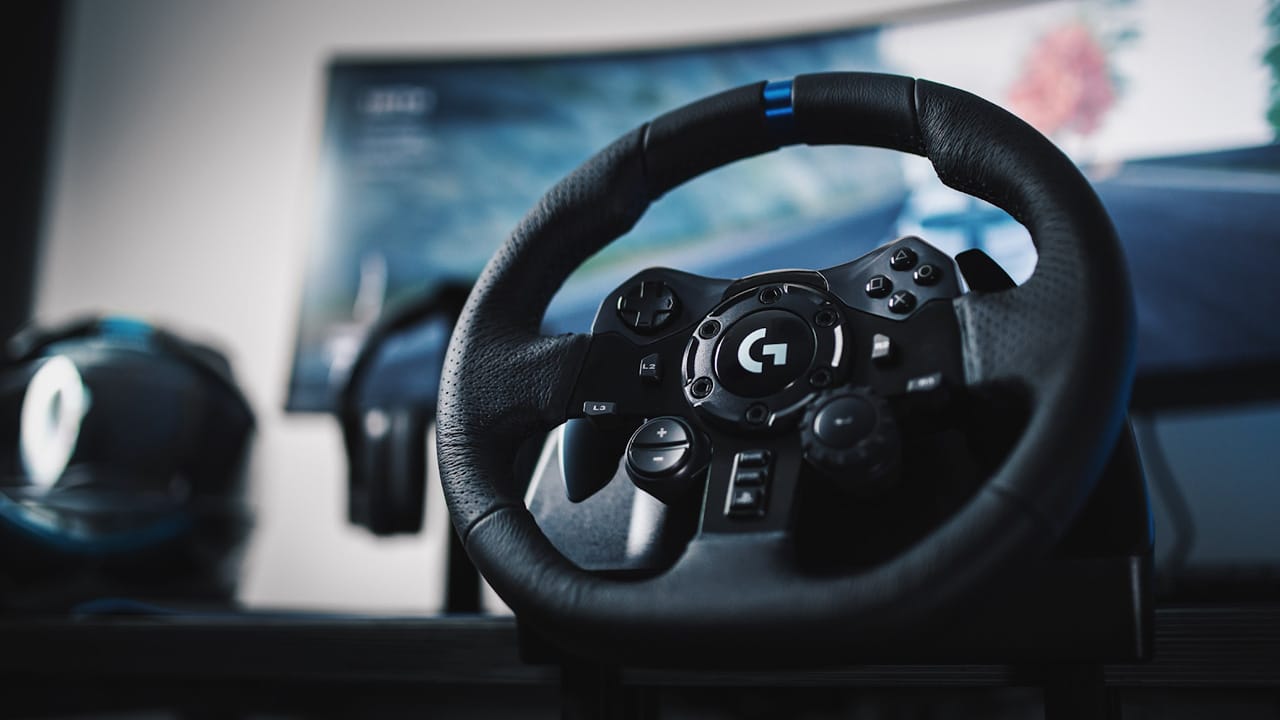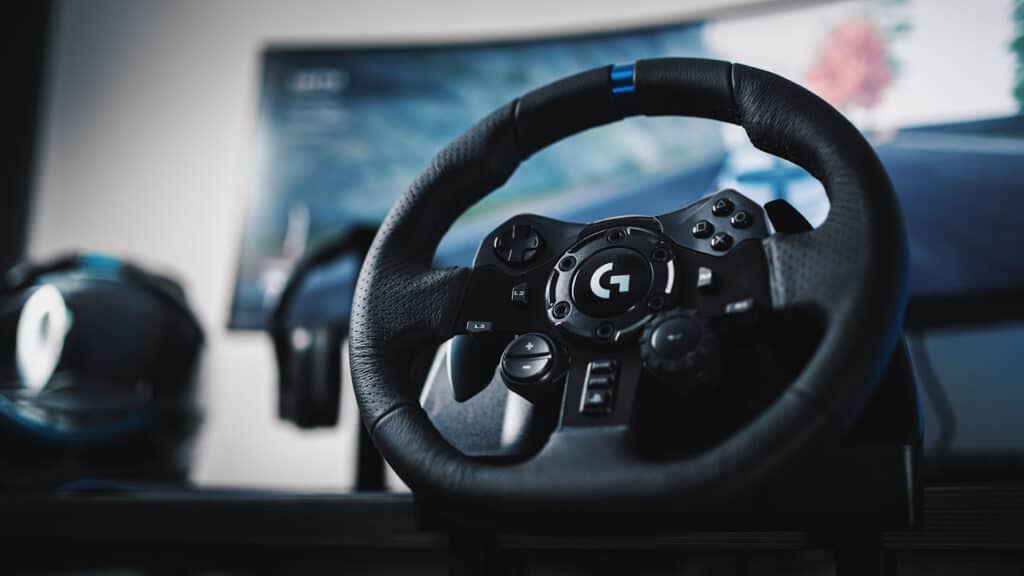 However, the very same tried-and-tested solution is also arguably the biggest flaw of the Logitech wheel. The gear-driven solution gives feedback that can be considered inconsistent at times, and the potentiometers in the pedals can become clogged and stop working if they're in a place where they can gather dust and other small debris.
Whilst the G923 is still a good product with a basis that has stood the test of time, other wheels at the same price could be considered better value for money.
Thrustmaster T300RS GT Edition
At a comparable price to the Logitech G923 TRUEFORCE, the Thrustmaster T300RS GT Edition is a competitive mid-range option. Using two belts to deliver consistent and linear force feedback, it also features a 16-bit resolution in the steering wheel that allows for more pinpoint accuracy in your steering inputs.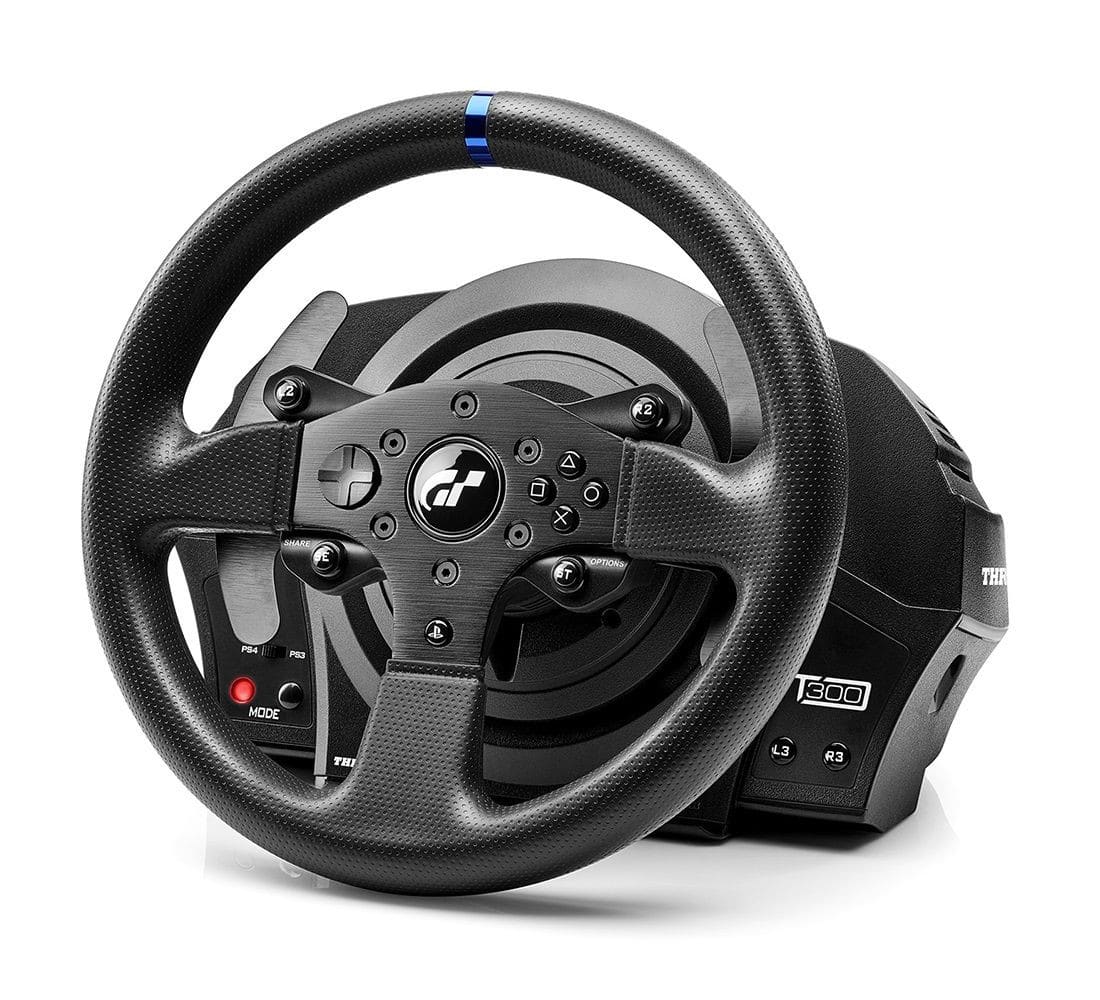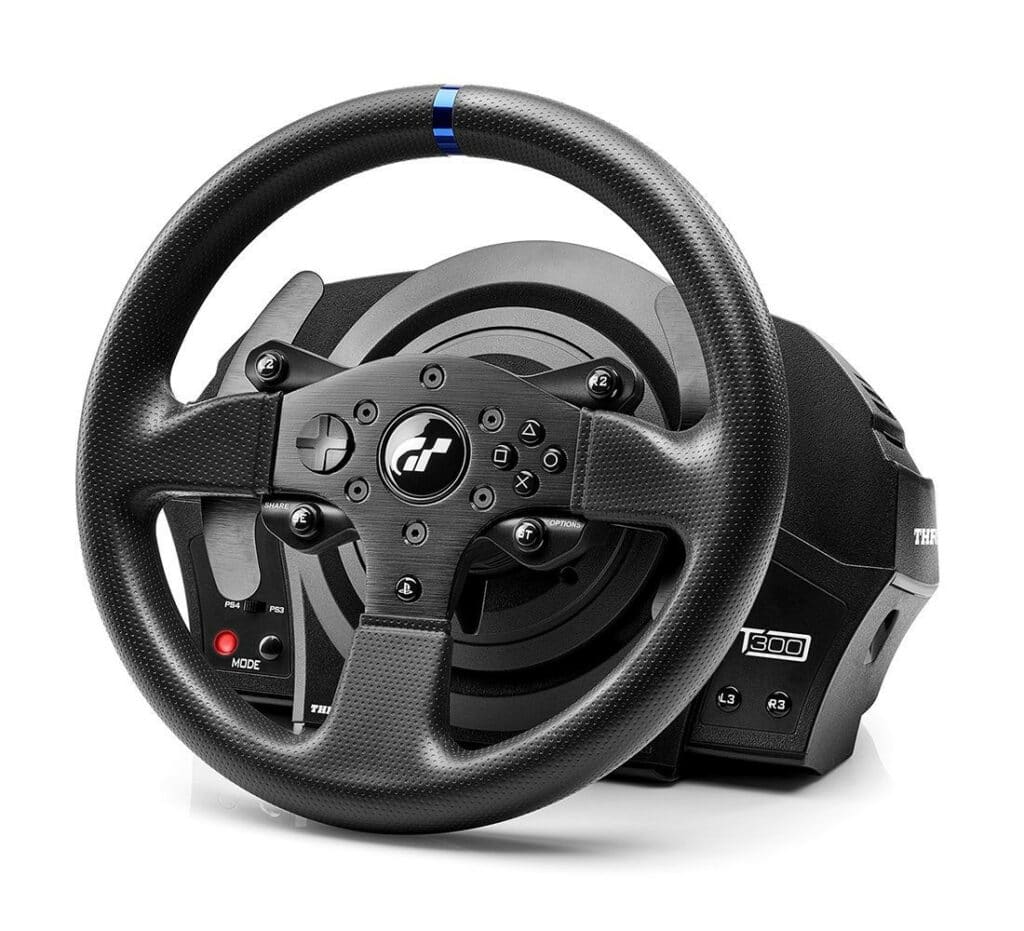 The first of the wheels on this list to carry licensing from the legendary Gran Turismo series, the T300RS is a great solution for someone serious about console-based sim racing. It also features as part of an ecosystem, meaning that the default wheel rim can be swapped out for any of the options that Thrustmaster has available on its website.
The T300RS is a dependable option for somebody serious about sim racing for the long run. With the ability to further upgrade the overall package with the Thrustmaster T-LCMs, an addition that ranked top in our list of The Best Sim Racing Pedals, this is a fantastic option for any sim racer and at any level. If you're looking for a new wheel, and especially one that works on the PS5 platform, the T300RS is an excellent option.
Fanatec Gran Turismo DD Pro
Starting at around €700, the Fanatec Gran Turismo DD Pro is a means of bringing a relatively-affordable Direct Drive wheel to PlayStation platforms. The Gran Turismo DD Pro is a PlayStation-compatible version of the ever-popular CSL DD, the wheelbase that we recently recommended in our article on The Best Fanatec Wheels.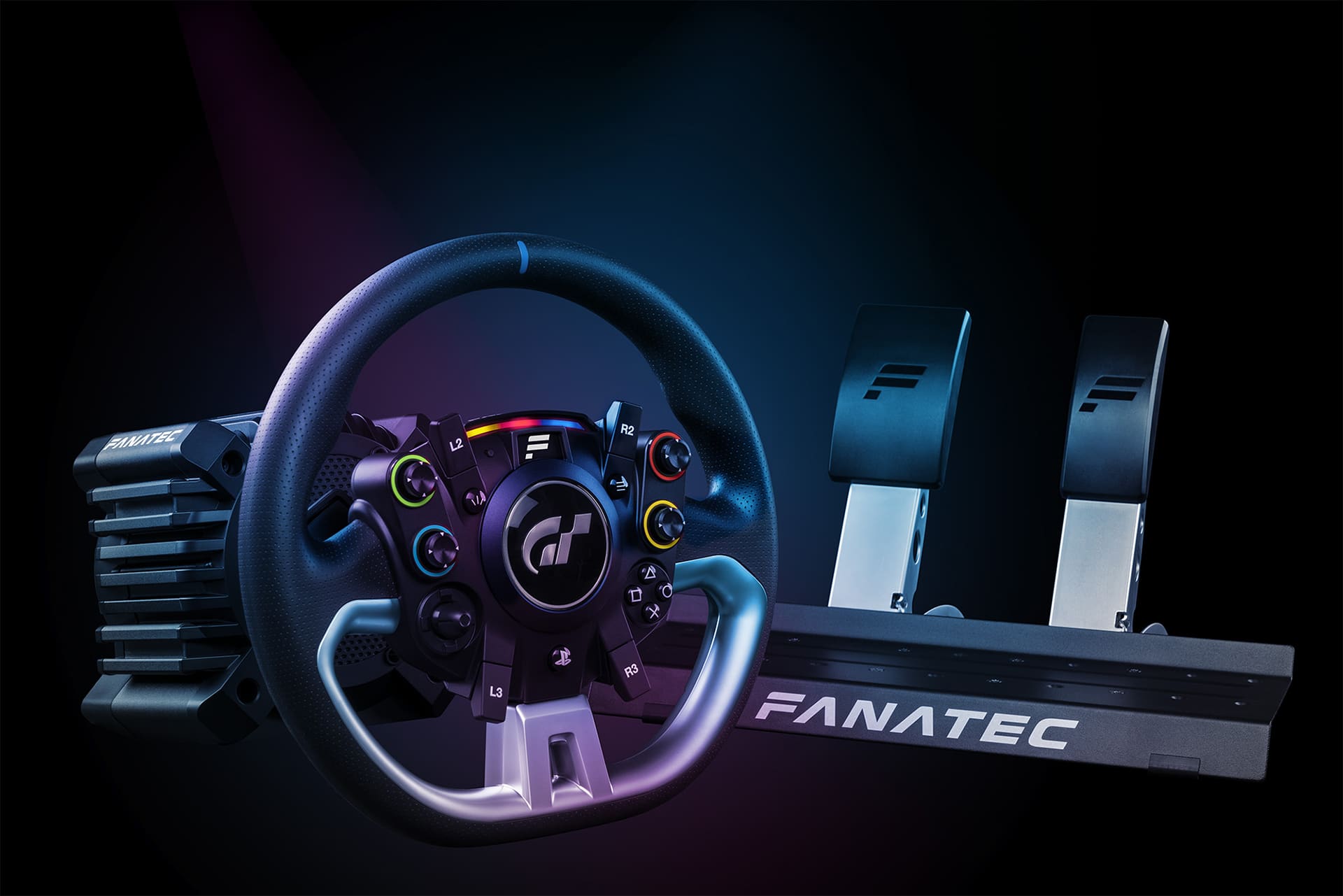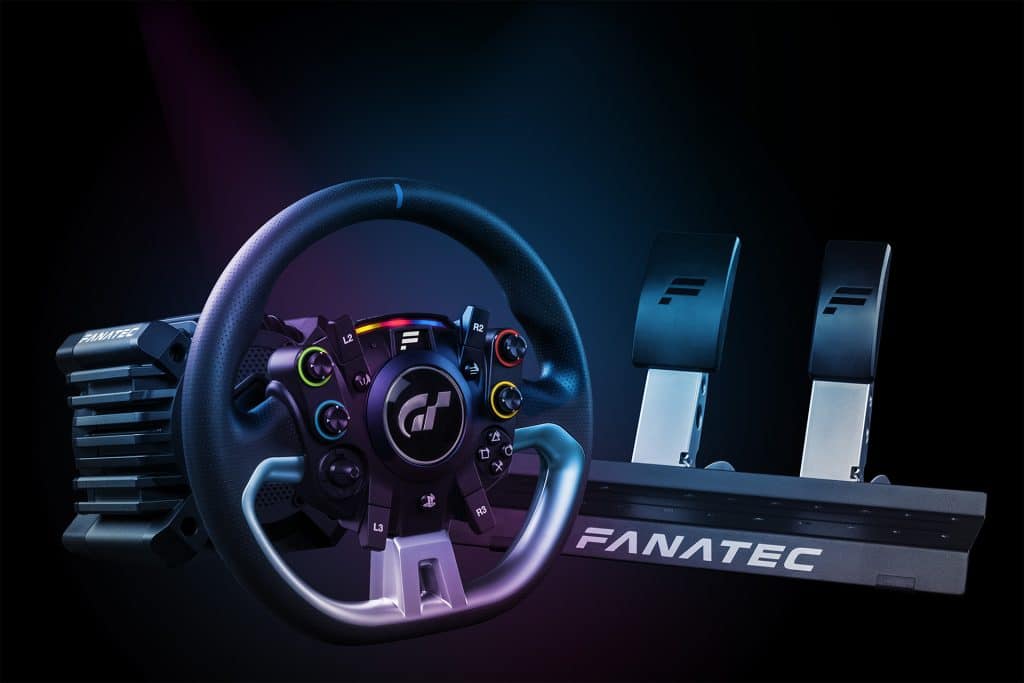 Also available in boosted to 8Nm of peak torque at €849.90, the biggest difference between this and the other options on this list is the Direct Drive functionality. This gives seamless and instant force feedback at a higher strength than its rivals and, with the Fanatec CSL 2-pedal set as standard, you can expand on your initial investment in several ways.
One can be by adding a Load Cell pedal for your braking, either by purchasing the CSL Load Cell Kit or by upgrading to the ClubSport V3 pedals that feature vibration motors on the brake, or by changing the rim to one of many options available within the Fanatec ecosystem. The world really is your oyster in this case.
Thrustmaster T-GT II
Thrustmaster's top-end offering for PlayStation sim racers is the Thrustmaster T-GT II. With prices starting at €749.99, this wheel comes with all the bells and whistles on top of Gran Turismo branding.
Coming with the T3PA pedals as standard, you can also upgrade this unit with the T-LCM pedals as well as other fancy add-ons from the Thrustmaster ecosystem.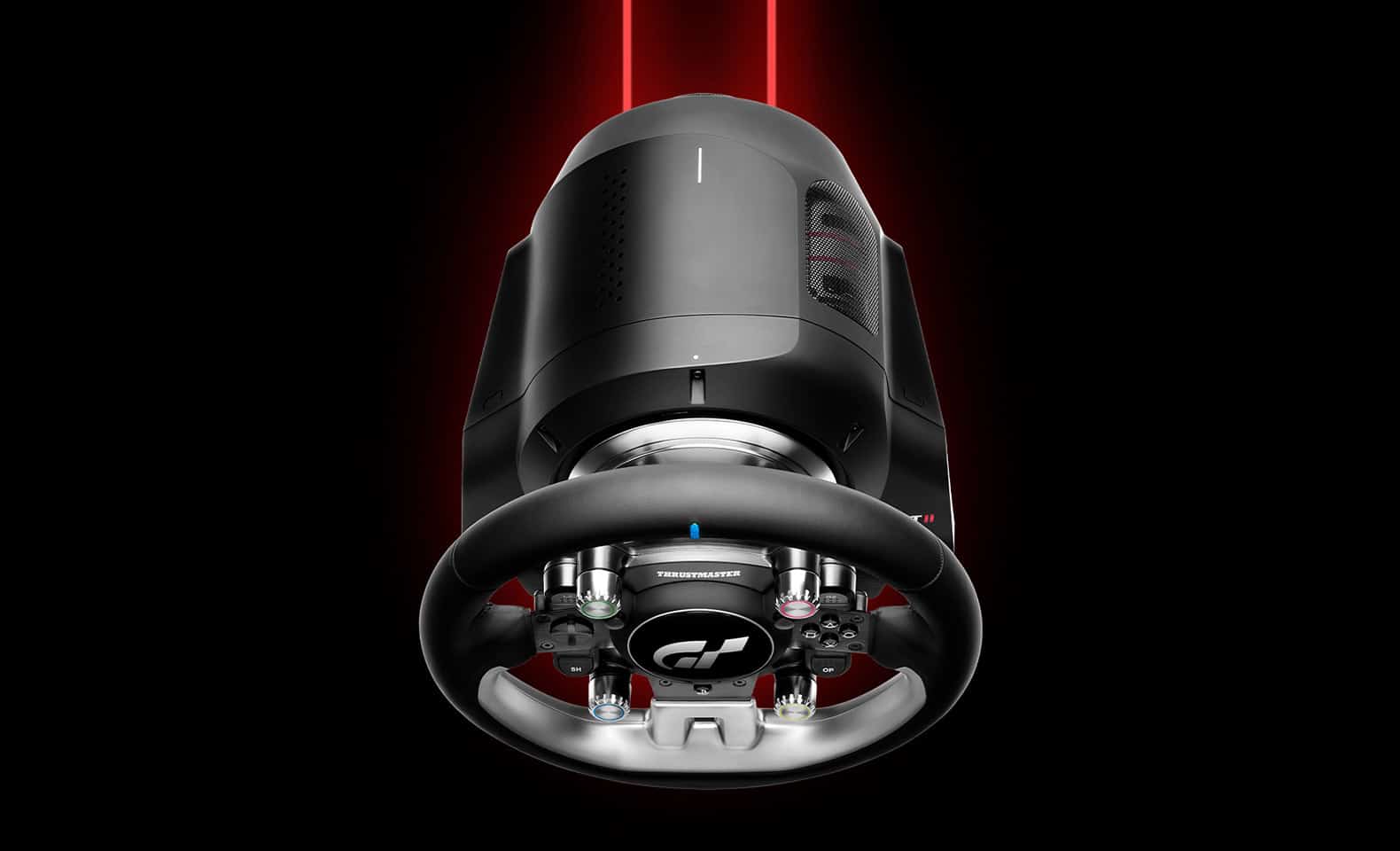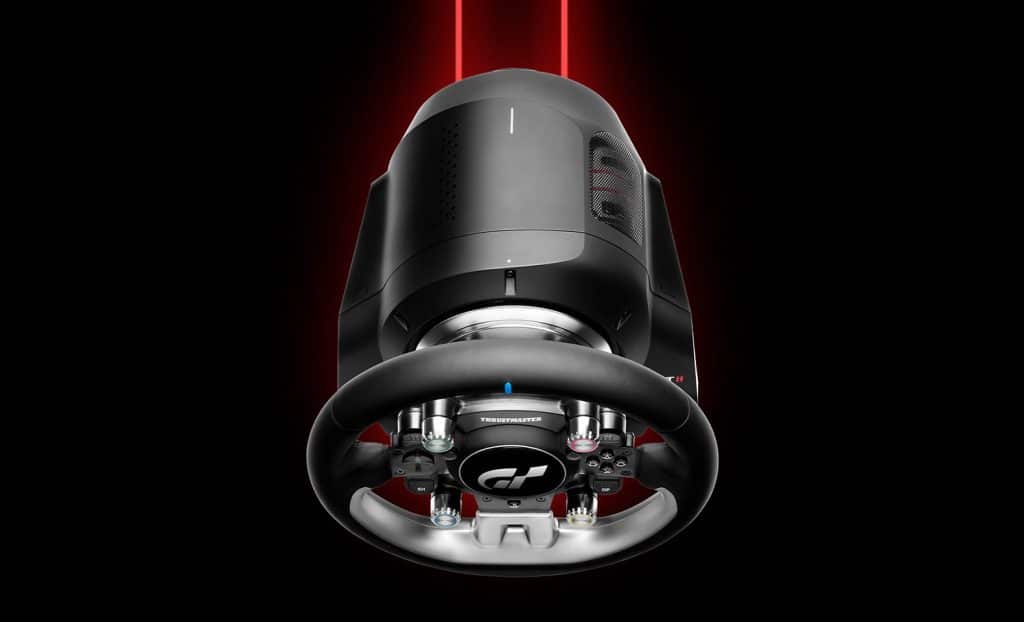 Developed in conjunction with Polyphony Digital, creators of Gran Turismo, there are some fantastic and unique features on this wheel. These include features such as Drift Curve Calculation (T-DCC), which makes it easier for drivers to sense the car slipping, and Depth Feedback (T-DFB) which gives users a three-dimensional sense of the environment and allows you to feel how each area of the car is behaving.
Whilst the T-GT II isn't the Direct Drive standard that Fanatec is setting, it is the best of the best without venturing onto a Direct Drive wheel.
Logitech G PRO Racing Wheel
Starting at just under €1000 for the wheelbase and rim, Logitech's direct drive G PRO Racing Wheel was a surprise announcement when it was released late in 2022. With a peak output of 11Nm, it boasts a higher output than most other wheelbases on this list. At the same time, with the TRUEFORCE technology first seen on the G923 wheel, it builds on the successes that Logitech has had over its decades of experience.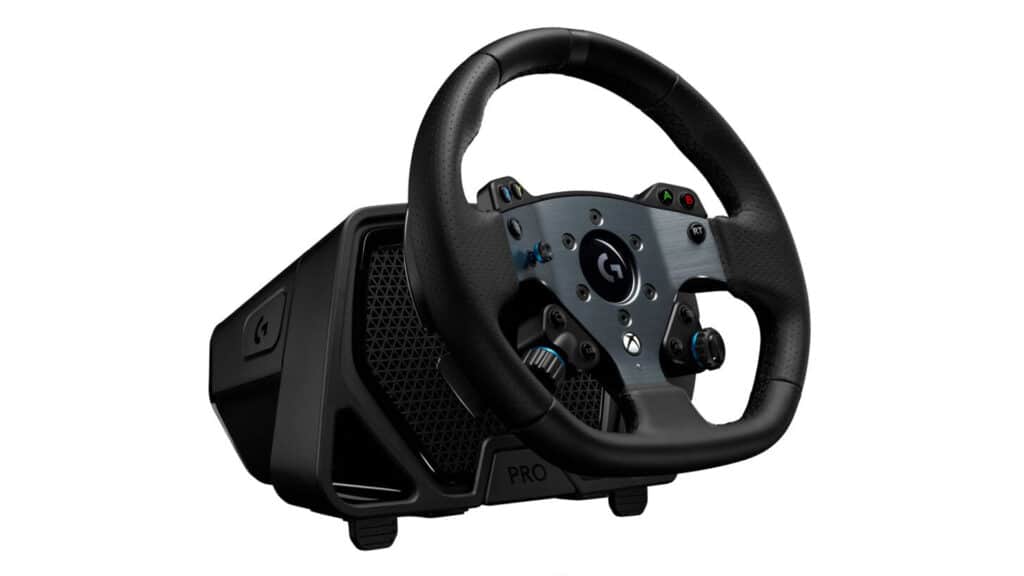 The main difference between the Logitech offering and other brands on this list is that there's a limited variety of wheel rims available for the base. At present, Logitech offers the standard wheel rim for each platform: the PlayStation/PC and the Xbox/PC versions.
At the same time, the only pedals that are compatible with it for PlayStation use are €350. Whilst they do have an adjustable load cell, they are more expensive than similar offerings from the likes of Fanatec, Moza, and Thrustmaster.
Overall though this is a pretty competitive option and is likely to only become more attractive over time as the ecosystem develops. With PC compatibility as well as PlayStation, Logitech offers you a wheelbase that allows you to sim race on multiple platforms. This contributed to the plaudits we at the Academy recently gave the Logitech G PRO in our guide to the best Direct Drive wheels on the market.
Our Recommendation
Despite the huge volume of well-rated options on this list, the Fanatec Gran Turismo DD Pro has to be Coach Dave Academy's pick for the best racing wheels for Gran Turismo. At a medium-budget price point, the Gran Turismo DD Pro base brings Direct Drive technology to PlayStation without completely breaking the bank, whilst also acting as a stepping stone into the already established Fanatec ecosystem. Combined with official Gran Turismo branding, it's difficult to go wrong with this PlayStation racing wheel.