Many looking for a non-slip grip on their sim racing pedals may not want to spend hundreds of dollars on a set of racing shoes or may want a slimmer profile for smaller pedal sets or larger shoe sizes. Some may find shoes too uncomfortable for long sessions where sweat and heat may become a concern.
Luckily, there are a few socks on the market that are just for those people. We have for you some of our picks for the best socks you can buy for sim racing.
Why sim racing socks?
Socks are a classic staple of sim racing. Many of us started out with a small set of Thrustmaster or Logitech pedals with our socks on for optimal comfort and feel with the pedals.
However, as one progresses down the sim racing rabbit hole of better built and more expensive sim racing equipment, it becomes apparent that slippery socks on steel pedals have their pitfalls, such as your feet slipping off the brake pedal in a big braking zone. Not a fun thing to explain to the guy you just sent to the shadow realm in turn 1 at Monza.
While many invest in racing shoes, these can have some disadvantages as well, such as getting hot and uncomfortable in long sessions, or being slightly too bulky, or having slightly less feel than a sock does.
A sock ideal for sim racing will have anti-slip rubber grips at the bottom, keeping your feet glued to the pedal, as well as high-quality fast-drying materials, keeping you comfortable throughout a race. These can make for very good alternatives for those wanting the grip and stability from racing shoes without any of the pitfalls.
What to look for in sim racing socks
Non-slip rubber grips for keeping your feet stuck to the pedals.
Fast-drying fabric for keeping sweat at bay.
High-quality material so your skin isn't irritated or itchy.
Cushions for your heel for maximum comfort during longer sessions where you may be resting your heel on the pedal plate.
| | | |
| --- | --- | --- |
| Sock | Price (USD) | Summary |
| SimSok | $24.47 | Sock tailored specifically for sim racing, with excellent grip and comfort at an affordable price. |
| Puma Active Gaming Footwear | $100.00 | Shoe-sock hybrid designed for general esports use, with excellent practical application to sim racing. Great premium product for those wanting a more comfortable alternative to racing shoes. |
| LUX Anti-Slip Soccer Sock | $15.95 | Affordable sports socks with anti-slip grips that can be used as sim racing socks. |
Sim Sok
Entering the market at $24.47 USD, Sim Sok offers a favourable option for sim racers to keep their feet on the pedals and stay comfortable, without breaking the bank on racing shoes. Strategically placed grips keep your foot planted to the pedal plate with a cushioned heel to keep you comfortable throughout a race, and your sole stuck to the pedal face with the rubber toe grips. The Coolmax polyester material is fast-drying, making it ideal for keeping your feet dry for longer sessions. Sim Sok's offerings come in at a very affordable price with certainly no lack in quality, making them a brilliant option.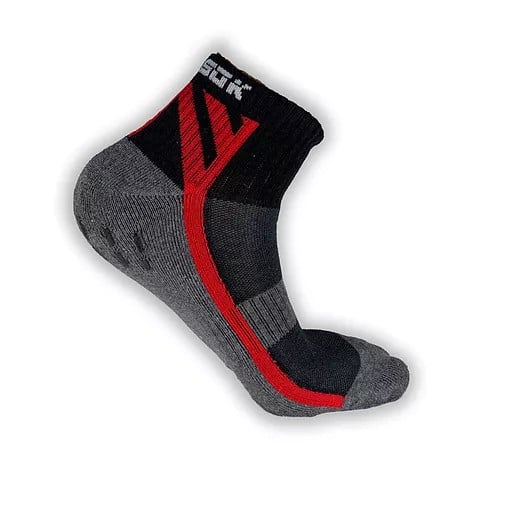 Pros
Specific strategic placement for non-slip grips, ideal for sim racing.
Made from Coolmax polyester, making it quick-drying; Ideal for longer sessions where sweat is a concern.
Cushioned heel for comfort.
Low cost.
Cons
Puma Active Gaming Footwear
At $100.00 USD, the Puma Active Gaming Footwear shoe offers a fantastic alternative for those looking for something slimmer than a racing shoe at a similar price point. While marketed as a general esports product, it's hard to think of a purpose more perfectly suited to it than as sim racing footwear. For those willing to spend premium shoe prices for a premium product, this could fulfil its purpose for serious sim racing competition.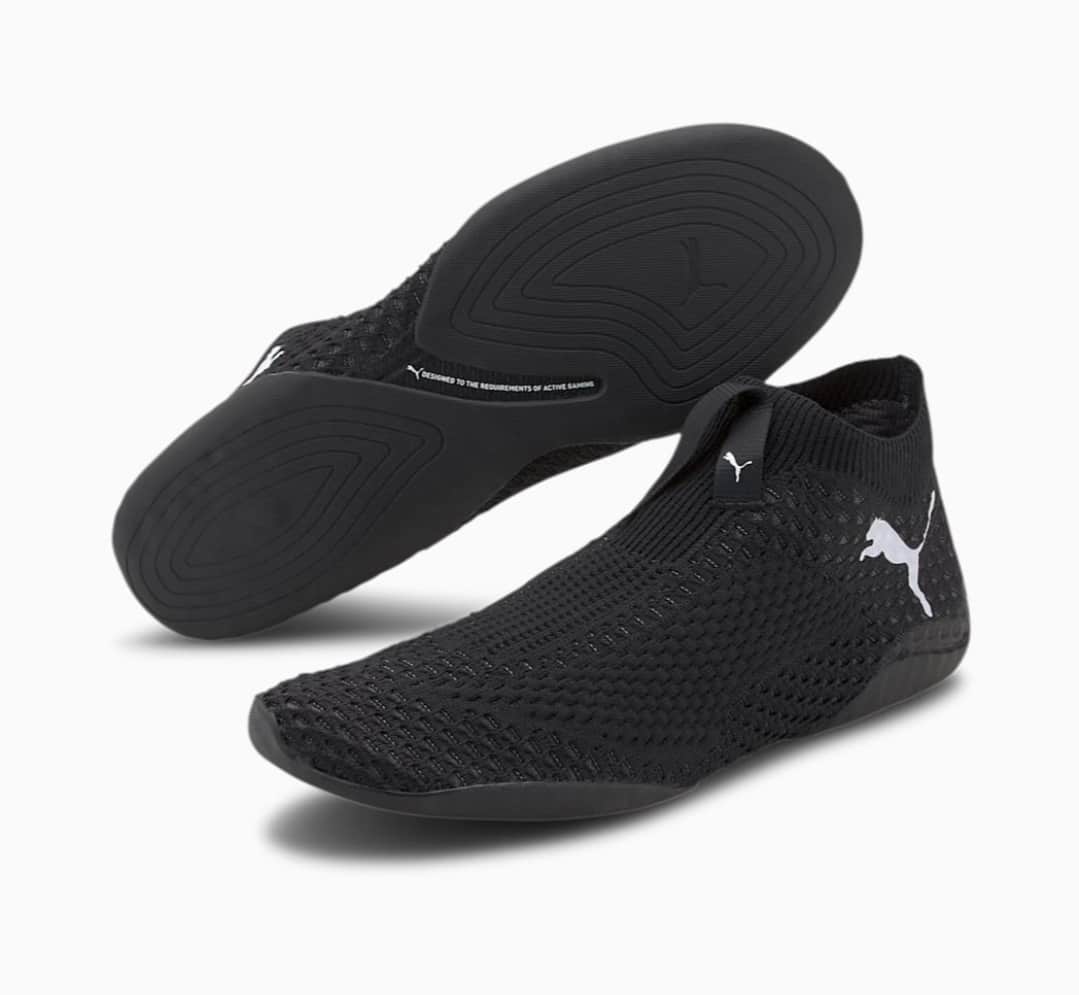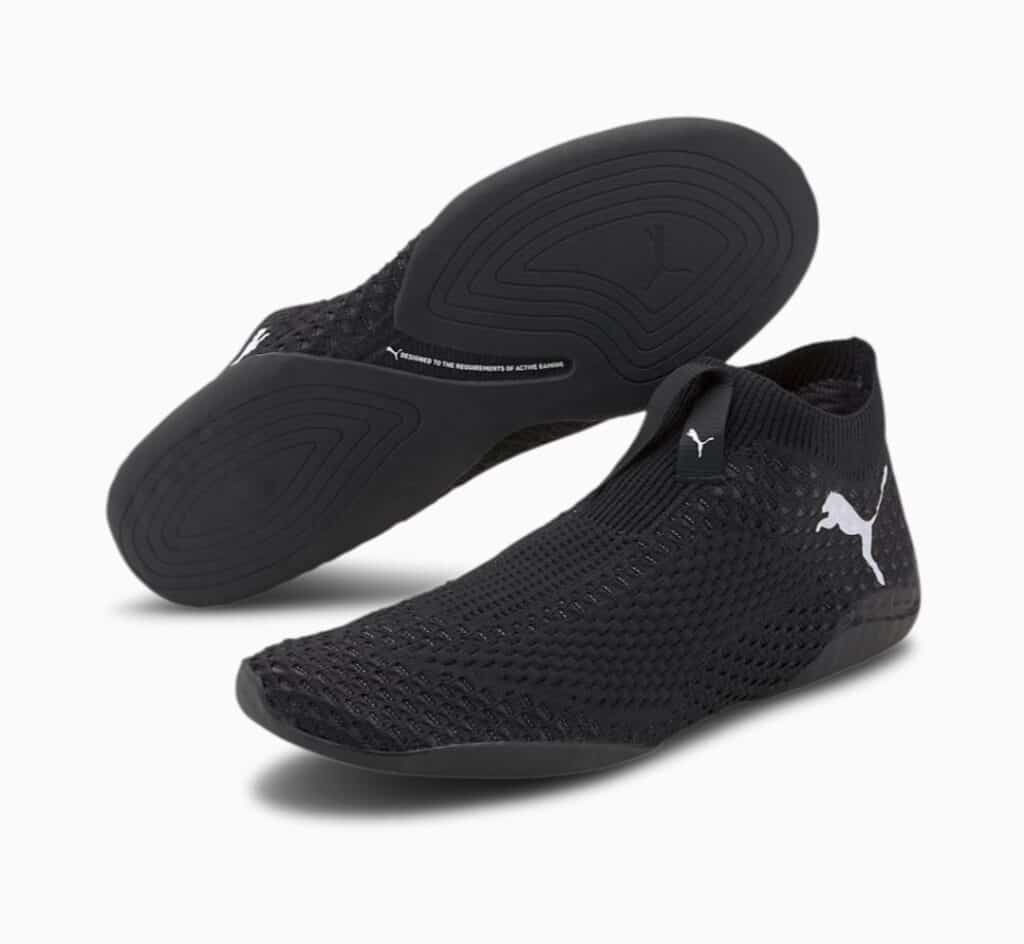 Pros
A hybrid between a shoe and a sock, with breathability and a slim fit.
The grip and support you'd expect from a shoe, with the comfort of a sock.
Designed for comfort in general esports competition use, however, functions great as an ultra-slim sim racing shoe.
Cons
LUX Anti Slip Soccer Socks
At $15.95 USD on Amazon, the LUX Anti Slip Soccer Socks are general sports-centred anti-slip socks that will give you a non-slip grip to your pedals at a reduced cost, however, your comfort level may vary. As sim racers, some may notice a rugged pair of sports socks to be slightly more uncomfortable in prolonged use than you would whilst playing a more active sport, however, others may not notice it at all. They are moisture-wicking and slightly hydrophobic so they will keep sweat at bay in those long stints, and they have the anti-slip rubber grips you need to make sure your feet are on the pedals. However, the grips aren't strategically placed for sim racing, so some pedal work such as heel and toe may be more difficult than it is with other products.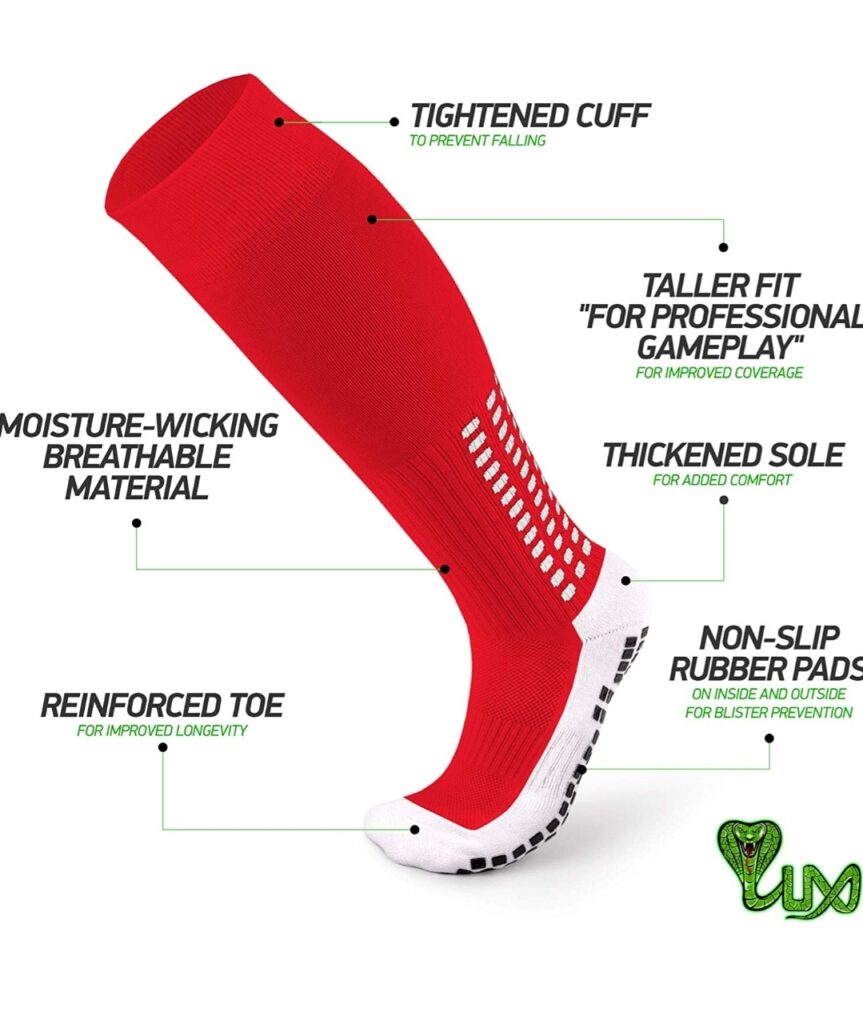 Pros
High-cut socks with anti-slip grips designed for keeping your feet in your shoes on the football pitch, that can serve the same purpose for keeping your feet on your pedals.
Low cost.
Cons
Not designed specifically with sim racing/indoor use in mind.
Conclusion
While racing shoes are often the flashiest footwear you can use on your sim rig, there is something to be said about the simplicity and efficiency of socks with anti-slip grips. With strategic placement for comfort and ergonomics like Sim Sok has done, or make a sock-like shoe with a super low profile to combine the benefits of shoes and socks for a premium product, or a general sports-oriented anti-slip sock, you can take advantage of many of the things racing shoes offer without their inherent disadvantages such as comfort, breathability, cost, or size.