Every sim rig has three points of contact between the driver and the car: the wheel, pedals, and seat. Arguably, it can be said that the pedals are what can make some of the biggest differences in driving ability and consistency.
A consistent and precise pedal feel can allow the driver to control the braking performance of the car without second-guessing what the car will do. This improves braking performance and tyre wear and overall car control as pitching and instability can be better controlled.
So, it is clear pedals can make or break a driver's ability to be consistent and perform at their peak level, making choosing the right pedals key. Here, we have broken down the five best sets of pedals ranging from more budget-friendly options to premium sim racing gear.
What are Sim Racing Pedals?
Sim racing pedals are a core part of any sim racing rig. They are the very basis of your rig and are essential to any form of racing as they allow you to control the brakes, throttle and often the clutch in your car. The feeling they provide allows for the precision racing that everyone looks for, as it gives you superior control over your car.
Followed by Sim racing seats, they are up there as one of the areas in a rig that allows for the most improvement.
Sim Racing pedals come in multiple forms: potentiometer, load cell and hydraulic:
At the cheapest end of your budget, you will find pedals that relay information to the game via a potentiometer, giving you the weakest and least accurate feel.
Load cell pedals are next, and are the best consumer-grade option when it comes to pedals. They are found in the majority of pedals on this list, as they are affordable yet allow for a high level of precision.
At the top of the range are hydraulic pedals, which are much rarer and more expensive, but allow for the highest form of accuracy – often being found in race cars.
Will Upgrading My Pedals Make a Difference?
Put briefly, upgrading your pedals can help you to knock the next tenths and seconds off of your lap time.
For example, with "load cell" technology, the brake pedal has a greater form of resistance that mimics the kind of brake pedal you'd come across in real-world driving and racing. This can be very helpful if you are racing prototypes such as the Dallara P217 LMP2 – which you can pick up setups for now as part of our iRacing Setup Subscription – since these cars do not feature an Anti-lock Braking System (ABS) like GT3 cars. Without a load cell pedal set, it is easier to lock up the brakes than it is with load cell pedals due to the added precision.
The next step up, hydraulic pedals, extends this to the throttle and clutch on a heightened level.
Should I Buy Used Sim Racing Pedals?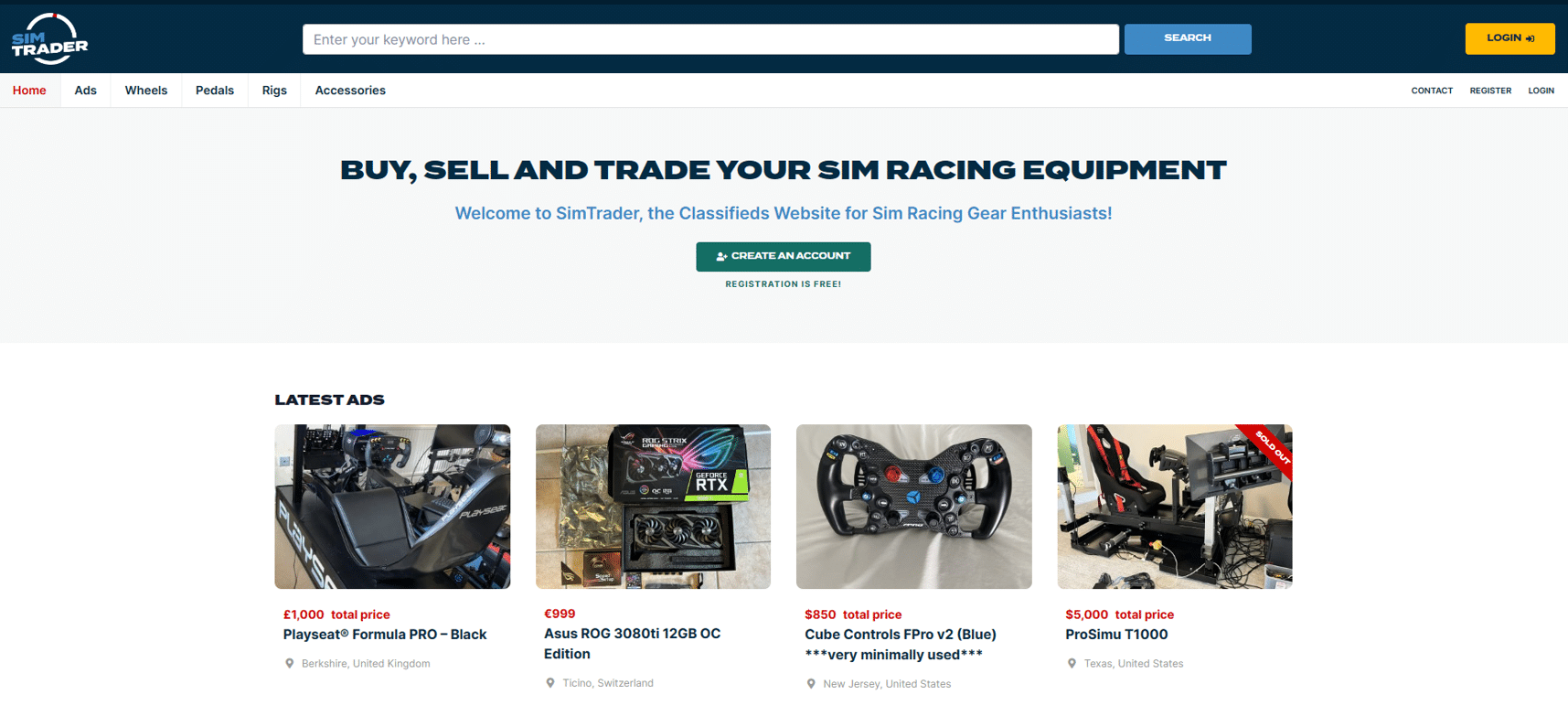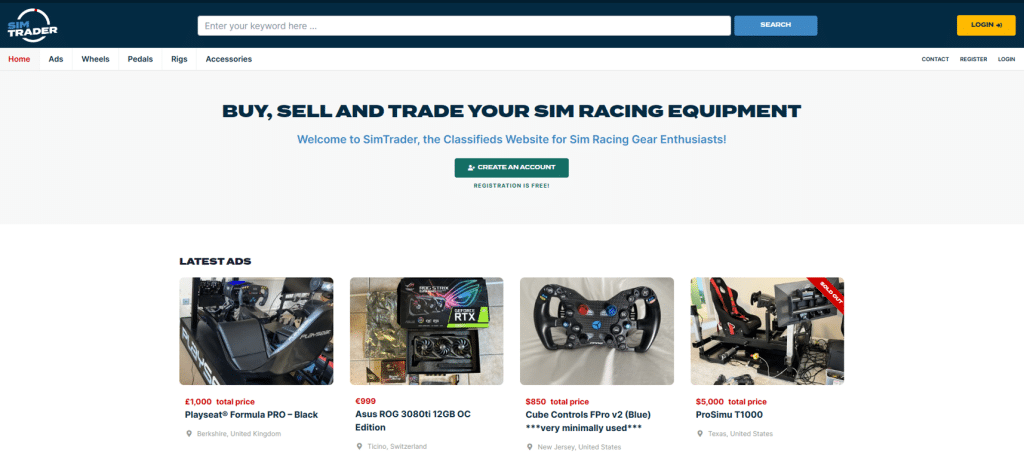 Things to look out for when purchasing used goods such as pedals can range from the age of the product to how reliable are they over time – is it still in warranty? Does it have bad reviews of components failing? Finding out things such as can the pedals being modified/upgraded is a great point to consider also – maybe you want to add a performance kit like the Fanatec V3s upgrade option, or change the pedal plate.
Other things to consider could be the mounting options or the load cell force being too strong for your rig. But doing the right research is definitely something you should not overlook when purchasing new or used goods.
Classified ads are a great way to pick up top-quality items at a much cheaper cost, usually always returning more bang for your buck for better equipment at the price points you can afford. This is where the sim racing classified site SimTrader can help and you might even want to list the items you will no longer be using here also.
You can buy, sell or even trade with other users on SimTrader. So before you scroll further, you may want to check out the current sim racing pedal deals here instead of purchasing new.
Quick pedal rundown
Pedal Rundown
Product
Style
Price Range
Pros
Cons
Thrustmaster T-LCM Load Cell Pedals
Load Cell
Budget
– Affordable load cells
– Interchangeable springs
– Flex under load
Fanatec Clubsport V3 Pedals
Load Cell
Budget
– Part of the Fanatec ecosystem
– Vibration motors for added immersion
– Brake performance kit not included
MOZA Racing CRP Pedals
Load Cell
Mid-range
– Part of the MOZA ecosystem
– Fully adjustable pedals
– Not console compatible
Simagic P2000-R
Load Cell
Mid-Range
– Real-life pedal construction
– Customisable in Simpro Manager software
– Difficult to set up
Heusinkveld Sim Pedals Sprint
Load Cell
Mid-Range
– Superior build quality
– Most accurate load cell
– Occasional mounting issues
Heusinkveld Sim Pedals Ultimate+
Hydraulic
High-End
– Superior build quality
– Full hydraulic solution
– Occasional mounting issues
Thrustmaster T-LCM Load Cell Pedals
| | |
| --- | --- |
| STYLE: Load cell | BRAND: Thrustmaster |
The T-LCM Pedals are Thrustmaster's first move into the load cell pedal market. However, they still bring their reasonable pricing and high-quality design.
The pedals have a metal material construction for the pedal head and arms which ensures limited flex on the main stress areas of the pedals. There is also a textured metal base plate that can be used to rest your feet on while also giving a high-quality look and feel.
In terms of features, the main area of interest is the new addition of the load cell on the brake pedal. The load cell can take up to 100 kilograms of pressure, allowing you to put a huge amount of force through the pedal set just like a real-life brake pedal.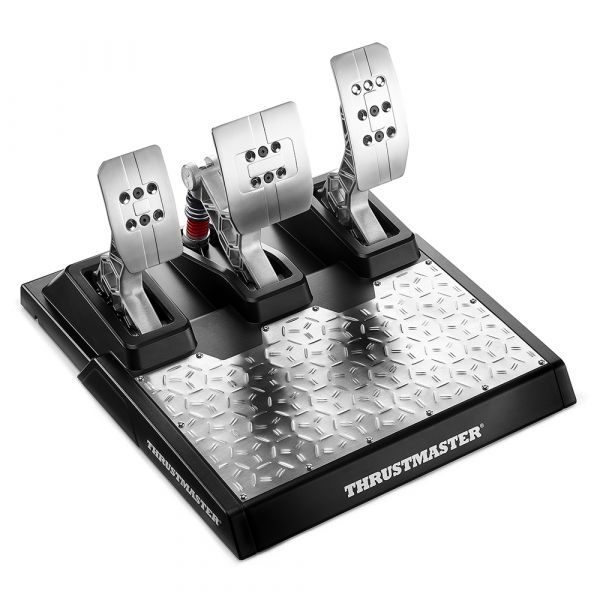 With the load cell, six different springs can also be swapped out to ensure you can get the pedal feel that suits you best and works best for the sim rig the pedals are mounted in.
With this, the throttle and clutch also come with magnetic HallEffect sensors that ensure that the pedals are long-lasting while still maintaining high-resolution input measurements.
One key advantage these pedals have over many others is that, if paired with a wheel from the wide-spanning Thrustmaster ecosystem, then these are compatible with almost all devices ranging from console to PC. So, if you are looking for an entry-level set of pedals while not losing out on the great feel of a load cell then look no further than the T-LCM Pedals.
| | |
| --- | --- |
| STYLE: Load cell | BRAND: Fanatec |
If you are in the Fanatec ecosystem already or are looking for a set of pedals to improve a starter sim racing setup, then the Clubsport V3 pedals are a great choice to consider.
The pedals come with a striking black-coloured metal finish that blends in well with most sim rigs, allowing you to focus on the performance. The metal structure keeps the pedals stiff and secure when racing and are sure to last you for many sim racing sessions.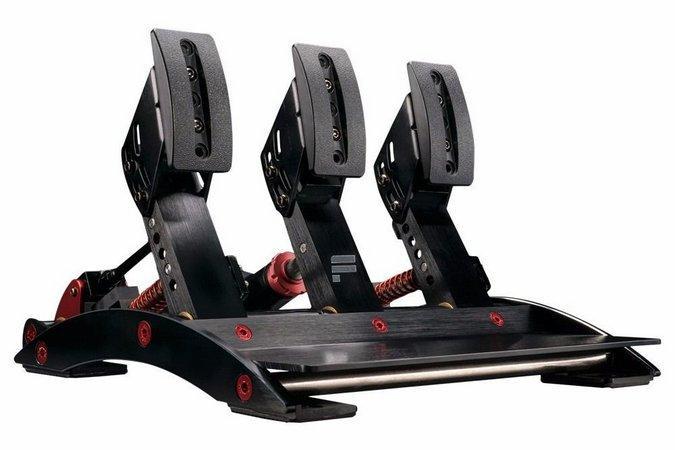 The set comes with a host of adjustability features giving you the ability to tweak the pedals to your liking. The pedal faces can be adjusted into many configurations too, which allows all different styles of drivers to find what fits them best.
In addition, the load cell brake, capable of handling 90 kilograms, can be adjusted to give you the firm feel of a formula car – such as iRacing's Dallara F3 – or the progressive feel of a road car pedal. If optioned when purchasing, the pedals also can have a hydraulic damper added to the throttle giving a more realistic feel.
The Fanatec Clubsport V3 pedals are a great choice for those looking for that new next step into the sim gear world. If you already have a Fanatec wheelbase, you can be sure these will be a happy addition.
| | |
| --- | --- |
| STYLE: Load Cell | BRAND: MOZA Racing |
An up-and-coming brand in the sim racing market, MOZA Racing's CRP Pedals are a highly-adjustable three-pedal solution that gets you a taste of what the newest Direct Drive wheelbase manufacturer on the scene has to offer.
The CRP Pedals are designed like that of a modern-day supercar or hypercar, which can be felt in the aesthetic choices such as an organ-shaped throttle pedal as well as the technical features of the pedals themselves.
On top of a load cell brake, it boasts a three-stage clutch, which is designed to mimic the feeling of a real-world clutch pedal. After the first stage with low resistance, the second stage features the "bite point" where a car would typically stall. The final stage has a drop-off in the resistance, again designed to mimic how a real clutch would behave on a launch.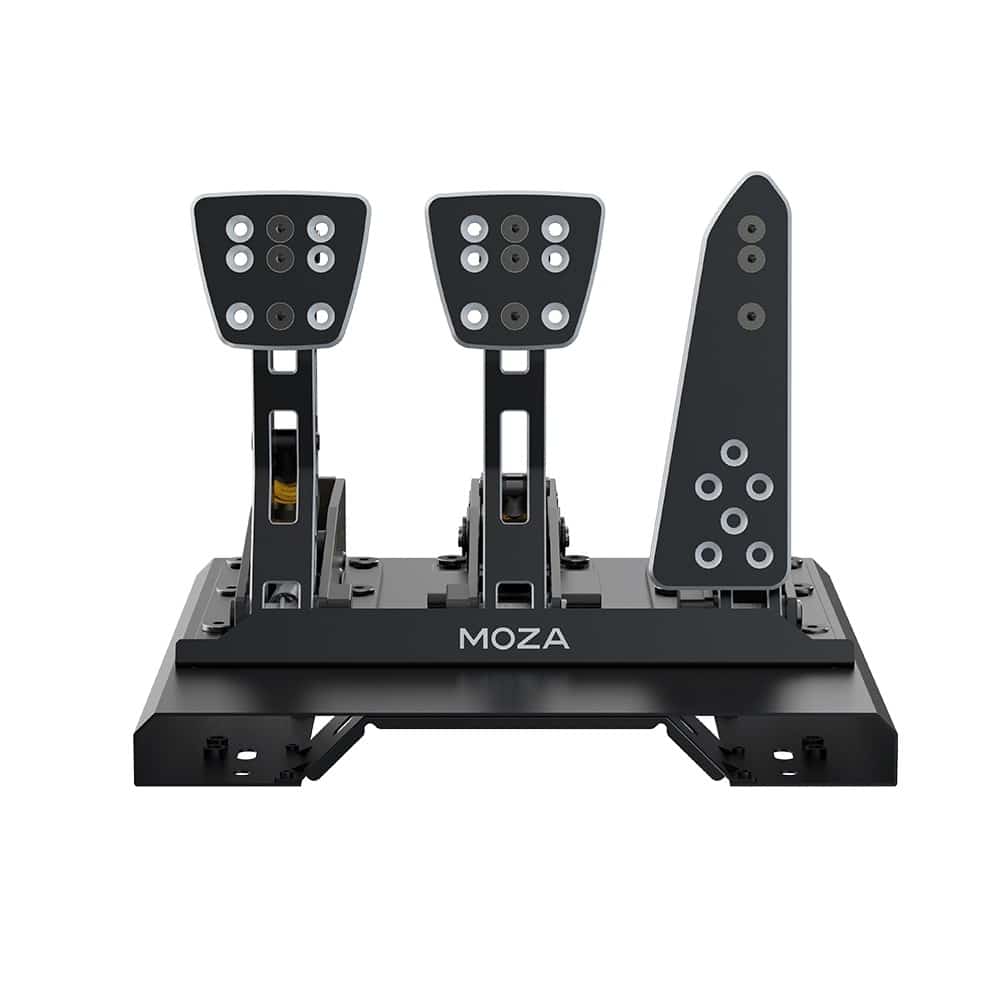 In addition to this, each pedal's resistance can be adjusted using springs and damping blocks included in the purchase. More customisation can be done in the MOZA Pit House App, where you can configure the linearity of each pedal. This means that you can create throttle shapes and curves so that 50% pedal force can mean 25% throttle in-game or 75% throttle in-game at your own leisure.
The CRP Pedals also connect to a PC via USB connectors, meaning that you can try out MOZA's ecosystem without investing in a new wheel. This can be helpful for someone looking to take the next step from their first wheel but unsure about which brand they want to commit to in the long run.
| | |
| --- | --- |
| STYLE: Load Cell | BRAND: Heusinkveld |
This is where the level of quality begins to rise, and with it, the price. However, this increase brings another level of quality, durability and overall pedal feel.
The pedals are made from CNC laser-cut steel and designed using mathematical models that ensure that all travel and force put through the pedals maintain accuracy and consistency. The finish is also extremely high quality, with an Anthracite Grey powder coat on the structure and a bead-blasted semi-gloss look on the pedal faces.
The Heusinkveld Sim Pedals Sprint also come with a host of features to reflect the price point, such as how each pedal has its own distinct set up ensuring the most accurate feel for each.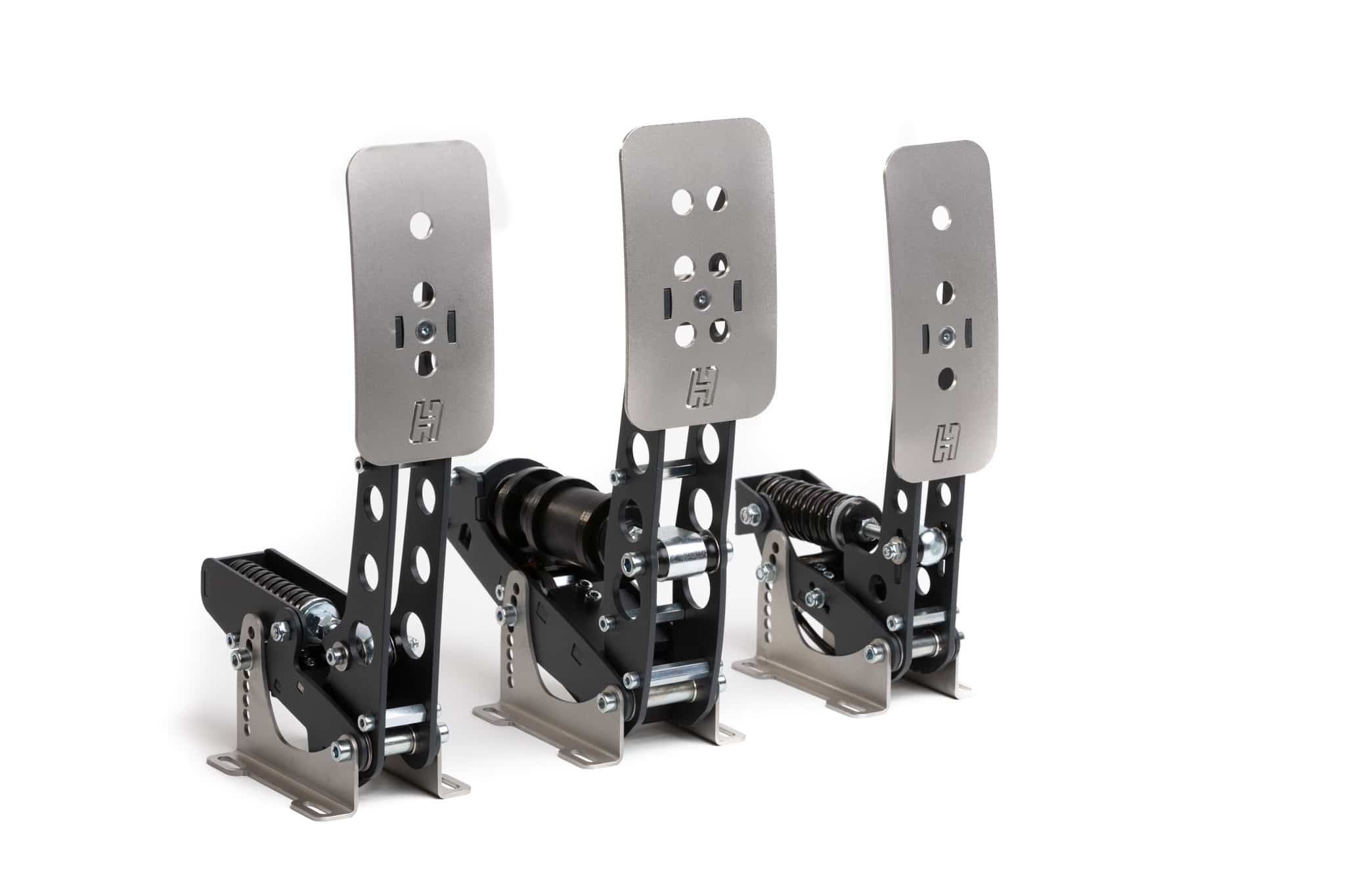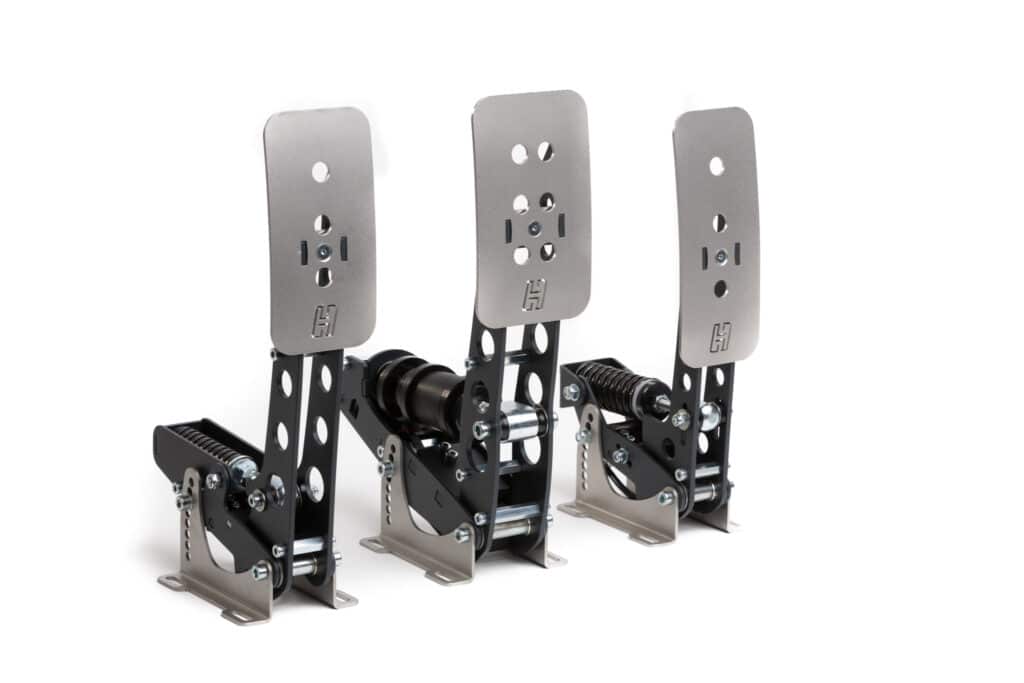 The throttle pedal comes with five different travel settings and an adjustable force curve, with preload. The brake pedal comes with an adjustable coil and rubber springs to adjust pedal grab as if you are truly hitting pad to disc. The force input can also then be tweaked using rubber stacks to change the force needed for full pedal travel.
Overall, the brake pedal will take up to 65 kilograms of force, giving a good range of inputs for all sim racers' needs. The cutch also contains a regressive spring mechanism to simulate the concave clutch curve found in real-life racing cars, whilst adjustable force curves and preload can also be found just like on the throttle pedal.
ALongsie this, there is also a plethora of additional electronic features that support the pedals. A smart controller offers the adjustability to pedal output curves and dead zone and force adjustments all within the PC settings. In addition, these can all be saved to profiles allowing you to quickly and efficiently change between pedal feel depending on the type of car you are driving.
It is clear if you are looking for that more premium feel but do not want to spend more than the price of your whole PC, then the Heusinkveld Sim Pedals Sprint are a great choice for any sim rig.
| | |
| --- | --- |
| STYLE: Load Cell | BRAND: Heusinkveld |
If you're looking for a more top-end feel, then the Heusinkveld Sim Pedals Ultimate+ are a sure-fire choice.
The design of the pedals was done using CAD design software, allowing the pedals to be tweaked in every detail to ensure a high-performing pedal set. These designs are then used to laser cut stainless steel, thus, allowing the weight of the pedal to be kept to a minimum without compromising the performance or feel.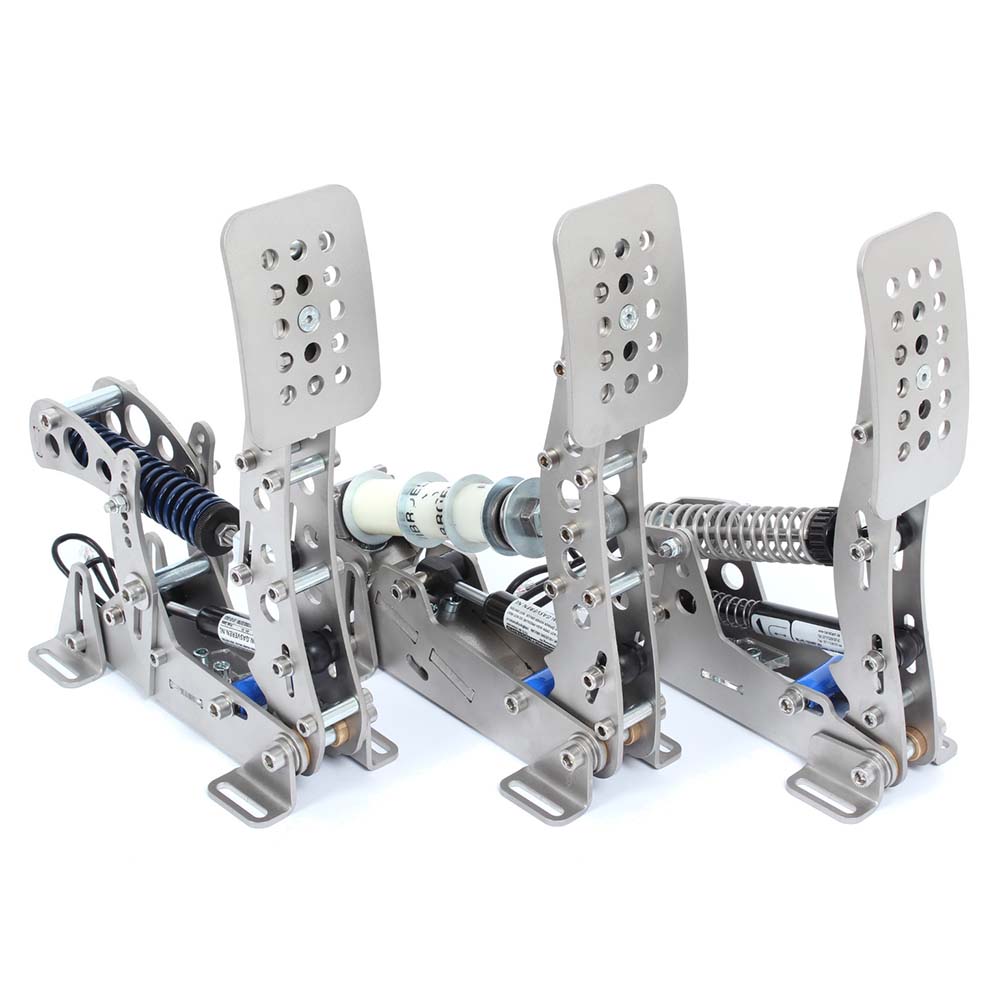 The same amount of attention has been given to the performance features, with each pedal having adjustable hydraulic dampers. This level of control gives the sim racer the ability to fine-tune the small details into the feel of each pedal.
As with many other pedals in this list, the Heusinkveld Sim Pedals Ultimate+ are also fitted with a load cell brake. The load cell has a two-phase braking feature, with a spring to simulate brake pad feeling and rubber adjustable stoppers to tweak the pressure feel. The clutch has also had the same love, with a regressive spring added to give you adjustment of length, feel and pressure.
If you are in the market for some of the most adjustable high-quality pedals on the market, then the Heusinkveld Sim Pedals Ultimate are a great choice. Plus the great look of these pedals adds a wow factor to any sim racing rig.
| | |
| --- | --- |
| STYLE: Hydraulic | BRAND: Simagic |
The Simagic P2000-R is an elegant three-pedal solution that allows its users to get the feeling of real racing with excellent customizability in its software.
The use of pumps, with the brake being derived from the automotive world, gives these pedals a realistic feel. It means that you can expect the sensation generated from the pedals to replicate that which you'd feel in your own car. However, unlike being in a real car, you can do this from the comfort of your own home.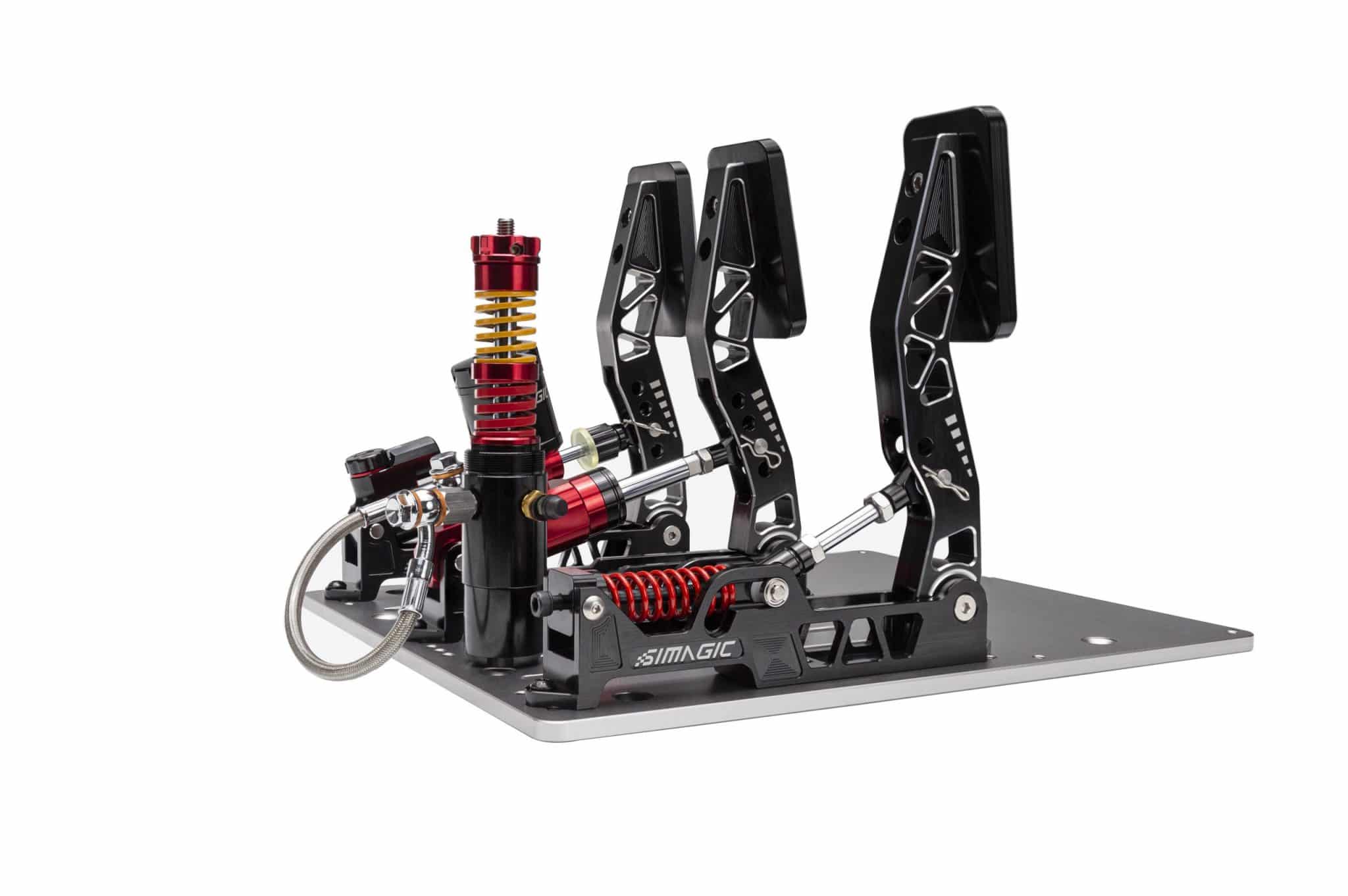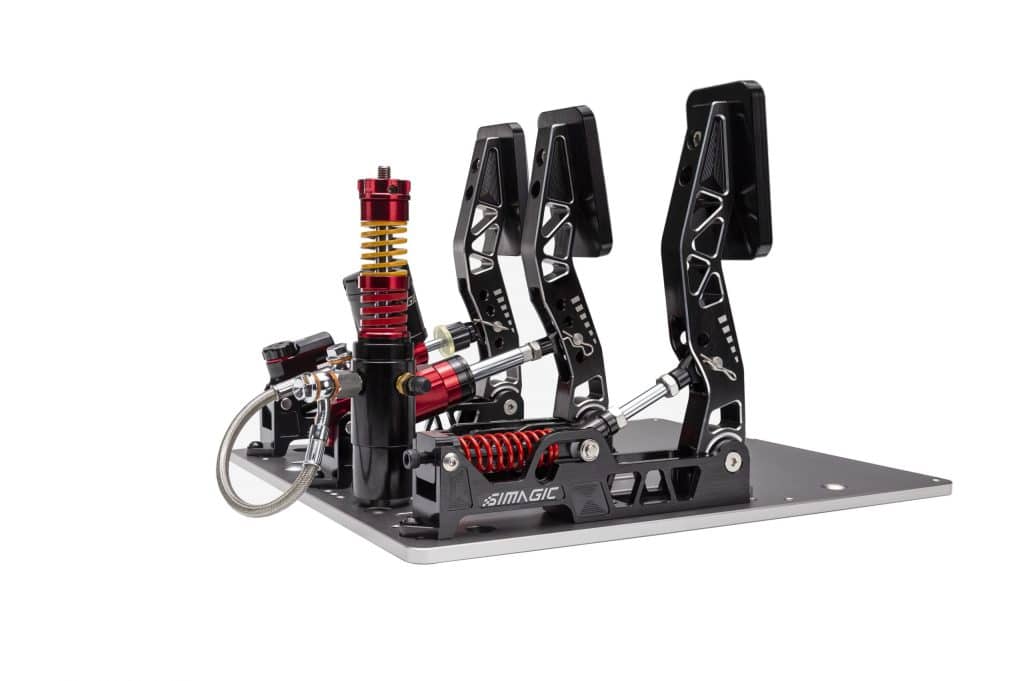 Another thing that these pedals do is build in a 1-millimetre dead zone at the front of the pedals. This is another realistic element that you don't tend to find in Sim Racing, as rival products tend to be more about pinpoint accuracy than replicating the real-world feel. This slight amount of play means that you can rest your feet on the pedals without worrying about accidentally dragging the brake on a straight.
Perhaps the most unique innovation though is the concave clutch structure. This is designed to mimic the real-world feeling of a bite point in a clutch, something that rival products attempt through two-step or three-step clutch mechanisms.
On top of this, users can get their hands on the Simpro Manager software. This software allows you to fully customise dead zones amongst other factors, with the ability to set different profiles for different games and different vehicles. If you're set about making yourself the most unique experience, this is a piece of kit that you'll love.
Coach Dave Academy's Top Pick
For Coach Dave Academy, the top choice on this list has to be the MOZA Racing CRP Pedals. The high level of adjustability in the pedal set is an excellent feature, which is made even better by the fact that these features come as a standard without having to buy an extra performance kit.
On top of all of this, there are some innovations with the CRP Pedals that its rivals simply can't match. A three-stage clutch which mimics the bite of a real-world clutch is fantastic, and the hypercar-influenced design of the pedal faces is almost unlike any other pedal set on the market. It is truly a unique product and an excellent way to immerse yourself in a different approach to sim racing.
SimTrader – The only classified site you need to buy, sell and trade your sim racing equipment – Sign up today