Blessed with both looks and speed, the Audi R8 LMS GT3 used to be one of the most popular cars in iRacing, mainly due to its relatively balanced handling and predictable behaviour at the limits of grip. However, iRacers have recently fallen out of love with it as other GT3s have been introduced. But it's still one awesome machine. Let's show you why.
Introduction To The Audi R8 LMS GT3
The Audi R8 LMS GT3 is a highly successful GT3 racer with over 200 race wins worldwide, including the Nürburgring 24 Hours and several championship titles. The car has a rear-wheel drive, mid-engine design powered by an amazing-sounding massive V10 engine that produces 576hp.
If you want to see how our experts get this beast around a race track, come and watch our super in-depth lap guides and hot laps on our YouTube channels.
These will give you great insights on how to apply the brakes, how to attack corners, how to handle the weight distribution and more.
---
Where To Race The Audi
The Audi is available to race in several series on iRacing ranging from short 40-minute sprint races, and 3-hour team-based races to 24-hour races that will demand all of your skills as well as those of your teammates.
You will likely find it residing in the GT VRS Series, which we have an extensive guide for that you can read here, or the IMSA series on a weekly bases if you love your iRacing seasons and we can help you with setups for both of those series.
Just make sure you have a Coach Dave Academy iRacing subscription to get access to those setups.
The Basic Car Setup
Straight out of the pits, the Audi R8 LMS GT3 is a tough car to drive that needs time to warm up the tires and brakes before it starts to deliver the levels of grip you would expect from a mid-engined GT3.
Springs and ARBS
The car has springs on all four wheels that can be adjusted to improve grip. Generally, it's best to have softer springs at the rear and stiffer settings at the front. This combined with similar settings on the front and rear anti-roll bars is essentially the basis for the start of a setup.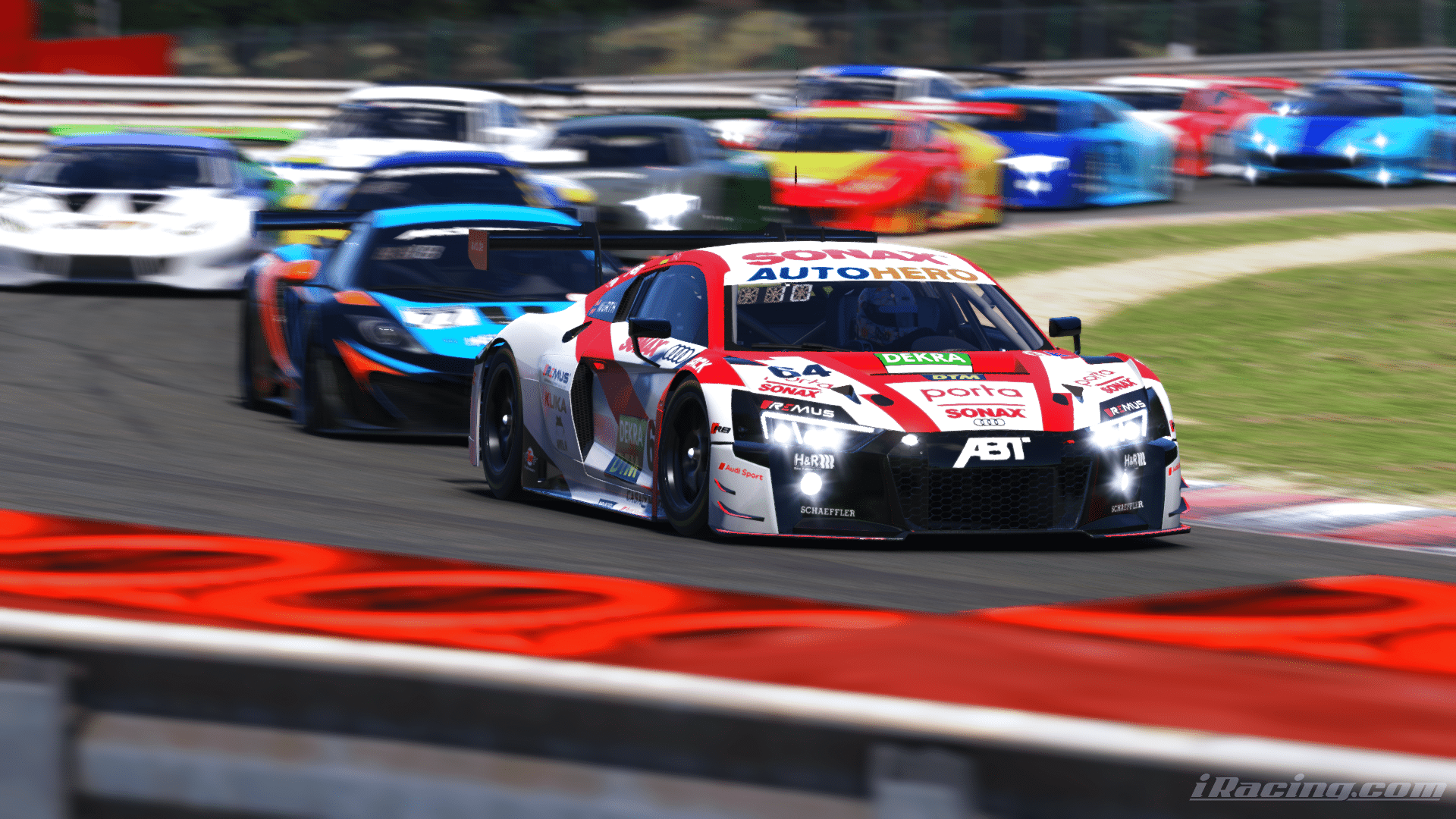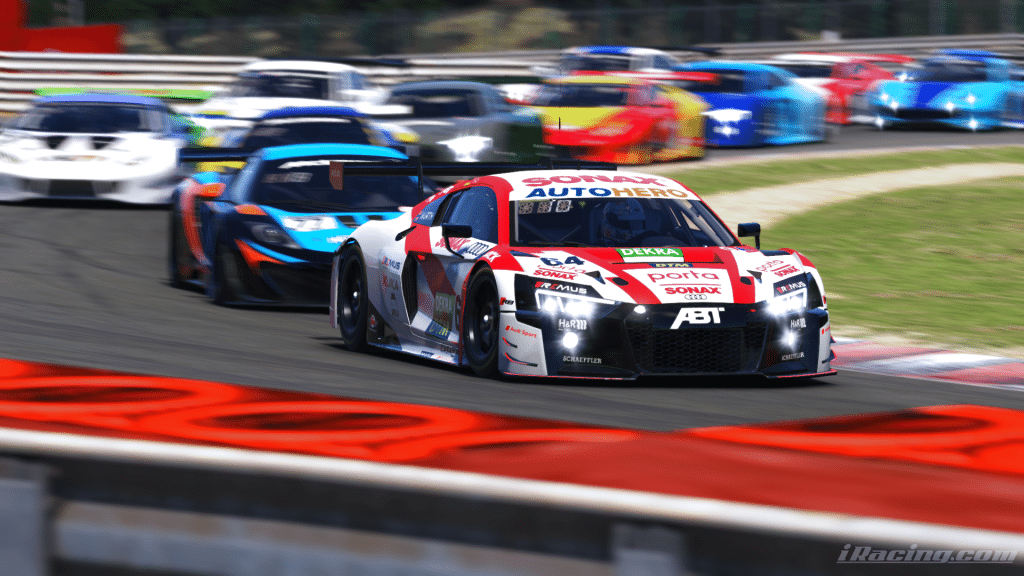 From here, you need to adjust the front and rear anti-roll bar blades, which are also stiffer at the front, and softer at the rear. The spring perch offset must be adjusted next to get the car's ride height lower at the front compared to the rear to create a good rake angle and thereby increase downforce.
Spring Perch Offset
It must be noted that adjusting the stiffness of the springs can cause a change in ride height so it's important to compensate for this.
For Bumpy Tracks
For bumpy tracks, it's better to have softer springs that are more compliant over the bumps with slightly softer anti-roll bars. The opposite is true for smooth tracks and for fast corners with high-speed direction changes.
---
Coach Dave Delta


A setup from Coach Dave Academy will, of course, yield the best results giving you a car that's beautifully balanced and consistent.
Our Delta app will streamline the process of downloading and installing the setups
You can compare your telemetry data with the data from our expert drivers to quickly work out where you're losing time.
If you're unsure of how to use telemetry data in iRacing, you can refer to our detailed Motec setup guide as well as refer to this Motec analysis guide.
---
Aerodynamics And Bodywork
The two main areas of aero adjustment are the rear wing and the front splitter. As expected, increasing the number will result in an increase in downforce.
However, the front splitter is less about downforce and more about achieving balanced aerodynamic performance in the fast corners.
This means that you should use the front splitter to trim out the aero balance by making small adjustments.
Ride Heights
However, this must be done in conjunction with the front and rear ride heights. The higher the rear downforce, the higher the rear ride height must be to achieve a good rake angle and good aero balance.
Steering And Cornering
The car can feel understeery at the limit, especially if you're aggressive on the brakes. It's, therefore, important to trail brake with the aim of getting the nose to tuck in.
Load Transfer
Load transfer is also essential to minimise understeer, so you must give the front wheels time to load up before applying a lot of steering angle.
Adjusting the front and rear anti-roll bars and the anti-roll bar blades can help with this, but these settings must be adjusted carefully to minimise the potential for increased tire wear.
Fuel Loads
This becomes easier if you have a dialled-in setup, but you will still need to practice with varying fuel loads to understand the changes in handling that occur when a full fuel tank burns off over a stint.
Handling Kerbs
The car handles kerbs without issue, but you must know that getting on the throttle aggressively after climbing a kerb can cause snap oversteer. This can be avoided by giving the rear time to settle and waiting for the point when you've straightened up the steering.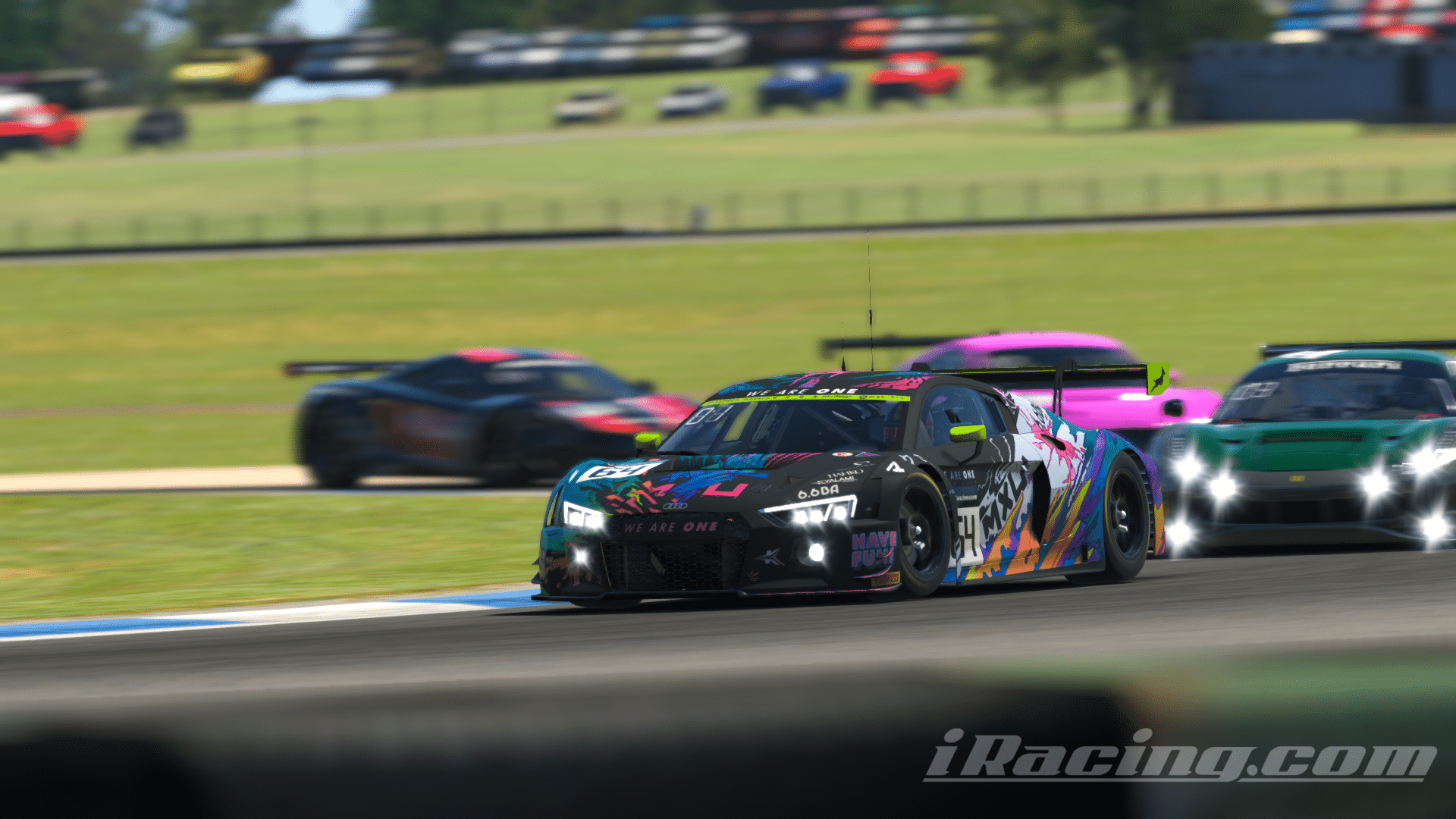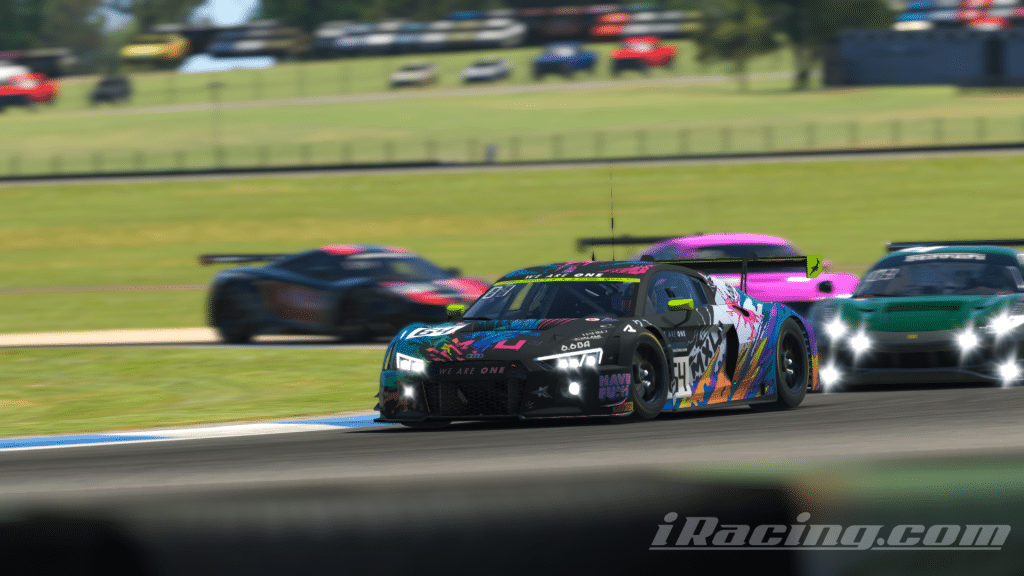 ---
Power Delivery And Braking
The Audi R8 LMS GT3 has ABS and Traction Control (TC) as standard. However, this doesn't mean you can be super aggressive on the brakes and throttle. ABS and TC can actually rob you of performance if these aides kick in violently.
The aim is to use as few of these aides as possible by driving smoothly and consistently.
The Big V10
The Audi's V10 engine produces 545Nm of torque that can become difficult to manage under heavy throttle or when the rear tires are worn. The good news is that the engine is normally aspirated, meaning there is no turbo lag to worry about, and the power delivery is smooth across the rev range.
Changing Gear
Gear shifts should occur at 8000rpm for optimum performance. This is indicated on the in-car steering wheel via a series of shift lights that you will see light up as you apply the throttle.
The fourth red LED represents the 8000rpm shift point, giving you the perfect upshift for maximum forward momentum.
Stable Under Braking
The car is quite stable under braking, but as mentioned earlier, can lock up if you are still braking heavily late in the braking zone. The R8 may have ABS, but it doesn't mean that it won't lock up under heavy braking.
This can be mitigated by applying the brake with high pressure early in the braking zone and trailing off the brake as the speed bleeds off and you start turning. This minimises your reliance on using the ABS to catch your mistakes, resulting in improved lap times.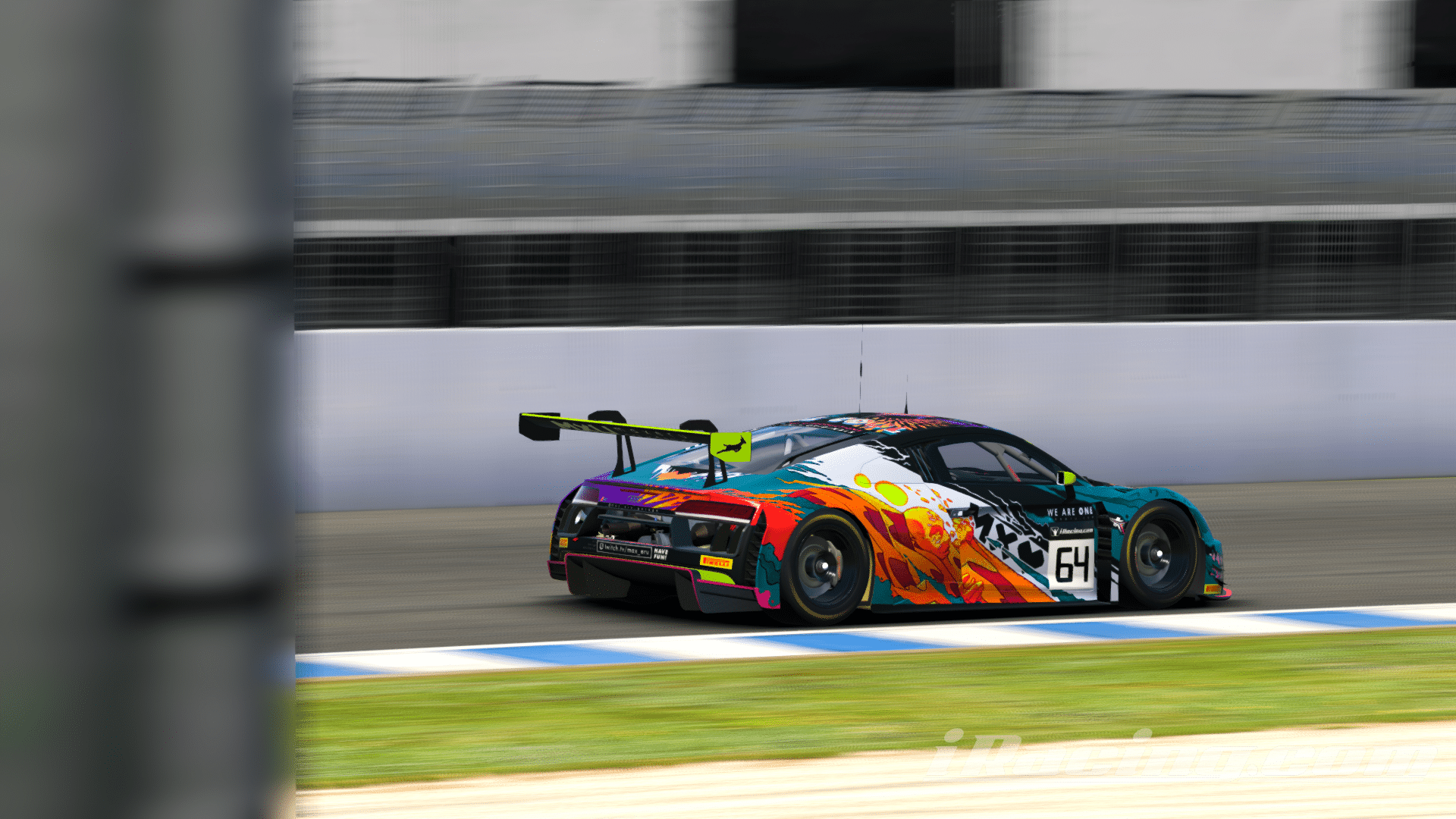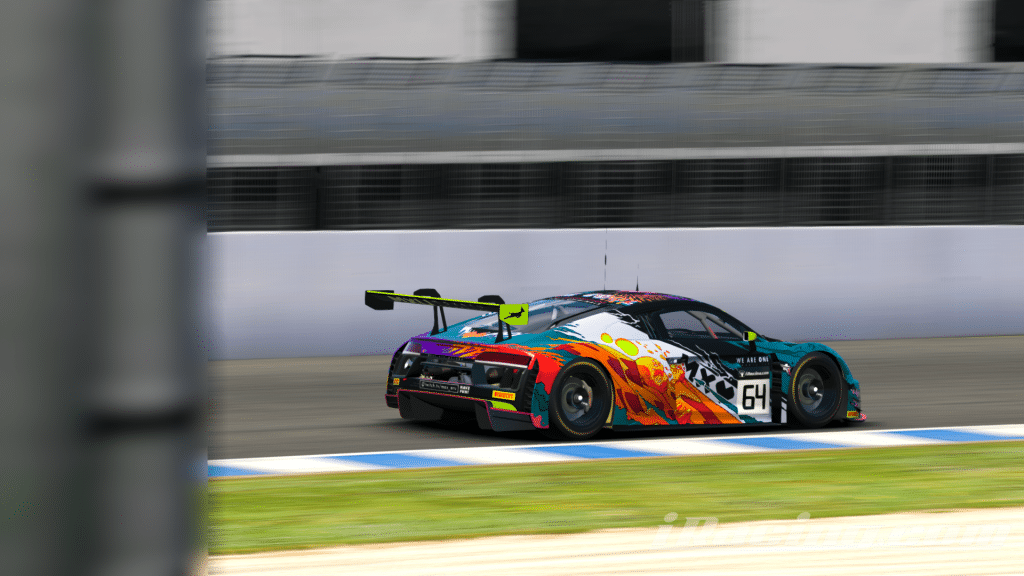 Handy For IMSA
It's also advisable to join a practice session with drivers of different vehicle classes on track for you to experience how to let faster cars like the BMW M Hybrid V8 LMDh or the Dallara P217 LMP2 pass you without compromising your race pace too much.
---
Final Thoughts
The Audi R8 LMS GT3 is a mid-engined racer that's relatively easy to drive with solid, stable handling characteristics, but it requires you to use all of your skills to maximise its potential and take it to its limits.
Our driver coaches are available to assist with fine-tuning your existing capabilities to fully understand and take advantage of everything Audi has to offer.
However, since this car is an endurance racer, there is no substitute for just getting out on track and running through a few race stints to understand the car's behaviour across different fuel loads, tire wear, track temperatures etc.
The Audi R8 LMS GT3 is an amazing car to drive, and we're sure you'll enjoy the V10 mid-engined experience it delivers in such a smooth, predictable and entertaining way, regardless of the race distance.