A mark of a good sim setup is the quality of your hardware. However, sim racing setups are a bit of a balancing act where your accessories are equally as important as your hardware itself. From sim racing wheels to sim racing gloves and much more, everything you possess in your arsenal dictates your sim racing skills, your quality and your efficiency. Be it F1, iRacing, Project Cars, Assetto Corsa Competizione or any other sim racing title, your sim rig is just as crucial as basically everything else. For this piece, we will take a closer look at the beauty of sim rigs and what you should be looking for when picking one.
What is a Sim Racing Rig?
So now that we have piqued your interest, what exactly is a sim rig? In simple terms, a sim rig is a basic structure that sim racers use to seat themselves and mount their devices in simple terms. This includes racing wheels, shifters, pedals and entire monitors sometimes. So, in general, a sim rig is the building block to your perfect sim racing setup. Sim Rigs come in a variety of shapes and sizes, naturally. But that is just the fundamental difference.
Things get complicated with form, orientation, number of mounts, etc., taking precedence too. The main element in a sim rig is the seat. You are greeted by a range of seat types, shapes and materials. Then comes the way the seat is laid, the mounts' layout, and the rig's primary purpose. Sim rigs can be differently designed based on their use. So, open-wheel sim racing will have a slightly different looking sim rig than, say, rally.
Sim Rigs are the closest prototypes you can get to real-life racecars. The seats and the entire rig are meant to emulate a vehicle's cockpit, and it precisely does that. Eventually, the size, style and colour boil down to personal preferences and your targeted racing category.
Why Do I Need a Sim Racing Rig?
Technically speaking, a sim rig would be an afterthought for most sim racers. That's not because it's crucial but because you can certainly race without one. However, there is only so much you can perform while sitting on a dining table chair at your desk or even a gaming chair, for that matter. Having a dedicated setup is just the first step to achieving optimal performance.
Usually, you'd be mounting your racing wheel to the desk with the pedals placed firmly on the floor. This may be an ideal gaming position, but it isn't an ideal racing position. Passenger cars have upright seats, but that is rarely the case when it comes to motorsport. The same distinction is visible in sim racing. The closer your sim racing setup resembles the real cars' cockpits, the greater immersion and professionalism are offered. This is the exact place where sim rigs come into the picture.
What Features Make a Good Sim Racing Rig?
Sim rigs offer you an all-in-one place to fix all your devices. A versatile rig comes with mounts designed for your wheel, your pedals and even your gear shifters. It's just like driving in a real racecar! You also get a more comfortable seating arrangement with a greater choice of materials and style than simple chairs. The sim racing community consensus is that a sim rig is a vital addition to your sim racing setup, and sooner or later, you will need one. If you do plan to buy one, keep the following in mind:
Form
Form refers to the shape of the sim rig. You have sim rigs that are more horizontal than vertical, and unless you plan on sleeping on a rig, it is better to stick to the forms recommended for the racing category you are interested in. Sim rigs designed for rally and endurance are more upright than the ones intended for open-wheel sim racing.
Size
This is important as this determines how well you will be able to use the sim rig. Taller sim racers will need to opt for more extensive, longer sim rigs to allow their feet to be stretched enough while using the pedals. Many manufacturers offer custom size options if absolutely required, but you can always check out the dimensions to make a choice.
Number of Devices
Strictly speaking, you only have to worry about three devices. If you are an open-wheel or endurance sim racer, you only need to focus on the wheel and pedal mounts. But if you like to engage in rally sim racing, make sure you find rigs with proper gear shifter mounts and handbrake attachments.
Budget
Last but not least, budget. Sim rigs aren't cheap and certainly cost a pretty penny. Think of it as an investment rather than a necessity. You will not suffer while sim racing without a sim rig but will definitely benefit from it. This may be the only con to purchasing a sim rig, along with the requirement of proper space in your house/gaming room to accommodate the setup.
Is Buying A Used Rig The Way To Go?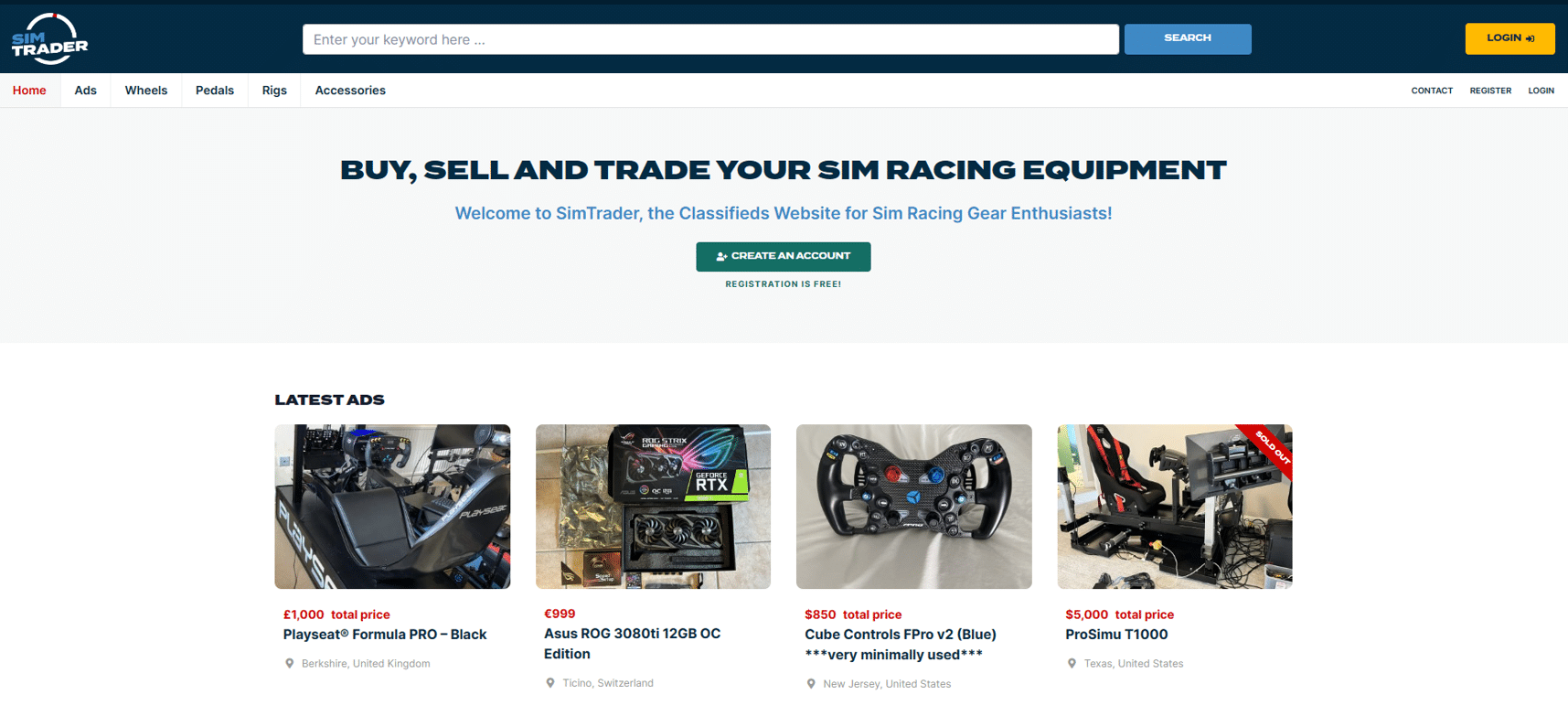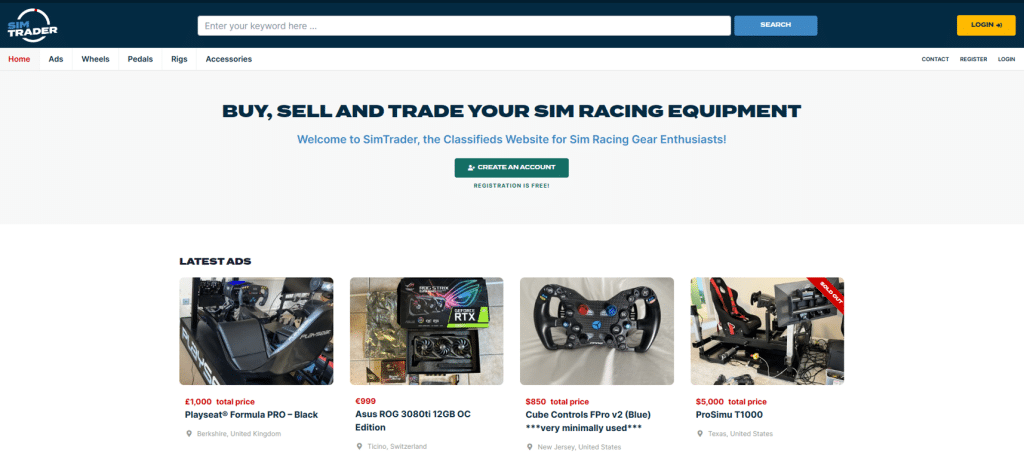 Buying a rig is one of the most important parts to complete your set ups and most of the time people do overlook this piece of equipment, usually spending all of their money on a top of the line wheel base, rim and pedals.
A good rig however will stop any flex you may experience when braking hard, will stop any wobble or movement when you have those direct drive forces being applied and it can help the overall immersion of your gameplay with proper seating and monitor/tv positioning.
Because of the sim racing boom during the pandemic there are a plethora of sim racing gear now on the marketplace as the normal world resumes and people have less time to race, meaning you can pick up bargains of all kinds to kit out your sim racing equipment to go racing.
This is where the sim racing classified site SimTrader can help. You can buy, sell or even trade with other users on SimTrader. So before you scroll further, you may want to check out the current sim racing deals here instead of purchasing new.
Our Sim Rig Recommendations 
So, now that we know what to consider when looking for a sim rig, it's time to show you a few models we think are universally "on fire". These are the most sought after, and most used sim rigs and people from all racing backgrounds recommend these rigs, including us!
One of our absolute favourites, this particular sim rig offers absolute bang for your buck. This sim rig is one of its kind with a dual seating mode. You can adjust the seat attached to the F-GT rig to suit either endurance racing or open-wheel racing. Not just that, the rig itself is a work of art with a sturdy and beautifully constructed frame and mounting structures. You can also use this sim rig for flight simulators! Time to play some Microsoft Flight Simulator in the downtime, right? You certainly don't get sim rigs that can do it all, and the Next Level Racing F-GT sim rig is the closest thing to sim rig heaven if such a thing even exists. Hence, this is our top pick for the best sim rig you can buy. The Next Level Racing F-GT sim rig is priced at 499 USD.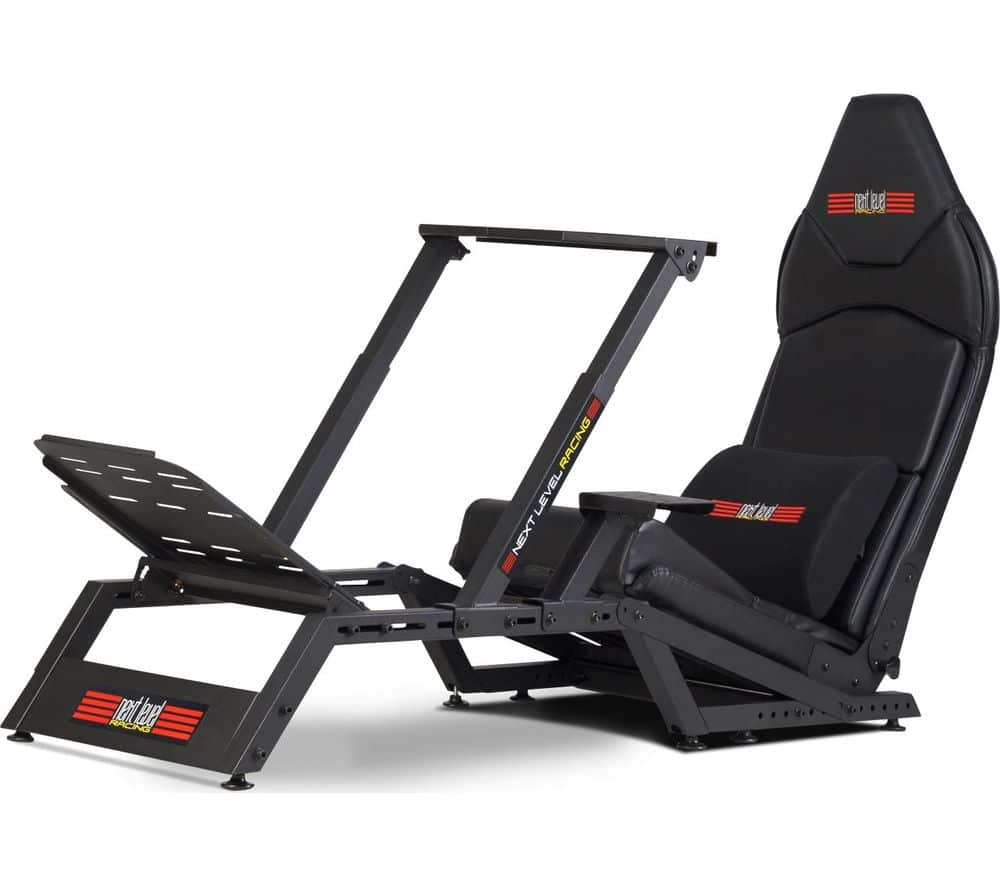 Playseat Evolution
Playseat is probably the first name that comes to everyone's mind when we mention sim rigs. And as far as basic sim rigs are concerned, Playseat Evolution is your perfect starter sim rig. You get a minimalistic and clean structure and a cosy seat to go along with it. There are various colours and even branding to choose from, including DiRT, Forza Motorsport and Gran Turismo. They do cost slightly more, but you may decide to buy those if they catch your fancy. Our personal favourite is the Playseat Evolution Alcantara Edition. The Playseat Evolution sim rig has a price range from 349 USD to 482 USD.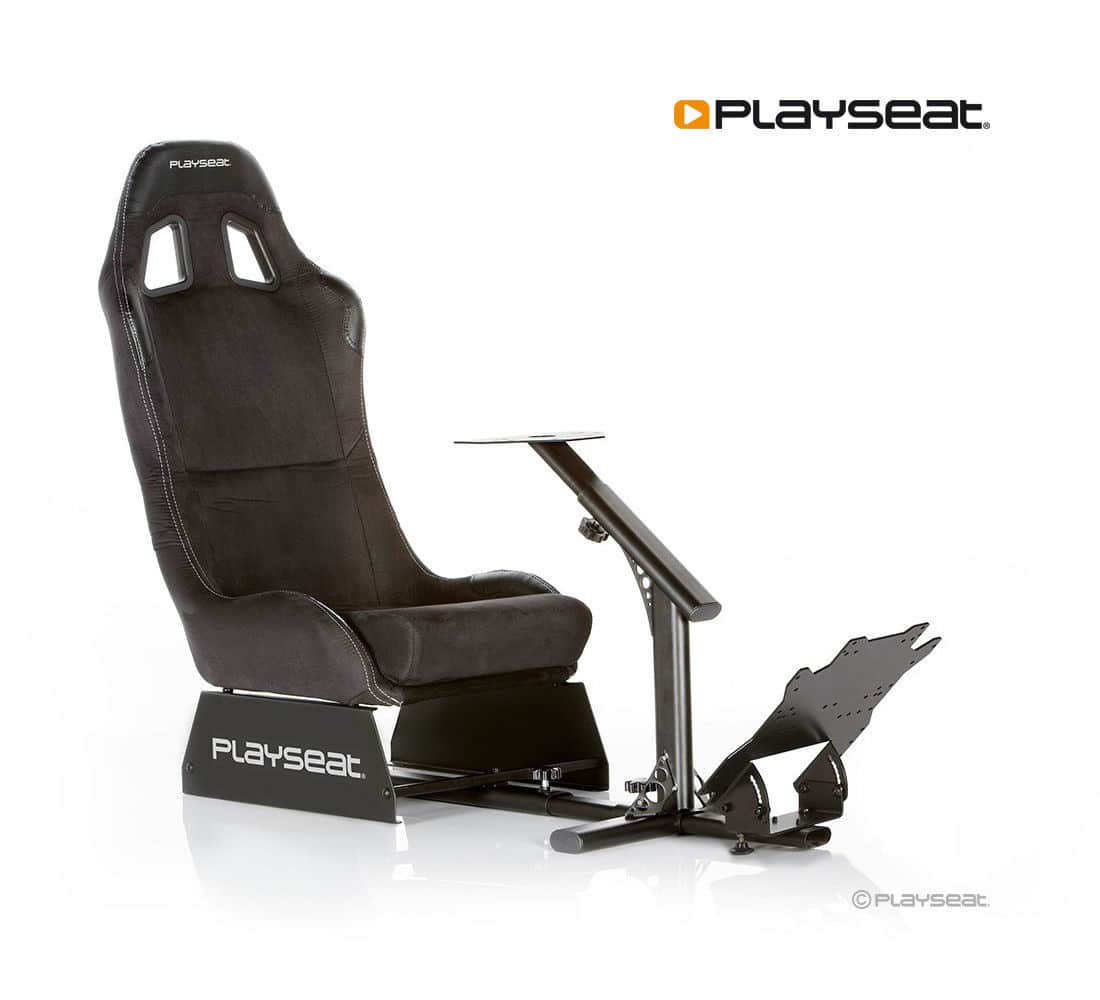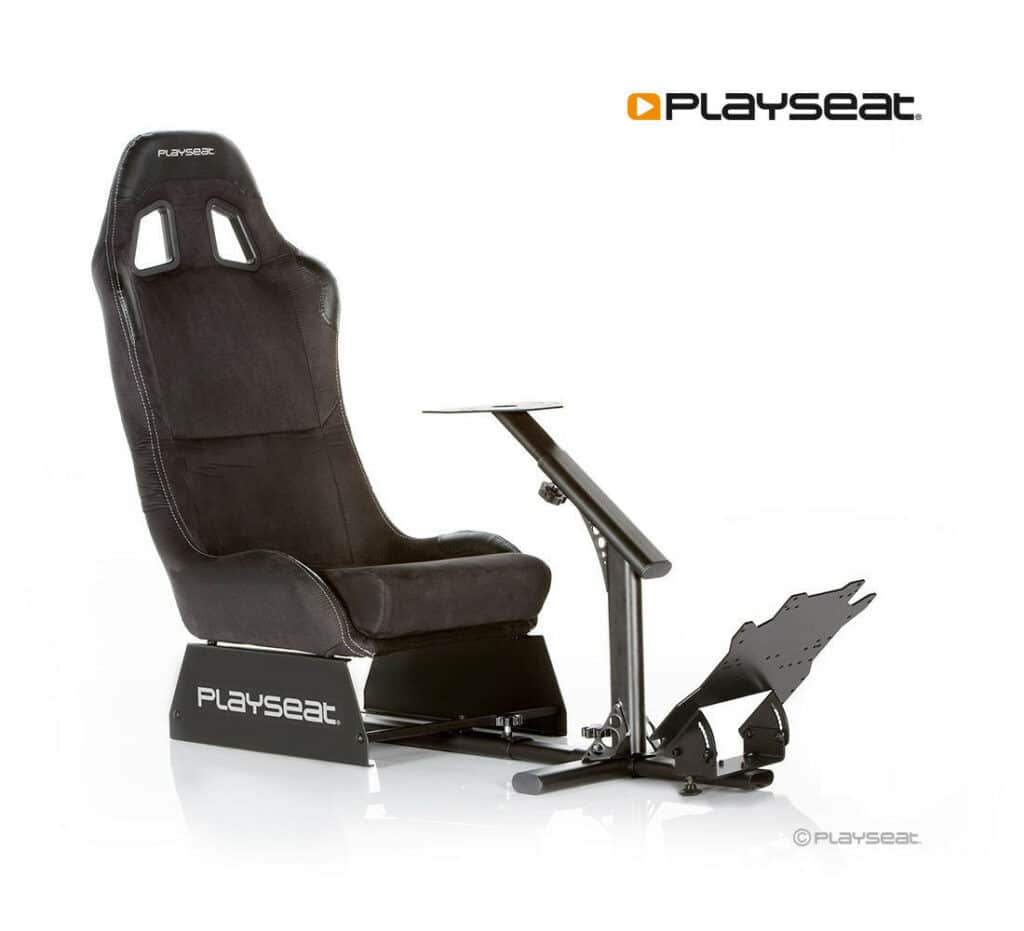 Sparco Evolve GP
The brand of Sparco is synonymous with motorsport, and recently, sim racing too! Sparco makes excellent sim racing gear and accessories such as gloves and shoes, and they have now ventured into the art of sim rigs as well. With the Sparco Evolve GT, you are treated with a sleek, sporty and trendy design with all the bits and bobbles available for you to customise. Sparco offers you options to attach monitors, keyboards and entire PCs to your rig. Fun fact: If you were to get a Sparco Sim Rig, you could rest assured on one thing. You will be getting the best possible seat to race on. Sparco is one of the finest race seats manufacturers, both in real life and in the sim world. The Sparco Evolve GP sim rig starts at 1500 USD.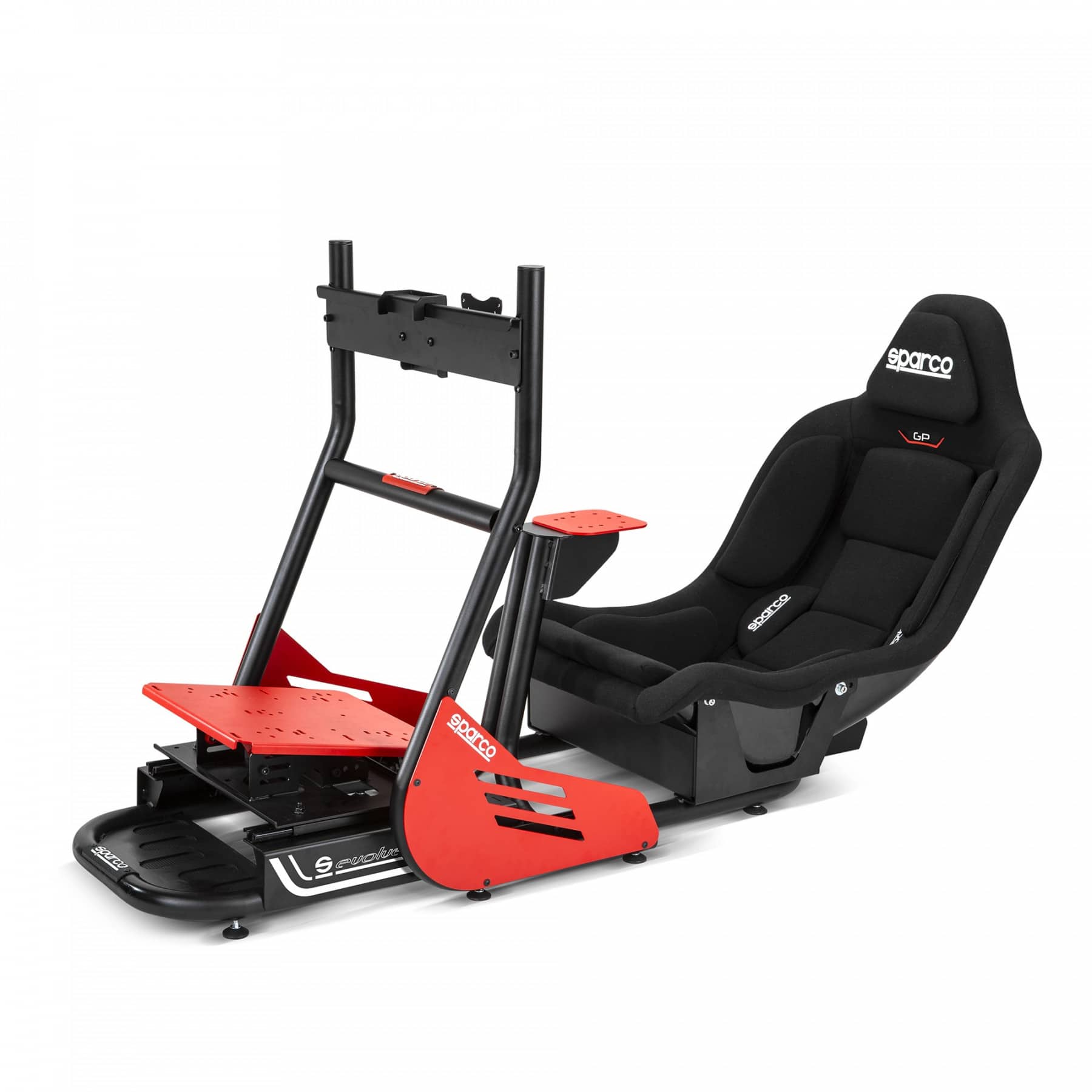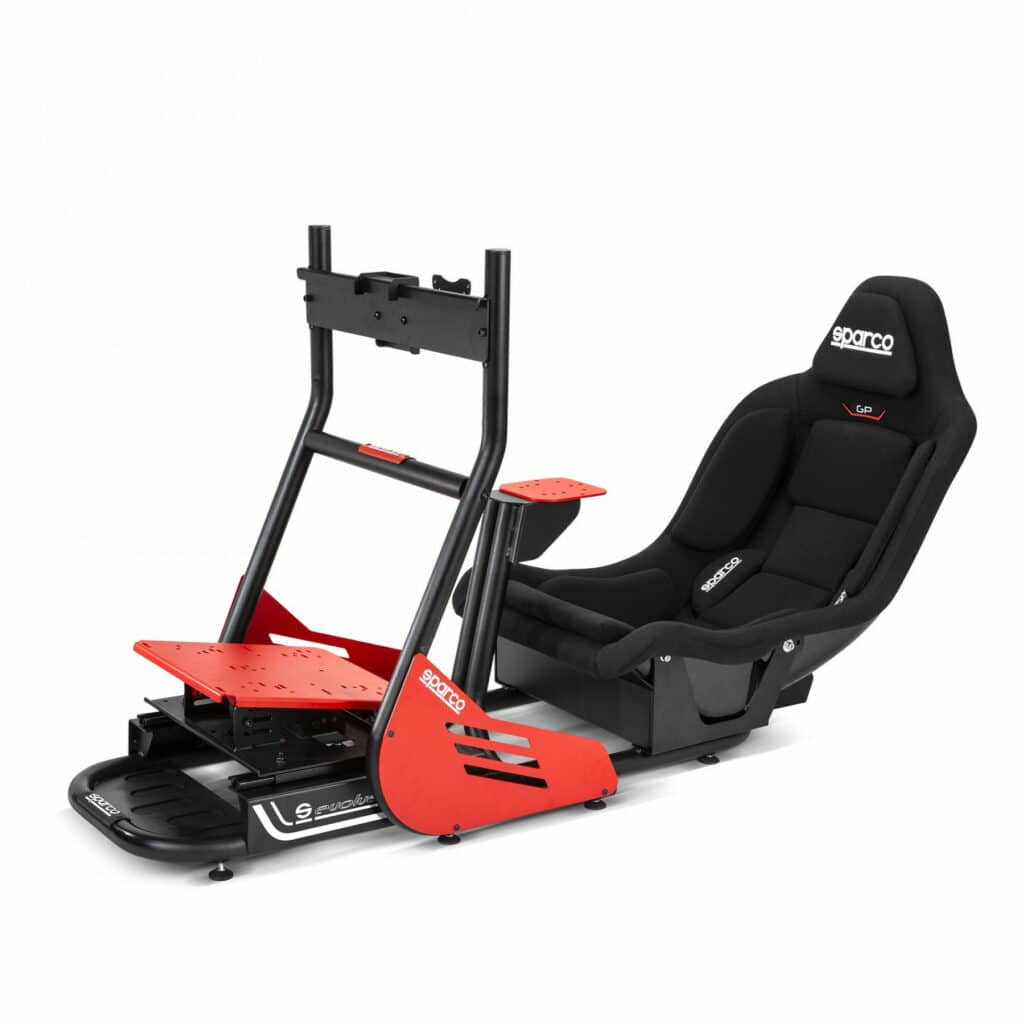 SimXPro SXP Basic Rig
We are throwing this here for the teeny tiny population of sim racers that may benefit from this quirky rig. Calling this a sim rig is a stretch as a frame is a better description. The SXP Basic Rig is just a bare aluminium frame with plates/base for mounting your pedals and your racing wheel. You have the option to add a shifter/handbrake mount and customise your wheel mount to fit a particular shape/form.
The SimXPro is so basic that you don't even get a seat provided with the rig by default. However, it is probably the cheapest sim rig on the market (while still being firm), and you will always be able to work under budget to have a seat separately installed to the frame. The SimXPro SXP Basic Rig is priced at just under 300 USD.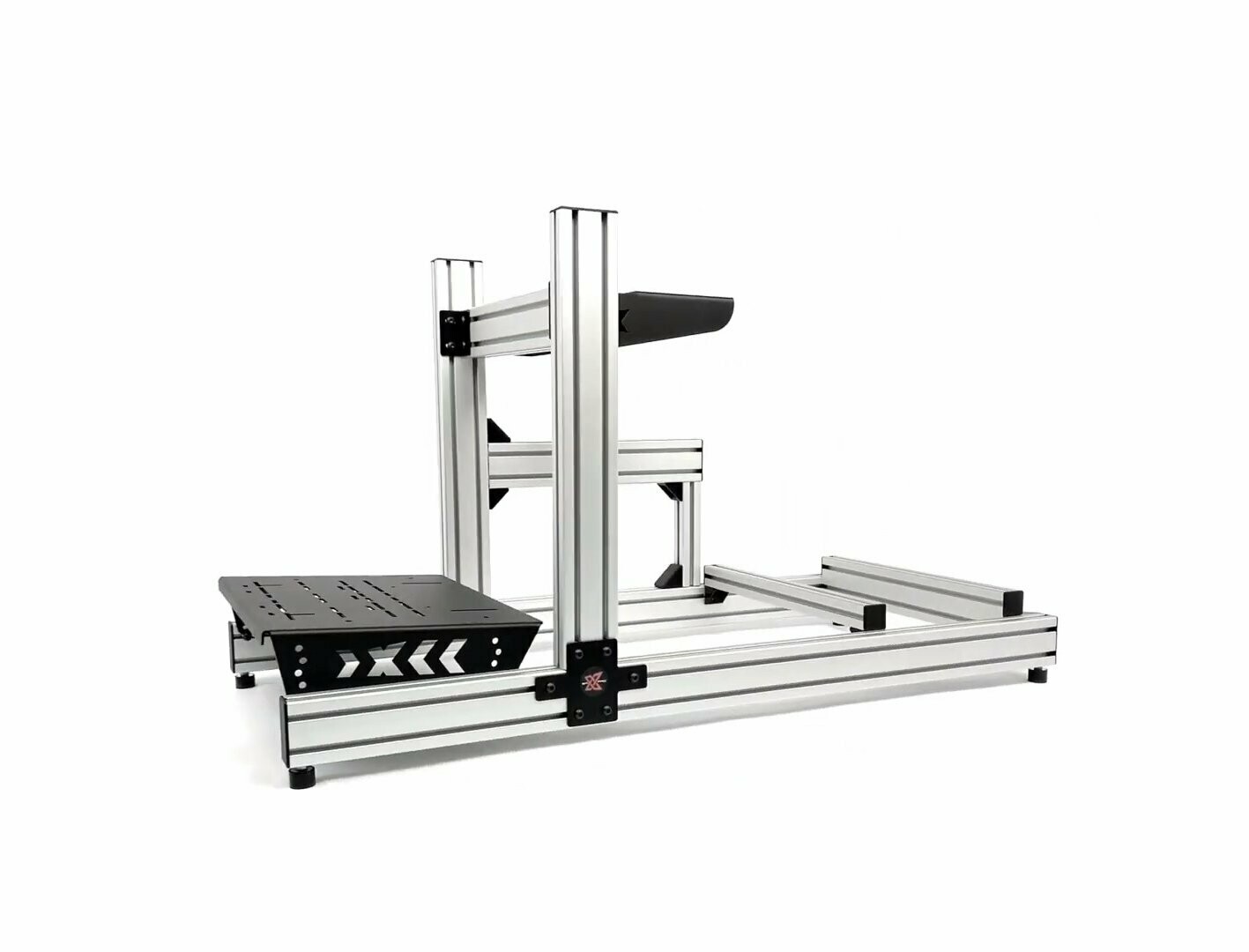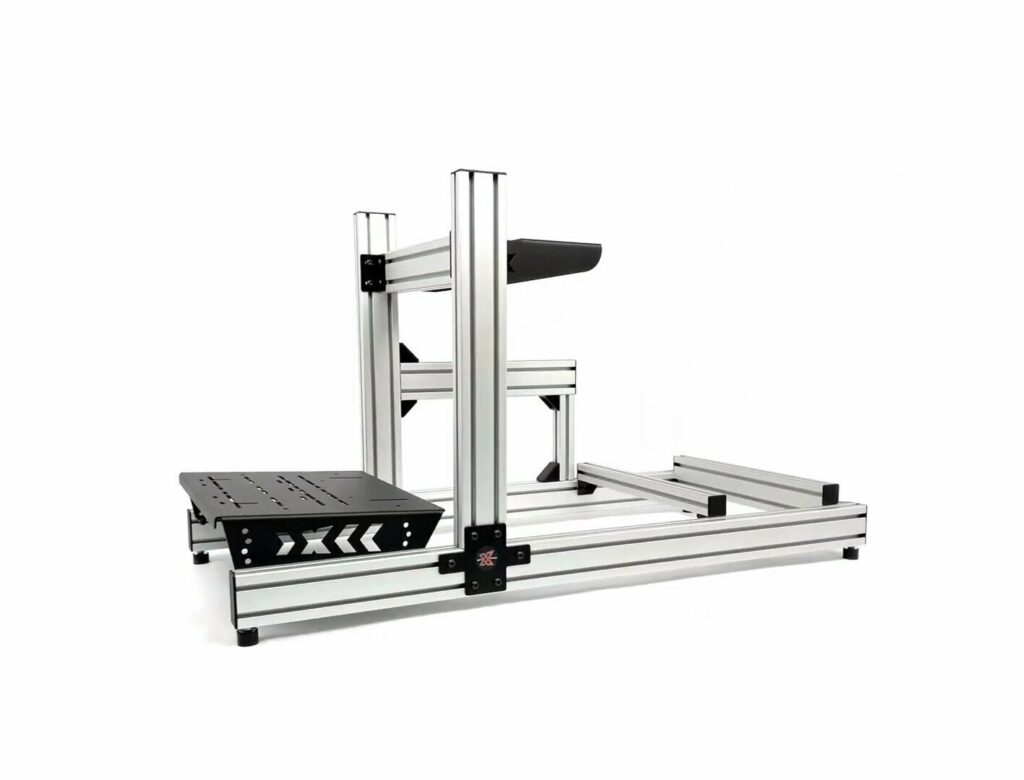 Playseat F1
We told you that Playseat is good, which might be one of their best, if not the best, sim rigs ever created. Although geared mainly towards F1 and open-wheel racing, you can still use this sim rig for Assetto Corsa Competizione. There are various colours to choose from, and it is the go-to choice for a lot of esports racers.
The rig is compatible with all wheels and pedals and even with all major consoles/systems, making this an attractive product. The Playseat F1 Black is our personal favourite. The Playseat F1 sim rig starts at around 1200 USD and tops out at roughly 1500 USB.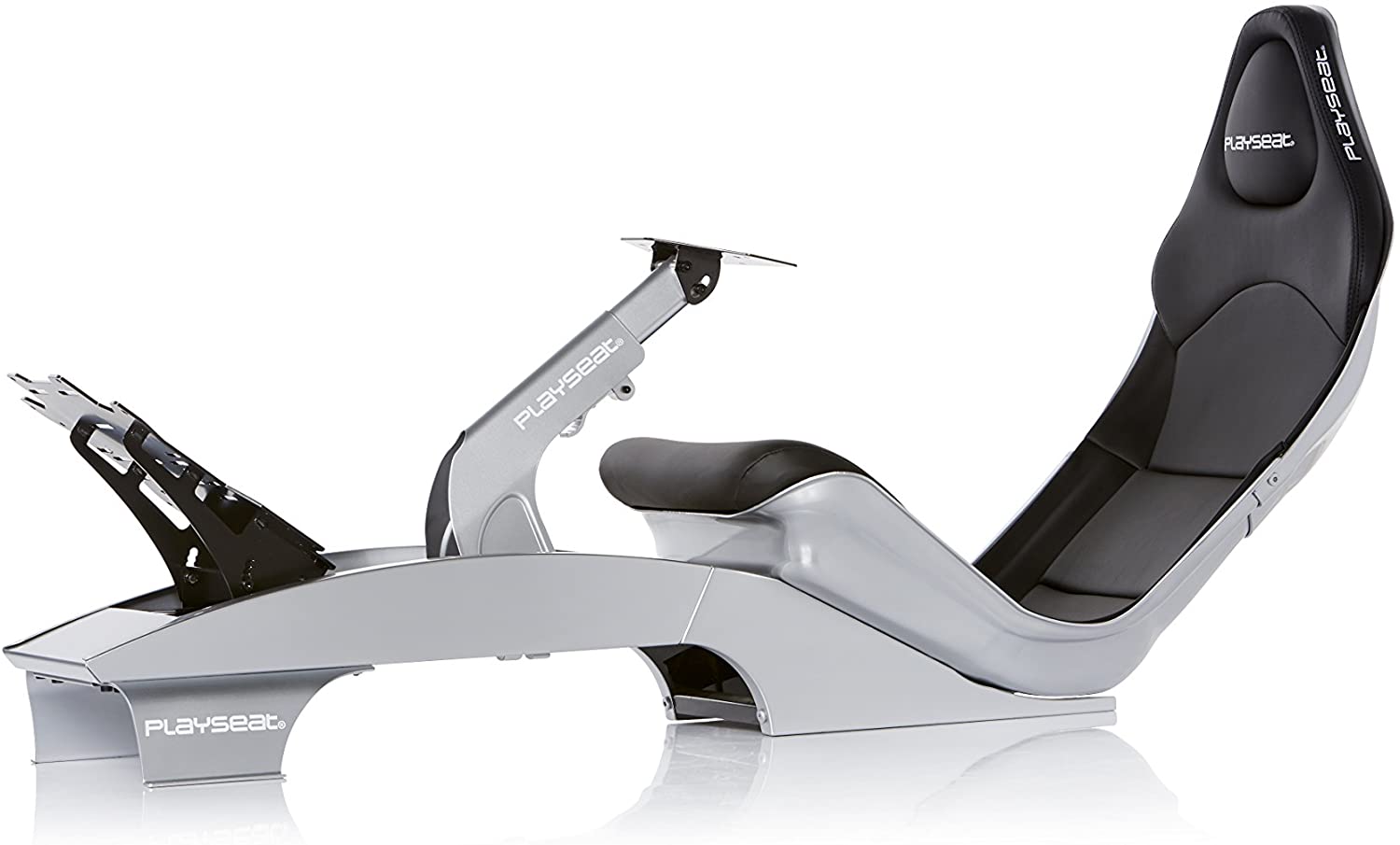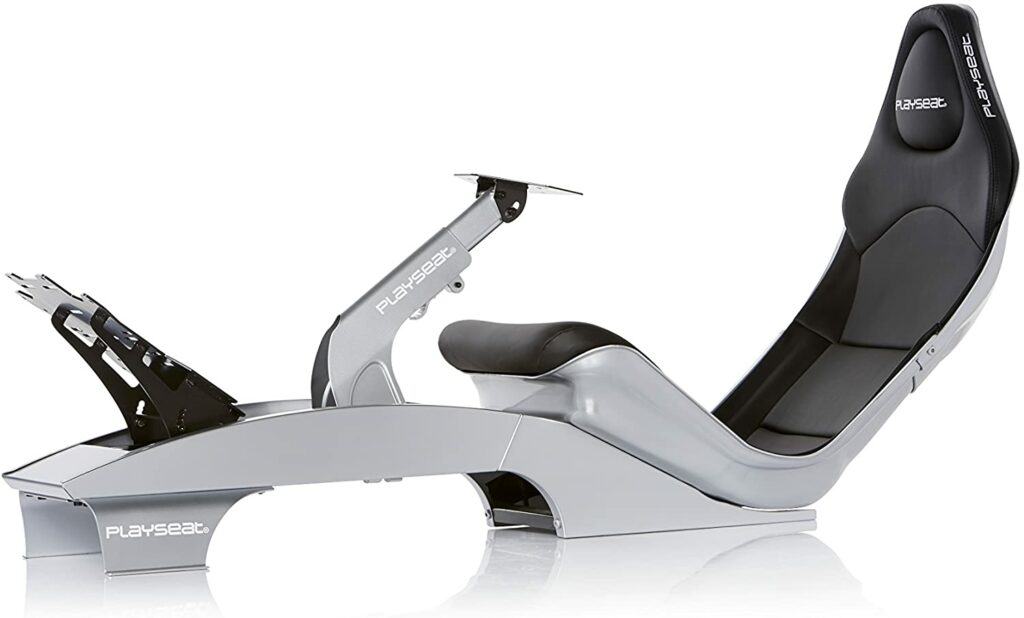 The last name on our favourites list is also one of the newest entrants in the sim rig market. Fanatec has always been known to be in the upper echelons of sim racing equipment, and their latest sim rig is a testament to that. The design looks like something straight out of a fighter jet, sophisticated and perfect for hardcore sim racers.
Be ready to burn a hole in your wallet, though and hence we recommend this engineering marvel to the most serious and professional sim racers. The Fanatec Rennsport Cockpit V2 sim rig starts at a base price of 1200 USD without any accessories. Expect the final amount to increase after additions.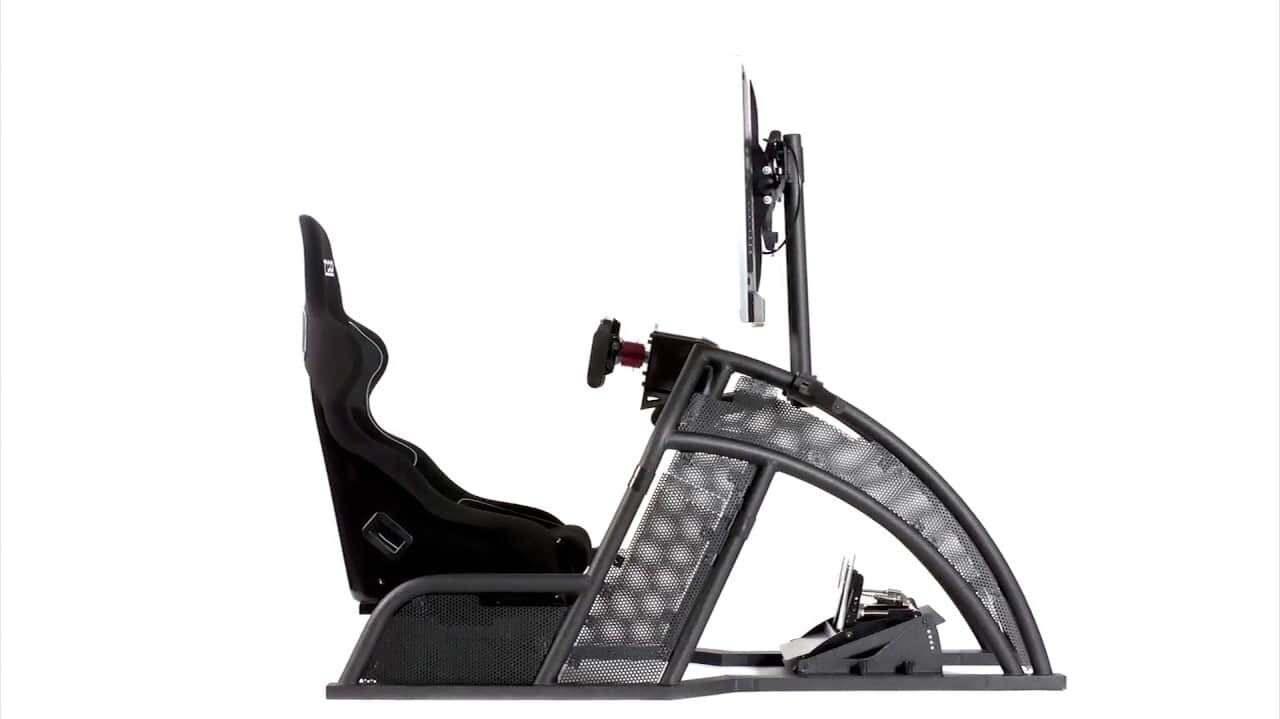 RSEAT RS1
If Tron or Cyberpunk were to have sim rigs, they would look like the RSEAT RS1. The incredibly mean-looking and aggressively styled frame feels very heavy and robust. The RS1 sim rig is a chunky structure with tubular pipes forming the frame rather than bars which is a welcome change. It costs a pretty penny but is more than worth the price tag on it.
RSEAT is known for making the best seats in the business, like Sparco, and the best sim rigs like Playseat. So, you essentially get the best of both worlds and at a similar price. For our pick, we are huge fans of the RS1 Assetto Corsa Edition. The RSEAT RS1 sim rig starts at 700 USD.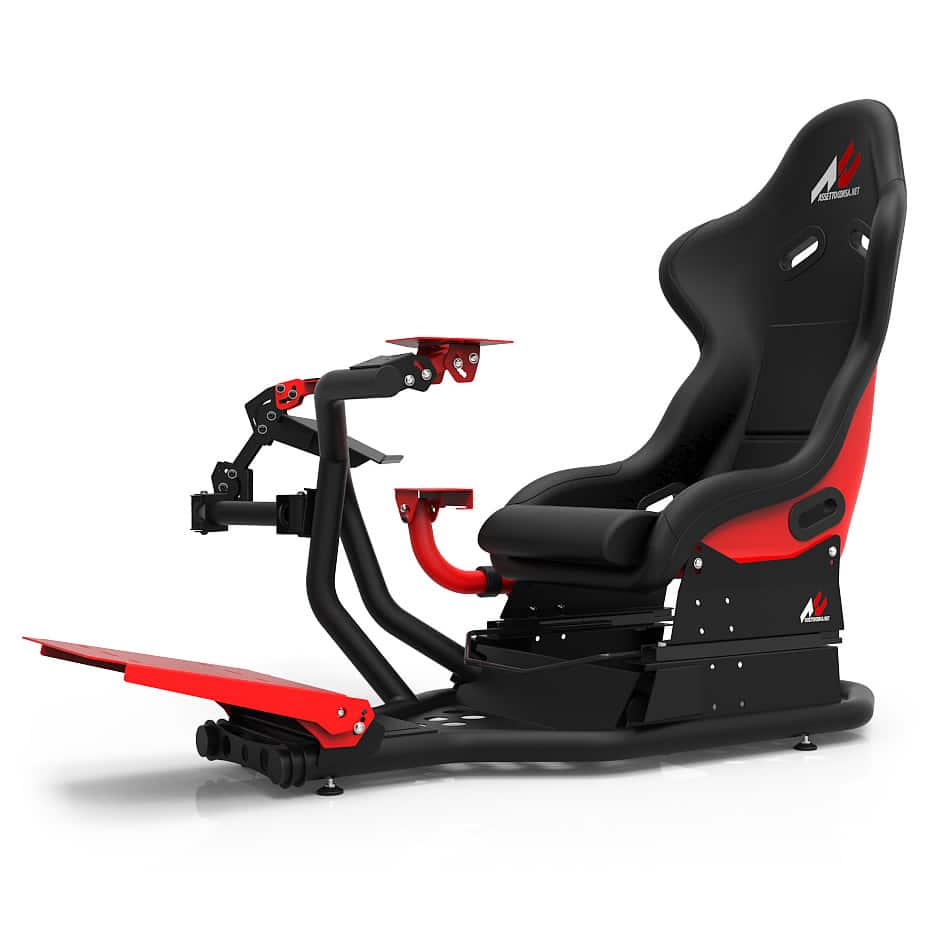 GTR GTA Lite
If you are looking for something like the SXP Basic Rig but in a little more appealing fashion, the GTA Lite is better suited to your taste. The GTA Lite has a much better-looking chassis frame compared to the SXP and is thinner too. The frame dimensions are highly adjustable, with the wheel mount, stand length and pedal inclinations all adjustable.
Keep in mind, though, the sim rig cannot be fitted with a racing seat, and it requires a regular/gaming chair in front. However, that is just a small kink in its armour, and the GTA Lite is a reliable budget-friendly option for beginner sim racers. The GTR GTA Lite sim rig is priced at 200 USD.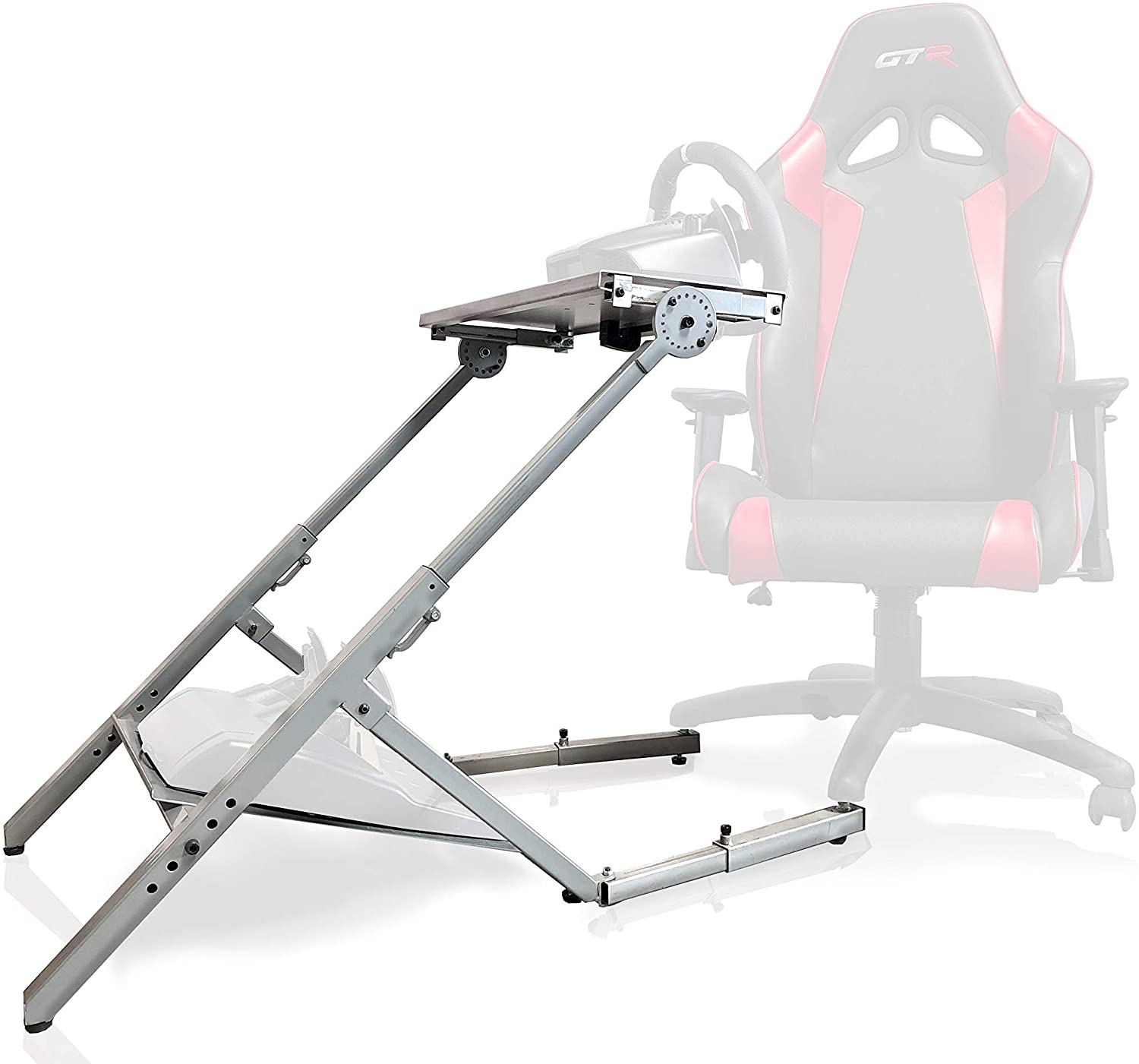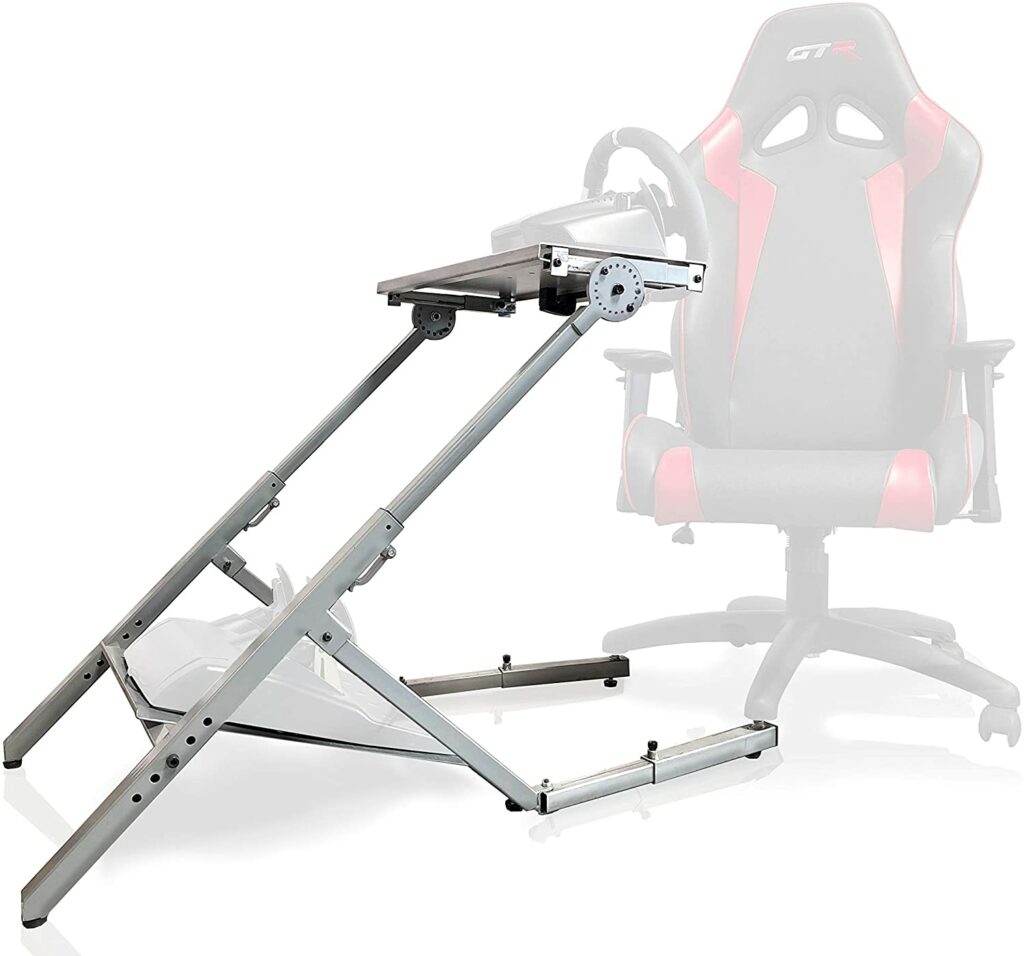 GTR Motion Simulator
We've saved the best for last. Well, one of the most expensive, at least. The GTR Motion Simulator is the only "active" sim rig on our list. The sim rig is a complete motion simulator with a leaning, tilting and sliding seat surrounded by all the bits and bobbles need to mount your peripherals.
The sim rig also includes a monitor mount with the capacity to attach three different screens or one giant curved one, whatever catches your fancy. The sim rig is oriented toward rally and endurance sim racing and flight simulator setups, but you can use it for open-wheel and arcade racing. It is a costly rig, but certainly one of the best money can buy without going overboard. The GTR Motion Simulator sim rig is priced at 3500 USD.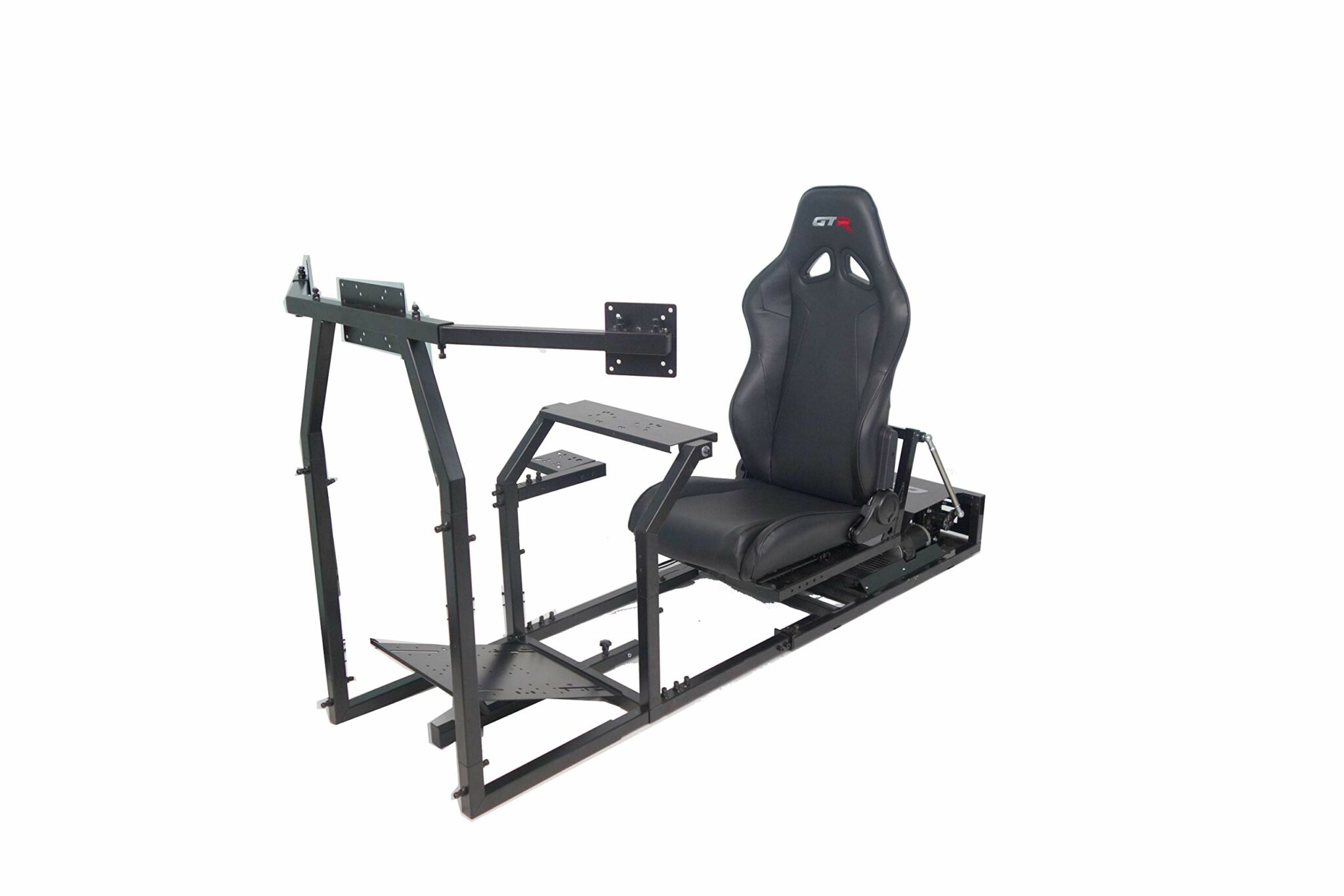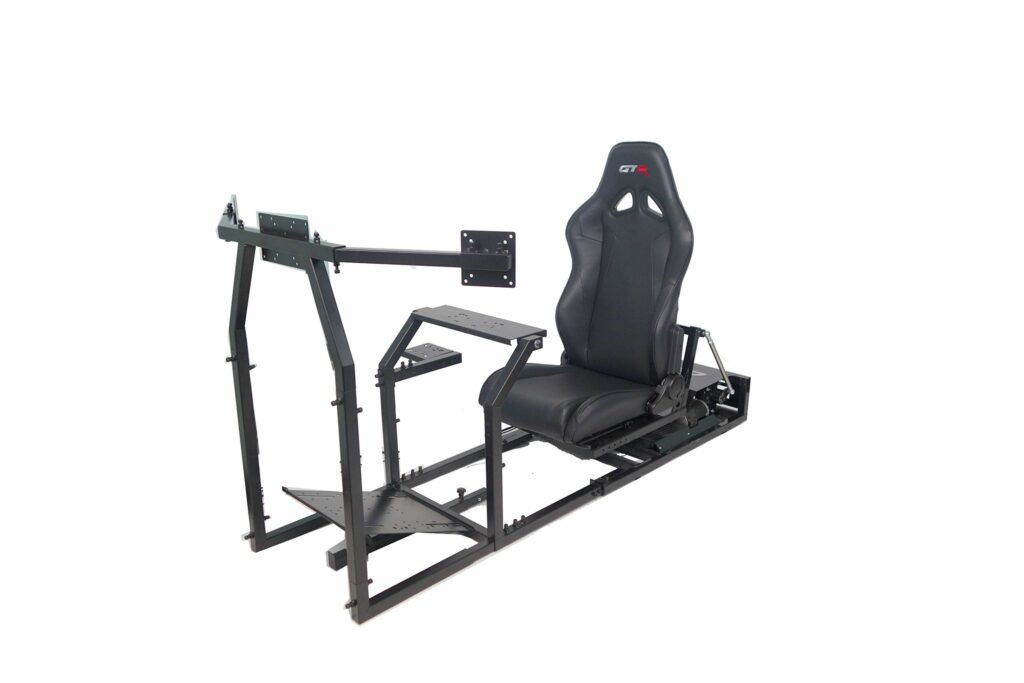 A sim rig is probably the most overlooked part of a sim racing setup, and now that you're wiser, it is only a matter of time before you step up your sim racing game. Plan well, choose the right rig for you and don't forget to test your new setup out over at Daily Racing. As always, there are many events for you to explore and compete in at The Sim Grid. For more guides, lists and tutorials, make sure to visit Coach Dave Academy regularly! Stay tuned for more.
SimTrader – The only classified site you need to buy, sell and trade your sim racing equipment – Sign up today