Shifters are one of the most popular Sim Racing accessories and as such, there are numerous options to cater to a number of price points and particular presences. In this guide, Coach Dave Academy will be showcasing some of the best shifters currently on the market.
What is a Sim Racing Shifter?
Sim Racing shifters are, as previously mentioned, a highly important pick when tying your rig together, but they come in all shapes and sizes. Shifters are exactly the same as what you'd find in a real-life road car – a small nob that replicates anything from H-pattern to sequential shifting. They almost always come as add-ons, so can be plumbed into your PC and configured in-game whilst attached to the Sim Racing rig of your choice.
Sequential vs H-Pattern
The shifters on this list come in two forms: sequential and H-pattern. A sequential shifter is often found in race cars such as touring cars and rally cars, as it consists of only one slot that is pushed forwards or backwards to change gear. This means it is quick and easy to use – perfect for when you are flying through a rally stage.
The other form of shifter mentioned is H-pattern, a more traditional style of shifter. These types are typical of what you'd see in any road car, consisting of multiple slots for each corresponding gear. Whether you'd like to cruise through open roads or take on a 1980's manual beast, an H-pattern shifter is a great choice.
How to choose a Sim Racing shifter
Knowing what you are looking for is of course the most important factor when considering any product, as you need to pick which characteristics will suit your needs and set up best. The main factors to look for when considering a shifter is material quality, versatility, value and the level of realism it will bring to you. One of the shifters on this list can even swap between being a handbrake and a sequential shifter – a factor you will want to consider if you are trying to keep costs lower. However, they all share build quality and a certain level of realism, which is crucial.
The Best Sim Racing Shifters
Top-end pick: Thrustmaster TSS Handbrake Sparco Mod
Innovative 2-in-1 design
Officially licensed Sparco product
Mid-range pick: Aiologs Sim Sequential Shifter
Relatively inexpensive
Incredible build quality
Budget pick: Thrustmaster TH8A Shifter
Part of the Thrustmaster ecosystem
On the cheaper side
Excellent value
Item name
Sequential or H-pattern
Price
Console compatibility
Pros
Cons
Thrustmaster TH8A Shifter
Both
£170
Yes
– Cheap but great quality
– Versatile
– Lower shift resistance
Logitech Driving Force Shifter
H-Pattern
£50
Yes
– Very cheap
– Part of Logitech ecosystem
– Does not satisfy more serious racers
– Lacks in quality
Fanatec Clubsport SQ V1.5 Shifter
Both
£208
Yes
– High-quality feel
– Easy switch between H-pattern and sequential
– Expensive
Thrustmaster TSS Handbrake Sparco Mod
Sequential (+Handbrake)
£250
Yes
– Innovative 2-in-1 design
– Officially licensed Sparco product
Heusinkveld Sim Shifter Sequential
Sequential
£150
No
– Intuitive spring resistance system
– Comes with different levers and gear knobs
– No console support
– No way to switch between H-pattern and sequential
The TH8A is Thrustmaster's shifter add-on and is compatible with the Thrustmaster TX for Xbox One, the T300RS, T500RS and T150 for PS4/5 and any wheel on PC.
It can be used as either a 7 speed (+ reverse) open-gate H-pattern box or a sequential shifter. Shifting between these modes is achieved by removing the H-pattern faceplate and attaching the sequential plate or vice-a-versa, meaning that it is very easy to swap between them.
The TH8A features a metal gear stick, knob and h-pattern gate, adding to its aesthetic appeal. The gear knob is also detachable and can be replaced with aftermarket options, even those purchased from regular auto shops as well as the Thrustmaster TH8A sequential knob option. Priced at as little as £194 on Amazon, the TH8A is excellent value for money. It is by no means inadequate for the more experienced racer, making it a great all-around option if you are looking for your first shifter or want to upgrade your game.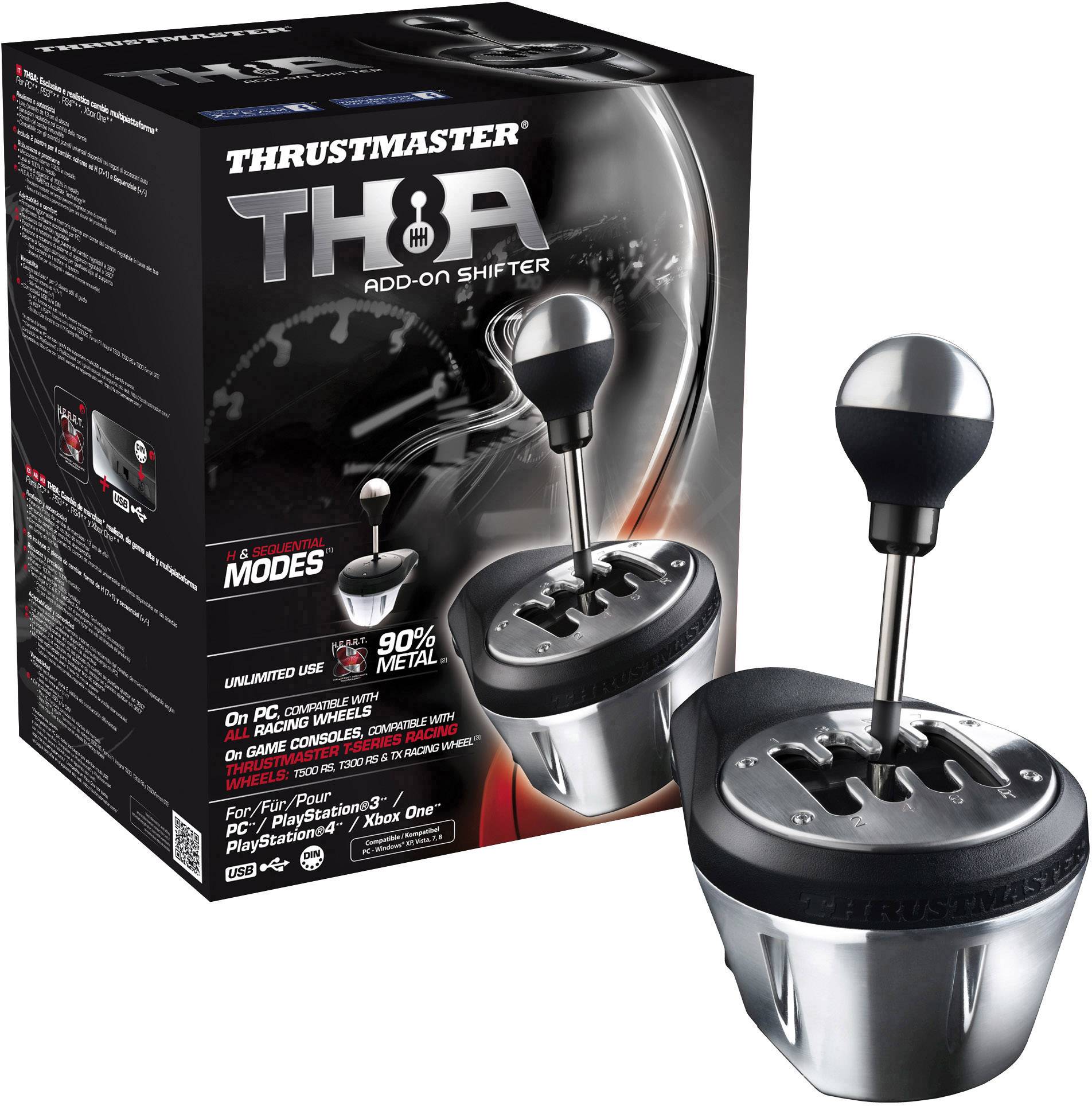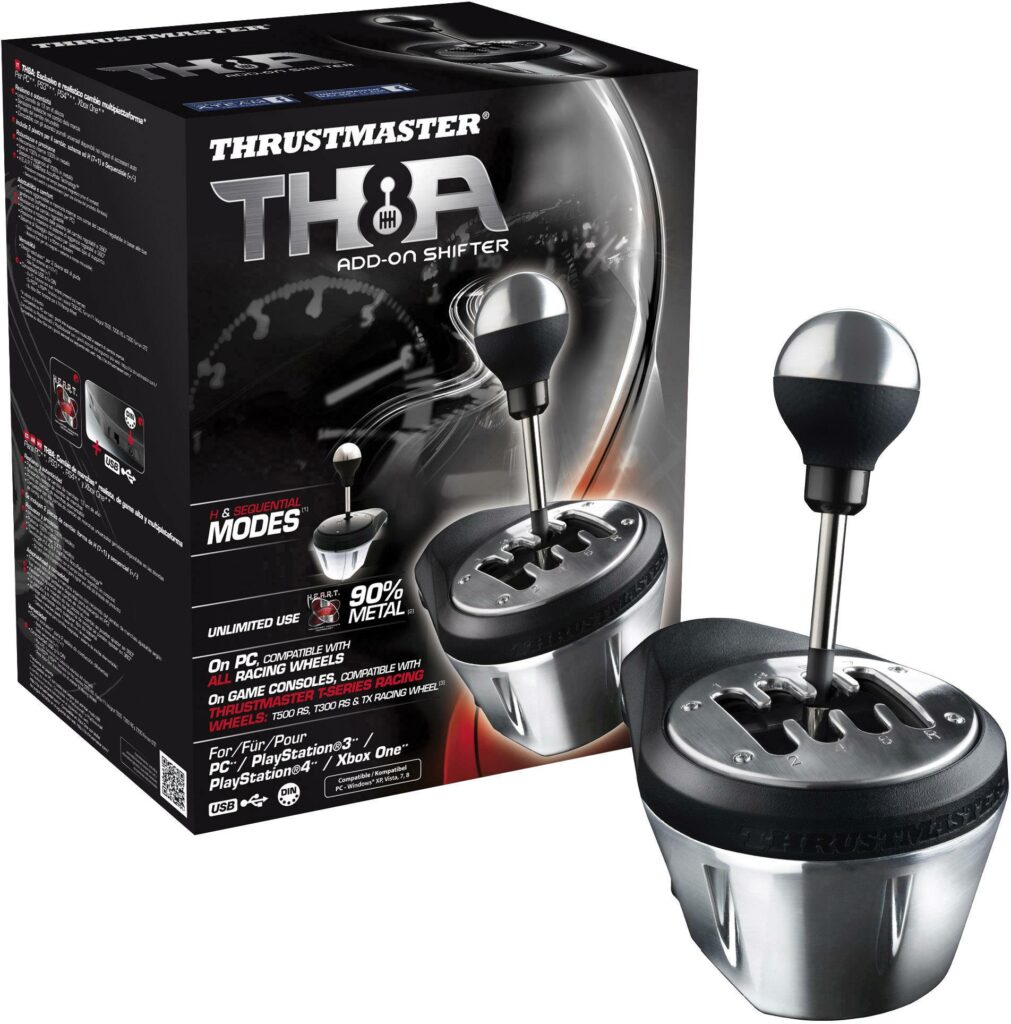 The Driving Force Shifter is Logitech's shifter offering and is compatible with the Logitech G920, G29 and G923 racing wheels on PC, Xbox One and Series X and S and PS4.
This shifter is a 6 speed (+ reverse) h-pattern shifter. Its design is notable for its particularly short throw between gears and relatively low resistance. However, it should be noted that this shifter is h-pattern only, however, many tutorials for sequential mods can be found online.
The base of the Driving Force Shifter features primarily plastic construction with leather featured on the gear knob and boot, the latter giving it a feel akin to a luxury road car. The Driving Force Shifter is very cheap, listed at £39 on Amazon. However, while it is very enjoyable to use, it may not entirely satisfy the most dedicated sim racer and is best used to liven the experience of racing with a Logitech wheel.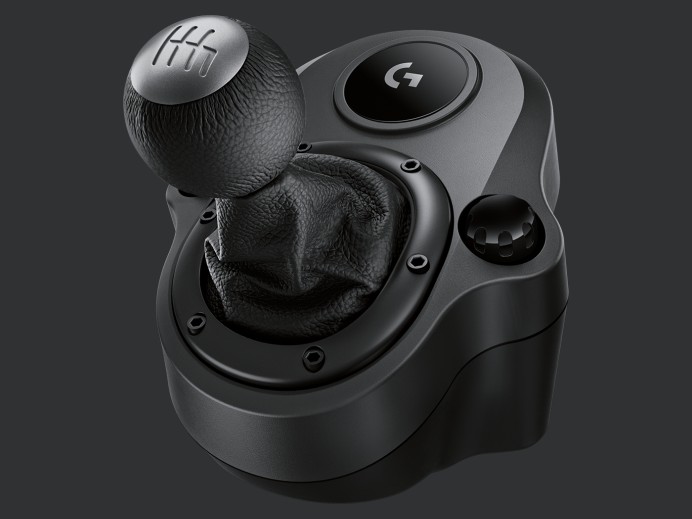 The Clubsport SQ V1.5 is Fanatec's shifter offering. It is compatible with all Fanatec wheelbases as well as other racing wheels such as the Logitech G920 and the Thrustmaster TX with the Clubsport USB adapter. It can be used with essentially any shifter supported platform for both PC and console.
The Clubsport shifter features a 7-speed H-pattern shifter with a locked reverse and 7th gear (which can be used by pressing down on the shifter and being shifted into either 7th or reverse) with the option to be used as a sequential shifter. It can be easily changed from sequential to H-pattern mode and vice-a-versa by a simple switch on the side of the shifter, just like the Thrustmaster TH8A Shifter.
The shifter also features all-metal construction, making it incredibly durable and also adding to the shift resistance and the distinctive clunk of gear changes. The gear knob is also interchangeable with a number of aftermarket options as well as a number of options in the Fanatec ecosystem. At £206 at Digital Motorsport, the Clubsport shifter is perhaps suited to more serious Sim Racers. However, while the shifter costs more than many entry-level racing wheels, it is certainly a very high-quality item.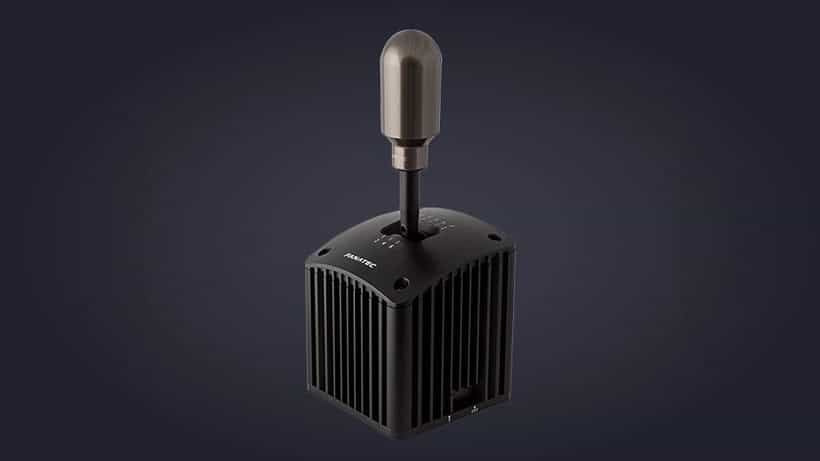 The Thrustmaster TSS Handbrake is an officially licensed Sparco product but most notably, is both a shifter and a handbrake, compatible with the T-GT and T300 racing wheels on PS4/5, the TS-XW and TX racing wheels on Xbox One and any racing wheel with any handbrake supported game on PC.
It can essentially be used in three modes: a rally car style vertical handbrake, a road car style slanted handbrake or a sequential shifter. It has moderate resistance when being used as a shifter and can be easily changed between modes.
The TSS Handbrake features a 90% steel and aluminium construction, with the only non-metal components being nylon bushings and can be easily mounted to a sim rig using the built-in screws, with the option of using the Thrustmaster TM Racing Clamp for desk-bound sim racers. The cheapest place to buy the TSS Handbrake is available for just over £250 on Race Anywhere and it excels as both a unique two-in-one product and an excellent shifter in its own right, making it excellent value for money.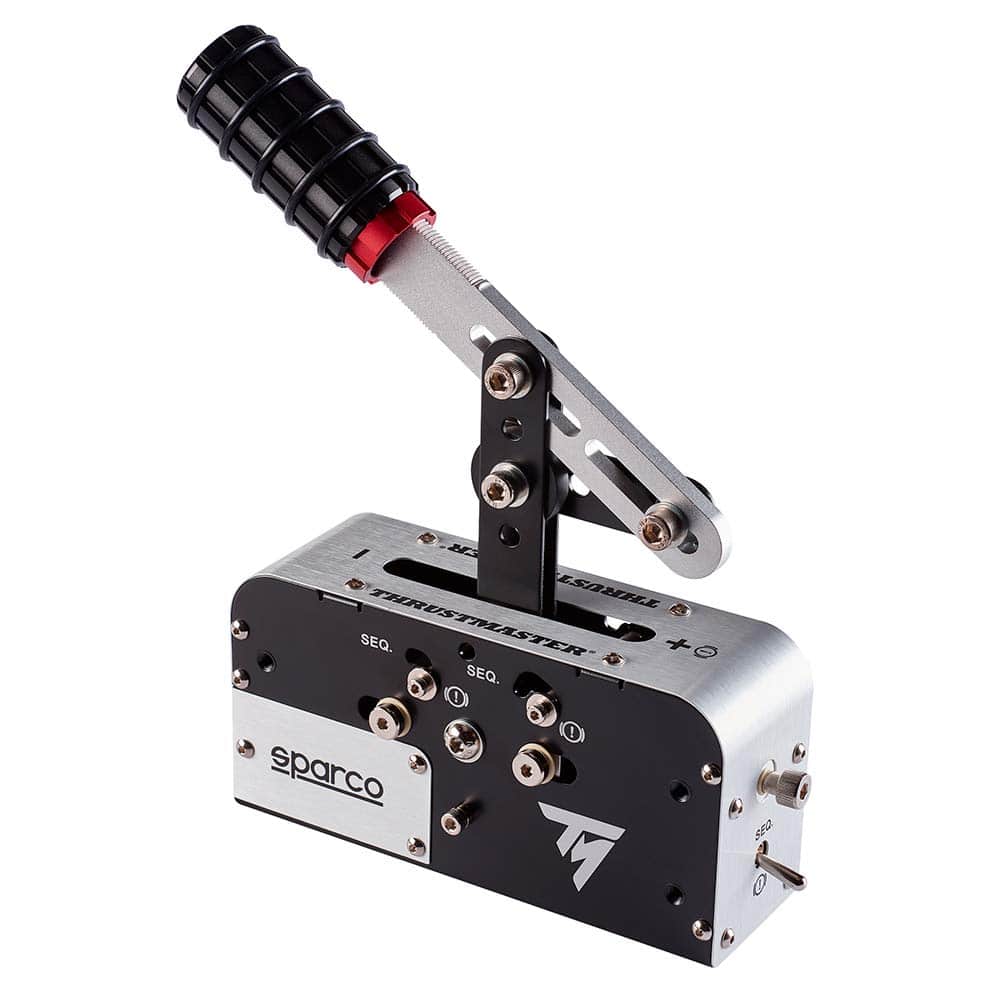 Heusinkveld Sim Shifter Sequential 
The Sim Shifter Sequential is the sole shifter option from Dutch simulation company, Heusinkveld, compatible with racing titles on PC.
This sequential shifter comes with three different types of levels and gear knobs. The user has the option to choose from a straight 30mm lever or a bent or curved 50mm lever and one of three different shapes of the gear knob.
Perhaps the most notable aspect of the Sim Shifter Sequential's design is the ball spring resistance system, which accurately simulates the feel of actually engaging a gear in a real racing car. This essentially varies the resistance of the shift, with heavy resistance when the user initially pushes or pulls the lever, with resistance dropping once the gear is actually engaged. Heusinkveld has displayed further attention to detail with soft-end stops at each end of the lever in order to make the shift quieter. The Heusinkveld Sim Shifter Sequential is a very high-quality product and at £150 at Digital Motorsport, it is relatively inexpensive, however, it must be considered that this is a sequential shifter only and some more expensive offerings have an h-pattern mode as well. Ultimately, however, sim racers that choose the Sim Shifter Sequential will be very satisfied with their purchase.