When you're looking at immersing yourself in sim racing, a rig is one of the first things you'll look at getting after your wheel and pedals. At first, the prices can look pretty daunting. With full-motion rigs with all the bells and whistles totting up to over £10,000, sometimes it looks like you won't be able to get a rig on a modest budget. In this article, we'll look at five of the best sim racing rigs that you can pick up for less than the cost of a Fanatec CSL DD.
What should I look for in a Sim Racing Rig?
A high-end Rennsport rig that is designed for Fanatec's Direct Drive wheels would be as useful for a Thrustmaster TMX as a fold-up solution would be for a 32Nm Simucube 2 Ultimate – the key takeaway being that your rig must be suitable for your setup, amongst many other requirements:
Your rig should meet the demands of your wheelbase, pedals, and any other accessories
It should match your medium-term or long-term aims for your setup. Are you hoping that your rig will hold a Direct Drive or hydraulic pedals once you're ready to make the step up?
It should be comfortable and allow you the most flexibility when in use
These are things you might want to keep in mind if you're shopping on a tight budget, especially if you want to save against spending more than necessary to upgrade your setup in the future.
How much should I spend on a Sim Racing Rig?
Rigs can be relatively affordable, provided that you know what you want from them. The range of rigs that we discuss here starts at less than $150 at full price, with the most expensive clocking in at over $350.
However, with each product, you get a unique set of compatibility and designs that can help you decide the direction that you wish to take with your rig. Do you want a simple solution that's easy to move around? Or do you want a large rig that is ready to handle whichever set of wheelbase and pedals you wish to purchase later on in your sim racing journey?
In our list, there's a bit of something for everyone looking to take this next step on a budget. If you aren't quite so restricted by price, however, then make sure to have a look at our picks for the Best Sim Racing Rigs in 2023.
Name
Pros
Cons
Playseat Challenge
– Bucket seat style
– Foldable solution
– Lack of back support
– Difficult to get in and out of the rig
Next Level Racing GT Lite Sim Racing Cockpit
– Bucket seat style
– Foldable solution
– Lack of back support again
– Difficult to get in and out of the rig like the Playseat Challenge
Sim Lab Wheel Stand Pro
– Compact
– Easy to move
– Seat support costs over $100 extra
Playseat Evolution
– Sturdy build
– High-quality vinyl seat
– Centre pillar can be intrusive for 3-pedal solutions
Pro Simrig PSR3
– Adjustable all-in-one chassis
– Easily modifiable and upgradeable
– Seat not included in the initial price
– High start-up cost
Is Buying A Used Sim Racing Rig For You?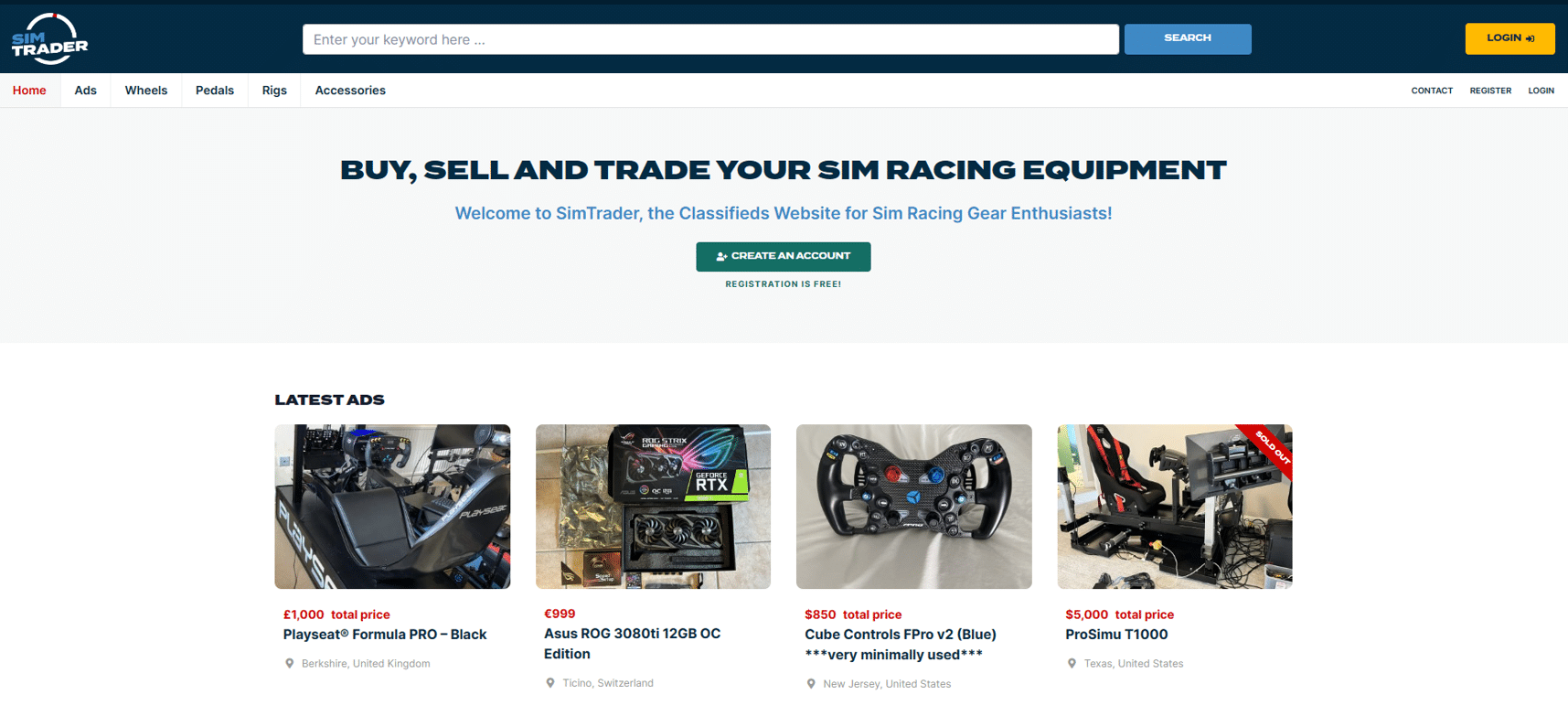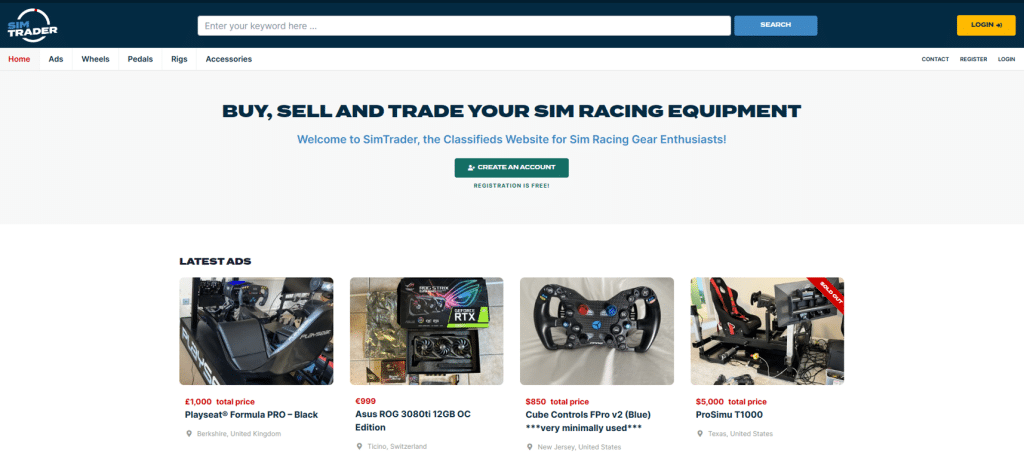 Buying a rig is one of the most important parts to complete your set ups and most of the time people do overlook this piece of equipment, usually spending all of their money on a top of the line wheel base, rim and pedals.
A good rig however will stop any flex you may experience when braking hard, will stop any wobble or movement when you have those direct drive forces being applied and it can help the overall immersion of your gameplay with proper seating and monitor/tv positioning.
Because of the sim racing boom during the pandemic there are a plethora of sim racing gear now on the marketplace as the normal world resumes and people have less time to race, meaning you can pick up bargains of all kinds to kit out your sim racing equipment to go racing.
If you dont have much budget left and you can only afford a budget rig, instead of buying brand new you may think of purchasing used instead which may get you a better quality rig for the same price range.
This is where the sim racing classified site SimTrader can help. You can buy, sell or even trade with other users on SimTrader. So before you scroll further, you may want to check out the current sim racing deals here instead of purchasing new.
PLAYSEAT CHALLENGE
Playseat's Challenge rig boasts compactness and adjustability for a modest price.
The all-in-one solution comprises a bucket seat, wheel plate, and board to mount your pedals. The lack of a central pillar, rather having two bars coming up to meet the wheel plate instead, means that users with two-pedal and three-pedal solutions are able to make the most of their solutions without having to compromise and negotiate central support.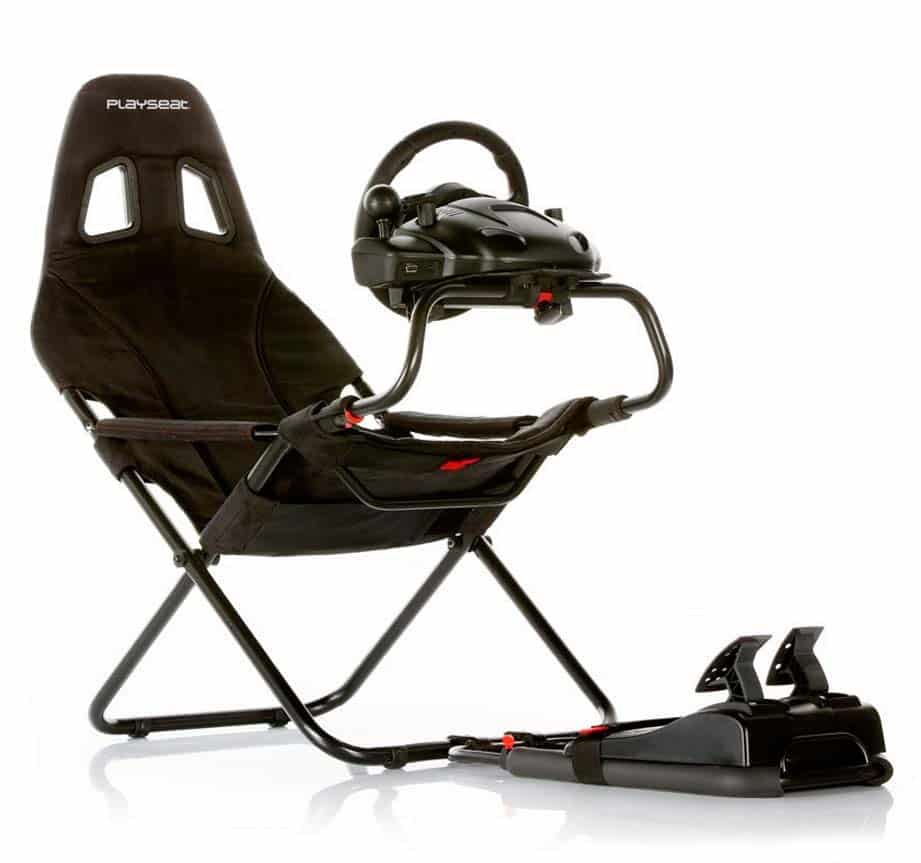 On top of this, the Playseat Challenge is foldable when not in use, meaning that it won't take up massive amounts of space if you're looking to use your computer for other means, or just don't want your rig to be a permanent fixture to your room.
This compact solution does come with its compromises, however.
For example, the ActiFit-lined seat doesn't have full back support which could affect users who need a solid back to their seat. In addition to this, the design of the seat as a bucket seat could make it difficult for some users to easily climb into or out of the seat after a long session in their simulator of choice.
NEXT LEVEL RACING GT LITE SIM RACING COCKPIT
The Next Level Racing GT Lite Sim Racing Cockpit is an alternative to Playseat's Challenge. At just a touch more expensive, it comes in at a similar cost to the Playseat.
However, the main differences between the two are that the Next Level Racing solution has a more conventional seat compared to the bucket seat of the Playseat, and also features small differences in shifter mounting and pedal mounting.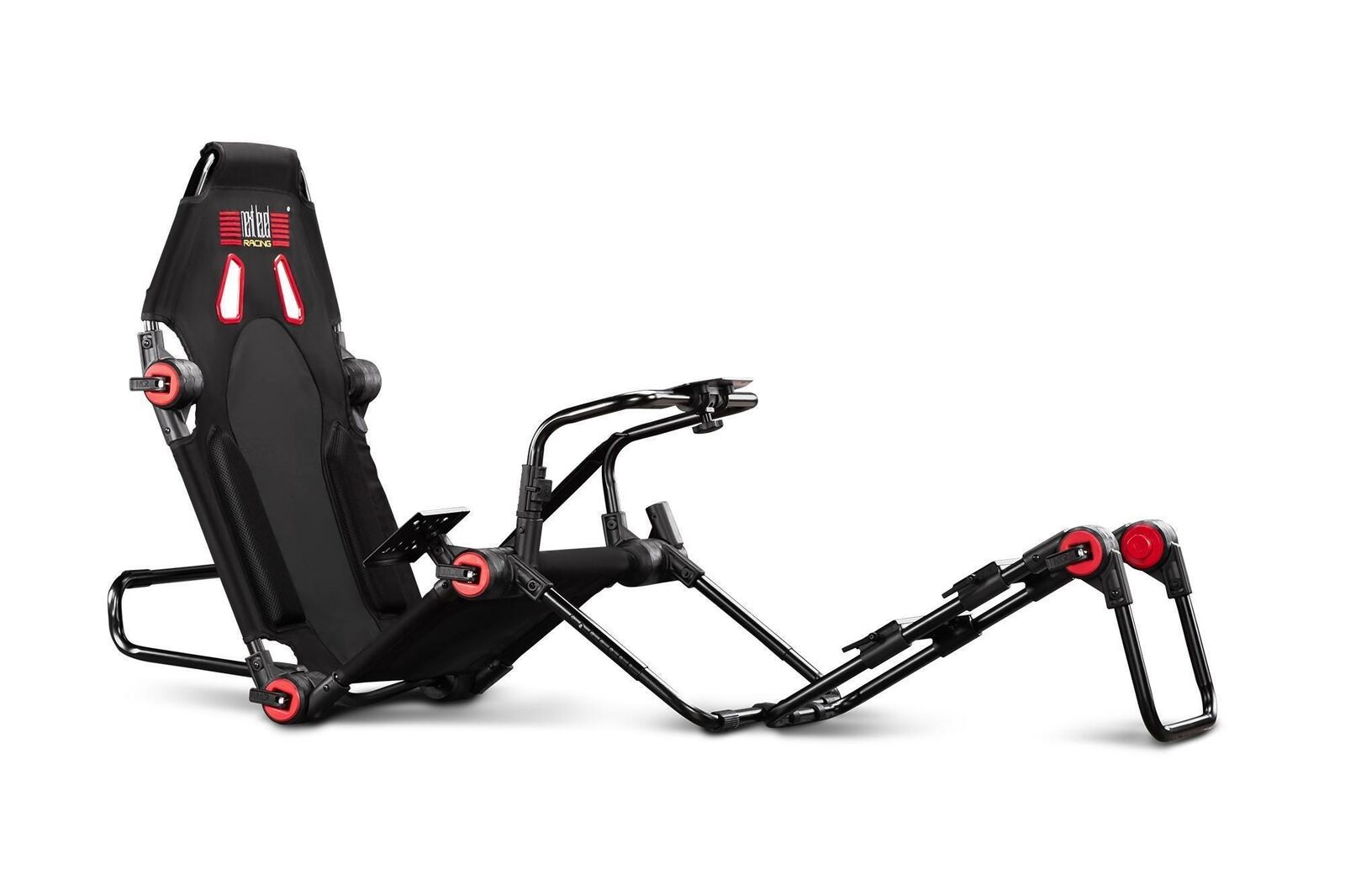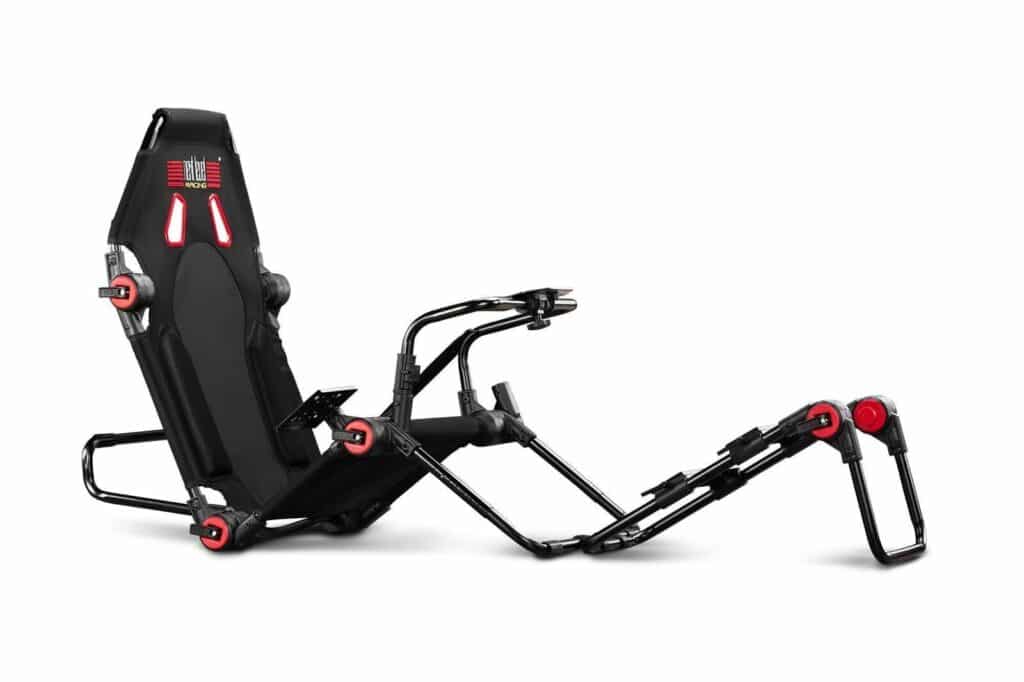 The GT Lite features two metal plates to mount pedals – which we can help you choose in our 2023 Buyer's Guide – that can be set at a raised angle or placed flat on the floor depending on the user's preference.
On the other hand, much like the Playseat Challenge, the Next Level Racing GT Lite doesn't have solid back support. Whilst the design of it makes it easier to get into the seat, the issue stems from the same strengths of foldability and compactness as the Challenge. As a result, it is a fantastic offering for those delving into sim racing and serves to open you up to other solutions in the future.
SIM LAB WHEEL STAND PRO
Clocking in at under $200, the Sim Lab Wheel Stand Pro is a sturdy and compact build. It is suitable for all popular wheelbases, from the Thrustmaster T300RS and Logitech G923 to Fanatec's DD2.
Easy to move by nature, it is an ideal unit if you're not looking to also purchase a chair and if you're looking for the next step up from desk-mounting your wheel and putting your pedals on the floor.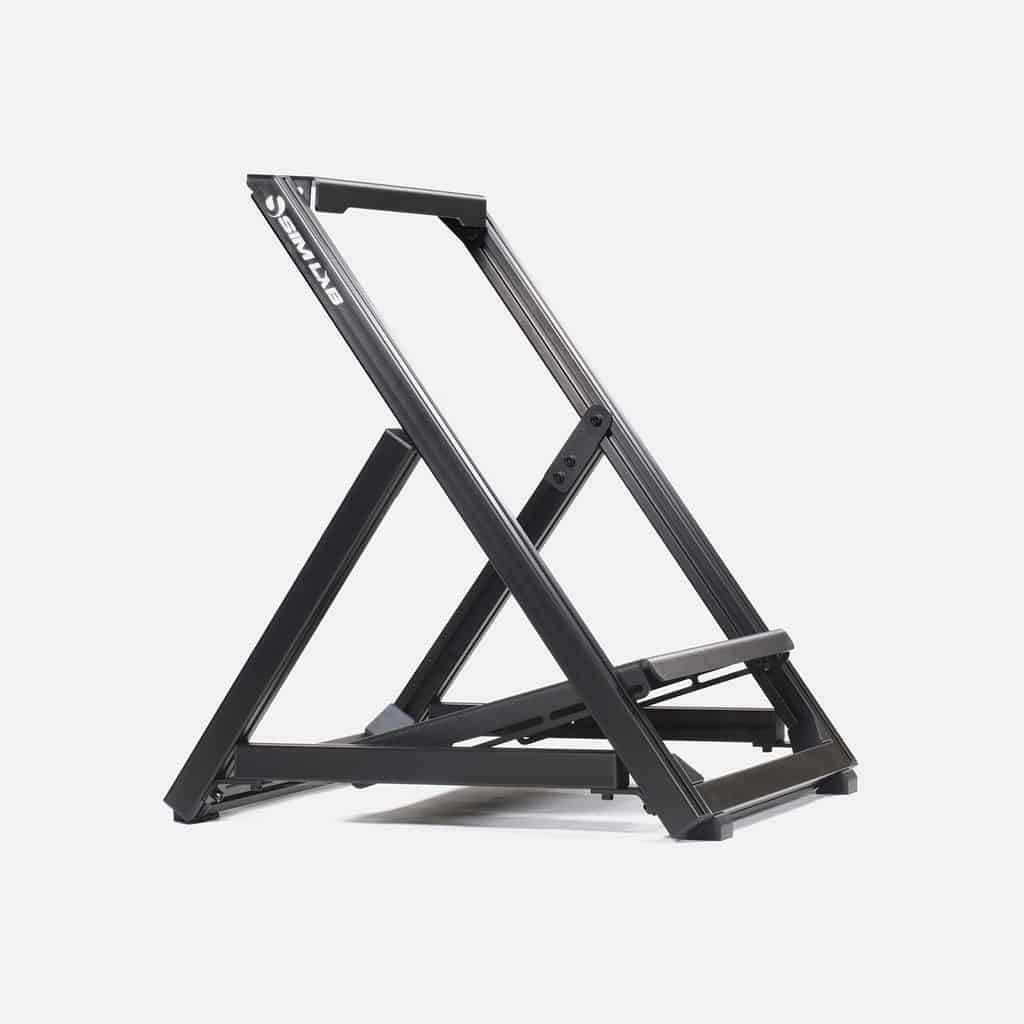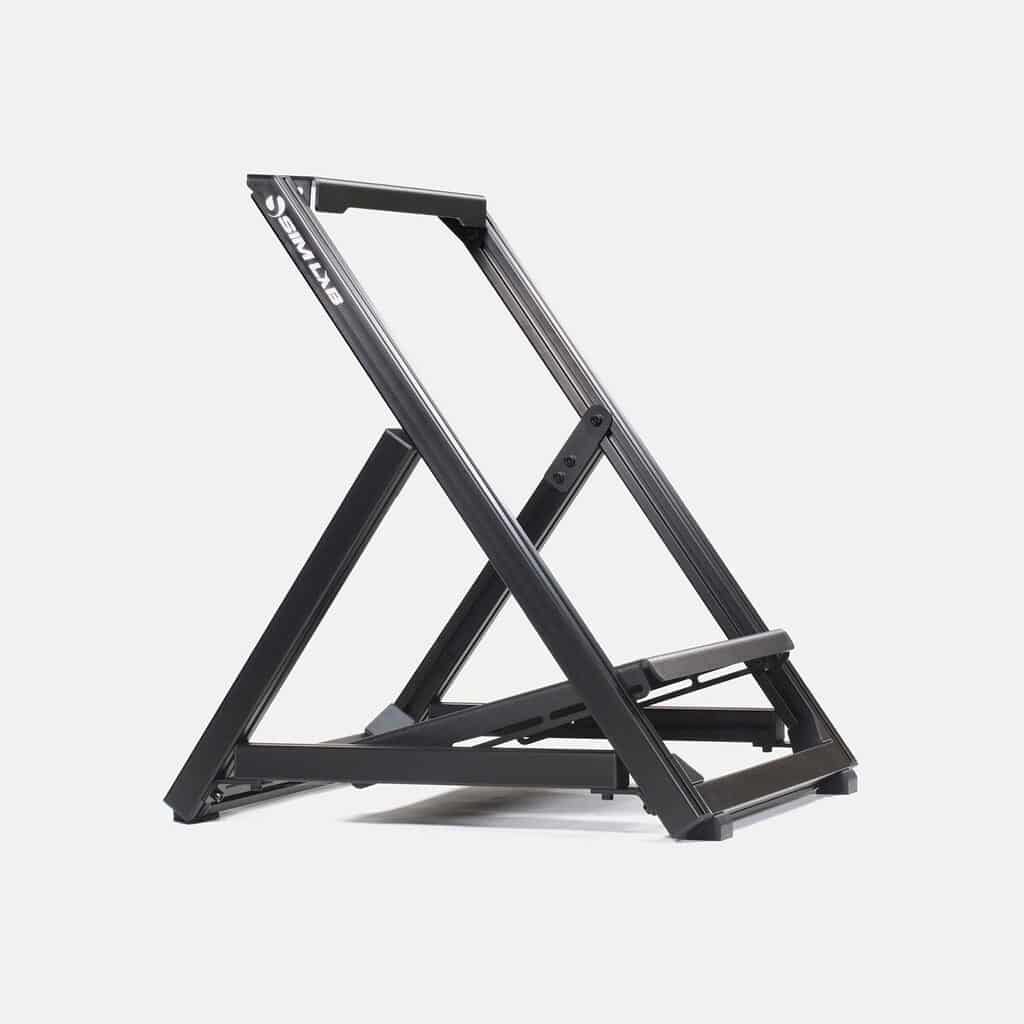 However, for similar prices, you can purchase foldable solutions such as the Playseat Challenge and Next Level Racing GT Lite Sim Racing Cockpit which include a seat. Whilst it is possible to upgrade your Wheel Stand Pro with seat supports, this is an extra cost of over $100 and doesn't include a seat. At that price range, it is possible to purchase a chassis-based solution which also boasts greater customisation options.
Playseat Evolution
The Playseat Evolution features a central single-pylon wheelstand, a sturdy pedal plate as well a high-quality and easy-to-clean vinyl seat, again at a more than reasonable price. It is also massively adjustable, with a telescopic design that means that you can adjust the distances of the wheelstand and pedal plate from the seat without any excess metal sticking out.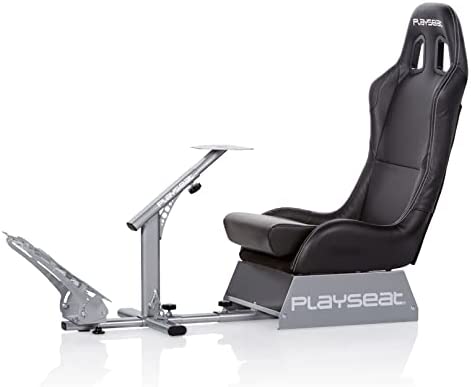 All in all, this makes the Playseat Evolution massively accessible to all Sim Racers working on a budget.
The main issue that can come from the Playseat Evolution is a product of its compact design. The central single-pylon wheelstand can make things difficult for users of a three-pedal solution, as they might feel like they are compromising on their brake usage if they are trying to navigate a metal pole that is lined up with their central brake pedal. As a result, this is most suitable for users who are running with just two pedals.
The most expensive rig in this list is the Pro Simrig PSR3. It's far from entry-level but is probably the cheapest rig you can buy that's made from aluminium profiles. This means that it's really, really strong, has nearly zero movement when under heavy load and can handle the strongest of direct drive wheelbases.
It supports all the big brands in Sim Racing hardware, like Fanatec, Moza Racing, Heusinkveld, Asetek, and more too, which is an added bonus for future-proofing your setup.
Due to it being essentially an assembly of aluminium profile pieces, the PSR3 can be easily customised by simply bolting on additional profiles or brackets to add space for a keyboard, additional displays or any other extra peripherals, such as a supremely-useful Button Box.
Besides the price, the biggest issue with it is that it isn't supplied with a seat which you'll have to purchase separately thereby increasing the overall cost.
It's not really a cheap option, but it has the potential to be your first and last sim rig.
However, unlike the cheaper Playseat Evolution, the cost of a seat is not included in the total cost of the GT1 Evo. The add-on SPEED3 Bucket Seat costs £284, which is difficult to afford for those on a minimal budget. This means that you are likely to look at alternatives for the seats which, whilst possible as the rig itself can be modified to suit any seat, means more work for you to do as you're trying to sort out your first rig.
SimTrader – The only classified site you need to buy, sell and trade your sim racing equipment – Sign up today