BMW is a German manufacturer that's been competing in various categories of motorsport including MotoGP and Formula 1. Their M series of vehicles generally represent their performance line, with classics like the M3 tracing its roots all the way to 1986 and the M1 being introduced in 1978.
They've also been known for being a successful engine manufacturer with forays into Formula 1 when they powered the Williams F1 car with their mighty 3.0L V10. These days, they're known more for GT racing and, more recently, entering endurance racing with their new BMW M Hybrid V8 prototype.
The BMW M4 GT3 is based on the road-going M4 but with big changes to the aerodynamics, suspension and engine. It may be similar to its road car sibling but its actual on-track performance is a massive step up and may as well be a custom-built race car.
Introducing the BMW M4 GT3
BMW started racing the M4 in 2022 as a replacement for the M6 GT3. iRacing did not release the M6 but the driveability improvements of the M4 over the M6 did translate over to iRacing. These improvements make the M4 quite balanced and relatively stable to drive over a race distance.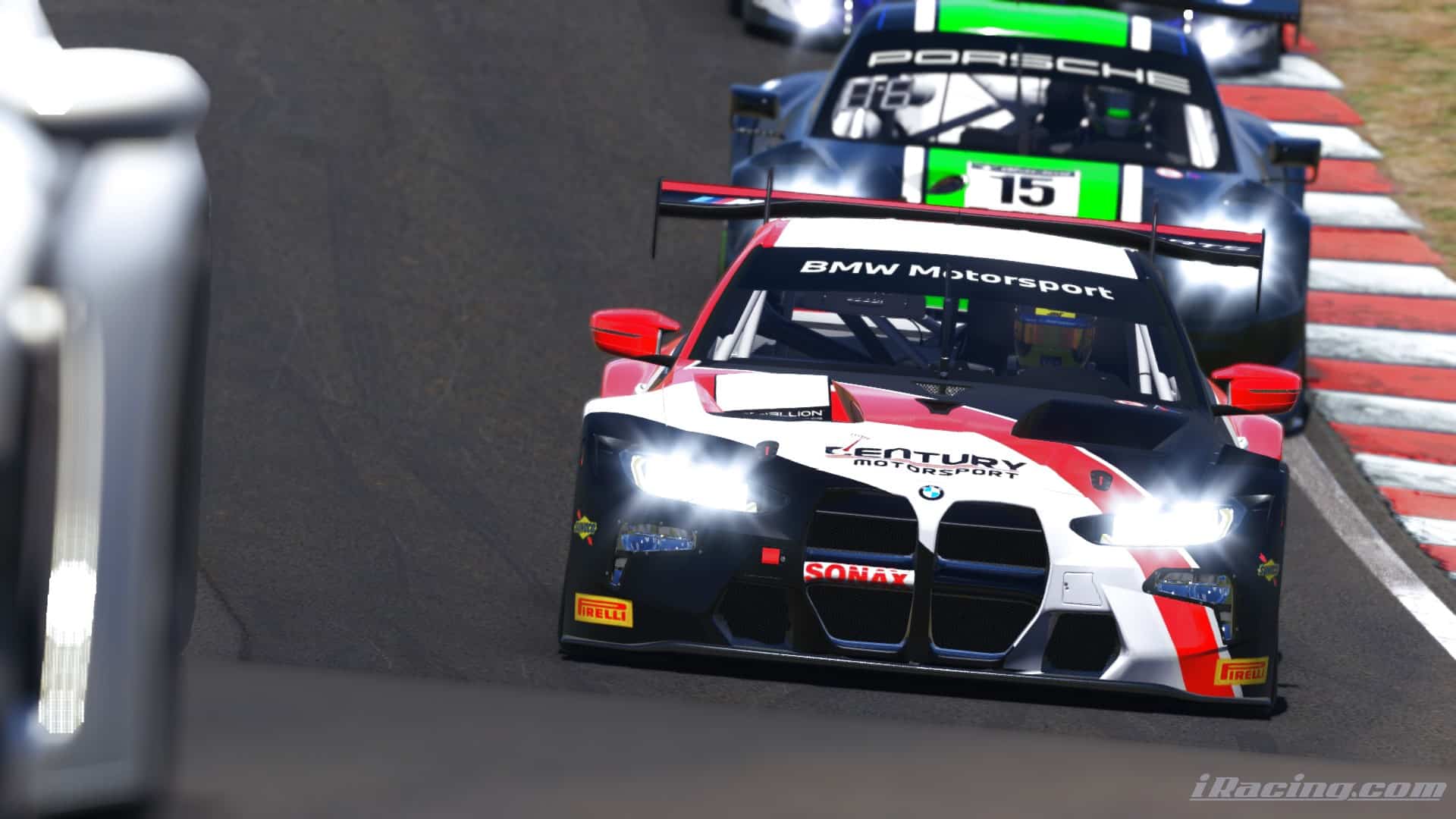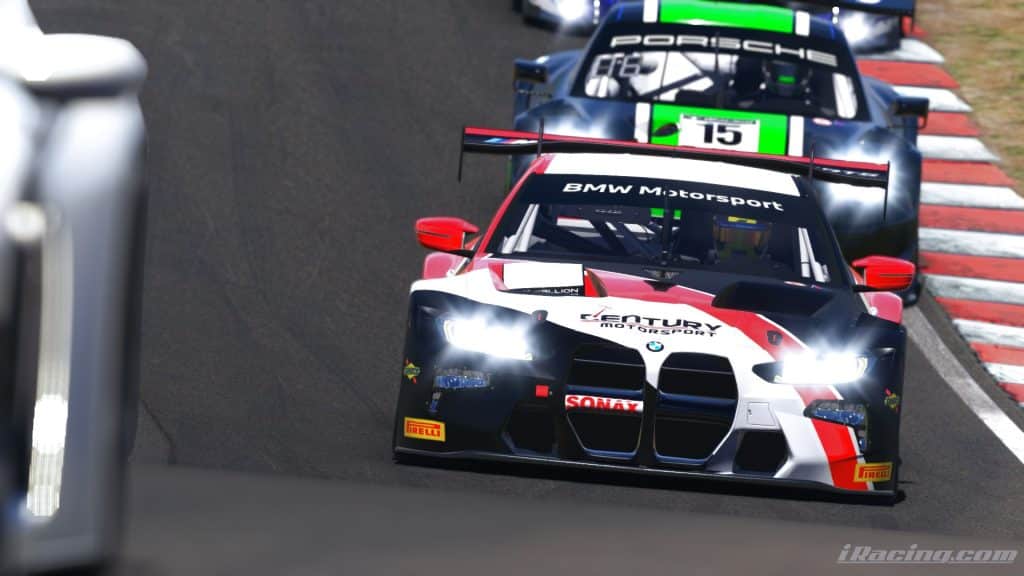 The M4 GT3 has already found success having won several races since its introduction including finishing first and second at the 2023 Kyalami 9 Hour and winning the 24 Hours of Spa.
Interestingly, the steering wheel used in the real-world M4 GT3 is manufactured by Fanatec and can be used in sim racing as well.
The Basic Car Characteristics
The car is powered by a turbocharged straight-six engine producing 373kW of power and 644Nm of torque. In classic BMW style, the engine is front-mounted and drives the rear wheels via a 6-speed gearbox.
Generally speaking, a front-engined car has the potential for understeer, especially on corner entry due to having all that extra weight up front. This places extra load on the front tyres on top of the load from braking and steering angle. However, the M4's handling is relatively balanced without the expected terminal understeer.
The car has tons of torque from its straight-six engine allowing for running higher gears on corner exit that helps with reducing wheelspin and saving time on unneeded upshifts.
If you need some help getting to grips with iRacing's BMW M4 GT3, make sure to check out one of Coach Dave Academy's Lap Guides, such as this one at Mount Panorama with Yuri Kasdorp.
Steering and Cornering
It's always tempting to downshift early and try to keep the revs up when entering a corner. It may feel like it's a faster way to drive the BMW, but it isn't.
Despite having balanced handling, shifting to a lower gear in a corner can cause the rear to get loose. This can be negated by keeping the car in a higher gear and using its torque to pull it out of the corner. Using a lower gear may seem faster because of the higher revs from the engine, but it will just cost you time since you'll need to upshift quickly, thereby losing precious tenths of a second.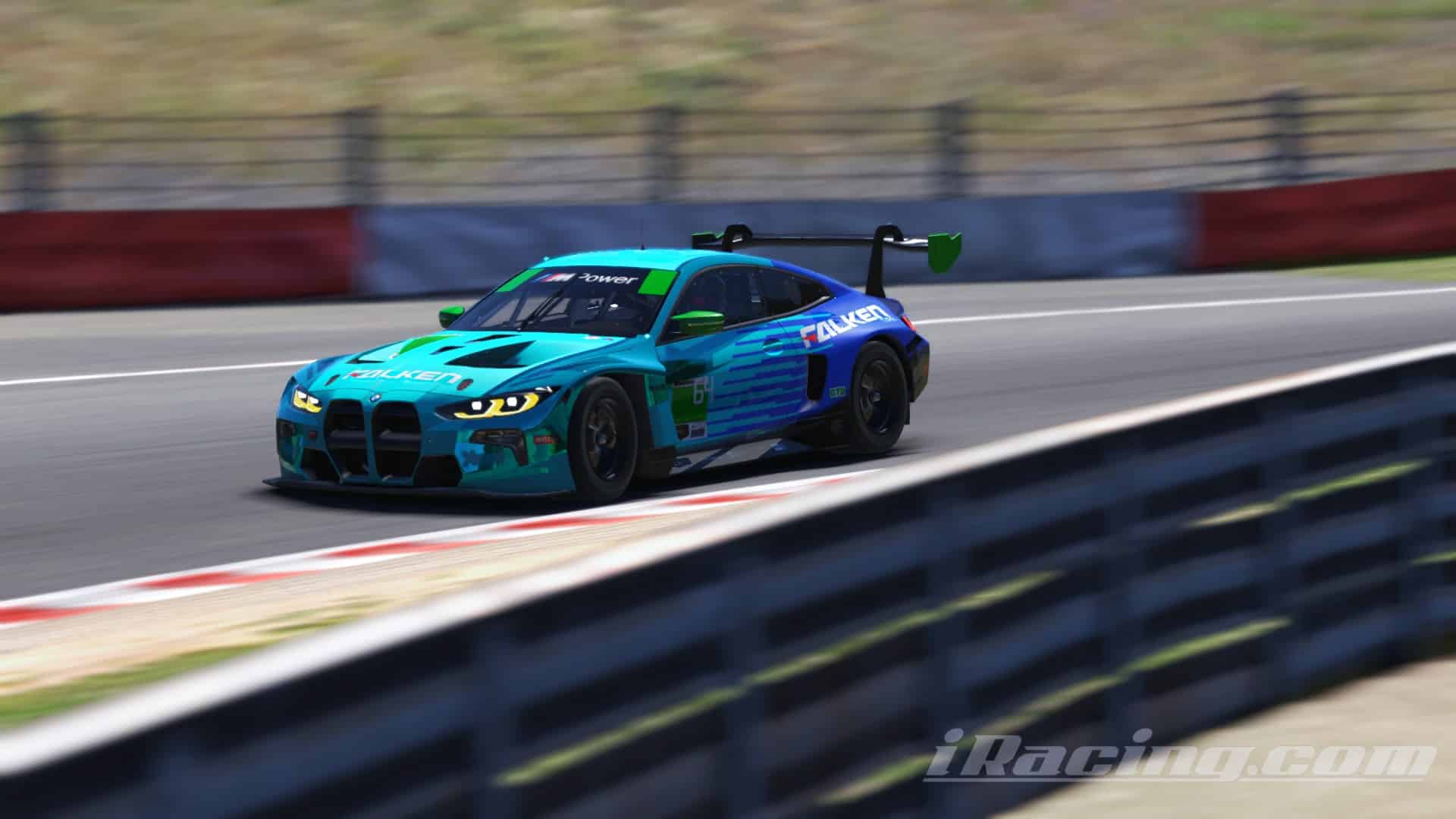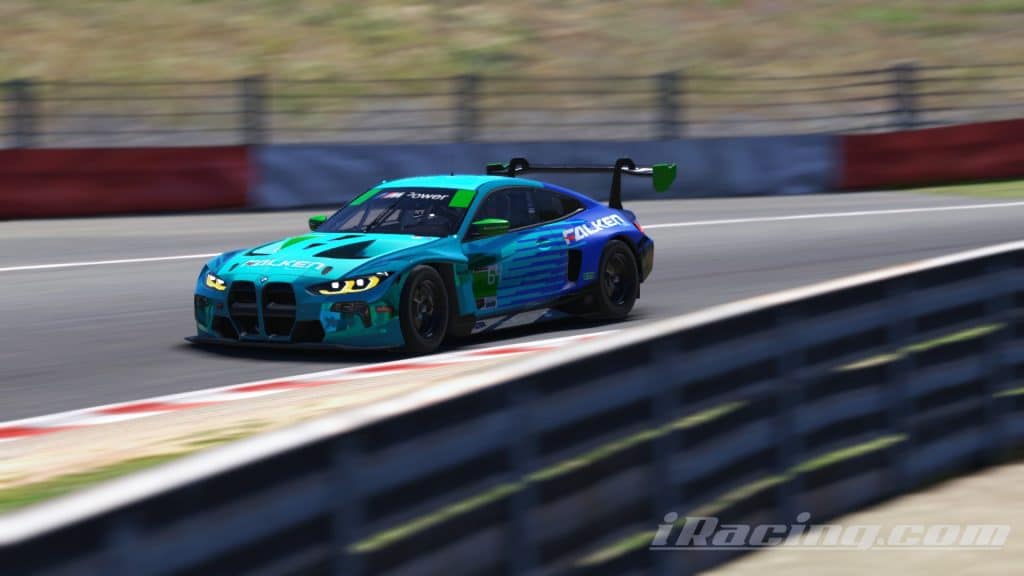 The car needs to be set up to have a lighter rear end to help with rotation, but this can cause oversteer, so it's important to be smooth with your steering inputs.
The M4 doesn't enjoy climbing kerbs, especially big ones like those at the Watkins Glen bus stop chicane. This means that you'll need to be less aggressive here by using only the first lower section of kerbing and focusing more on carrying speed and less on using the kerbs as a shortcut.
Aerodynamics and Bodywork
The M4's rear wing provides the car with the majority of its aerodynamic downforce and can be adjusted to find the best balance between speed and downforce according to the type of track you plan to race on.
Adjusting the rear wing must be done in conjunction with the car's ride height to maintain good aerodynamic balance. The rear ride height tends to be higher than the front, and this difference between the front and rear is called the rake angle. Typically, the higher the rear wing angle (higher downforce), the greater the rake angle must be.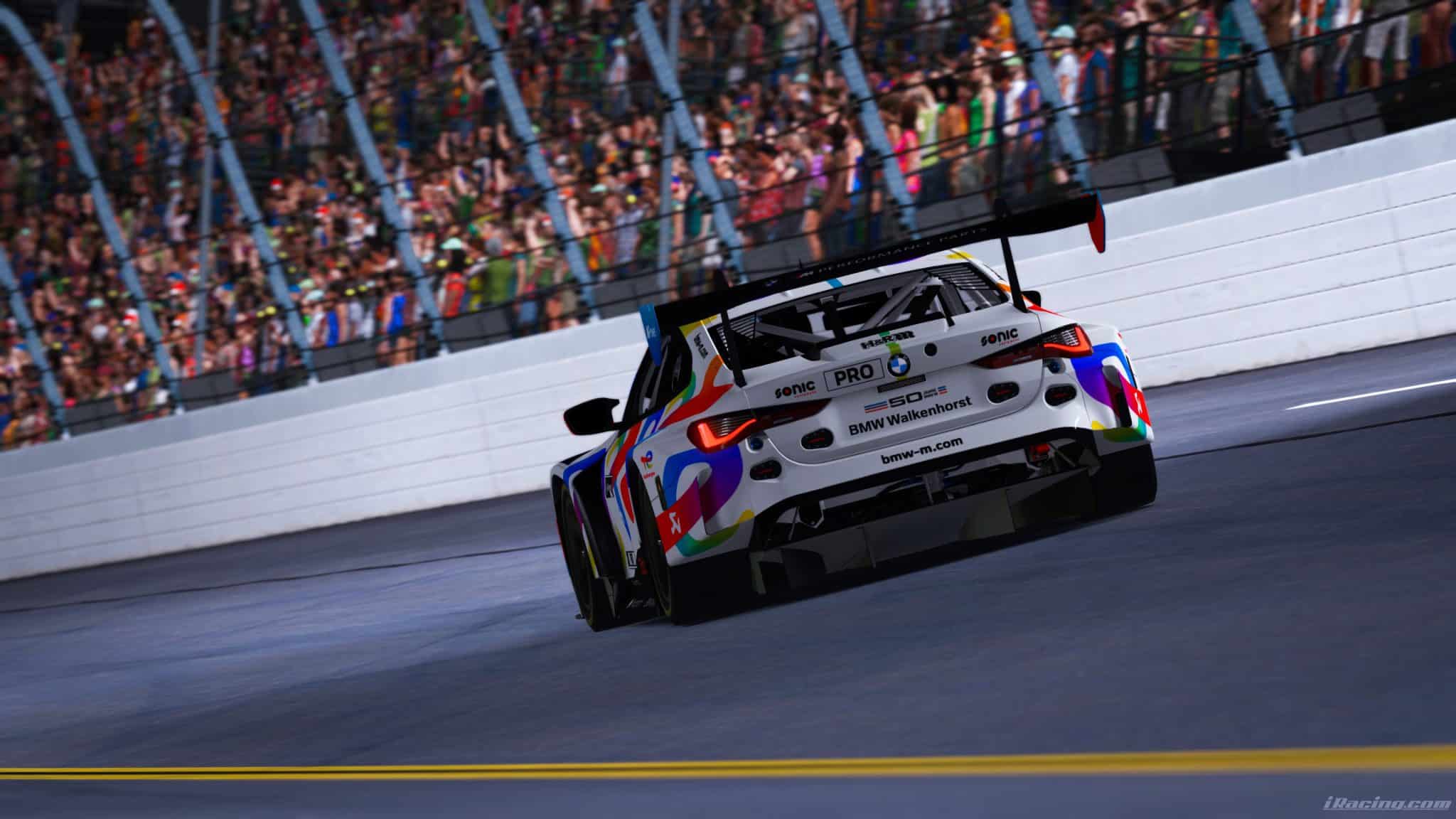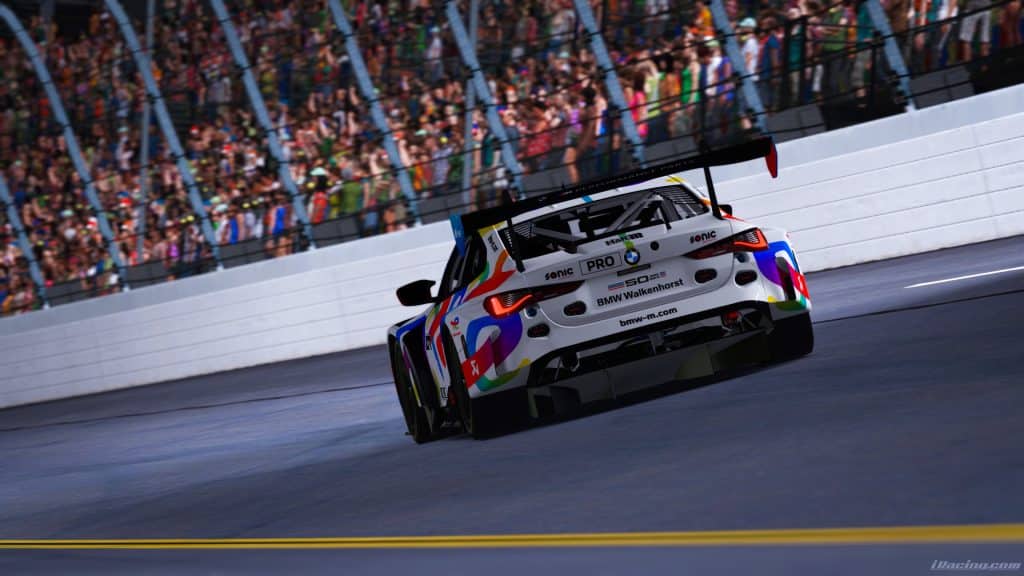 A good way to set this up would be to use the Aero Calculator tool contained within the car setup. Aero balance is shown as a percentage according to your front and rear ride heights and rear wing angle. It must be noted that this tool is purely a calculator, and any changes made here will not affect the actual setup.
The higher the front downforce percentage is, the more high-speed oversteer you will experience and vice versa.
---
Need some setups?
Coach Dave Academy provides both Race and Qualifying setups that are ready to go with all the fine-tuning and adjustments already made by our expert team of drivers and engineers. If you subscribe to our iRacing Setup Subscription, you'll have access to our Delta app and the following main features:
Qualifying Setups
Sprint Race Setups
Endurance Race Setups
Fixed Setup Data Packs
Best Lap Replay (.rpy) Files
YouTube Onboard Laps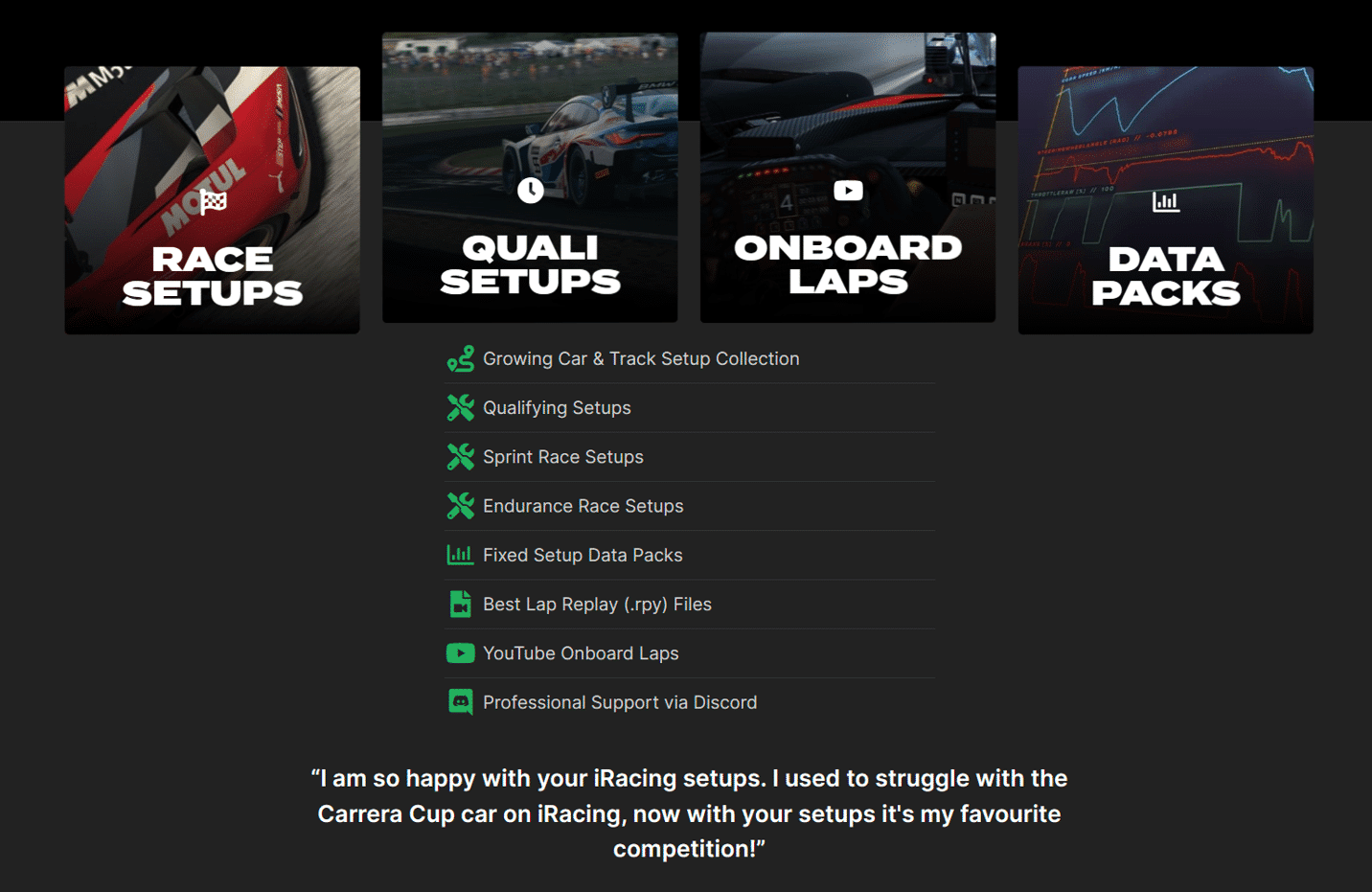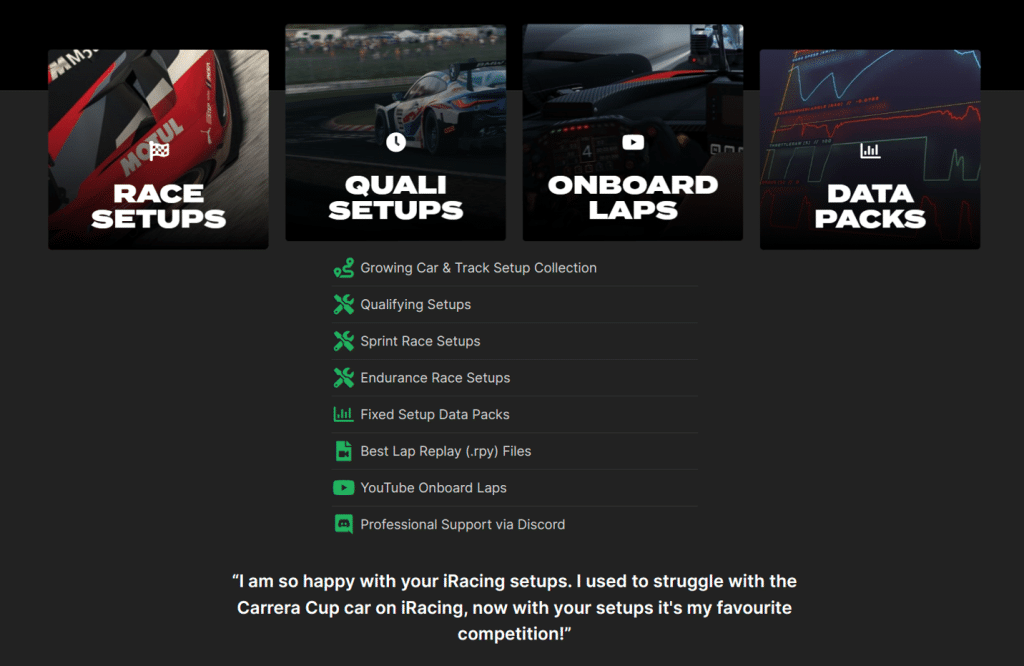 ---
Power Delivery and Braking
Despite being turbocharged, the car's power delivery is smooth and easy to control. Traction Control and ABS are available and can be controlled in-car, so we suggest that the following controls are mapped to your steering wheel for easy adjustment during the course of a race:
ABS
Traction Control
Brake Bias
Using the in-car controls
You can adjust these settings pre-race for a happy medium and run it for the entire race, but for the best overall performance, it's best to make adjustments as the fuel burns off, the tyres wear and the tracks rubbers in. For example, you will need less Traction Control when the track is rubbered in and more grippy than when the track is green. However, this must be balanced against tyre wear to maintain good stability and consistency.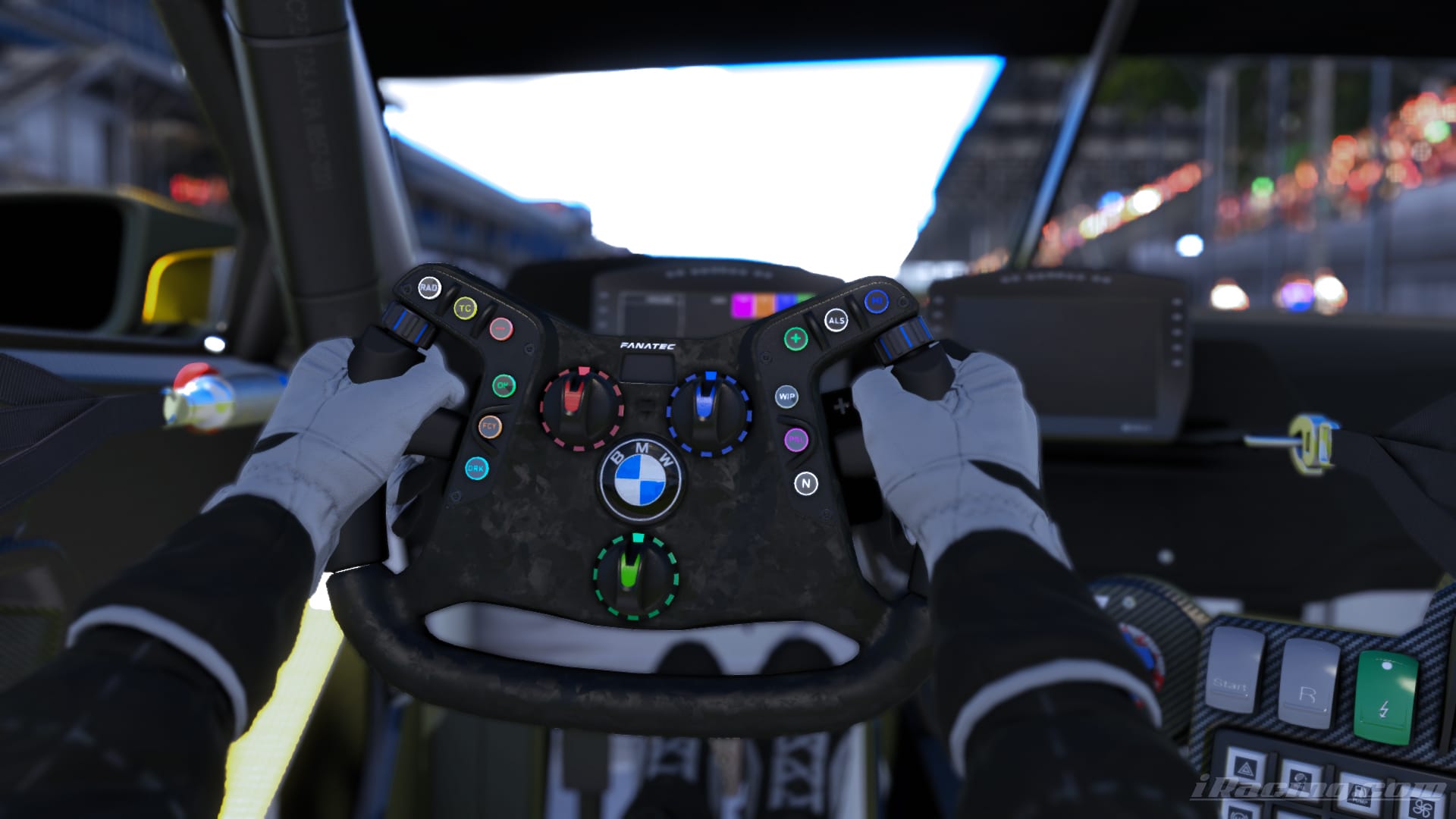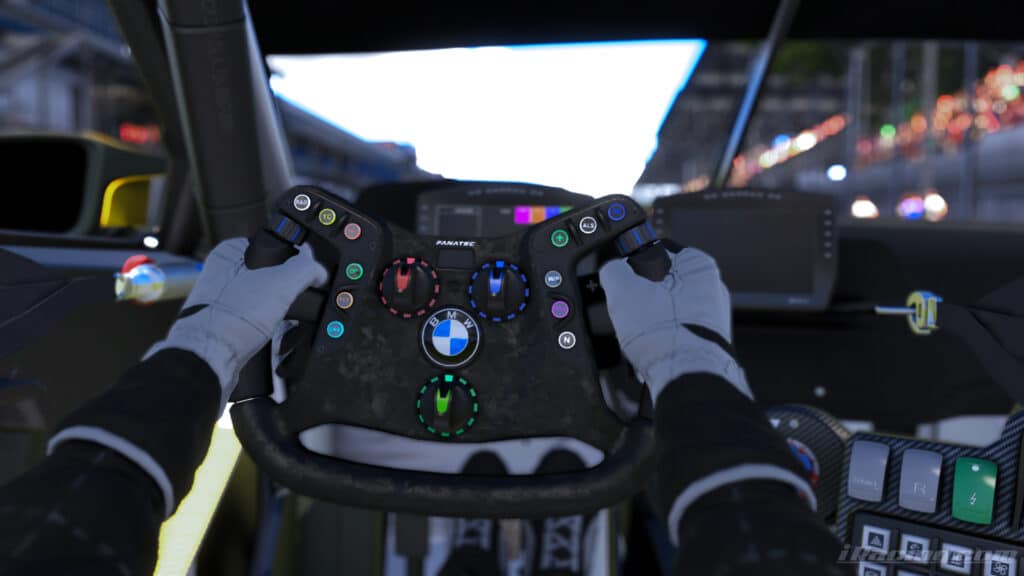 Brake Bias can be adjusted either forwards or backwards according to corner type and to compensate for the change in balance as the car's weight decreases with the fuel load burning off.
ABS is excellent for minimising lockups but can cause unwanted understeer when braking too aggressively. Ideally, you will need this setting to be as low as possible, but it should be adjusted during the race in conjunction with the Brake Bias setting to reduce the chances of front lockups.
Gear shifts
The optimal shift point when changing up in gear is at 6800 RPM, and this is indicated on the in-car dash when all the rev lights flash in red. You will need to practice perfecting your upshifts to maximise forward momentum, but this will become easier over time. Initially, the rev lights will be your reference, but the engine note will replace this once you're used to the car.
Final thoughts
The BMW M4 GT3 requires a slightly different driving style compared to other GT3 cars in terms of using a higher gear than expected due to it having so much torque. You don't need to keep the revs up because the torque is there to do the work for you.
This, combined with the car's dislike of high kerbs, makes it a bit of a tricky machine to master, but once you've learned how to overcome its quirks, you will find that it's an amazing and rewarding car to drive.