With every sim racing setup comes a number of key aspects that can make or break your experience when racing. Many sim racers start their journey with their office chair and a wheel clamped to a desk, which is great for getting started, but often leads to discomfort after long periods, and does not make the most of the immersion offered by titles such as iRacing and Assetto Corsa Competizione.
One upgrade that can transform the look and feel of your setup is the seat, so let's dive into what the best ones are in 2023.
If you're in the process of making a whole new rig, or upgrading your old one, and the seat is just your first step, check out our guide on the best Sim Racing Setups in 2023 to find out the best combinations you can get your hands on today.
HOW TO CHOOSE YOUR SIM RACING SEAT
There are many different types of seats for sim racing and these often represent the type of car they have been designed for such as formula cars or GT's. The most important thing to understand when choosing your sim racing seat is the different types on offer:
Formula seats will offer a low-profile seating position to keep your centre of gravity as low as possible. These seats keep you snug within the seat and give you a particularly high level of immersion if formula or LMP cars are your most common choice when racing.
GT racing seats are the most common choice as they offer the typical upright racing position but still have all the benefits of a bucket seat. They are often tight-fitting, keeping you secure but still have headrests and padding/cushions so strike a good balance between comfort and purpose.
Road car seats that you will find in an everyday car offer a level of comfort that others just can't match. This seat type is for those who favour their comfort first or have a full focus on driving road cars within their chosen sim.
THE FEATURES TO CONSIDER
With the host of different options on the market, it can get a little overwhelming trying to decide which option to choose, but there are a few key aspects to consider.
Quality
Make sure that the seat is made of high-quality, long-lasting materials – a sim racing seat is something you will want to keep for a long period of time. Additionally, bad-quality materials can flex and become uncomfortable to use after long periods of time. If you are concerning a motion rig setup, then quality is even more important as safety when moving in the rig is of high importance
Comfort
Not all sim racing seats are made with comfort in mind, and it is important to remember this. Many seat offerings are made for the purpose of keeping you secure and this is not conducive to comfort.
When looking for a seat, consider what levels of adjustment are on offer. Also, breathable fabrics are a great option to consider as they keep you well-ventilated during longer periods of sitting.
Price range
This may seem like an obvious consideration, but it is one to ensure you aren't fooled by. The more expensive the seat is does not equal a better product; sim racing is a stationary activity so many of the additional safety features you may find on some real-life certified-for-use seats just aren't necessary.
Find something that is within your price range, and don't be drawn in by fancy materials like carbon fibre if that is not within your price range, these are nice to have options not essential things for sim racing.
Our top picks
Now that you are familiar with the most common types of seats and what options to consider, let's look at some of the best offerings on the market. These must be noted as suggestions and that there are hundreds of different offerings that can be found online, but these are a great place to start if you are unfamiliar with the sim seat market.
Name
Price
Style
Pros
Cons
Next level F-GTLite
Low
GT/Formula
– Easy to store
– Highly adjustable
– Fixed to cockpit frame
– Potential flex on high-powered wheels
Cobra Monaco Sport
Low
GT
– Rigid chassis
– Side mounting brackets not included
Simlab SF1
Mid
Formula/LMP
– Immersive seating position
Real-life racing design
– FIA-approved safety rating
Sparco Circuit QRT
Mid
GT/Touring
– Real-life racing design
– FIA-approved safety rating
– Limited vision due to required racing safety features
Sparco GP
High
Formula
– Padding/Headrest adjustability
– Price
Sparco EVO XL
High
GT
– Suitable for all types of drivers
– Very expensive
| | |
| --- | --- |
| STYLE: Formula/GT | BRAND: Next Level |
The Next Level F-GT Lite is not your typical sim racing seat, but this is what makes it stand out from the crowd and makes it perfect for a particular type of sim racer. The seat is arguably the best foldable seat out there, as it offers not only compact storage ability but also can be set up in GT or Formula style seating position. This functionality is something that no other seat on this list can offer and, for that reason, is a great choice for any new sim racer looking to start their sim racing journey.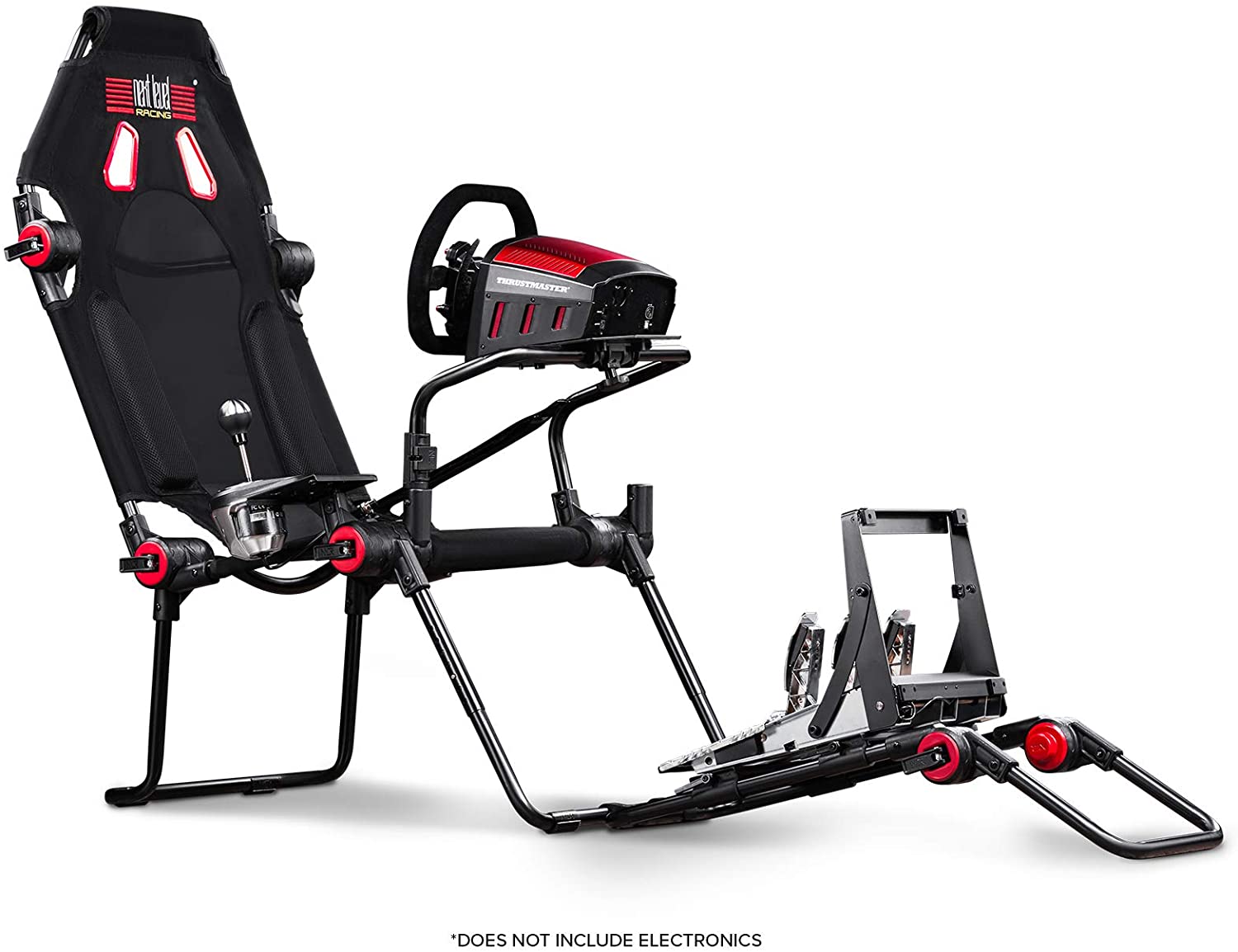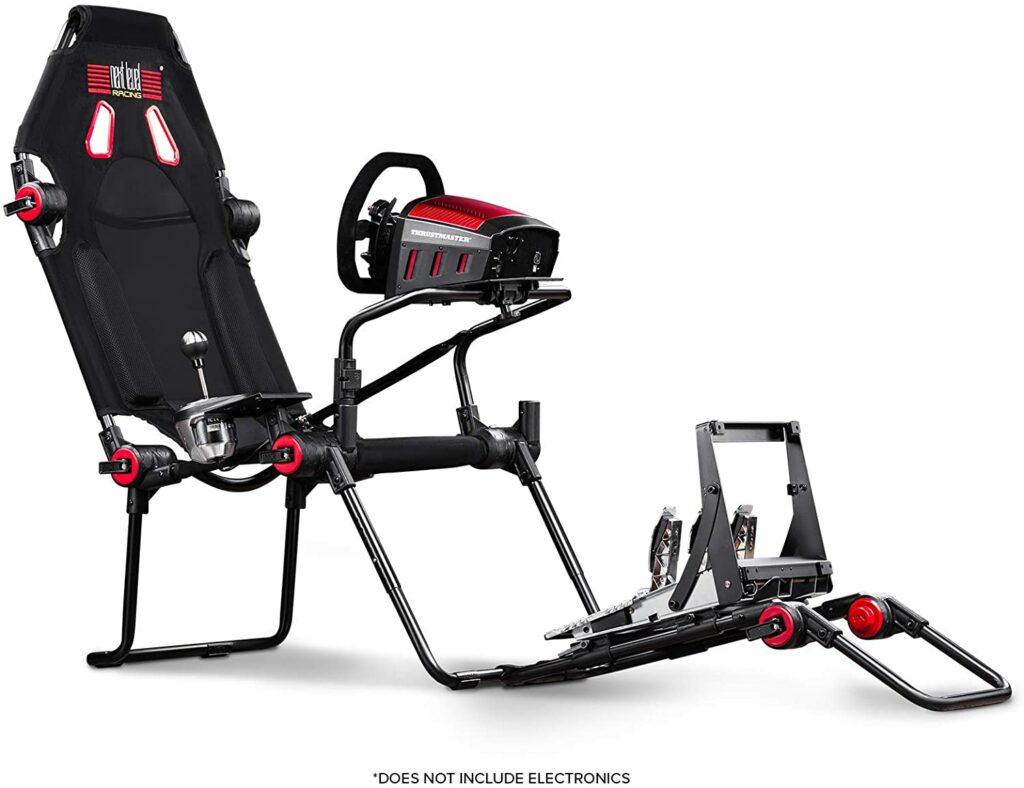 Additionally, the Next Level F-GT Lite is compatible with a host of different wheels and pedals, as it has a number of pre-drilled mounting holes, making this seat the only piece of equipment you need to get started with racing. If you'd like to pair up a seat like this with a shiny new set of pedals, make sure to check out our guide to the best Sim Racing pedals.
So if you're looking for your first journey into the sim world and don't want to spend a fortune on lots of sim rig equipment, then this is a great choice to consider.
| | |
| --- | --- |
| STYLE: GT | BRAND: Cobra Monaco |
With a more upright seating position, the Cobra Monaco Sport is a GT-style seat that's constructed from tubular steel with support for a five or six-point racing harness. Its wider design makes it suitable for larger frame drivers with support for both side and base mounting. Unfortunately, though, side mounting brackets are not included, so the total cost will be higher if mounting the seat at the base isn't an option for you.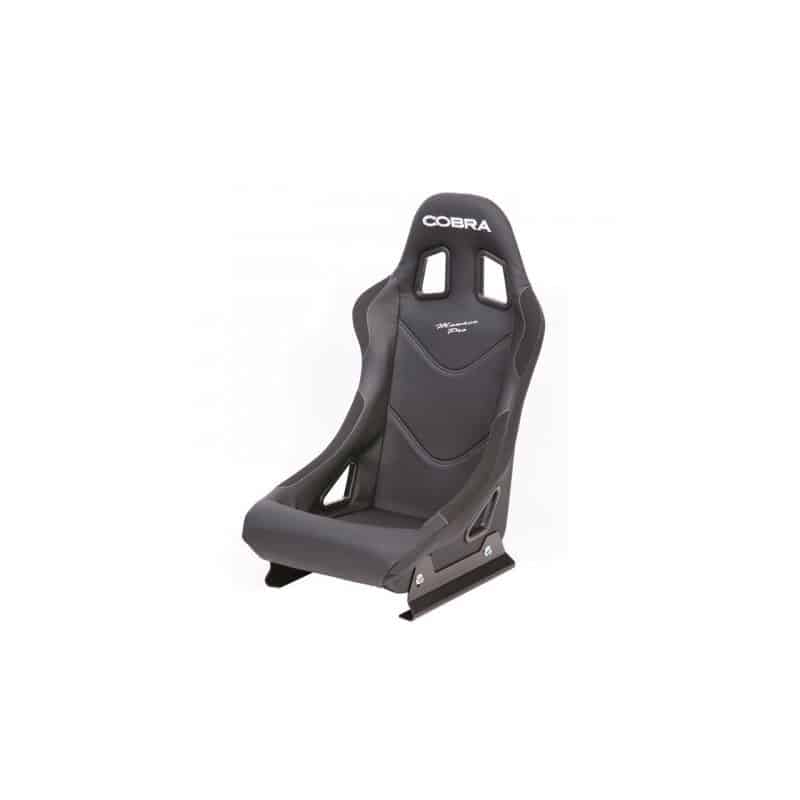 The Cobra Monaco Sport may be a budget seat but it includes features like the tubular steel frame and support for a racing harness that is generally found in seats that are in a much higher price bracket. The seat is priced to appeal to sim racers on a budget but still promises excellent rigidity with understated visual appeal.
Simlab SF1
| | |
| --- | --- |
| STYLE: Formula/LMP | BRAND: Simlab |
The Simlab SF1 is a purpose-built formula-style sim racing seat that replicates the seating position of single-seater race cars but is not so aggressive that it can't also be used as a GT racing seat. The seat is made from the same materials used in real-life racing seats, breathable synthetic fabrics and high-quality GPR material for the seat shell.
As with all Simlab gear, the seat offers a simple but high-quality design that will blend into any sim rig style.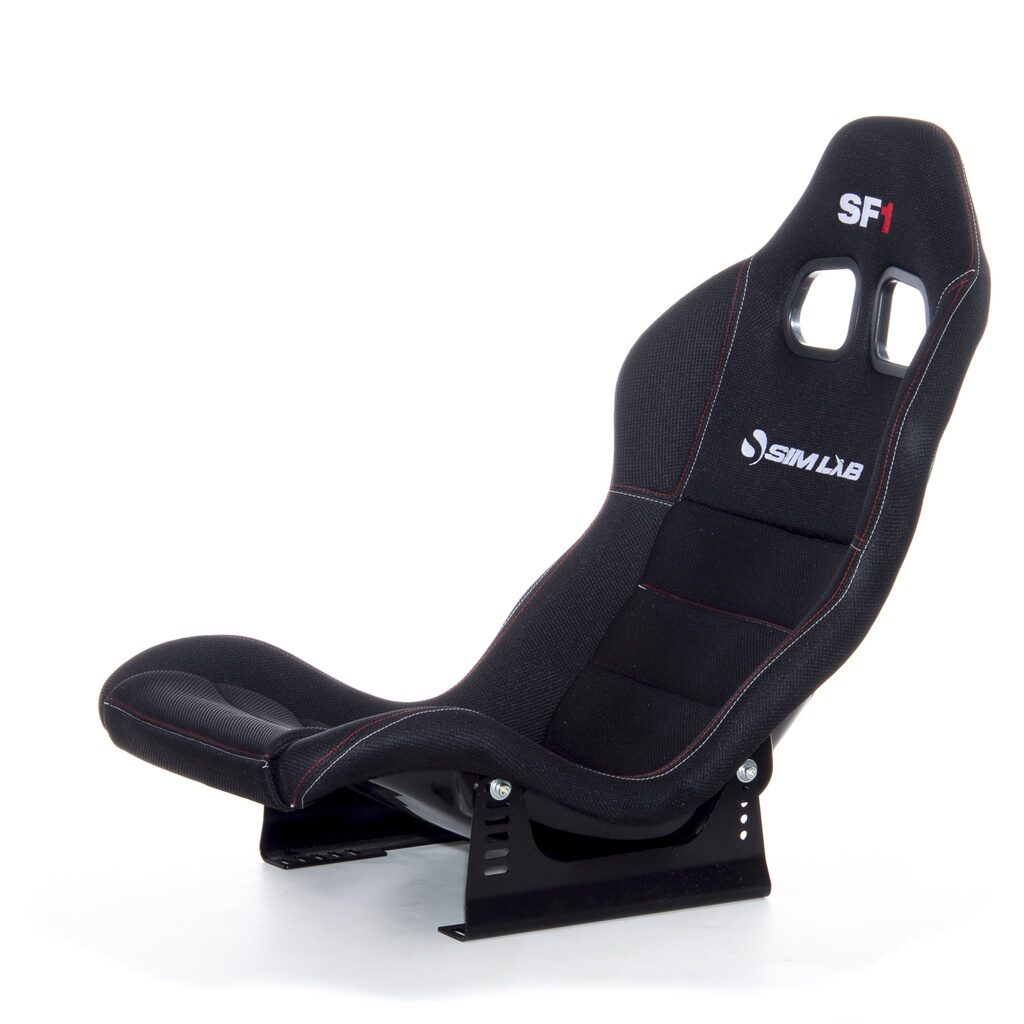 One thing that must be noted with this seat and others of its style is that they are relatively narrow in construction, so can be slightly more uncomfortable if the seat is not the exact size needed.
If comfort is a priority, then formula-style seats such as this should probably be avoided, as the Simlab SF1 is much more focused on immersion and seating position. Additionally, mounting is not included with this particular model so will need to be purchased separately.
If a formula-style seat is what you are looking for, then the Simlab SF1 is a great option. The seat offers top-quality materials and is from one of the top sim racing equipment brands giving you the confidence that it is designed perfectly for any sim racing setup.
Sparco Circuit QRT
| | |
| --- | --- |
| STYLE: GT/Touring | BRAND: Sparco |
The Sparco Circuit QRT is a great choice for any type of sim racer looking for that authentic racing car feel. The seat is an official FIA-approved offering that has been tried and tested in all types of motorsport around the world.
The seat is constructed from sturdy QRT materials, offering a high-quality, long-lasting product that will be more than enough for any sim rig. The seat is also lined with non-slip fabric in key areas, such as shoulders and the seat restraint, keeping you firmly in place. Comfort has also been considered with both leg and seat cushions that can be removed from the seat to ensure the best fit and comfort options for all types of sim racers.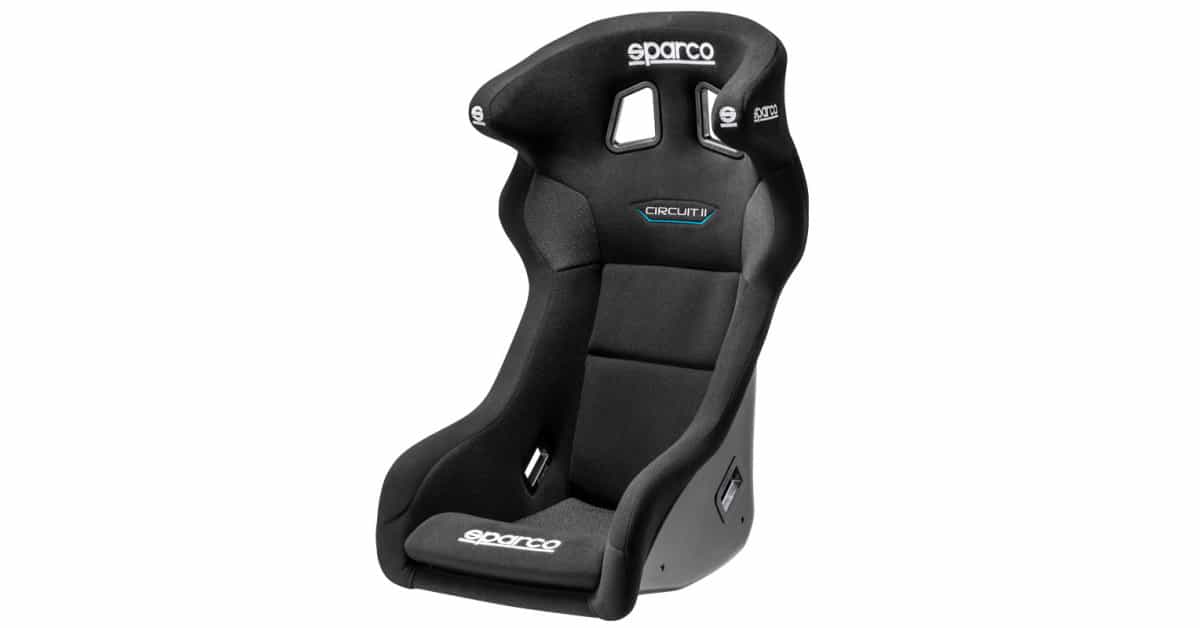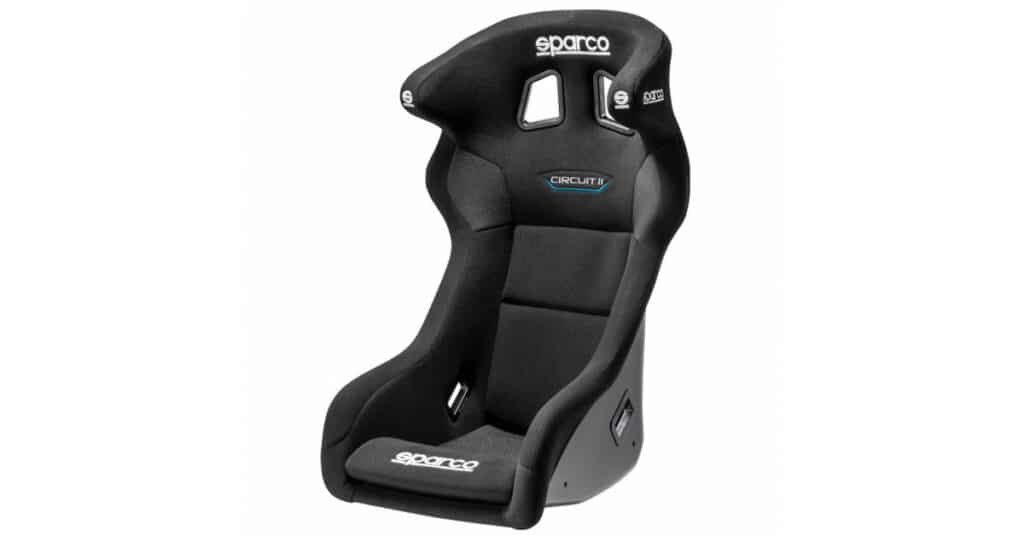 It must be noted that the Sparco Circuit QRT is another offering that has been designed as a real-life motorsport seat first, and as a result, has rather large side protection designed for wearing a helmet and neck restraints while racing. This can lead to your view being blocked on either side so aren't ideal for triple monitor users or those using large VR headsets.
The Sparco Circuit QRT is still a great seat for those looking for the authentic race car feel from their sim rig, though. The quality is unquestionable and is one that is more than enough for any sim rig.
| | |
| --- | --- |
| STYLE: Formula | BRAND: Sparco |
The Sparco GP is a seat that has a reclined driving position aimed squarely at drivers that prefer a formula-style experience. It's derived directly from the type of seats used in F1 with a fibreglass frame with adjustable padding and a moveable/adjustable headrest. The seat includes a set of mounting brackets that can be used to convert your rig into an F1-style simulator.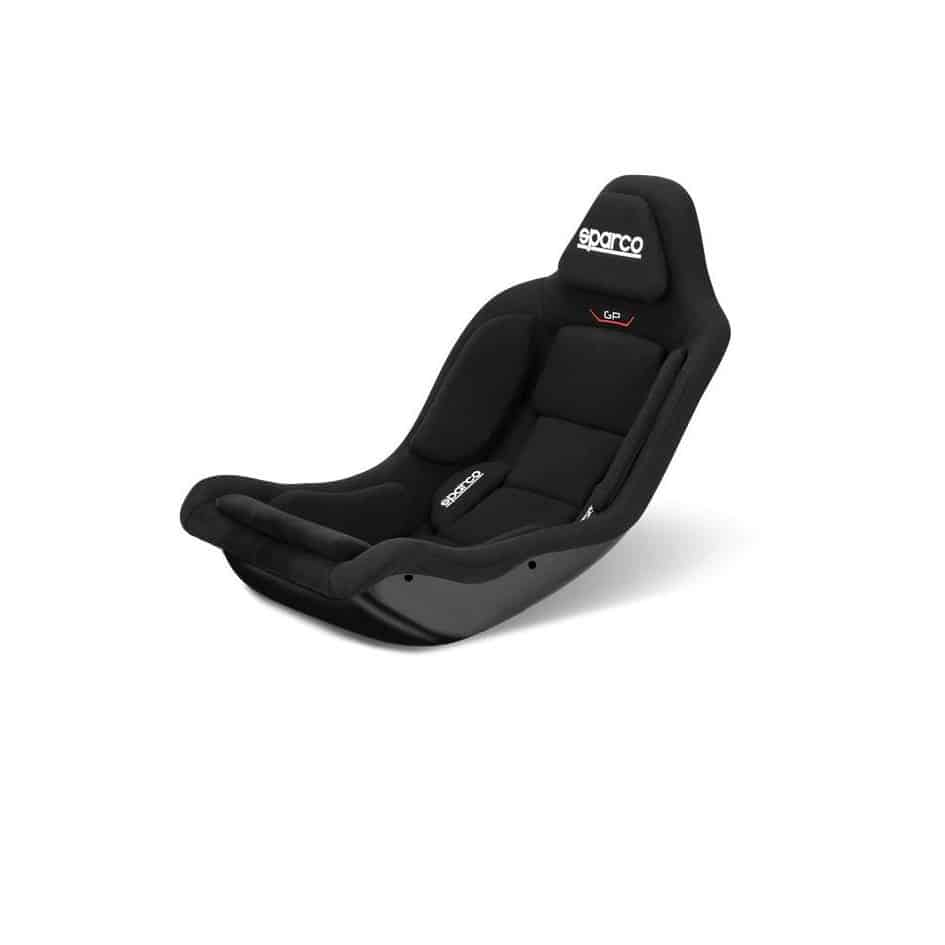 Even though the Sparco GP has a certain amount of adjustability, it cannot be changed to a more upright seating position that may be better for GT racing. If you're primarily a GT racer or race multiple categories of cars, this may not be the seat for you.
F1 drivers tend to be small in stature, but that's not the case for all racing drivers, as well as sim racers. Luckily, the Sparco EVO XL is designed for drivers that are 188cm/6'2" or taller.
The seat is constructed using Sparco's Quick Resin Technology (QRT) to create a shell that's almost as light as carbon fibre with the cost savings of fibreglass and it has integrated lumbar support with space for drivers that have broad shoulders and weighs up to 158kg.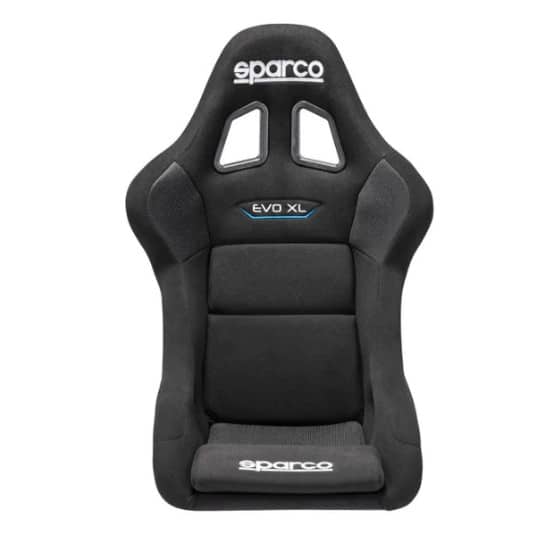 Overall, the Sparco EVO XL is a GT-style seat and does not allow for adjustments to a more reclined, Formula-style driving position. It does however have support for seat belts and a seat slider that must be purchased separately, making it a strong overall candidate.
Final Recommendations
Now that you have a good understanding of the range of different seat options and some recommendations to get you started, make sure to do your own research on what is best for yourself. Everyone's sim rigs will be of different shapes and sizes and what works in one set-up may not be the best for yours.
However, here at Coach Dave Academy, we would definitely recommend the Sparco Circuit QRT seat for its quality, immersion and FIA certification.
Whatever option you choose, make sure that quality is the first element you consider. Looks and design can be tempting but a seat is a product you spend lots of time interacting with so choose wisely.
If you are looking for further recommendations, or more options at a lower price range, make sure to take a look through our guide to the best budget Sim Racing seats. If you like to find out more about other products, such as the best Sim Racing wheels, we've got you covered with a guide on that too!