The younger sibling of the supremely popular Mercedes-AMG GT3 Evo, the Mercedes-AMG GT4 is one of Assetto Corsa Competizione's most competitive GT4 cars. Added to ACC back in July 2020, it's become a staple of one of the simulator's most underrated classes for wheel-to-wheel competition.
Introducing the Mercedes-AMG GT4
The Mercedes-AMG GT4 is the entry-level customer racing car in the Mercedes GT lineup. It was designed to offer good value for money for amateur racing drivers and serve as a stepping stone towards GT3 class competitions for professionals.
The car was presented to the public in 2017 and has been used in many GT4 series since then, including the GT4 European Series, the GT4 America Championship and the British GT Championship.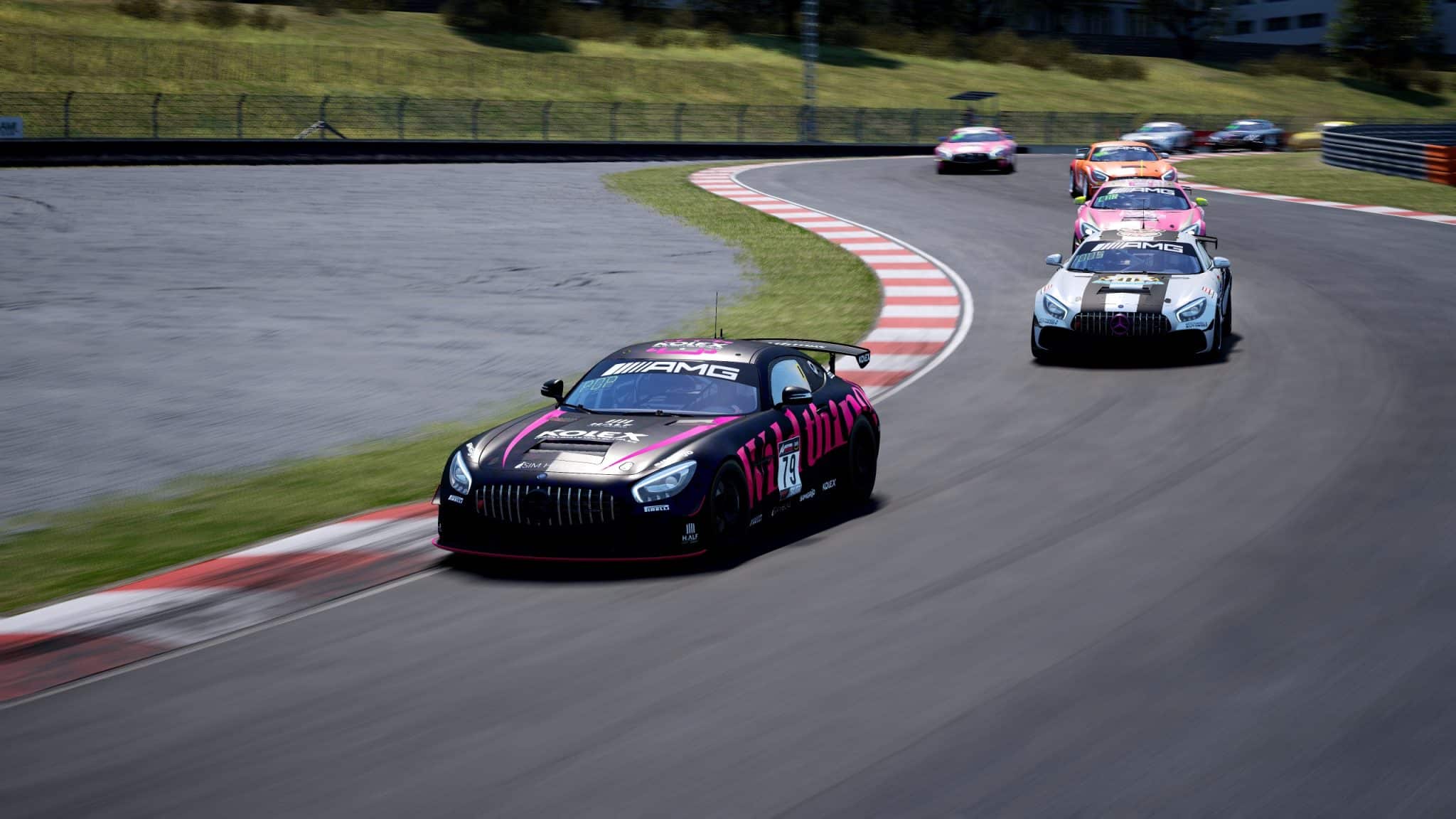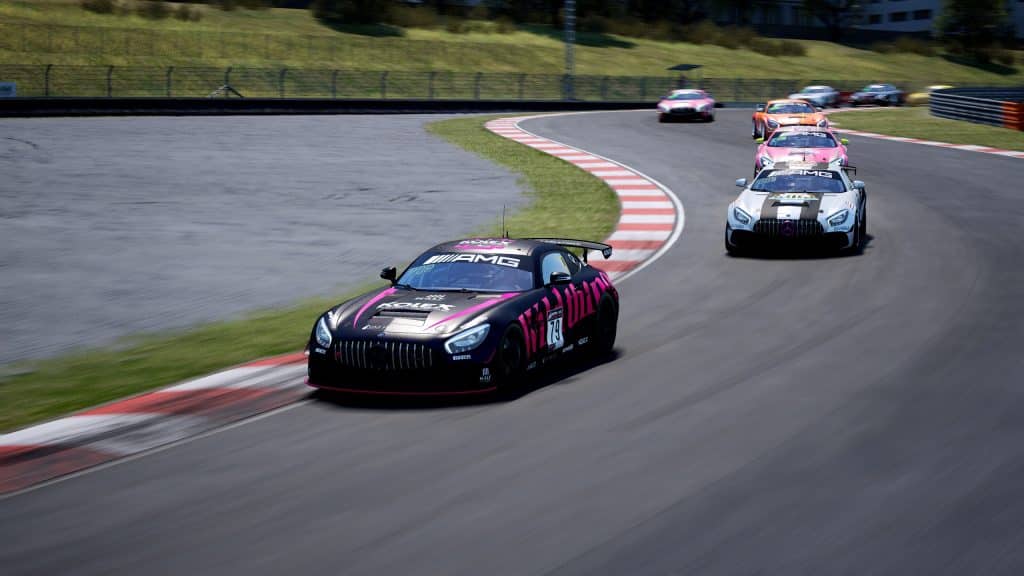 The GT4 class is present in popular racing simulators as well. Three official championships in iRacing use this class, and Assetto Corsa Competizione includes eleven GT4 cars as a part of the GT4 DLC. Both simulators offer options to race the Mercedes-AMG GT4 in multiclass or GT4-only races.
The Basic Car Characteristics
The Mercedes-AMG GT4 is a front-engine car powered by a 4.0 litre twin-turbocharged V8 engine that produces a maximum of 544 horsepower. However, the balance of performance in the GT4 class severely limits the maximum power, down to approximately 400 horsepower for this car. Because of that – and a reduction in downforce – the Mercedes-AMG GT4 is 7-10 seconds per lap slower than the GT3 car on a typical 1.5-minute track.
The Mercedes-AMG GT4 is easier to set up and more forgiving to drive than the senior GT3 car. It includes a full range of customisable electronic assistants, including traction control (TC) and anti-lock braking system (ABS), but many other setup options are limited compared to the GT3. The most crucial setup limitations are in the suspension and aero:
Front and rear anti-roll bars have only three settings (0-2) compared to 12 on the GT3
Bump stop ranges are not adjustable both at the front and at the rear
The wheel rate is fixed at the rear and has fewer options than in GT3 at the front
Fast dampers (both bump and rebound) are not adjustable separately. You can work only with slow damper settings
The front splitter is fixed, and the rear wing has eight options instead of 11 on the GT3
Although setup options are limited, small changes to mechanical grip and dampers have a noticeable impact on the balance of this car.
If you need any help refining the setup of your Mercedes-AMG GT4, make sure to check out one of Coach Dave Academy's live setup sessions, such as this one at Donington Park.
Steering and Cornering
GT4 cars have less downforce than the faster GT3 class, so maximising mechanical grip is even more crucial. Besides, the Mercedes-AMG GT4 has two issues to consider when working with the setup.
Firstly, the rear wheel rate is fixed at 66,000 N/m, which is quite soft. For example, the Mercedes-AMG GT3 2015 has setup ranges between 71,000 N/m and 131,000 N/m. Soft rear springs create noticeable understeer that you must address with other setup options. Predictably, this car likes high negative front toe, camber and soft front wheel rate because these settings add grip and reduce understeer at the front.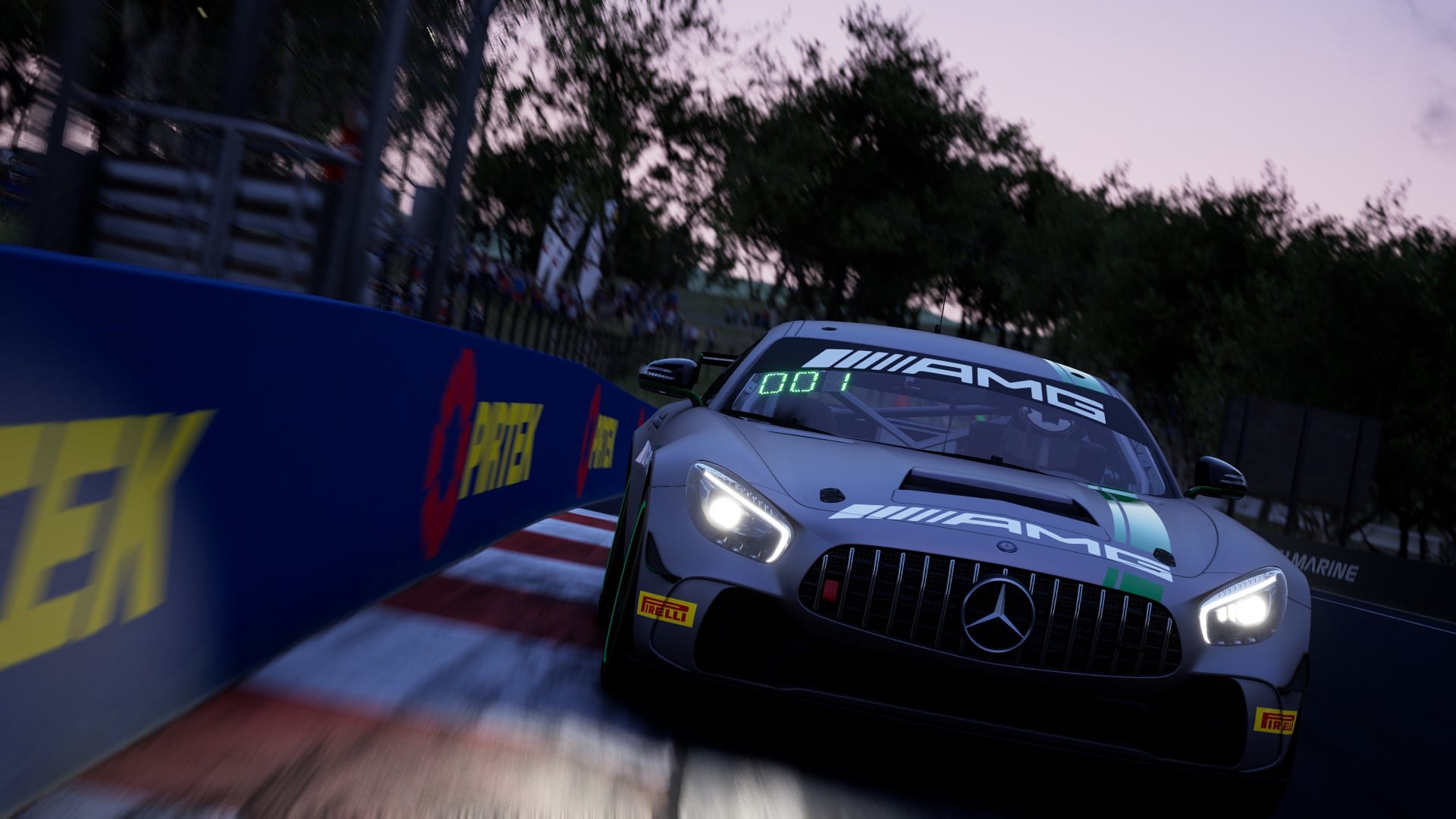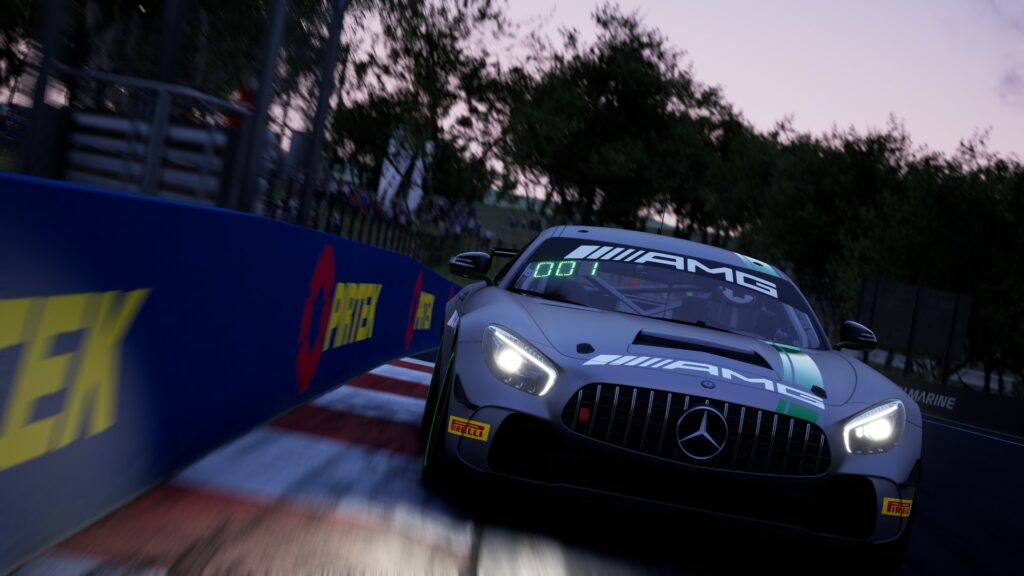 Secondly, the Mercedes-AMG GT4 has poor mid-corner rotation, even more so than many other GT4 cars. You must balance front and rear anti-roll bar stiffness to mitigate this as much as possible without compromising stability. Unfortunately, there is no single rule because optimal anti-roll bar settings will vary a lot depending on the circuit. The differential, however, is almost always set to low because you need as much rotation in the corners as possible.
As a front-engine car, the Mercedes-AMG GT4 is good at attacking curbs, but damper settings still need some fine-tuning for each circuit. This work is much simpler than on the GT3 car because each wheel has only one bump and rebound setting. Look at the damper histogram in Motec to see if you need to adjust the bump or rebound tail to make the histogram symmetrical.
Power Delivery and Braking
The power delivery of a 4.0 litre twin-turbocharged V8 engine is predictable and consistent. Traction control is not intrusive on lower settings, although with the maximum power restricted so much in the GT4 class, you want it turned off entirely in most cases.
With low differential and traction control, this car tends to slide on the exits. But when you get the power down, Mercedes has one of the best straight-line speeds of all GT4 cars in ACC.
The Mercedes-AMG GT4 is well-balanced under braking, and ABS doesn't kick in too hard. Usually, ABS set to 1 or 2 is sufficient to get the maximum performance under braking.
Aerodynamics and Bodywork
The rear wing setting on GT4 cars is not very impactful because these cars generate little downforce. Keep it low while you work on the mechanical grip, and get back to aero to fine-tune the setup.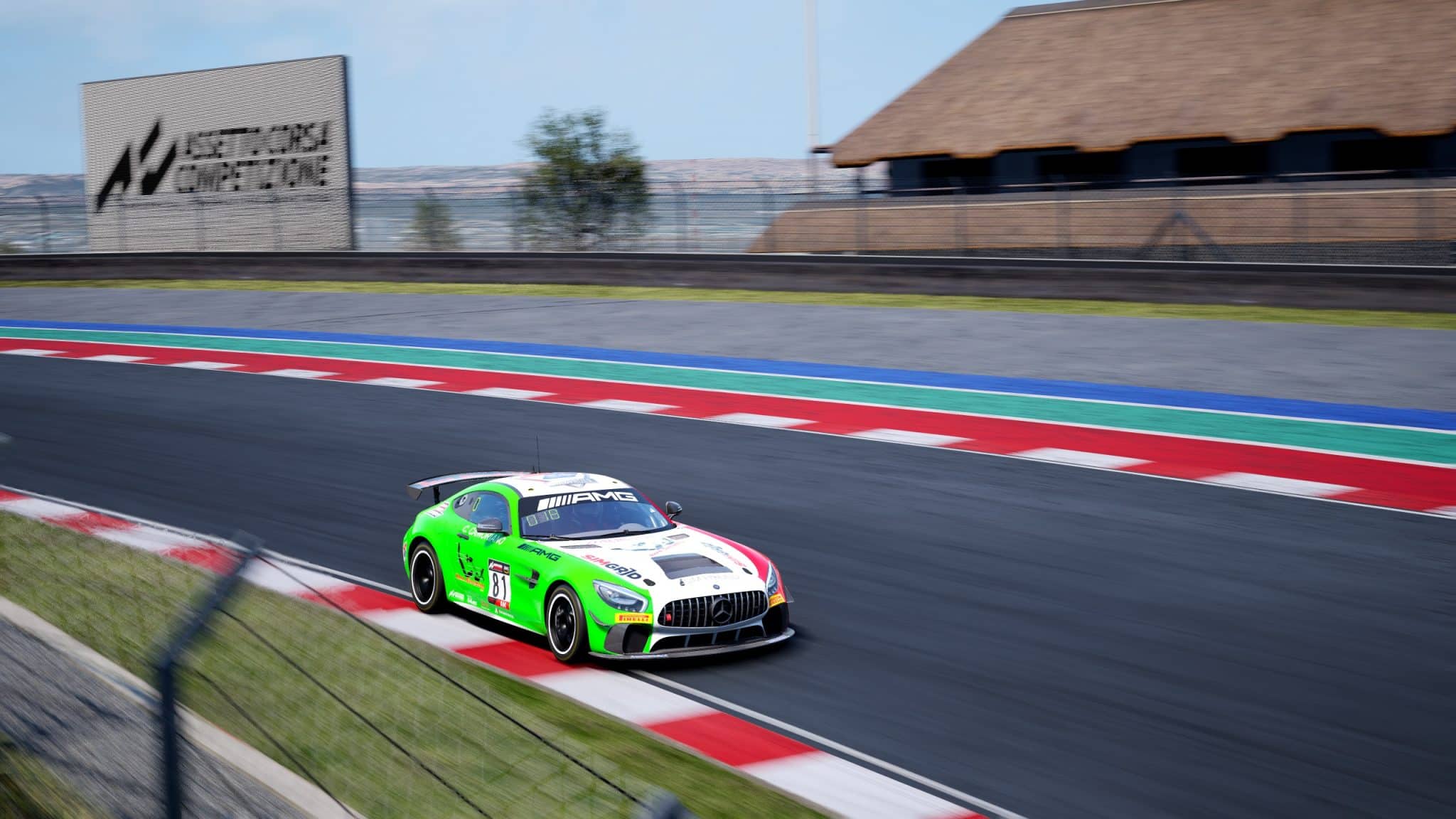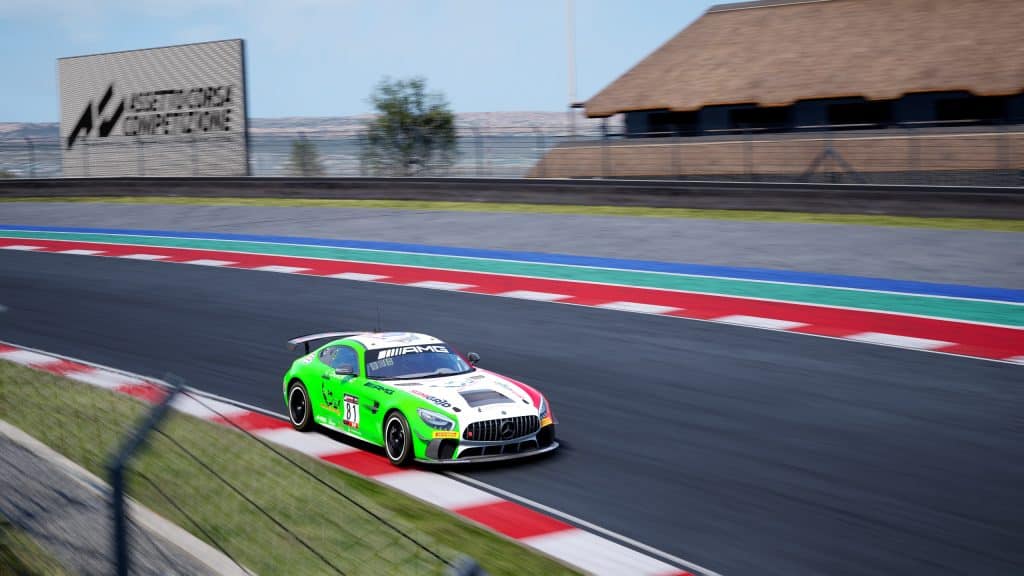 The Mercedes-AMG GT4 likes a high rake to shift weight and grip to the front and reduce understeer. However, a high rake generates significant drag. On high-speed circuits, it is worth checking if lower rear ride height settings help you to gain more on the straights than lose in the corners.
If you need more help understanding the driving style and setup required for the Mercedes-AMG GT4, check out one of Coach Dave Academy's Setup Sessions.
Final Thoughts
The Mercedes-AMG GT4 is a solid option for GT4 class races in ACC. It excels on high-speed circuits such as Indianapolis and Monza, thanks to excellent straight-line speed and good stability. However, you need to work on the setup to solve its issues with understeer and unlock potential pace.