Every Sim Racing rig needs a seat, but often for many, they are an afterthought as it is not the most exciting or flashy part of the rig. However out of all parts of the rig, it is the part of the setup you are in contact with most, so it needs to be the right choice for you. There are many different styles of seats from GT, Formula, or even comfort. What may be best for some is not for others. so understanding what you can get for your money and what style will fit you best is key. This guide will break down each seat helping you decide what's for you.
Do I need a Sim Racing Seat?
If you're looking to invest in a sim racing rig, you might need your own seat to go with it. Whilst some solutions come with seats integrated into them, such as the Playseat Challenge and Next Level Racing F-GT that we explored in our Ultimate Setup Guide, others such as the Sim Lab GT1 Evo that we covered in our list of Budget Sim Racing Rigs do not come with a seat.
Having a separate seat to your rig can often be beneficial. It allows you to further personalise your setup, meaning that you can set the perfect distance between the seat and wheel and pedals for you as a driver. It also opens the opportunity for you to upgrade your setup slowly over time rather than in massive bulk investments, which is ideal if you're intending on sim racing on a budget.
What should I look for in a Sim Racing seat?
Sim Racing seats are one of the vital parts of your Sim Racing experience. Once attached to a Sim Racing rig, they are what allow you to race in comfort over long periods of time, whilst knowing that you aren't going to move your entire setup whilst slamming on the brakes.
Price
This is perhaps the most pressing factor for people who wish to sim race on a budget. However, whilst you'll be looking to keep costs down where possible, you also have to bear in mind that the cheapest option may not always be the best option. In that case, especially if you're thinking
Size
The size of the seat might not be the first thing that you consider, but it is incredibly important for two reasons. The first one is more personal, as some seats will only fit people of a smaller build. As a result, some options on this list also have more expensive versions designed to fit people of a stockier build. The second is more practical, as some seats require a lot of space to be able to fit comfortably and to get into and out of the seat properly.
Comfort
This one probably goes without saying. Whilst it's nice to have an immersive experience to make you feel like you're driving an F1 car, they're not exactly a Rolls-Royce when it comes to comfort.
As you're going to be sitting at your rig for long periods of time, especially if endurance racing takes your fancy, then you're going to need a seat that doesn't cause you pain after a while of sitting in it. At the same time, the material lining the seat can also be important for general comfort and feel. Make sure to check the material and, if it isn't breathable, the seat is easy to clean.
Build Quality
When considering which seat to buy, sturdiness is one of the key points. If your seat shifts as you drive, it will certainly have a negative impact on your experience. Meanwhile, having a seat that is comfortable to drive in over long periods of time will be a make-or-break point, as you don't want to be driving in pain whilst trying to race at the top of your game.
Design
Adjustability is another important talking point, as flexibility in position is something you may be interested in. Being able to shift from a GT to an F1-style position is something that could really enhance your experience in the rig, so may be something to consider.
Mounting Points
The way that your seat attaches to your rig is incredibly important. Most seats will come with a particular way that you have to mount them, which might not suit your rig. As a result, you will need to purchase an additional set of mounting brackets to ensure that you aren't disappointed when your seat arrives. This is especially important if you're shopping with a strict budget, as this kind of add-on can sometimes cost a pretty penny.
Our Top 10 cheap and affordable Sim Racing seats
Name
Style
Pros
Cons
OMP Racing TRS Steel Frame
GT
Value for money
FIA Approval
Not purpose-built for Sim Racing
Sim Lab SPEED3 GT seat
GT
Specially designed for Sim Racing
Lots of comfort features
Not FIA approved
Sparco R100
Road
Lightweight yet strong design
Ability to recline
Snug fit
Trak Racer GT Style Seat
GT

Large seat
Comfortable fit
Material may need more cleaning compared to rivals
Trak Racer Rally Style Seat
Rally

Stunning design
Lightweight and robust
Limited rally options in sim racing
Sparco Grid Q Bucket seat
GT
FIA certified
Lots of comfort features whilst keeping lightweight
Tight fit
OMP Racing Champ Seat
GT
Removable cushions
Easy to get into
Tight fit when in the seat
Sim Lab SF1 Formula Sim Racing Seat
Formula
A great choice for a Formula car fan
High-quality materials
Not suitable for GT racing
OMP Racing WRC-R Seat
Rally
Comfortable build
Breathable materials
Few mounting options
Sparco GP Formula Gaming Seat
Formula
Variety of mounting options
Robust design
Expensive
Coach Dave Academy's top choices
At Coach Dave Academy, the team has more hours in sim racing seats than many could do in a lifetime, so we know a thing or two about what a Sim Racer needs.
If you are on a strict budget but still want quality to be the main focus, then you can't go wrong with the OMP Racing TRS Steel Frame. As mentioned, the seat is FIA approved and comes with lightweight construction ensuring a level of quality from the get-go. In addition, the removable leg cushions can provide additional support and create more room for taller users. Although the seat is the lowest price on the list, it will still be giving you all the necessary features. It's hard to look past the OMP as not being the top choice.
As we all know, some Sim Racers' budget isn't an issue and with this, it can bring a host of additional comforts. If money really isn't a concern, then the Sparco Grid Q GT seat is the choice to go for. The Sparco offering gives some of the best customizations in terms of comfort and support, which is almost a must for those Sim Racers who love to take on endurance racing or spend all day in their rig. In addition, the lightweight construction offers ease of installation and ensures almost any rig can hold the seat without an issue. So if you're going all out, then the FIA-approved Sparco Grid Q GT seat is the choice for you.
It is helpful to remember that many of these seats can add to the immersion and make you feel more hooked up to the driving experience, but none of these will change you as a driver overnight. However, ensuring your comfort is not a distraction will set you on your way to becoming the next best Sim Racer.
OMP Racing TRS Steel Frame
This seat is one of the best seats for those looking for raw quality. It is designed with real racing in mind, giving the assurance that all details have been thought through for a driver's needs.
The OMP Racing TRS Steel Frame has a tubular steel frame design, keeping costs down but not reducing the quality or stiffness. In addition, there are five harness slots, allowing you to fit many different harnesses and medium-height side bolsters to provide additional support if needed. In terms of comfort features, the seat has large shoulder pads and removable leg rests, allowing many different heights to all find a combination to provide both comfort and support.
The seat has also been constructed with hard-wearing velour to provide plenty of durability that is sure to last long and keep its comfort and appearance intact. Another nice addition to this seat is that it has actually been FIA approved, assuring that while the seat can be used for Sim Racing, it has been rated for real road and track use in closed-cockpit cars. If this isn't an assurance of quality, then we aren't sure what is.
So this seat is definitely one to consider due to its low cost and many features, which make it a great addition to any sim rig.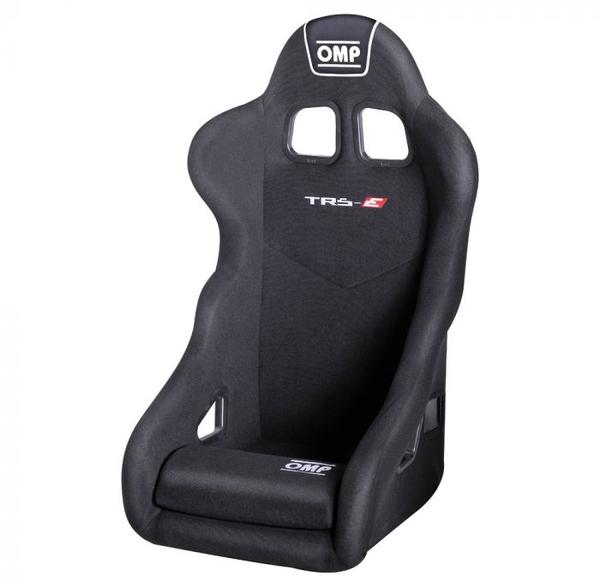 Sim Lab SPEED3 GT seat
This seat has been designed especially for Sim Racers and has a few key quality-of-life features that can't be missed. The Sim Lab SPEED3 GT maintains all the quality of a real racing seat despite not being designed for it, being made of high-quality materials whilst still keeping costs down by removing unnecessary expensive features.
The seat has a fibreglass design, providing a quality feeling product and assuring a strong base for any sim rig. This seat also contains a five-point harness and sufficient side bolstering, meaning no matter the use, you will stay secure in the seat. With this, the seat has also been ergonomically designed and has high-density foam padding, ensuring comfort on those long sim racing stints.
In addition to this, the sim-racing-specific features make this much more user-friendly than other sim-racing seats. The seat even has a mobile phone pocket, meaning you can keep your phone secure and nearby, and, in addition to this, the seat features a side mounting bracket and screw set included, meaning you're ready to go from day one.
If you're looking for a sim-specific GT racing seat, then the Sim Lab SPEED3 is for sure one to add to the list.
Sparco R100
This is the first seat on this list that is more of a road-style product, but the Sparco R100 still comes with some nice comfort features. It does, of course, maintain the racing look and the product quality we are accustomed to with a brand like Sparco.
The seat is lightweight and has a compact steel frame construction, meaning most rigs will be more than sufficient to support this seat. It has been built for comfort whilst still providing bolster support, keeping you firmly held in the seat. In addition to this, there is still the ability to fit a four-point harness whilst keeping the ability to recline the seat to find the optimal seating position.
It also provides a cloth-based fabric, providing a quality look but still providing comfort and durability. With this, there is a range of colour trim options that can add another layer of customization to your rig's look. The design also ensures that despite size or height, this is a seat that will provide a comfortable position for those long sim racing stints.
If you are looking for a road-style seat with recline feature but still want a quality brand and the ability to add a harness, then this is the seat for you.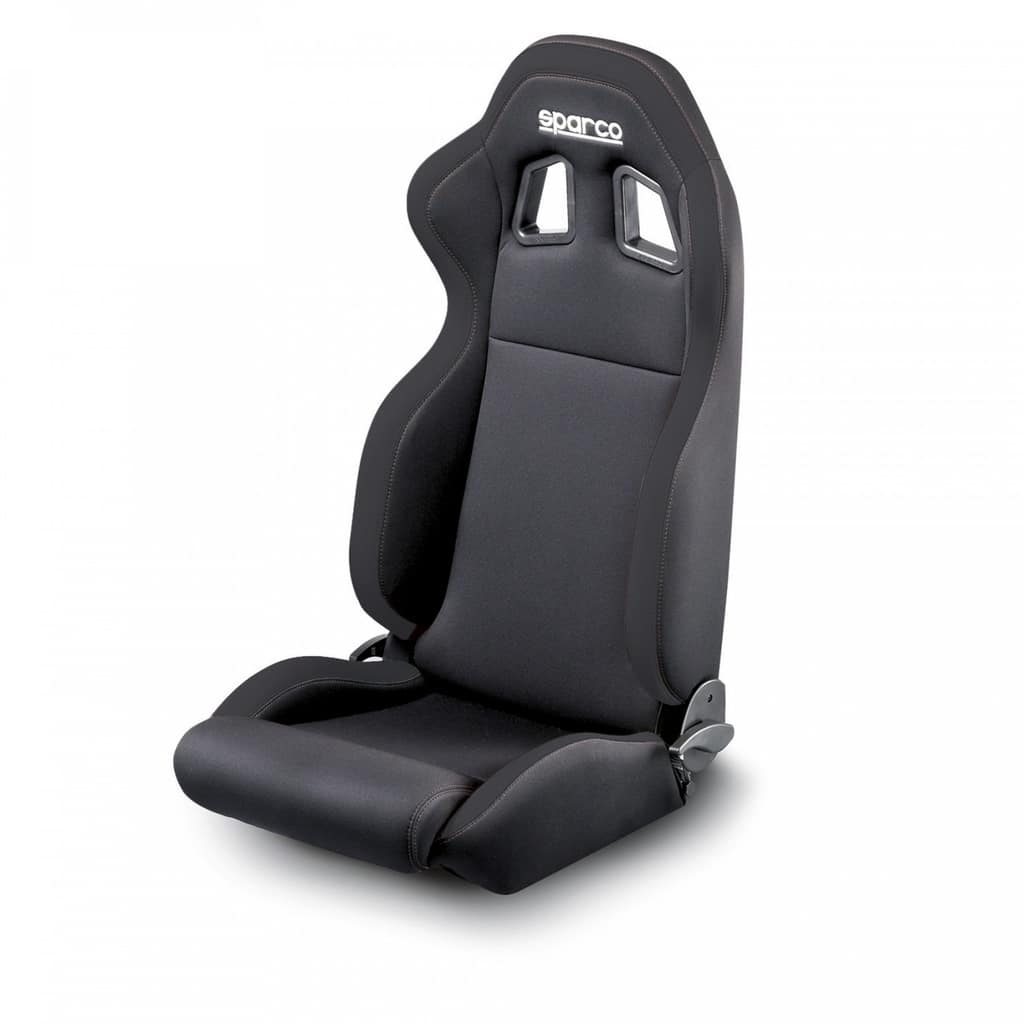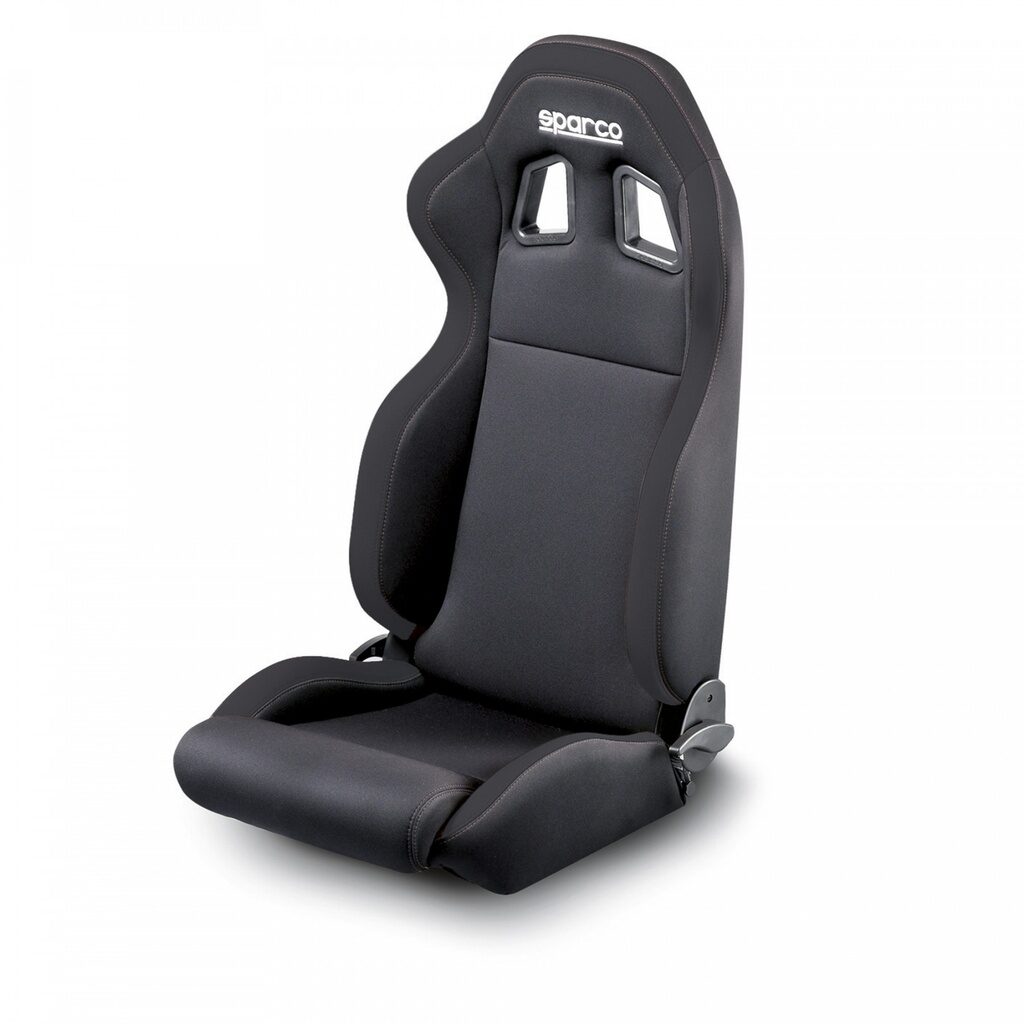 Trak Racer GT Style Seat
| | |
| --- | --- |
| STYLE: GT | BRAND: Trak Racer |
A neat cloth design with foam padding, Trak Racer's sim racing seat is an excellent option for those looking to immerse themselves on a budget. Whilst it doesn't come with neat little features like FIA certification or high-tech breathable materials, it more than makes up for that in its reliable build and elegant design.
A GT-style design is an excellent design to purchase on a budget as well. Not as specialised as a Formula-style seat but more specialised than a Road-style seat, it offers you a sense of immersion as you embark on the next stage in your sim racing journey. With the GT style of seats being popular outside of what you find in Assetto Corsa Competizione, it's going to be hard to find a type of car outside of open-wheelers where the GT doesn't feel appropriate!
However, as is the case with shopping for a seat on a budget, you will have to make some compromises. Whilst the material used in the seats is easy to clean, it is not a breathable design and as a result, may need cleaning after prolonged sessions of sim racing. Though this is something that many sim racers would do regardless, it is something that you should bear in mind if you are comparing it directly with a competitor that uses breathable materials.
Trak Racer Rally Style Seat
| | |
| --- | --- |
| STYLE: Rally | BRAND: Trak Racer |
At the same price as the GT-style seat, Trak Racer's Rally Style Seat features a noticeably different design to its tin-top sibling.
One aspect that works in favour of this seat is the overall design of it. A rally-style seat doesn't have high sides that run the length of the seat, meaning that it can sometimes be easier to get into and out of than a GT-style seat. That means that if ease of access is something on your list, this could be the seat for you!
In addition to that, this offering looks stunning. With elegant white stitching running down the sides of the seat and beautiful blends of material on the seat itself, it looks like a mix of something you'd expect to see in a rocket ship and a Group B racer. There's simply no other way to describe the aesthetics of this seat.
On the other hand, a rally-style seat can be an issue when it comes to immersion compared to a GT-style or Formula-style seat. Though this might not be a particularly large factor in your decision-making, limited options for rallying sim titles compared to Formula and especially GT racing could mean that some people prefer a design that looks more like the discipline that they're racing in.
This seat provides a host of great features while staying lightweight and high quality. Not only that but this seat has been FIA certified ensuring that it is of the highest standard and will be more than sufficient for Sim Racing purposes.
The biggest feature of this seat is the addition of multiple areas of removable padding. The padding is secured with velcro and allows each part to be individually adjusted or just removed if needed. This can be an invaluable feature to ensure comfort on those longer sim racing stints. The design of the seat has also allowed the weight to be extremely low for the style thanks to Sparco's Quick Resin Tech material and construction process this keeps the seat just under seven kilograms with all padding.
In terms of support, the seat offers modular leg cushions and mid-sized bolstering. There is also the ability to add a five-point harness covering all potential needs for securing yourself into the seat while racing.
If a lightweight and comfort-focused seat is what you need then the Sparco Grid Q is definitely one to consider.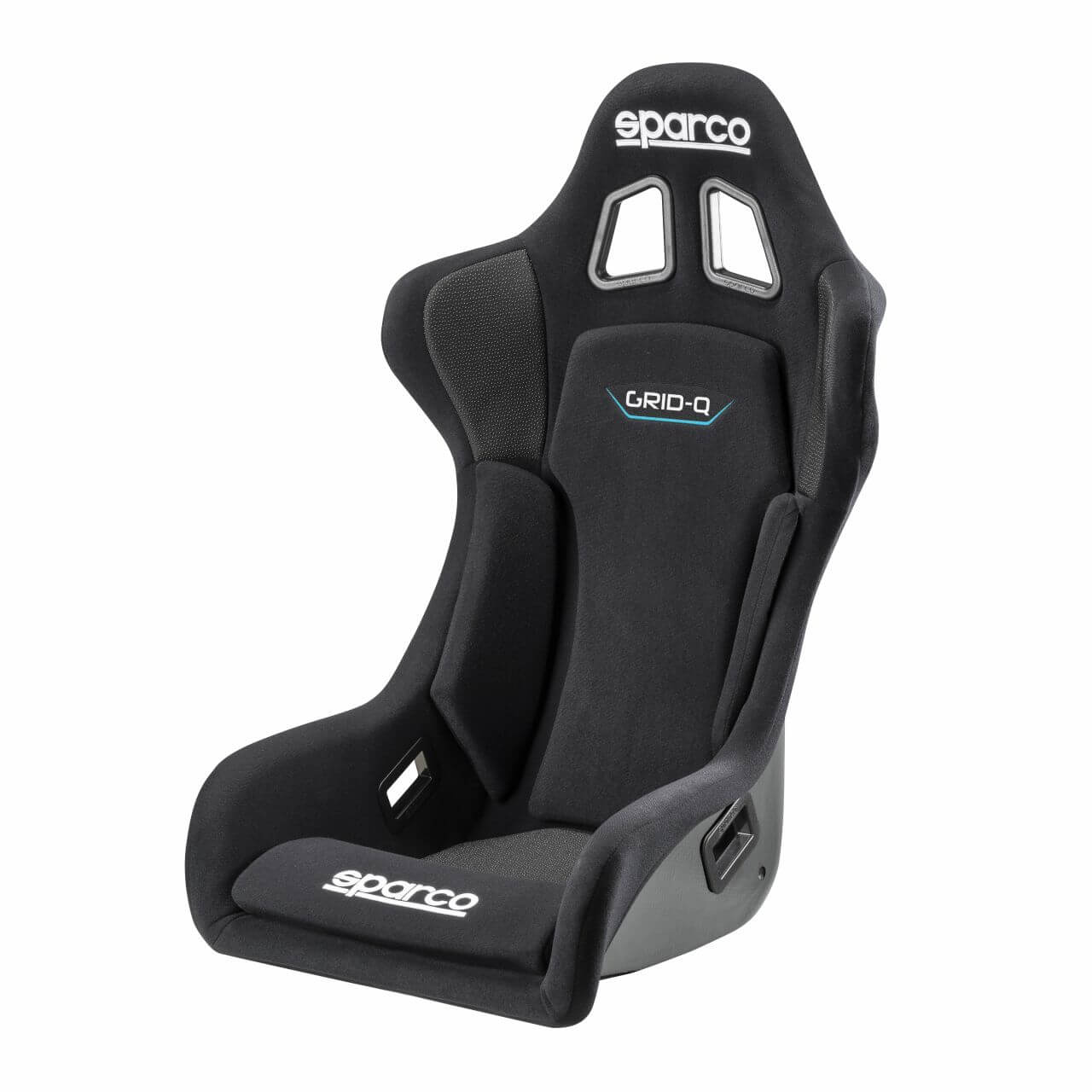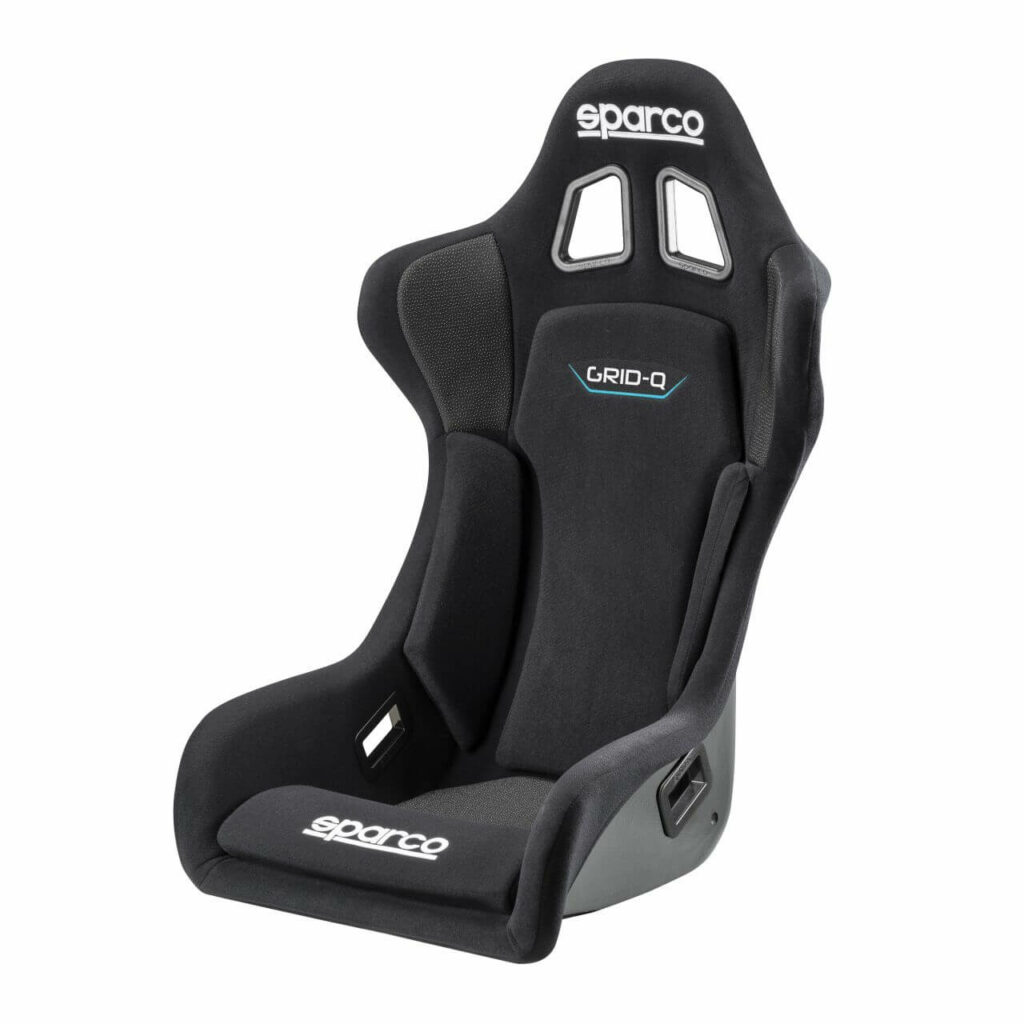 OMP Racing Champ Seat
Another FIA-certified GT seat from a big name in the racing world, the OMP Racing Champ seat is a fitting rival to Sparco's offering.
OMP's seat is a smaller design than the Sparco design, with less material around the sides and a shorter length. This can make it easier to get into and out of the seat, especially if you're restricted to a small amount of space to put your rig in. That can make it a more adaptable, all-rounder solution.
In addition to that, removable cushions in the seat and on the back support mean that the seat can be changed to suit the user even better. This can be very useful if you're likely to have multiple users at your rig, such as if you have friends over to try it out or if you share your setup with another user.
However, as can be the case with these FIA-approved seats, they're not always one-size-fits-all. Tall side support that stretches out from the side of the seat could mean that, if you're a sim racer of a stockier build, you might not be as comfortable in this seat as with other solutions.
Sim Lab SF1 Formula Sim Racing Seat
| | |
| --- | --- |
| STYLE: Formula | BRAND: Sim lab |
This is the first formula-style seat on this list. For any avid Formula 1 racer, this is a great choice to add that extra layer of immersion. Although there is a formula-style bias, this will be more than sufficient for a GT racing lover.
The design is a single-piece polymer style material that provides sufficient stiffness for any Sim Racing application. The fabric on the seat is lined with GRP high-quality material and fabrics made of 3D fabric – offering a breathable material that helps increase comfort during longer racing stints.
The seat comes with the mounting brackets required that allow the recline to be adjusted to a full-blown formula-style position or a slightly more upright position. One thing that must be noted is that, unlike the other seats on this list, there are no harness options. Although, the large seat width and the deep curve will keep you well-secured within the seat. Also, this is one of the lightest seats on this list coming in at just over six kilograms.
If you're looking for a formula-style seat that can cover all your other racing needs but not suffer on the quality then this is definitely a seat to try out on your rig.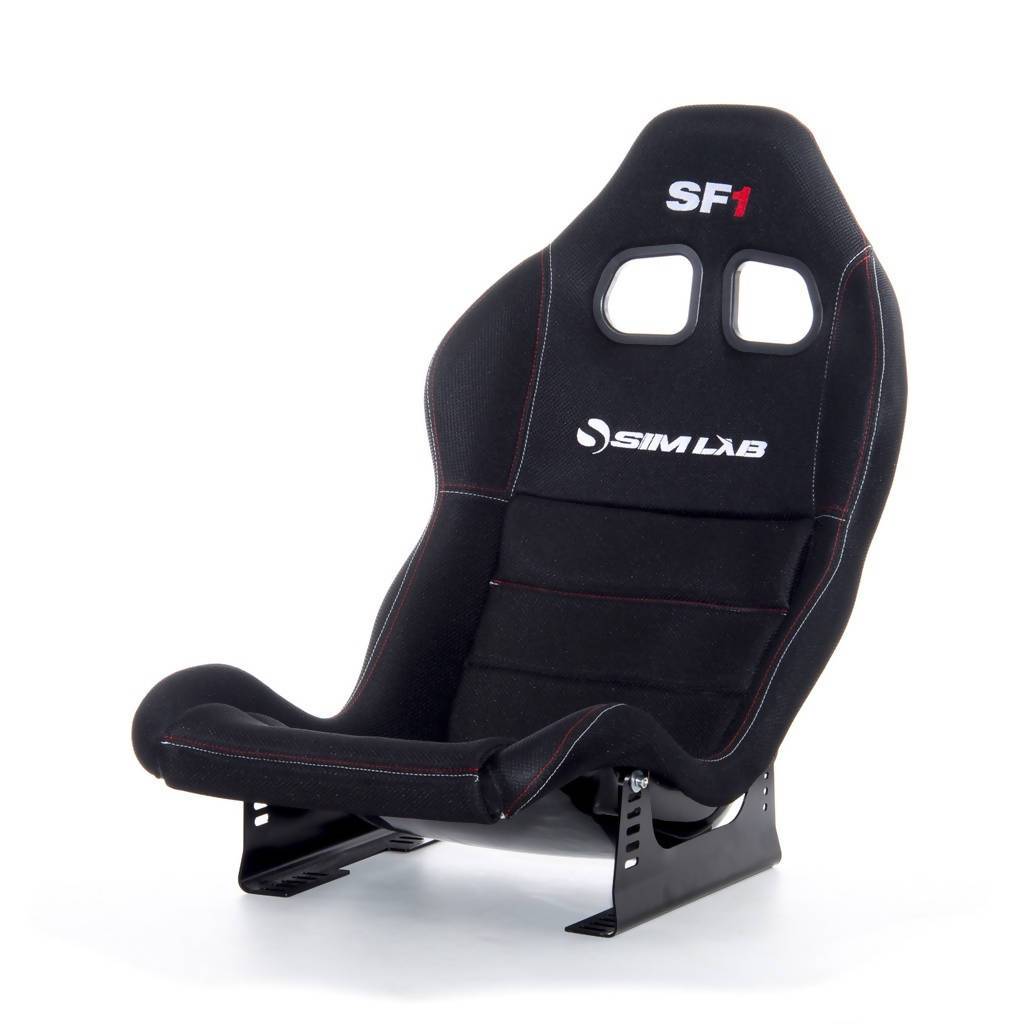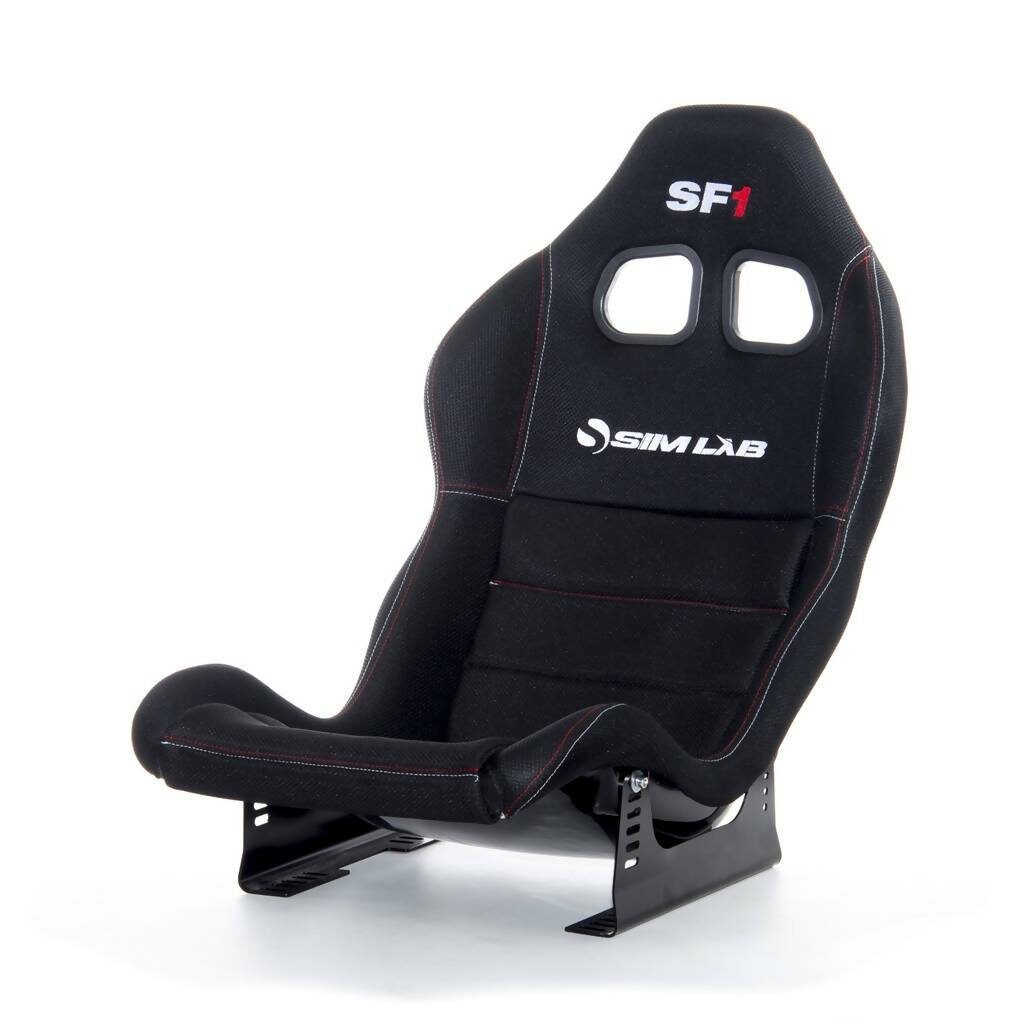 OMP Racing WRC-R Seat
Coming in with FIA Homologation and the prestigious WRC name, this seat will help you feel like the next Colin McRae. One of many on this list to be usable in the real world of motorsport, it also boasts HANS compatibility for maximum safety if you're looking to use it outside of your rig.
Perhaps the best thing about this seat is the use of Airtex material. With a robust, breathable design, this seat is perfect if you're spending long sessions at your sim rig. Much like how a rally driver has to be in the car all day travelling from stage to stage, you'll be able to jump from sim to sim without feeling the sweat all day long.
However, coming in just under the 500 Euro mark, it could be an issue for anybody looking to minimise the cost where possible. That being said, if it is a long-term investment that you're looking for, this seat will more than do the trick and keep you damp-free time after time after time.
Sparco GP Formula Gaming Seat
| | |
| --- | --- |
| STYLE: Formula | BRAND: Sparco |
Coming in just above Sim Lab's Formula-style entry at marginally under €500 just like the OMP Racing WRC-R Seat, Sparco's GP Formula Gaming Seat boasts rigorous testing as well as a variety of mounting options. As well as being able to be directly mounted to a rig, it also comes with mounting brackets that allow you to mount it to virtually any solution out there.
Whilst it doesn't come with the same FIA seal of approval as some of the others on this list, it does still come with the Sparco stamp. That means that you know that it's high-quality and designed and manufactured by some of the best in the business. There's a reason why Sparco is such a household name in the world of racing.
However, the big downside will be the price. Noticeably higher than some of the other options on this list, this would be an issue if you're looking to stretch your budget as far as you possibly can. However, if you're looking to spend a little bit more, it won't disappoint when it comes to quality and build.