When you've got your rig, sim racing equipment and game you can begin to think about the accessories for the rig, such as a sequential shifter, or handbrake. Amongst the various Sim Racing platforms you may have experienced, have you found yourself in need of a handbrake that isn't just an awkwardly placed button you bound on your wheel? Today we will answer the age-old question of is a handbrake is really needed, and which handbrakes are there on the market?
If you are still looking to tie your set-up together though, and you don't have a rig yet, we've curated a guide to the best Sim Racing Rigs in 2023 so you don't have to.
Do you need a handbrake for sim racing?
To put it simply, in a rally or drift game they are not a necessity, but they are certainly extremely helpful if that's what you are interested in. If you want to have the motion and connection to the car like you would in real life, then we would certainly recommend a handbrake. It gives more feedback than pressing a button on the wheel, it is also a lot more fun!
There are a lot of different handbrakes on the market, all with differences in quality and price class. So, we've made a list of ten different handbrakes from all kinds of different Sim Racing equipment providers from various price ranges, whilst also delving into features, build quality, and how to use the handbrake for you.
The Handbrakes
Name
Price
Pros
Cons
Thrustmaster TSS Sparco mod+
$340
Easy to adjust
Great quality for the price
Dual use as a shifter
Thrustmaster TH8A / TH8A RS
$235
Also dual-use
Perfect for a first handbrake
Lacking some high-end features
Heusinkveld Handbrake V2
$260
Very good quality, especially for a mid-band price
Packed with features
Fanatec Clubsport Handbrake V1.5
$140
Easy set up if in the Fanatec ecosystem
Good value for money
Extras are needed if you don't have a Fanatec base
Aikeec Universal Handbrake
$99
Very cheap
Good beginner's handbrake
Not the greatest build quality
DSD Hydraulic Handbrake
$430
Hydraulic system is very advanced
Excellent build
Very pricey compared to other options
Simtag Hydraulic Simulator Handbrake
$630
Also uses a fantastic hydraulic system
Great for an experienced Sim Racer
Most expensive option on our list
Aiologs Hydro Handbrake
$170
Strong middle-ground option
Lots of customisation options
VNM Handbrake V1
$230
Powerful loadcell
Easy to set up
Thrustmaster TSS Sparco Mod
The Thrustmaster TSS Sparco Mod is a handbrake that also can use as a sequential shifter. The handbrake is easy to adjust in height, angle, and also the grip can be adjusted to the height you want it to have. The TSS comes with a USB cable, and you can plug this straight into your PC – it's really easy to do. When you plug the USB in you can calibrate the handbrake or shifter with the drivers found on the Thrustmaster website, which will allow you to really enhance your experience.
If you want to have a handbrake and a shifter, and you're not using it at the same time, we would highly recommend the Thrustmaster TSS Sparco Mod. But, if you are also looking to pair it with a brand new wheel, why don't you check out our guide to the best Sim Racing wheels for PC in 2023?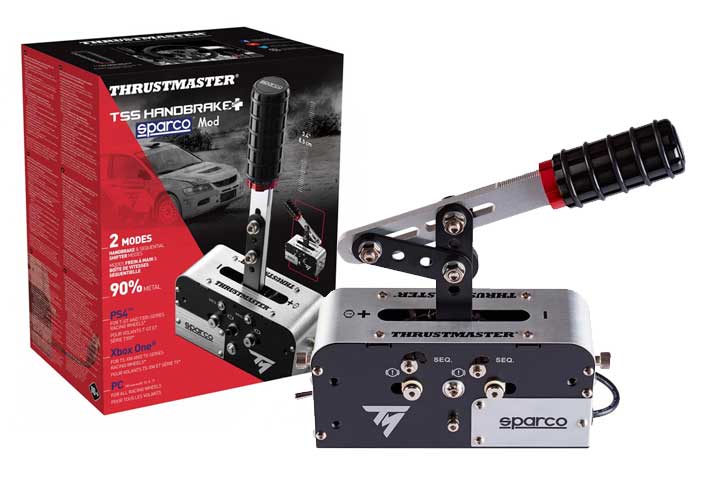 Thrustmaster TH8A / TH8A RS
What a lot of people don't know is that you can use the Thrustmaster TH8A or TH8A RS as an analogue handbrake. To use the TH8A or TH8A RS, you need to turn the metal plate 90 degrees, then you can move the stick up and down. If you don't have the Thrustmaster TH8A driver, you need to install the driver on your PC, and when the driver is installed, you need to change the software to be able to assign the handbrake in the game. Then, it's ready to use as a handbrake.
Although not the most premium handbrake on the market, its dual capabilities are of course a plus, and for the price, it's not a bad beginner's handbrake for sure! As per all other Thrustmaster accessories, you can use this with anything from their ecosystem, meaning it's flexible and can work no matter your setup.
Heusinkveld Handbrake V2
The Heusinkveld Handbrake V2 is built with high quality and a lot of adjustment options. The handbrake is not only looking good, but for the $260 price tag, you get a pressure-sensitive USB handbrake with load cell technology (yes, the same thing you may see in brake sets!). With the three different rubbers included, you can adjust the feel and pressure of the handbrake too.
With a USB cable, you connect the handbrake to your PC, and with the Heusinkveld SmartControl software, you can adjust the weight (till 22 KG), and the travelling, meaning you can set it up exactly how you'd like per game. This is a high-end handbrake, and we would definitely recommend this, especially when you driving on a higher level in drift or rally racing.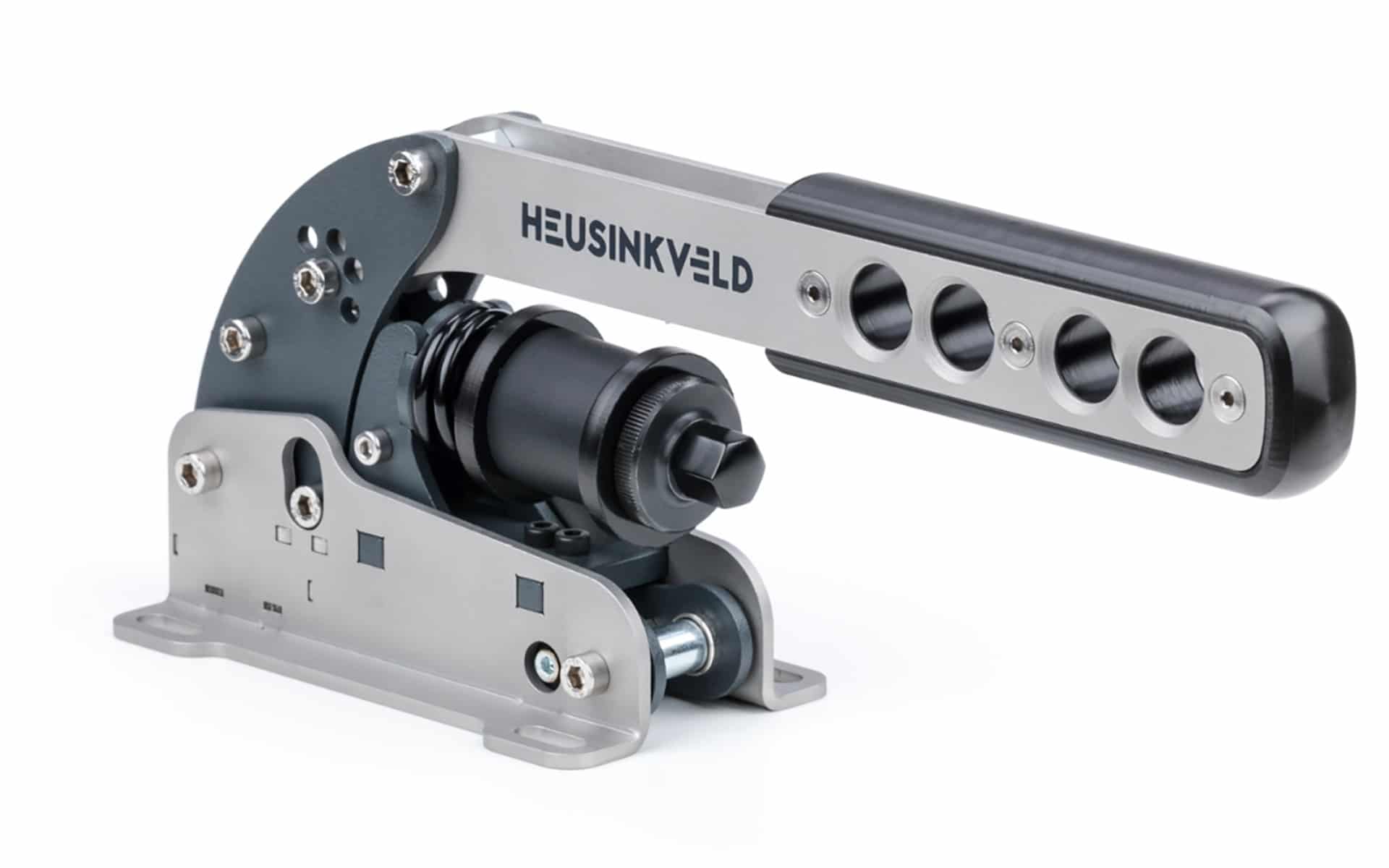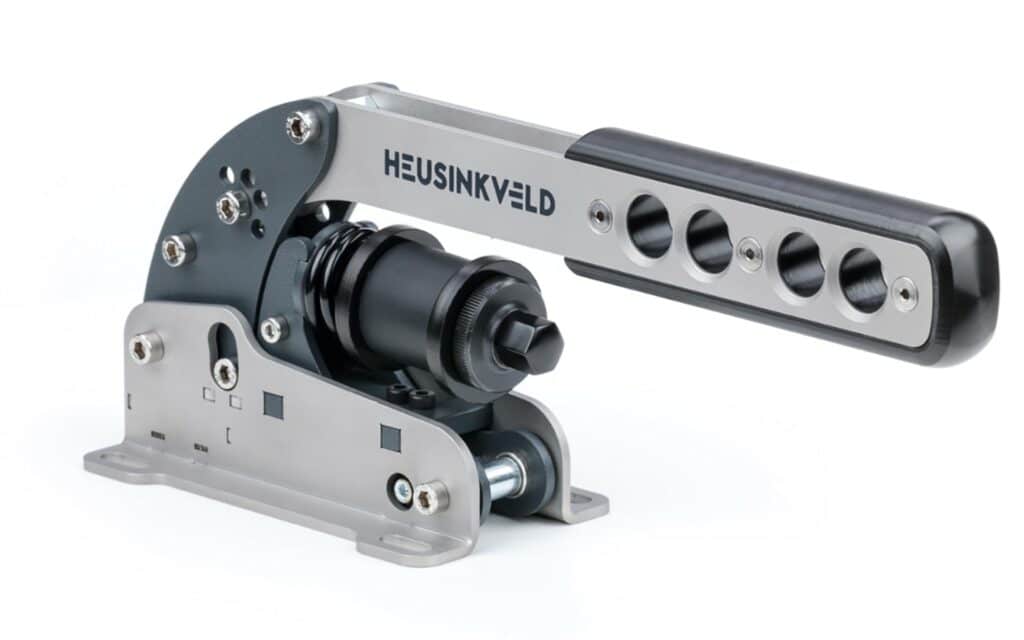 Fanatec Clubsport Handbrake V1.5
The Fanatec Clubsport Handbrake V1.5 is made from steel with a foam handgrip, making it aesthetically pleasing from the start. However, not only does it look good, but it of course functions just as well.
You can adjust the angle and the pressure of the handbrake firstly, which is a great feature to have. The settings are not as adjustable as some of the high-end handbrakes, but it is a good and solid handbrake for under $150.
With the Fanatec Clubsport Handbrake V1.5 comes a cable that goes directly into a Fanatec base, making it pretty easy to set up if you are already within their ecosystem. If you don't have a Fanatec base, you can use a Clubsport USB Adaptor, and then you can use this handbrake with every wheel and base on the market.
This handbrake is of great quality and if you have a Fanatec base, we would highly recommend it, especially if you use your rig also for Xbox or Playstation games.
Aikeec Universal Handbrake
The Aikeec Universal Handbrake is made with lightweight CNC Machined aluminium and carbon steel, so build quality will be of no issue to you. The handbrake is available in four different accent colours, blue, red, yellow, and black, for the price of just under $100. The handbrake is adjustable in height and the angle too, which for the price, are features you may not expect. The handle can be adjusted too, giving a longer/shorter throw length, and the hand protection comes with two different thickness options, all for driver preference. The handbrake comes with a USB cable too, so no software is needed, and works pretty plug and play.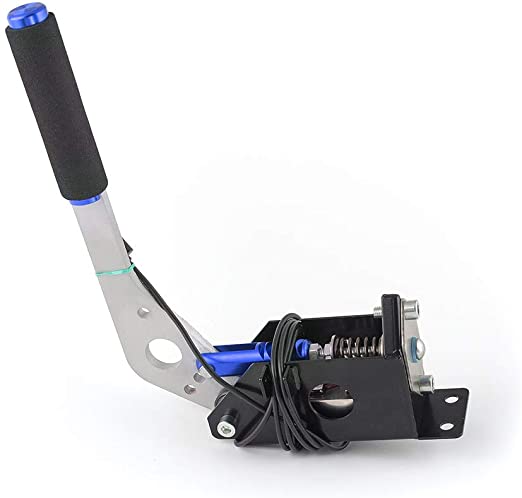 DSD Hydraulic Handbrake
Derek Speare Designs (DSD) have two types of hydraulic handbrakes. The DSD Type 3 handbrake which is an upgraded version of type 2, is bigger, more robust, and has the DSD 12bit controller included. It's built from high-end aluminium and has a much more adjustable hydraulic kit, meaning it provides more precision than the DSD Type 2. Both are delivered with a USB cable, and work directly, plug and play. The DSD Hydraulic Handbrake Type 3 is $430, though. The price is high, but the quality is very high, and it looks very impressive.
If you are really serious about your handbrakes and are looking for one of the best options on the market, if you are willing to pay for it, it will certainly be worth it.
Simtag Hydraulic Simulator Handbrake
The Simtag Hydraulic Handbrake is made from aluminium and stainless steel. The handbrake is fully adjustable between 30 and 90 degrees, and an additional 20cm extension is available if you want a little more height and precision with adjusting the angle. With the use of Wilwood Master and Slave cylinders from real-life motorsport, it gives you the best feeling in the simulator. A USB cable comes with the handbrake, and it works directly in the game, plug, and play.
This high-end handbrake does come with a hefty price tag, though. However, just like the DSD option, the hydraulic system will make a huge difference and is definitely a solid option for the more serious racers. If you are a more serious Sim Racer and are into the likes of iRacing, have a look at what the best wheel options are for iRacing right now.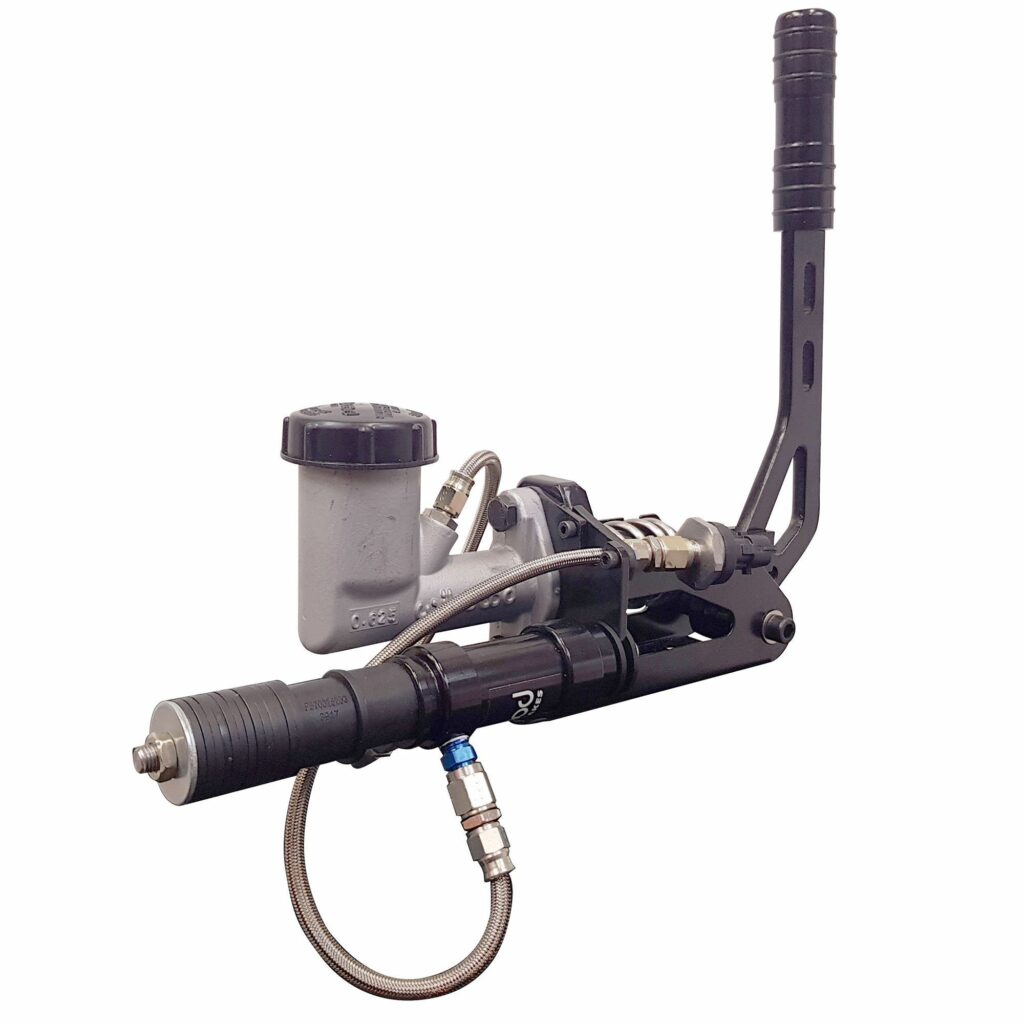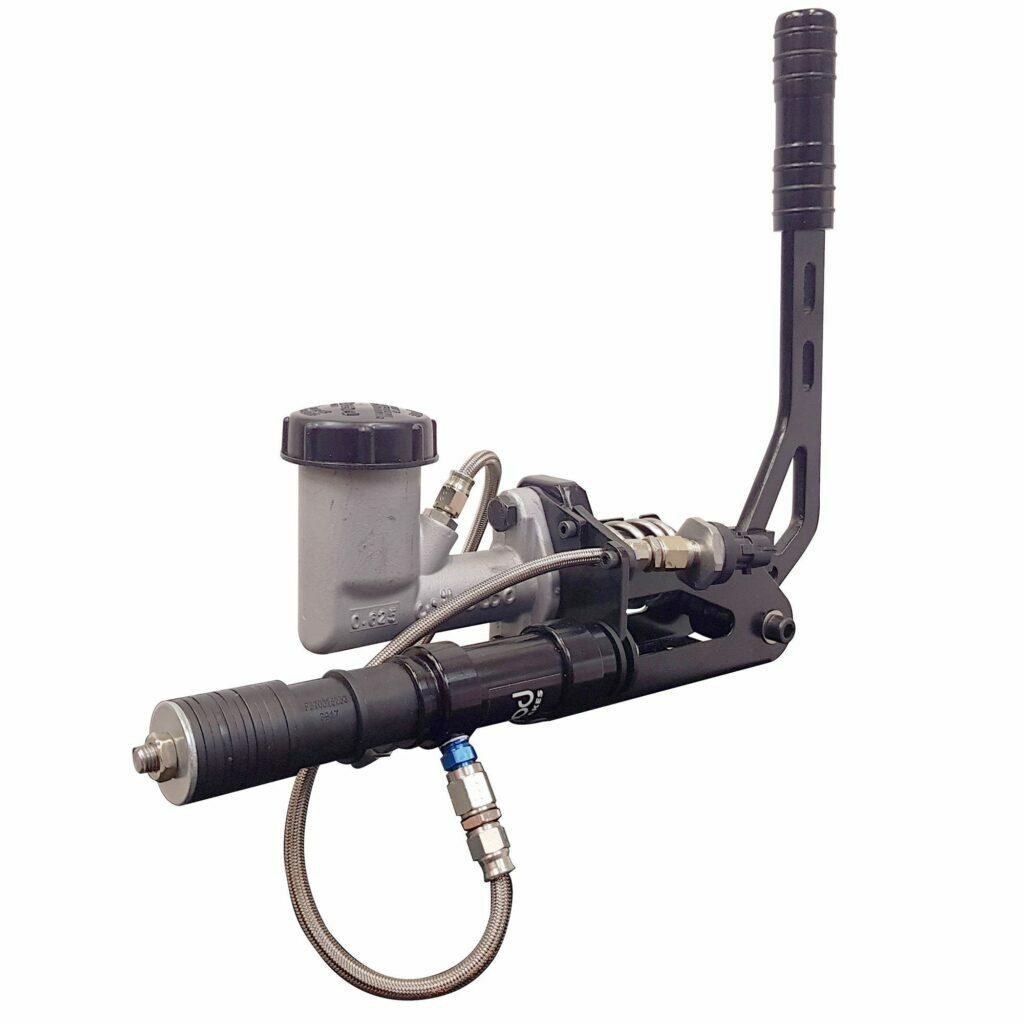 Aiologs Handbrake
The Aiologs Handbrake is built from clean-cut aluminium, with quality internals. There are a few customizable options, which include an extension rod to increase the travel length of the handle to give more precise inputs. There are two different lengths of the handle, and also the option of the standard polished aluminium or matt black adonized handle. To mount the handbrake, there is the option to use the clamp instead of mounting it directly on the rig. The handbrake comes with a clamp, USB cable, and it works plug and play. For $170, it's a solid mid-range contender.
VNM Handbrake V1
The VNM Handbrake V1 is made from CNC aluminium and carbon steel, meaning it is strong and durable. The handbrake comes standard, but you can upgrade it, with the VNM handbrake V1 pro kit. The pro kit has a variety of springs, and with the different springs, you can adjust damping from the handbrake. The VNM loadcell goes up to 100kg, which is very powerful. The handbrake delivers very precise inputs and a great feel during drifting or rally driving. It comes with a USB cable, and there is the software required, which you can download on the website.
As you can see, there are a lot of different handbrakes that you can use for sim racing. It gives a lot more experience to a drifting or rally game. It may not make you quicker, but the feeling is amazing.