The market for Sim Racing equipment is vast and often confusing, with such a huge variety of products, loads of optional extras, compatibility concerns, and drastic price differences between the top end and budget end of equipment options. However, at the heart of any setup, there are three main components: the sim racing rig, the sim racing wheel, and the sim racing pedals. Here are our picks for logical combinations of equipment at each budget level.
Our Budget Picks
It's no secret that sim racing is an expensive hobby. However, when it comes to budget sim racing equipment, there are a few standout picks that make a great value for money. Here are our picks.
Rig: Playseat Challenge
While this rig certainly isn't going up to the forces of a direct drive wheel, it's sturdy enough to handle the torque from budget wheels and importantly, if you're looking into budget sim racing equipment, you may not be quite ready to have a permanent rig taking up a section of your space, so this rig is portable and can be folded and stored away when you're not using it.
Wheel: Thrustmaster T300RS
Sim racing on a budget can be difficult as finding the right balance for price, performance, and sustainability isn't easy. That being said, the Thrustmaster T300RS perhaps makes the most sense for anyone looking for a wheel that will save you money without leaving too much performance on the table. The T300RS is belt-driven, has strong force feedback for a wheel in its price range, provides probably the most detailed force feedback in its weight class, and perhaps important for many, includes a set of T3PA pedals so you don't need to spend extra on another piece of equipment.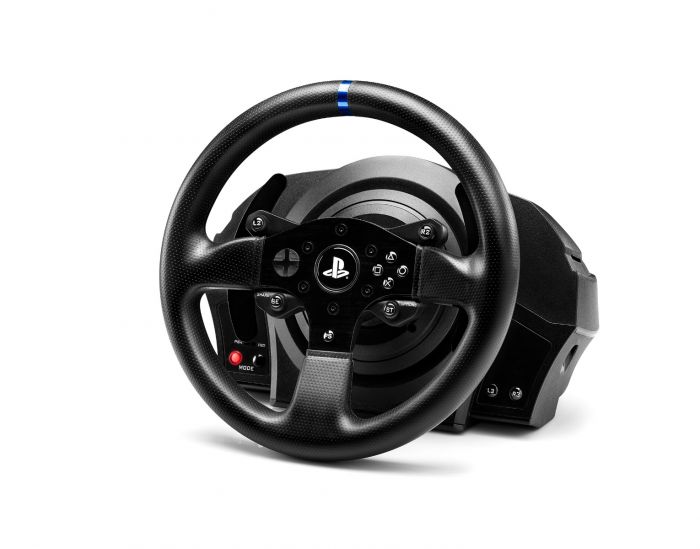 Pedals: Thrustmaster T-LCM (Optional)
While this pick would be optional in this list as the T300RS includes a set of potentiometer pedals, it cannot be understated how important a good set of pedals are for maximizing your potential as a driver. This is especially true in iRacing, where the brakes are incredibly sensitive and prone to locking up. A good set of loadcell pedals at a high stiffness setting will allow you to brake based on pressure rather than brake position, making it much easier to program your muscle memory to the threshold of braking pressure and prevent lockups.
Our Midrange picks
While many newcomers to sim racing may be satisfied for quite a while with budget equipment, others may be looking for a competitive edge or added immersion without breaking the bank. Here are our picks for the best mid-range equipment on the market currently.
Rig: Next Level Racing F-GT
While this rig may not be ideal if you're looking to upgrade to a direct drive wheelbase, it is more than sturdy enough to handle a Clubsport Wheel v2.5 or CSL DD with the 8NM boost pack. In many ways, this rig is the ultimate bang for buck on the market right now, with features such as both GT and Formula style seating positions, an included seat suitably sized and supporting of just about any size driver, a mount for a shifter, and additional accessories available to purchase such as an attachable monitor mount and a keyboard and mouse tray.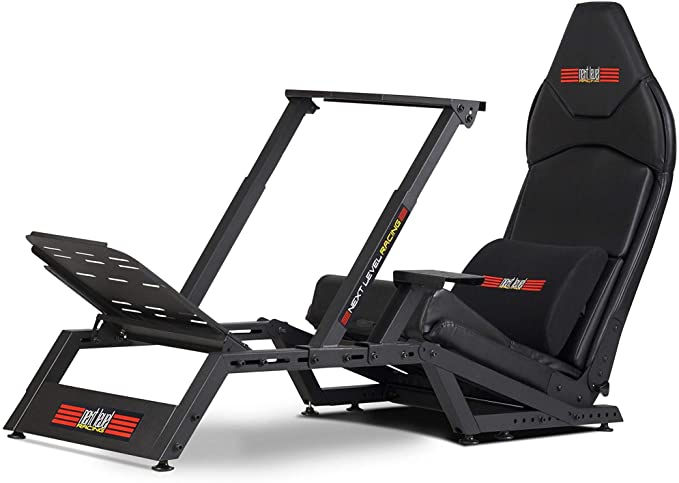 Fanatec initially revealed the CSL DD as an April fools joke, calling it the "DD 0.5." Except the joke was: they weren't joking. They actually made a budget direct drive wheel, replacing their CSL Elite and Clubsport Wheel v2.5 with the CSL DD and an add-on boost pack, bringing the torque from CSL Elite equivalent 5NM to CSW equivalent 8NM. It's important to note that while the wheelbase itself is competitively priced, you do need to spend at least another $200 to get a compatible wheel rim.
Rounding off this selection is the Fanatec Clubsport V3 pedals. As Fanatec's flagship pedal set, the Clubsport V3s offer an excellent loadcell brake, magnetic hall sensors in the gas and clutch to eliminate the dreaded dirty potentiometers, a two-stage clutch pedal for a more realistic feeling "bite point" in the clutch, and vibration motors in the brake and throttle pedals to simulate the feeling of ABS, locking wheel, and wheelspin. If you need even more immersion, you can get the inverted set, inverting the brake and throttle pedals to simulate the pedals being attached from the top, as it is in a real car.
Of course, if all this seems unnecessary, the Thrustmaster TLCM and Fanatec CSL Elite pedals are still excellent options at a significantly lower price.
High-End Picks
For those that must have it all, here is a shopping list for just about everything you need to get started on a high-end rig that you'll likely never need to replace.
Rig: Sim Lab P1-X
The very popular Sim Lab P1-X is an aluminium profile chassis that can support pretty much anything you want to put on it. Any kind of mount for any kind of wheel you may have, side mounts for shifters, and ready to work with D-Box, a motion rig. As far as rigs go, this is just about the best you can get.
While perhaps not the most mainstream of direct-drive units, the Simucube 2 Pro offers a very compelling package in its price range. While there are many, such as the Fanatec DD1 and DD2, and the VRS Direct Force Pro, Simucube is perhaps the go-to money-no-object pick. Of course, opinions on force feedback will always vary, but many owners highly regard the Simucube 2 Pro, and while competitors such as the Fanatec DD2 are fantastic products, they have also been known to break from time to time a bit more frequently than other products. For that reason, we recommend the Simucube Pro 2 as likely the best at this price range for most users.
Perhaps the most important item among these picks, the Heusinkveld Sprint pedals are some of the best sim racing pedals on the market. A good set of pedals is the most important piece of equipment that is directly linked to your lap times.
This pedal set has up to a 120kg load cell for the brake and loadcells for the gas and clutch as well, giving you the potential for far more precision than you could ever imagine on a set of G29 pedals. If you're only looking for one of these high-end items, this is arguably the most important.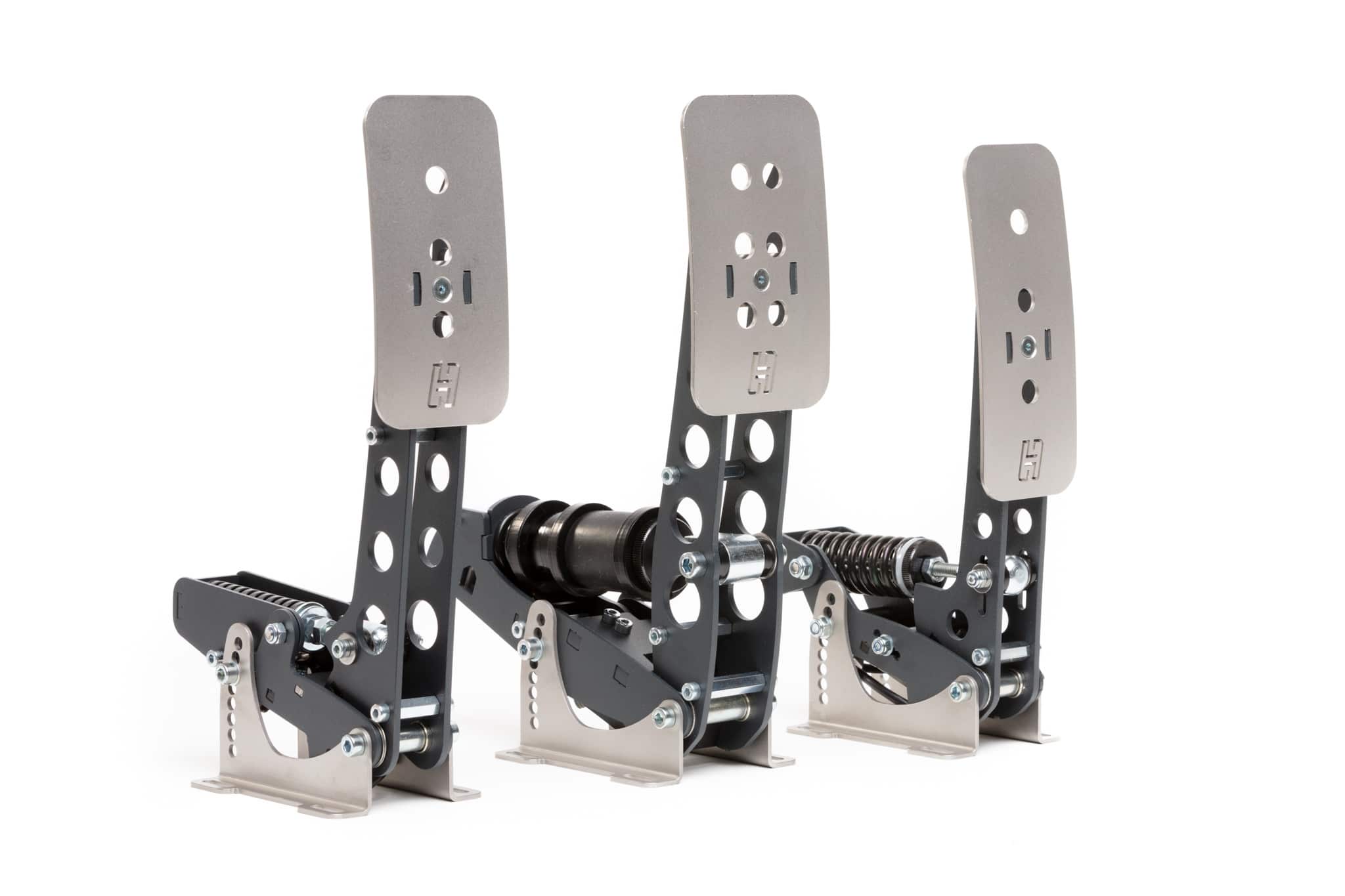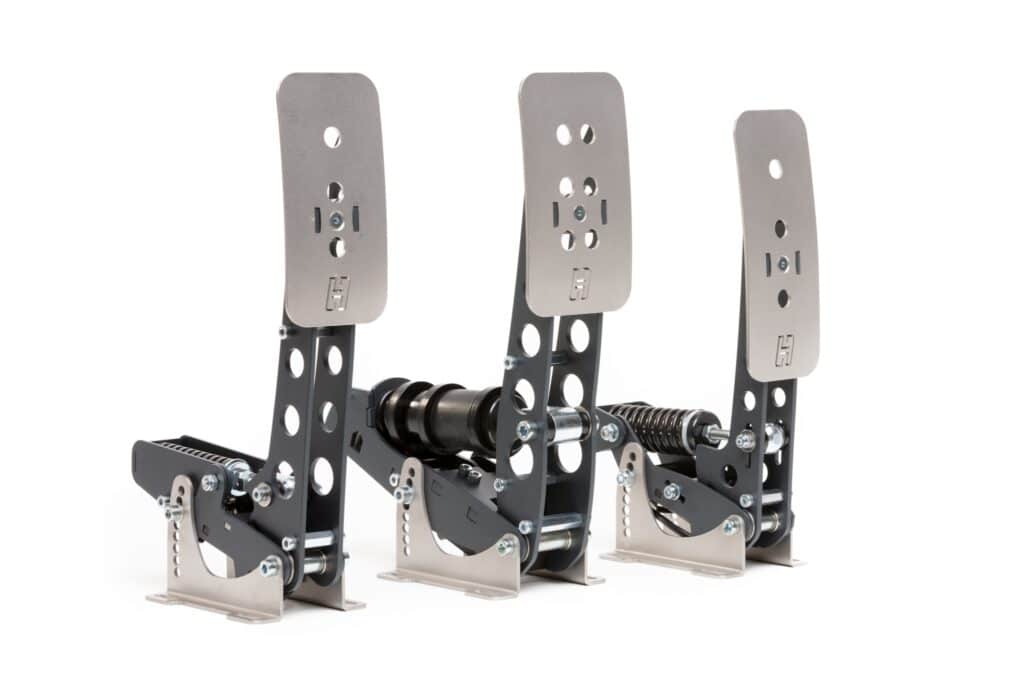 Maybe Your Ultimate Setup Comes From Used Goods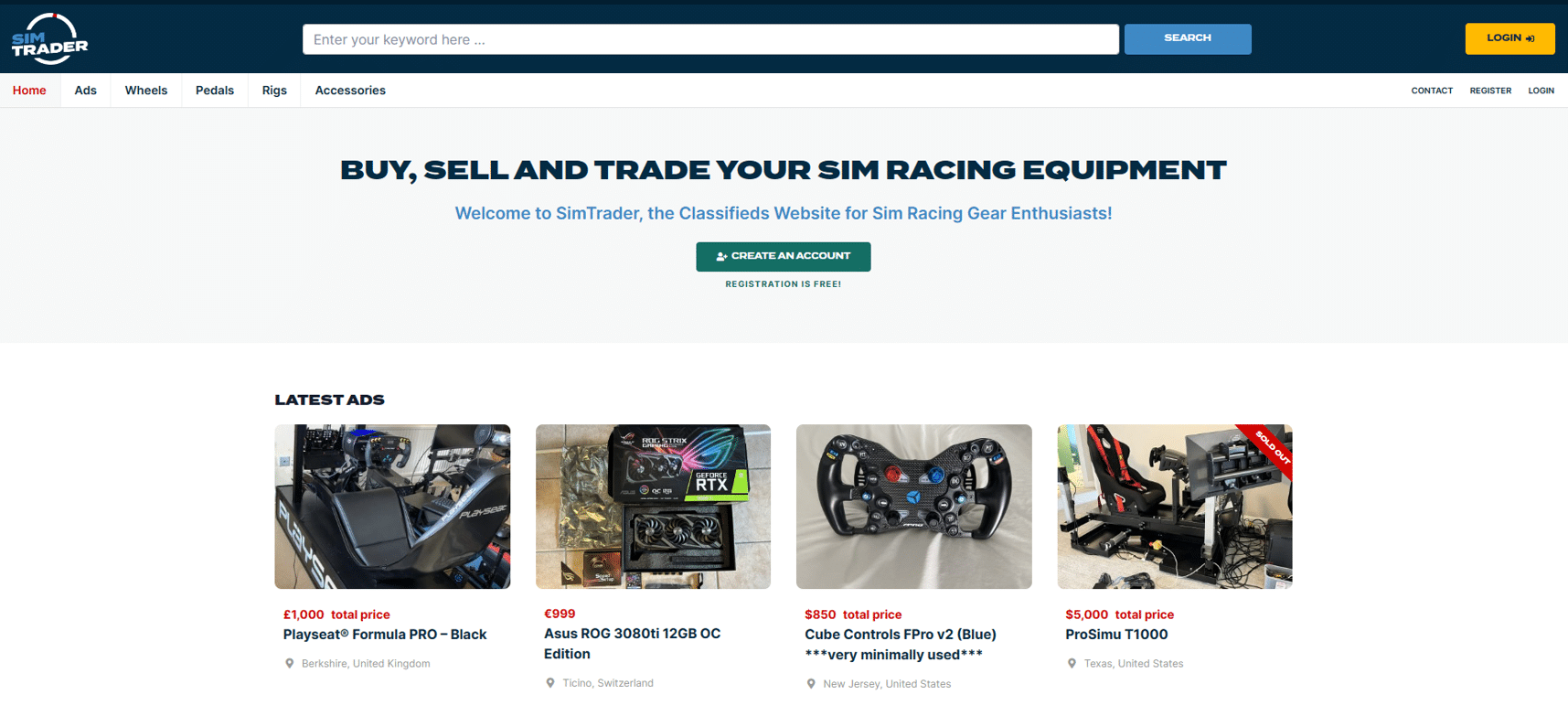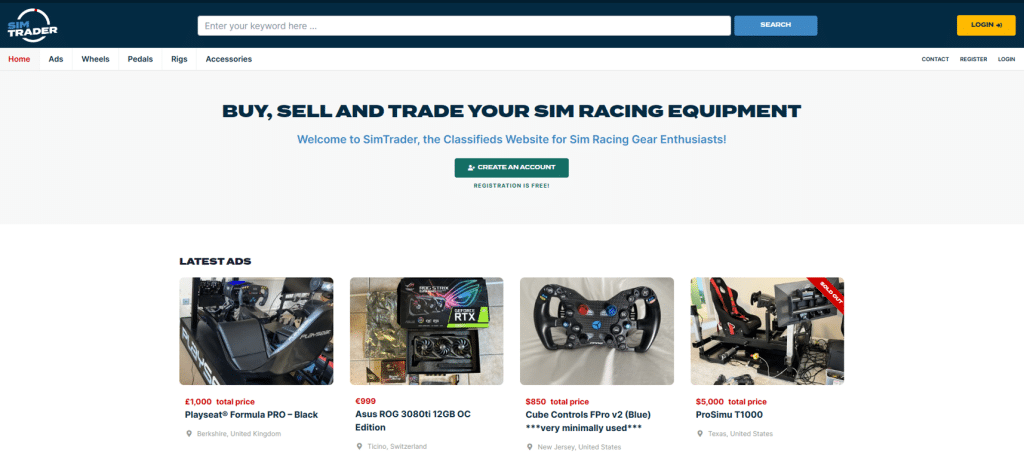 If you are looking for an ultimate racing setup, you may find used goods and classified ads a good starting point. A lot of sim racers tend to sell on their previous setups to make way for upgrades. You may find that you can purchase upmarket used goods at a better price point against lower entry level or mid entry point equipment and your budget has seemingly now got you further.
You can constantly find wheels, pedals and rigs listed as sim racers are at different stages of their own journeys and you can usually find an entire bundle with all three included at a very good price point, usually with hundreds or thousands knocked off the retail prices.
So before you look at purchasing new, you may want to check out the current sim racing deals on SimTrader instead.