The Xbox racing community is awash with drivers of different skill levels, budgets, taste in racing games and overall needs. Therefore, there is unlikely to be a single best Xbox racing wheel that suits everyone. In this guide, we will outline the best racing wheels for Xbox sim racers from throughout the ranges of Sim Racing equipment brands.
Key Sim Racing Wheel Terms
Force Feedback: The simulation of surfaces, car handling and physics by mechanical means through the racing wheel itself.
Belt Driven: Racing wheels that simulate force feedback by means of a belt and pulley system in conjunction with a small motor inside the wheel that generates torque.
Gear Driven: Racing wheels that simulate force feedback by means of a series of gears in conjunction with a small motor inside the wheel that generates torque.
Direct Driven: Racing wheels that simulate force feedback by having the steering wheel mounted directly to a large motor.
Rim: Refers to the steering wheel itself.
Base: Refers to the chassis or body of the racing wheel containing the primary electronic and mechanical components.
Quick Release: A mechanism that allows the easy removal of a rim from a wheelbase, allowing it to be replaced with another rim design.
Degrees of rotation: The maximum angle of rotation lock to lock of a racing wheel.
The Best Xbox Racing Wheels
Top-end pick: Fanatec Podium DD2
Excellent Direct Drive option for console
Huge ecosystem available
Mid-range pick: Thrustmaster TS-XW
Good value for money
Excellent Sparco wheel included in the bundle
Budget pick: Thrustmaster TMX
Low Cost.
Force feedback good for beginners.
Thrustmaster TMX
The Thrustmaster TMX is the Thrustmaster's entry-level option, priced at around $200
This wheel works through a mixed gear and belt system and is capable of either 270° or 900° degrees of rotation. Most importantly, however, it features force feedback, a must-have for any sort of serious sim racing and a gem at this budget. The force feedback is communicative but is suited more for beginners. The steering is fairly low resistance and none of the in-game effects is translated particularly violently through the wheel, however, the wheel is still capable of giving a solid level of feeling.
As a Thrustmaster wheel, it is therefore compatible with some of the various other high products from them. One of which is the TH8A shifter, which allows the user to choose from either a gated h-pattern or a sequential shifter and is very enjoyable to use. Furthermore, the TMX has been around since 2016 and has since been released in a PRO version, featuring the T3PA pedals bundled along with it.
The Thrustmaster TMX is excellent value for money and is perfect for beginners looking to learn the sensations of force feedback and up their Sim Racing experience while not breaking the bank in the process.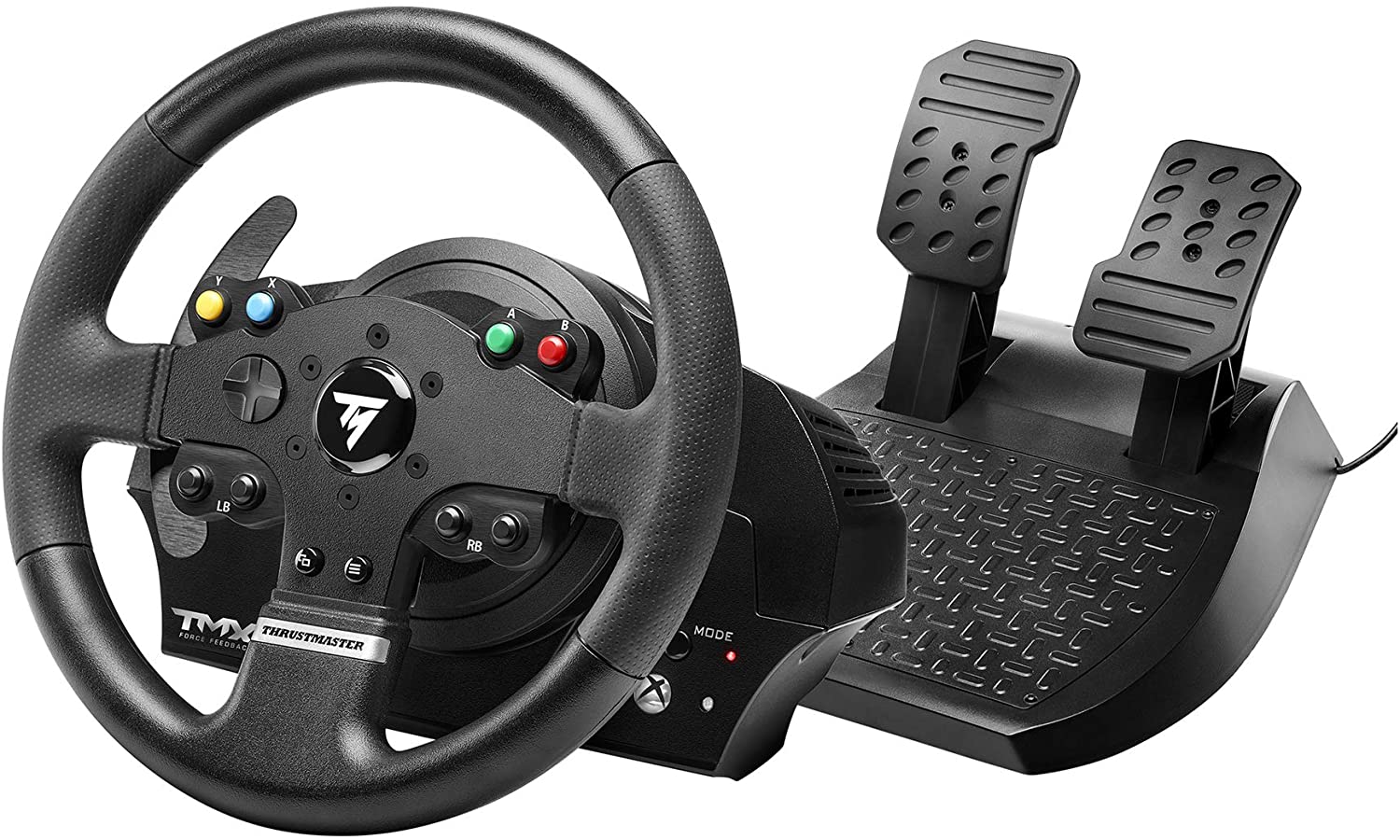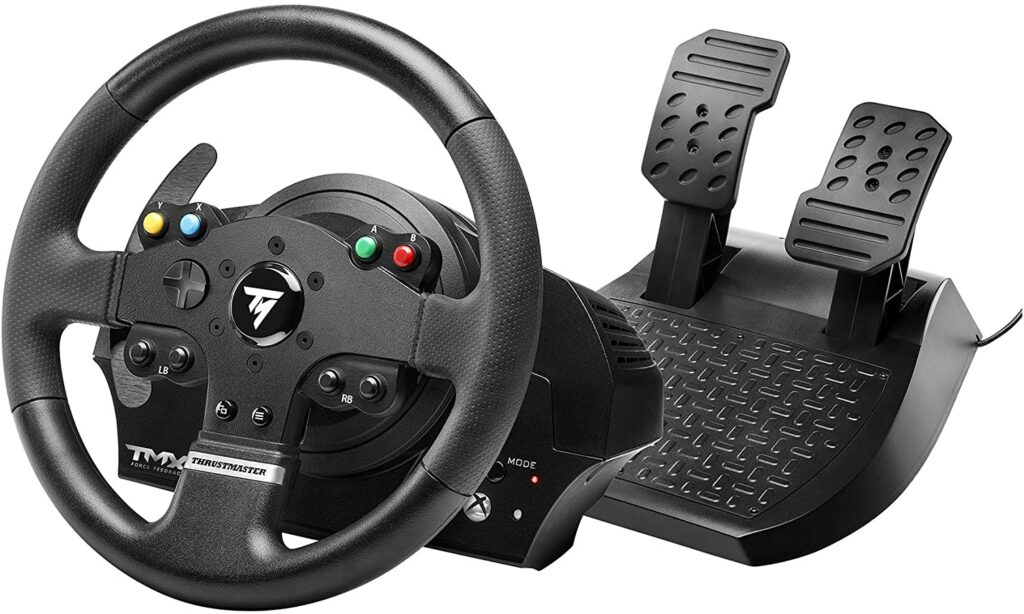 Logitech G920
The Logitech G920 is generally an excellent first force feedback wheel for Xbox users and is enjoyable to use on anything from arcade racers to simulators. It is much in the same price range as the TMX, coming in at around $200.
This wheel features dual-motor force feedback and is capable of 900° of rotation. It does reasonably well to communicate track surfaces and car handling characteristics.
The wheel design itself has a hand-stitched leather rim and brushed stainless steel paddle shifters with a 12 o'clock indicator adding to the overall quality. While the pedal box may not be to everyone's taste, with many sim racers complaining about the noticeably stiff brake pedal, they still exhibit the same material quality that the base itself has. It should be noted that there are plenty of tutorials on Youtube on how to fix this issue, however, it does take away from the overall experience. When looking at the total package, it is less polished than the opposing Thrustmaster base but is still a more than decent choice at this price range.
Just like Thrustmaster, the G920 has the optional Logitech H-pattern shifter at its disposal, however, the Thrustmaster TH8A shifter is arguably of superior quality.
Ultimately, the Logitech G920 is still a great choice for this price point and one of the best wheels on Xbox One in its own right.
Logitech G923
The Logitech G923 is the upgraded version of the G920 and sees Logitech onto the next generation of consoles. As this is a relatively new wheel, the best place to buy one would be directly from the Logitech website for $399.99.
The G923 features an improved force feedback system dubbed "Truforce" which not only translates track surfaces and car handling characteristics better than its predecessors but goes to provide more precise feedback. Keep in mind, however, the Truforce function is not supported by all racing games, however, it is slowly being introduced into newly released titles and currently works with platforms such as iRacing and ACC.
The pedal set has also been changed, featuring a more progressive brake pedal (a previously weak point of the G920). The G923 also features a programmable dual-clutch system, which after being set up, can be activated by pressing either RSB or LSB and the foot clutch simultaneously, a feature that is usually only found on much more expensive wheels.
Aesthetically, the G923 is almost exactly the same as the G920's Playstation counterpart, the G29. The building quality is excellent, featuring a leather steering wheel and brushed stainless steel components now finished in black.
The G923 is a very good wheel but it is still very similar to the much cheaper G920. Whether or not you choose the G923 over the G920 is entirely down to the personal tastes and purposes of the user.
Thrustmaster T248
Thrustmaster's T248 is a direct competitor to Logitech's G-series wheels. At a price of $399.99, it is a direct competitor to the G923 and comes in at a slightly higher price than the older G920 model.
Included in our list of best sim racing wheels for Assetto Corsa Competizione, the T248 uses a hybrid system of belts and gears to give an incredibly consistent feeling of force feedback. This increases the power efficiency of the unit, with Thrustmaster claiming it is an improvement of 70% over the older T150 model, as well as allowing for customizability and variability in the force feedback itself.
Perhaps the greatest strength of the T248 is the force feedback system. Unlike many of its competitors, the T248 comes with 3 different FFB presets meaning that you will always find a preset that works for one of the many titles that it is officially supported by from iRacing to Farming Simulator and from the F1 series to the Forza franchise. Add on to this the T3PM pedals that feature a magnetic sensor, which are more reliable and have more precision than the potentiometers that Logitech use, and you have a sturdy product that will last you thousands of hours of wonderful sim racing.
On the other hand, much like with its Logitech counterparts, the T248 does have some compromises when it comes to its design. The flappy paddle shifters that you will use to change gears don't have a particularly realistic feel to them. However, since this is something that is consistent across this price range, it is hard to not consider the T248 as a top contender in its class.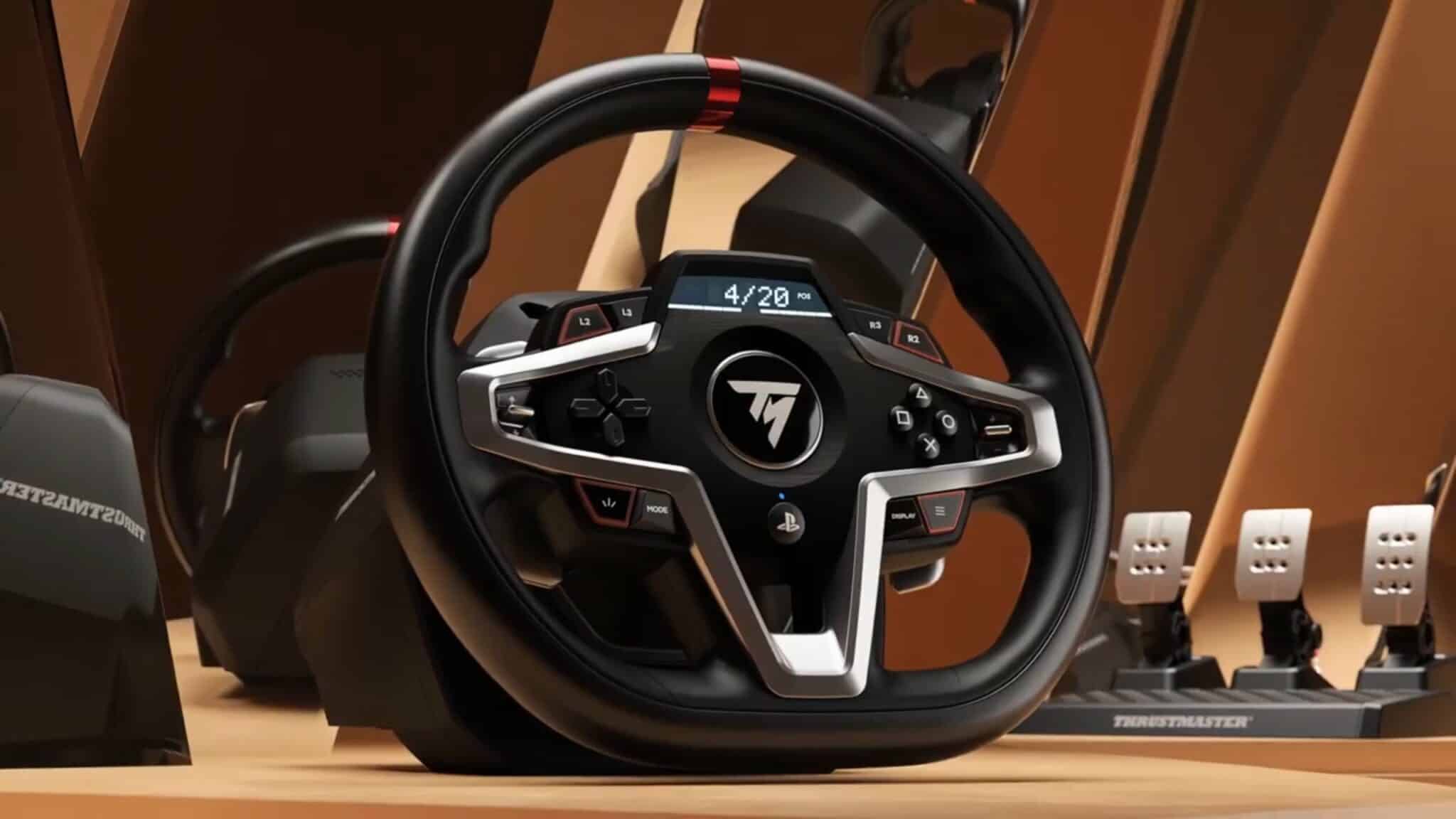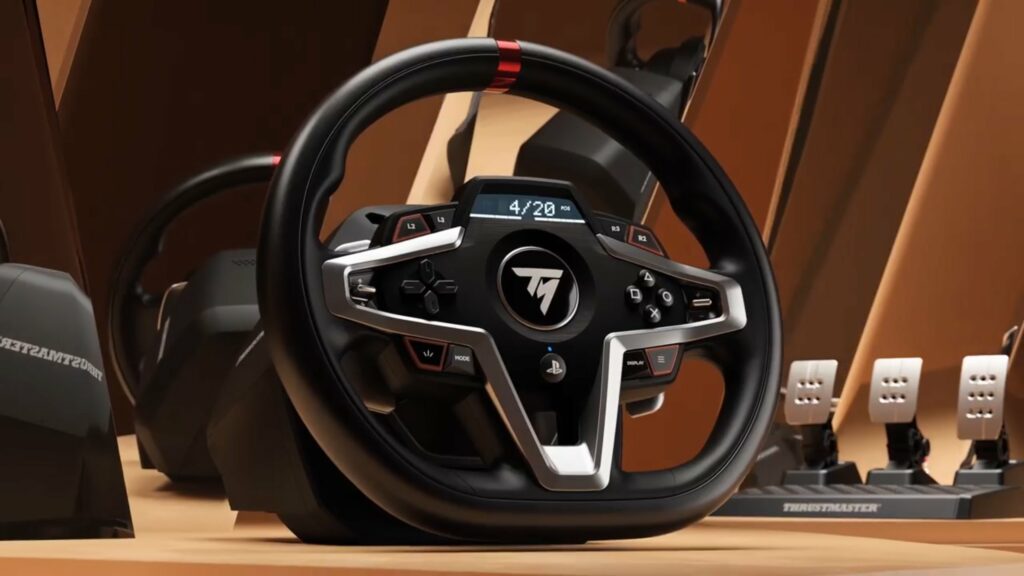 Fanatec CSL DD
Our recommendation here at the Academy for Fanatec wheel base, the CSL DD is an entry-level Direct Drive wheel. Unlike traditional wheels, which use either gears or belts or a combination of the two to recreate the driving sensation, Direct Drive wheels use motors to give you the most realistic feeling from your steering wheel. If you wish to read more about Direct Drive wheels, we have that sorted for you with our guide.
The CSL DD is an excellent introduction to Fanatec's ecosystem, which is currently only focused on Direct Drive technology. You won't find another Direct Drive wheel as affordable as the CSL DD that is compatible with Xbox systems. Starting at $349.95 for the 5Nm wheel base, it's an excellent introduction to high-grade technology.
However, the main issue with the CSL DD is the cost of add-ons. The $349.95 cost is only for the wheel base and, whilst it is possible to purchase a combination including a wheel rim and pedals for as little as $570, this increase of $200 could be enough to put off anybody that considers the $349.95 an absolute steal. Whilst it is tomorrow's racing technology today, and can be upgraded using some of the most innovative pedal designs on the market at present, it does offer a relatively high cost to entry compared to competitors and rivals.
Thrustmaster TS-XW
The Thrustmaster TS-XW was often considered a front-runner when it came to sim racing on the Xbox One, and it's the same with the next generation of Xbox consoles.
Released in 2017, the TS-XW shares essentially the same architecture as Thrustmaster's flagship wheel, the TS-PC Racer, which you can also learn how to set up on the Coach Dave Academy blog. It features a brushless 40-watt servomotor, providing exceptionally communicative force feedback. It also features an in-built cooling system, meaning it is unlikely to overheat, no matter the conditions of use.
While the base itself can be sold separately, it is compatible with all Thrustmaster wheel rims and shifters in the ecosystem, but the most common option is the 1:1 scale Sparco P310 competition mod. Despite the fact that this rim is designed to be a replica, Thrustmaster has been able to expertly factor in the necessary Xbox controls. The d-pad, for example, is conspicuously designed to blend in with the style of this rim, whilst it also features adjustable paddle shifters. The size of this particular wheel also means that it is optimised for almost any type of vehicle, be it open-wheel racers, GT cars, stock cars or whatever you want to take to the track.
In the past, some sim racers have complained that the T3PA pedals compatible with cheaper models such as the TX and TMX didn't quite do the TS-XW justice. But, the T-LCM Load Cell pedals released in 2020 are sure to vanquish such complaints. You can learn how to set up the Thrustmaster T-LCM pedals here.
The Thrustmaster TS-XW is understandably one of the most common picks from some of the most serious Xbox racers.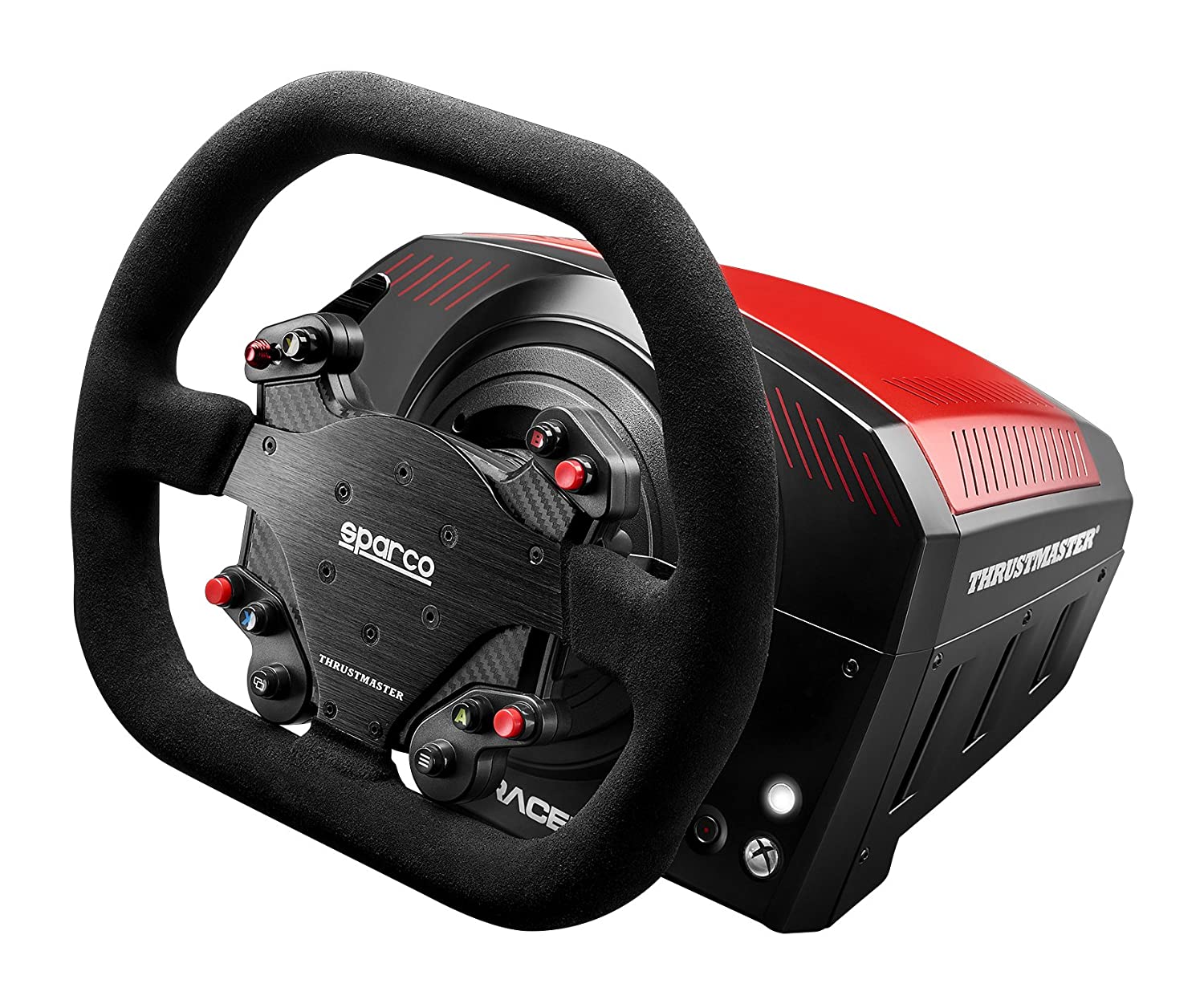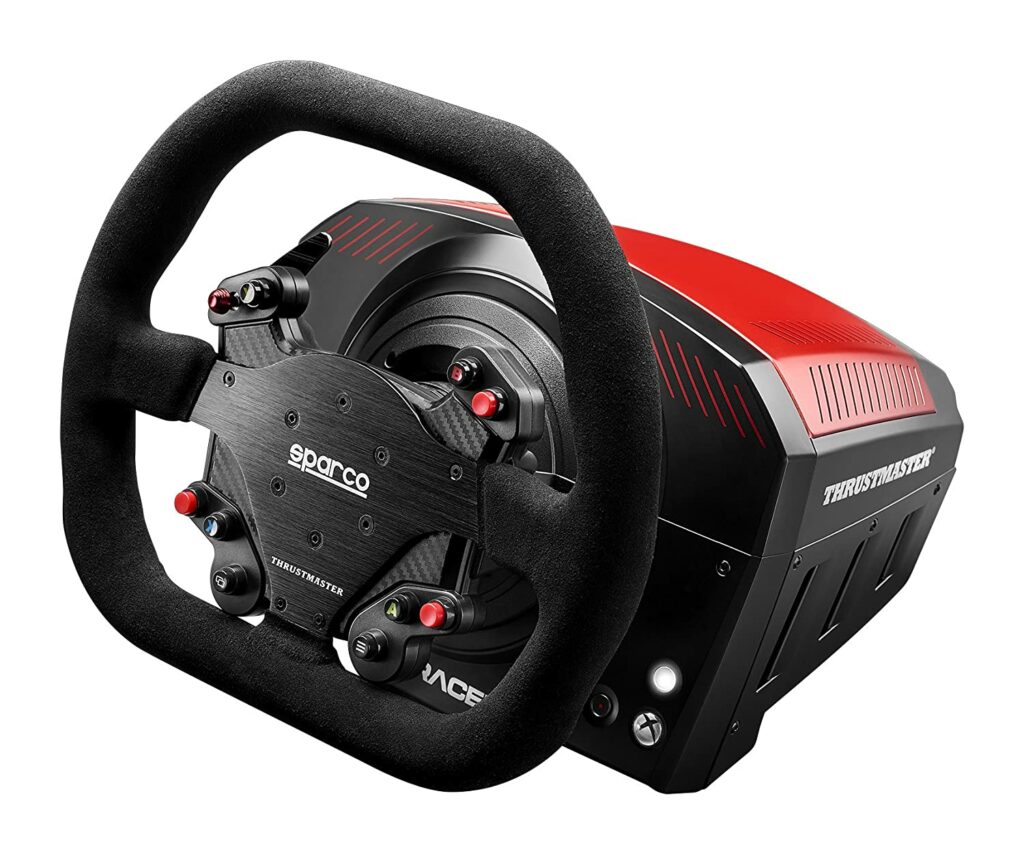 Fanatec Podium DD2
The Fanatec Podium DD series, like with the CSL DD, is one of few direct drive options for Xbox and the more expensive DD2 model is currently the flagship of the Fanatec range.
Being a direct drive wheel, the Podium DD2 offers levels of almost unrivalled levels of feedback for Xbox and is able to translate s intricate surface details and handling characteristics such as the shift of inertia in the car. Furthermore, the motor also offers substantially more torque, up to 25Nm and will consistently produce 20Nm of torque in a race situation, compared with the usual 2-8Nm of gear or belt-driven wheel.
The Fanatec Podium DD2 has a host of useful features including a multi-purpose OLED screen that displays wheel tuning information, force feedback data, the wheel's temperature, motor data and more.
It is also backwards and forwards compatible with any previous or future Fanatec products, including wheel rims, hand brakes, shifters, pedals, etc however these are usually not in the price.
The Fanatec Podium DD2 is an excellent option for those serious about sim racing on consoles. But it comes at a price. The DD2 can be purchased for $1499.95 from the Fanatec website which makes it the most expensive option on this list, in spite of the fact that neither pedals, a wheel rim or a shifter are included in that price. However, for those willing to pay, the DD2 is offering perhaps the most advanced simulation experience on consoles.
Summary
Xbox Wheel
Category/Price
Pros
Cons
Thrustmaster TMX
Budget ($199.95)
Low Cost.
Force feedback good for beginners.
May fail to satisfy veteran sim racers.
Logitech G920
Budget ($195.96)
Very high quality for the price.
Good force feedback.
Potentiometers can occasionally cause problems.
Logitech G923
Mid-range ($399.99)
More inputs than the G920, similar to the G29 "Truforce" feature.
Ultimately very similar to the G920 considering the significant jump in price.
Thrustmaster T248
Mid-range ($399.99)
Hybrid force feedback combines the best of gear-driven and belt-driven solutions
Magnetic pedals more reliable and consistent than potentiometers
Closing in on price to the Direct Drive CSL DD
Fanatec CSL DD
Top-end ($349.95 *wheel rim not included)
Exceptional force feedback.
Cheapest Direct Drive solution for Xbox Series X
Compatible with the Fanatec ecosystem.
Expensive.
Does not always include wheel rim.
Thrustmaster TS-XW
Top-end ($699.99)
Exceptional force feedback
Sparco wheel rim is excellent
Expensive.
Fanatec Podium DD2
Top-end ($1499.95)
High-end direct drive wheel for Xbox Series X.
Unrivalled Force Feedback.
Compatible with the Fanatec ecosystem.
Expensive.