Since Assetto Corsa Competizione launched in 2019, it's always been held up against the sim racing yardstick that is iRacing. In this article, we're going to delve deeper into the debate between these two sim racing heavyweights and look at the merits of each of these titles.
Graphics
To start, the looks. ACC uses Unreal Engine 4, which means that it looks absolutely stunning. With all the bells and whistles on top, including ray tracing and ultra-high-end VR support, it's a title that will let you get the very most out of your system. If that's not quite your style, or if you sim race on a budget, there are graphics options out there for everyone. However, at the lower end, you are likely to have to strike a compromise between frame rate and image quality.
Whilst iRacing doesn't boast the same graphics quality as ACC, it isn't as graphically intensive in most situations. With a simple slider to help you maximise either quality or frame rate, and the ability to have your settings adjust automatically depending on the on-track situation, it's certainly an accessible option on the graphics side. Whilst the quality isn't as impressive as ACC, we can certainly help you make iRacing looks as good as possible with our guide to optimising your graphics. If you want a little bit more from the base game though, you should try out the free add-on, Reshade, as recommended in our guide to taking the best screenshots in iRacing.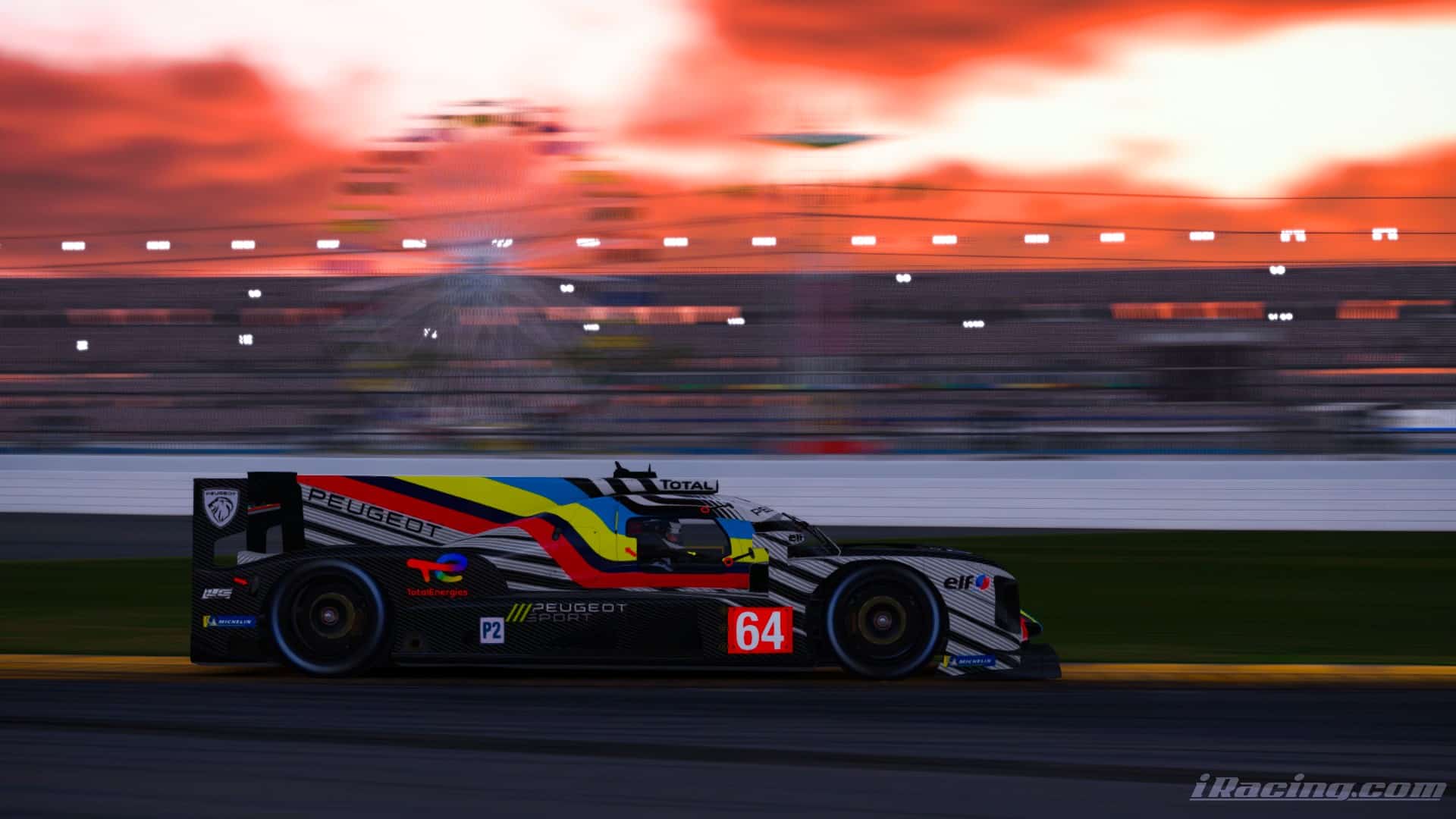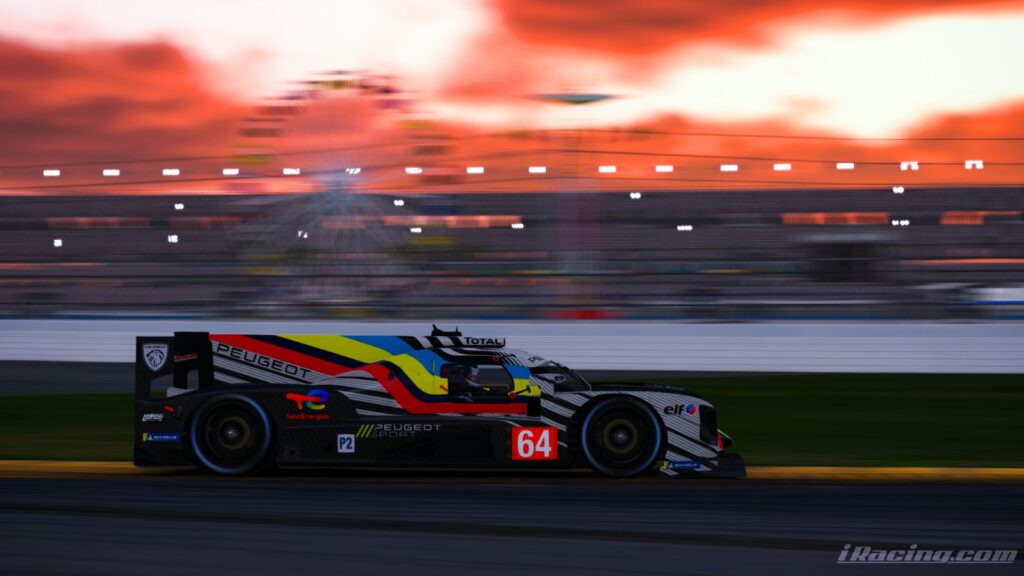 Compatibility
When it comes to compatibility, there are several ways to measure it. From availability on different platforms to the peripherals that can be used on said platforms, accessibility and compatibility can be a big deciding factor in which sim to race on.
Sadly, in this area, iRacing struggles compared to ACC. A PC exclusive, it also requires users to be able to accelerate, brake, and steer on separate axes. That means that you should ideally have a wheel, if not a high-end gamepad, in order to race. On the other hand, ACC is also available on Xbox and PlayStation platforms and can be played using a mouse and keyboard if you so wish. Whilst ACC does not carry crossplay features like other racing titles such as EA's F1 22, this means that PC players are able to experience regular updates whilst not having to wait for extensive beta testing for each patch in case they break the console versions.
Handling & Physics
It's hard to get an apples-for-apples comparison between the two titles when it comes to handling and physics, however, perhaps the greatest example is in GT3 racing. Before Kunos Simulazioni picked up the SRO licensing, iRacing hosted the sim racing equivalents of Blancpain GT racing (now GT World Challenge). The two platforms take different approaches to GT3 racing, with iRacing's equivalents lapping multiple seconds per lap faster than ACC's cohort. Part of this is to do with the downforce models of each sim, with iRacing's GT3s generating far greater downforce whereas ACC's speciality is the comprehensive tyre model that includes graining, flat spotting, as well as the occasional puncture.
iRacing's physics model is reflective of this attitude. The tyre model is relatively rudimentary compared to ACC, to the extent that most Road series setups will run the car at minimum tyre pressures for the fastest lap time. The main thing you want to avoid with your tyres in iRacing is overheating them, especially in Oval disciplines. Once you get heat into your tyres, it's incredibly difficult to get the heat back out of them. Ask anyone who's carried out an aggressive slide job, it's very easy to spin once you've put that much heat into your tyres.
ACC, on the other hand, has a lot more weapons at its disposal in the handling and physics departments. Its tyre model means that you can put more heat through your tyres in the short term, but only if you trade it off for tyre longevity and a sharp drop-off in grip in the long term. In addition to this, the variety of racing conditions on offer in ACC means that it's possible to have a tyre working perfectly at one moment only to have it offer no support the very next moment.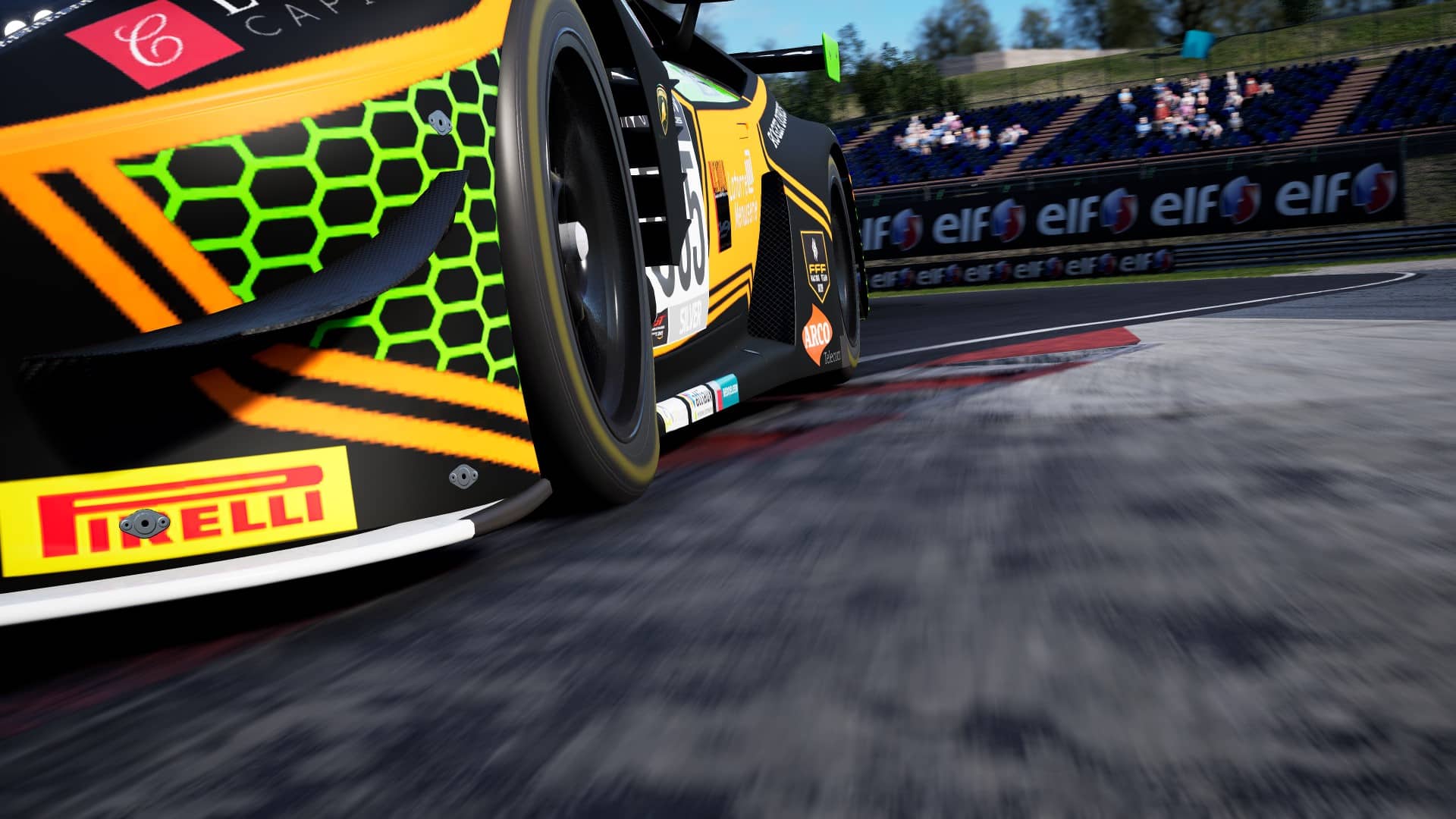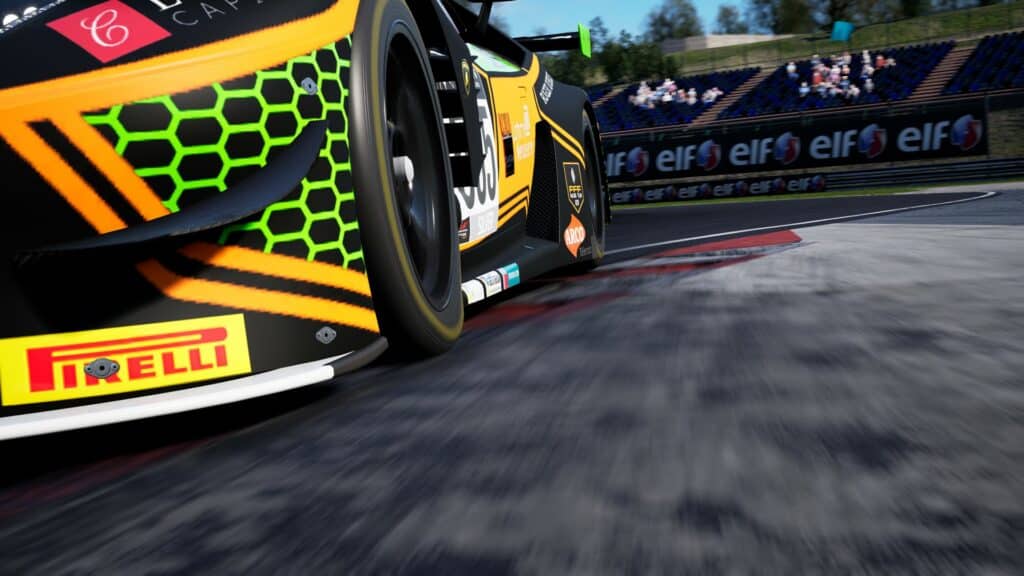 The effect of weather
Part of this is because of the fact that ACC has wet-weather racing, something that iRacing is still teasing as a future feature in the sim. This means that ACC's models have to work as well in the wet as they do in the dry, which iRacing doesn't have to worry about at present. This necessitates a comprehensive tyre model, something which ACC is setting the par for the sim racing course with. The ability to quickly gain or lose pressure, temperatures, and grain your tyres into the nth dimension is imperative to ensure that the competitors on the platform can have an immersive experience.
Force Feedback (FFB)
The Force Feedback in both titles is emblematic of the ideologies behind both of them. iRacing symbolises dedication to simulation and the edge-of-your-seat feeling, whereas ACC values the overall user experience.
iRacing's FFB is focused purely on the effects that each wheel feels. Anything that a driver would feel through a steering column, from bumps in the track to wheel-to-wheel contact, is something that you will feel in iRacing. Whilst your immersion might suffer from a lack of "Seat of Pants" effect, where you can't feel the car losing grip in aerodynamic-dependent cars such as the Mercedes W12 or the Dallara P217. You can use tools such as irFFB to reduce the impact of this, a free app that we included in our 10 Must-Have Free Apps for iRacing which we have previously explored setting up here at the Academy.
ACC, on the other hand, has an immersive FFB system with a "Seat of Pants" effect designed to bring you closer to the action. However, if you wish to have an experience similar to that of iRacing, you can turn down some of the parameters in your game if the iRacing feeling is something that's more up your street.
Realism
Much like the previous sections, both titles set about achieving maximum realism in their own ways.
iRacing's sense of realism is an unforgiving damage model that can punish you for the smallest mistakes. The New Damage Model, now available on most of the popular cars on the platforms, means that wheel-to-wheel contact can lead to you losing your wheel and a small tap from behind can be enough to remove whole body panels from the car. That also applies to track surfaces too, so if you're in a Mercedes W12 you best be avoiding those pesky traffic cones!
ACC's realism comes from an immersive graphics experience, with a taste of severity in the damage engine but some lenience too. Whilst it is possible to earn yourself the racing equivalent of a wooden spoon, the much-maligned meatball flag, it is only likely to set you back a couple of minutes whereas iRacing will happily take hours out of your day to patch the car up for you. This is perhaps where the biggest crossroads comes in terms of realism – do you want a form of realism that presents you with the brutal nature of racing or would you rather have an immersive experience which still offers some relative risk?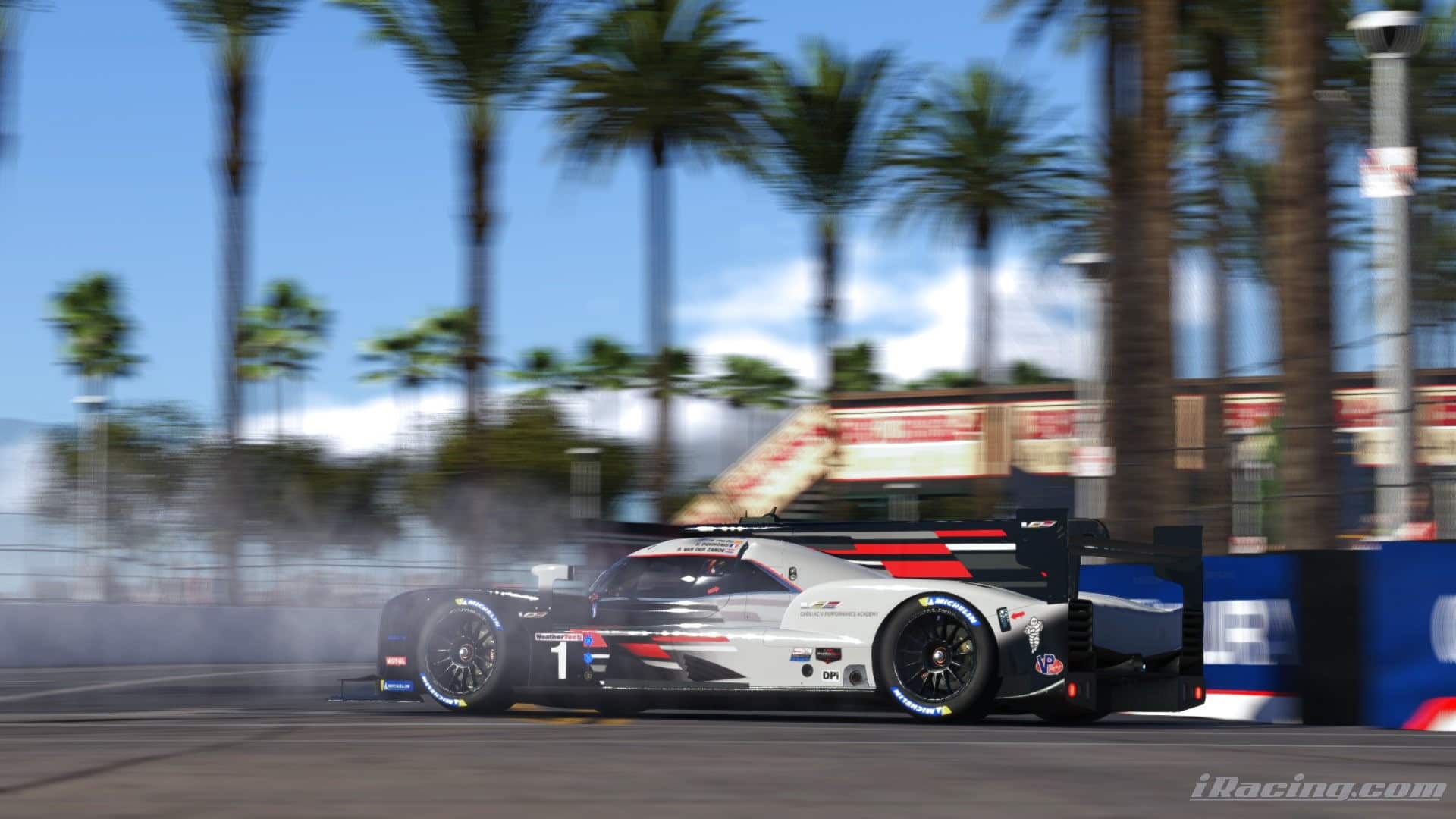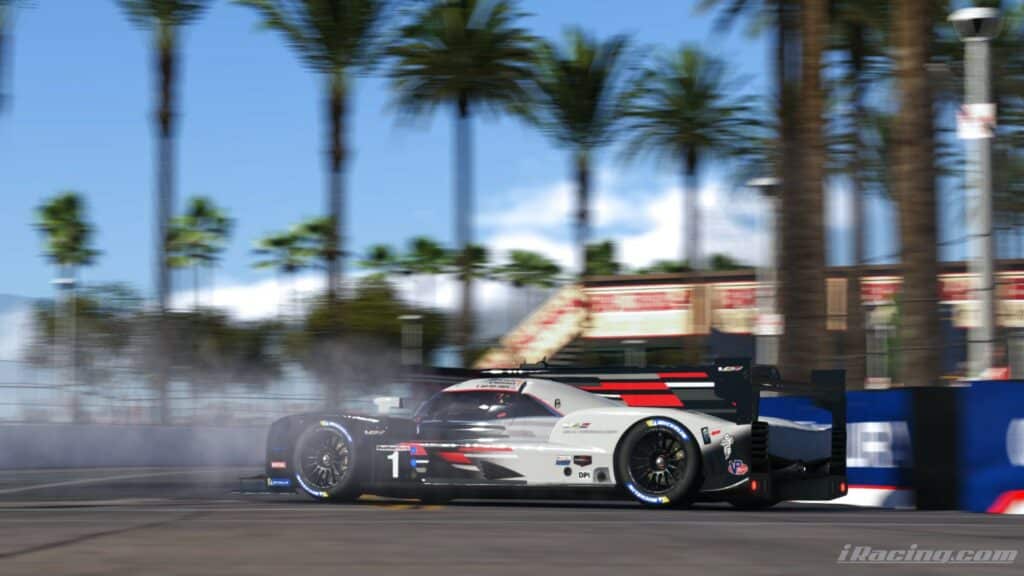 Tournaments
Whilst you can find excellent series for both titles over on our sister site of SimGrid, there are few specifics about each title that sets them apart from the other.
iRacing's tournament system is as elaborate as the list of series that it boasts. In addition to having regular series that start every 15 minutes, you can also take part in a variety of different Leagues hosted by your fellow iRacers. With a variety of current and legacy content being used in these series, there's a little bit of something for everyone on the platform.
With ACC, on the other hand, you are largely dependent on third-party hosts for online racing. Kunos run their own "Competition Servers", however, these are one-off events and you need to have a Safety Rating over 70 to be able to access them. With services such as Low Fuel Motorsport making up for this by offering regular races similar to the iRacing model, you can still get a similar experience albeit not provided by the developers themselves.
Cars
In this metric, you have a debate of quality vs quantity. ACC specialises in GT racing, with cars from various Stéphane Ratel Organisation championships. You get GT3 racers from 2018 onwards and GT4s from 2019, as well as single-make championships such as the Lamborghini Super Trofeo, Ferrari Challenge, Porsche Cup, and BMW M2 championship. This is a wealth of cars that dives further into GT racing than iRacing does, with even greater variety within each class than iRacing can offer, and you can pick up setups for all of them with our subscription service here at Coach Dave Academy.
iRacing, on the other hand, is a Jack of all Trades. It has GT3s, GT4s, and the Porsche Cup that ACC has. However, the other cars that iRacing has make it a world-beater. From the Global Mazda MX-5 Cup, a series we now cover in our Lap Guides, at Rookie-level to the NASCAR Next-Gen Cup cars and the Mercedes W12 in the upper echelons, there's a bit of something for everyone and, in some cases, cars that you can only race on the iRacing platform. If you wish to read more into what cars iRacing has, we've got you covered with the Complete iRacing Car List.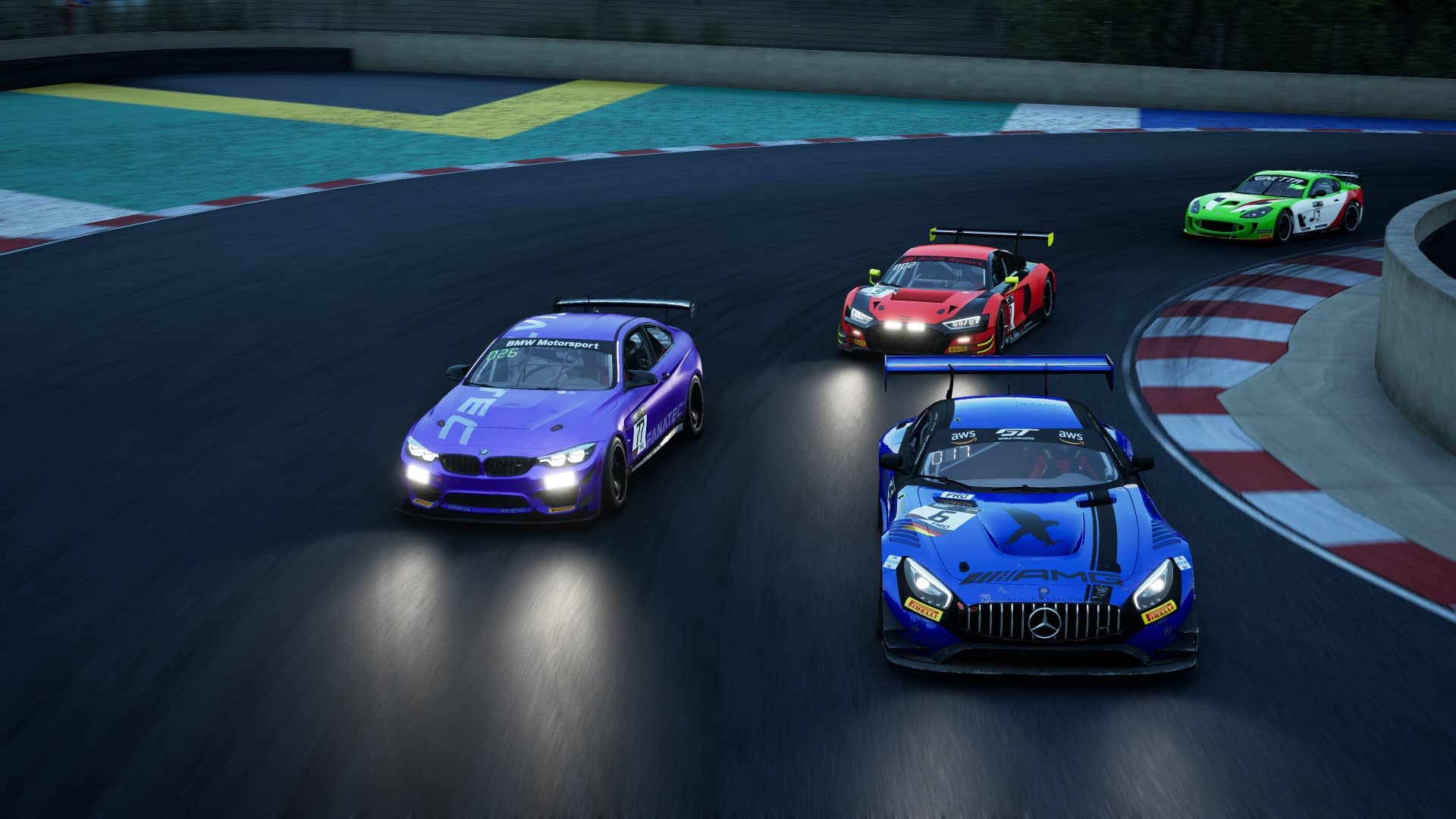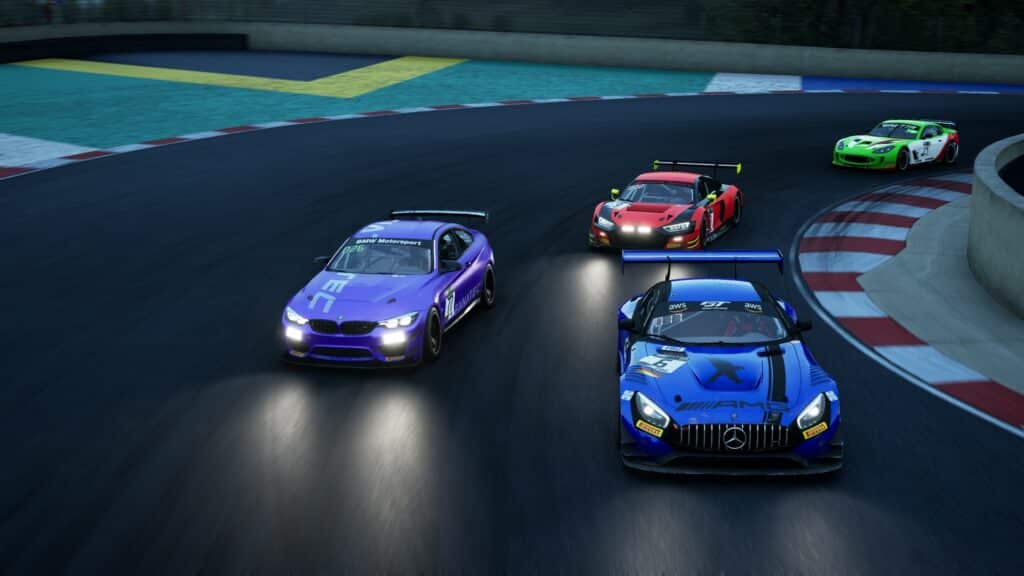 Tracks
When it comes to tracks, laser-scanning is par for the course. Hyper-realistic track surfaces built from real-world scanning data, it's the most accurate way to enjoy your favourite track when sim racing. Whilst some titles such as F1 22 and the original Assetto Corsa mostly feature tracks that have been designed without this data on top of the occasional laser-scanned track, most specialised sim racing games tend to solely have laser-scanned tracks.
With the exception of Zandvoort, every circuit in ACC is laser-scanned. This is because, according to the developers, the Zandvoort model built for the original AC game was so highly-praised for its realism that they didn't need to remodel it. The circuits featured in ACC are from the 2018 and 2019 seasons of GT World Challenge Europe, the 2019 Intercontinental GT Challenge, the 2019 British GT season, as well as three circuits from the 2021 GT World Challenge America season, all of which you can learn with our Track Maps. Whilst the tracks in the game are limited to only those featured in an SRO-sanctioned series, a total of 22 tracks gives you plenty of variety and challenges that will take tens of thousands of hours to perfect.
And, if you thought that was challenging enough, iRacing takes that several notches further. With a variety of traditional road courses, ovals, and dirt-covered varieties of the two, to master all of the tracks you need to know how different cars handle different surfaces to the best of your ability. On top of that, with multiple possible layouts available for many of the tracks on the platform, the total of over 120 different tracks in the game is only the start of the story. And, with each one telling their own tales, it'll take decades of continuous driving before you're a virtuoso of every track and layout that the sim has to offer.
If you want to take a look at all of the tracks iRacing has to offer, check out our full iRacing track list.
Pricing
This is perhaps the most emblematic difference between the two titles. Not only does it tie up the differences in ideology between the two sims neatly, but it also embodies the areas of the market that they represent.
ACC has a retail price of £34.99, with DLC packs varying from £7.99 for the 2020 GT World Challenge Pack that added Imola as a circuit as well as the updated Mercedes-AMG GT3 Evo and the Ferrari 488 GT3 EVO to £17.99 for the GT4 pack. All-in, you can pick up everything for ACC in one go for around £110.
iRacing, on the other hand, is a subscription-based service with additional purchases being made for individual pieces of content. This means that owning every piece of iRacing content would likely cost over $1500 at present, on top of the subscription that starts at $7.80 for your first month (then $13 per month afterwards) or $119.40 for 2 years of iRacing (which renews at $200 after that). This makes accessing iRacing difficult for the casual sim racing fan that doesn't have masses of disposable income, unlike ACC which is solely one-off costs.
If you want to learn a bit more about how to keep costs down on iRacing, we've got an article perfect for you!