iRacing stakes its claim as the premier online sim racing platform through a comprehensive range of different series that you can race in from hourly sprint races to gargantuan endurance races. To progress through to the highest of disciplines, you have to upgrade your license through a series of performances.
This article will explain how the license system works, the best ways to optimise your license gain, and what is unlocked where within the system.
What are the licenses?
When you load up iRacing, you will be greeted by four different licenses and disciplines.
Road
Oval
Dirt Road
Dirt Oval
In all of these disciplines, each driver will have a separate license that is unique to each one. Discipline-wide, they can be progressed all the way from Rookie to A-License.
Road
The Road discipline advances from Rookie series such as Formula Vee iRacing Series and the Fanatec Global Mazda MX-5 Cup, all the way upwards to the iRacing Grand Prix Series and the European Sprint Series for A-License drivers.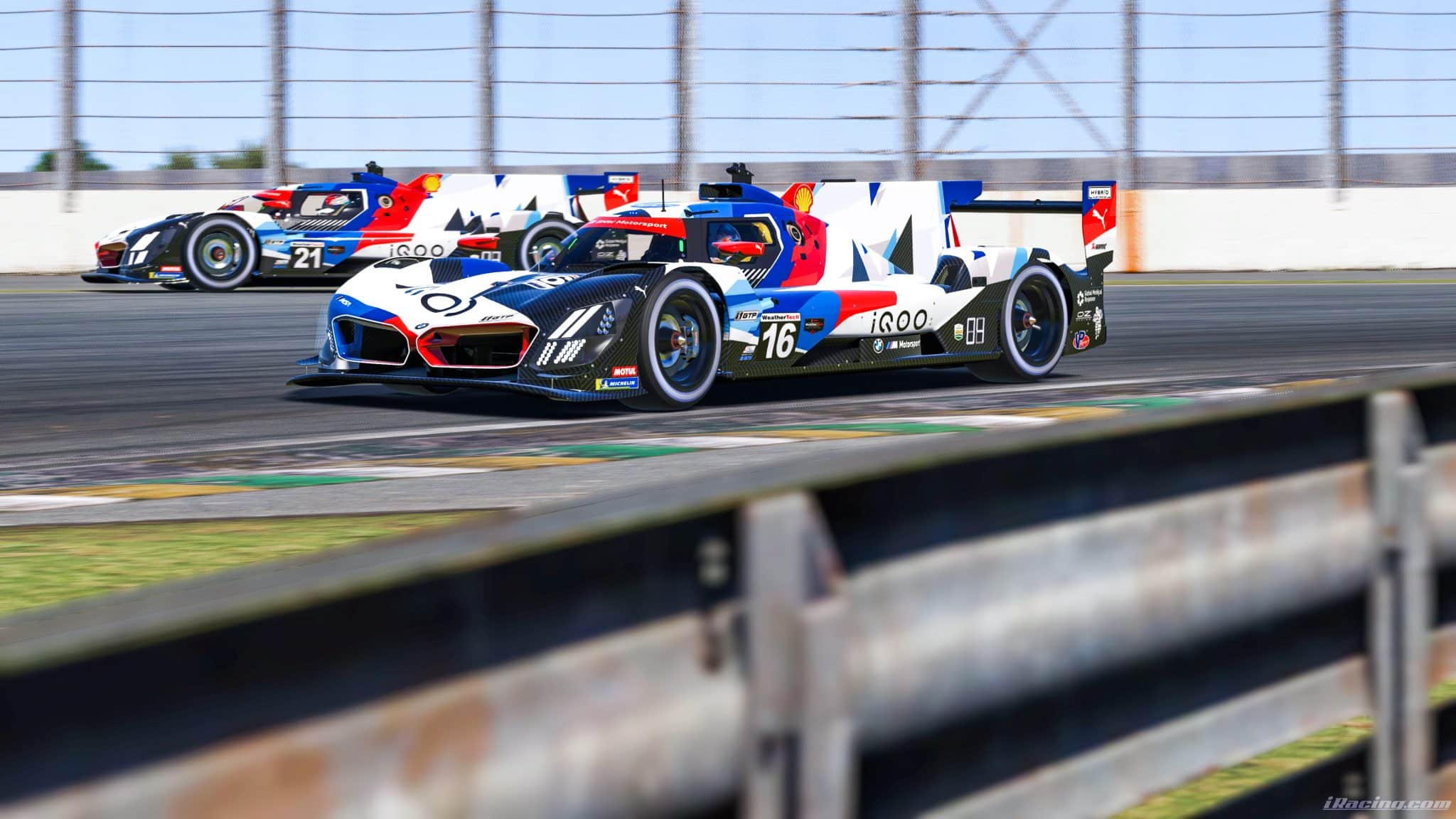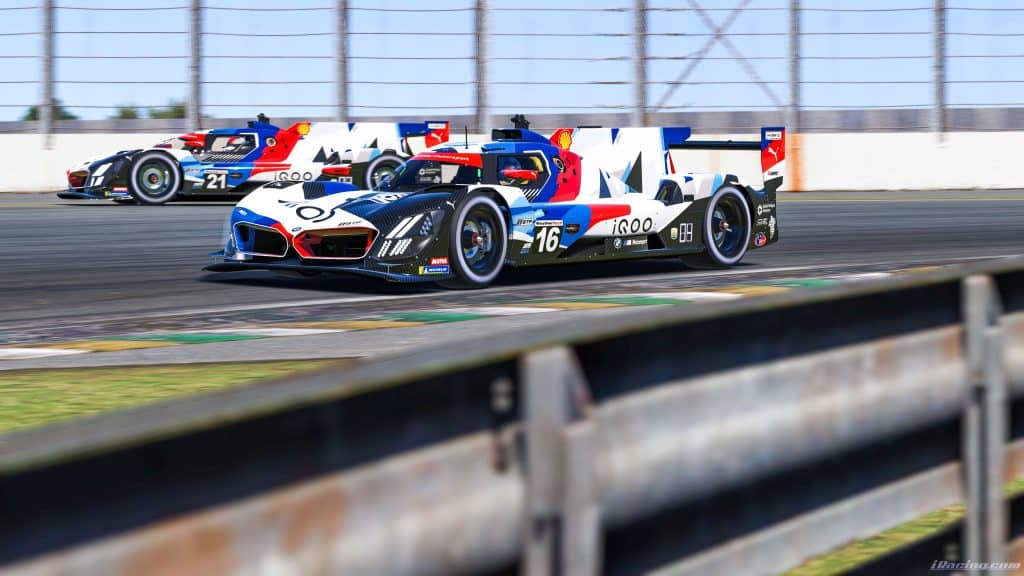 Along the way, the Road discipline contains many of iRacing's most popular series. For example, at the C-License level, you will be able to race in the Porsche Cup Series and the Dallara F3 Series, whilst, at the B-License level, you will become legible to race in IMSA iRacing Series and VRS GT Sprint Series – all of which series you will find setups for as part of our iRacing Setup Subscription.
Oval
Completely separate from the Road discipline and miles away is Oval.
The Oval discipline sees drivers advance from the iRacing Advanced Legends Cup and the Fanatec Street Stock Series up to the NASCAR iRacing Class A and NASCAR Next Gen Cup Series, both of which offer some of the best Oval racing competition in Sim Racing.
Dirt Road
Next up, you have Dirt Road, which is a mix of Rallycross and off-road Pro Truck racing series.
The Dirt Road discipline advances from the Rookie class iRX Volkswagen Beetle Lite series and the Rookie Pro 2 Lite Off-Road Racing Series up to the B-License iRacing Rallycross Series and the mixed Pro 2 & Pro 4 Off-Road Racing Series,
Dirt Oval
Similar to the Dirt Road discipline, Dirt Oval drivers progress from Rookie class with series such as the ButtKicker DIRTcar Street Stock Series to B-license series that offers a blend of Sprint Car, Late Model and UMP Modified series at the highest level.
---
Looking for a setup?
Developed by a team of professional iRacing drivers and engineers, you can pick up setups for your favourite cars across nine different series with our iRacing Setup Subscription. Updated every week across the entirety of a 12-week iRacing season, we've got setups, data packages and more to help you extract the most out of your car every single race.
Race setups
Qualifying setups
Onboard laps
Data packs
All crafted by professionals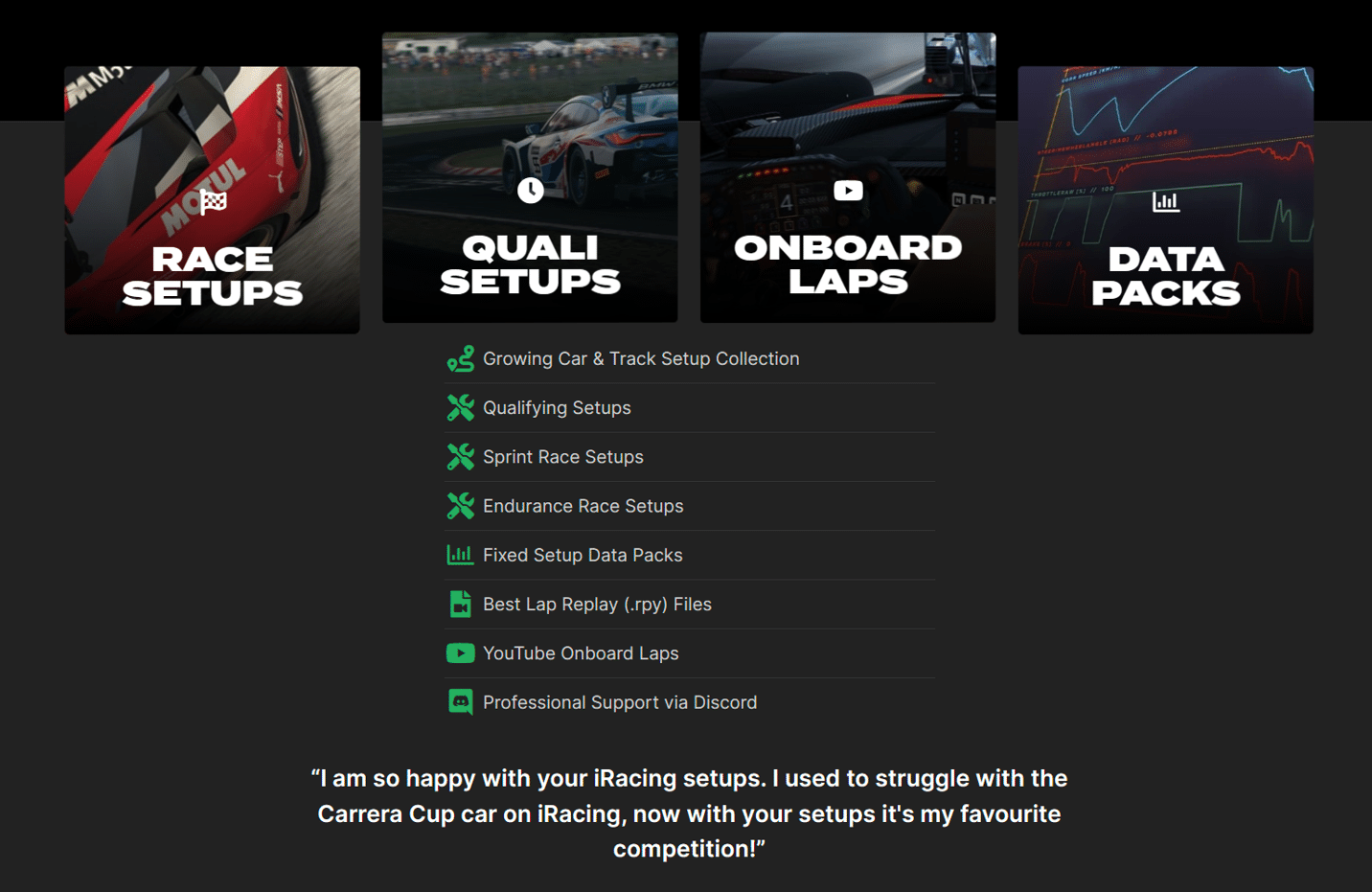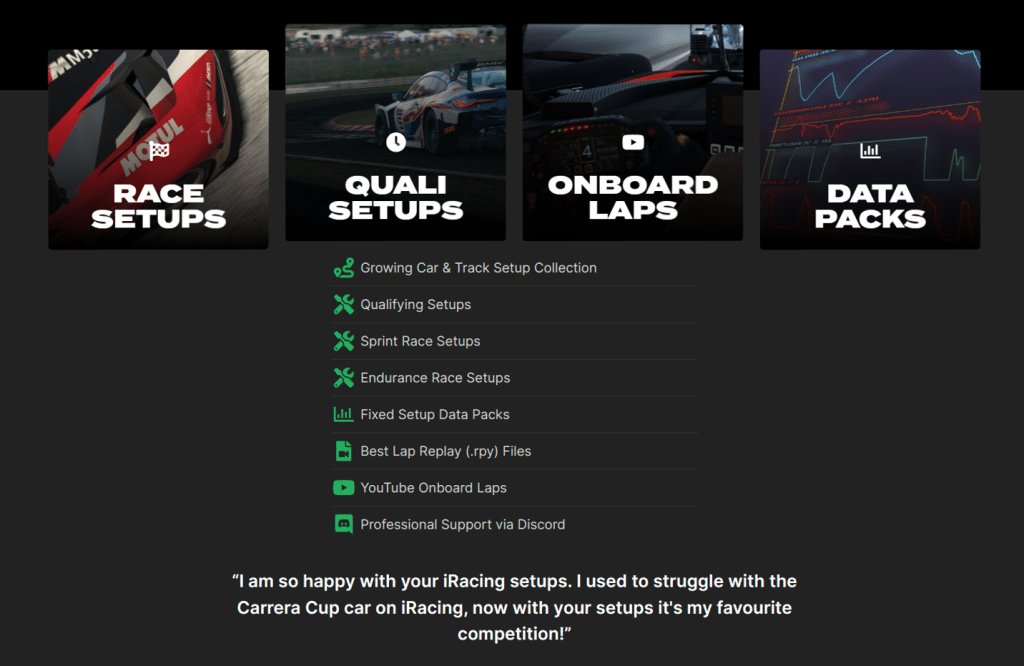 ---
How do you advance your license?
In each discipline, you are ranked in three conditions.
Safety Rating
iRating
ttRating
Put simply, to advance your license all the way up to A – which is the highest license level barring the Pro Road and Pro Oval license, which you can learn more about in our guide here – your Safety Rating must be at or above 3.00 after having carried out enough "Placement Races."
At the Rookie license level, this total is 2 races, for every other license it is 4 races or Time Attacks. Once you meet these conditions, you will get promoted at the end of the season, with the exception of Rookies who get promoted to D-License immediately.
With the others there is the opportunity to "fast track" and get promoted early, but for that your SR needs to be at or above 4.00.
Safety Rating
The primary factor to watch out for when looking to advance your license is Safety Rating (SR).
It's rated between 0 and 3 for Rookies
Between 0 and 5 for D-License drivers
Between 1 and 5 from C-License to A-License
The key to obtaining Safety Rating is, in essence, to drive safely. However, the amount it increases after each race depends on a set of factors including your own "Incident Count" for the lobby, the length of the race in distance and time, the rest of the lobby's counters and the relative Safety Ratings for the field.
For example, whilst it is common for drivers to gain between 1 and 1.5 SR in an endurance race, it's often hard to gain more than 0.4 SR in a race that's shorter than 30 minutes.
Furthermore, you're less likely to gain SR from a race that's below your current license. Racing in the Fanatec Global MX5 Series, a Rookie and an A-license driver could both finish without any incident points, but the Rookie would gain noticeably more SR.
Incident count
So, how does the "Incident Count" work? Each type of "incident" has its own multiplier, and these stack up over the sessions to create a total.
Going off the track has a 1x multiplier
Hitting a wall or losing control has a 2x multiplier
Car contact has a hefty 4x multiplier
Sometimes, these can stack up. If you spin off of the track into another car, you'll only get 4x instead of 7x, but the punishment can be more lenient. If you lean on another car, for example, it's typically 0x unless the other car goes off the track or spins, in which case you get the same "points" as they do.
The rules can be slightly different in different sessions, so in official Practice and Qualifying your incidents carry half the weighting they do in the Race.
On Dirt, the multiplier is also roughly half that it is racing on tarmac.
iRating and ttRating
Outside of your Safety Rating, drivers can also earn iRating (iR), which decides the sorting for lobbies but doesn't mean anything to your license. iRating is merely designed to rate you based on your results, and this number will either grow or shrink depending on where you finish a race in relation to the lobby's Strength of Field (SoF) – the average iRating.
Finally, there is ttRating (ttR), which is sorted by your Time Attack results. Again, it doesn't really affect much apart from your relative ranking to others.
The progression tree
While the progression ladders and series variety vary from discipline to discipline, one thing remains consistent pretty much throughout in iRacing: at each level, there's more than one way to get to the next.
Be that open-wheelers versus tin-tops on Road and Oval, trucks versus rallycross on Dirt Road and sprint cars against stock cars on Dirt Oval, there's almost always a second option at the very least.
Road
On the Road discipline's progression ladder, there's a huge variety of series to choose from as you look to upgrade your license. After starting out in a simple GT-style or open-wheel series, the doors quickly open up.
Rookie
As a Rookie, you have two choices of series: the Formula Vee iRacing Series for your single-seater fix and the Fanatec Global Mazda MX-5 Cup if tin-tops take your fancy. The latter is the more popular choice due to the simpler handling characteristics and more forgiving nature of the Global Mazda MX-5 Cup car – which you can learn more about in our guide here – but either is a good choice.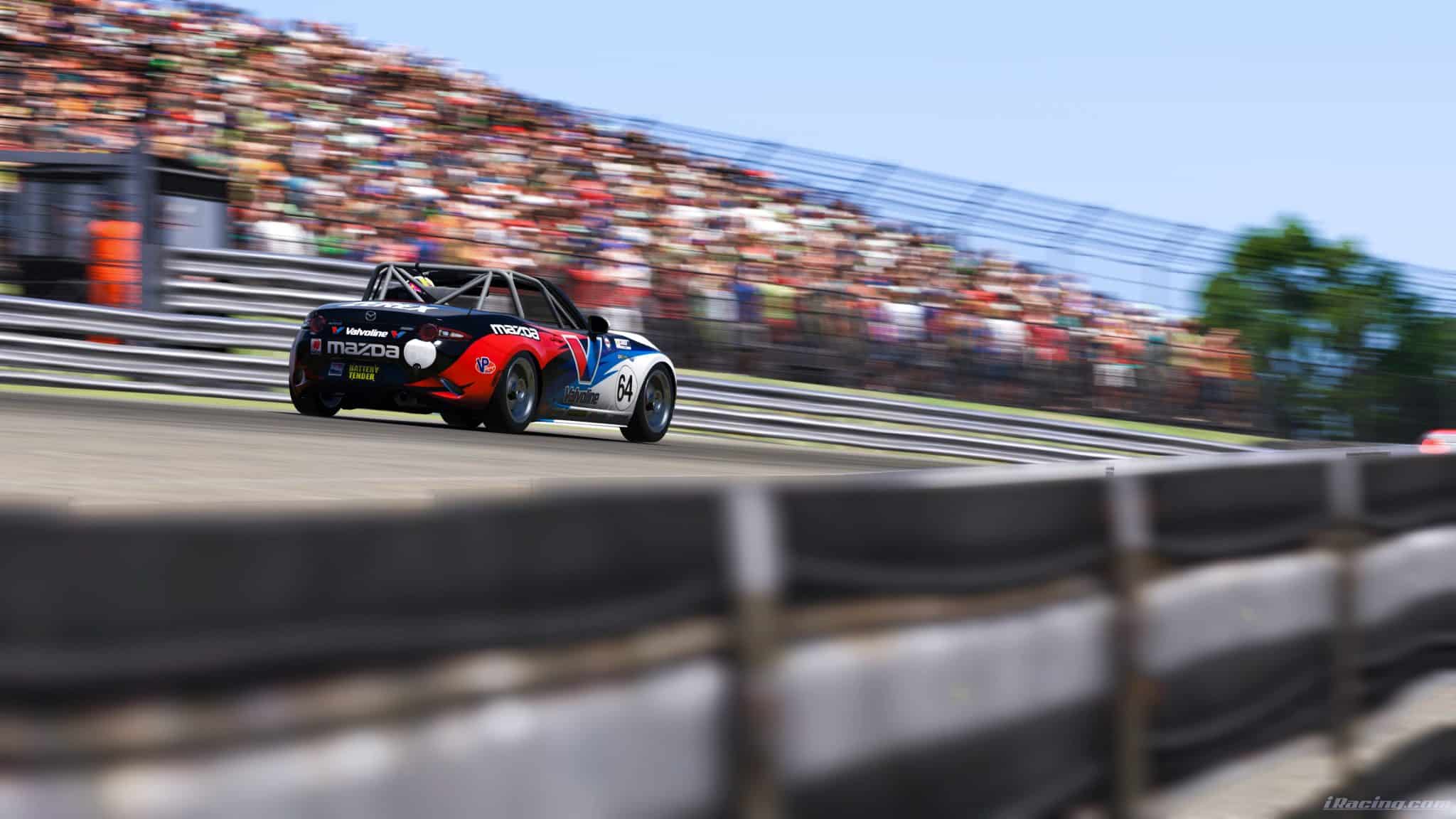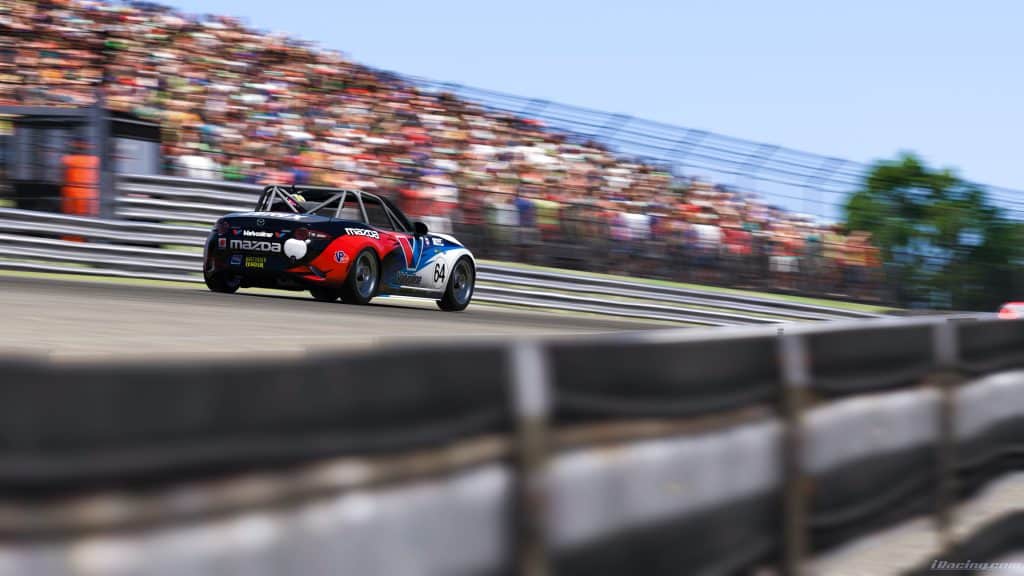 Both series are populated with free circuits to give drivers as much track time as possible.
D-License
At D-License, you have a wide array of classes in different backgrounds.
You have open-wheel series such as the Cooper Tires USF 2000 Championship, the Skip Barber Racing Series, and the FIA Formula 4 Challenge, but, you also have tin-top series such as the Sim-Lab Production Car Challenge – where the Global Mazda MX-5 Cup Car races alongside the Toyota GR86 – and the Turn Racing Touring Car Challenge.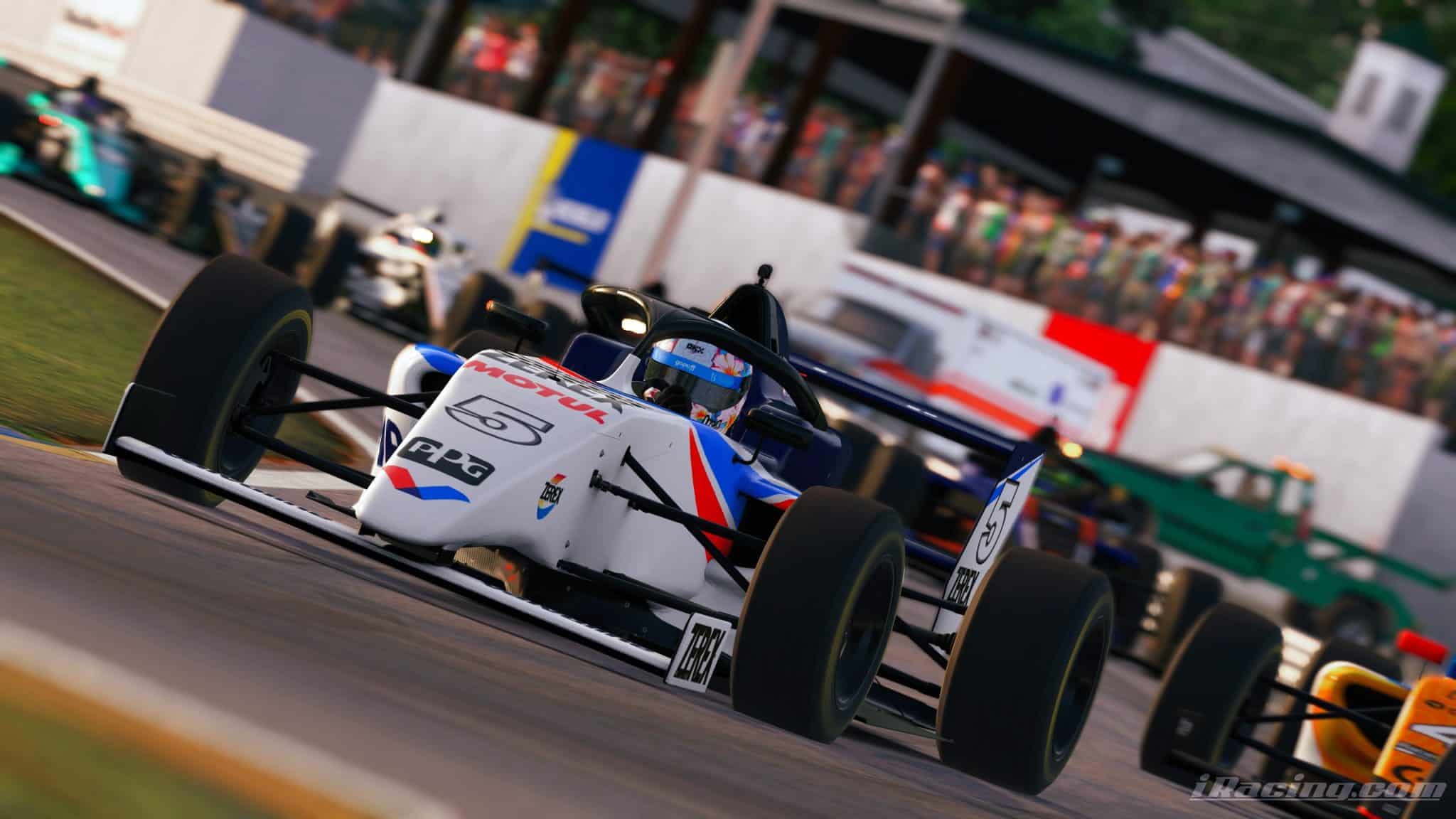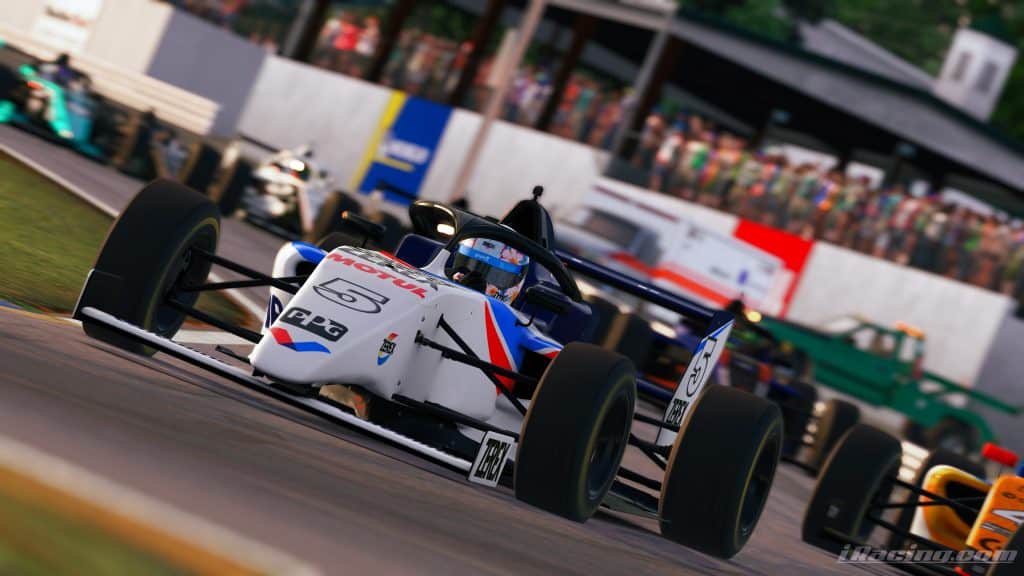 Furthermore, you have the iRacing Spec Racer Ford Challenge for a unique challenge, GT-racing with the BMW 12.0 Challenge, Ferrari GT3 Challenge, and the Ruf GT3 Challenge, and the taste of some endurance racing with the sporadic events in the BMW Sim GT Cup and Nürburgring Endurance Championship.
C-License
C-License has even greater variety, with open-wheelers such as the Grand Prix Legends series as well as two Dallara F3 series which you can easily install Coach Dave Academy setups for now with the Coach Dave Delta app, and the Indy Pro 2000 Championship for a mixed bag of Road and Oval courses.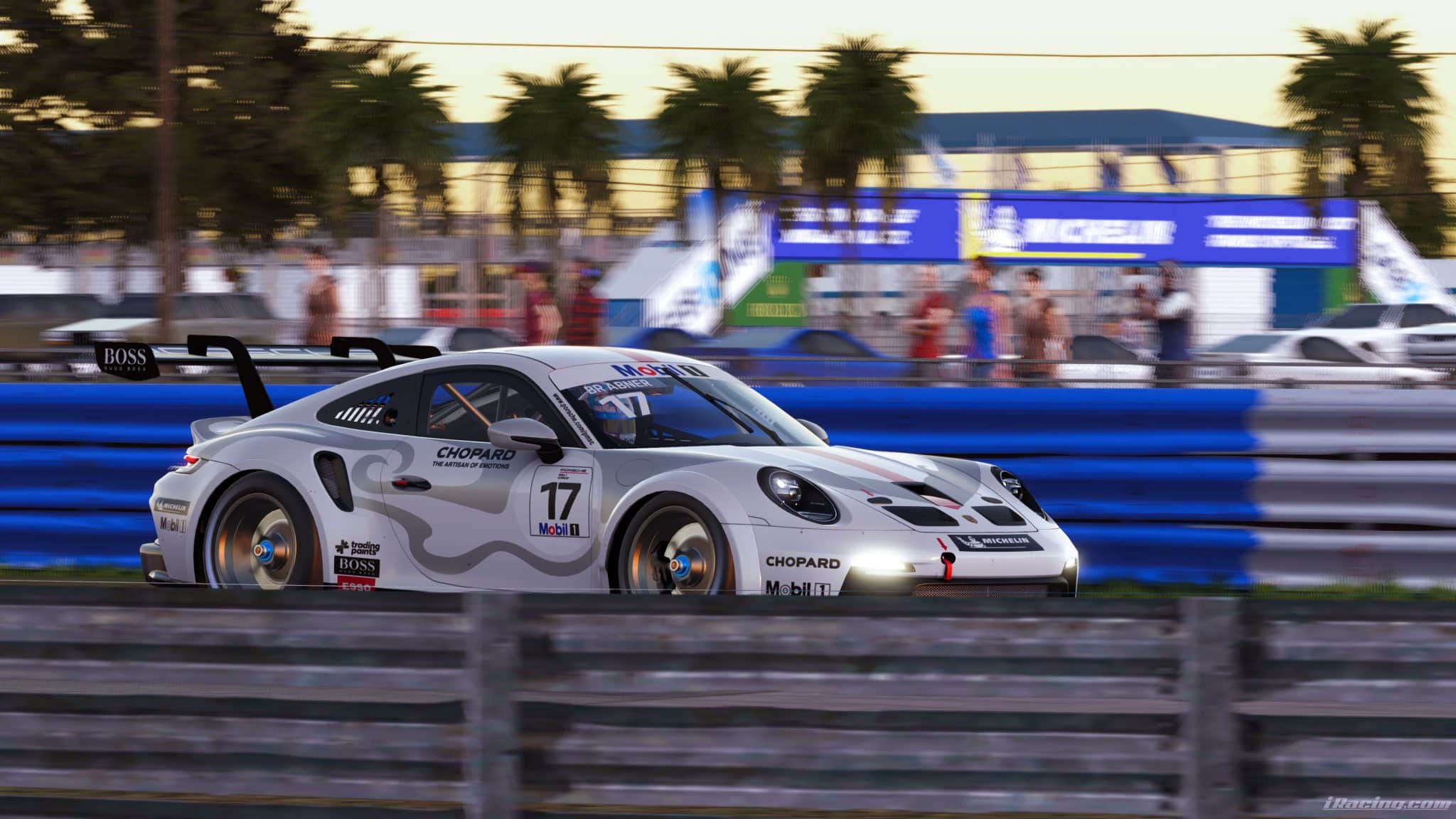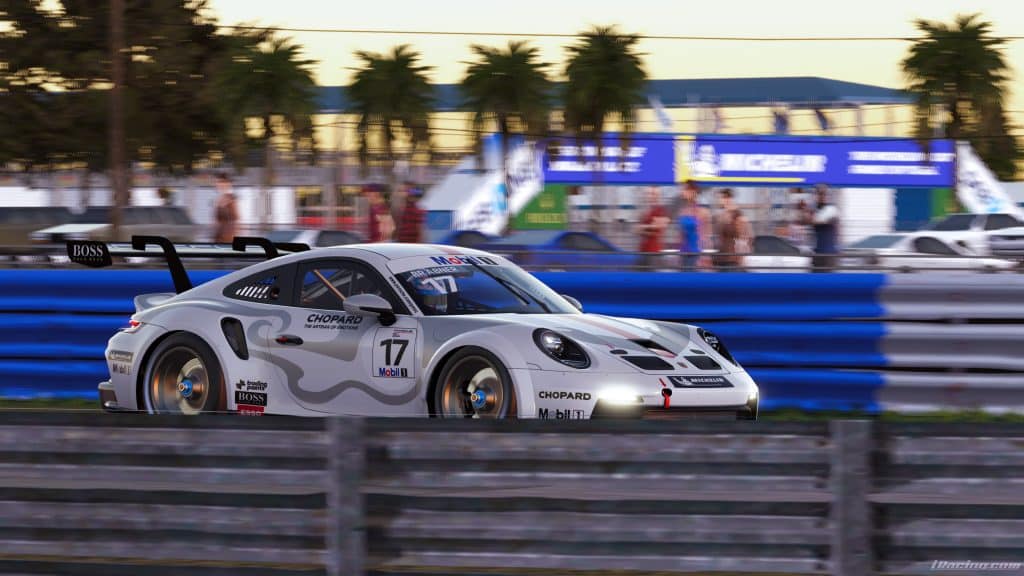 Elsewhere, you have the Supercars of Australia series, the Radical Racing Challenge, a return of the Mazda MX5 with the Fanatec Advanced Mazda MX-5 Cup Series, a mixed bag of GT racing with the Porsche Cup Series – which you can learn more about here – Heusinkveld GT Challenge, IMSA Michelin Pilot Challenge, and Kamel GT Championship.
There's also a taste of endurance racing with the Creventic Endurance Series, VRS GT Endurance Series, and the VRS Global Endurance Series.
B-License
At B-License, things get a lot more specialised.
For your open-wheel needs there's the US Open Wheel B Dallara IR18 series and the Dallara Formula iR series complemented with the Classic Lotus Grand Prix and the iRacing Formula 3.5 Championship for your open-wheel needs.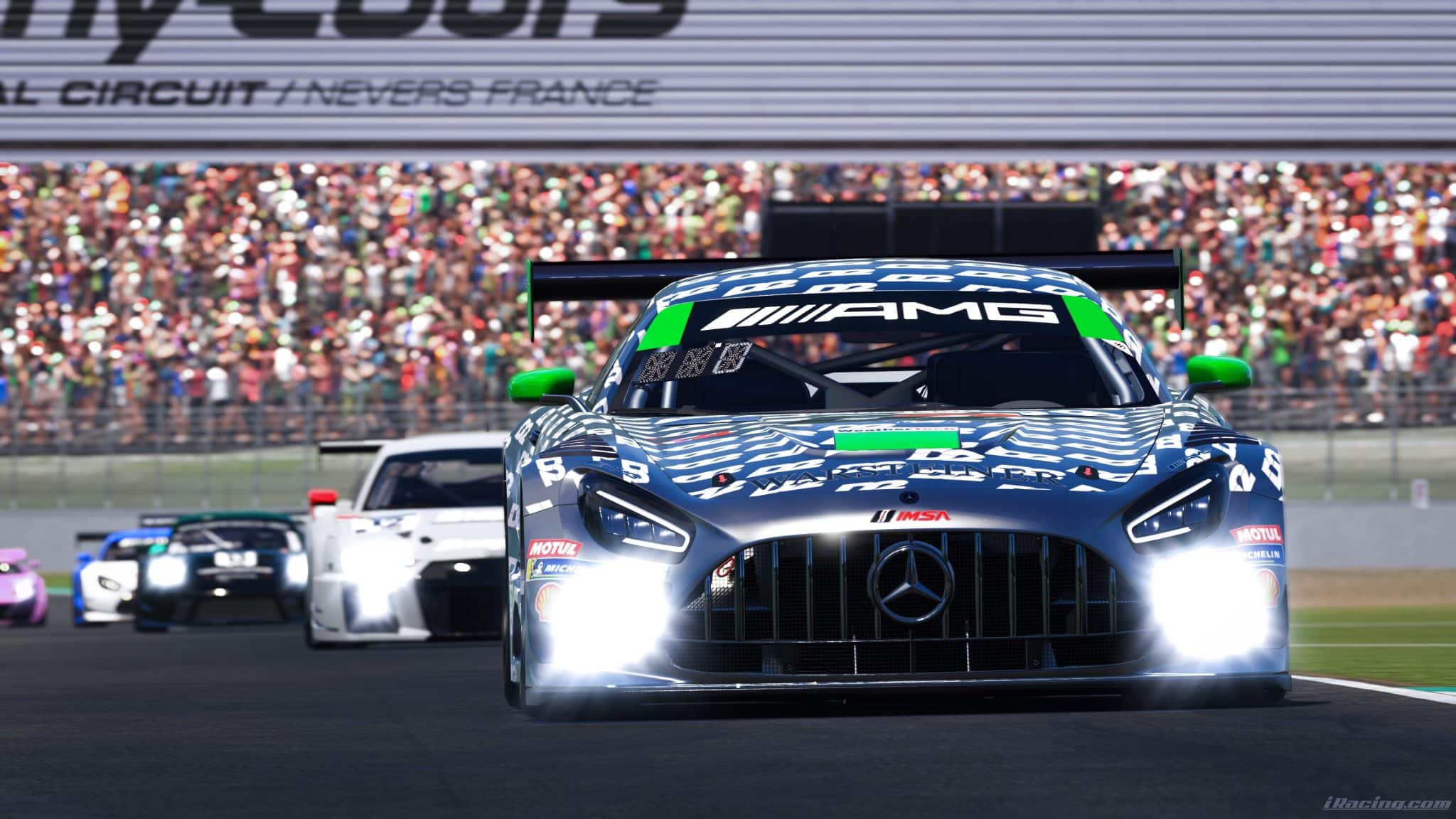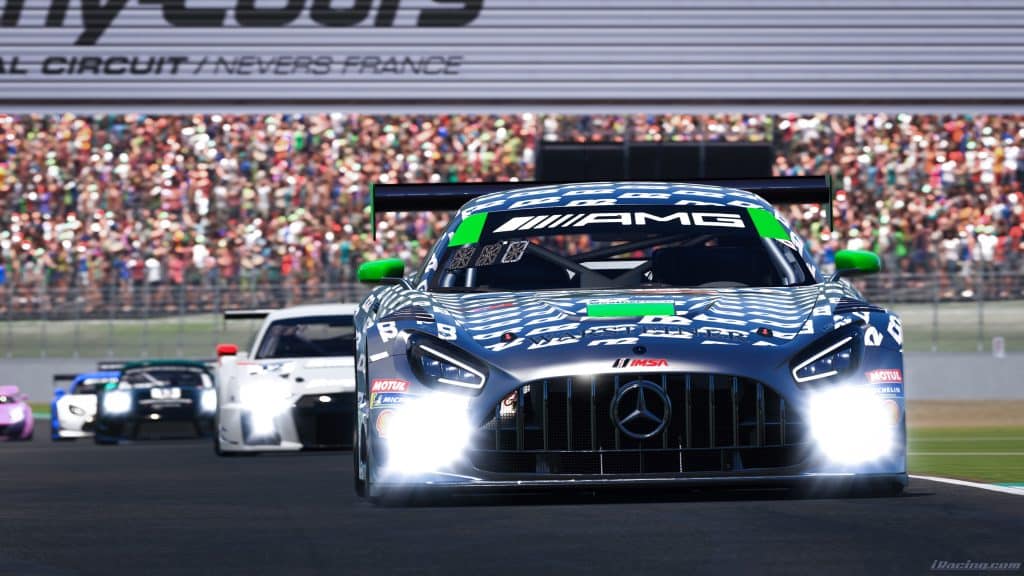 Then, there's also a variety of GT and Prototype racing with the Fanatec GT3 Challenge, its twin in the VRS GT Sprint Series, the IMSA iRacing Series and the LMP2 Prototype Challenge.
Here at Coach Dave Academy, we not only produce a variety of setups for cars in both the VRS GT Sprint Series and the IMSA iRacing Series but also Lap Guides and Live Setup Sessions to help you find more speed each week. You can watch them now on our YouTube channel.
A-License
At A-license, the créme de la créme, you have the iRacing Grand Prix Series and the European Sprint Series to reward the best drivers with the most elite road racing on the platform.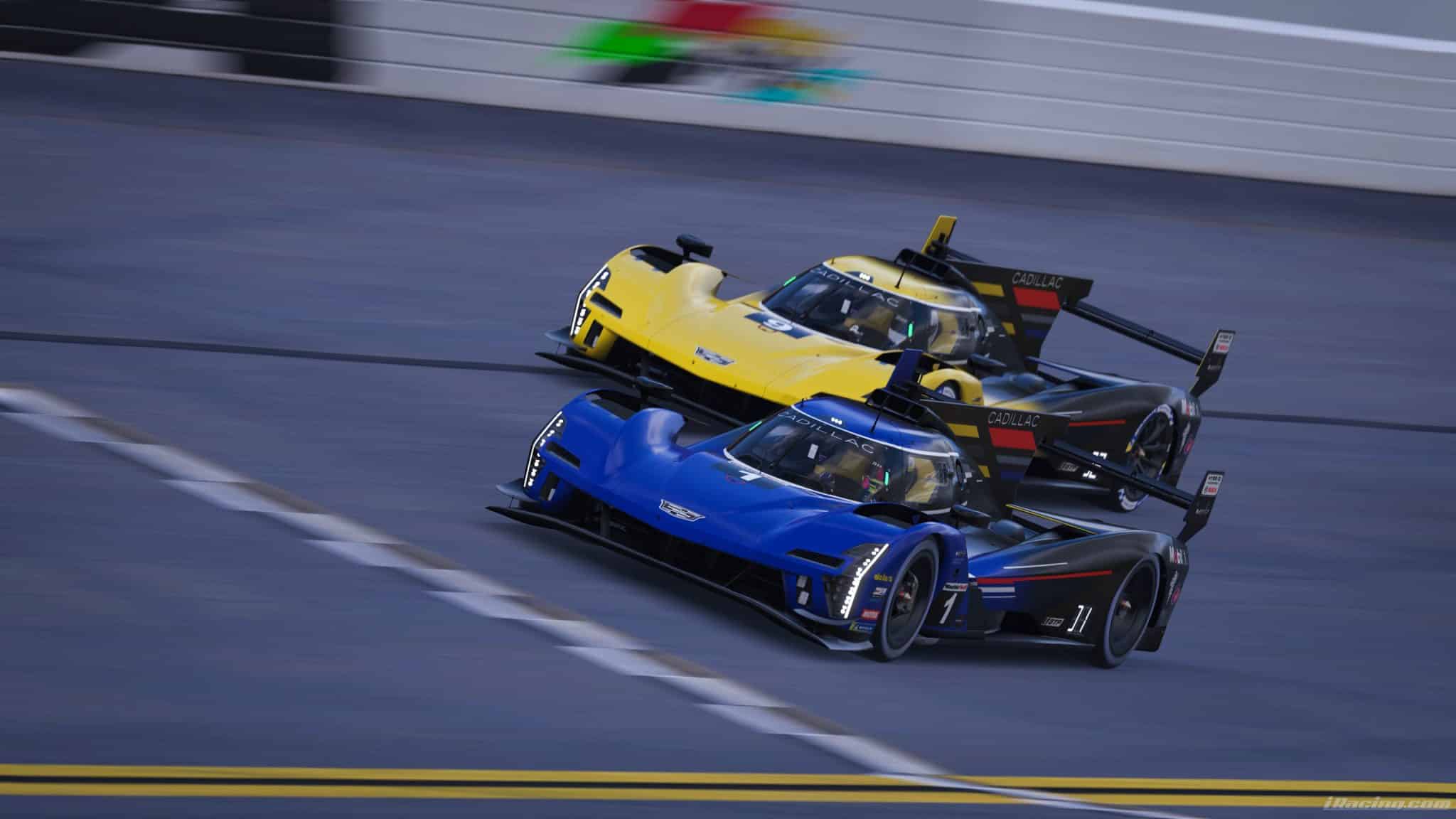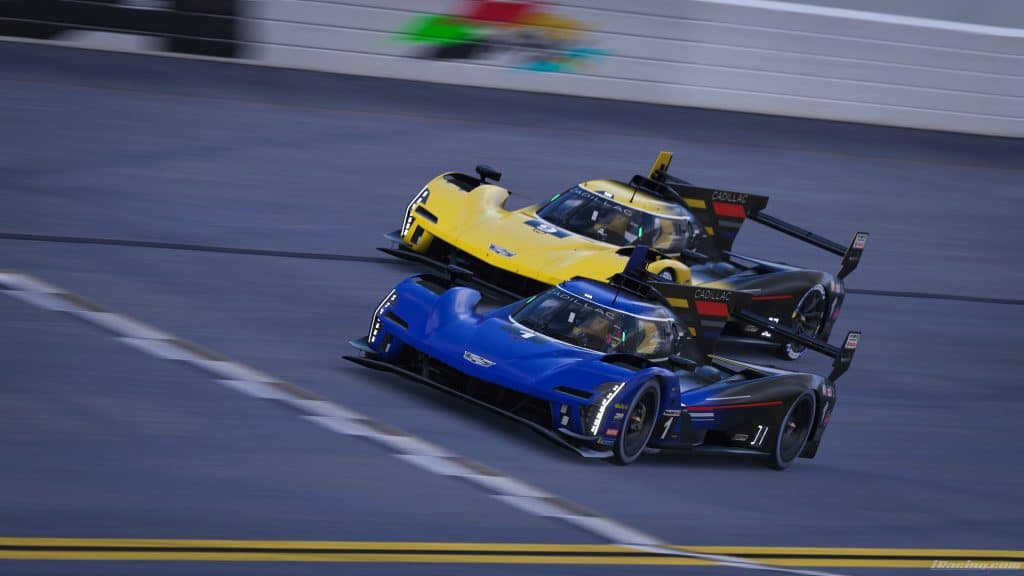 Events are a lot longer here than what you'd find at lower license levels, leading to more challenging, but also more rewarding, races.
---
Coach Dave Delta
As part of our iRacing Setup Subscription, you can install setups and data packages quickly and easily via our free-to-download Coach Dave Delta app. With access to our entire library of setups, your Coach Dave Academy setups will be ready to use in iRacing after just a few clicks.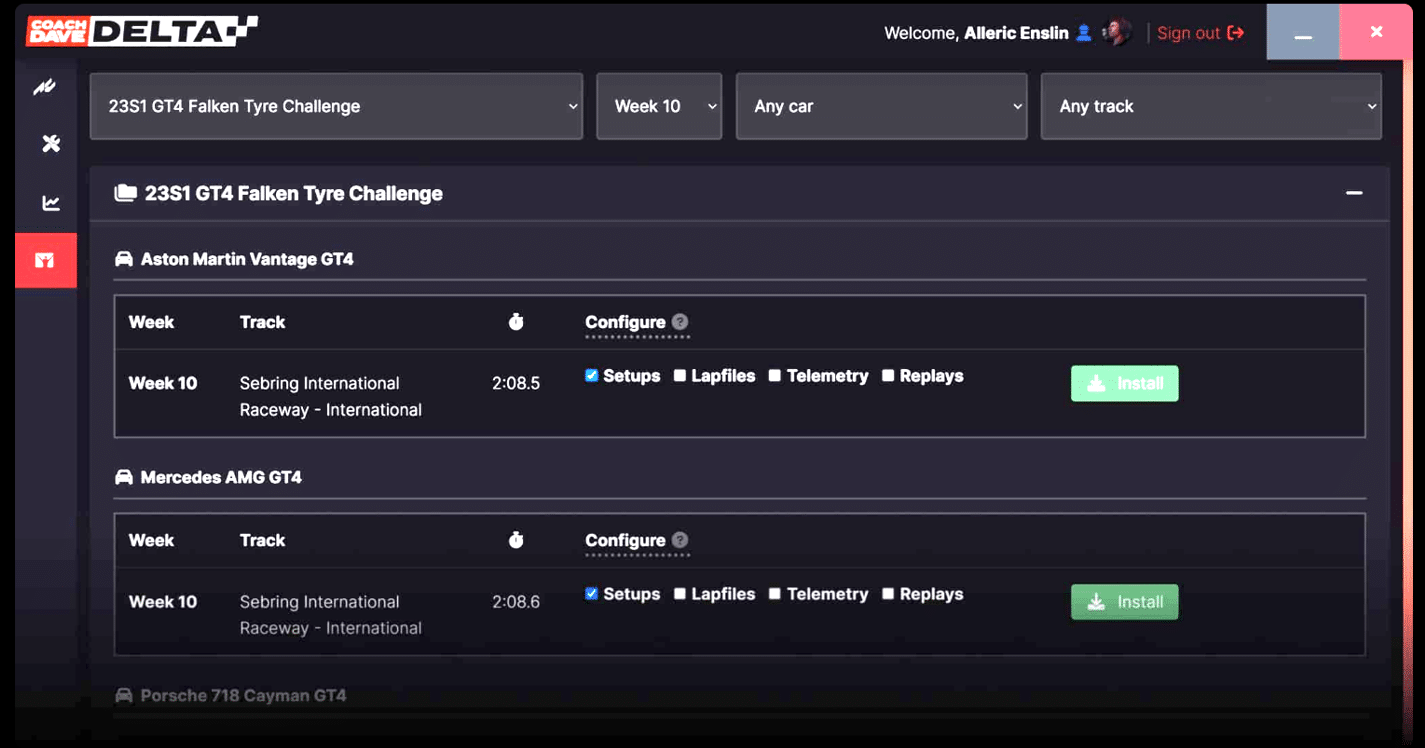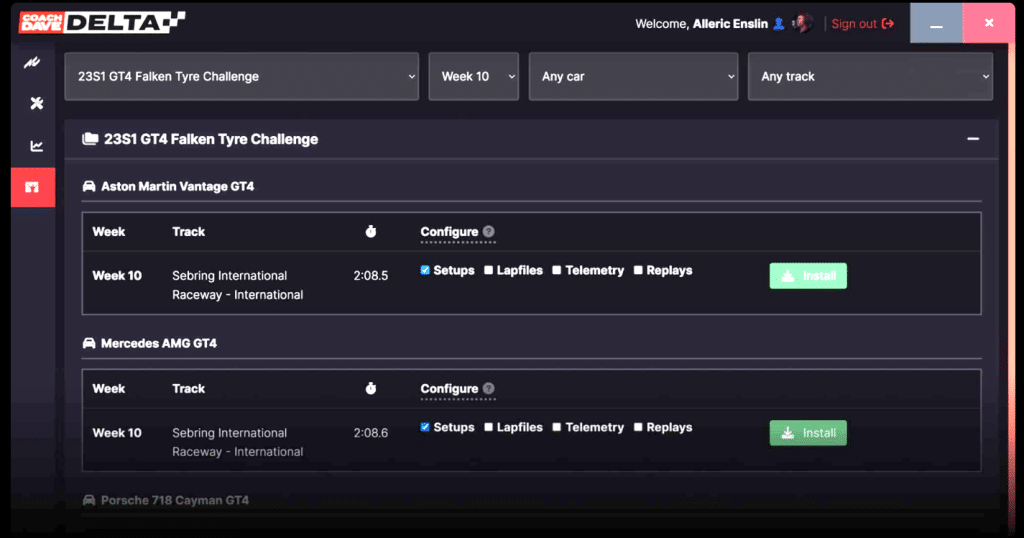 ---
Oval
In the Oval Discipline, you have two Rookie offerings in the Fanatec Street Stock Series and the iRacing Advanced Legends Cup.
From there, the D-license offerings are the iRacing ARCA Menards Series, the two SK Modified Weekly Series, as well as two iRacing Late Model Tour offerings.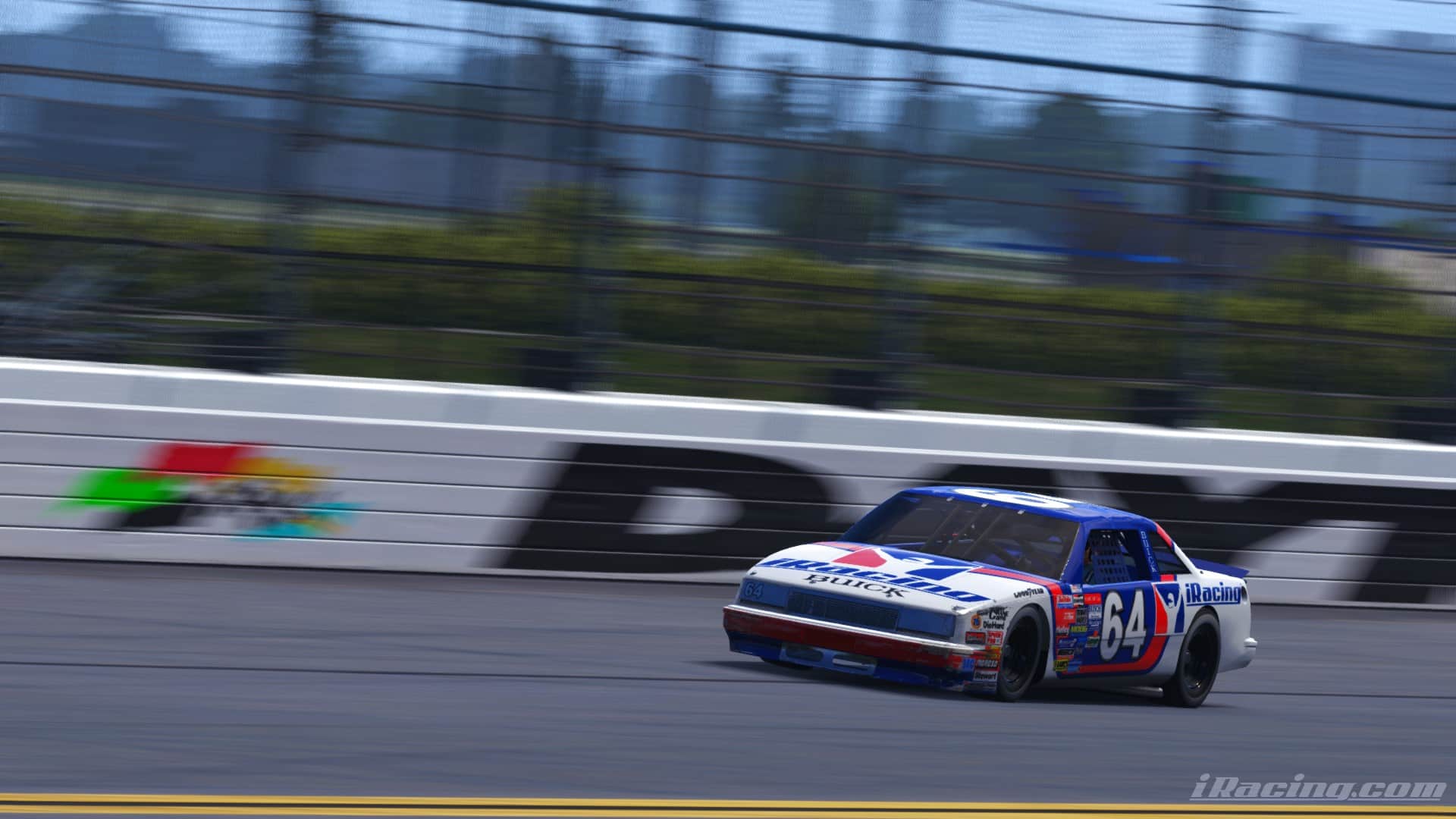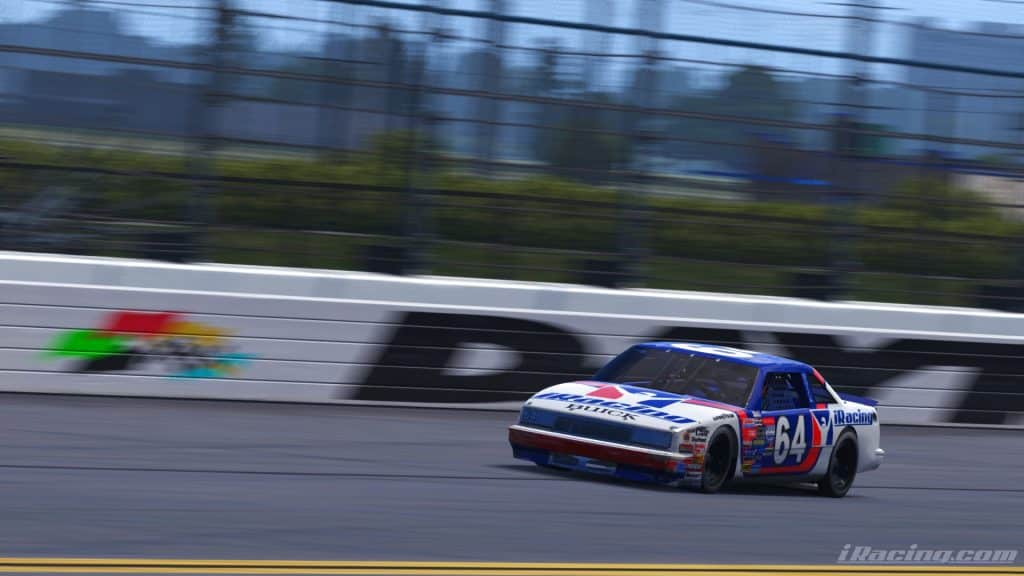 C-license gives you two Super Late Model Series, two NASCAR iRacing Tour Modified Series, two NASCAR Gander Outdoors Truck Series, the iRacing Street Stock Series as well as the Indy Pro 2000 Championship and the IndyCar Series for Oval. You also get entries into Special Events, as well as the NASCAR iRacing Series for the Cup Cars.
At B-license you can have a taste of the two NASCAR xfinity Series as well as the iRacing Sprint Car Cup, the iRacing Silver Crown Cup, and the NASCAR Legends Series for some classic oval racing. T
The top brass A-license series are the two NASCAR Cup Series as well as the two NASCAR Next Gen Cup Series.
Dirt Road
On the Dirt Road progression, you can get a taste of trucks and rallycross at each level. At Rookie, you have the Pro 2 Lite Off-Road Racing Series and the iRX Volkswagen Beetle Lite – Fixed Series.
At D-license the two offerings are the open-setup iRX Volkswagen Beetle Lite series as well as the Pro 4 Off-Road Racing Series – Fixed.
At C-license the two offerings are the fixed-setup races of the iRacing Rallycross Series and the Pro 2 Off-Road Racing Series.
The top of the ladder is B-license here, with the open-setup iRacing Rallycross Series and combined Pro 2 & Pro 4 Off-Road Racing Series.
Dirt Oval
Dirt Oval has the most complex ladder. Despite it appearing that there are two Rookie series, only the ButtKicker DIRTcar Street Stock Series is available to Rookies. The iRacing Dirt Legends Cup, despite appearing as available, will only become available at D-license.
In addition to that, D-license holders get access to the Fanatec DIRTcar 305 Sprint Car Series, the DIRTcar Limited Late Model Series, and the Engine Ice DIRTcar 358 Modified Series.
At C-License level, you have no less than 7 unique series: the DIRTcar Class C Street Stock Series, the fixed-setup World of Outlaws Late Model Series, the RYCO-Motorsports.com DIRTcar Pro Late Model Series, and the SUPER DIRTcar Big Block Modified Series are met with the Sprint Car-style racing of the UCAS 360 Sprint Car Series, the DIRTcar 360 Sprint Car Series, and the iRacing Dirt Midget Cup.
As with Dirt Road, the top progression on Dirt Oval is B-license. Here, you have the two World of Outlaws Sprint Car Series as well as the World of Outlaws Late Model Series, the AMSOIL USAC Sprint Car Series and the DIRTcar UMP Modified Series.
Conclusion
As we said at the start of this article, iRacing has a comprehensive range of series that are spread out over 4 ladders. These can be climbed in a variety of different ways and, with each step, the competition gets rougher and tougher.
If you're looking at making the next steps and wondering which cars and tracks are the best for you, be sure to check out our Ultimate iRacing Car Guide and Ultimate iRacing Track Guide for more information. And, if setups are the thing that you're hunting for with MoTeC data to take you and your driving to the next level, be sure to check out our Coach Dave Academy iRacing setups as well as our guide on how to read MoTeC data.